Metadata Report for BODC Series Reference Number 945194
---
Data Description
Data Category
CTD or STD cast
Instrument Type

| Name | Categories |
| --- | --- |
| Sea-Bird SBE 43 Dissolved Oxygen Sensor | dissolved gas sensors |
| Chelsea Technologies Group Aquatracka fluorometer | fluorometers |
| Sea-Bird SBE 911plus CTD | CTD; water temperature sensor; salinity sensor |
| Tritech PA-200 Altimeter | altimeters |

Instrument Mounting
lowered unmanned submersible
Originating Country
United Kingdom
Originator
Dr Graham Quartly
Originating Organization
National Oceanography Centre, Southampton
Processing Status
banked
Project(s)
Oceans 2025
Oceans 2025 Theme 10 SO6

Data Identifiers
| | |
| --- | --- |
| Originator's Identifier | CTD_JR193_002_2DB |
| BODC Series Reference | 945194 |
Time Co-ordinates(UT)
| | |
| --- | --- |
| Start Time (yyyy-mm-dd hh:mm) | 2007-11-30 06:07 |
| End Time (yyyy-mm-dd hh:mm) | 2007-11-30 06:48 |
| Nominal Cycle Interval | 2.0 decibars |
Spatial Co-ordinates
| | |
| --- | --- |
| Latitude | 53.50660 S ( 53° 30.4' S ) |
| Longitude | 58.18330 W ( 58° 11.0' W ) |
| Positional Uncertainty | Unspecified |
| Minimum Sensor Depth | 0.99 m |
| Maximum Sensor Depth | 2309.28 m |
| Minimum Sensor Height | 10.11 m |
| Maximum Sensor Height | 2318.41 m |
| Sea Floor Depth | 2319.4 m |
| Sensor Distribution | Variable common depth - All sensors are grouped effectively at the same depth, but this depth varies significantly during the series |
| Sensor Depth Datum | Approximate - Depth is only approximate |
| Sea Floor Depth Datum | Approximate - Depth is only approximate |
Parameters
| BODC CODE | Rank | Units | Title |
| --- | --- | --- | --- |
| ACYCAA01 | 1 | Dimensionless | Sequence number |
| AHSFZZ01 | 1 | Metres | Height above bed in the water body |
| CNCLCCI1 | 1 | Siemens per metre | Electrical conductivity of the water body by in-situ conductivity cell and calibration against independent measurements |
| CNDCST02 | 1 | Siemens per metre | Electrical conductivity of the water body by CTD (sensor 2) |
| CPHLPM01 | 1 | Milligrams per cubic metre | Concentration of chlorophyll-a {chl-a} per unit volume of the water body [particulate phase] by in-situ chlorophyll fluorometer and manufacturer's calibration applied |
| DEPHPR01 | 1 | Metres | Depth below surface of the water body by profiling pressure sensor and converted to seawater depth using UNESCO algorithm |
| DOXYSU01 | 1 | Micromoles per litre | Concentration of oxygen {O2} per unit volume of the water body [dissolved phase] by Sea-Bird SBE 43 sensor and no calibration against sample data |
| PRESPR01 | 1 | Decibars | Pressure (spatial co-ordinate) exerted by the water body by profiling pressure sensor and corrected to read zero at sea level |
| PSALCC01 | 1 | Dimensionless | Practical salinity of the water body by CTD and computation using UNESCO 1983 algorithm and calibration against independent measurements |
| PSALCU02 | 1 | Dimensionless | Practical salinity of the water body by CTD and computation using UNESCO 1983 algorithm and NO calibration against independent measurements |
| TEMPCU01 | 1 | Degrees Celsius | Temperature of the water body by CTD and NO verification against independent measurements |
| TEMPCU02 | 1 | Degrees Celsius | Temperature of the water body by CTD and NO verification against independent measurements |
Definition of Rank
Rank 1 is a one-dimensional parameter
Rank 2 is a two-dimensional parameter
Rank 0 is a one-dimensional parameter describing the second dimension of a two-dimensional parameter (e.g. bin depths for moored ADCP data)
---
Chlorophyll data in JR193 CTD datasets
In the transferred qxf files, it is noted that the chlorophyll channel (parameter code: CPHLPM01 units: mg/m3) contains negative values which have been automatically flagged 'M' during BODC processing. This is because the lower limit for that parameter code is 0 so any value below that will be flagged as suspect. In the cruise report, the manufacturer's calibration for the Chelsea Aqua 3 fluorometer was last applied on 22/06/2006. In the absence of any further information in the cruise report, it is suggested that in the 28 months from the calibration date to the start of the cruise (approximately) the instrument may have drifted to give a small negative reading instead of 0, thus producing apparently negative chlorophyll values.
---
Public domain data
These data have no specific confidentiality restrictions for users. However, users must acknowledge data sources as it is not ethical to publish data without proper attribution. Any publication or other output resulting from usage of the data should include an acknowledgment.
The recommended acknowledgment is
"This study uses data from the data source/organisation/programme, provided by the British Oceanographic Data Centre and funded by the funding body."
---
Sea-Bird Dissolved Oxygen Sensor SBE 43 and SBE 43F
The SBE 43 is a dissolved oxygen sensor designed for marine applications. It incorporates a high-performance Clark polarographic membrane with a pump that continuously plumbs water through it, preventing algal growth and the development of anoxic conditions when the sensor is taking measurements.
Two configurations are available: SBE 43 produces a voltage output and can be incorporated with any Sea-Bird CTD that accepts input from a 0-5 volt auxiliary sensor, while the SBE 43F produces a frequency output and can be integrated with an SBE 52-MP (Moored Profiler CTD) or used for OEM applications. The specifications below are common to both.
Specifications
Housing
Plastic or titanium
Membrane

0.5 mil- fast response, typical for profile applications

1 mil- slower response, typical for moored applications

Depth rating

600 m (plastic) or 7000 m (titanium)

10500 m titanium housing available on request

Measurement range
120% of surface saturation
Initial accuracy
2% of saturation
Typical stability
0.5% per 1000 h
Further details can be found in the manufacturer's specification sheet.
Instrument Description
CTD Unit and Auxiliary Sensors
One CTD package was used during RRS James Clark Ross cruise 193 (JR193) comprising a Sea-Bird 911plus CTD system, auxiliary sensors and Sea-Bird SBE 24 carousel with 12 bottles fitted to a stainless steel frame.
Sea-Bird Electronics SBE 911 and SBE 917 series CTD profilers
The SBE 911 and SBE 917 series of conductivity-temperature-depth (CTD) units are used to collect hydrographic profiles, including temperature, conductivity and pressure as standard. Each profiler consists of an underwater unit and deck unit or SEARAM. Auxiliary sensors, such as fluorometers, dissolved oxygen sensors and transmissometers, and carousel water samplers are commonly added to the underwater unit.
Underwater unit
The CTD underwater unit (SBE 9 or SBE 9 plus) comprises a protective cage (usually with a carousel water sampler), including a main pressure housing containing power supplies, acquisition electronics, telemetry circuitry, and a suite of modular sensors. The original SBE 9 incorporated Sea-Bird's standard modular SBE 3 temperature sensor and SBE 4 conductivity sensor, and a Paroscientific Digiquartz pressure sensor. The conductivity cell was connected to a pump-fed plastic tubing circuit that could include auxiliary sensors. Each SBE 9 unit was custom built to individual specification. The SBE 9 was replaced in 1997 by an off-the-shelf version, termed the SBE 9 plus, that incorporated the SBE 3 plus (or SBE 3P) temperature sensor, SBE 4C conductivity sensor and a Paroscientific Digiquartz pressure sensor. Sensors could be connected to a pump-fed plastic tubing circuit or stand-alone.
Temperature, conductivity and pressure sensors
The conductivity, temperature, and pressure sensors supplied with Sea-Bird CTD systems have outputs in the form of variable frequencies, which are measured using high-speed parallel counters. The resulting count totals are converted to numeric representations of the original frequencies, which bear a direct relationship to temperature, conductivity or pressure. Sampling frequencies for these sensors are typically set at 24 Hz.
The temperature sensing element is a glass-coated thermistor bead, pressure-protected inside a stainless steel tube, while the conductivity sensing element is a cylindrical, flow-through, borosilicate glass cell with three internal platinum electrodes. Thermistor resistance or conductivity cell resistance, respectively, is the controlling element in an optimized Wien Bridge oscillator circuit, which produces a frequency output that can be converted to a temperature or conductivity reading. These sensors are available with depth ratings of 6800 m (aluminium housing) or 10500 m (titanium housing). The Paroscientific Digiquartz pressure sensor comprises a quartz crystal resonator that responds to pressure-induced stress, and temperature is measured for thermal compensation of the calculated pressure.
Additional sensors
Optional sensors for dissolved oxygen, pH, light transmission, fluorescence and others do not require the very high levels of resolution needed in the primary CTD channels, nor do these sensors generally offer variable frequency outputs. Accordingly, signals from the auxiliary sensors are acquired using a conventional voltage-input multiplexed A/D converter (optional). Some Sea-Bird CTDs use a strain gauge pressure sensor (Senso-Metrics) in which case their pressure output data is in the same form as that from the auxiliary sensors as described above.
Deck unit or SEARAM
Each underwater unit is connected to a power supply and data logging system: the SBE 11 (or SBE 11 plus) deck unit allows real-time interfacing between the deck and the underwater unit via a conductive wire, while the submersible SBE 17 (or SBE 17 plus) SEARAM plugs directly into the underwater unit and data are downloaded on recovery of the CTD. The combination of SBE 9 and SBE 17 or SBE 11 are termed SBE 917 or SBE 911, respectively, while the combinations of SBE 9 plus and SBE 17 plus or SBE 11 plus are termed SBE 917 plus or SBE 911 plus.
Specifications
Specifications for the SBE 9 plus underwater unit are listed below:
| Parameter | Range | Initial accuracy | Resolution at 24 Hz | Response time |
| --- | --- | --- | --- | --- |
| Temperature | -5 to 35°C | 0.001°C | 0.0002°C | 0.065 sec |
| Conductivity | 0 to 7 S m-1 | 0.0003 S m-1 | 0.00004 S m-1 | 0.065 sec (pumped) |
| Pressure | 0 to full scale (1400, 2000, 4200, 6800 or 10500 m) | 0.015% of full scale | 0.001% of full scale | 0.015 sec |
Further details can be found in the manufacturer's specification sheet.
Aquatracka fluorometer
The Chelsea Instruments Aquatracka is a logarithmic response fluorometer. It uses a pulsed (5.5 Hz) xenon light source discharging between 320 and 800 nm through a blue filter with a peak transmission of 420 nm and a bandwidth at half maximum of 100 nm. A red filter with sharp cut off, 10% transmission at 664 nm and 678 nm, is used to pass chlorophyll-a fluorescence to the sample photodiode.
The instrument may be deployed either in a through-flow tank, on a CTD frame or moored with a data logging package.
Further details can be found in the manufacturer's specification sheet.
Tritech Digital Precision Altimeter PA200
This altimeter is a sonar ranging device that gives the height above the sea bed when mounted vertically. When mounted in any other attitude the sensor provides a subsea distance. It can be configured to operate on its own or under control from an external unit and can be supplied with simultaneous analogue and digital outputs, allowing them to interface to PC devices, data loggers, telemetry systems and multiplexers.
These instruments can be supplied with different housings, stainless steel, plastic and aluminum, which will limit the depth rating. There are three models available: the PA200-20S, PA200-10L and the PA500-6S, whose transducer options differ slightly.
Specifications
Transducer options
PA200-20S
P200-10L
PA500-6S
Frequency (kHz)
200
200
500
Beamwidth (°)
20 Conical
10 included conical beam
6 Conical
Operating range

1 to 100 m

0.7 to 50 m

-

0.3 to 50 m

0.1 to 10 m
Common specifications are presented below
| | |
| --- | --- |
| Digital resolution | 1 mm |
| Analogue resolution | 0.25% of range |
| Depth rating | 700 , 2000, 4000 and 6800 m |
| Operating temperature | -10 to 40°C |
Further details can be found in the manufacturer's specification sheet.
BODC Processing
The data arrived at BODC in 32 MSTAR NetCDF format files. These represented all of the CTD casts taken during the cruise. The files were reformatted to the internal QXF format using transfer function 445. The following table shows how the variables were mapped to appropriate BODC parameter codes:
| Originator's Variable | Units | Description | BODC Parameter Code | Units | Comment |
| --- | --- | --- | --- | --- | --- |
| scan | number | - | - | - | Not transferred - not environmental variable |
| time | sec | - | - | - | Not transferred |
| press | decibar | Pressure sensor | PRESPR01 | decibar | - |
| pressure_temp | deg C (ITS-90) | pressure sensor electronics temperature | ZZZZZZ01 | - | Not transferred- not environmental variable. |
| temp | deg C (ITS-90) | primary temperature sensor (frame-mounted) | TEMPCU01 | deg C (ITS-90) | - |
| cond | S/m | primary conductivity sensor | CNCLCCI1 | S/m | - |
| temp2 | deg C (ITS-90) | secondary temperature sensor | TEMPCU02 | deg C (ITS-90) | - |
| cond2 | S/m | secondary conductivity sensor | CNDCST02 | S/m | - |
| altimeter | metres | depth from sea floor | AHSFZZ01 | metres | - |
| oxygen | ml/L | dissolved oxygen sensor | DOXYSU01 | µmol/l | Originator's variable multiplied by 44.66 in mapper file during transfer to convert units. |
| fluor | µg/l | chlorophyll-a concentration | CPHLPM01 | mg/m3 | 1 µg/l = 1 mg/m3 |
| psal | pss-78 | practical salinity derived from press, cond and temp | PSALCC01 | pss-78 | - |
| psal2 | pss-78 | practical salinity derived from press, cond2 and temp2 | PSALCU02 | pss-78 | - |
| depth | metres | depth of CTD | DEPHTC01 | metres | - |
| potemp | deg C (ITS-90) | potential temperature derived from press, psal and temp | POTMCV01 | deg C (ITS-90) | Not transferred. Value has been re-derived separately for consistency |
| potemp2 | deg c (ITS-90) | potential temperature derived from press, psal2 and temp2 | POTMCV02 | deg C (ITS-90) | Not transferred. Value has been re-derived separately for consistency |
Originator's Data Processing
Sampling Strategy
A Conductivity-Temperature-Depth (CTD) unit was used on JR193 to produce vertical profiles of the temperature and salinity of the water column. Thirty-two stations were occupied across the Drake Passage SR1b transect, nine in Marguerite Trough and one in front of Rothera Base giving 42 casts in total.
A full-sized SBE 24 carousel water sampler, holding 12 bottles, connected to an SBE 9 plus CTD and an SBE 11 plus deck unit were used to collect vertical profiles of the water column. The deck unit provides power, real-time data acquisition and control. The underwater SBE 9 plus unit featured dual temperature and conductivity (SBE 4) sensors, and a Paroscientific pressure sensor. A T-C (temperature-conductivity) duct and a pump-controlled flow system ensure that the flow through the T-C duct is constant to minimize salinity spiking. Files containing the data are saved in binary and ASCII format. In addition, an altimeter, a fluorometer, an oxygen sensor and a PAR/Irradiance sensor were attached to the carousel. The altimeter gave real-time accurate measurements of height off the sea-bed once the instrument package was within approximately 100 m of the bottom. The Simrad EA600 system would sometimes lose the bottom or give erroneous readings on station, so care was needed to interpret these digitised records. The oxygen sensor SBE 43 had six seconds delay relative to the pressure sensor to account for the water transit time trough instrument. For all stations two UKORS LADCPs (one upward-looking, the other downward-looking) were attached to the main CTD frame and a fin was also added to the frame to reduce rotation of the package underwater.
Data Processing
The CTD data were logged via the deck unit to a 1.4 GHz P4 PC, running Seasave Win32 version 5.28e (Sea-Bird Electronics Inc.). This new software allows numerical data to be listed to the screen in real time, together with several graphs of various parameters.
Four files were created by the Seasave Win32 version 5.28e module for each station: a binary data file, an ASCII configuration file containing calibration information, an ASCII header file containing the sensor information and a file containing the data cycles at which a bottle was closed on the rosette where nn refers to the CTD cast number.
The CTD data were converted to ASCII and calibrated by running the Sea-Bird Electronics Inc. Data Processing software version 5.37b Data Conversion module. This program was used only to convert the data from binary, although it can be used to derive variables. This output an ASCII file 193ctdnn.cnv to match the names from previous cruises. The Sea-Bird Electronics Inc. Data Processing software version 5.37b was then used to apply a cell thermal mass correction. This correction takes the output from the data conversion program and re-derives the pressure and conductivity to take into account the temperature of the pressure sensor and the action of pressure on the conductivity cell. The final ASCII output file is of the form 193ctdnn_ctm.cnv. For further calibration details, see JR193 cruise report.
Post-cruise calibration
Sally Close and Brian King carried out calibration of the CTD data for JR193 at NOCS after completion of the cruise. The raw CTD data and sample data were used as input files and the data were processed using the NOCS in-house mstar processing routines. Corrections were calculated and applied to conductivity values, which were then reprocessed to provide corrected salinity values. Conductivity data for CTD sensors 1 and 2 were examined, and a slight pressure effect was noted for sensor 2. It was hence decided to correct the sensor 1 data for the calibration. Conductivity bottle and CTD sensor values were compared and residuals were examined with respect to station number. Suspected bad bottles were marked in the final data file using a quality flag, and a final correction was calculated using only data deeper than 900dbar, to remove surface variability.A single uniform correction of +3.4*10-5 ± 3.4*10-5 was applied to the conductivity values of sensor 1 in the original 24Hz mstar files, corresponding to an approximate correction of +0.001 ± 0.001 in salinity. After correction, the mean value of the residuals was -1.1745*10-6, with a median of -1.4545*10-7 and an interquartile range of 3.3093*10-5. 72% of the values lie within 1 standard deviation of the mean, with 95% lying within 2 standard deviations.
---
Oceans 2025 - The NERC Marine Centres' Strategic Research Programme 2007-2012
Who funds the programme?
The Natural Environment Research Council (NERC) funds the Oceans 2025 programme, which was originally planned in the context of NERC's 2002-2007 strategy and later realigned to NERC's subsequent strategy (Next Generation Science for Planet Earth; NERC 2007).
Who is involved in the programme?
The Oceans 2025 programme was designed by and is to be implemented through seven leading UK marine centres. The marine centres work together in coordination and are also supported by cooperation and input from government bodies, universities and other partners. The seven marine centres are:
National Oceanography Centre, Southampton (NOCS)
Plymouth Marine Laboratory (PML)
Marine Biological Association (MBA)
Sir Alister Hardy Foundation for Marine Science (SAHFOS)
Proudman Oceanographic Laboratory (POL)
Scottish Association for Marine Science (SAMS)
Sea Mammal Research Unit (SMRU)
Oceans2025 provides funding to three national marine facilities, which provide services to the wider UK marine community, in addition to the Oceans 2025 community. These facilities are:
British Oceanographic Data Centre (BODC), hosted at POL
Permanent Service for Mean Sea Level (PSMSL), hosted at POL
Culture Collection of Algae and Protozoa (CCAP), hosted at SAMS
The NERC-run Strategic Ocean Funding Initiative (SOFI) provides additional support to the programme by funding additional research projects and studentships that closely complement the Oceans 2025 programme, primarily through universities.
What is the programme about?
Oceans 2025 sets out to address some key challenges that face the UK as a result of a changing marine environment. The research funded through the programme sets out to increase understanding of the size, nature and impacts of these changes, with the aim to:
improve knowledge of how the seas behave, not just now but in the future;
help assess what that might mean for the Earth system and for society;
assist in developing sustainable solutions for the management of marine resources for future generations;
enhance the research capabilities and facilities available for UK marine science.
In order to address these aims there are nine science themes supported by the Oceans 2025 programme:
Climate, circulation and sea level (Theme 1)
Marine biogeochemical cycles (Theme 2)
Shelf and coastal processes (Theme 3)
Biodiversity and ecosystem functioning (Theme 4)
Continental margins and deep ocean (Theme 5)
Sustainable marine resources (Theme 6)
Technology development (Theme 8)
Next generation ocean prediction (Theme 9)
Integration of sustained observations in the marine environment (Theme 10)
In the original programme proposal there was a theme on health and human impacts (Theme 7). The elements of this Theme have subsequently been included in Themes 3 and 9.
When is the programme active?
The programme started in April 2007 with funding for 5 years.
Brief summary of the programme fieldwork/data
Programme fieldwork and data collection are to be achieved through:
physical, biological and chemical parameters sampling throughout the North and South Atlantic during collaborative research cruises aboard NERC's research vessels RRS Discovery, RRS James Cook and RRS James Clark Ross;
the Continuous Plankton Recorder being deployed by SAHFOS in the North Atlantic and North Pacific on 'ships of opportunity';
physical parameters measured and relayed in near real-time by fixed moorings and ARGO floats;
coastal and shelf sea observatory data (Liverpool Bay Coastal Observatory (LBCO) and Western Channel Observatory (WCO)) using the RV Prince Madog and RV Quest.
The data is to be fed into models for validation and future projections. Greater detail can be found in the Theme documents.
---
Oceans 2025 Theme 10, Sustained Observation Activity 6: Antarctic Circumpolar Current: Transport and Properties
Sustained Observation Activity (SO) 6 continues measurements started in 1993 of the transport of the Antarctic Circumpolar Current (ACC) in the Drake Passage, a strategic choke point for the global ocean circulation which impacts on the North Atlantic and the Meridional Overturning Circulation (MOC).
This SO contains two elements. SO 6.1. relates to the hydrographic sections and is supported by the National Oceanography Centre, Southampton (NOCS). SO 6.2. concerns bottom pressure recorders and is supported by the Proudman Oceanographic Laboratory (POL).
Aims and purpose of SO 6.1.
The aim is to maintain an annual hydrographic section across the ACC at Drake Passage. The standard section includes measurements of the physical properties: temperature, salinity and currents. There is the opportunity to include biogeochemical tracers, especially elements of the carbon system.

There is need for an annual survey since the differences in transport between the annual sections are significant (~ 10% of the mean). Therefore occasional sections, say every 5 years, could only detect very large changes. Annual sections, in combination with analyses of model output, provide the possibility of extracting a long-term trend from individual measurements of a noisy signal.
Aims and purpose of SO 6.2.
To maintain the ocean bottom pressure and temperature time series from Drake Passage
To adapt the monitoring system to maximize the value of other observational programmes in the region
To provide better context for interpretation of the existing time series, without jeopardizing the continuity of the time series
More detailed information on this Work Package is available at pages 18 - 21 of the official Oceans 2025 Theme 10 document: Oceans 2025 Theme 10
Weblink: http://www.oceans2025.org/
---
Cruise
| | |
| --- | --- |
| Cruise Name | JR20071129 (JR171, JR193, JR196, JR212) |
| Departure Date | 2007-11-29 |
| Arrival Date | 2007-12-09 |
| Principal Scientist(s) | Graham D Quartly (National Oceanography Centre, Southampton), Hugh Venables (British Antarctic Survey), Miguel Angel Morales Maqueda (Proudman Oceanographic Laboratory) |
| Ship | RRS James Clark Ross |
Complete Cruise Metadata Report is available here
---
Fixed Station Information
| | |
| --- | --- |
| Station Name | Drake Passage - WOCE SR1b |
| Category | Offshore route/traverse |
World Ocean Circulation Experiment (WOCE) Southern Repeat Section 1B - Falkland Islands to Elephant Island
WOCE Southern Repeat Section 1B is a section across Drake Passage in the South Atlantic Ocean. The nominal end points of the section (to date) are at 52° 55.74' S, 58° 00.00' W (at the south of the Falkland Islands) and 61° 03.05' S, 54° 33.10' W (off Elephant Island at the north end of the Antarctic Peninsula).
The section was first occupied by the R/V Polarstern in 1992 (Gersonde, 1993). The first UK occupation of SR1b followed on RRS Discovery later the same year. The National Oceanography Centre, Southampton (formerly known as Southampton Oceanography Centre), in collaboration with the British Antarctic Survey, have occupied the section most years since 1993 on the RRS James Clark Ross. Additionally, there were three Spanish occupations on R/V Hespérides in February 1995, 1996 and 1998 (Garcia et al., 2002). A Drake Passage summary report for RRS James Clark Ross cruises between 1993 - 2000 has been produced.
A table of cruises which occupied SR1b is presented below with links to the relevant cruise reports (were available).
| Cruise | Country | Start Date | End Date |
| --- | --- | --- | --- |
| R/V Polarstern ANT 10-5 | Germany | 08-08-1992 | 26-09-1992 |
| RRS Discovery D198 | United Kingdom | 11-11-1992 | 17-12-1992 |
| RRS James Clark Ross JR0a | United Kingdom | 20-11-1993 | 18-12-1993 |
| RRS James Clark Ross JR0b | United Kingdom | 13-11-1994 | 30-11-1994 |
| R/V Hespérides 29HE19951203 | Spain | 03-12-1995 | 06-01-1996 |
| R/V Hespérides 29HE19960117 | Spain | 17-01-1996 | 05-02-1996 |
| RRS James Clark Ross JR16 | United Kingdom | 13-11-1996 | 07-12-1996 |
| RRS James Clark Ross JR27 | United Kingdom | 17-12-1997 | 08-01-1998 |
| R/V Hespérides 29HE19980730 | Spain | 27-07-1998 | 27-08-1998 |
| RRS James Clark Ross JR47 | United Kingdom | 13-01-2000 | 17-02-2000 |
| RRS James Clark Ross JR55 | United Kingdom | 21-11-2000 | 14-12-2000 |
| RRS James Clark Ross JR67 | United Kingdom | 19-11-2001 | 17-12-2001 |
| RRS James Clark Ross JR81 | United Kingdom | 18-12-2002 | 02-01-2003 |
| RRS James Clark Ross JR94 | United Kingdom | 28-11-2003 | 16-12-2003 |
| RRS James Clark Ross JR115 | United Kingdom | 01-12-2004 | 19-12-2004 |
| RRS James Clark Ross JR139 | United Kingdom | 05-12-2005 | 12-12-2005 |
| RRS James Clark Ross JR163 | United Kingdom | 06-12-2006 | 15-12-2006 |
| RRS James Clark Ross JR193 | United Kingdom | 29-11-2007 | 08-12-2007 |
| RRS James Clark Ross JR194 | United Kingdom | 12-12-2008 | 20-12-2008 |
| RRS James Cook JC031 | United Kingdom | 03-02-2009 | 03-03-2009 |
| RRS James Clark Ross JR195 | United Kingdom | 19-11-2009 | 26-11-2009 |
| RRS James Clark Ross JR242 | United Kingdom | 06-12-2010 | 18-12-2000 |
| RRS James Clark Ross JR276 | United Kingdom | 09-04-2011 | 26-04-2011 |
| RRS James Clark Ross JR265 and JR254D | United Kingdom | 27-11-2011 | 24-12-2011 |
References
García, M. A., I. Bladé, A. Cruzado, Z. Velásquez, H. García, J. Puigdefàbregas and J. Sospedra, 2002: Observed variability of water properties and transports on the World Ocean Circulation Experiment SR1b section across the Antarctic Circumpolar Current. J. Geophys. Res. 107 (C10) 3162, 10.1029/2000JC000277.
Gersonde, R., 1993: The Expedition Antarktis X/5 of RV Polarstern in 1992. Berichte zur Polarforschung, 131, 167 pp.
Other Series linked to this Fixed Station for this cruise - 945182 945201 945213 945225 945237 945249 945250 945262 945274 945286 945298 945305 945317 945329 945330 945342 945354 945366 945378 945391 945409 945410 945422 945434 945446 945458 945471 945483 945495 945502 945514
Other Cruises linked to this Fixed Station (with the number of series) - JC031 (105) JR19931120 (JR00a) (30) JR19941113 (JR0B) (29) JR19961128 (JR16) (29) JR19971217 (JR27) (54) JR20000113 (JR47) (29) JR20001121 (JR55) (31) JR20021224 (JR81) (32) JR20031211 (JR94) (30) JR20041201 (JR111, JR115) (35) JR20071129 (JR171, JR193, JR196, JR212) (31) JR20081212 (JR194, JR197) (30) JR20091118 (JR195, JR198) (33) JR20101205 (JR242) (9) JR20110409 (JR276) (15)
Fixed Station Information
| | |
| --- | --- |
| Station Name | Drake Passage |
| Category | Offshore area |
| Latitude | 59° 0.00' S |
| Longitude | 62° 0.00' W |
| Water depth below MSL | |
Drake Passage
The World Ocean Circulation Experiment (WOCE, 1990-1998) was a major international experiment which made measurements and undertook modelling studies of the deep oceans in order to provide a much improved understanding of the role of ocean circulation in changing and ameliorating the Earth's climate.
The Drake Passage is the narrowest constriction of the Antarctic Circumpolar Current (ACC) - the largest current in the world and connects all three major oceanic basins both horizontally and vertically, thus being a key control in the global overturning circulation.Within the Drake Passage, two repeat hydrographic sections (SR1 and SR1b) were established by WOCE. These were designed to extend measurements collected earlier by the International Southern Ocean Studies (ISOS) programme and have continued beyond the WOCE time-frame.
The original section was SR1 (which also covers part of the A21 one time survey track). Subsequently, the section was shifted to the east (and designated SR1b) in order for it to lie on a satellite ground track as illustrated in the image below.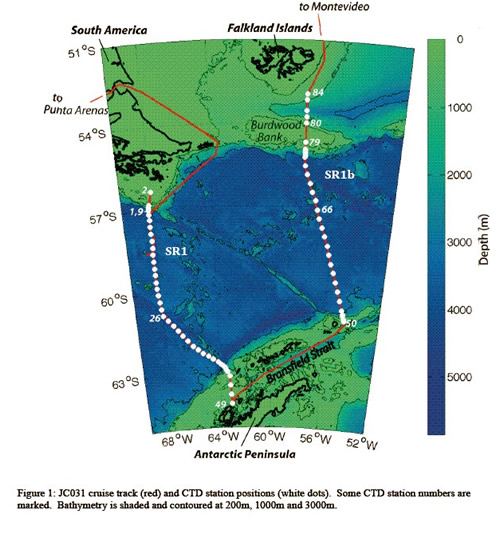 In addition to the hydrographic measurements, UK research in Drake Passage also includes a network of coastal and deep tide gauges, analysis of satellite altimeter data, and state-of-the-art global numerical modeling.
Other Series linked to this Fixed Station for this cruise - 945182 945201 945213 945225 945237 945249 945250 945262 945274 945286 945298 945305 945317 945329 945330 945342 945354 945366 945378 945391 945409 945410 945422 945434 945446 945458 945471 945483 945495 945502 945514
Other Cruises linked to this Fixed Station (with the number of series) - JC031 (247) JC054 (18) JR19931120 (JR00a) (30) JR19941113 (JR0B) (29) JR19961128 (JR16) (29) JR20000113 (JR47) (29) JR20001121 (JR55) (32) JR20021224 (JR81) (32) JR20031211 (JR94) (30) JR20041201 (JR111, JR115) (35) JR20050124 (JR112, JR113) (13) JR20060216 (JR136, JR137) (6) JR20061215 (JR155) (6) JR20071129 (JR171, JR193, JR196, JR212) (31) JR20091118 (JR195, JR198) (33) JR20101205 (JR242) (9) JR20110409 (JR276) (15) RATS/CTD100 (1) RATS/CTD103 (1) RATS/CTD106 (1) RATS/CTD108 (1) RATS/CTD111 (1) RATS/CTD113 (1) RATS/CTD115 (1) RATS/CTD120 (1) RATS/CTD122 (1) RATS/CTD124 (1) RATS/CTD126 (1) RATS/CTD129 (1) RATS/CTD131 (1) RATS/CTD133 (1) RATS/CTD136 (1) RATS/CTD138 (1) RATS/CTD140 (1) RATS/CTD142 (1) RATS/CTD145 (1) RATS/CTD147 (1) RATS/CTD150 (1) RATS/CTD151 (1) RATS/CTD153 (1) RATS/CTD154 (1) RATS/CTD156 (1) RATS/CTD157 (1) RATS/CTD160 (1) RATS/CTD163 (1) RATS/CTD164 (1) RATS/CTD166 (1) RATS/CTD167 (1) RATS/CTD169 (1) RATS/CTD170 (1) RATS/CTD173 (1) RATS/CTD175 (1) RATS/CTD177 (1) RATS/CTD180 (1) RATS/CTD182 (1) RATS/CTD184 (1) RATS/CTD186 (1) RATS/CTD189 (1) RATS/CTD191 (1) RATS/CTD193 (1) RATS/CTD195 (1) RATS/CTD198 (1) RATS/CTD200 (1) RATS/CTD202 (1) RATS/CTD204 (1) RATS/CTD206 (1) RATS/CTD208 (1) RATS/CTD210 (1) RATS/CTD214 (1) RATS/CTD217 (1) RATS/CTD219 (1) RATS/CTD221 (1) RATS/CTD223 (1) RATS/CTD225 (1) RATS/CTD227 (1) RATS/CTD230 (1) RATS/CTD232 (1) RATS/CTD234 (1) RATS/CTD237 (1) RATS/CTD239 (1) RATS/CTD241 (1) RATS/CTD243 (1) RATS/CTD245 (1) RATS/CTD247 (1) RATS/CTD249 (1) RATS/CTD251 (1) RATS/CTD254 (1) RATS/CTD256 (1) RATS/CTD258 (1) RATS/CTD260 (1) RATS/CTD262 (1) RATS/CTD265 (1) RATS/CTD267 (1) RATS/CTD269 (1) RATS/CTD271 (1) RATS/CTD273 (1) RATS/CTD275 (1) RATS/CTD277 (1) RATS/CTD281 (1) RATS/CTD283 (1) RATS/CTD285 (1) RATS/CTD287 (1) RATS/CTD289 (1) RATS/CTD291 (1) RATS/CTD293 (1) RATS/CTD295 (1) RATS/CTD297 (1) RATS/CTD301 (1) RATS/CTD305 (1) RATS/CTD307 (1) RATS/CTD309 (1) RATS/CTD311 (1) RATS/CTD313 (1) RATS/CTD315 (1) RATS/CTD317 (1) RATS/CTD319 (1) RATS/CTD321 (1) RATS/CTD323 (1) RATS/CTD325 (1) RATS/CTD327 (1) RATS/CTD329 (1) RATS/CTD331 (1) RATS/CTD335 (1) RATS/CTD337 (1) RATS/CTD341 (1) RATS/CTD343 (1) RATS/CTD345 (1) RATS/CTD347 (1) RATS/CTD351 (1) RATS/CTD353 (1) RATS/CTD355 (1) RATS/CTD357 (1) RATS/CTD361 (1) RATS/CTD363 (1) RATS/CTD365 (1) RATS/CTD373 (1) RATS/CTD375 (1) RATS/CTD377 (1) RATS/CTD379 (1) RATS/CTD381 (1) RATS/CTD383 (1) RATS/CTD385 (1) RATS/CTD387 (1) RATS/CTD389 (1) RATS/CTD395 (1) RATS/CTD397 (1) RATS/CTD399 (1) RATS/CTD401 (1) RATS/CTD403 (1) RATS/CTD405 (1) RATS/CTD407 (1) RATS/CTD409 (1) RATS/CTD411 (1) RATS/CTD415 (1) RATS/CTD417 (1) RATS/CTD419 (1) RATS/CTD423 (1) RATS/CTD425 (1) RATS/CTD427 (1) RATS/CTD429 (1) RATS/CTD43 (1) RATS/CTD431 (1) RATS/CTD433 (1) RATS/CTD437 (1) RATS/CTD439 (1) RATS/CTD443 (1) RATS/CTD445 (1) RATS/CTD461 (1) RATS/CTD463 (1) RATS/CTD465 (1) RATS/CTD467 (1) RATS/CTD469 (1) RATS/CTD471 (1) RATS/CTD473 (1) RATS/CTD475 (1) RATS/CTD477 (1) RATS/CTD479 (1) RATS/CTD481 (1) RATS/CTD483 (1) RATS/CTD485 (1) RATS/CTD487 (1) RATS/CTD489 (1) RATS/CTD49 (1) RATS/CTD491 (1) RATS/CTD493 (1) RATS/CTD495 (1) RATS/CTD497 (1) RATS/CTD499 (1) RATS/CTD501 (1) RATS/CTD503 (1) RATS/CTD505 (1) RATS/CTD507 (1) RATS/CTD509 (1) RATS/CTD51 (1) RATS/CTD511 (1) RATS/CTD513 (1) RATS/CTD515 (1) RATS/CTD517 (1) RATS/CTD519 (1) RATS/CTD521 (1) RATS/CTD523 (1) RATS/CTD525 (1) RATS/CTD527 (1) RATS/CTD529 (1) RATS/CTD53 (1) RATS/CTD531 (1) RATS/CTD534 (1) RATS/CTD536 (1) RATS/CTD538 (1) RATS/CTD540 (1) RATS/CTD542 (1) RATS/CTD545 (1) RATS/CTD547 (1) RATS/CTD549 (1) RATS/CTD55 (1) RATS/CTD551 (1) RATS/CTD553 (1) RATS/CTD555 (1) RATS/CTD557 (1) RATS/CTD559 (1) RATS/CTD561 (1) RATS/CTD563 (1) RATS/CTD565 (1) RATS/CTD567 (1) RATS/CTD569 (1) RATS/CTD571 (1) RATS/CTD573 (1) RATS/CTD575 (1) RATS/CTD577 (1) RATS/CTD579 (1) RATS/CTD58 (1) RATS/CTD581 (1) RATS/CTD583 (1) RATS/CTD585 (1) RATS/CTD587 (1) RATS/CTD589 (1) RATS/CTD591 (1) RATS/CTD593 (1) RATS/CTD595 (1) RATS/CTD597 (1) RATS/CTD599 (1) RATS/CTD60 (1) RATS/CTD601 (1) RATS/CTD603 (1) RATS/CTD605 (1) RATS/CTD607 (1) RATS/CTD609 (1) RATS/CTD611 (1) RATS/CTD613 (1) RATS/CTD615 (1) RATS/CTD617 (1) RATS/CTD619 (1) RATS/CTD62 (1) RATS/CTD621 (1) RATS/CTD623 (1) RATS/CTD625 (1) RATS/CTD627 (1) RATS/CTD629 (1) RATS/CTD631 (1) RATS/CTD633 (1) RATS/CTD635 (1) RATS/CTD637 (1) RATS/CTD639 (1) RATS/CTD64 (1) RATS/CTD654 (1) RATS/CTD66 (1) RATS/CTD669 (1) RATS/CTD678 (1) RATS/CTD68 (1) RATS/CTD687 (1) RATS/CTD695 (1) RATS/CTD70 (1) RATS/CTD705 (1) RATS/CTD72 (1) RATS/CTD722 (1) RATS/CTD724 (1) RATS/CTD727 (1) RATS/CTD729 (1) RATS/CTD731 (1) RATS/CTD733 (1) RATS/CTD735 (1) RATS/CTD737 (1) RATS/CTD739 (1) RATS/CTD74 (1) RATS/CTD741 (1) RATS/CTD743 (1) RATS/CTD745 (1) RATS/CTD747 (1) RATS/CTD749 (1) RATS/CTD751 (1) RATS/CTD753 (1) RATS/CTD755 (1) RATS/CTD757 (1) RATS/CTD759 (1) RATS/CTD761 (1) RATS/CTD763 (1) RATS/CTD765 (1) RATS/CTD767 (1) RATS/CTD77 (1) RATS/CTD771 (1) RATS/CTD773 (1) RATS/CTD775 (1) RATS/CTD777 (1) RATS/CTD779 (1) RATS/CTD781 (1) RATS/CTD783 (1) RATS/CTD785 (1) RATS/CTD787 (1) RATS/CTD789 (1) RATS/CTD795 (1) RATS/CTD797 (1) RATS/CTD799 (1) RATS/CTD80 (1) RATS/CTD801 (1) RATS/CTD803 (1) RATS/CTD805 (1) RATS/CTD807 (1) RATS/CTD809 (1) RATS/CTD811 (1) RATS/CTD813 (1) RATS/CTD817 (1) RATS/CTD819 (1) RATS/CTD82 (1) RATS/CTD821 (1) RATS/CTD823 (1) RATS/CTD825 (1) RATS/CTD827 (1) RATS/CTD829 (1) RATS/CTD831 (1) RATS/CTD833 (1) RATS/CTD837 (1) RATS/CTD839 (1) RATS/CTD84 (1) RATS/CTD841 (1) RATS/CTD843 (1) RATS/CTD845 (1) RATS/CTD847 (1) RATS/CTD849 (1) RATS/CTD851 (1) RATS/CTD853 (1) RATS/CTD855 (1) RATS/CTD857 (1) RATS/CTD859 (1) RATS/CTD861 (1) RATS/CTD863 (1) RATS/CTD865 (1) RATS/CTD867 (1) RATS/CTD869 (1) RATS/CTD87 (1) RATS/CTD871 (1) RATS/CTD873 (1) RATS/CTD879 (1) RATS/CTD881 (1) RATS/CTD883 (1) RATS/CTD885 (1) RATS/CTD887 (1) RATS/CTD889 (1) RATS/CTD89 (1) RATS/CTD891 (1) RATS/CTD893 (1) RATS/CTD895 (1) RATS/CTD897 (1) RATS/CTD899 (1) RATS/CTD901 (1) RATS/CTD903 (1) RATS/CTD905 (1) RATS/CTD907 (1) RATS/CTD909 (1) RATS/CTD91 (1) RATS/CTD913 (1) RATS/CTD915 (1) RATS/CTD917 (1) RATS/CTD919 (1) RATS/CTD921 (1) RATS/CTD923 (1) RATS/CTD925 (1) RATS/CTD927 (1) RATS/CTD929 (1) RATS/CTD93 (1) RATS/CTD931 (1) RATS/CTD933 (1) RATS/CTD935 (1) RATS/CTD937 (1) RATS/CTD939 (1) RATS/CTD941 (1) RATS/CTD943 (1) RATS/CTD945 (1) RATS/CTD947 (1) RATS/CTD949 (1) RATS/CTD951 (1) RATS/CTD953 (1) RATS/CTD955 (1) RATS/CTD957 (1) RATS/CTD959 (1) RATS/CTD96 (1) RATS/CTD961 (1) RATS/CTD963 (1) RATS/CTD965 (1) RATS/CTD967 (1) RATS/CTD969 (1) RATS/CTD971 (1) RATS/CTD973 (1) RATS/CTD975 (1) RATS/CTD977 (1) RATS/CTD979 (1) RATS/CTD98 (1) RATS/CTD981 (1) RATS/CTD983 (1) RATS/CTD985 (1) RATS/CTD987 (1) RATS/CTD989 (1) RATS/CTD991 (1)
---
The following single character qualifying flags may be associated with one or more individual parameters with a data cycle:
| Flag | Description |
| --- | --- |
| Blank | Unqualified |
| < | Below detection limit |
| > | In excess of quoted value |
| A | Taxonomic flag for affinis (aff.) |
| B | Beginning of CTD Down/Up Cast |
| C | Taxonomic flag for confer (cf.) |
| D | Thermometric depth |
| E | End of CTD Down/Up Cast |
| G | Non-taxonomic biological characteristic uncertainty |
| H | Extrapolated value |
| I | Taxonomic flag for single species (sp.) |
| K | Improbable value - unknown quality control source |
| L | Improbable value - originator's quality control |
| M | Improbable value - BODC quality control |
| N | Null value |
| O | Improbable value - user quality control |
| P | Trace/calm |
| Q | Indeterminate |
| R | Replacement value |
| S | Estimated value |
| T | Interpolated value |
| U | Uncalibrated |
| W | Control value |
| X | Excessive difference |