Metadata Report for BODC Series Reference Number 974623
---
Data Description
Data Category
Currents -subsurface Eulerian
Instrument Type

| Name | Categories |
| --- | --- |
| Teledyne RDI Workhorse Long-Ranger ADCP | current profilers |

Instrument Mounting
research vessel
Originating Country
United Kingdom
Originator
Dr Stuart Painter
Originating Organization
National Oceanography Centre, Southampton
Processing Status
QC in progress
Project(s)
Oceans 2025
Oceans 2025 Theme 10
Oceans 2025 Theme 10 SO4
Oceans 2025 Theme 2
Oceans 2025 Theme 2 WP2.5
Oceans 2025 Theme 5
Oceans 2025 Theme 5 WP5.7

Data Identifiers
| | |
| --- | --- |
| Originator's Identifier | SUR32104 |
| BODC Series Reference | 974623 |
Time Co-ordinates(UT)
| | |
| --- | --- |
| Start Time (yyyy-mm-dd hh:mm) | 2007-08-26 15:28 |
| End Time (yyyy-mm-dd hh:mm) | 2007-08-26 15:34 |
| Nominal Cycle Interval | 120.0 seconds |
Spatial Co-ordinates
| | |
| --- | --- |
| Start Latitude | 62.23617 N ( 62° 14.2' N ) |
| End Latitude | 62.21950 N ( 62° 13.2' N ) |
| Start Longitude | 19.92583 W ( 19° 55.5' W ) |
| End Longitude | 19.92800 W ( 19° 55.7' W ) |
| Positional Uncertainty | 0.0 to 0.01 n.miles |
| Minimum Sensor Depth | 21.0 m |
| Maximum Sensor Depth | 965.0 m |
| Minimum Sensor Height | - |
| Maximum Sensor Height | - |
| Sea Floor Depth | - |
| Sensor Distribution | Sensor fixed, measurements made at fixed depths - The sensor is at a fixed depth, but measurements are made remotely from the sensor over a range of depths (e.g. ADCP measurements) |
| Sensor Depth Datum | Instantaneous - Depth measured below water line or instantaneous water body surface |
| Sea Floor Depth Datum | - |
Parameters
| BODC CODE | Rank | Units | Title |
| --- | --- | --- | --- |
| DBINAA01 | 0 | Metres | Depth below sea surface (ADCP bin) |
| AADYAA01 | 1 | Days | Date (time from 00:00 01/01/1760 to 00:00 UT on day) |
| AAFDZZ01 | 1 | Days | Time (time between 00:00 UT and timestamp) |
| ACYCAA01 | 1 | Dimensionless | Sequence number |
| ALATGP01 | 1 | Degrees | Latitude north (WGS84) by unspecified GPS system |
| ALONGP01 | 1 | Degrees | Longitude east (WGS84) by unspecified GPS system |
| ASAMSP00 | 2 | Decibels | Signal return amplitude from the water body by shipborne acoustic doppler current profiler (ADCP) beam 1 |
| ASAMSP02 | 2 | Decibels | Signal return amplitude from the water body by shipborne acoustic doppler current profiler (ADCP) beam 2 |
| ASAMSP03 | 2 | Decibels | Signal return amplitude from the water body by shipborne acoustic doppler current profiler (ADCP) beam 3 |
| ASAMSP04 | 2 | Decibels | Signal return amplitude from the water body by shipborne acoustic doppler current profiler (ADCP) beam 4 |
| LCEWAS01 | 2 | Centimetres per second | Eastward current velocity (Eulerian) in the water body by shipborne acoustic doppler current profiler (ADCP) |
| LCNSAS01 | 2 | Centimetres per second | Northward current velocity (Eulerian) in the water body by shipborne acoustic doppler current profiler (ADCP) |
| LERRAS01 | 2 | Centimetres per second | Current velocity error in the water body by shipborne acoustic doppler current profiler (ADCP) |
| LRZAAS01 | 2 | Centimetres per second | Upward current velocity in the water body by shipborne acoustic doppler current profiler (ADCP) |
Definition of Rank
Rank 1 is a one-dimensional parameter
Rank 2 is a two-dimensional parameter
Rank 0 is a one-dimensional parameter describing the second dimension of a two-dimensional parameter (e.g. bin depths for moored ADCP data)
---
No Problem Report Found in the Database
---
Public domain data
These data have no specific confidentiality restrictions for users. However, users must acknowledge data sources as it is not ethical to publish data without proper attribution. Any publication or other output resulting from usage of the data should include an acknowledgment.
The recommended acknowledgment is
"This study uses data from the data source/organisation/programme, provided by the British Oceanographic Data Centre and funded by the funding body."
---
Teledyne RDI's Workhorse Long Ranger ADCP
The Workhorse Long-Ranger acoustic doppler current profler (Teledyne RD Instruments) is a long-range and long-term self contained ADCP. It has a patented broadband signal (75 kHz) and a standard depth rating of 1500m. It operates effectively between temperatures of -5°C and 45°C and has a velocity accuracy of ±1% ±5mm/s.
The instrument comprises:
An aluminium transducer head with four beams at 20o from the vertical in a convex configuration, temperature sensor, electronic assemblies, fluxgate compass, pitch and roll sensors
4 x 28 D-cell alkaline battery packs
40 MB PC card internal memory (upgradeable to 440 MB)
1500m depth rated 6061 aluminium pressure case. End cap with wet material connector and dummy plug
Instrument Descriptions
75kHz ADCP
Water velocities were measured using a vessel mounted RDI Ocean Surveyor 75 kHz Phased Array VM-ADCP. The transducer unit was installed in the hull, but in a second water chest 4.15 m forward and 2.5 m to starboard of the 150 kHz well. Data were logged using IBM Data Acquisition Software (DAS) version 2.48 with profiler software 17.10. Position and ship velocities were derived from the Bestnav system which is an assembly of multiple GPS signals, including the gyronmea and em-log stream in order to calculate the best possible position, speed, heading, pitch and roll of the ship. Further information on VM-ADCP instrumentation can be found in the cruise report.
Originator's Data Processing
Sampling Strategy
The vessel mounted RDI Ocean Surveyor 75 kHz ADCP was configured to sample over 60 bins of 16m depth at 120 second intervals for the majority of the cruise but reconfigured to sample over 100 bins of 8m thickness from the Wyville Thomson Ridge.
Originators Data Processing
The PC was running RDI software VmDAS v1.43.19. Gyro heading and GPS Ashtech, location and time were automatically fed into the software. The software logs the PC clock time, stamps the data (start of each ensemble) with that time, and records the offset of the PC time from GPS time. This offset is automatically applied to the ADCP data in the processing path before merging with the navigation data. Throughout the cruise the instrument was operated in water tracking mode with the calibration of the instrument left as determined during Cruise D321a.
Full processing details can be found in the cruise report.
Field Calibrations
Calibration was obtained in bottom track mode with an offset angle = 0°.
F (misalignment angle) = -59.4636°
A (scaling factor) = 1.0019

Further information on calibration of the VMADCP can be found on page 28 of the cruise report.
---
Oceans 2025 - The NERC Marine Centres' Strategic Research Programme 2007-2012
Who funds the programme?
The Natural Environment Research Council (NERC) funds the Oceans 2025 programme, which was originally planned in the context of NERC's 2002-2007 strategy and later realigned to NERC's subsequent strategy (Next Generation Science for Planet Earth; NERC 2007).
Who is involved in the programme?
The Oceans 2025 programme was designed by and is to be implemented through seven leading UK marine centres. The marine centres work together in coordination and are also supported by cooperation and input from government bodies, universities and other partners. The seven marine centres are:
National Oceanography Centre, Southampton (NOCS)
Plymouth Marine Laboratory (PML)
Marine Biological Association (MBA)
Sir Alister Hardy Foundation for Marine Science (SAHFOS)
Proudman Oceanographic Laboratory (POL)
Scottish Association for Marine Science (SAMS)
Sea Mammal Research Unit (SMRU)
Oceans2025 provides funding to three national marine facilities, which provide services to the wider UK marine community, in addition to the Oceans 2025 community. These facilities are:
British Oceanographic Data Centre (BODC), hosted at POL
Permanent Service for Mean Sea Level (PSMSL), hosted at POL
Culture Collection of Algae and Protozoa (CCAP), hosted at SAMS
The NERC-run Strategic Ocean Funding Initiative (SOFI) provides additional support to the programme by funding additional research projects and studentships that closely complement the Oceans 2025 programme, primarily through universities.
What is the programme about?
Oceans 2025 sets out to address some key challenges that face the UK as a result of a changing marine environment. The research funded through the programme sets out to increase understanding of the size, nature and impacts of these changes, with the aim to:
improve knowledge of how the seas behave, not just now but in the future;
help assess what that might mean for the Earth system and for society;
assist in developing sustainable solutions for the management of marine resources for future generations;
enhance the research capabilities and facilities available for UK marine science.
In order to address these aims there are nine science themes supported by the Oceans 2025 programme:
Climate, circulation and sea level (Theme 1)
Marine biogeochemical cycles (Theme 2)
Shelf and coastal processes (Theme 3)
Biodiversity and ecosystem functioning (Theme 4)
Continental margins and deep ocean (Theme 5)
Sustainable marine resources (Theme 6)
Technology development (Theme 8)
Next generation ocean prediction (Theme 9)
Integration of sustained observations in the marine environment (Theme 10)
In the original programme proposal there was a theme on health and human impacts (Theme 7). The elements of this Theme have subsequently been included in Themes 3 and 9.
When is the programme active?
The programme started in April 2007 with funding for 5 years.
Brief summary of the programme fieldwork/data
Programme fieldwork and data collection are to be achieved through:
physical, biological and chemical parameters sampling throughout the North and South Atlantic during collaborative research cruises aboard NERC's research vessels RRS Discovery, RRS James Cook and RRS James Clark Ross;
the Continuous Plankton Recorder being deployed by SAHFOS in the North Atlantic and North Pacific on 'ships of opportunity';
physical parameters measured and relayed in near real-time by fixed moorings and ARGO floats;
coastal and shelf sea observatory data (Liverpool Bay Coastal Observatory (LBCO) and Western Channel Observatory (WCO)) using the RV Prince Madog and RV Quest.
The data is to be fed into models for validation and future projections. Greater detail can be found in the Theme documents.
---
Oceans 2025 Theme 10
Oceans 2025 is a strategic marine science programme, bringing marine researchers together to increase people's knowledge of the marine environment so that they are better able to protect it for future generations.
Theme 10: Integration of Sustained Observations in the Marine Environment spans all marine domains from the sea-shore to the global ocean, providing data and knowledge on a wide range of ecosystem properties and processes (from ocean circulation to biodiversity) that are critical to understanding Earth system behaviour and identifying change. They have been developed not merely to provide long-term data sets, but to capture extreme or episodic events, and play a key role in the initialisation and validation of models. Many of these SOs will be integrated into the newly developing UK Marine Monitoring Strategy - evolving from the Defra reports Safeguarding our Seas (2002) and Charting Progress (2005), thus contributing to the underpinning knowledge for national marine stewardship. They will also contribute to the UK GOOS Strategic Plan (IACMST, 2006) and the Global Marine Assessment.
Weblink: http://www.oceans2025.org/
---
Oceans 2025 Theme 10, Sustained Observation Activity 4: The Extended Ellett Line
The Ellett Line (begun in 1975 and since 1996 the Extended Ellett Line from Scotland to Iceland) crosses important north Atlantic Meridional Overturning Circulation (MOC) components and thus provides an additional contribution to understanding the north Atlantic response to climate change. Sustained Observation Activity (SO) 4 will repeat this section annually collecting a wide variety of physical and biogeochemical measurements, and will, to enhance the time variable component, make use of Argo floats and gliders. SO 4 will be implemented by physical, biological and chemical scientists at the National Oceanography Centre, Southampton (NOCS) and the Scottish Association for Marine Science (SAMS).
SO 4 formally contributes to the Department for Environment, Food and Rural Affairs (DEFRA)-funded Marine Environmental Change Network (MECN). Established in 2002 to coordinate and promote the collection and utilisation of marine time-series and long-term data sets, the goal of the network is to use long-term marine environmental data from around the British Isles and Ireland to separate natural fluctuations from global, regional and local anthropogenic impacts.
The specific deliverables for SO 4 are:
A time series of the evolution of the hydrography of the northeast Atlantic, together with a more formal understanding of the causes of any changes observed
An archived data set available to the international community via the British Oceanographic Data Centre (BODC)
A platform for further scientific research
More detailed information on this Work Package is available at pages 15 - 16 of the official Oceans 2025 Theme 10 document: Oceans 2025 Theme 10
Weblink: http://www.oceans2025.org/
---
Oceans 2025 Theme 2: Marine Biogeochemical Cycles
Marine biogeochemical cycles are the key processes that control the cycling of climate-active gases within the surface ocean; the main transport mechanisms governing the supply of nutrients from deeper waters across the pycnocline; and the flux of material to deep water via the biological carbon pump. The broad aim of this Theme is to improve knowledge of major biogeochemical processes in the surface layer of the Atlantic Ocean and UK shelf seas in order to develop accurate models of these systems. This strategic research will result in predictions of how the ocean will respond to, and either ameliorate or worsen, climate change and ocean acidification.
Theme 2 comprises three Research Units and ten Work Packages. Theme 2 addresses the following pivotal biogeochemical pathways and processes:
The oceans and shelf seas as a source and sink of climate-active gases
The importance of the carbon and nitrogen cycles in the regulation of microbial communities and hence export and biogenic gas cycling
The biological pump and export of carbon into the ocean's interior
Processes that introduce nutrients into the euphotic zone
The direct impact of a high CO2 world (acidification) on mixed-layer biogeochemical cycles and feedbacks to the atmosphere via sea/air gas fluxes and the biological pump
The indirect impact of a high CO2 world (increased stratification and storminess) on the supply of nutrients to the surface layer of the ocean and hence on the biological carbon pump and air-sea gas fluxes
Cellular processes that mediate calcification in coccolithophores and how these are impacted by environmental change with a focus on elevated CO2 and ocean acidification
Inter- and intra-specific genetic diversity and inter-specific physiological plasticity in coccolithophores and the consequences of rapid environmental change
The official Oceans 2025 documentation for this Theme can be found using the following link: Oceans 2025 Theme 2
---
Oceans 2025 Theme 2, Work Package 2.5: Physical Processes and the Supply of Nutrients to the Euphotic Zone
The emphasis behind this Work Package is to gain a better understanding of the ocean's biological carbon pump (OBP), an important process in the global carbon cycle. Small changes in its magnitude resulting from climate change could have significant effects, both on the ocean's ability to sequester CO2 and on the natural flux of marine carbon. This work package is concerned with the effect of physical processes and circulation on nutrient supply to the euphotic zone. Many physical pathways influence nutrient supply, such as winter overturning, Ekman pumping, small-scale turbulent mixing and mesoscale ageostrophic circulations, (of which, eddy pumping is but one example). Increased stratification will change patterns of winter overturning and dampen small-scale mixing. Shifts in wind patterns will perturb Ekman pumping. Changes in gradients of ocean heating and wind-forcing will alter the distribution of potential energy released through baroclinic instability of eddies and fronts. The combined effect of change on total nutrient supply will therefore be complex. Such physically-mediated changes, coupled to changes in aeolian dust deposition, may profoundly alter upper ocean plankton communities, biogeochemical cycling and carbon export.
This Work Package will be primarily coordinated by the National Oceanography Centre, Southampton (NOC). Specific objectives are:
To determine the relative importance of mechanisms affecting nutrient supply to the photic zone by quantifying them in the three major biomes of the North Atlantic
To establish how representative process studies are for the basin scale and thus define operators to scale up the individual process study results
To determine the sensitivity to future climate change of the mechanisms sustaining total nutrient supply to the photic zone over the three major biomes of the North Atlantic
Aspects of this work will link to Oceans 2025 Theme 9 and 10, and Theme 2 WP 2.6.
More detailed information on this Work Package is available from pages 13-15 of the official Oceans 2025 Theme 2 document: Oceans 2025 Theme 2
Weblink: http://www.oceans2025.org/
---
Oceans 2025 Theme 5: Continental Margins and the Deep Ocean
The deep ocean and the seafloor beneath it are the largest yet least known environments on our planet. They profoundly influence the way in which the Earth reacts to climate change, provide vital resources, and can cause natural catastrophes (with significant risks to the UK). A better understanding of the biodiversity and resource potential of the deep ocean, its geophysics and its complex interactions with the global carbon cycle are all urgently required.
The overall aim of Theme 5 is to deliver coordinated, multidisciplinary research on the functioning of the deep ocean from the photic zone to the sub-seabed, encompassing biology, physics, geology, chemistry and mathematical modelling. Such an integrated deep-sea programme is unique in the UK and will ensure the provision of knowledge essential for underpinning UK policy in conserving marine biodiversity, controlling the effects of global change, managing ocean resources in a sustainable manner, and mitigating the effects of geohazards.
The specific objectives of Theme 5 are:
To understand the processes controlling the vertical flux of carbon between the base of the photic zone and the seabed and to quantify this flux.
To quantify fluxes of carbon and fluids from the sub-seabed into the deep ocean and their contribution to global carbon budgets.
To determine how the carbon flow interacts with deep-ocean pelagic and benthic communities in the open ocean and on the continental slope.
To investigate how benthic ecosystems on continental margins and in the deep ocean respond to spatial and temporal variation in environmental parameters.
To understand the causes, frequency and predictability of submarine geohazards.
To apply scientific knowledge to the sustainable management of the ocean and its resources.
Theme 5 combines two Research Units, on Continental Margins and on the Biochemistry of the Deep Ocean. Ultimately the science of the two activities will be combined, but because the methods of study and the resources needed are largely different, the work has been planned within two groups.
In Continental Margins, the physical processes regulating the transport of sediment is investigated as well as the transport of hydrocarbons and aqueous fluids from the seafloor. The effect of both of these major processes on the landscape ecology of the continental slope will be assessed. In addition, the causes, mechanisms and frequency of submarine geohazards will be studied, particularly those that potentially could have a devastating effect on coastal communities, such as earthquake and landslide-induced tsunamis. Carbon flux from the geosphere into the ocean will be assessed. The information will be used to advise on whole ecosystem management strategies, including policy issues relating to Marine Protected Areas and international treaties on the development of open ocean resources.
In Biogeochemistry of the Deep Ocean, the flux of particles through the 'twilight zone' in order to reduce the large uncertainties in our knowledge of the magnitude of the downward flux in various biogeochemical provinces of the global ocean will be studied. The twilight zone is a large biogeochemical reactor influencing the supply of nutrients to the euphotic zone and the fate of materials consigned to the deep seafloor. Theme 5 will study how zooplankton and microbes repackage and breakdown particles, and how these processes influence carbon transfer. Direct observations and experimental approaches will provide data to drive stoichiometric models of heterotrophic OM utilisation. The impact on the deep-sea benthos of repackaged OM, and the of part of surface production that by-passes twilight zone processes, will be assessed by analysing global patterns and through ROV in situ experimentation. Proven modelling expertise in upper ocean systems will be extended to benthic ecosystems utilising the information generated by bentho-pelagic coupling observations and experimental approaches.
The official Oceans 2025 documentation for this Theme is available from the following link: Oceans 2025 Theme 5
Weblink: http://www.oceans2025.org/
---
Oceans 2025 Theme 5, Work Package 5.7: Twilight zone dynamics
The surface ocean has been partitioned into discrete functional provinces with particular biogeochemical characteristics. In the Atlantic between 50° N and 50° S, Longhurst (1998) identified six provinces based on physical forcing and primary production. Links between these contrasting production regimes and the underlying deep ocean have not been studied in any detail. Some conceptual approaches, e.g. the bifurcation model, show how surface water production might relate to export, but this is complicated by evidence for strong decoupling between the magnitude of production and particulate export.
Physical dynamics of twilight zone (TZ). We will combine the latest technology and observational techniques to tackle the physically driven pathways to, from and through the deep ocean. On transects, we will test the hypotheses that the TZ is dominated by 3D eddy transports stirring the TZ and exchanging water across the permanent thermocline, while below there is a more quiescent weakly stratified environment dominated by slow mode barotropic flows, interrupted by topographic features over which increased velocity shear leads to enhanced diffusive mixing.
Particle flux through the twilight zone. Our understanding of deep ocean biogeochemistry, community structure and function can be improved by reducing uncertainties in the magnitude of downward flux, and how this changes with depth, region and time. In addition to carbon, this improved understanding must include all limiting elements and the wide variety of complex organic molecules that support life in the deep ocean. Large uncertainties in published data make such quantification a major challenge.
Twilight zone biogeochemistry. For comparison with the microbial community, we will address the role of zooplankton in the TZ by measuring biomass and size spectra using a video plankton camera system and laser optical plankton counter, verified with physical samples from closing nets. Community energy demand will be estimated from the size spectra and allometric relationships to quantify the role of zooplankton in TZ C flux.
Modelling the twilight zone system. For the TZ zone, our modelling approach will focus on particles and their utilisation by zooplankton and bacteria, and on comparing model output with data. Particulate OM will be divided into size classes corresponding to the size spectra of sinking particles, which has consequences for their depth penetration into the ocean. Production and consumption of dissolved OM will also be represented. Both C and N will be included as model currencies, using appropriate stoichiometric models of heterotrophic OM utilisation. Ecosystem models will be tested and analysed in 1D using ecosystem testbeds (Theme 9). The most appropriate will then be used in 3D using the Harvard Ocean Prediction System model, focussed on the fine-scale survey work proposed around the PAP site. Pelagic biology, which provides the export flux, will be developed in this model as part of Theme 2 then extended to the TZ to determine the relationship between TZ processes and variability in the euphotic zone. Climate sensitivity (wind forcing, heating) tests will also be undertaken to examine their impact on export.
More detailed information on this WP is available on page 14-16 of the official Oceans 2025 Theme 5 document: Oceans 2025 Theme 5
Weblink: http://www.oceans2025.org/
References:
Longhurst, A.R. (1998) Ecological Geography of the Sea, Academic Press, 398pp
---
Cruise
| | |
| --- | --- |
| Cruise Name | D321B |
| Departure Date | 2007-08-24 |
| Arrival Date | 2007-09-09 |
| Principal Scientist(s) | Toby J Sherwin (Scottish Association for Marine Science) |
| Ship | RRS Discovery |
Complete Cruise Metadata Report is available here
---
Fixed Station Information
| | |
| --- | --- |
| Station Name | Extended Ellett Line |
| Category | Offshore route/traverse |
Extended Ellett Line
The Extended Ellett Line is a hydrographic transect consisting of 58 individual fixed stations which have been occupied, typically on an annual basis, since September 1996. The Line runs from the south of Iceland, across the Iceland Basin to the outcrop of Rockall, and across the Rockall Trough to the north west coast of Scotland (see map). CTD dips and associated water sampling for the analysis of nutrients are routinely performed during each station occupation.
The Extended Ellett Line augments the original Ellett Line time series - a shorter repeated transect which encompassed those stations between Rockall and Scotland. Work on the Ellett Line was typically carried out at least once a year between 1975 and 1996.
Map of standard stations (1996-present)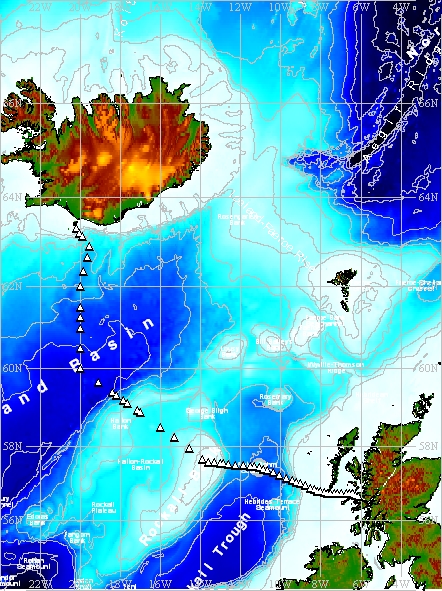 Map produced using the GEBCO Digital Atlas
The white triangles indicate the nominal positions of the Extended Ellett Line stations visited since September 1996. Measurements made along the Extended Ellett Line lie within a box bounded by co-ordinates 56° N, 21° W at the south west corner and 65° N, 6° W at the north east corner.
Nominal Extended Ellett Line stations (September 1996-present)
Listed below are nominal details of the standard hydrographic stations that have formed the Extended Ellett Line since September 1996.
| Station | Latitude | Longitude | Depth | Range |
| --- | --- | --- | --- | --- |
| IB23S | 63.318 N | 20.210 W | 125 m | - |
| IB22S | 63.217 N | 20.067 W | 660 m | 0.0 nm |
| IB21S | 63.133 N | 19.917 W | 1030 m | 6.5 nm |
| IB20S | 62.917 N | 19.550 W | 1415 m | 16.4 nm |
| IB19S | 62.667 N | 19.667 W | 1500 m | 16.0 nm |
| IB18S | 62.333 N | 19.833 W | 1800 m | 16.0 nm |
| IB17 | 62.000 N | 20.000 W | 1700 m | 20.6 nm |
| IB16 | 61.500 N | 20.000 W | 2000 m | 30.1 nm |
| IB15 | 61.250 N | 20.000 W | 2375 m | 15.0 nm |
| IB14 | 61.000 N | 20.000 W | 2400 m | 15.0 nm |
| IB13 | 60.500 N | 20.000 W | 2500 m | 30.1 nm |
| IB12 | 60.000 N | 20.000 W | 2700 m | 30.1 nm |
| IB11 | 59.667 N | 19.117 W | 2680 m | 33.3 nm |
| IB10 | 59.400 N | 18.417 W | 2420 m | 26.7 nm |
| IB9 | 59.333 N | 18.233 W | 1910 m | 6.9 nm |
| IB8 | 59.200 N | 17.883 W | 1540 m | 13.4 nm |
| IB7 | 59.117 N | 17.667 W | 1000 m | 8.3 nm |
| IB6 | 58.950 N | 17.183 W | 850 m | 18.0 nm |
| IB5 | 58.883 N | 17.000 W | 1150 m | 7.0 nm |
| IB4 | 58.500 N | 16.000 W | 1210 m | 38.8 nm |
| IB3 | 58.250 N | 15.333 W | 680 m | 25.8 nm |
| IB2 | 57.950 N | 14.583 W | 480 m | 29.9 nm |
| IB1 | 57.667 N | 13.900 W | 160 m | 27.7 nm |
| A | 57.583 N | 13.633 W | 130 m | 10.0 nm |
| B | 57.567 N | 13.333 W | 210 m | 9.7 nm |
| C | 57.550 N | 13.000 W | 330 m | 10.8 nm |
| D | 57.542 N | 12.867 W | 1000 m | 4.3 nm |
| E | 57.533 N | 12.633 W | 1658 m | 7.6 nm |
| F | 57.508 N | 12.250 W | 1817 m | 12.5 nm |
| G | 57.492 N | 11.850 W | 1812 m | 13.0 nm |
| H | 57.483 N | 11.533 W | 2020 m | 10.3 nm |
| I | 57.467 N | 11.317 W | 750 m | 7.0 nm |
| J | 57.450 N | 11.083 W | 550 m | 7.6 nm |
| K | 57.400 N | 10.867 W | 850 m | 7.6 nm |
| L | 57.367 N | 10.667 W | 2076 m | 6.8 nm |
| M | 57.300 N | 10.383 W | 2340 m | 10.1 nm |
| N | 57.233 N | 10.050 W | 2100 m | 11.5 nm |
| O | 57.150 N | 9.700 W | 1900 m | 12.4 nm |
| P | 57.100 N | 9.417 W | 1050 m | 9.7 nm |
| Q | 57.050 N | 9.217 W | 350 m | 7.2 nm |
| R | 57.000 N | 9.000 W | 135 m | 7.7 nm |
| S | 56.950 N | 8.783 W | 125 m | 7.7 nm |
| 15G | 56.883 N | 8.500 W | 125 m | 10.1 nm |
| T | 56.837 N | 8.333 W | 120 m | 6.1 nm |
| 14G | 56.808 N | 8.167 W | 115 m | 5.7 nm |
| 13G | 56.783 N | 8.000 W | 110 m | 5.7 nm |
| 12G | 56.758 N | 7.833 W | 80 m | 5.7 nm |
| 11G | 56.733 N | 7.667 W | 55 m | 5.7 nm |
| 10G | 56.733 N | 7.500 W | 220 m | 5.5 nm |
| 9G | 56.733 N | 7.333 W | 160 m | 5.5 nm |
| 8G | 56.733 N | 7.167 W | 175 m | 5.5 nm |
| 7G | 56.733 N | 7.000 W | 145 m | 5.5 nm |
| 6G | 56.733 N | 6.750 W | 35 m | 8.2 nm |
| 5G | 56.733 N | 6.600 W | 75 m | 4.9 nm |
| 4G | 56.733 N | 6.450 W | 115 m | 4.9 nm |
| 3G | 56.708 N | 6.367 W | 75 m | 3.1 nm |
| 2G | 56.683 N | 6.283 W | 40 m | 3.2 nm |
| 1G | 56.667 N | 6.133 W | 190 m | 5.0 nm |
Occupations of the Extended Ellett Line (September 1996-present)
| BODC Cruise Identifier | Cruise Dates | Ship |
| --- | --- | --- |
| D223A | 28 September-21 October 1996 | RRS Discovery |
| D230 | 7 August-17 September 1997 | RRS Discovery |
| D233 | 23 April-1 June 1998 | RRS Discovery |
| D242 | 7 September-6 October 1999 | RRS Discovery |
| D245 * | 27 January-20 February 2000 | RRS Discovery |
| 0700S * | 8-22 May 2000 | FRV Scotia |
| D253 | 4 May-20 June 2001 | RRS Discovery |
| 0703S * | 15 April-5 May 2003 | FRV Scotia |
| PO300_2 * | 19 July-6 August 2003 | RRS Poseidon |
| PO314 | 11 July-23 July 2004 | RV Poseidon |
| CD176 | 6 October-1 November 2005 | RRS Charles Darwin |
| D312 | 11-31 October 2006 | RRS Discovery |
| D321A | 24 July-23 August 2007 | RRS Discovery |
| D321B | 24 August-9 September 2007 | RRS Discovery |
| 0508S * | 6-25 May 2008 | FRV Scotia |
| D340A | 10-25 June 2009 | RRS Discovery |
| D351 | 10-28 May 2010 | RRS Discovery |
| D365 | 13 May-02 June 2011 | RRS Discovery |
* These cruises only surveyed the original hydrographic section between Scotland and Rockall.
Other Series linked to this Fixed Station for this cruise - 847243 847255 847267 847279 847280 847292 847311 847335 847347 847359 847360 847372 847384 847396 847403 847415 847427 847439 847440 847452 847464 847476 847488 847507 847519 847520 847532 847544 847556 847568 847612 847624 847636 847648 847661 847845 847857 847869 847870 847882 847894 974580 974592 974611 974635 974647 974659 974660 974672 974684 1015463 1015475 1015487 1015499 1015506 1015518 1015531 1043427
Other Cruises linked to this Fixed Station (with the number of series) - 0508S (29) 0700S (20) 0703S (20) CD176 (40) D233 (25) D242 (45) D245 (25) D312 (51) D321 (D321A) (12) D321B (58) D340A (58) D351 (23) PO300_2 (31)
---
The following single character qualifying flags may be associated with one or more individual parameters with a data cycle:
| Flag | Description |
| --- | --- |
| Blank | Unqualified |
| < | Below detection limit |
| > | In excess of quoted value |
| A | Taxonomic flag for affinis (aff.) |
| B | Beginning of CTD Down/Up Cast |
| C | Taxonomic flag for confer (cf.) |
| D | Thermometric depth |
| E | End of CTD Down/Up Cast |
| G | Non-taxonomic biological characteristic uncertainty |
| H | Extrapolated value |
| I | Taxonomic flag for single species (sp.) |
| K | Improbable value - unknown quality control source |
| L | Improbable value - originator's quality control |
| M | Improbable value - BODC quality control |
| N | Null value |
| O | Improbable value - user quality control |
| P | Trace/calm |
| Q | Indeterminate |
| R | Replacement value |
| S | Estimated value |
| T | Interpolated value |
| U | Uncalibrated |
| W | Control value |
| X | Excessive difference |