Cruise details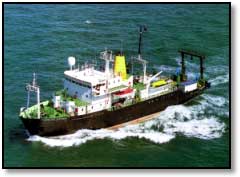 © RRS Charles Darwin (Depart Bermuda 1 May - Arrive Lisbon 15 June)
The cruise will be undertaken on the RRS Charles Darwin, departing from Bermuda on 1 May 2005 and arriving in Lisbon on 15 June 2005. The core measurements are:
Full-depth CTD measurements providing temperature, conductivity and depth, plus water samples analysed for salinity, inorganic nutrients (N, P, Si); organic N and P components; carbon system (DIC, alkalinity); SF6, CFC and Helium/Tritium tracers to identify age.
These core observations will be supplemented by measurements made by our tied PhD students: estimates of DON and DOP composition and lifetimes and isotopic N signatures, atmospheric deposition of N and P, dissolved organic carbon, dissolved oxygen and plankton respiration rates.
Physics and nutrient chemistry will be led by SOC; carbon and tracer chemistry by UEA; tritium-helium samples taken by Liverpool/POL.



The table below shows the proposed section timings with the whole cruise taking ~40 days with an extra 2 days for SAPS and another 2 for contingencies (total ~45 days). It would take an extra 4 days to extend the cruise south from G all the way past F to the African continent.
| | | | | | |
| --- | --- | --- | --- | --- | --- |
| Waypoint | Comment | Dist(nm) | Stns | Time(h) | Ave Stns/24h |
| A | Bermuda | | | | |
| B | | 323 | 2 | 40 | 1.2 |
| C | | 251 | 17 | 93 | 4.4 |
| D | | 151 | 0 | 15 | |
| E | Repeat B | 302 | 18 | 102 | 4.2 |
| F | | 2916 | 98 | 684 | 3.4 |
| G | End section | 77 | 6 | 32 | 4.5 |
| H | Lisbon | 110 | 0 | 11 | |
| Total | | 4130 | 141 | 40d17h | |