Telemetry and pCO2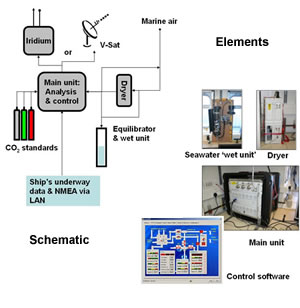 The pCO2 instruments used by CARBON-OPS were commissioned in 2004 by the Centre for observation of Air-Sea interactions and Fluxes (CASIX), a Natural Environment Research Council (NERC) Centre of Excellence in Earth Observation for permanent installation on five UK research vessels.
The main requirement was to develop instrumentation that was accurate, robust, cost-effective, and autonomous. It also needed to be coupled with satellite communication for data transmission and remote instrument diagnostics. These new pCO2 systems were developed by the Plymouth Marine Laboratory (PML) and Dartcom.
They are designed for autonomous, shipborne, underway operation at sea and have the capability to produce data continuously in real-time via Iridium satellite communications or live internet feeds. A built in GPS enables live tracking of measurements and diagnostic system sensors allow remote checking of system performance.
Ancillary data from the ship's hydrographical and meteorological instruments can also be included in the live data stream. This may include sea surface temperature and conductivity, wind speed and direction, sea level pressure, fluorescence, transmission, dissolved oxygen and pH, which are useful for real-time data processing and calculation of air-sea CO2 fluxes.
PCO2 system specification
LI-COR 840 NDIR CO2/H2O analyzer
Modular electronics and SCADA system design with embedded PC
Combined Power Supply Unit (PSU) and Uninterruptible Power Source (UPS)
Electronic control of the cooler-dryer unit
Near-real time data transmission
Optional Irridium satellite communication or GPS
Two-stage equilibrator (showerhead and glassbead) incorporating Aanderaa DO2 optode
Calibrated against three on-board gas standards (calibrated against NOAA standards)
Incorporates ancillary data from ship's underway systems
The first pCO2 system was installed on the Discovery in October 2005. It uses marine air collected from the Monkey Island and seawater collected from the ship's non-toxic water supply. Other instruments were then installed using similar configuration on RRS James Clark Ross, RRS James Cook, RV Prince Madog and RV Plymouth Quest.