RRS James Clark Ross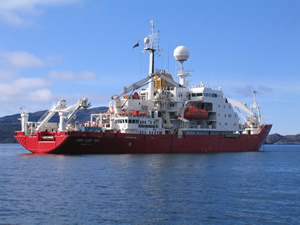 RRS James Clark Ross is one of two ships operated by the British Antarctic Survey (BAS). She is named after the polar explorer Admiral Sir James Clark Ross, who discovered the Magnetic North Pole in 1831.
Built in the UK by Swan Hunter Shipbuilders, Newcastle-upon-Tyne, she was launched by HM the Queen in December 1990. She is registered at Stanley in the Falkland Islands.
She is designed to cope with polar conditions and can be driven at a steady 2 knots through sea-ice a metre thick. To assist progress through heavy pack ice a compressed air system rolls the ship from side to side, freeing the passage. She is equipped with large aft and starboard decks, a compressor bank to power a large seismic air gun array, and modern underway instrumentation. Her systems are designed for extremely quiet operation to prevent background noise interfering with the sensitive underwater equipment.
In our winter months, October – May, she operates in Antarctica on BAS programmes, primarily biological, oceanographic and geophysical cruises. During our summer months, after her annual refit, James Clark Ross undertakes scientific research, often in the Arctic, on behalf of other organisations.
Year built: 1990
Length: 99.04 metres
Breadth: 18.85 metres
Draft: 6.40 metres
Displacement: 7767 tonnes (loaded)
Maximum endurance: 57 days
Maximum scientific staff: 20
In addition to the details provided in the CARBON-OPS data inventory, more information about RRS James Clark Ross cruises is available via the UK Cruise Inventory and the British Antarctic Survey Cruise Information web page.