RRS James Cook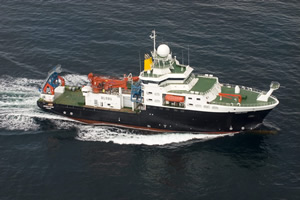 RRS James Cook is owned by the Natural Environment Research Council (NERC) and is operated by the National Marine Facilities (NMF) - Sea Systems based at the National Oceanography Centre, Southampton (NOCS). The ship was a replacement for RRS Charles Darwin, which has now been retired from service.
Built by Flekkefjord Slipp & Maskinfabrikk, Norway, RRS James Cook was delivered in August 2006 and went into full service in early 2007, after undertaking sea trials.
She is the most advanced and versatile of NERC's ships. Her design enables her to work in rougher sea conditions than existing vessels, she is more manoeuverable, has superior technical facilities and can house more scientists.
Operating worldwide, from the tropics to the edges of the ice sheets, James Cook will be involved in research activities both at the continental margins and in the deep ocean.
Year built: 2006
Length: 89.50 metres
Breadth: 18.60 metres
Draft: 5.70 metres
Displacement: 5800 tonnes (approx)
Maximum endurance: 50 days
Maximum scientific staff: 32
In addition to the details provided in the CARBON-OPS data inventory, more information about RRS James Cook cruises is available via the UK Cruise Inventory and the Marine Facilities Planning web site.