Freedom of Information
The Freedom of Information Act and Environmental Information Regulations
BODC is subject to the UK General Data Protection Regulation (UK GDPR). As it is no longer a public body, it is no longer subject to the Freedom of Information Act 2000 (FOIA 2000) or to the Environmental Information Regulations 2004 (EIR 2004). However, we have a policy of alignment with FOIA 2000 and EIR2004.
How BODC deals with requests
Any request for information held by BODC is technically a Freedom of Information request in the first instance. However, depending on the subject of the request it may be handled according to FOI, EIR or GDPR legislation. Section 39 of the FOI Act exempts environmental information from being dealt with under FOI. It provides that requests for environmental information should be dealt with under the Environmental Information Regulations. Requests for personal information, where the applicant is the subject of the information, are dealt with under the UK General Data Protection Regulation (UK GDPR). More information about the UK GDPR can be obtained via the Office of the UK Information Commissioner.
To summarise
the EIR enables access to scientific/environmental information held at BODC.
the GDPR enables access to personal information, when the applicant is the subject, held at BODC.
the FOI Act enables access to all other BODC information, such as on its structure and organisation.
The flowchart below describes the procedure.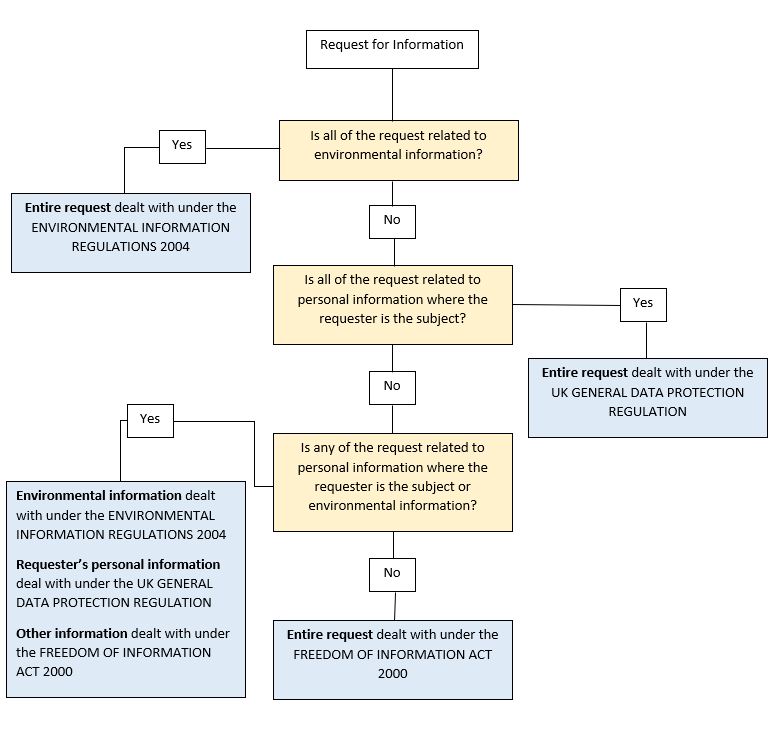 Some of the information provided above is taken from the Information Commissioner's web site.