UK Tide Gauge Network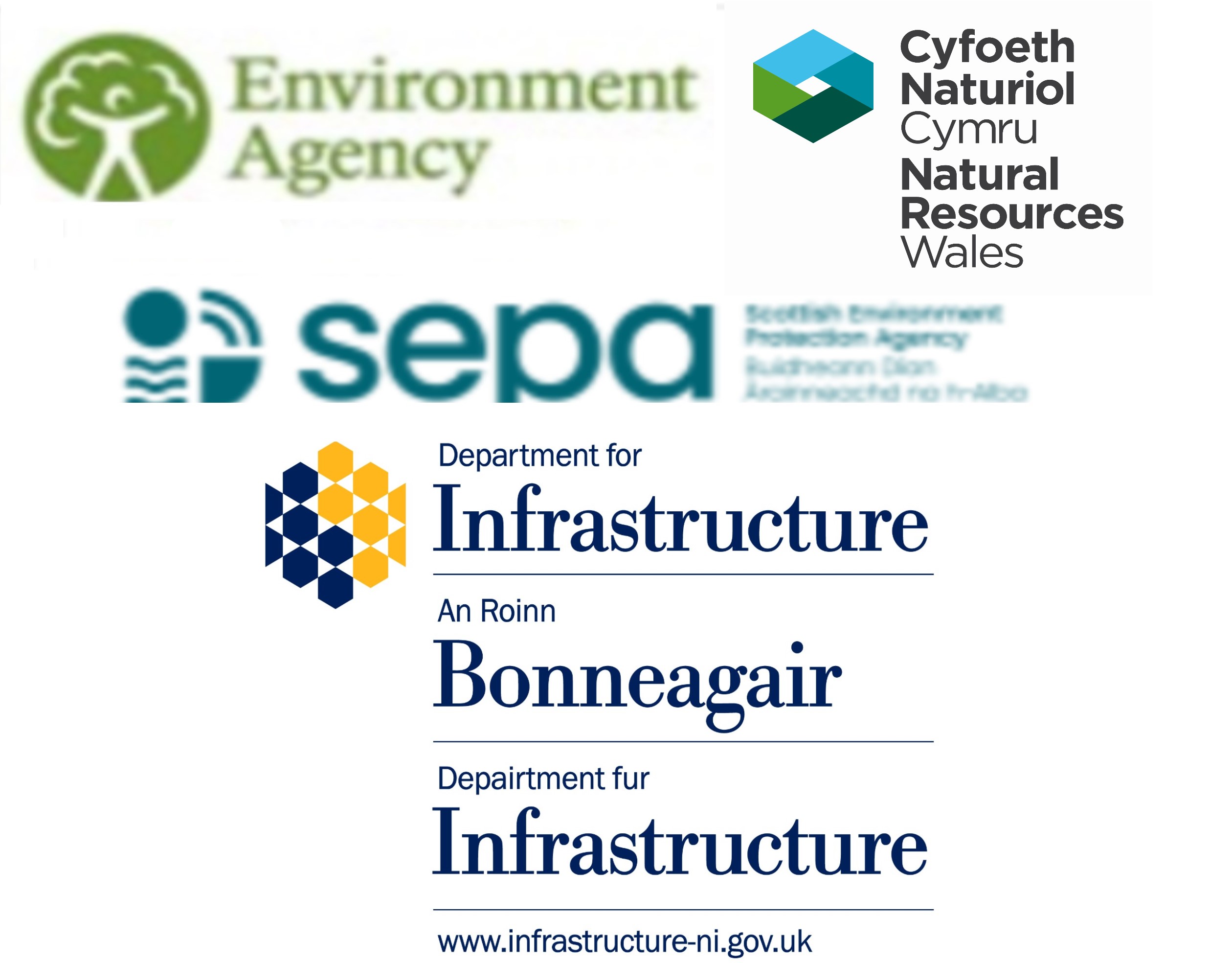 The UK National Tide Gauge Network was set up as a result of severe flooding along the east coast of England in 1953.
It forms part of the UK Coastal Flood Forecasting (UKCFF) service. UKCFF is a partnership formed by the Environment Agency (EA), Scottish Environment Protection Agency (SEPA) Department for Agriculture and Rivers Agency Northern Ireland (RANI) and Natural Resources Wales (NRW). Through the partnership the authorities commission and deliver the capabilities in monitoring and forecasting of coastal conditions that underpin coastal flood forecasting and flood risk modelling throughout the UK.

The network includes 43 gauges as illustrated in the map below, most of which are related through the national levelling network to Ordnance Datum Newlyn. The whole network is owned by the Environment Agency who operates the network on behalf of the UKCFF partners. Data are collected, processed and archived centrally to provide long time series (please see the individual tide gauge data availability) of reliable and accurate sea levels.
BODC has a special responsibility for the remote monitoring and retrieval of sea level data from the network. Daily checks are kept on the performance of the gauges and the data are downloaded weekly. These are then routinely processed and quality controlled prior to being made available for scientific use.
Data availability
BODC make quality-controlled NTSLF data series available online as soon as they are processed. We aim to have each month's data files online four weeks from the end of the month.
Processed data from 1915 to November 2022 are available free of charge

Download delayed-mode processed data from all data channels
Processed data for the last month is available by request – there is a fee for this service
Download (and view plots of) near real-time unprocessed data covering the month to today
Download NTSLF Annual Reports

National Tidal & Sea Level Facility (NTSLF)
The UK Tide Gauge Network forms part of the National Tidal & Sea Level Facility (NTSLF) which is hosted by the National Oceanography Centre (NOC) and is a consortium consisting of
NOC science groups
British Oceanographic Data Centre (BODC)
UK Tide Gauge Inspectorate
NOC Applications Group
Environment Agency
Department for Environment, Food and Rural Affairs (defra)
British Isles GPS archive Facility (BIGF)
Monthly and annual values of sea level are held by the Permanent Service for Mean Sea Level (PSMSL) and can be obtained from their web pages. Tidal predictions and tide tables are handled by the NOC Applications Group. Visit their web pages for further information.
Map of tide gauge sites
Individual tide gauge data availability
Data availability
| Tide gauge | Data availability |
| --- | --- |
| Aberdeen | 1930-36, 1946-58, 1960-62, 1964-65, 1967-75,1980 onwards |
| Avonmouth | 1961-62, 1972-76, 1979-84, 1986 onwards |
| Bangor | 1994 onwards |
| Barmouth | 1987, 1991 onwards |
| Bournemouth | 1996 onwards |
| Cromer | 1973-74, 1976, 1982, 1988 onwards |
| Devonport | 1987, 1991 onwards |
| Dover | 1924, 1926, 1928, 1930, 1934-36, 1938,1958 onwards |
| Felixstowe | 1982, 1984, 1986-2012 |
| Fishguard | 1963-71, 1973 onwards |
| Harwich | 2004 onwards |
| Heysham | 1964-69, 1971 onwards |
| Hinkley | 1990 onwards |
| Holyhead | 1964-73, 1977-85, 1987-91, 1995 onwards |
| Ilfracombe | 1968-71, 1977 onwards |
| Immingham | 1953, 1956-58, 1963 onwards |
| Jersey | 1992 onwards |
| Kinlochbervie | 1991 onwards |
| Leith | 1981, 1989 onwards |
| Lerwick | 1959-78, 1980 onwards |
| Liverpool - Princes Pier | 1927, 1963-1983, 1986 |
| Liverpool - Gladstone Dock | 1991 onwards |
| Llandudno | 1971, 1994 onwards |
| Lowestoft | 1964 onwards |
| Milford Haven | 1953-54, 1961-62, 1964-65, 1967 onwards |
| Millport | 1978, 1981-83, 1985 onwards |
| Moray Firth | 1994-2004 |
| Mumbles | 1989-93, 1997 onwards |
| Newhaven | 1982-87, 1991 onwards |
| Newlyn | 1915 onwards |
| Newport | 1993 onwards |
| North Shields | 1946-47, 1949-56, 1961, 1965-75, 1978 onwards |
| Portbury | 2008 onwards |
| Port Ellen, Islay | 1979-80, 1991 onwards |
| Port Erin, Isle of Man | 1992-95, 1998 onwards |
| Portpatrick | 1968 onwards |
| Portrush | 1995 onwards |
| Portsmouth | 1991 onwards |
| Sheerness | 1952, 1958, 1965-75, 1980 onwards |
| Stornoway | 1976, 1978-81, 1983, 1985 onwards |
| St. Mary's | 1994 onwards |
| Tobermory | 1990 onwards |
| Ullapool | 1966-68, 1970-72, 1974-80, 1981, 1983,1985 onwards |
| Weymouth | 1989, 1991 onwards |
| Whitby | 1980 onwards |
| Wick | 1965-70, 1972 onwards |
| Workington | 1992 onwards |