External data products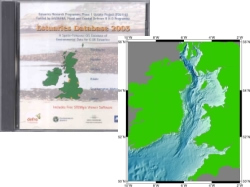 We distribute the following marine data products on behalf of other organisations
Celtic seas bathymetry — 1 km by 1 km bathymetric grid of the Irish Sea, Celtic Sea and North Channel produced by the Centre for Environment, Fisheries and Aquaculture Science (CEFAS).

The data are available for academic research purposes only.
Estuaries Database 2003 CDROM — a database containing information on the broad properties of 79 UK estuaries and detailed hydrodynamic, bathymetric and sedimentary information for six estuaries, i.e. Blackwater, Humber, Mersey, Ribble, Southampton and Tamar estuaries.

The CDROM product was prepared under the Estuaries Research Programme Phase 1 (ERP1) Uptake Project by ABP Marine Environmental Research Ltd. (ABPmer). The data are available for non-commercial purposes only.
Find out about the range of marine data products published by BODC. We have also contributed data sets that have been included in products produced by international science programs. Find out more about these collaborative data products.
---
Related BODC pages
Related external links
| | | |
| --- | --- | --- |
| Centre for Environment, Fisheries and Aquaculture Science (CEFAS) | | Estuaries Research Programme Phase 1 (ERP1) |
| ABP Marine Environmental Research Ltd. (ABPmer) | | |