Sea level portal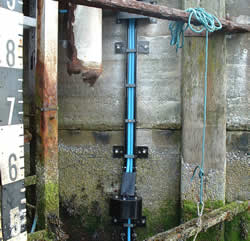 BODC holds sea level data from all over the world in many formats. We are working on this portal, so eventually you will be able to search through all of BODC's sea level data holdings and, where possible, download the data.
There will be a map, so that you can search by geographical location, and a form to fill in, so you can specify the time period, the type of record (e.g. chart, digital) and the sampling interval you are interested in.
For the moment, listed below is information about where digital sea level data can be found on the BODC web site and some information on the analogue records we hold.
Digital data
UK Tide Gauge Data — The National Tidal & Sea Level Facility manages data from 45 tide gauges around the UK.
International sea level data — BODC was the 'delayed-mode' sea level data assembly centre for World Ocean Circulation Experiment (WOCE) and is performing a similar role for the Climate Variability and Predictability (CLIVAR) programme. BODC is also a GLOSS data archiving centre. Under the WOCE programme, over 3550 site years of data from 160 stations in over 20 countries were collected. These (and data collected for CLIVAR) are available to download from either our International sea level pages.

Historical bottom pressure recorder (BPR) data — Search our BPR data holdings and download data.
Analogue data
We also hold records of 1/4 hourly, 1/2 hourly, hourly and three hourly heights and visual observations. For more information on these or any other information not covered here, email the BODC Enquiries Officer.