Historical bottom pressure recorder data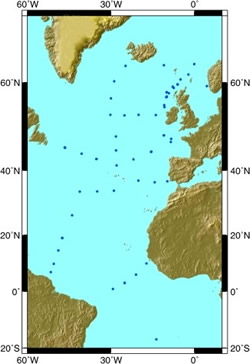 Our bottom pressure recorder data holdings are illustrated as either collected in the open ocean (water depth greater than 200m) or the shelf seas (water depth less than 200m).
The inventory below provides access to the individual ASCII (BODC request format) data files, sorted by start date.
Click on

to download the data. Alternatively, two 'zip' compressed files containing all data from either the open ocean (oceanbpr.zip) or the shelf seas (shelfbpr.zip) are available.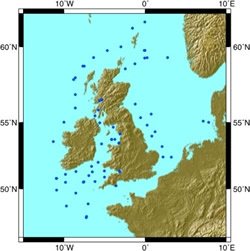 Data documentation is provided as individual ASCII text files for each bottom pressure recorder from the table below.
Click on

to view the documentation. Alternatively, view one file (bppr_document.pdf) containing information for all the bottom pressure recorder data.
Some of these data are also included within the International Association for the Physical Sciences of the Oceans (IAPSO)/Permanent Service for Mean Sea Level (PSMSL) Pelagic Tidal Constants data set. The 'IAPSO' column below indicates their reference code.
Station
ID.
Latitude
Longitude
Sea floor depth
Start date
Record length
Data
Doc.
IAPSO no.
RC1,M1,M2
47 40.1N
7 14.8W
165
1969-10-03
35




R8(14)
56 00.4N
8 35.1W
138
1970-07-19
22
1.1.15
R7(13)
56 55.2N
8 35.2W
100
1970-07-21
6
R1
58 02.0N
8 35.0W
130
1971-03-01
30
1.1.17
R2
58 47.0N
7 30.0W
110
1971-03-02
22
1.1.18
R2
58 47.0N
7 30.0W
110
1971-08-12
23
R3
59 20.0N
6 21.0W
188
1971-08-13
30
1.1.19
R4
59 46.0N
4 39.0W
104
1971-08-14
10
1.1.20
R5
60 00.0N
2 58.0W
90
1971-08-14
30
1.1.21
RM2,MC
36 40.6N
14 14.7W
212
1972-07-16
32
1.1.42
RGE
53 26.5N
5 22.0W
85
1972-09-07
32
RLCB1
47 45.0N
7 12.0W
174
1973-06-01
33
RC
51 02.9N
6 56.6W
95
1973-06-03
33
RLB
53 30.0N
3 13.0W
10
1973-06-04
43
PJONSDAP,RWI
52 28.0N
2 13.0E
39
1973-09-06
42
PJONSDAP,RWE
52 27.1N
3 14.5E
35
1973-09-08
43
PJONSDAP,RZO
54 19.5N
1 14.5E
23
1973-09-08
41
RD1,M1,M2
47 26.6N
8 26.0W
2158
1974-02-14
39




1.1.7
RE
59 17.8N
0 03.0W
145
1974-11-01
42
RNSH,M2
59 46.9N
0 00.5W
137
1974-11-01
17
RH
59 46.9N
0 05.0W
137
1974-11-02
17
RC2,M10,M11
48 09.9N
8 20.1W
267
1974-11-03
18




1.1.10
RM1,M2
36 40.8N
11 12.5W
145
1974-11-07
25
1.1.43
RD3,M1,M2
37 09.3N
20 04.3W
2865
1974-11-10
19




1.1.41
RD4,M1,M2
36 55.3N
9 42.0W
1983
1975-01-27
42




1.1.44
RC3,M10,M11
48 36.8N
9 40.9W
198
1975-09-04
24




1.1.11
RC4
49 01.6N
10 58.3W
203
1975-09-05
24
1.1.12
RC4,M1,M2
49 01.6N
10 58.3W
203
1975-09-05
24
1.1.12
RC5,M9,M11
49 54.0N
10 53.9W
190
1975-09-05
25




1.1.13
RC6
50 49.2N
10 55.0W
172
1975-09-06
24
1.1.14
RC6,M0
50 49.2N
10 55.0W
172
1975-09-06
24
RC6,M2,M4,M5
50 49.2N
10 55.0W
172
1975-09-06
24






RC8,M10,M12
53 36.0N
13 49.1W
290
1975-09-07
25




1.1.35
RC7,M10,M12
53 36.5N
11 18.2W
187
1975-09-07
8




1.1.36
RD5,M10,M12
53 38.2N
20 01.4W
2045
1975-09-09
25




1.1.34
RD6,M10
53 30.6N
25 05.6W
3508
1975-09-11
25
1.1.33
PJONSDAP,R53
58 37.0N
2 26.3W
63
1976-03-09
36
PJONSDAP,R54
58 56.0N
1 15.0W
113
1976-03-12
34
1.1.48
PJONSDAP,R55
59 19.2N
0 15.1E
135
1976-03-12
35
1.1.49
RJ57,M1,M2
59 20.0N
4 31.0E
271
1976-03-13
35




1.1.51
PJONSDAP,R56
59 19.5N
2 46.7E
119
1976-03-14
33
1.1.50
RD7,M1,M2
53 38.8N
30 09.9W
3196
1976-09-15
16




RD8,M2,M1
57 01.3N
29 58.0W
2448
1976-09-15
25




1.1.31
RD9,M2,M1
60 12.3N
28 46.0W
1200
1976-09-16
22




1.1.30
RR1,M1,M2
62 50.2N
24 43.1W
493
1976-09-18
20




1.1.29
RR2,M1,M2
62 57.1N
10 57.3W
444
1976-09-20
16




1.1.28
RM3,M1,M2
48 44.8N
28 11.3W
1171
1977-01-14
44




1.1.38
RM4,M4,M5
45 21.4N
28 09.2W
977
1977-01-16
46




1.1.39
RD10,M2,M1
41 25.0N
27 56.7W
2413
1977-01-18
46




1.1.40
R10
53 46.0N
3 43.0W
41
1977-03-16
47
R12
53 46.0N
4 08.0W
48
1977-03-21
26
R35
53 39.0N
3 55.0W
32
1977-03-21
34
R34
54 09.0N
3 40.0W
29
1977-03-21
33
R33
52 04.0N
5 47.0W
95
1977-03-22
35
RQC
53 30.8N
3 11.9W
20
1977-03-20
80
NSTART BAY
50 15.1N
3 33.8W
43
1977-07-28
45
RD
53 45.8N
4 07.0W
48
1977-10-17
38
RB
51 45.2N
6 35.7W
70
1978-03-25
49
RD
50 35.0N
6 10.0W
91
1978-03-28
114
RF
50 33.0N
7 32.0W
108
1978-03-30
45
1.1.55
RC
51 20.0N
6 30.0W
95
1978-04-01
42
NLOCH LINNHE
56 30.0N
5 37.0W
180
1978-07-20
40
RT3,M4
3 07.9N
25 03.6W
4200
1978-09-11
27
1.3.7
RT3,M4,M5,M6
3 07.9N
25 03.6W
4200
1978-09-11
29






RT1,M1,M2
10 05.5N
17 13.7W
524
1978-11-07
34




RT2,M4,M5,M6
6 03.9N
20 58.1W
3650
1978-11-10
29






1.3.6
RT4,M1,M2
0 56.0N
29 16.6W
383
1978-11-12
32




1.3.8
RT7,M0
17 04.2S
13 39.6W
2700
1979-01-02
82
1.3.10
RT7,M4,M5,M6
17 04.2S
13 39.6W
2700
1979-01-04
64






1.3.10
RB
54 57.7N
5 35.7W
157
1979-08-05
48
RE
55 27.8N
6 09.8W
108
1979-08-06
47
RJ
55 00.2N
9 59.5W
115
1979-08-08
49
1.1.61
RK
55 14.6N
10 43.0W
2510
1979-08-09
49
1.1.62
RNL,M7,M5,M6
55 40.3N
10 49.1W
2504
1979-08-09
48






1.1.63
RD
55 51.6N
5 44.5W
104
1979-08-12
41
RC
55 00.0N
7 50.0E
17
197908/23
58
RB
55 05.0N
7 10.0E
29
1979-08-23
59
RBC4
50 55.1N
4 59.9W
59
1980-03-31
27
RBC3
51 24.6N
5 00.6W
60
1980-04-01
27
RN
57 14.0N
10 04.0W
2118
1980-04-28
34
1.1.64
NSTEEPHOLM
51 20.3N
3 06.2W
5
1980-05-08
41
NLAVERNOCK POINT
51 24.4N
3 09.7W
4
1980-05-08
40
RB1,M0
45 59.1N
46 26.7W
697
1980-08-05
127
RA1
46 03.8N
46 34.0W
525
1980-08-05
126
RA1,M4,M5,M6
46 03.8N
46 34.0W
525
1980-08-05
127






1.2.37
RA3
43 06.3N
35 11.1W
3515
1980-08-05
120
1.1.65
RA3,M4
43 06.4N
35 11.1W
3457
1980-08-05
121
1.1.65
RB2,M0
44 29.4N
40 30.0W
2380
1980-08-08
123
RA4
34 12.8N
28 54.6W
3577
1980-08-10
105
1.1.66
RA5
43 01.5N
21 51.6W
2548
1980-08-13
122
RD11,M5,M6
45 01.3N
15 24.7W
2830
1980-08-14
123




1.1.68
RM
51 08.4N
9 47.8W
117
1980-08-30
55
1.1.60
RE
51 21.3N
8 31.0W
92
1980-08-31
55
RF
50 31.7N
7 36.7W
110
1980-09-02
47
1.1.56
RK
50 31.4N
9 48.5W
130
1980-09-03
50
1.1.58
RL
48 47.7N
7 01.4W
125
1980-09-07
42
1.1.59
RG
49 39.6N
8 31.7W
140
1980-09-07
45
1.1.57
RY1,M4,M5
44 56.5N
15 34.6W
3164
1980-12-15
218




1.1.69
RB
53 14.4N
2 06.0E
35
1981-05-06
41
RE
54 00.6N
0 50.4E
48
1981-05-07
37
RH
54 48.0N
0 15.0E
77
1981-05-07
37
RJ
55 35.0N
0 45.6E
75
1981-05-09
37
RL
55 19.6N
0 32.7W
70
1981-05-10
36
RP
56 16.0N
1 12.0W
60
1981-05-11
36
RPA,M5,M6
26 18.0S
47 30.6W
74
1981-06-17
30




1.4.3
RHB,M6,M7
18 02.5S
36 08.3W
152
1981-06-20
23




1.3.11
NLOWER LOCH
56 34.0N
5 18.7W
8
1981-07-23
64
NUPPER LOCH
56 34.0N
5 18.7W
8
1981-07-23
64
RA6H,M0
33 59.9N
34 52.9W
3066
1981-12-01
106
1.1.70
RA7A,M0
33 55.3N
41 11.5W
3372
1981-12-05
101
1.2.38
RG1,M5,M6
26 34.6N
43 57.5W
3600
1981-12-08
96




1.2.39
RG2,M6
19 00.4N
47 30.6W
3470
1981-12-11
91
1.3.12
RG2A,M0
19 00.4N
47 30.6W
3470
1981-12-11
91
1.3.12
RG3,M5,M6
14 42.4N
48 50.4W
3527
1981-12-14
87




1.3.13
RG4H,M0
9 59.1N
50 31.1W
4850
1981-12-15
85
1.3.14
RG5,M5,M6
6 59.6N
51 33.3W
3764
1981-12-16
83




1.3.15
RA6-1,M5
57 19.0N
9 52.5W
2004
1982-04-28
117
1.1.75
RA6-2,M5
57 19.0N
9 52.5W
2004
1982-08-22
179
1.1.75
RC4-1,M5
59 11.8N
7 41.3W
1095
1982-08-22
173
1.1.78
RB5-1,M5
58 11.5N
9 57.5W
1870
1982-08-23
153
1.1.76
RB5-2,M5
58 11.5N
9 57.5W
1870
1982-08-23
173
RC1,M5
58 59.2N
7 23.9W
206
1982-08-24
60
1.1.77
RC4-2,M5
59 11.8N
7 41.3W
1095
1982-08-24
169
RD1-1,M5
59 38.7N
6 00.5W
200
1982-08-27
82
1.1.79
RB2,M3
58 00.8N
9 09.0W
213
1982-08-28
59
RF3,M5,M6
61 24.2N
2 05.6W
1025
1982-10-04
163


1.1.82
RF1,M5
61 07.9N
1 33.1W
185
1982-10-04
163
1.1.81
RG4,M5,M6
63 07.9N
0 00.4W
1579
1982-10-05
164


1.1.84
RG1,M5
61 30.0N
0 01.3W
190
1982-10-06
162
1.1.83
RE3,M5,M6
60 31.7N
4 58.8W
1982-10-09
166




1.1.80
RB1,M3
57 54.7N
8 48.5W
146
1982-10-25
103
RD1-2,M5
59 38.7N
6 00.5W
200
1983-02-03
10