BODC software products
GEBCO Grid display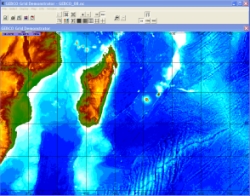 The GEBCO grid display software allows you to view and access data from GEBCO's gridded bathymetric data sets
The software is available to download under licence and can be used with either or both gridded data sets. Please note that the software is designed for use with the complete, global data files. It will not work with subsets of the full global data sets.
It provides the means for displaying the data and accessing the data in netCDF and also in simple ASCII formats, including one suitable for conversion to a raster file which can be used with ESRI ArcGIS products.
The software has been developed by BODC to run on a PC running Microsoft Windows 95 or later. It is controlled by a series of drop-down menus and toolbar buttons. The current version is 2.13 and was released in April 2010.
Find out more about the GEBCO Grid display software and updates included in this release.

(27 KB)
Features of the GEBCO Grid display software
Display GEBCO's gridded bathymetric data sets on your PC screen, colour coded for depth/elevation.
Export data in simple ASCII formats including a format that can be converted to a raster file, which can be used with ESRI ArcGIS products.
Export data in netCDF.
Choice of five map projections for display — Equidistant Cylindrical, Mercator, Miller Cylindrical, Lambert Cylindrical Equal-Area and Polar Stereographic.
Import your own file(s) of data points to display in the map area.
Select your geographic area of interest either by chart number, by latitude and longitude limits, or by an on-screen zoom box.
Zoom into and pan across your selected area.
Overlay a geographic grid for reference.
Reported bug on 31 July 2012
A bug has been reported in the GEBCO grid display software that affects the export of data from GEBCO's 30 arc-second interval grids. In some limited cases when the selected geographic region for export is defined as a fraction of a whole degree, then the exported data value at each grid point has been shifted (in longitude) by one grid cell, i.e. 30 arc-seconds, from its correct value.
We apologise for any inconvenience caused and are working to fix this bug. We will make a revised version of the software available as soon as possible.
In the meantime, we recommend that users of the GEBCO grid display software select geographic regions for export at whole degree intervals rather than as fractions of a degree.
Software download
To download this software you are required to have a BODC web user account. If you have already registered and have an account, please follow the link below to download the software. Alternatively, register to become a new user.
Download the
GEBCO Grid display software
— the download consists of a compressed zip file containing the software, the user guide and help files (3090 KB).
---
Related GEBCO pages at BODC
Related BODC pages
Related external links