Historical UK tide gauge data
Historical UK tide gauge data - scanned charts and ledgers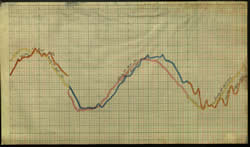 Long term sea level records have a wide range of scientific and practical applications. For example, they are important to
climate change studies — to give an indication of sea level rise
operational oceanography — looking at storm surges and tides
civil engineering — flood defences
Several large historic sea level datasets in the form of scanned images of tide gauge charts and ledgers have been added to our National Oceanographic Database. These include, for Sheerness, some of UK's earliest records of sea level data.
Access the Historical UK Tide Gauge Data - scanned charts and ledgers.
Additionally, scanned ledger entries from six locations around Liverpool obtained from the Mersey Docks and Harbour Company and scanned tide gauge charts from Belfast are available.
Funding to rescue these historical UK sea level data came from the Marine Environmental Data and Information Network (MEDIN) and this was matched by BODC. These images are now freely available to registered users (subject to licence agreement).