Our international role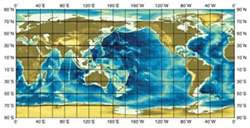 As the UK national marine data centre, BODC has a range of international roles and responsibilities, which include
Intergovernmental Oceanographic Commission (IOC)
BODC is one of over 60 national oceanographic data centres that form part of the IOC's network of data centres through its International Oceanographic Data and Information Exchange (IODE) committee.
The UNESCO IOC was founded in 1960 to promote oceanographic research and contribute towards the establishment of systematic observation platforms (ships and, later, satellites), the necessary technological development and the transfer of knowledge.
It is through IODE that IOC aims to ensure that oceanographic data and information — collected through research, monitoring and observation — are used efficiently and are distributed to the widest possible audience.
The IODE network has also established a number of expert groups and steering teams to provide advice to the IODE Committee or assist with the implementation of projects. BODC plays an active part in
the joint IODE-JCOMM Expert Team on Data Management Practices
the Group of Experts on Biological and Chemical Data Management and Exchange Practices (GEBICH)
the Global Ocean Surface Underway Data (GOSUD) Project Steering Group.
International Council for the Exploration of the Sea (ICES)
BODC plays an active role in the ICES Working Group on Marine Data Management. ICES coordinates and promotes marine research in the North Atlantic Ocean. The Working Group provides a forum for the exchange of expertise and ideas for those involved in marine data management in ICES member countries and provides advice to the ICES Data Centre.
International Coastal Atlas Network (ICAN)
BODC is one of over 35 ICAN member organisations that aim to facilitate global operational interoperability between authors of Coastal Web Atlases (CWAs). The enhancements will be achieved by sharing knowledge and experience in order to find common solutions while ensuring maximum relevance and added value for the users. BODC's primary role in ICAN is in the development of an ontology to provide semantic interoperability between CWAs. CWAs are defined as
'Collections of digital maps and data sets with supplementary tables, illustrations and information that systematically illustrate the coast for purposes of coastal zone management and planning, often with cartographic and decision-supporting tools, all of which are accessible via the internet.'
A CWA can be local, regional, national or international in scale, focussing on a variety of phenomena including coastal erosion, natural habitats, air/water pollution and natural resources. They provide a useful resource to decision makers, scientists and the general public.
Our international responsibilities
Our roles include
European role
BODC works with other oceanographic data centres in Europe. We are the UK partner in SeaDataNet and participate in the European Sea Level Service (ESEAS). We act as the coordinating centre for the