Metadata Report for BODC Series Reference Number 1047207
---
Data Description
Data Category
Water sample data
Instrument Type

| Name | Categories |
| --- | --- |
| Astoria Pacific micro-segmented flow analyser | colorimeters; autoanalysers |
| Teflon-coated Niskin bottle | discrete water samplers |

Instrument Mounting
lowered unmanned submersible
Originating Country
Australia
Originator
Dr Mike Ellwood
Originating Organization
Australian National University Department of Geological Sciences (now Australian National University Research School of Earth Sciences)
Processing Status
banked
Project(s)
GEOTRACES

Data Identifiers
| | |
| --- | --- |
| Originator's Identifier | TAN0609_UCCTD_u4832b_Ellwood_nuts |
| BODC Series Reference | 1047207 |
Time Co-ordinates(UT)
| | |
| --- | --- |
| Start Time (yyyy-mm-dd hh:mm) | 2006-07-23 21:11 |
| End Time (yyyy-mm-dd hh:mm) | - |
| Nominal Cycle Interval | - |
Spatial Co-ordinates
| | |
| --- | --- |
| Latitude | 48.21100 S ( 48° 12.7' S ) |
| Longitude | 158.20100 E ( 158° 12.1' E ) |
| Positional Uncertainty | Unspecified |
| Minimum Sensor Depth | 29.7 m |
| Maximum Sensor Depth | 495.2 m |
| Minimum Sensor Height | 4298.8 m |
| Maximum Sensor Height | 4764.3 m |
| Sea Floor Depth | 4794.0 m |
| Sensor Distribution | Variable common depth - All sensors are grouped effectively at the same depth, but this depth varies significantly during the series |
| Sensor Depth Datum | Instantaneous - Depth measured below water line or instantaneous water body surface |
| Sea Floor Depth Datum | Instantaneous - Depth measured below water line or instantaneous water body surface |
Parameters
| BODC CODE | Rank | Units | Short Title | Title |
| --- | --- | --- | --- | --- |
| ADEPZZ01 | 1 | Metres | DepBelowSurf | Depth below surface of the water body |
| BOTTFLAG | 1 | Dimensionless | C22_flag | Sampling process quality flag (BODC C22) |
| NTRZAAD5 | 1 | Micromoles per litre | NO3+NO2_0.2umFilt_ColAA | Concentration of nitrate+nitrite {NO3+NO2} per unit volume of the water body [dissolved plus reactive particulate <0.2um phase] by filtration and colorimetric autoanalysis |
| PHOSAAD5 | 1 | Micromoles per litre | PO4_0.2umFilt_ColAA | Concentration of phosphate {PO43- CAS 14265-44-2} per unit volume of the water body [dissolved plus reactive particulate <0.2um phase] by filtration and colorimetric autoanalysis |
| ROSPOSID | 1 | Dimensionless | RosPos | Bottle rosette position identifier |
| SAMPRFNM | 1 | Dimensionless | SampRef | Sample reference number |
| SLCAAAD5 | 1 | Micromoles per litre | SiOx_0.2umFilt_ColAA | Concentration of silicate {SiO44- CAS 17181-37-2} per unit volume of the water body [dissolved plus reactive particulate <0.2um phase] by filtration and colorimetric autoanalysis |
Definition of Rank
Rank 1 is a one-dimensional parameter
Rank 2 is a two-dimensional parameter
Rank 0 is a one-dimensional parameter describing the second dimension of a two-dimensional parameter (e.g. bin depths for moored ADCP data)
---
No Problem Report Found in the Database
---
Open Data supplied by Natural Environment Research Council (NERC)
You must always use the following attribution statement to acknowledge the source of the information: "Contains data supplied by Natural Environment Research Council."
---
Alpkem RFA-2, RFA-300 and Astoria colorimetric autoanalysers
The Alpkem rapid flow analysers (RFA) and Astoria analyser are continuous flow analysers consisting of a sampler, peristaltic pump, analytical cartridge, heating bath, colorimeter, data station, and printer. The sample and reagant are pushed into the reaction cartridge by the pump, where air-segmentation bubbles are introduced to facilitate mixing. The solution is then analysed colorimetrically, with the absorbance of a specific wavelength of light being indicative of the concentration of the solution. These autoanalysers may be used to measure nutrient concentrations in seawater.
The Alpkem rapid flow analysers were manufactured by OI Analytical, with the RFA-300 being a precursor to the smaller RFA-2 (also known as the RFA II or RFA/2). Astoria Pacific Inc. bought the RFA line, upgraded the instrument and renamed it the Astoria analyser.
The Astoria analyser incorporates a six-channel digital detector, which allows analysis of four to six parameters from a single sample. The components of the system are the 311 XYZ Sampler, 322 Auxiliary Pump (for sampler wash), 302D Micropump (peristaltic pump), 303A Cartridge Base, with room for up to six chemistries, and 305D Digital Detector. The six channels of the 305D allow for extra channels that can be used for reference signals, and optional detectors (fluorometer, UV, and Flame) can be plugged into the system as well.
Niskin Bottle
The Niskin bottle is a device used by oceanographers to collect subsurface seawater samples. It is a plastic bottle with caps and rubber seals at each end and is deployed with the caps held open, allowing free-flushing of the bottle as it moves through the water column.
Standard Niskin
The standard version of the bottle includes a plastic-coated metal spring or elastic cord running through the interior of the bottle that joins the two caps, and the caps are held open against the spring by plastic lanyards. When the bottle reaches the desired depth the lanyards are released by a pressure-actuated switch, command signal or messenger weight and the caps are forced shut and sealed, trapping the seawater sample.
Lever Action Niskin
The Lever Action Niskin Bottle differs from the standard version, in that the caps are held open during deployment by externally mounted stainless steel springs rather than an internal spring or cord. Lever Action Niskins are recommended for applications where a completely clear sample chamber is critical or for use in deep cold water.
Clean Sampling
A modified version of the standard Niskin bottle has been developed for clean sampling. This is teflon-coated and uses a latex cord to close the caps rather than a metal spring. The clean version of the Levered Action Niskin bottle is also teflon-coated and uses epoxy covered springs in place of the stainless steel springs. These bottles are specifically designed to minimise metal contamination when sampling trace metals.
Deployment
Bottles may be deployed singly clamped to a wire or in groups of up to 48 on a rosette. Standard bottles have a capacity between 1.7 and 30 L, while Lever Action bottles have a capacity between 1.7 and 12 L. Reversing thermometers may be attached to a spring-loaded disk that rotates through 180° on bottle closure.
Boundary voyage (Tan0609) Nutrients from trace metal CTD bottles
Originator's Protocol for Data Acquisition and Analysis
Nutrient samples were collected on the trace metal CTD cast using acid-cleaned 5 L, Teflon coated Niskin-X bottles attached to an autonomous rosette (Model 1018, General Oceanics Inc). Samples were filtered (0.2 µm capsule filter, Supor AcroPak 200) before analysis.
Nutrient determination
Samples were analysed onboard for nitrate, dissolved reactive phosphorus (DRP) and dissolved reactive silica (DRSi) using an Astoria Pacific API 300 micro-segmented flow analyser with digital detector.
Nitrate was reduced to nitrite by cadmium metal and determined (as nitrate plus nitrite) using an diazotization method (API method 305-A177).
Dissolved reactive phosphorus and dissolved reactive silicon were measured using the molybdenum blue method (API Methods 305-A204 and 305-A221, respectively).
References
For further information please refer to:
Ellwood J.K., Boyd W.P. and Sutton P, 2008. Winter-time dissolved iron and nutrient distribution in the Subantarctic Zone from 40-52S; 155-160E. Geophysical Research Letters, vol 35, L11604.
Ellwood J.K., 2008. Wintertime trace metal (Zn, Cu, Ni, Cd, Pb and Co) and nutrient distributions in the Subantarctic Zone between 40-52°S; 155-160°E. Marine Chemistry, 112, 107-117.
BODC Data Processing Procedures
Data were submitted to BODC in Microsoft Excel spreadsheet format and saved to the BODC archive with reference nw3100092. The files were provided to BODC with station number, date, sampling position (LAT and LON) and depth. Sample metadata were checked against information held in the cruise report and event logs. A few discrepancies were noted in the station labeling. Where more than one event took place at a station, BODC added a suffix to the station number.
Data were loaded into BODC's database using established BODC data banking procedures, no unit conversions were applied.
A parameter mapping table is provided below;
| Originator's Parameter | Unit | Description | BODC Parameter Code | BODC Unit | Comments |
| --- | --- | --- | --- | --- | --- |
| Nitrate | Micromoles per litre | Nitrate in the water column | NTRZAAD5 | Micromoles per litre | n/a |
| Silicate | Micromoles per litre | Dissolved silicate in the water column | SLCAAAD5 | Micromoles per litre | n/a |
| Phosphate | Micromoles per litre | Dissolved Phosphate in the water column | PHOSAAD5 | Micromoles per litre | n/a |
Data Quality Report
No quality issues reported
---
GEOTRACES
Introduction
GEOTRACES is an international programme sponsored by SCOR which aims to improve our understanding of biogeochemical cycles and large-scale distribution of trace elements and their isotopes (TEIs) in the marine environment. The global field programme started in 2009 and will run for at least a decade. Before the official launch of GEOTRACES, fieldwork was carried out as part of the International Polar Year (IPY)(2007-2009) where 14 cruises were connected to GEOTRACES.
GEOTRACES is expected to become the largest programme to focus on the chemistry of the oceans and will improve our understanding of past, present and future distributions of TEIs and their relationships to important global processes.
This initiative was prompted by the increasing recognition that TEIs are playing a crucial role as regulators and recorders of important biogeochemical and physical processes that control the structure and productivity of marine ecosystems, the dispersion of contaminants in the marine environment, the level of greenhouse gases in the atmosphere, and global climate.
Scientific Objectives
GEOTRACES mission is: To identify processes and quantify fluxes that control the distribution of key trace elements and isotopes in the ocean, and to establish the sensitivity of these distributions to changing environmental conditions.
Three overriding goals support the GEOTRACES mission
Determine ocean distributions of selected TEIs at all major ocean basins
Evaluate the sources, sinks, and internal cycling of these TEIs and thereby characterize more completely their global biogeochemical cycles
Provide a baseline distribution in the Polar Regions as reference for assessing past and future changes.
These goals will be pursued through complementary research strategies, including observations, experiments and modelling.
Fieldwork
The central component of GEOTRACES fieldwork will be a series of cruises spanning all Ocean basins see map below.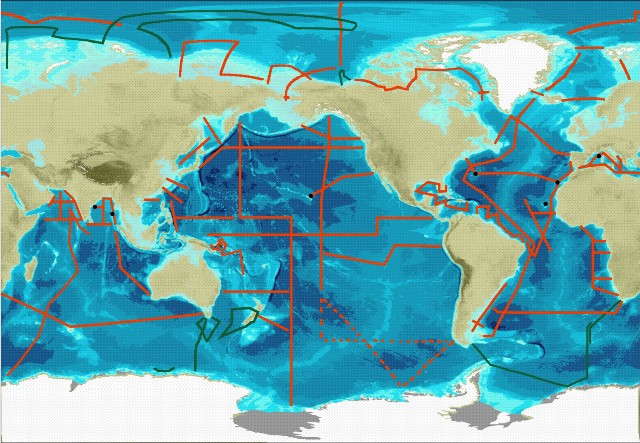 Three types of cruise are required to meet the goals set out by GEOTRACES. These are
Section cruises - These will measure all the key parameters (see below) over the full depth of the water column. The sections were discussed and approved by the International GEOTRACES Scientific Steering Committee at the basin workshops.
Process Studies - These will investigate a particular process relevant to the cycling of trace metal and isotopes. They must follow the "Criteria for Establishing GEOTRACES Process Studies" and be approved by the International GEOTRACES Scientific Steering Committee.
Cruises collecting GEOTRACES compliant data - These will collect some trace element or isotope data. They must follow the GEOTRACES Intercalibration and Data Management protocols
IPY-GEOTRACES
The IPY-GEOTRACES programme comprised of 14 research cruises on ships from 7 nations; Australia, Canada, France, Germany, New Zealand, Japan and Russia. The cruises will not be classified in the same way as the full GEOTRACES programme since the intercalibration protocols and data management protocols had not been established before the start of the IPY. But IPY-GEOTRACES data will still be quality controlled by GDAC and in the majority of cases verified versus Intercalibration standards or protocols.
Key parameters
The key parameters as set out by the GEOTRACES science plan are as follows: Fe, Al, Zn, Mn, Cd, Cu; 15N, 13C; 230Th, 231Pa; Pb isotopes, Nd isotopes; stored sample, particles, aerosols.
Weblink:
http://www.bodc.ac.uk/geotraces/
http://www.geotraces.org/
---
Data Activity
| | |
| --- | --- |
| Start Date (yyyy-mm-dd) | 2006-07-23 |
| End Date (yyyy-mm-dd) | 2006-07-23 |
| Organization Undertaking Activity | NIWA, Centre for Chemical and Physical Oceanography, University of Otago |
| Country of Organization | New Zealand |
| Originator's Data Activity Identifier | TAN0609_UCCTD_u4832b |
| Platform Category | lowered unmanned submersible |
BODC Sample Metadata Report for TAN0609_UCCTD_u4832b
| Sample reference number | Bottle rosette position | Bottle firing sequence number | Minimum pressure sampled (dbar) | Maximum pressure sampled (dbar) | Depth of sampling point (m) | Bottle type | Sample quality flag | Bottle reference | Comments |
| --- | --- | --- | --- | --- | --- | --- | --- | --- | --- |
| 227897 | 12 | | 30.00 | 30.00 | 29.70 | 5-litre Niskin | No problem reported | | |
| 227898 | 11 | | 60.00 | 60.00 | 59.50 | 5-litre Niskin | No problem reported | | |
| 227899 | 10 | | 80.00 | 80.00 | 79.30 | 5-litre Niskin | No problem reported | | |
| 227900 | 9 | | 100.00 | 100.00 | 99.10 | 5-litre Niskin | No problem reported | | |
| 227901 | 8 | | 150.00 | 150.00 | 148.70 | 5-litre Niskin | No problem reported | | |
| 227902 | 7 | | 200.00 | 200.00 | 198.20 | 5-litre Niskin | No problem reported | | |
| 227903 | 6 | | 250.00 | 250.00 | 247.70 | 5-litre Niskin | No problem reported | | |
| 227904 | 5 | | 300.00 | 300.00 | 297.30 | 5-litre Niskin | No problem reported | | |
| 227905 | 4 | | 350.00 | 350.00 | 346.80 | 5-litre Niskin | No problem reported | | |
| 227906 | 3 | | 400.00 | 400.00 | 396.30 | 5-litre Niskin | No problem reported | | |
| 227907 | 2 | | 450.00 | 450.00 | 445.70 | 5-litre Niskin | No problem reported | | |
| 227908 | 1 | | 500.00 | 500.00 | 495.20 | 5-litre Niskin | No problem reported | | |
Please note: the supplied parameters may not have been sampled from all the bottle firings described in the table above. Cross-match the Sample Reference Number above against the SAMPRFNM value in the data file to identify the relevant metadata.
Other Series linked to this Data Activity - 1047508
Cruise
| | |
| --- | --- |
| Cruise Name | TAN0609 (GIPY1) |
| Departure Date | 2006-07-12 |
| Arrival Date | 2006-08-05 |
| Principal Scientist(s) | Philip Boyd (NIWA, Centre for Chemical and Physical Oceanography, University of Otago) |
| Ship | Tangaroa |
Complete Cruise Metadata Report is available here
---
No Fixed Station Information held for the Series
---
The following single character qualifying flags may be associated with one or more individual parameters with a data cycle:
| Flag | Description |
| --- | --- |
| Blank | Unqualified |
| < | Below detection limit |
| > | In excess of quoted value |
| A | Taxonomic flag for affinis (aff.) |
| B | Beginning of CTD Down/Up Cast |
| C | Taxonomic flag for confer (cf.) |
| D | Thermometric depth |
| E | End of CTD Down/Up Cast |
| G | Non-taxonomic biological characteristic uncertainty |
| H | Extrapolated value |
| I | Taxonomic flag for single species (sp.) |
| K | Improbable value - unknown quality control source |
| L | Improbable value - originator's quality control |
| M | Improbable value - BODC quality control |
| N | Null value |
| O | Improbable value - user quality control |
| P | Trace/calm |
| Q | Indeterminate |
| R | Replacement value |
| S | Estimated value |
| T | Interpolated value |
| U | Uncalibrated |
| W | Control value |
| X | Excessive difference |
---
The following single character qualifying flags may be associated with one or more individual parameters with a data cycle:
| Flag | Description |
| --- | --- |
| 0 | no quality control |
| 1 | good value |
| 2 | probably good value |
| 3 | probably bad value |
| 4 | bad value |
| 5 | changed value |
| 6 | value below detection |
| 7 | value in excess |
| 8 | interpolated value |
| 9 | missing value |
| A | value phenomenon uncertain |
| Q | value below limit of quantification |