Ellett Line
The Ellett Line is a hydrographic transect consisting of 35 individual fixed stations which were occupied, usually at least once a year, between 1975 and 1996. The time series is named after the scientist David Ellett, who coordinated the survey work at Dunstaffnage Marine Laboratory (DML), near Oban. The transect ran between the north west coast of Scotland to the small outcrop of Rockall, via the Anton Dohrn Seamount - a prominent bathymetric feature in the Rockall Trough (see map). STD/CTD dips and associated water sampling for the analysis of nutrients were routinely performed during each station occupation.
In 1996 the transect was lengthened to incorporate new additional fixed stations crossing the Iceland Basin from Rockall to Iceland. This transect, which is still routinely occupied annually, is now known as the Extended Ellett Line and is a collaborative effort between scientists at Dunstaffnage Marine Laboratory and the Southampton site of the National Oceanography Centre (NOC).
Map of standard stations (1975-1996)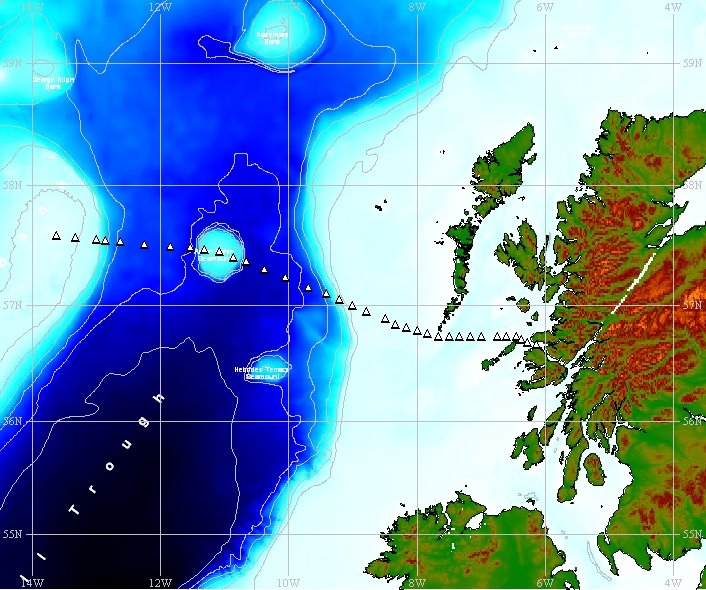 Map produced using the GEBCO Digital Atlas
The white triangles indicate the nominal positions of the Ellett Line stations (1975- 1996). Measurements made along the Ellett Line lie within a box bounded by co-ordinates 56° 40.02' N, 13° 42.0' W at the south west corner and 57° 37.2' N, 6° 7.98' W at the north east corner.
Nominal Ellett Line stations (1975-1996)
Listed below are nominal details of the standard hydrographic stations that formed the Ellett Line between 1975 and January 1996.
| Station | Latitude | Longitude | Depth | Range |
| --- | --- | --- | --- | --- |
| A | 57.583 N | 13.633 W | 130 m | 10.0 nm |
| B | 57.567 N | 13.333 W | 210 m | 9.7 nm |
| C | 57.550 N | 13.000 W | 330 m | 10.8 nm |
| D | 57.542 N | 12.867 W | 1000 m | 4.3 nm |
| E | 57.533 N | 12.633 W | 1658 m | 7.6 nm |
| F | 57.508 N | 12.250 W | 1817 m | 12.5 nm |
| G | 57.492 N | 11.850 W | 1812 m | 13.0 nm |
| H | 57.483 N | 11.533 W | 2020 m | 10.3 nm |
| I | 57.467 N | 11.317 W | 750 m | 7.0 nm |
| J | 57.450 N | 11.083 W | 550 m | 7.6 nm |
| K | 57.400 N | 10.867 W | 850 m | 7.6 nm |
| L | 57.367 N | 10.667 W | 2076 m | 6.8 nm |
| M | 57.300 N | 10.383 W | 2340 m | 10.1 nm |
| N | 57.233 N | 10.050 W | 2100 m | 11.5 nm |
| O | 57.150 N | 9.700 W | 1900 m | 12.4 nm |
| P | 57.100 N | 9.417 W | 1050 m | 9.7 nm |
| Q | 57.050 N | 9.217 W | 350 m | 7.2 nm |
| R | 57.000 N | 9.000 W | 135 m | 7.7 nm |
| S | 56.950 N | 8.783 W | 125 m | 7.7 nm |
| 15G | 56.883 N | 8.500 W | 125 m | 10.1 nm |
| T | 56.837 N | 8.333 W | 120 m | 6.1 nm |
| 14G | 56.808 N | 8.167 W | 115 m | 5.7 nm |
| 13G | 56.783 N | 8.000 W | 110 m | 5.7 nm |
| 12G | 56.758 N | 7.833 W | 80 m | 5.7 nm |
| 11G | 56.733 N | 7.667 W | 55 m | 5.7 nm |
| 10G | 56.733 N | 7.500 W | 220 m | 5.5 nm |
| 9G | 56.733 N | 7.333 W | 160 m | 5.5 nm |
| 8G | 56.733 N | 7.167 W | 175 m | 5.5 nm |
| 7G | 56.733 N | 7.000 W | 145 m | 5.5 nm |
| 6G | 56.733 N | 6.750 W | 35 m | 8.2 nm |
| 5G | 56.733 N | 6.600 W | 75 m | 4.9 nm |
| 4G | 56.733 N | 6.450 W | 115 m | 4.9 nm |
| 3G | 56.708 N | 6.367 W | 75 m | 3.1 nm |
| 2G | 56.683 N | 6.283 W | 40 m | 3.2 nm |
| 1G | 56.667 N | 6.133 W | 190 m | 5.0 nm |
History of Ellett Line occupations (1975-January 1996)
BODC Cruise Identifier
Cruise Dates
Ship
CH3/75
4-13 March 1975
RRS Challenger
CH7A/75
1-6 May 1975
RRS Challenger
CH10A/75
4-10 July 1975
RRS Challenger
CH12A/75
26 August-2 September 1975
RRS Challenger
CH14A/75
7-12 November 1975
RRS Challenger
CH5A/76
29 March-5 April 1976
RRS Challenger
CH8/76
19 May-1 June 1976
RRS Challenger
CH12/76
4-15 August 1976
RRS Challenger
CH15/76
7-16 October 1976
RRS Challenger
CH17/76
7-20 December 1976
RRS Challenger
CH4/77
25 February-11 March 1977
RRS Challenger
CH6B/77
14-19 April 1977
RRS Challenger
CH10/77
29 June-10 July 1977
RRS Challenger
CH11/77
12-26 July 1977
RRS Challenger
CH13/77
20 August-3 September 1977
RRS Challenger
CH2/78
30 January-13 February 1978
RRS Challenger
CH6/78
11-21 April 1978
RRS Challenger
CH9/78
31 May-10 June 1978
RRS Challenger
CH11B/78
29 July-12 August 1978
RRS Challenger
CH11D/78
3-17 September 1978
RRS Challenger
CH14B/78
4-11 November 1978
RRS Challenger
CH7/79
10-23 May 1979
RRS Challenger
S5/79
19 June-2 July 1979
RRS Shackleton
CH13/79
11-16 September 1979
RRS Challenger
CH16/79
28 October-11 November 1979
RRS Challenger
CH4/80
26 February-7 March 1980
RRS Challenger
CH7/80
21 April-6 May 1980
RRS Challenger
CH2/81
26 January-4 February 1981
RRS Challenger
CH6A/81 CH6B/81
6-25 April 1981
RRS Challenger
CH10/81
4-14 July 1981
RRS Challenger
CH15/81
6-20 October 1981
RRS Challenger
CH7A/82 CH7B/82
26 April-16 May 1982
RRS Challenger
CH15/82
16-30 October 1982
RRS Challenger
CH7B/83
23 May-2 June 1983
RRS Challenger
CH11/83
10-24 August 1983
RRS Challenger
CH2/84
23 June-8 July 1984
RRS Challenger
CH10/84
16 November-6 December 1984
RRS Challenger
CH1/85
20 January-5 February 1985
RRS Challenger
CH4/85
2-16 May 1985
RRS Challenger
CH8/85
14-28 August 1985
RRS Challenger
CH9
8-22 January 1987
RRS Challenger
CH14
24 April-7 May 1987
RRS Challenger
CH22
23 November-5 December 1987
RRS Challenger
CH25
24 February-7 March 1988
RRS Challenger
CH30
6-23 June 1988
RRS Challenger
D180
20 January-4 February 1989
RRS Discovery
LF1/89
5-11 May 1989
RV Lough Foyle
LF2/89
4-10 August 1989
RV Lough Foyle
CD44
24 November-2 December 1989
RRS Charles Darwin
CH67A
21-29 June 1990
RRS Challenger
CH71A
29 August-5 September 1990
RRS Challenger
CH75B
23 February-3 March 1991
RRS Challenger
CH81
1-8 July 1991
RRS Challenger
CH97
25 September-6 October 1992
RRS Challenger
CH101B
13-20 March 1993
RRS Challenger
CH103
12-24 May 1993
RRS Challenger
CH105
3-16 September 1993
RRS Challenger
CH110
10-20 March 1994
RRS Challenger
CH112
28 April-13 May 1994
RRS Challenger
CH114
15-29 August 1994
RRS Challenger
CH116
17-29 November 1994
RRS Challenger
CD92B
13 April-2 May 1995
RRS Charles Darwin
CH120
18 July-6 August 1995
RRS Challenger
CH124
8-27 January 1996
RRS Challenger