National Oceanography Centre (NOC) at Liverpool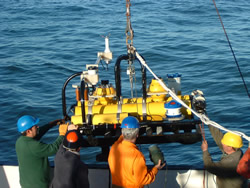 BODC's laboratory liaison activities with NOC at Liverpool (formerly the Proudman Oceangraphic Laboratory) are focused on managing the diverse range of data collected by scientists during their research. BODC provides a dedicated and skilled independent resource to secure data, enabling re-use over the long-term.
More about NOC
The National Oceanography Centre at Liverpool is a world-leading centre in tidal and storm surge prediction and is a leading European centre in modelling and forecasting coastal water environments. Their scientists are experts in sea level rise — predicted to increase substantially this century.
As a major research centre of the Natural Environment Research Council (NERC), they conduct world-class research in
estuary, coastal and shelf sea circulation & ecosystem dynamics
wind-wave dynamics & sediment transport
global sea level and geodetic oceanography
marine technology & operational oceanography
It is one of seven UK marine centres that are participating in the NERC Oceans 2025 programme. This is a strategic marine research programme which aims to improve understanding of ocean behaviour, response to climate change and subsequent impacts on society through cross-disciplinary partnership research. Scientists are undertaking research in six of the nine science themes that Oceans 2025 addresses
Theme 1: Geodetic Oceanography, Polar Oceanography, and Sea Level
Theme 3: Shelf and Coastal Processes
Theme 6: Climatological Trends in the Physical Environment
Theme 8: Technology Development
Theme 9: Next Generation Ocean Prediction Systems
Theme 10: Integration of Sustained Observations in the Marine Environment
In addition to this, ongoing research is carried out through a Coastal Observatory located in Liverpool Bay. The main objective is to understand a coastal sea's response both to natural forcing and to the consequences of human activity.
Complementing their own research, NOC acts as a host institution to two internationally respected marine facilities: the National Tidal and Sea Level Facility and Tide Gauge Network (NTSLF), and the Permanent Service for Mean Sea Level (PSMSL).