Estuaries Database 2003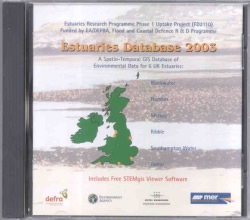 The CDROM product was prepared by ABP Marine Environmental Research Ltd (ABPmer) under the Estuaries Research Programme Phase 1 (ERP1) Uptake Project (FD2110). This work was funded by the Environment Agency/Department for Environment, Food and Rural Affairs (Defra), Flood and Coastal Defence Research and Development Programme.
The CDROM is available free of charge for use by government agencies, local authorities, academic research and non-commercial purposes. The data originators have stated that the data are not to be used for commercial gain.
Download an order form here.

(47 KB)

(22 KB)
In using this product you must adhere to the terms and conditions of the licence agreement. A copy of the agreement can be found on the CDROM or is available here.

(116 KB)
It is being distributed at BODC on behalf of Defra by the Marine Environmental Data (MED) Coordinator (Lesley Rickards). The MED Coordinator is acting under the umbrella of the Marine Science Co-ordination Committee (MSCC). However, ABPmer remain the 'Licensor'.
The Estuaries Research Programme (ERP) began in 1997 with the Estuaries Morphology and Processes Holistic Assessment SYStem (EMPHASYS) project. EMPHASYS was designed to improve our understanding of processes operating in estuaries, in particular, broad scale modelling techniques which can be applied to estuarine processes. A database was produced for use by members of the EMPHASYS consortium.
Following the success of the EMPHASYS project, the Phase 1 Uptake Project was undertaken. Its aim was to make output from EMPHASYS more widely available. This included an update of the database for release in the public domain as the Estuaries Database 2003.
The Estuaries Database 2003 contains
a directory of existing data sources for estuaries
data for the broad properties of 79 UK estuaries
detailed hydrodynamic, bathymetric, and sedimentary information for six estuaries, i.e. Blackwater, Humber, Mersey, Ribble, Southampton Water and Tamar
a diverse range of environmental data ranging from estuary properties to detailed time series of chemical and nutrient concentrations, bathymetry and much more
The data range from 1965 to 2002.
Included on the CDROM are metadata links to other data sets which can be obtained elsewhere. It also comes with a free viewer to query, display and animate the data — Discovery Software's STEMgis.