Assessments and data access
Assessments and data
Data assessments
The MERMAN data were most recently assessed and reported in
Charting Progress 2: The state of UK seas
Oslo and Paris Convention (OSPAR) Quality Status Report 2010
Annual assessments are also made in OSPAR Co-ordinated Environmental Monitoring Programme (CEMP):
Assessment viewer tool
The Clean Seas Environment Monitoring Programme (CSEMP) assessment viewer tool, built by the UK Clean Safe Seas Evidence Group, enables you to view assessments on the most recently extracted assessment data (April 2020) and from data used in the September 2016 assessment. The biota and sediment data used in the 2018 CSEMP assessment using data from MERMAN may be cited with the citation provided by Marine Scotland https://doi.org/10.7489/12227-1.
Within the assessment viewer tool:
First select the media, measurement type and measurement from the drop-down lists presented at the upper left of the screen. Once selected, coloured symbols for each station will be displayed on the map.
To zoom to a geographic region of interest — select a 'region' from the drop-down lists presented to the left of the screen.
To view further information about a station and to gain access to the data plots — click on a coloured symbol within the map.
To display the data plots — follow the links under the 'Graphics' section to the right of the screen.
Assessments of the potential impact of individual chemicals use an environmental quality standard (EQS), derived from the concentration at which laboratory data suggest that the chemical could be harmful. Most of these standards are for water. For sediments and biota, we have data on background assessment concentrations (BACs) and environmental assessment criteria (EACs), the latter based on toxicological information and which often also add a margin of safety to give a very conservative estimate of potential harm.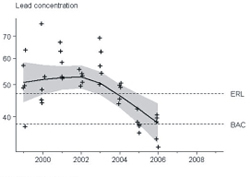 Alternative approaches involve combining modelling, laboratory and field toxicity data to generate a range of concentrations within which potential effects may occur. For example, Effects Range-Low (ERL) and Effects Range-Median (ERM) concentrations. This approach, first developed for the United States Environmental Protection Agency, is now widely used around the world.
Data access
To access the data held in MERMAN, please contact merman@bodc.ac.uk.
Alternatively, MERMAN data are also available via the European Marine Observation Data Network (EMODnet) chemistry portal.
Before MERMAN data can be provided, a data supply agreement must be completed and returned to BODC.