Assessments and data access
Assessments and data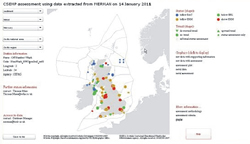 Data assessments
The MERMAN data were most recently assessed and reported in
Charting Progress 2: The state of UK seas
Oslo and Paris Convention (OSPAR) Quality Status Report 2017
Annual assessments are also made in OSPAR Co-ordinated Environmental Monitoring Programme (CEMP):
Assessment viewer tool
The Clean Seas Environment Monitoring Programme (CSEMP) used to have a flash app viewer to view the assessment. This is no longer supported and interested parties may use the OSPA assement on OHAT (https://dome.ices.dk/OHAT/). The data used for the 2020 sediment and biota CSEMP assesment are available from doi 10.7489/12432-1.
Data access
To request data from the MERMAN database please contact the merman team on merman@bodc.ac.uk.
Alternatively, MERMAN data are also available via the ICES OHAT (https://dome.ices.dk/OHAT/) or the European Marine Observation Data Network (EMODnet) chemistry portal ( https://emodnet.ec.europa.eu/en/chemistry).
Data are made available via the Open Government Licence ( https://www.nationalarchives.gov.uk/doc/open-government-licence/version/3/).