Project overview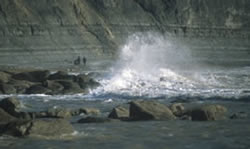 MERMAN is a national database which holds and provides access to data collected under the Clean Safe Seas Environmental Monitoring Programme (CSEMP) — formerly the National Marine Monitoring Programme (NMMP).
MERMAN is funded by the Department for Environment, Food and Rural Affairs (Defra), the Department of Agriculture, Environment and Rural Affairs Northern Ireland (DAERA), the Agri-Food and Biosciences Institute (AFBI) and Marine Scotland Science (MSS).
CSEMP itself provides a coordinated approach to environmental monitoring in the UK's coastal and estuarine areas. The programme fulfils the UK's commitment to European directives including its mandatory monitoring requirements under the Oslo and Paris Convention (OSPAR), Joint Assessment Monitoring Programme (JAMP), UK Marine Strategy and National Assessments.
The general aims of CSEMP are to
Detect long-term spatial and temporal trends in physical, biological and chemical variables at selected estuarine and coastal sites
Support consistent standards in national and international monitoring programmes for marine environmental quality
Establish appropriate protective regulatory measures
Coordinate and optimise marine monitoring in the UK

Provide a high quality chemical and biological data set from the UK's marine environment
Monitoring stations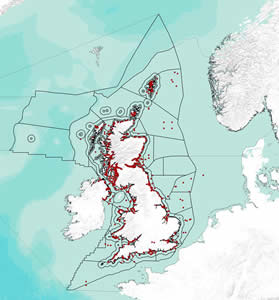 There are approximately 1000 core stations, as illustrated in the map on the right, monitored to determine long-term trends around the UK coastline. Data are also collected from a number of opportunistic stations increasing the spatial coverage of the monitoring network. Contaminants are measured in waters, sediments and biota to assess their distribution and fate in the environment. Biological effects are also measured to determine the response of organisms to contaminants.
Data are quality assured using internal and external programmes. The participating laboratories subscribe to the Quality Assurance of Information for Marine Environmental Monitoring in Europe (QUASIMEME) or the Biological Effects Quality Assurance in Monitoring Programmes (BEQUALM) inter-laboratory proficiency-testing schemes and perform internal quality assurance.
The principal output from the coordinated monitoring is an annual submission of quality assured data to the International Council for the Exploration of the Seas (ICES).