GEBCO Grid display software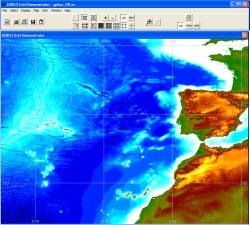 The information on this page relates to updates to the GEBCO Grid display software for viewing and accessing data from GEBCO's gridded data sets.

Version 2.13 is the latest release of the software and was made available in April 2010. It is designed to be used with GEBCO's global gridded data files and replaces version 2.12 released in May 2009.
Find out more about
Reported bug of 31 July 2012
A bug has been reported in the GEBCO grid display software that affects the export of the GEBCO_08 Grid and GEBCO_08 SID grid. In some limited cases when the selected geographic region for export is defined as a fraction of a whole degree, then the exported data value at each grid point has been shifted (in longitude) by one grid cell, i.e. 30 arc-seconds, from its correct value.
We apologise for any inconvenience caused and are working to fix this bug. We will make a revised version of the software available as soon as possible.
In the meantime, we recommend that users of the GEBCO grid display software select geographic regions for export at whole degree intervals rather than as fractions of a degree.
Version 2.13
This is the latest release of the GEBCO Grid display software and includes the following bug fix
When running the previous version of the software from a networked disc drive, some users reported the following error message when using, for example, the GEBCO_08 Grid.

'GEBCO_08.nc does not match file attributes.'

This bug was caused by the software checking the attributes of the grid file(s). This check has now been removed.
Find out how to download a compressed file containing version 2.13 of the GEBCO Grid display software.
Previous releases
Details are given below about the previous releases of the GEBCO Grid display software. To find your current version use the 'Help — About' menu option from the software's main toolbar.
Version number
Bug fix or update
Release date

2.12

Bug fix: A broken web link from the 'Help – www Homepages' menu option has now been enabled.

May 2009
2.11

Update: Inclusion of an option to export data from GEBCO's gridded bathymetric data sets in an ASCII form suitable for conversion to an ESRI raster file using ESRI data conversion software.

Update: The software has been updated to work with read-only versions of the source data files. This has proved useful in some cases where the software is used over a network.

April 2009
2.10
Update: Display and access data from either the GEBCO One Minute Grid or GEBCO_08 Grid.
February 2009
2.0
Release of the software
January 2007
Information about reported problems in the GEBCO Digital Atlas data sets, including GEBCO's grids, can be found by visiting our errata section.