Metadata Report for BODC Series Reference Number 1006773
---
Data Description
Data Category
CTD or STD cast
Instrument Type

| Name | Categories |
| --- | --- |
| Neil Brown MK3 CTD | CTD; water temperature sensor; salinity sensor; dissolved gas sensors |
| SeaTech transmissometer | transmissometers |

Instrument Mounting
research vessel
Originating Country
United Kingdom
Originator
Prof Raymond Pollard
Originating Organization
James Rennell Centre for Ocean Circulation (now National Oceanography Centre, Southampton)
Processing Status
banked
Online delivery of data
Download available - Ocean Data View (ODV) format
Project(s)
WOCE
UK WOCE

Data Identifiers
| | |
| --- | --- |
| Originator's Identifier | CTD12685 |
| BODC Series Reference | 1006773 |
Time Co-ordinates(UT)
| | |
| --- | --- |
| Start Time (yyyy-mm-dd hh:mm) | 1995-01-17 19:00 |
| End Time (yyyy-mm-dd hh:mm) | - |
| Nominal Cycle Interval | 2.0 decibars |
Spatial Co-ordinates
| | |
| --- | --- |
| Latitude | 41.62033 S ( 41° 37.2' S ) |
| Longitude | 31.63300 E ( 31° 38.0' E ) |
| Positional Uncertainty | 0.0 to 0.01 n.miles |
| Minimum Sensor or Sampling Depth | 0.99 m |
| Maximum Sensor or Sampling Depth | 4450.26 m |
| Minimum Sensor or Sampling Height | -4.06 m |
| Maximum Sensor or Sampling Height | 4445.21 m |
| Sea Floor Depth | 4446.2 m |
| Sea Floor Depth Source | DATAHEAD |
| Sensor or Sampling Distribution | Variable common depth - All sensors are grouped effectively at the same depth, but this depth varies significantly during the series |
| Sensor or Sampling Depth Datum | Instantaneous - Depth measured below water line or instantaneous water body surface |
| Sea Floor Depth Datum | Instantaneous - Depth measured below water line or instantaneous water body surface |
Parameters
| BODC CODE | Rank | Units | Title |
| --- | --- | --- | --- |
| ATTNZR01 | 1 | per metre | Attenuation (red light wavelength) per unit length of the water body by transmissometer |
| DOXYPR01 | 1 | Micromoles per litre | Concentration of oxygen {O2 CAS 7782-44-7} per unit volume of the water body [dissolved plus reactive particulate phase] by in-situ Beckmann probe |
| OXYSBB01 | 1 | Percent | Saturation of oxygen {O2 CAS 7782-44-7} in the water body [dissolved plus reactive particulate phase] by in-situ Beckmann probe and computation from concentration using Benson and Krause algorithm |
| POATCV01 | 1 | per metre | Potential attenuance (unspecified wavelength) per unit length of the water body by transmissometer and computation using P-EXEC algorithm |
| POTMCV01 | 1 | Degrees Celsius | Potential temperature of the water body by computation using UNESCO 1983 algorithm |
| PRESPR01 | 1 | Decibars | Pressure (spatial coordinate) exerted by the water body by profiling pressure sensor and correction to read zero at sea level |
| PSALST01 | 1 | Dimensionless | Practical salinity of the water body by CTD and computation using UNESCO 1983 algorithm |
| SIGTPR01 | 1 | Kilograms per cubic metre | Sigma-theta of the water body by CTD and computation from salinity and potential temperature using UNESCO algorithm |
| TEMPST01 | 1 | Degrees Celsius | Temperature of the water body by CTD or STD |
Definition of Rank
Rank 1 is a one-dimensional parameter
Rank 2 is a two-dimensional parameter
Rank 0 is a one-dimensional parameter describing the second dimension of a two-dimensional parameter (e.g. bin depths for moored ADCP data)
---
No Problem Report Found in the Database
---
Open Data supplied by Natural Environment Research Council (NERC)
You must always use the following attribution statement to acknowledge the source of the information: "Contains data supplied by Natural Environment Research Council."
---
Neil Brown MK3 CTD
The Neil Brown MK3 conductivity-temperature-depth (CTD) profiler consists of an integral unit containing pressure, temperature and conductivity sensors with an optional dissolved oxygen sensor in a pressure-hardened casing. The most widely used variant in the 1980s and 1990s was the MK3B. An upgrade to this, the MK3C, was developed to meet the requirements of the WOCE project.
The MK3C includes a low hysteresis, titanium strain gauge pressure transducer. The transducer temperature is measured separately, allowing correction for the effects of temperature on pressure measurements. The MK3C conductivity cell features a free flow, internal field design that eliminates ducted pumping and is not affected by external metallic objects such as guard cages and external sensors.
Additional optional sensors include pH and a pressure-temperature fluorometer. The instrument is no longer in production, but is supported (repair and calibration) by General Oceanics.
Specifications
These specification apply to the MK3C version.
Pressure
Temperature
Conductivity
Range

6500 m

3200 m (optional)

-3 to 32°C
1 to 6.5 S cm-1
Accuracy

0.0015% FS

0.03% FS < 1 msec

0.0005°C

0.003°C < 30 msec

0.0001 S cm-1

0.0003 S cm-1 < 30 msec
Further details can be found in the specification sheet.
SeaTech Transmissometer
Introduction
The transmissometer is designed to accurately measure the the amount of light transmitted by a modulated Light Emitting Diode (LED) through a fixed-length in-situ water column to a synchronous detector.
Specifications
Water path length: 5 cm (for use in turbid waters) to 1 m (for use in clear ocean waters).
Beam diameter: 15 mm
Transmitted beam collimation: <3 milliradians
Receiver acceptance angle (in water): <18 milliradians
Light source wavelength: usually (but not exclusively) 660 nm (red light)
Notes
The instrument can be interfaced to Aanderaa RCM7 current meters. This is achieved by fitting the transmissometer in a slot cut into a customized RCM4-type vane.
A red LED (660 nm) is used for general applications looking at water column sediment load. However, green or blue LEDs can be fitted for specilised optics applications. The light source used is identified by the BODC parameter code.
Further details can be found in the manufacturer's Manual.
RRS Discovery 213 CTD Data Documentation
Introduction
CTD profile data are presented from the SWINDEX recovery cruise Discovery 213, as reported by Pollard et al. (1995).
Instrumentation and Methodology
Instrumentation Summary
The CTD profiles were taken with a Neil Brown Systems MkIIIc CTD mounted beneath a bottle rosette. The CTD was fitted with a pressure sensor, conductivity cell, platinum resistance thermometer, a dissolved oxygen sensor, a Chelsea Instruments fluorometer, a Sea Tech 100cm path transmissometer, a Simrad 200kHz altimeter and an IOSDL 10kHz pinger.
Data Acquisition
Lowering rates for the CTD package were generally in the range 0.5-1.0ms-1 but could be up to 1.5ms-1. CTD data were logged at 25 frames per second. The CTD deck unit passes raw data to a dedicated Level A microcomputer where 1 second averages are assembled. During this process the Level A calculates the rate of change of temperature and a median sorting routine detects and removes pressure spikes. These data are sent to the Level B for archival. The data are then passed to a Level C workstation for conversion to Pstar format and calibration.
A total of 106 stations were occupied (12671 - 12776). At the first station (12671) all 24 bottles were fired at 2900m and a full suite of analyses performed to test the bottles. Two stations were aborted, 12672 due to a wire problem, and 12724 due to a strong current. The fluorometer failed early on due to the DC voltage converter breaking down. The spare then failed after a few casts due to an over voltage being applied.
Data Processing
The 1 second data passed to the Level C were converted to Pstar format and initially calibrated with coefficients from laboratory calibrations followed by a number of calibration corrections. The up and down cast data were extracted for merging with the bottle firing codes, thus the CTD variables were reconciled with the bottle samples. Final calibrations were applied using the sample bottle data. Finally, down cast data were extracted, sorted on pressure and averaged to 2db values, with any gaps filled by linear interpolation.
Additional Comments
The data originators have informed BODC that the data submitted to us are not fully worked up, and suffer from a CTD salinity hysteresis. This is apparently a problem associated with the WOCE upgraded CTD's (Deep03 and Deep04). The data originators calibrated the CTD upcast (instead of the down). They say they would use a larger time constant especially as they smooth and reduce the data for WOCE. The scale of the problem makes it unimportant for the work they are currently doing and hence they have not done anything about it yet. The salts, temperatures, oxygens and nutrients in the bottle data are thought to be satisfactory. The data originators are also a bit suspicious of the salinity calibration on stations 12743 and 12744. A different standard seawater was used and the deep theta/S shows a significant offset. They have no conclusion or correction to add yet. Neither the fluorometer nor the transmissometer data are fully worked up.
BODC Data Processing
No further calibrations were applied to the data received by BODC. BODC were mainly concerned with the screening and banking of the data.
The CTD data were received as 2db averaged pressure sorted down cast data. Parameters were pressure (dbar), temperature (°C), salinity (psu), oxygen (µmol/l), fluor (mg/m3) and potential attenuance (/m).
The data were converted into the BODC internal format (PXF) to allow the use of in-house software tools, notably the graphics editor. Spikes in the data were manually flagged 'suspect' by modification of the associated quality control flag. In this way none of the original data values were edited or deleted during quality control.
Station 12687 has no data between 2725-2841db for all parameters, similarly for station 12771 between 5449-5453db. The temperature, salinity and oxygen data from cruise DI213 required little flagging and just a few points were set suspect. The fluorometer data were very bad with only station 12671 exhibiting good data. The transmissometer data were also bad with disturbances in many of the profiles, primarily between 800 and 1500db.
Once screened, the CTD data were loaded into a database under the Oracle relational database management system. The start time stored in the database is the CTD deployment time, and the end time is the time the CTD was removed from the water. Actually these times are more precisely the start and end of data logging. The start time for station 12771 is given as 03:53 in the cruise report. This was changed to the start time in the data file, which was 04:15. Latitude and longitude are the mean positions between the start and end times calculated from the master navigation in the binary merged file.
All the fluorometer data were set null in the database except for station 12671. Potential attenuance was converted to attenuance from within Oracle as follows:
atten = exp (-atten)
atten = atten / (1.0 -ln (atten) x press / 215800)
atten = -ln (atten)
References
Pollard, R.T. et al. (1995). RRS Discovery Cruise 213. Institute of Oceanographic Sciences Deacon Laboratory, Cruise Report No. 247, 104pp.
---
World Ocean Circulation Experiment (WOCE)
The World Ocean Circulation Experiment (WOCE) was a major international experiment which made measurements and undertook modelling studies of the deep oceans in order to provide a much improved understanding of the role of ocean circulation in changing and ameliorating the Earth's climate.
WOCE had two major goals:
Goal 1. To develop models to predict climate and to collect the data necessary to test them.

Goal 2. To determine the representativeness of the Goal 1 observations and to deduce cost effective means of determining long-term changes in ocean circulation.
---
UK WOCE
The UK made a substantial contribution to the international World Ocean Circulation Experiment (WOCE) project by focusing on two important regions:
Southern Ocean - links all the worlds oceans, controlling global climate.
North Atlantic - directly affects the climate of Europe.
A major part of the UK effort was in the Southern Ocean and work included:
Two surveys, in the South Atlantic as part of the WOCE Hydrographic Programme.
SWINDEX, a year long study of the Antarctic Circumpolar Current (ACC) where it crosses major topography south of Africa.
ADOX, a study of deep water flow from the Atlantic to the Indian Ocean.
ACCLAIM, a study of the ACC by altimetry and island measurements.
In the North Atlantic the UK undertook:
NATRE, a purposeful tracer experiment to look at cross isopycnic processes.
CONVEX, a study of the deep ocean circulation and its changes.
VIVALDI, a seven year programme of seasonally repeated surveys to study the upper ocean.
Long-term observations of ocean climate in the North West Approaches.
Satellite ocean surface topography, temperature and wind data were merged with in situ observations and models to create a complete description of ocean circulation, eddy motion and the way the ocean is driven by the atmosphere.
The surveys were forerunners to the international Global Ocean Observing System (GOOS). GOOS was later established to monitor annual to decadal changes in ocean circulation and heat storage which are vital in the prediction of climate change.
---
Cruise
| | |
| --- | --- |
| Cruise Name | D213 |
| Departure Date | 1995-01-06 |
| Arrival Date | 1995-02-21 |
| Principal Scientist(s) | Raymond T Pollard (James Rennell Centre for Ocean Circulation) |
| Ship | RRS Discovery |
Complete Cruise Metadata Report is available here
---
Fixed Station Information
| | |
| --- | --- |
| Station Name | WOCE Indian Special Survey 01 (ISS01) |
| Category | Offshore area |
| Latitude | 37° 30.00' S |
| Longitude | 37° 30.00' E |
| Water depth below MSL | |
World Ocean Circulation Experiment (WOCE) Indian Special Survey 01 (ISS01)
WOCE was a major international experiment which made measurements and undertook modelling studies of the deep oceans in order to provide a much improved understanding of the role of ocean circulation in changing and ameliorating the Earth's climate. WOCE established various special survey areas and repeat sections in the Indian Ocean as illustrated in the map below.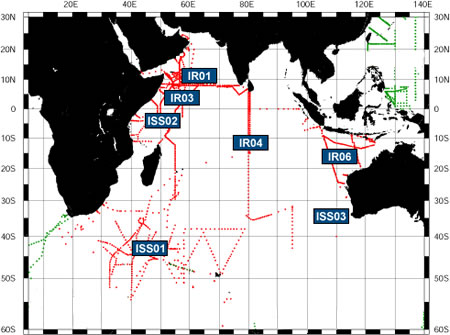 ISS01 was to study the thermocline ventilation and eddy/mean flow interaction in the South West Indian Ocean specifically in the Agulhas recirculation gyre; stations lie within a box bounded by 50.0°S, 20.0°E at the southwest corner and 25.0°S, 55.0°E at the northeast corner. The area was occupied between December 1986 and April 1995. A table of all ISS01 cruises is presented below:
| | | |
| --- | --- | --- |
| Cruise | Cruise dates | Country |
| RRS Discovery 164 | 19 December 1986 - 21 January 1987 | UK |
| RRS Discovery 165A | 26 January - 26 February 1987 | UK |
| S.A. Agulhas | 05 Apri1 - 08 May 1991 | South Africa |
| Marion Dufresne | 12 April - 20 May 1991 | France |
| RRS Discovery 200 | 06 February -18 March 1993 | UK |
| RRS Discovery 201 | 23 March - 03 May 1993 | UK |
| Marion Dufresne | 29 March - 18 May 1993 | France |
| S.A. Agulhas | 21 June - 14 July 1993 | South Africa |
| RRS Discovery 207 | 19 February - 30 March 1994 | UK |
| RRS Discovery 213 | 06 January - 21 February 1995 | UK |
| RRS Discovery 214 | 25 February - 08 March 1995 | UK |
| Malcolm Baldrige | 21 March - 22 April 1995 | USA |
Related Fixed Station activities are detailed in Appendix 1
---
The following single character qualifying flags may be associated with one or more individual parameters with a data cycle:
| Flag | Description |
| --- | --- |
| Blank | Unqualified |
| < | Below detection limit |
| > | In excess of quoted value |
| A | Taxonomic flag for affinis (aff.) |
| B | Beginning of CTD Down/Up Cast |
| C | Taxonomic flag for confer (cf.) |
| D | Thermometric depth |
| E | End of CTD Down/Up Cast |
| G | Non-taxonomic biological characteristic uncertainty |
| H | Extrapolated value |
| I | Taxonomic flag for single species (sp.) |
| K | Improbable value - unknown quality control source |
| L | Improbable value - originator's quality control |
| M | Improbable value - BODC quality control |
| N | Null value |
| O | Improbable value - user quality control |
| P | Trace/calm |
| Q | Indeterminate |
| R | Replacement value |
| S | Estimated value |
| T | Interpolated value |
| U | Uncalibrated |
| W | Control value |
| X | Excessive difference |
---
The following single character qualifying flags may be associated with one or more individual parameters with a data cycle:
| Flag | Description |
| --- | --- |
| 0 | no quality control |
| 1 | good value |
| 2 | probably good value |
| 3 | probably bad value |
| 4 | bad value |
| 5 | changed value |
| 6 | value below detection |
| 7 | value in excess |
| 8 | interpolated value |
| 9 | missing value |
| A | value phenomenon uncertain |
| B | nominal value |
| Q | value below limit of quantification |
---
Appendix 1: WOCE Indian Special Survey 01 (ISS01)
Related series for this Fixed Station are presented in the table below. Further information can be found by following the appropriate links.
If you are interested in these series, please be aware we offer a multiple file download service. Should your credentials be insufficient for automatic download, the service also offers a referral to our Enquiries Officer who may be able to negotiate access.
| Series Identifier | Data Category | Start date/time | Start position | Cruise |
| --- | --- | --- | --- | --- |
| 1004698 | CTD or STD cast | 1993-02-11 11:09:00 | 52.0015 S, 17.5015 E | RRS Discovery D200 |
| 1298117 | Water sample data | 1993-02-11 12:14:00 | 52.00148 S, 17.50146 E | RRS Discovery D200 |
| 1004705 | CTD or STD cast | 1993-02-12 09:06:00 | 54.49967 S, 19.34983 E | RRS Discovery D200 |
| 1298129 | Water sample data | 1993-02-12 10:36:00 | 54.49965 S, 19.34983 E | RRS Discovery D200 |
| 1004717 | CTD or STD cast | 1993-02-13 07:40:00 | 56.25917 S, 21.129 E | RRS Discovery D200 |
| 1298130 | Water sample data | 1993-02-13 09:29:00 | 56.25922 S, 21.12895 E | RRS Discovery D200 |
| 1004729 | CTD or STD cast | 1993-02-14 04:19:00 | 58.03667 S, 23.06933 E | RRS Discovery D200 |
| 1298142 | Water sample data | 1993-02-14 06:32:00 | 58.03667 S, 23.06931 E | RRS Discovery D200 |
| 1004730 | CTD or STD cast | 1993-02-14 18:17:00 | 59.6795 S, 24.896 E | RRS Discovery D200 |
| 1298154 | Water sample data | 1993-02-14 20:05:00 | 59.67945 S, 24.89594 E | RRS Discovery D200 |
| 1004742 | CTD or STD cast | 1993-02-16 04:13:00 | 62.43717 S, 28.71083 E | RRS Discovery D200 |
| 1298166 | Water sample data | 1993-02-16 06:00:00 | 62.43719 S, 28.71075 E | RRS Discovery D200 |
| 1004754 | CTD or STD cast | 1993-02-17 07:25:00 | 64.4765 S, 32.44667 E | RRS Discovery D200 |
| 1298191 | Water sample data | 1993-02-17 08:20:00 | 64.47657 S, 32.44674 E | RRS Discovery D200 |
| 1004766 | CTD or STD cast | 1993-02-20 06:30:00 | 64.67633 S, 58.16667 E | RRS Discovery D200 |
| 1298209 | Water sample data | 1993-02-20 08:07:00 | 64.67632 S, 58.1666 E | RRS Discovery D200 |
| 1004778 | CTD or STD cast | 1993-02-23 08:05:00 | 62.16833 S, 83.27033 E | RRS Discovery D200 |
| 1298210 | Water sample data | 1993-02-23 09:11:00 | 62.16825 S, 83.27026 E | RRS Discovery D200 |
| 1004791 | CTD or STD cast | 1993-02-23 13:27:00 | 62.74783 S, 83.47133 E | RRS Discovery D200 |
| 1298222 | Water sample data | 1993-02-23 14:38:00 | 62.74784 S, 83.47136 E | RRS Discovery D200 |
| 1004809 | CTD or STD cast | 1993-02-23 23:05:00 | 63.3545 S, 83.92983 E | RRS Discovery D200 |
| 1298234 | Water sample data | 1993-02-24 00:34:00 | 63.35457 S, 83.92985 E | RRS Discovery D200 |
| 1004810 | CTD or STD cast | 1993-02-24 14:31:00 | 64.16767 S, 84.574 E | RRS Discovery D200 |
| 1298246 | Water sample data | 1993-02-24 16:08:00 | 64.16761 S, 84.57403 E | RRS Discovery D200 |
| 1004822 | CTD or STD cast | 1993-02-24 23:02:00 | 64.62033 S, 84.99383 E | RRS Discovery D200 |
| 1298258 | Water sample data | 1993-02-25 00:46:00 | 64.6203 S, 84.9938 E | RRS Discovery D200 |
| 1004834 | CTD or STD cast | 1993-02-25 07:03:00 | 65.09167 S, 85.32133 E | RRS Discovery D200 |
| 1298271 | Water sample data | 1993-02-25 08:18:00 | 65.09168 S, 85.32136 E | RRS Discovery D200 |
| 1004846 | CTD or STD cast | 1993-02-25 23:44:00 | 63.71283 S, 84.16367 E | RRS Discovery D200 |
| 1298283 | Water sample data | 1993-02-26 01:02:00 | 63.7128 S, 84.16364 E | RRS Discovery D200 |
| 1004858 | CTD or STD cast | 1993-03-04 15:29:00 | 48.47517 S, 60.9665 E | RRS Discovery D200 |
| 1298295 | Water sample data | 1993-03-04 17:25:00 | 48.47515 S, 60.96653 E | RRS Discovery D200 |
| 1004871 | CTD or STD cast | 1993-03-05 14:10:00 | 48.273 S, 60.018 E | RRS Discovery D200 |
| 1298302 | Water sample data | 1993-03-05 16:07:00 | 48.27295 S, 60.01805 E | RRS Discovery D200 |
| 1004883 | CTD or STD cast | 1993-03-05 22:44:00 | 48.0845 S, 59.161 E | RRS Discovery D200 |
| 1298314 | Water sample data | 1993-03-06 00:36:00 | 48.08443 S, 59.16094 E | RRS Discovery D200 |
| 1004895 | CTD or STD cast | 1993-03-06 17:32:00 | 47.87317 S, 58.22733 E | RRS Discovery D200 |
| 1298326 | Water sample data | 1993-03-06 19:15:00 | 47.8731 S, 58.22734 E | RRS Discovery D200 |
| 1004902 | CTD or STD cast | 1993-03-07 00:45:00 | 47.6745 S, 57.30033 E | RRS Discovery D200 |
| 1298338 | Water sample data | 1993-03-07 02:25:00 | 47.67451 S, 57.30029 E | RRS Discovery D200 |
| 1004914 | CTD or STD cast | 1993-03-08 18:28:00 | 47.2915 S, 55.2905 E | RRS Discovery D200 |
| 1298351 | Water sample data | 1993-03-08 19:59:00 | 47.29155 S, 55.29056 E | RRS Discovery D200 |
| 1004926 | CTD or STD cast | 1993-03-09 19:02:00 | 46.91233 S, 53.63417 E | RRS Discovery D200 |
| 1298363 | Water sample data | 1993-03-09 20:21:00 | 46.91241 S, 53.63423 E | RRS Discovery D200 |
| 1004938 | CTD or STD cast | 1993-03-10 01:24:00 | 47.13017 S, 54.55983 E | RRS Discovery D200 |
| 1298375 | Water sample data | 1993-03-10 03:00:00 | 47.13013 S, 54.55976 E | RRS Discovery D200 |
| 1004951 | CTD or STD cast | 1993-03-10 13:33:00 | 46.77683 S, 53.11767 E | RRS Discovery D200 |
| 1298387 | Water sample data | 1993-03-10 14:37:00 | 46.77682 S, 53.11771 E | RRS Discovery D200 |
| 1004963 | CTD or STD cast | 1993-03-11 14:42:00 | 45.40183 S, 47.96533 E | RRS Discovery D200 |
| 1298399 | Water sample data | 1993-03-11 15:59:00 | 45.40178 S, 47.96531 E | RRS Discovery D200 |
| 1005665 | CTD or STD cast | 1993-03-27 18:08:00 | 36.87417 S, 21.7365 E | RRS Discovery D201 |
| 1005677 | CTD or STD cast | 1993-03-28 06:43:00 | 37.5935 S, 22.89017 E | RRS Discovery D201 |
| 1005689 | CTD or STD cast | 1993-03-28 17:28:00 | 37.99433 S, 23.603 E | RRS Discovery D201 |
| 1005690 | CTD or STD cast | 1993-03-30 10:12:00 | 41.1085 S, 28.89983 E | RRS Discovery D201 |
| 1005708 | CTD or STD cast | 1993-03-30 19:40:00 | 41.24583 S, 29.66483 E | RRS Discovery D201 |
| 1005721 | CTD or STD cast | 1993-03-31 03:28:00 | 41.41283 S, 30.41567 E | RRS Discovery D201 |
| 1005733 | CTD or STD cast | 1993-03-31 11:12:00 | 41.5705 S, 31.18483 E | RRS Discovery D201 |
| 1005745 | CTD or STD cast | 1993-03-31 19:41:00 | 41.71083 S, 31.93917 E | RRS Discovery D201 |
| 1005757 | CTD or STD cast | 1993-04-01 11:15:00 | 41.88433 S, 32.84067 E | RRS Discovery D201 |
| 1005769 | CTD or STD cast | 1993-04-01 19:29:00 | 42.2075 S, 33.5425 E | RRS Discovery D201 |
| 1005770 | CTD or STD cast | 1993-04-02 02:33:00 | 42.49283 S, 34.17283 E | RRS Discovery D201 |
| 1005782 | CTD or STD cast | 1993-04-02 09:03:00 | 42.797 S, 34.79633 E | RRS Discovery D201 |
| 1005794 | CTD or STD cast | 1993-04-02 18:57:00 | 43.15217 S, 35.46583 E | RRS Discovery D201 |
| 1005801 | CTD or STD cast | 1993-04-03 09:00:00 | 43.3755 S, 36.079 E | RRS Discovery D201 |
| 1005813 | CTD or STD cast | 1993-04-03 15:42:00 | 43.65483 S, 36.591 E | RRS Discovery D201 |
| 1005825 | CTD or STD cast | 1993-04-03 23:52:00 | 43.90017 S, 37.06533 E | RRS Discovery D201 |
| 1005837 | CTD or STD cast | 1993-04-04 05:18:00 | 44.15833 S, 37.57733 E | RRS Discovery D201 |
| 1005849 | CTD or STD cast | 1993-04-04 11:20:00 | 44.40883 S, 38.12133 E | RRS Discovery D201 |
| 1005850 | CTD or STD cast | 1993-04-04 17:50:00 | 44.52033 S, 38.56267 E | RRS Discovery D201 |
| 1005862 | CTD or STD cast | 1993-04-04 23:58:00 | 44.64617 S, 38.97683 E | RRS Discovery D201 |
| 1005874 | CTD or STD cast | 1993-04-05 09:48:00 | 44.58983 S, 39.612 E | RRS Discovery D201 |
| 1005886 | CTD or STD cast | 1993-04-05 14:58:00 | 44.58583 S, 40.19433 E | RRS Discovery D201 |
| 1005898 | CTD or STD cast | 1993-04-05 19:53:00 | 44.5765 S, 40.80083 E | RRS Discovery D201 |
| 1005905 | CTD or STD cast | 1993-04-06 05:01:00 | 44.509 S, 41.449 E | RRS Discovery D201 |
| 1005917 | CTD or STD cast | 1993-04-06 16:13:00 | 45.00183 S, 41.0815 E | RRS Discovery D201 |
| 1005929 | CTD or STD cast | 1993-04-06 20:50:00 | 45.35567 S, 40.867 E | RRS Discovery D201 |
| 1005930 | CTD or STD cast | 1993-04-07 01:24:00 | 45.70033 S, 40.563 E | RRS Discovery D201 |
| 1005942 | CTD or STD cast | 1993-04-07 14:43:00 | 44.558 S, 41.8855 E | RRS Discovery D201 |
| 1005954 | CTD or STD cast | 1993-04-07 18:45:00 | 44.53667 S, 42.42217 E | RRS Discovery D201 |
| 1005966 | CTD or STD cast | 1993-04-07 23:00:00 | 44.522 S, 42.96433 E | RRS Discovery D201 |
| 1005978 | CTD or STD cast | 1993-04-08 08:20:00 | 44.454 S, 43.51117 E | RRS Discovery D201 |
| 1005991 | CTD or STD cast | 1993-04-08 15:03:00 | 44.552 S, 44.11833 E | RRS Discovery D201 |
| 1006005 | CTD or STD cast | 1993-04-08 19:21:00 | 44.5805 S, 44.672 E | RRS Discovery D201 |
| 1006017 | CTD or STD cast | 1993-04-08 23:39:00 | 44.65033 S, 45.252 E | RRS Discovery D201 |
| 1005284 | CTD or STD cast | 1993-04-09 03:32:00 | 44.73767 S, 45.75533 E | RRS Discovery D201 |
| 1005296 | CTD or STD cast | 1993-04-09 11:24:00 | 44.91333 S, 46.30583 E | RRS Discovery D201 |
| 1005303 | CTD or STD cast | 1993-04-09 16:01:00 | 45.086 S, 46.8795 E | RRS Discovery D201 |
| 1005315 | CTD or STD cast | 1993-04-09 20:31:00 | 45.26033 S, 47.46933 E | RRS Discovery D201 |
| 1005327 | CTD or STD cast | 1993-04-10 00:50:00 | 45.25083 S, 47.991 E | RRS Discovery D201 |
| 1005339 | CTD or STD cast | 1993-04-10 06:50:00 | 45.42933 S, 47.80583 E | RRS Discovery D201 |
| 1005340 | CTD or STD cast | 1993-04-10 11:44:00 | 45.59917 S, 47.6145 E | RRS Discovery D201 |
| 1005352 | CTD or STD cast | 1993-04-10 14:54:00 | 45.5995 S, 47.8885 E | RRS Discovery D201 |
| 1005364 | CTD or STD cast | 1993-04-10 19:09:00 | 45.60933 S, 48.1455 E | RRS Discovery D201 |
| 1005376 | CTD or STD cast | 1993-04-10 23:38:00 | 45.62017 S, 48.56867 E | RRS Discovery D201 |
| 1005388 | CTD or STD cast | 1993-04-11 04:03:00 | 45.63383 S, 49.02017 E | RRS Discovery D201 |
| 1005407 | CTD or STD cast | 1993-04-12 10:48:00 | 45.738 S, 47.08267 E | RRS Discovery D201 |
| 1005419 | CTD or STD cast | 1993-04-12 14:25:00 | 45.868 S, 46.552 E | RRS Discovery D201 |
| 1005420 | CTD or STD cast | 1993-04-12 18:14:00 | 45.9985 S, 46.00083 E | RRS Discovery D201 |
| 1005432 | CTD or STD cast | 1993-04-13 01:21:00 | 46.91383 S, 45.4435 E | RRS Discovery D201 |
| 1005444 | CTD or STD cast | 1993-04-13 09:11:00 | 47.78133 S, 44.89217 E | RRS Discovery D201 |
| 1005456 | CTD or STD cast | 1993-04-13 17:02:00 | 48.67433 S, 44.35683 E | RRS Discovery D201 |
| 1005468 | CTD or STD cast | 1993-04-14 03:32:00 | 49.5585 S, 43.7415 E | RRS Discovery D201 |
| 1005481 | CTD or STD cast | 1993-04-14 12:17:00 | 50.5425 S, 43.15333 E | RRS Discovery D201 |
| 1005493 | CTD or STD cast | 1993-04-14 20:30:00 | 51.35633 S, 42.56767 E | RRS Discovery D201 |
| 1005500 | CTD or STD cast | 1993-04-15 05:38:00 | 51.9965 S, 42.00133 E | RRS Discovery D201 |
| 1005512 | CTD or STD cast | 1993-04-15 14:48:00 | 52.832 S, 41.32783 E | RRS Discovery D201 |
| 1005524 | CTD or STD cast | 1993-04-16 04:11:00 | 53.67383 S, 40.6595 E | RRS Discovery D201 |
| 1005536 | CTD or STD cast | 1993-04-16 11:35:00 | 54.5055 S, 39.97783 E | RRS Discovery D201 |
| 1005548 | CTD or STD cast | 1993-04-16 18:20:00 | 54.00383 S, 40.03517 E | RRS Discovery D201 |
| 1005561 | CTD or STD cast | 1993-04-17 01:43:00 | 53.49983 S, 40.06983 E | RRS Discovery D201 |
| 1005573 | CTD or STD cast | 1993-04-17 11:47:00 | 52.49333 S, 40.1355 E | RRS Discovery D201 |
| 1005585 | CTD or STD cast | 1993-04-17 16:43:00 | 51.99683 S, 40.156 E | RRS Discovery D201 |
| 1005597 | CTD or STD cast | 1993-04-17 22:45:00 | 51.4985 S, 40.191 E | RRS Discovery D201 |
| 1005604 | CTD or STD cast | 1993-04-18 05:32:00 | 51.00217 S, 40.2425 E | RRS Discovery D201 |
| 1005616 | CTD or STD cast | 1993-04-18 10:55:00 | 50.51617 S, 40.28117 E | RRS Discovery D201 |
| 1005628 | CTD or STD cast | 1993-04-18 17:27:00 | 50.00683 S, 40.29 E | RRS Discovery D201 |
| 1005641 | CTD or STD cast | 1993-04-19 00:25:00 | 49.4995 S, 40.32917 E | RRS Discovery D201 |
| 1005653 | CTD or STD cast | 1993-04-19 06:56:00 | 49.00417 S, 40.315 E | RRS Discovery D201 |
| 1004975 | CTD or STD cast | 1993-04-19 12:45:00 | 48.49317 S, 40.353 E | RRS Discovery D201 |
| 1004987 | CTD or STD cast | 1993-04-19 18:59:00 | 47.98617 S, 40.35533 E | RRS Discovery D201 |
| 1004999 | CTD or STD cast | 1993-04-20 00:16:00 | 47.49233 S, 40.32183 E | RRS Discovery D201 |
| 1005002 | CTD or STD cast | 1993-04-20 05:41:00 | 46.99833 S, 40.32883 E | RRS Discovery D201 |
| 1005014 | CTD or STD cast | 1993-04-20 10:19:00 | 46.606 S, 40.3945 E | RRS Discovery D201 |
| 1005026 | CTD or STD cast | 1993-04-20 14:49:00 | 46.20417 S, 40.4635 E | RRS Discovery D201 |
| 1005038 | CTD or STD cast | 1993-04-20 22:41:00 | 46.941 S, 39.55433 E | RRS Discovery D201 |
| 1005051 | CTD or STD cast | 1993-04-21 04:42:00 | 46.86333 S, 38.76767 E | RRS Discovery D201 |
| 1005063 | CTD or STD cast | 1993-04-21 13:20:00 | 46.89433 S, 37.1725 E | RRS Discovery D201 |
| 1005075 | CTD or STD cast | 1993-04-21 18:35:00 | 47.00033 S, 36.48567 E | RRS Discovery D201 |
| 1005087 | CTD or STD cast | 1993-04-22 00:31:00 | 46.99917 S, 35.74833 E | RRS Discovery D201 |
| 1005099 | CTD or STD cast | 1993-04-22 05:56:00 | 47.00067 S, 34.99633 E | RRS Discovery D201 |
| 1005106 | CTD or STD cast | 1993-04-23 10:21:00 | 52.0215 S, 35.008 E | RRS Discovery D201 |
| 1005118 | CTD or STD cast | 1993-04-25 07:04:00 | 49.16767 S, 33.41717 E | RRS Discovery D201 |
| 1005131 | CTD or STD cast | 1993-04-25 13:34:00 | 48.6225 S, 33.63183 E | RRS Discovery D201 |
| 1005143 | CTD or STD cast | 1993-04-25 19:50:00 | 48.07633 S, 33.88767 E | RRS Discovery D201 |
| 1005155 | CTD or STD cast | 1993-04-26 02:43:00 | 47.49867 S, 34.18067 E | RRS Discovery D201 |
| 1005167 | CTD or STD cast | 1993-04-26 08:50:00 | 46.999 S, 34.50383 E | RRS Discovery D201 |
| 1005179 | CTD or STD cast | 1993-04-26 14:50:00 | 46.496 S, 34.73933 E | RRS Discovery D201 |
| 1005180 | CTD or STD cast | 1993-04-26 21:07:00 | 46.03283 S, 34.86917 E | RRS Discovery D201 |
| 1005192 | CTD or STD cast | 1993-04-27 03:54:00 | 45.51367 S, 35.00133 E | RRS Discovery D201 |
| 1005211 | CTD or STD cast | 1993-04-27 10:12:00 | 45.1475 S, 34.35867 E | RRS Discovery D201 |
| 1005223 | CTD or STD cast | 1993-04-27 16:56:00 | 44.84467 S, 33.84233 E | RRS Discovery D201 |
| 1005235 | CTD or STD cast | 1993-04-27 23:45:00 | 44.57233 S, 33.35533 E | RRS Discovery D201 |
| 1005247 | CTD or STD cast | 1993-04-28 07:58:00 | 44.222 S, 32.82933 E | RRS Discovery D201 |
| 1005259 | CTD or STD cast | 1993-04-28 17:59:00 | 43.57183 S, 31.8465 E | RRS Discovery D201 |
| 1005260 | CTD or STD cast | 1993-04-29 01:35:00 | 43.23283 S, 31.343 E | RRS Discovery D201 |
| 1005272 | CTD or STD cast | 1993-04-29 10:15:00 | 42.74633 S, 30.55467 E | RRS Discovery D201 |
| 1006029 | CTD or STD cast | 1994-02-24 17:57:00 | 49.498 S, 41.93933 E | RRS Discovery D207 |
| 1299446 | Water sample data | 1994-02-24 19:41:00 | 49.49803 S, 41.93941 E | RRS Discovery D207 |
| 1006030 | CTD or STD cast | 1994-02-25 04:43:00 | 48.4795 S, 43.11383 E | RRS Discovery D207 |
| 1299458 | Water sample data | 1994-02-25 06:24:00 | 48.4795 S, 43.11386 E | RRS Discovery D207 |
| 1006042 | CTD or STD cast | 1994-02-25 14:41:00 | 47.445 S, 44.11717 E | RRS Discovery D207 |
| 1299471 | Water sample data | 1994-02-25 16:09:00 | 47.44495 S, 44.11721 E | RRS Discovery D207 |
| 1006054 | CTD or STD cast | 1994-02-26 03:05:00 | 46.63733 S, 44.987 E | RRS Discovery D207 |
| 1299483 | Water sample data | 1994-02-26 04:27:00 | 46.63728 S, 44.98703 E | RRS Discovery D207 |
| 1006066 | CTD or STD cast | 1994-02-27 17:30:00 | 43.2795 S, 50.6155 E | RRS Discovery D207 |
| 1299495 | Water sample data | 1994-02-27 18:48:00 | 43.27954 S, 50.61546 E | RRS Discovery D207 |
| 1006078 | CTD or STD cast | 1994-02-28 00:17:00 | 43.21383 S, 51.555 E | RRS Discovery D207 |
| 1299502 | Water sample data | 1994-02-28 01:45:00 | 43.21381 S, 51.55502 E | RRS Discovery D207 |
| 1006091 | CTD or STD cast | 1994-02-28 09:04:00 | 43.15633 S, 53.21283 E | RRS Discovery D207 |
| 1299514 | Water sample data | 1994-02-28 10:24:00 | 43.15638 S, 53.21276 E | RRS Discovery D207 |
| 1006109 | CTD or STD cast | 1994-02-28 15:00:00 | 43.15817 S, 53.99 E | RRS Discovery D207 |
| 1299526 | Water sample data | 1994-02-28 16:34:00 | 43.15809 S, 53.99005 E | RRS Discovery D207 |
| 1006110 | CTD or STD cast | 1994-02-28 23:52:00 | 43.16067 S, 54.569 E | RRS Discovery D207 |
| 1299538 | Water sample data | 1994-03-01 01:23:00 | 43.16068 S, 54.56898 E | RRS Discovery D207 |
| 1006122 | CTD or STD cast | 1994-03-01 05:59:00 | 43.1935 S, 54.48417 E | RRS Discovery D207 |
| 1299551 | Water sample data | 1994-03-01 07:32:00 | 43.19351 S, 54.48415 E | RRS Discovery D207 |
| 1006134 | CTD or STD cast | 1994-03-01 11:41:00 | 43.17767 S, 55.151 E | RRS Discovery D207 |
| 1299563 | Water sample data | 1994-03-01 13:15:00 | 43.17763 S, 55.15105 E | RRS Discovery D207 |
| 1006146 | CTD or STD cast | 1994-03-02 17:41:00 | 47.12067 S, 54.54217 E | RRS Discovery D207 |
| 1299575 | Water sample data | 1994-03-02 19:13:00 | 47.12064 S, 54.5421 E | RRS Discovery D207 |
| 1006158 | CTD or STD cast | 1994-03-03 14:51:00 | 46.91833 S, 53.61317 E | RRS Discovery D207 |
| 1299587 | Water sample data | 1994-03-03 16:20:00 | 46.91826 S, 53.61315 E | RRS Discovery D207 |
| 1006171 | CTD or STD cast | 1994-03-03 21:41:00 | 46.75017 S, 53.09733 E | RRS Discovery D207 |
| 1299599 | Water sample data | 1994-03-03 22:54:00 | 46.75013 S, 53.09732 E | RRS Discovery D207 |
| 1006183 | CTD or STD cast | 1994-03-04 17:24:00 | 47.3085 S, 55.2735 E | RRS Discovery D207 |
| 1299606 | Water sample data | 1994-03-04 19:10:00 | 47.30856 S, 55.27351 E | RRS Discovery D207 |
| 1006195 | CTD or STD cast | 1994-03-05 14:12:00 | 47.6795 S, 57.58933 E | RRS Discovery D207 |
| 1299618 | Water sample data | 1994-03-05 16:02:00 | 47.67952 S, 57.58937 E | RRS Discovery D207 |
| 1006202 | CTD or STD cast | 1994-03-07 07:38:00 | 48.09 S, 59.14117 E | RRS Discovery D207 |
| 1299631 | Water sample data | 1994-03-07 09:38:00 | 48.09002 S, 59.14114 E | RRS Discovery D207 |
| 1006214 | CTD or STD cast | 1994-03-07 17:17:00 | 48.28083 S, 60.0095 E | RRS Discovery D207 |
| 1299643 | Water sample data | 1994-03-07 18:59:00 | 48.28082 S, 60.00951 E | RRS Discovery D207 |
| 1006226 | CTD or STD cast | 1994-03-14 09:13:00 | 66.03917 S, 84.55233 E | RRS Discovery D207 |
| 1006238 | CTD or STD cast | 1994-03-14 12:56:00 | 65.53183 S, 84.6315 E | RRS Discovery D207 |
| 1006251 | CTD or STD cast | 1994-03-20 09:11:00 | 48.57683 S, 61.44867 E | RRS Discovery D207 |
| 1006263 | CTD or STD cast | 1994-03-22 04:03:00 | 47.523 S, 56.2 E | RRS Discovery D207 |
| 1006275 | CTD or STD cast | 1994-03-23 10:54:00 | 43.16233 S, 53.55967 E | RRS Discovery D207 |
| 1006287 | CTD or STD cast | 1994-03-23 21:51:00 | 43.18483 S, 54.89667 E | RRS Discovery D207 |
| 1006299 | CTD or STD cast | 1994-03-24 04:42:00 | 43.18467 S, 55.68667 E | RRS Discovery D207 |
| 1006306 | CTD or STD cast | 1994-03-24 12:37:00 | 43.16533 S, 56.54983 E | RRS Discovery D207 |
| 1006318 | CTD or STD cast | 1994-03-27 16:40:00 | 29.66217 S, 53.48267 E | RRS Discovery D207 |
| 1299655 | Water sample data | 1994-03-27 18:21:00 | 29.66212 S, 53.48262 E | RRS Discovery D207 |
| 1006331 | CTD or STD cast | 1994-03-28 00:10:00 | 29.326 S, 54.1805 E | RRS Discovery D207 |
| 1299667 | Water sample data | 1994-03-28 01:57:00 | 29.32604 S, 54.18047 E | RRS Discovery D207 |
| 1006343 | CTD or STD cast | 1994-03-28 07:06:00 | 28.90833 S, 54.754 E | RRS Discovery D207 |
| 1299679 | Water sample data | 1994-03-28 08:52:00 | 28.90835 S, 54.75395 E | RRS Discovery D207 |
| 1006355 | CTD or STD cast | 1994-03-28 15:21:00 | 28.51983 S, 55.4885 E | RRS Discovery D207 |
| 1299680 | Water sample data | 1994-03-28 17:04:00 | 28.51979 S, 55.48855 E | RRS Discovery D207 |
| 1006367 | CTD or STD cast | 1994-03-28 23:07:00 | 28.0815 S, 56.0875 E | RRS Discovery D207 |
| 1299692 | Water sample data | 1994-03-29 00:48:00 | 28.08158 S, 56.08749 E | RRS Discovery D207 |
| 1006379 | CTD or STD cast | 1994-03-29 05:32:00 | 27.508 S, 56.14567 E | RRS Discovery D207 |
| 1299711 | Water sample data | 1994-03-29 07:23:00 | 27.50802 S, 56.14565 E | RRS Discovery D207 |
| 1006619 | CTD or STD cast | 1995-01-08 12:30:00 | 30.61333 S, 31.58733 E | RRS Discovery D213 |
| 1006620 | CTD or STD cast | 1995-01-09 16:21:00 | 33.23017 S, 28.61983 E | RRS Discovery D213 |
| 1006632 | CTD or STD cast | 1995-01-09 19:36:00 | 33.194 S, 28.61367 E | RRS Discovery D213 |
| 1006644 | CTD or STD cast | 1995-01-10 00:33:00 | 33.35067 S, 28.7325 E | RRS Discovery D213 |
| 1006656 | CTD or STD cast | 1995-01-10 06:40:00 | 33.11267 S, 28.54917 E | RRS Discovery D213 |
| 1006668 | CTD or STD cast | 1995-01-10 09:56:00 | 33.06883 S, 28.47083 E | RRS Discovery D213 |
| 1006681 | CTD or STD cast | 1995-01-10 13:13:00 | 33.0285 S, 28.3985 E | RRS Discovery D213 |
| 1006693 | CTD or STD cast | 1995-01-10 16:31:00 | 33.0095 S, 28.38567 E | RRS Discovery D213 |
| 1006700 | CTD or STD cast | 1995-01-10 18:42:00 | 32.967 S, 28.34767 E | RRS Discovery D213 |
| 1006712 | CTD or STD cast | 1995-01-10 20:13:00 | 32.92967 S, 28.3095 E | RRS Discovery D213 |
| 1006724 | CTD or STD cast | 1995-01-11 06:05:00 | 33.63517 S, 29.20267 E | RRS Discovery D213 |
| 1006736 | CTD or STD cast | 1995-01-16 09:31:00 | 41.11317 S, 28.8755 E | RRS Discovery D213 |
| 1006748 | CTD or STD cast | 1995-01-16 16:26:00 | 41.25433 S, 29.67533 E | RRS Discovery D213 |
| 1006761 | CTD or STD cast | 1995-01-17 08:35:00 | 41.3735 S, 30.463 E | RRS Discovery D213 |
| 1006785 | CTD or STD cast | 1995-01-18 07:53:00 | 41.8705 S, 32.84417 E | RRS Discovery D213 |
| 1006797 | CTD or STD cast | 1995-01-18 16:00:00 | 42.19117 S, 33.528 E | RRS Discovery D213 |
| 1006804 | CTD or STD cast | 1995-01-18 22:51:00 | 42.492 S, 34.16883 E | RRS Discovery D213 |
| 1006816 | CTD or STD cast | 1995-01-19 05:22:00 | 42.78217 S, 34.78683 E | RRS Discovery D213 |
| 1006828 | CTD or STD cast | 1995-01-19 12:06:00 | 43.08633 S, 35.444 E | RRS Discovery D213 |
| 1006841 | CTD or STD cast | 1995-01-19 20:03:00 | 43.54967 S, 35.97067 E | RRS Discovery D213 |
| 1006853 | CTD or STD cast | 1995-01-21 02:18:00 | 44.254 S, 35.5695 E | RRS Discovery D213 |
| 1006865 | CTD or STD cast | 1995-01-21 11:04:00 | 43.66417 S, 36.59333 E | RRS Discovery D213 |
| 1006877 | CTD or STD cast | 1995-01-21 15:56:00 | 43.91483 S, 37.05533 E | RRS Discovery D213 |
| 1006889 | CTD or STD cast | 1995-01-21 20:56:00 | 44.15567 S, 37.5875 E | RRS Discovery D213 |
| 1006890 | CTD or STD cast | 1995-01-22 01:38:00 | 44.40883 S, 38.11917 E | RRS Discovery D213 |
| 1006908 | CTD or STD cast | 1995-01-22 18:36:00 | 44.65717 S, 38.99633 E | RRS Discovery D213 |
| 1006921 | CTD or STD cast | 1995-01-23 00:41:00 | 44.592 S, 39.84383 E | RRS Discovery D213 |
| 1006933 | CTD or STD cast | 1995-01-23 06:28:00 | 44.55567 S, 40.62217 E | RRS Discovery D213 |
| 1006945 | CTD or STD cast | 1995-01-23 20:17:00 | 44.57683 S, 41.32133 E | RRS Discovery D213 |
| 1006957 | CTD or STD cast | 1995-01-24 20:08:00 | 44.49 S, 42.124 E | RRS Discovery D213 |
| 1006969 | CTD or STD cast | 1995-01-25 00:49:00 | 44.4755 S, 42.81783 E | RRS Discovery D213 |
| 1006970 | CTD or STD cast | 1995-01-25 09:15:00 | 44.41983 S, 43.45717 E | RRS Discovery D213 |
| 1006982 | CTD or STD cast | 1995-01-25 14:49:00 | 44.365 S, 44.16917 E | RRS Discovery D213 |
| 1006994 | CTD or STD cast | 1995-01-25 19:26:00 | 43.95117 S, 44.55383 E | RRS Discovery D213 |
| 1007008 | CTD or STD cast | 1995-01-26 01:38:00 | 44.5345 S, 44.997 E | RRS Discovery D213 |
| 1007021 | CTD or STD cast | 1995-01-26 10:22:00 | 44.73233 S, 45.748 E | RRS Discovery D213 |
| 1007033 | CTD or STD cast | 1995-01-26 16:40:00 | 45.00567 S, 46.62567 E | RRS Discovery D213 |
| 1007045 | CTD or STD cast | 1995-01-26 22:24:00 | 45.286 S, 47.45533 E | RRS Discovery D213 |
| 1007057 | CTD or STD cast | 1995-01-27 02:14:00 | 45.42867 S, 47.79817 E | RRS Discovery D213 |
| 1007069 | CTD or STD cast | 1995-01-27 11:08:00 | 45.527 S, 48.41833 E | RRS Discovery D213 |
| 1007070 | CTD or STD cast | 1995-01-27 16:00:00 | 45.6365 S, 49.02117 E | RRS Discovery D213 |
| 1007082 | CTD or STD cast | 1995-01-30 14:56:00 | 38.78733 S, 48.518 E | RRS Discovery D213 |
| 1007094 | CTD or STD cast | 1995-01-30 18:34:00 | 39.01117 S, 48.3705 E | RRS Discovery D213 |
| 1007101 | CTD or STD cast | 1995-01-31 00:40:00 | 39.5375 S, 47.989 E | RRS Discovery D213 |
| 1007113 | CTD or STD cast | 1995-01-31 07:12:00 | 40.05417 S, 47.60867 E | RRS Discovery D213 |
| 1007125 | CTD or STD cast | 1995-01-31 13:57:00 | 40.5935 S, 47.22417 E | RRS Discovery D213 |
| 1007137 | CTD or STD cast | 1995-01-31 20:44:00 | 41.16617 S, 46.782 E | RRS Discovery D213 |
| 1007149 | CTD or STD cast | 1995-02-01 03:32:00 | 41.7645 S, 46.33317 E | RRS Discovery D213 |
| 1007150 | CTD or STD cast | 1995-02-01 22:09:00 | 43.413 S, 45.02367 E | RRS Discovery D213 |
| 1007162 | CTD or STD cast | 1995-02-02 04:01:00 | 43.0015 S, 45.379 E | RRS Discovery D213 |
| 1007174 | CTD or STD cast | 1995-02-02 09:02:00 | 42.54667 S, 45.7485 E | RRS Discovery D213 |
| 1007186 | CTD or STD cast | 1995-02-02 14:13:00 | 42.0865 S, 46.09383 E | RRS Discovery D213 |
| 1007198 | CTD or STD cast | 1995-02-03 00:31:00 | 40.99183 S, 45.877 E | RRS Discovery D213 |
| 1007205 | CTD or STD cast | 1995-02-03 07:13:00 | 40.39817 S, 45.93967 E | RRS Discovery D213 |
| 1007217 | CTD or STD cast | 1995-02-03 15:35:00 | 39.63017 S, 46.23417 E | RRS Discovery D213 |
| 1007229 | CTD or STD cast | 1995-02-05 03:15:00 | 37.9975 S, 46.34267 E | RRS Discovery D213 |
| 1007230 | CTD or STD cast | 1995-02-05 10:00:00 | 37.60917 S, 45.803 E | RRS Discovery D213 |
| 1007242 | CTD or STD cast | 1995-02-05 16:15:00 | 37.2375 S, 45.24533 E | RRS Discovery D213 |
| 1007254 | CTD or STD cast | 1995-02-05 22:20:00 | 36.97733 S, 44.87383 E | RRS Discovery D213 |
| 1007266 | CTD or STD cast | 1995-02-06 02:56:00 | 36.73133 S, 44.50267 E | RRS Discovery D213 |
| 1007278 | CTD or STD cast | 1995-02-06 06:41:00 | 36.49167 S, 44.14567 E | RRS Discovery D213 |
| 1007291 | CTD or STD cast | 1995-02-06 11:27:00 | 36.08267 S, 44.2095 E | RRS Discovery D213 |
| 1007309 | CTD or STD cast | 1995-02-06 16:16:00 | 35.663 S, 44.27283 E | RRS Discovery D213 |
| 1007310 | CTD or STD cast | 1995-02-06 19:12:00 | 35.50767 S, 44.233 E | RRS Discovery D213 |
| 1007322 | CTD or STD cast | 1995-02-06 23:11:00 | 35.34133 S, 44.212 E | RRS Discovery D213 |
| 1007334 | CTD or STD cast | 1995-02-07 02:39:00 | 35.20383 S, 44.18183 E | RRS Discovery D213 |
| 1007346 | CTD or STD cast | 1995-02-07 06:15:00 | 35.06567 S, 44.14683 E | RRS Discovery D213 |
| 1007358 | CTD or STD cast | 1995-02-07 11:36:00 | 35.02917 S, 43.24417 E | RRS Discovery D213 |
| 1007371 | CTD or STD cast | 1995-02-07 14:02:00 | 35.12717 S, 43.06383 E | RRS Discovery D213 |
| 1007383 | CTD or STD cast | 1995-02-07 17:35:00 | 35.2515 S, 42.92417 E | RRS Discovery D213 |
| 1007395 | CTD or STD cast | 1995-02-07 23:34:00 | 35.66117 S, 42.58317 E | RRS Discovery D213 |
| 1007402 | CTD or STD cast | 1995-02-08 05:37:00 | 36.1655 S, 42.757 E | RRS Discovery D213 |
| 1007414 | CTD or STD cast | 1995-02-08 10:55:00 | 36.33117 S, 43.09567 E | RRS Discovery D213 |
| 1007426 | CTD or STD cast | 1995-02-08 16:18:00 | 36.50183 S, 43.43983 E | RRS Discovery D213 |
| 1007438 | CTD or STD cast | 1995-02-08 21:06:00 | 36.66833 S, 43.786 E | RRS Discovery D213 |
| 1007451 | CTD or STD cast | 1995-02-09 03:45:00 | 37.20967 S, 43.4455 E | RRS Discovery D213 |
| 1007463 | CTD or STD cast | 1995-02-09 10:29:00 | 37.7025 S, 43.11317 E | RRS Discovery D213 |
| 1007475 | CTD or STD cast | 1995-02-09 16:50:00 | 38.24233 S, 42.78417 E | RRS Discovery D213 |
| 1007487 | CTD or STD cast | 1995-02-09 23:28:00 | 38.76833 S, 42.46617 E | RRS Discovery D213 |
| 1007499 | CTD or STD cast | 1995-02-10 06:14:00 | 39.2905 S, 42.114 E | RRS Discovery D213 |
| 1007506 | CTD or STD cast | 1995-02-10 12:24:00 | 39.81783 S, 41.74983 E | RRS Discovery D213 |
| 1007518 | CTD or STD cast | 1995-02-10 18:30:00 | 40.42117 S, 41.84517 E | RRS Discovery D213 |
| 1007531 | CTD or STD cast | 1995-02-10 23:30:00 | 41.02583 S, 41.91833 E | RRS Discovery D213 |
| 1007543 | CTD or STD cast | 1995-02-11 04:42:00 | 41.62083 S, 42.01167 E | RRS Discovery D213 |
| 1007555 | CTD or STD cast | 1995-02-11 09:51:00 | 42.20583 S, 41.9195 E | RRS Discovery D213 |
| 1007567 | CTD or STD cast | 1995-02-11 15:32:00 | 42.79633 S, 41.78617 E | RRS Discovery D213 |
| 1007579 | CTD or STD cast | 1995-02-11 22:18:00 | 43.38883 S, 41.62017 E | RRS Discovery D213 |
| 1007580 | CTD or STD cast | 1995-02-12 04:49:00 | 43.97467 S, 41.50783 E | RRS Discovery D213 |
| 1007592 | CTD or STD cast | 1995-02-12 11:00:00 | 43.91283 S, 40.81133 E | RRS Discovery D213 |
| 1007611 | CTD or STD cast | 1995-02-12 20:42:00 | 44.56383 S, 41.2995 E | RRS Discovery D213 |
| 1007623 | CTD or STD cast | 1995-02-15 12:55:00 | 43.3815 S, 40.02917 E | RRS Discovery D213 |
| 1007635 | CTD or STD cast | 1995-02-15 19:34:00 | 42.76617 S, 39.5385 E | RRS Discovery D213 |
| 1007647 | CTD or STD cast | 1995-02-16 02:43:00 | 42.1505 S, 39.05483 E | RRS Discovery D213 |
| 1007659 | CTD or STD cast | 1995-02-16 09:30:00 | 41.52583 S, 38.5725 E | RRS Discovery D213 |
| 1007660 | CTD or STD cast | 1995-02-16 18:44:00 | 40.92383 S, 38.11967 E | RRS Discovery D213 |
| 1007672 | CTD or STD cast | 1995-02-17 02:29:00 | 40.264 S, 37.63567 E | RRS Discovery D213 |
| 1007684 | CTD or STD cast | 1995-02-17 11:07:00 | 39.606 S, 37.17167 E | RRS Discovery D213 |
| 1007696 | CTD or STD cast | 1995-02-17 19:50:00 | 38.9235 S, 36.67683 E | RRS Discovery D213 |
| 1007703 | CTD or STD cast | 1995-02-18 04:15:00 | 38.265 S, 36.1805 E | RRS Discovery D213 |
| 1007715 | CTD or STD cast | 1995-02-18 11:35:00 | 37.66483 S, 35.83133 E | RRS Discovery D213 |
| 1007727 | CTD or STD cast | 1995-02-18 18:39:00 | 37.208 S, 35.58517 E | RRS Discovery D213 |
| 1007739 | CTD or STD cast | 1995-02-19 01:50:00 | 36.66717 S, 35.18267 E | RRS Discovery D213 |
| 1007740 | CTD or STD cast | 1995-02-19 07:36:00 | 36.45633 S, 35.06733 E | RRS Discovery D213 |
| 1007752 | CTD or STD cast | 1995-02-19 13:38:00 | 35.94183 S, 34.72933 E | RRS Discovery D213 |
| 1007764 | CTD or STD cast | 1995-02-27 21:51:00 | 32.31533 S, 32.14983 E | RRS Discovery D214 |
| 1007776 | CTD or STD cast | 1995-02-28 00:03:00 | 32.30783 S, 32.1385 E | RRS Discovery D214 |
| 1007788 | CTD or STD cast | 1995-02-28 19:59:00 | 31.932 S, 31.58767 E | RRS Discovery D214 |
| 1007807 | CTD or STD cast | 1995-03-01 00:33:00 | 31.806 S, 31.43233 E | RRS Discovery D214 |
| 1007819 | CTD or STD cast | 1995-03-02 19:23:00 | 31.63217 S, 31.17333 E | RRS Discovery D214 |
| 1007820 | CTD or STD cast | 1995-03-02 23:33:00 | 31.52117 S, 31.001 E | RRS Discovery D214 |
| 1007832 | CTD or STD cast | 1995-03-03 23:44:00 | 31.415 S, 30.85633 E | RRS Discovery D214 |
| 1007844 | CTD or STD cast | 1995-03-04 04:49:00 | 31.30067 S, 30.68333 E | RRS Discovery D214 |
| 1007856 | CTD or STD cast | 1995-03-04 20:29:00 | 31.24817 S, 30.5925 E | RRS Discovery D214 |
| 1007868 | CTD or STD cast | 1995-03-05 02:59:00 | 31.12917 S, 30.43433 E | RRS Discovery D214 |
| 1007881 | CTD or STD cast | 1995-03-05 11:52:00 | 31.11583 S, 30.379 E | RRS Discovery D214 |
| 1007893 | CTD or STD cast | 1995-03-05 16:26:00 | 31.03617 S, 30.34467 E | RRS Discovery D214 |
| 1007900 | CTD or STD cast | 1995-03-05 17:41:00 | 31.01717 S, 30.33067 E | RRS Discovery D214 |
| 1007912 | CTD or STD cast | 1995-03-06 02:43:00 | 31.72267 S, 31.29867 E | RRS Discovery D214 |
| 1007924 | CTD or STD cast | 1995-03-06 09:42:00 | 32.1105 S, 31.862 E | RRS Discovery D214 |