South Atlantic data
The map and inventory below indicate sites where sea level data are available.
Data files and site history information may be accessed via the inventory. Click on the

to download the data and

to view the site history information. Note: Sites marked with * have the latest data available in ASCII format only. Sites are ordered by latitude and longitude.
Much of the data in the South Atlantic have been collected as part of the Antarctic Circumpolar Current Levels by Altimetry and Island Measurements (ACCLAIM) programme, conducted by the Proudman Oceanographic Laboratory (POL). Find out more about ACCLAIM from the POL ACCLAIM web pages, including an explanation of the differences between 'Phase 1' and 'Phase 2' data.
In the inventory below Phase 1 and Phase 2 data are indicated by
Phase 1 data —
Phase 2 data —

Click on the map dots to advance to the appropriate inventory entry.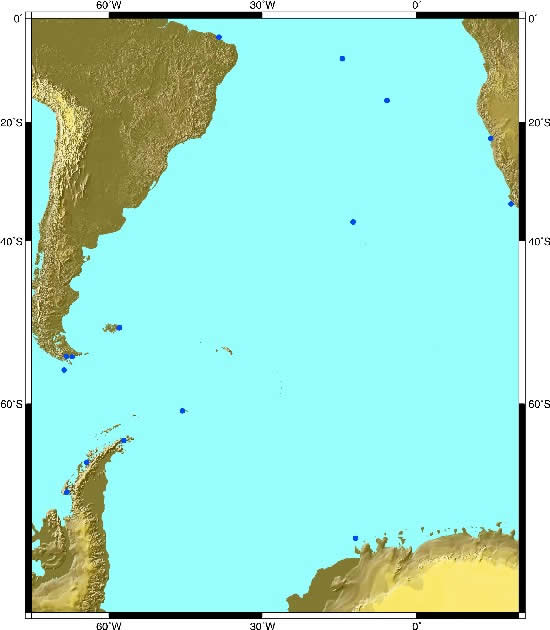 South Atlantic sea level data inventory
GLOSS no.
Site name
Position
Duration
NetCDF
ASCII
Document
9099
Forster, Phase 1

70 46.4S




011 51.9W

1991
9100
Rothera, Phase 1

67 34.0S




068 08.0W

1992 — 1999
188
Faraday Base, Argentine Islands, Phase 0

65 15.0S




064 16.0W

1959 — 1971
188
Faraday (Vernadsky), Phase 1

65 15.0S




064 16.0W

1997 — 1999
188
Faraday (Vernadsky), Phase 2

65 15.0S




064 16.0W

1984 — 1997

, 1999
185
Esperanza, Argentina

63 23.7S




056 59.7W

1996 — 1998
306
Signy, South Orkney Islands, Phase 1

60 42.0S




045 36.0W

1988 — 1997

, 1999
180
Diego Ramirez

56 30.5S




068 42.9W

1991
181
Ushuaia

54 48.3S




068 17.7W

1996 — 1998
9003
Puerto Williams

54 56.0S




067 37.0W

1964 — 1998
305
Port Stanley, Phase 1

51 45.0S




057 56.0W

1988 — 1992
305
Port Stanley-A, Phase 2

51 45.0S




057 56.0W

1964 — 1974
305
Port Stanley-B, Phase 2

51 45.0S




057 56.0W

1992 — 2001
266
Tristan da Cunha, Phase 1

37 03.0S




012 18.0W

1984 — 1998
268
Simonstown

34 11.3S




018 26.4E

1958 — 1996
314
Walvis Bay

22 56.0S




014 30.0E

1959 — 1973

,

1976 — 1989

,

1991 — 1998

264
St. Helena, Phase 1

15 58.0S




005 42.0W

1986 — 1992
264
St. Helena, Phase 2*


15 55.0S




005 43.0W

1993 — 2001
263
Ascension, Phase 1

07 55.0S




014 25.0W

1983 — 1995
263
Ascension, Phase 2*


07 54.0S




014 22.0W

1993 — 2001
9107
Fortaleza, Brazil
03 43.0S
038 28.0W
1995 — 1998