Metadata Report for BODC Series Reference Number 779127
---
Data Description
Data Category
Currents -subsurface Eulerian
Instrument Type

| Name | Categories |
| --- | --- |
| Teledyne RDI Workhorse Long-Ranger ADCP | current profilers |

Instrument Mounting
subsurface mooring
Originating Country
United Kingdom
Originator
Dr Mags Wallace
Originating Organization
University of St. Andrews School of Geography and Geoscience
Processing Status
QC in progress
Project(s)
-
Data Identifiers
| | |
| --- | --- |
| Originator's Identifier | ADCP. |
| BODC Series Reference | 779127 |
Time Co-ordinates(UT)
| | |
| --- | --- |
| Start Time (yyyy-mm-dd hh:mm) | 2005-01-24 15:01 |
| End Time (yyyy-mm-dd hh:mm) | 2006-02-17 13:46 |
| Nominal Cycle Interval | 900.0 seconds |
Spatial Co-ordinates
| | |
| --- | --- |
| Latitude | 67.92310 S ( 67° 55.4' S ) |
| Longitude | 68.40255 W ( 68° 24.2' W ) |
| Positional Uncertainty | 0.05 to 0.1 n.miles |
| Minimum Sensor Depth | 12.67 m |
| Maximum Sensor Depth | 109.31 m |
| Minimum Sensor Height | 731.69 m |
| Maximum Sensor Height | 828.33 m |
| Sea Floor Depth | 841.0 m |
| Sensor Distribution | Sensor fixed, measurements made at fixed depths - The sensor is at a fixed depth, but measurements are made remotely from the sensor over a range of depths (e.g. ADCP measurements) |
| Sensor Depth Datum | Unspecified - |
| Sea Floor Depth Datum | Unspecified - |
Parameters
| BODC CODE | Rank | Units | Short Title | Title |
| --- | --- | --- | --- | --- |
| DBINAA01 | 0 | Metres | BinDep | Depth below sea surface (ADCP bin) |
| AADYAA01 | 1 | Days | Date(Loch_Day) | Date (time from 00:00 01/01/1760 to 00:00 UT on day) |
| AAFDZZ01 | 1 | Days | Time(Day_Fract) | Time (time between 00:00 UT and timestamp) |
| ACYCAA01 | 1 | Dimensionless | Record_No | Sequence number |
| ADEPZZ01 | 1 | Metres | DepBelowSurf | Depth below surface of the water body |
| HEADCM01 | 1 | Degrees | Platform_Heading | Orientation (horizontal relative to true north) of measurement device {heading} |
| PTCHFG01 | 1 | Degrees | Pitch_(Fluxgate) | Orientation (pitch) of measurement platform by triaxial fluxgate compass |
| ROLLFG01 | 1 | Degrees | Roll_(Fluxgate) | Orientation (roll angle) of measurement platform by triaxial fluxgate compass |
| ASAMAPAV | 2 | Decibels | ADCPSA_avg | Signal return amplitude from the water body by moored acoustic doppler current profiler (ADCP) and averaging of all functional beams |
| LCEWAP01 | 2 | Centimetres per second | CurrVelE_ADCP | Eastward current velocity (Eulerian) in the water body by moored acoustic doppler current profiler (ADCP) |
| LCNSAP01 | 2 | Centimetres per second | CurrVelN_ADCP | Northward current velocity (Eulerian) in the water body by moored acoustic doppler current profiler (ADCP) |
| LERRAP01 | 2 | Centimetres per second | ADCPER | Current velocity error in the water body by moored acoustic doppler current profiler (ADCP) |
| PCGDAP01 | 2 | Percent | Percent_Good_(ADCP) | Acceptable proportion of signal returns by acoustic doppler current profiler (ADCP) |
Definition of Rank
Rank 1 is a one-dimensional parameter
Rank 2 is a two-dimensional parameter
Rank 0 is a one-dimensional parameter describing the second dimension of a two-dimensional parameter (e.g. bin depths for moored ADCP data)
---
No Problem Report Found in the Database
Data Quality Report
The following M flags were applied to all parameters, except DBINAA01 and ADEPZZ01:
24 January 2005 15:01:24 hours to 24 January 2005 18:46:24 hours- Begining of deployment
14 February 2006 03:46:24 hours to 14 February 2006 04:16:24 hours- Anomalous data in ADEPZZ01 that might have caused anomalous readings on all parameters
15 February 2006 21:16:24 hours to 17 February 2006 13:46:24 hours- Mooring recovery
---
Open Data supplied by Natural Environment Research Council (NERC)
You must always use the following attribution statement to acknowledge the source of the information: "Contains data supplied by Natural Environment Research Council."
---
Teledyne RDI's Workhorse Long Ranger ADCP
The Workhorse Long-Ranger acoustic doppler current profiler (Teledyne RD Instruments) is a long-range and long-term self contained ADCP. It has a patented broadband signal (75 kHz) and a standard depth rating of 1500m. It operates effectively between temperatures of -5°C and 45°C and has a velocity accuracy of ±1% ±5mm/s.
The instrument comprises:
An aluminium transducer head with four beams at 20 o from the vertical in a convex configuration, temperature sensor, electronic assemblies, fluxgate compass, pitch and roll sensors
4 x 28 D-cell alkaline battery packs
40 MB PC card internal memory (upgradeable to 440 MB)
1500m depth rated 6061 aluminium pressure case. End cap with wet material connector and dummy plug
BODC Processing
The data arrived at BODC in Matlab binary .MAT files representing acoustic doppler current profiler (ADCP) data from a mooring positioned at the Marguerite Trough in Marguerite Bay, Antarctica which was deployed in conjuction with the Rothera Oceanographic and Biological Time Series (RaTS). These were reformatted to the internal format using BODC established procedures.
The following table shows how the variables within the matlab files were mapped to the appropriate BODC parameter codes:
The reformatted data were visualised using the in-house EDSERPLO software. Suspect data were marked by adding an appropriate quality control flag, missing data by both setting the data to an appropriate value and setting the quality control flag.
Originator's processing
The ADCP was deployed as part of a mooring with other instruments attached to it. The instrument was deployed at the shallowest section, on a buoy, on a upward looking position. The ADCP recorded data at 15 minute intervals from deployment until recovery. Deployment was done in current profiling mode, which also accounts for tilt, compass direction and calculates a derived velocity.
Data Processing
ADCP processing was done by using the instrument's 'percent good' (PG) parameter, which logs the percentage of returns from each outgoing acoustic pulse that passed a variety of criteria. Factors such as low correlation (a measure of signal-to-noise ratio), large error velocity, and fish detection lead to low PG values. Any returns with PG < 75% were flagged and the velocity and acoustic backscatter data corresponding to these flags were rejected. ADCP data close to the surface were consistently poor due to the strong surface echo overwhelming the side lobe suppression of the transducer. Examination of the vertical velocity data indicated that the uppermost ~15m (four bins) of all datasets were contaminated and these were therefore discarded.
---
No Project Information held for the Series
Data Activity
| | |
| --- | --- |
| Start Date (yyyy-mm-dd) | 2005-01-24 |
| End Date (yyyy-mm-dd) | 2006-02-17 |
| Organization Undertaking Activity | British Antarctic Survey |
| Country of Organization | United Kingdom |
| Originator's Data Activity Identifier | MT_dep1 |
| Platform Category | subsurface mooring |
Marguerite Trough Mooring
The first deployment of the mooring at the Marguerite Trough site in Marguerite Bay, Antarctica occurred on 24th January 2005 and was later recovered on 17th February 2006. Prior to deployment, all sensors were programmed to sample for a duration of a year. However, due to a delay in the recovery, all sensors except for the ADCP have a data gap of ~3 weeks. Both deployment and recovery were carried out onboard the RRS James Clark Ross.
Details of the instrumentation associated with the deployment of the mooring at the Marguerite Trough:
| | |
| --- | --- |
| Instrument | Depth |
| Teledyne RDI's Workhorse Long Ranger 75kHz ADCP (5080) | 114 |
| RBR XR-420 CTD (10819) | 114 |
| Sediment trap (11262-05) | ~126 |
| RBR TR-1050 (11406) | ~185 |
| RBR TDR-2050 (11765) | 240 |
| RBR XR-420 CTD (10820) | 298 |
| RBR TR-1050 (11408) | ~352 |
| RBR TDR-2050 (11766) | 406 |
| RBR XR-420 CTD (10820) | 457 |
| RBR TR-1050 (11409) | ~511 |
| RBR TDR-2050 (11767) | 564 |
| Sediment trap (10452-2)) | ~693 |
Other Series linked to this Data Activity - 788303 784191 788296 788315 787023 784178 787035 787047 784166
Cruise
| | |
| --- | --- |
| Cruise Name | JR20050124 (JR112, JR113) |
| Departure Date | 2005-01-24 |
| Arrival Date | 2005-01-25 |
| Principal Scientist(s) | Mark Brandon (Open University Department of Earth and Environmental Sciences) |
| Ship | RRS James Clark Ross |
Complete Cruise Metadata Report is available here
---
Fixed Station Information
| | |
| --- | --- |
| Station Name | RaTS, Rothera |
| Category | Offshore area |
| Latitude | 67° 34.40' S |
| Longitude | 68° 13.50' W |
| Water depth below MSL | 520.0 m |
Fixed Station Document
The RaTS site is located in Marguerite Bay, ~4 km from shore and over a water depth of ~520 m. Marguerite Bay is enclosed by Adelaide Island to the north, Alexander Island to the south and the Antarctic Peninsula to the east (Figure 1 and 2). Waters are strongly influenced by the Antarctic Circumpolar Current. Surface waters during summer become warm through insolation and freshened by ice melt. In winter surface waters are generally colder and more saline and characterised by a thick mixed layer which persists into the summer months and is marked by a subsurface temperature minimum (for fuller details please see Meredith et al., 2004 and references therein). When optimal conditions aren't available a secondary site is occupied. In times when fast ice prevented sampling at both the primary and secondary site, a third site is utilised close to the Rothera Research Station. However, only a water sample is collected during this time as the water is too shallow to allow for a cast to be conducted. The following provides details of the sites sampled:
| | | | |
| --- | --- | --- | --- |
| Sample Site | Latitude | Longitude | Comments |
| CTD1 | 67.57330°S | 68.22500°W | - |
| CTD2 | 67.58512°S | 68.16483°W | - |
| WS3 | 67.56833°S | 68.11869°W | Approx. position; sampling just off Biscoe Wharf |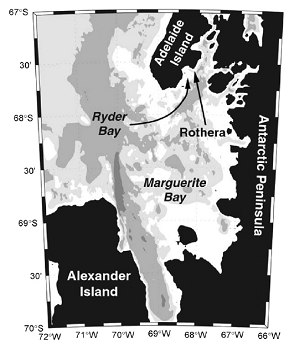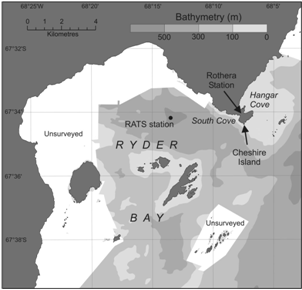 Figures Location of Maguerite Bay, to the west of the Antarctic Peninsula (Meredith et al., 2004) and more specifically the location of the RaTS station (Wallace, 2007)
To compliment the CTD data collected at the RaTS site, three fixed moorings were deployed between 2005 - 2007. The moorings consisted of a suite of sensors including ADCPs, CTDs and sediment traps.
Reference
Meredith, M.P., I.A. Renfew, A. Clark, J.C. King, M.A. Brandon (2004) Impact of the 1997/98 ENSO on upper ocean characteristics in Marguerite Bay, western Antarctic Peninsula. Journal of Geophysical Research Letters, Vol. 109, C09013, doi:10.1029/2003JC001784
Wallace, M.I., 2007. Ocean circulation, properties and variability in Marguerite Bay, west Antarctic Peninsula. PhD Thesis. The Open University, Milton Keynes, UK.
Other Series linked to this Fixed Station for this cruise - 770644 775950 776142 776178 776210 784166 784178 784191 787023 787035 787047 788296 788303 788315
Other Cruises linked to this Fixed Station (with the number of series) - JR20001121 (JR55) (1) JR20060216 (JR136, JR137) (2) JR20061206 (JR155, JR163, JR164) (2) RATS/CTD100 (1) RATS/CTD1001 (1) RATS/CTD1003 (1) RATS/CTD1005 (1) RATS/CTD1007 (1) RATS/CTD1009 (1) RATS/CTD1011 (1) RATS/CTD1013 (1) RATS/CTD1015 (1) RATS/CTD1017 (1) RATS/CTD1019 (1) RATS/CTD1021 (1) RATS/CTD1023 (1) RATS/CTD1025 (1) RATS/CTD1027 (1) RATS/CTD1029 (1) RATS/CTD103 (1) RATS/CTD1031 (1) RATS/CTD1033 (1) RATS/CTD1035 (1) RATS/CTD1037 (1) RATS/CTD1039 (1) RATS/CTD1041 (1) RATS/CTD1043 (1) RATS/CTD1045 (1) RATS/CTD1047 (1) RATS/CTD1051 (1) RATS/CTD1053 (1) RATS/CTD1055 (1) RATS/CTD1057 (1) RATS/CTD1059 (1) RATS/CTD106 (1) RATS/CTD1061 (1) RATS/CTD1063 (1) RATS/CTD1065 (1) RATS/CTD1067 (1) RATS/CTD1069 (1) RATS/CTD1071 (1) RATS/CTD1073 (1) RATS/CTD1075 (1) RATS/CTD1077 (1) RATS/CTD1079 (1) RATS/CTD108 (1) RATS/CTD1081 (1) RATS/CTD1083 (1) RATS/CTD1085 (1) RATS/CTD1087 (1) RATS/CTD1089 (1) RATS/CTD1091 (1) RATS/CTD1093 (1) RATS/CTD1095 (1) RATS/CTD1096 (1) RATS/CTD1098 (1) RATS/CTD1100 (1) RATS/CTD1102 (1) RATS/CTD1104 (1) RATS/CTD1106 (1) RATS/CTD1108 (1) RATS/CTD111 (1) RATS/CTD1110 (1) RATS/CTD1112 (1) RATS/CTD1114 (1) RATS/CTD1116 (1) RATS/CTD1117 (1) RATS/CTD1119 (1) RATS/CTD1121 (1) RATS/CTD1123 (1) RATS/CTD1125 (1) RATS/CTD1127 (1) RATS/CTD1129 (1) RATS/CTD113 (1) RATS/CTD1133 (1) RATS/CTD1135 (1) RATS/CTD1137 (1) RATS/CTD1139 (1) RATS/CTD1141 (1) RATS/CTD1143 (1) RATS/CTD1145 (1) RATS/CTD1147 (1) RATS/CTD1149 (1) RATS/CTD115 (1) RATS/CTD1151 (1) RATS/CTD1153 (1) RATS/CTD1155 (1) RATS/CTD1157 (1) RATS/CTD1159 (1) RATS/CTD1161 (1) RATS/CTD1163 (1) RATS/CTD1165 (1) RATS/CTD1167 (1) RATS/CTD1169 (1) RATS/CTD1171 (1) RATS/CTD1173 (1) RATS/CTD1175 (1) RATS/CTD1177 (1) RATS/CTD1179 (1) RATS/CTD1181 (1) RATS/CTD1183 (1) RATS/CTD1185 (1) RATS/CTD1187 (1) RATS/CTD1189 (1) RATS/CTD1191 (1) RATS/CTD1193 (1) RATS/CTD1195 (1) RATS/CTD1196 (1) RATS/CTD1197 (1) RATS/CTD1199 (1) RATS/CTD120 (1) RATS/CTD1201 (1) RATS/CTD1203 (1) RATS/CTD1205 (1) RATS/CTD1207 (1) RATS/CTD1209 (1) RATS/CTD1211 (1) RATS/CTD1213 (1) RATS/CTD1215 (1) RATS/CTD1217 (1) RATS/CTD1219 (1) RATS/CTD122 (1) RATS/CTD1221 (1) RATS/CTD1223 (1) RATS/CTD1225 (1) RATS/CTD1227 (1) RATS/CTD1229 (1) RATS/CTD1231 (1) RATS/CTD1233 (1) RATS/CTD1235 (1) RATS/CTD1237 (1) RATS/CTD1239 (1) RATS/CTD124 (1) RATS/CTD1241 (1) RATS/CTD1243 (1) RATS/CTD1245 (1) RATS/CTD1247 (1) RATS/CTD1249 (1) RATS/CTD1251 (1) RATS/CTD1253 (1) RATS/CTD1255 (1) RATS/CTD1257 (1) RATS/CTD1259 (1) RATS/CTD126 (1) RATS/CTD1261 (1) RATS/CTD1263 (1) RATS/CTD1265 (1) RATS/CTD1267 (1) RATS/CTD1269 (1) RATS/CTD1271 (1) RATS/CTD1273 (1) RATS/CTD1275 (1) RATS/CTD1277 (1) RATS/CTD1279 (1) RATS/CTD1281 (1) RATS/CTD1283 (1) RATS/CTD1285 (1) RATS/CTD1287 (1) RATS/CTD1289 (1) RATS/CTD129 (1) RATS/CTD1291 (1) RATS/CTD1293 (1) RATS/CTD1295 (1) RATS/CTD1297 (1) RATS/CTD1301 (1) RATS/CTD1303 (1) RATS/CTD1305 (1) RATS/CTD1307 (1) RATS/CTD1309 (1) RATS/CTD131 (1) RATS/CTD1311 (1) RATS/CTD1313 (1) RATS/CTD1315 (1) RATS/CTD1317 (1) RATS/CTD1319 (1) RATS/CTD1321 (1) RATS/CTD1323 (1) RATS/CTD1327 (1) RATS/CTD1329 (1) RATS/CTD133 (1) RATS/CTD1331 (1) RATS/CTD1333 (1) RATS/CTD1335 (1) RATS/CTD136 (1) RATS/CTD138 (1) RATS/CTD140 (1) RATS/CTD142 (1) RATS/CTD145 (1) RATS/CTD147 (1) RATS/CTD150 (1) RATS/CTD151 (1) RATS/CTD153 (1) RATS/CTD154 (1) RATS/CTD156 (1) RATS/CTD157 (1) RATS/CTD160 (1) RATS/CTD163 (1) RATS/CTD164 (1) RATS/CTD166 (1) RATS/CTD167 (1) RATS/CTD169 (1) RATS/CTD170 (1) RATS/CTD173 (1) RATS/CTD175 (1) RATS/CTD177 (1) RATS/CTD180 (1) RATS/CTD182 (1) RATS/CTD184 (1) RATS/CTD186 (1) RATS/CTD189 (1) RATS/CTD191 (1) RATS/CTD193 (1) RATS/CTD195 (1) RATS/CTD198 (1) RATS/CTD200 (1) RATS/CTD202 (1) RATS/CTD204 (1) RATS/CTD206 (1) RATS/CTD208 (1) RATS/CTD210 (1) RATS/CTD214 (1) RATS/CTD217 (1) RATS/CTD219 (1) RATS/CTD221 (1) RATS/CTD223 (1) RATS/CTD225 (1) RATS/CTD227 (1) RATS/CTD230 (1) RATS/CTD232 (1) RATS/CTD234 (1) RATS/CTD237 (1) RATS/CTD239 (1) RATS/CTD241 (1) RATS/CTD243 (1) RATS/CTD245 (1) RATS/CTD247 (1) RATS/CTD249 (1) RATS/CTD251 (1) RATS/CTD254 (1) RATS/CTD256 (1) RATS/CTD258 (1) RATS/CTD260 (1) RATS/CTD262 (1) RATS/CTD265 (1) RATS/CTD267 (1) RATS/CTD269 (1) RATS/CTD271 (1) RATS/CTD273 (1) RATS/CTD275 (1) RATS/CTD277 (1) RATS/CTD281 (1) RATS/CTD283 (1) RATS/CTD285 (1) RATS/CTD287 (1) RATS/CTD289 (1) RATS/CTD291 (1) RATS/CTD293 (1) RATS/CTD295 (1) RATS/CTD297 (1) RATS/CTD301 (1) RATS/CTD305 (1) RATS/CTD307 (1) RATS/CTD309 (1) RATS/CTD311 (1) RATS/CTD313 (1) RATS/CTD315 (1) RATS/CTD317 (1) RATS/CTD319 (1) RATS/CTD321 (1) RATS/CTD323 (1) RATS/CTD325 (1) RATS/CTD327 (1) RATS/CTD329 (1) RATS/CTD331 (1) RATS/CTD335 (1) RATS/CTD337 (1) RATS/CTD341 (1) RATS/CTD343 (1) RATS/CTD345 (1) RATS/CTD347 (1) RATS/CTD351 (1) RATS/CTD353 (1) RATS/CTD355 (1) RATS/CTD357 (1) RATS/CTD361 (1) RATS/CTD363 (1) RATS/CTD365 (1) RATS/CTD373 (1) RATS/CTD375 (1) RATS/CTD377 (1) RATS/CTD379 (1) RATS/CTD381 (1) RATS/CTD383 (1) RATS/CTD385 (1) RATS/CTD387 (1) RATS/CTD389 (1) RATS/CTD395 (1) RATS/CTD397 (1) RATS/CTD399 (1) RATS/CTD401 (1) RATS/CTD403 (1) RATS/CTD405 (1) RATS/CTD407 (1) RATS/CTD409 (1) RATS/CTD411 (1) RATS/CTD415 (1) RATS/CTD417 (1) RATS/CTD419 (1) RATS/CTD423 (1) RATS/CTD425 (1) RATS/CTD427 (1) RATS/CTD429 (1) RATS/CTD43 (1) RATS/CTD431 (1) RATS/CTD433 (1) RATS/CTD437 (1) RATS/CTD439 (1) RATS/CTD443 (1) RATS/CTD445 (1) RATS/CTD461 (1) RATS/CTD463 (1) RATS/CTD465 (1) RATS/CTD467 (1) RATS/CTD469 (1) RATS/CTD471 (1) RATS/CTD473 (1) RATS/CTD475 (1) RATS/CTD477 (1) RATS/CTD479 (1) RATS/CTD481 (1) RATS/CTD483 (1) RATS/CTD485 (1) RATS/CTD487 (1) RATS/CTD489 (1) RATS/CTD49 (1) RATS/CTD491 (1) RATS/CTD493 (1) RATS/CTD495 (1) RATS/CTD497 (1) RATS/CTD499 (1) RATS/CTD501 (1) RATS/CTD503 (1) RATS/CTD505 (1) RATS/CTD507 (1) RATS/CTD509 (1) RATS/CTD51 (1) RATS/CTD511 (1) RATS/CTD513 (1) RATS/CTD515 (1) RATS/CTD517 (1) RATS/CTD519 (1) RATS/CTD521 (1) RATS/CTD523 (1) RATS/CTD525 (1) RATS/CTD527 (1) RATS/CTD529 (1) RATS/CTD53 (1) RATS/CTD531 (1) RATS/CTD534 (1) RATS/CTD536 (1) RATS/CTD538 (1) RATS/CTD540 (1) RATS/CTD542 (1) RATS/CTD545 (1) RATS/CTD547 (1) RATS/CTD549 (1) RATS/CTD55 (1) RATS/CTD551 (1) RATS/CTD553 (1) RATS/CTD555 (1) RATS/CTD557 (1) RATS/CTD559 (1) RATS/CTD561 (1) RATS/CTD563 (1) RATS/CTD565 (1) RATS/CTD567 (1) RATS/CTD569 (1) RATS/CTD571 (1) RATS/CTD573 (1) RATS/CTD575 (1) RATS/CTD577 (1) RATS/CTD579 (1) RATS/CTD58 (1) RATS/CTD581 (1) RATS/CTD583 (1) RATS/CTD585 (1) RATS/CTD587 (1) RATS/CTD589 (1) RATS/CTD591 (1) RATS/CTD593 (1) RATS/CTD595 (1) RATS/CTD597 (1) RATS/CTD599 (1) RATS/CTD60 (1) RATS/CTD601 (1) RATS/CTD603 (1) RATS/CTD605 (1) RATS/CTD607 (1) RATS/CTD609 (1) RATS/CTD611 (1) RATS/CTD613 (1) RATS/CTD615 (1) RATS/CTD617 (1) RATS/CTD619 (1) RATS/CTD62 (1) RATS/CTD621 (1) RATS/CTD623 (1) RATS/CTD625 (1) RATS/CTD627 (1) RATS/CTD629 (1) RATS/CTD631 (1) RATS/CTD633 (1) RATS/CTD635 (1) RATS/CTD637 (1) RATS/CTD639 (1) RATS/CTD64 (1) RATS/CTD654 (1) RATS/CTD66 (1) RATS/CTD669 (1) RATS/CTD678 (1) RATS/CTD68 (1) RATS/CTD687 (1) RATS/CTD695 (1) RATS/CTD70 (1) RATS/CTD705 (1) RATS/CTD72 (1) RATS/CTD722 (1) RATS/CTD724 (1) RATS/CTD727 (1) RATS/CTD729 (1) RATS/CTD731 (1) RATS/CTD733 (1) RATS/CTD735 (1) RATS/CTD737 (1) RATS/CTD739 (1) RATS/CTD74 (1) RATS/CTD741 (1) RATS/CTD743 (1) RATS/CTD745 (1) RATS/CTD747 (1) RATS/CTD749 (1) RATS/CTD751 (1) RATS/CTD753 (1) RATS/CTD755 (1) RATS/CTD757 (1) RATS/CTD759 (1) RATS/CTD761 (1) RATS/CTD763 (1) RATS/CTD765 (1) RATS/CTD767 (1) RATS/CTD77 (1) RATS/CTD771 (1) RATS/CTD773 (1) RATS/CTD775 (1) RATS/CTD777 (1) RATS/CTD779 (1) RATS/CTD781 (1) RATS/CTD783 (1) RATS/CTD785 (1) RATS/CTD787 (1) RATS/CTD789 (1) RATS/CTD795 (1) RATS/CTD797 (1) RATS/CTD799 (1) RATS/CTD80 (1) RATS/CTD801 (1) RATS/CTD803 (1) RATS/CTD805 (1) RATS/CTD807 (1) RATS/CTD809 (1) RATS/CTD811 (1) RATS/CTD813 (1) RATS/CTD817 (1) RATS/CTD819 (1) RATS/CTD82 (1) RATS/CTD821 (1) RATS/CTD823 (1) RATS/CTD825 (1) RATS/CTD827 (1) RATS/CTD829 (1) RATS/CTD831 (1) RATS/CTD833 (1) RATS/CTD837 (1) RATS/CTD839 (1) RATS/CTD84 (1) RATS/CTD841 (1) RATS/CTD843 (1) RATS/CTD845 (1) RATS/CTD847 (1) RATS/CTD849 (1) RATS/CTD851 (1) RATS/CTD853 (1) RATS/CTD855 (1) RATS/CTD857 (1) RATS/CTD859 (1) RATS/CTD861 (1) RATS/CTD863 (1) RATS/CTD865 (1) RATS/CTD867 (1) RATS/CTD869 (1) RATS/CTD87 (1) RATS/CTD871 (1) RATS/CTD873 (1) RATS/CTD879 (1) RATS/CTD881 (1) RATS/CTD883 (1) RATS/CTD885 (1) RATS/CTD887 (1) RATS/CTD889 (1) RATS/CTD89 (1) RATS/CTD891 (1) RATS/CTD893 (1) RATS/CTD895 (1) RATS/CTD897 (1) RATS/CTD899 (1) RATS/CTD901 (1) RATS/CTD903 (1) RATS/CTD905 (1) RATS/CTD907 (1) RATS/CTD909 (1) RATS/CTD91 (1) RATS/CTD913 (1) RATS/CTD915 (1) RATS/CTD917 (1) RATS/CTD919 (1) RATS/CTD921 (1) RATS/CTD923 (1) RATS/CTD925 (1) RATS/CTD927 (1) RATS/CTD929 (1) RATS/CTD93 (1) RATS/CTD931 (1) RATS/CTD933 (1) RATS/CTD935 (1) RATS/CTD937 (1) RATS/CTD939 (1) RATS/CTD941 (1) RATS/CTD943 (1) RATS/CTD945 (1) RATS/CTD947 (1) RATS/CTD949 (1) RATS/CTD951 (1) RATS/CTD953 (1) RATS/CTD955 (1) RATS/CTD957 (1) RATS/CTD959 (1) RATS/CTD96 (1) RATS/CTD961 (1) RATS/CTD963 (1) RATS/CTD965 (1) RATS/CTD967 (1) RATS/CTD969 (1) RATS/CTD971 (1) RATS/CTD973 (1) RATS/CTD975 (1) RATS/CTD977 (1) RATS/CTD979 (1) RATS/CTD98 (1) RATS/CTD981 (1) RATS/CTD983 (1) RATS/CTD985 (1) RATS/CTD987 (1) RATS/CTD989 (1) RATS/CTD991 (1) RATS/CTD993 (1) RATS/CTD995 (1) RATS/CTD997 (1) RATS/CTD999 (1)
---
The following single character qualifying flags may be associated with one or more individual parameters with a data cycle:
| Flag | Description |
| --- | --- |
| Blank | Unqualified |
| < | Below detection limit |
| > | In excess of quoted value |
| A | Taxonomic flag for affinis (aff.) |
| B | Beginning of CTD Down/Up Cast |
| C | Taxonomic flag for confer (cf.) |
| D | Thermometric depth |
| E | End of CTD Down/Up Cast |
| G | Non-taxonomic biological characteristic uncertainty |
| H | Extrapolated value |
| I | Taxonomic flag for single species (sp.) |
| K | Improbable value - unknown quality control source |
| L | Improbable value - originator's quality control |
| M | Improbable value - BODC quality control |
| N | Null value |
| O | Improbable value - user quality control |
| P | Trace/calm |
| Q | Indeterminate |
| R | Replacement value |
| S | Estimated value |
| T | Interpolated value |
| U | Uncalibrated |
| W | Control value |
| X | Excessive difference |
---
The following single character qualifying flags may be associated with one or more individual parameters with a data cycle:
| Flag | Description |
| --- | --- |
| 0 | no quality control |
| 1 | good value |
| 2 | probably good value |
| 3 | probably bad value |
| 4 | bad value |
| 5 | changed value |
| 6 | value below detection |
| 7 | value in excess |
| 8 | interpolated value |
| 9 | missing value |
| A | value phenomenon uncertain |