Metadata Report for BODC Series Reference Number 1650222
---
Data Description
Data Category
Currents -subsurface Eulerian
Instrument Type

| Name | Categories |
| --- | --- |
| Teledyne RDI 300kHz Workhorse Monitor direct-reading ADCP | current profilers |

Instrument Mounting
lowered unmanned submersible
Originating Country
United States
Originator
Dr Andreas Thurnherr
Originating Organization
Lamont-Doherty Earth Observatory
Processing Status
banked
Online delivery of data
Download available - Ocean Data View (ODV) format
Project(s)
DIMES

Data Identifiers
| | |
| --- | --- |
| Originator's Identifier | LADCP_010 |
| BODC Series Reference | 1650222 |
Time Co-ordinates(UT)
| | |
| --- | --- |
| Start Time (yyyy-mm-dd hh:mm) | 2010-12-10 06:51 |
| End Time (yyyy-mm-dd hh:mm) | - |
| Nominal Cycle Interval | 7.9 decibars |
Spatial Co-ordinates
| | |
| --- | --- |
| Latitude | 55.96540 S ( 55° 57.9' S ) |
| Longitude | 57.87192 W ( 57° 52.3' W ) |
| Positional Uncertainty | 0.0 to 0.01 n.miles |
| Minimum Sensor or Sampling Depth | 7.9 m |
| Maximum Sensor or Sampling Depth | 4038.7 m |
| Minimum Sensor or Sampling Height | 11.3 m |
| Maximum Sensor or Sampling Height | 4042.1 m |
| Sea Floor Depth | 4050.0 m |
| Sea Floor Depth Source | SCILOG |
| Sensor or Sampling Distribution | Variable common depth - All sensors are grouped effectively at the same depth, but this depth varies significantly during the series |
| Sensor or Sampling Depth Datum | Approximate - Depth is only approximate |
| Sea Floor Depth Datum | Approximate - Depth is only approximate |
Parameters
| BODC CODE | Rank | Units | Title |
| --- | --- | --- | --- |
| ACYCAA01 | 1 | Dimensionless | Sequence number |
| ADEPZZ01 | 1 | Metres | Depth (spatial coordinate) relative to water surface in the water body |
| ERRVLDCP | 1 | Centimetres per second | Error velocity of water current in the water body by lowered acoustic doppler current profiler (ADCP) |
| LCEWLW01 | 1 | Centimetres per second | Eastward velocity of water current (Eulerian measurement) in the water body by lowered acoustic doppler current profiler (ADCP) |
| LCNSLW01 | 1 | Centimetres per second | Northward velocity of water current (Eulerian measurement) in the water body by lowered acoustic doppler current profiler (ADCP) |
Definition of Rank
Rank 1 is a one-dimensional parameter
Rank 2 is a two-dimensional parameter
Rank 0 is a one-dimensional parameter describing the second dimension of a two-dimensional parameter (e.g. bin depths for moored ADCP data)
---
No Problem Report Found in the Database
---
Open Data supplied by Natural Environment Research Council (NERC)
You must always use the following attribution statement to acknowledge the source of the information: "Contains data supplied by Natural Environment Research Council."
---
Instrument Description
The LADCP data were collected using the instrumentation detailed below:
| Sensor | Model | Serial Number | Calibration (UT) | Comments |
| --- | --- | --- | --- | --- |
| LADCP | Teledyne RDI high-power Workhorse 300kHz | 12736 | - | LDEO unit, downward looking |
| LADCP | Teledyne RDI standard Workhorse 300kHz | 150 | - | LDEO unit, upward looking for stations 1-3 |
| LADCP | Teledyne RDI standard Workhorse 300kHz | 4275 | - | NOC unit, upward looking for stations 4-53 |
| LADCP | Teledyne RDI standard titanium Workhorse 300kHz | 13400 | - | NOC unit, upward looking for station 54 |
| LADCP | Teledyne RDI standard Workhorse 300kHz | 4275 | - | NOC unit, upward looking for station 55 |
Two Teledyne RDI Workhorse 300kHz ADCPs were mounted on the Sea-Bird 9 11 plus CTD frame at a time, one pointing downward (downlooker) and one upward (uplooker).
The first three stations were carried out with the standard instrument configurations supplied with the LDEO data acquisitions software 25 x 8 m bins, beam coordinates, zero blanking distance, narrow bandwidth, 2.5 m s-1 ambiguity velocity, 1.5/2.0 s staggered ping rate.
There were large velocity warnings during processing therefore the ambiguity velocity was increased on station 4 to 3 m s-1, on station 11 to 3.5 m s-1 and on station 20 to 4.0 m s-1.
In an attempt to increase sampling the pinging interval was decreased to 1.0/1.3 s on station 20. Inspection of the raw ensemble times indicated that the instruments were not capable of such a high pinging rate and the rate was therefore decreased to 1.2/1.4 s on station 23 and, finally, to 1.3/1.5 s on station 33.
Due to a problem with the star cable, station 41 was carried out with asynchronous pinging, with a staggered rate of 1.3/1.5 s in the master and 1.0 s in the slave.
There are no uplooker data for station 39 because of cable problems, and no valid uplooker data for station 54 due to hardware problems.
Teledyne RDI's Workhorse Monitor ADCP
The Workhorse Monitor acoustic doppler current profler (Teledyne RD Instruments) is a long-range and long-term self contained ADCP. It has a patented four beam signal (300, 600 or 1200 kHz) and a standard depth rating of 200m or 600m. It operates effectively between temperatures of -5°C and 45°C and has a velocity accuracy of ±1% ±5mm/s.
BODC Processing
LDEO processed data were provided by the originator in Matlab and ASCII formats. The LDEO processed data in ASCII format were converted into BODC internal format after discussion with the originator. All data provided were from the downward looking RDI 300 kHz Workhorse ADCP which was in operation at the time. The following table shows how the variables within the ASCII files were mapped to appropriate BODC parameter codes:
| Originator's Parameter Name | Units | Description | BODC Parameter Code | Units | Comments |
| --- | --- | --- | --- | --- | --- |
| z | m | Depth of LADCP bin | ADEPZZ01 | m | - |
| u | m s-1 | Eastward velocity | LCEWLW01 | cm s-1 | Units converted from m s-1 to cm s-1 by multiplying by 100. |
| v | m s-1 | Northward velocity | LCNSLW01 | cm s-1 | Units converted from m s-1 to cm s-1 by multiplying by 100. |
| ev | m s-1 | Uncertainty estimates of LADCP velocity profile | ERRVLDCP | cm s-1 | Units converted from m s-1 to cm s-1 by multiplying by 100. |
All reformatted data were visualised using the in-house Edserplo software. Suspect and missing data were marked by adding an appropriate quality control flag.
Note that the more complex LDEO processed data are available on request in Matlab format as well as the unprocessed raw LADCP files.
Originator's Data Processing
Sampling Strategy
A total of 55 LADCP profiles were collected at all CTD stations in order to derive full-depth profiles of ocean velocity, as well as profiles of finestructure vertical shear.
Data processing
Preliminary shipboard processing of the LADCP data was carried out with the LDEO IX.6 LADCP processing software using one second averaged uncalibrated CTD data in order to correct the LADCP data for depth and sound speed. The CTD data were minimally processed using 'AlignCTD' which applies temporal shifts to align the sensor readings and 'CellTM' which corrects for the thermal mass. Velocity referencing was accomplished with post-processed (i.e. non-RDI) bottom-track data, 75kHz VMADCP data, and GPS information in the CTD time series files. The first bin of each instrument was discarded during processing. Note that the profiles 2, 23, 26, 35, 45, 47, 50, 52, 53 and 55 were not processed with bottom tracking and profile 7 did not have bottom tracking or VMADCP data.
Please refer to Thurnherr (2014) and cruise report for a more detailed processing methodology. However, please be aware that this processing guide is for software versions IX.7 to IX.10 only, and changes have been made between versions which have the potential for significantly changing the solutions.
References
Thurnherr, A. M., 2014. How To Process LADCP Data With the LDEO Software, Versions IX.7 - IX.10.
---
Diapycnal and Isopycnal Mixing Experiment in the Southern Ocean (DIMES) project document
DIMES is a US/UK field program aimed at measuring diapycnal and isopycnal mixing in the Southern Ocean, along the tilting isopycnals of the Antarctic Circumpolar Current.
The Meridional Overturning Circulation (MOC) of the ocean is a critical regulator of the Earth's climate processes. Climate models are highly sensitive to the representation of mixing processes in the southern limb of the MOC, within the Southern Ocean, although the lack of extensive in situ observations of Southern Ocean mixing processes has made evaluation of mixing somewhat difficult. Theories and models of the Southern Ocean circulation have been built on the premise of adiabatic flow in the ocean interior, with diabatic processes confined to the upper-ocean mixed layer. Interior diapycnal mixing has often been assumed to be small, but a few recent studies have suggested that diapycnal mixing might be large in some locations, particularly over rough bathymetry. Depending on its extent, this interior diapycnal mixing could significantly affect the overall energetics and property balances for the Southern Ocean and in turn for the global ocean. The goals of DIMES are to obtain measurements that will help us quantify both along-isopycnal eddy-driven mixing and cross-isopycnal interior mixing.
DIMES includes tracer release, isopycnal following RAFOS floats, microstructure measurements, shearmeter floats, EM-APEX floats, a mooring array in Drake Passage, hydrographic observations, inverse modeling, and analysis of altimetry and numerical model output.
DIMES is sponsored by the National Science Foundation (U.S.), Natural Environment Research Council (U.K) and British Antarctic Survey (U.K.)
For more information please see the official project website at DIMES
---
Cruise
| | |
| --- | --- |
| Cruise Name | JC054 (UKD-2) |
| Departure Date | 2010-12-04 |
| Arrival Date | 2011-01-08 |
| Principal Scientist(s) | Michael P Meredith (British Antarctic Survey) |
| Ship | RRS James Cook |
Complete Cruise Metadata Report is available here
---
Fixed Station Information
| | |
| --- | --- |
| Station Name | Drake Passage |
| Category | Offshore area |
| Latitude | 59° 0.00' S |
| Longitude | 62° 0.00' W |
| Water depth below MSL | |
Drake Passage
The World Ocean Circulation Experiment (WOCE, 1990-1998) was a major international experiment which made measurements and undertook modelling studies of the deep oceans in order to provide a much improved understanding of the role of ocean circulation in changing and ameliorating the Earth's climate.
The Drake Passage is the narrowest constriction of the Antarctic Circumpolar Current (ACC) - the largest current in the world and connects all three major oceanic basins both horizontally and vertically, thus being a key control in the global overturning circulation.Within the Drake Passage, two repeat hydrographic sections (SR1 and SR1b) were established by WOCE. These were designed to extend measurements collected earlier by the International Southern Ocean Studies (ISOS) programme and have continued beyond the WOCE time-frame.
The original section was SR1 (which also covers part of the A21 one time survey track). Subsequently, the section was shifted to the east (and designated SR1b) in order for it to lie on a satellite ground track as illustrated in the image below.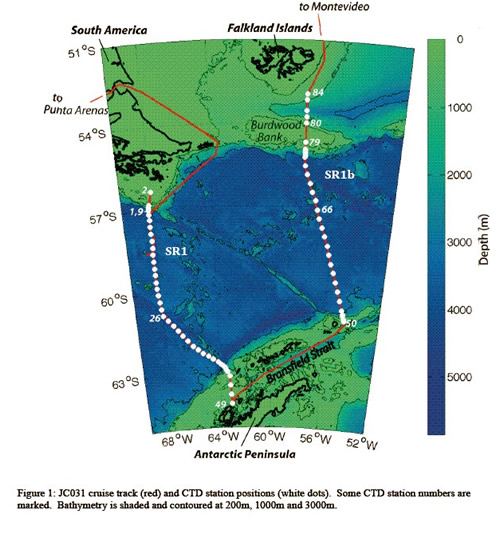 In addition to the hydrographic measurements, UK research in Drake Passage also includes a network of coastal and deep tide gauges, analysis of satellite altimeter data, and state-of-the-art global numerical modeling.
Related Fixed Station activities are detailed in Appendix 1
---
The following single character qualifying flags may be associated with one or more individual parameters with a data cycle:
| Flag | Description |
| --- | --- |
| Blank | Unqualified |
| < | Below detection limit |
| > | In excess of quoted value |
| A | Taxonomic flag for affinis (aff.) |
| B | Beginning of CTD Down/Up Cast |
| C | Taxonomic flag for confer (cf.) |
| D | Thermometric depth |
| E | End of CTD Down/Up Cast |
| G | Non-taxonomic biological characteristic uncertainty |
| H | Extrapolated value |
| I | Taxonomic flag for single species (sp.) |
| K | Improbable value - unknown quality control source |
| L | Improbable value - originator's quality control |
| M | Improbable value - BODC quality control |
| N | Null value |
| O | Improbable value - user quality control |
| P | Trace/calm |
| Q | Indeterminate |
| R | Replacement value |
| S | Estimated value |
| T | Interpolated value |
| U | Uncalibrated |
| W | Control value |
| X | Excessive difference |
---
The following single character qualifying flags may be associated with one or more individual parameters with a data cycle:
| Flag | Description |
| --- | --- |
| 0 | no quality control |
| 1 | good value |
| 2 | probably good value |
| 3 | probably bad value |
| 4 | bad value |
| 5 | changed value |
| 6 | value below detection |
| 7 | value in excess |
| 8 | interpolated value |
| 9 | missing value |
| A | value phenomenon uncertain |
| B | nominal value |
| Q | value below limit of quantification |
---
Related series for this Fixed Station are presented in the table below. Further information can be found by following the appropriate links.
If you are interested in these series, please be aware we offer a multiple file download service. Should your credentials be insufficient for automatic download, the service also offers a referral to our Enquiries Officer who may be able to negotiate access.
| Series Identifier | Data Category | Start date/time | Start position | Cruise |
| --- | --- | --- | --- | --- |
| 35337 | Sea surface elevation -unspecified | 1959-10-15 00:00:00 | 65.25 S, 64.2667 W | Not applicable |
| 35349 | Sea surface elevation -unspecified | 1960-01-01 00:00:00 | 65.25 S, 64.2667 W | Not applicable |
| 35350 | Sea surface elevation -unspecified | 1961-01-01 00:00:00 | 65.25 S, 64.2667 W | Not applicable |
| 35362 | Sea surface elevation -unspecified | 1962-01-01 00:00:00 | 65.25 S, 64.2667 W | Not applicable |
| 35374 | Sea surface elevation -unspecified | 1963-01-01 00:00:00 | 65.25 S, 64.2667 W | Not applicable |
| 35386 | Sea surface elevation -unspecified | 1964-01-01 00:00:00 | 65.25 S, 64.2667 W | Not applicable |
| 541490 | Sea surface elevation -unspecified | 1964-11-01 03:00:00 | 51.7 S, 57.867 W | Not applicable |
| 392985 | Sea surface elevation -unspecified | 1964-11-02 20:00:00 | 51.7 S, 57.8667 W | Not applicable |
| 249488 | Sea surface elevation -unspecified | 1964-11-04 04:00:00 | 54.9333 S, 67.6167 W | Not applicable |
| 35398 | Sea surface elevation -unspecified | 1965-01-01 00:00:00 | 65.25 S, 64.2667 W | Not applicable |
| 392924 | Sea surface elevation -unspecified | 1965-01-01 00:00:00 | 51.7 S, 57.8667 W | Not applicable |
| 541508 | Sea surface elevation -unspecified | 1965-01-01 03:00:00 | 51.7 S, 57.867 W | Not applicable |
| 249507 | Sea surface elevation -unspecified | 1965-01-18 04:00:00 | 54.9333 S, 67.6167 W | Not applicable |
| 35405 | Sea surface elevation -unspecified | 1966-01-01 00:00:00 | 65.25 S, 64.2667 W | Not applicable |
| 392936 | Sea surface elevation -unspecified | 1966-01-01 00:00:00 | 51.7 S, 57.8667 W | Not applicable |
| 249519 | Sea surface elevation -unspecified | 1966-01-01 04:00:00 | 54.9333 S, 67.6167 W | Not applicable |
| 541521 | Sea surface elevation -unspecified | 1966-01-01 04:00:00 | 51.7 S, 57.867 W | Not applicable |
| 35417 | Sea surface elevation -unspecified | 1967-01-01 00:00:00 | 65.25 S, 64.2667 W | Not applicable |
| 392973 | Sea surface elevation -unspecified | 1967-01-01 00:00:00 | 51.7 S, 57.8667 W | Not applicable |
| 249520 | Sea surface elevation -unspecified | 1967-01-01 04:00:00 | 54.9333 S, 67.6167 W | Not applicable |
| 541533 | Sea surface elevation -unspecified | 1967-01-01 04:00:00 | 51.7 S, 57.867 W | Not applicable |
| 35429 | Sea surface elevation -unspecified | 1968-01-01 00:00:00 | 65.25 S, 64.2667 W | Not applicable |
| 249532 | Sea surface elevation -unspecified | 1968-01-01 04:00:00 | 54.9333 S, 67.6167 W | Not applicable |
| 541545 | Sea surface elevation -unspecified | 1968-01-01 04:00:00 | 51.7 S, 57.867 W | Not applicable |
| 392948 | Sea surface elevation -unspecified | 1968-01-01 13:00:00 | 51.7 S, 57.8667 W | Not applicable |
| 35430 | Sea surface elevation -unspecified | 1969-01-01 00:00:00 | 65.25 S, 64.2667 W | Not applicable |
| 249544 | Sea surface elevation -unspecified | 1969-01-01 04:00:00 | 54.9333 S, 67.6167 W | Not applicable |
| 392961 | Sea surface elevation -unspecified | 1969-01-01 04:00:00 | 51.7 S, 57.8667 W | Not applicable |
| 541557 | Sea surface elevation -unspecified | 1969-01-01 04:00:00 | 51.7 S, 57.867 W | Not applicable |
| 35442 | Sea surface elevation -unspecified | 1970-01-01 00:00:00 | 65.25 S, 64.2667 W | Not applicable |
| 249556 | Sea surface elevation -unspecified | 1970-01-01 04:00:00 | 54.9333 S, 67.6167 W | Not applicable |
| 35454 | Sea surface elevation -unspecified | 1971-01-01 00:00:00 | 65.25 S, 64.2667 W | Not applicable |
| 249568 | Sea surface elevation -unspecified | 1971-01-01 04:00:00 | 54.9333 S, 67.6167 W | Not applicable |
| 249581 | Sea surface elevation -unspecified | 1972-01-01 04:00:00 | 54.9333 S, 67.6167 W | Not applicable |
| 249593 | Sea surface elevation -unspecified | 1973-01-01 04:00:00 | 54.9333 S, 67.6167 W | Not applicable |
| 249600 | Sea surface elevation -unspecified | 1974-01-01 04:00:00 | 54.9333 S, 67.6167 W | Not applicable |
| 392997 | Sea surface elevation -unspecified | 1974-10-01 03:00:00 | 51.7 S, 57.8667 W | Not applicable |
| 541569 | Sea surface elevation -unspecified | 1974-10-01 03:00:00 | 51.7 S, 57.867 W | Not applicable |
| 249612 | Sea surface elevation -unspecified | 1975-01-01 04:00:00 | 54.9333 S, 67.6167 W | Not applicable |
| 249624 | Sea surface elevation -unspecified | 1976-01-01 04:00:00 | 54.9333 S, 67.6167 W | Not applicable |
| 249636 | Sea surface elevation -unspecified | 1977-01-01 04:00:00 | 54.9333 S, 67.6167 W | Not applicable |
| 249648 | Sea surface elevation -unspecified | 1978-01-01 04:00:00 | 54.9333 S, 67.6167 W | Not applicable |
| 249661 | Sea surface elevation -unspecified | 1979-01-01 04:00:00 | 54.9333 S, 67.6167 W | Not applicable |
| 249673 | Sea surface elevation -unspecified | 1980-02-01 04:00:00 | 54.9333 S, 67.6167 W | Not applicable |
| 249685 | Sea surface elevation -unspecified | 1981-01-01 04:00:00 | 54.9333 S, 67.6167 W | Not applicable |
| 249697 | Sea surface elevation -unspecified | 1982-01-01 04:00:00 | 54.9333 S, 67.6167 W | Not applicable |
| 249704 | Sea surface elevation -unspecified | 1983-01-01 04:00:00 | 54.9333 S, 67.6167 W | Not applicable |
| 249716 | Sea surface elevation -unspecified | 1984-01-01 04:00:00 | 54.9333 S, 67.6167 W | Not applicable |
| 541373 | Sea surface elevation -unspecified | 1984-03-01 00:00:00 | 65.25 S, 64.267 W | Not applicable |
| 249728 | Sea surface elevation -unspecified | 1985-01-01 04:00:00 | 54.9333 S, 67.6167 W | Not applicable |
| 249741 | Sea surface elevation -unspecified | 1986-01-01 04:00:00 | 54.9333 S, 67.6167 W | Not applicable |
| 249753 | Sea surface elevation -unspecified | 1987-01-01 12:00:00 | 54.9333 S, 67.6167 W | Not applicable |
| 249765 | Sea surface elevation -unspecified | 1988-01-01 04:00:00 | 54.9333 S, 67.6167 W | Not applicable |
| 540923 | Sea surface elevation -unspecified | 1988-11-24 01:00:00 | 51.75 S, 57.933 W | Not applicable |
| 530129 | Offshore sea floor pressure series | 1988-11-27 06:52:30 | 53.5398 S, 57.015 W | Not applicable |
| 530166 | Offshore sea floor pressure series | 1988-11-28 12:52:30 | 56.6995 S, 52.5377 W | Not applicable |
| 540959 | Sea surface elevation -unspecified | 1988-12-19 20:00:00 | 60.7 S, 45.6 W | Not applicable |
| 249777 | Sea surface elevation -unspecified | 1989-01-01 04:00:00 | 54.9333 S, 67.6167 W | Not applicable |
| 530130 | Offshore sea floor pressure series | 1989-11-11 14:07:30 | 53.5398 S, 57.0315 W | Not applicable |
| 530178 | Offshore sea floor pressure series | 1989-11-12 23:37:30 | 56.6655 S, 52.4758 W | Not applicable |
| 530191 | Offshore sea floor pressure series | 1989-11-14 07:52:30 | 60.0372 S, 47.0998 W | Not applicable |
| 540960 | Sea surface elevation -unspecified | 1989-11-17 13:22:30 | 60.7 S, 45.6 W | Not applicable |
| 249789 | Sea surface elevation -unspecified | 1990-01-01 04:00:00 | 54.9333 S, 67.6167 W | Not applicable |
| 530142 | Offshore sea floor pressure series | 1990-11-23 02:07:30 | 53.5117 S, 56.98 W | Not applicable |
| 530209 | Offshore sea floor pressure series | 1990-11-25 02:22:30 | 60.0517 S, 47.085 W | Not applicable |
| 540972 | Sea surface elevation -unspecified | 1990-11-26 21:07:30 | 60.7 S, 45.6 W | Not applicable |
| 273624 | Sea surface elevation -unspecified | 1991-01-01 15:00:00 | 54.9333 S, 67.6167 W | Not applicable |
| 540935 | Sea surface elevation -unspecified | 1991-01-06 13:00:00 | 51.75 S, 57.933 W | Not applicable |
| 540984 | Sea surface elevation -unspecified | 1991-02-01 01:00:00 | 60.7 S, 45.6 W | Not applicable |
| 273593 | Sea surface elevation -unspecified | 1991-02-25 16:00:00 | 56.5583 S, 68.6667 W | Not applicable |
| 530314 | Offshore sea floor pressure series | 1991-12-22 16:07:30 | 56.4908 S, 62.9855 W | Not applicable |
| 530363 | Offshore sea floor pressure series | 1991-12-23 21:07:30 | 61.4738 S, 61.2905 W | Not applicable |
| 540947 | Sea surface elevation -unspecified | 1991-12-27 01:00:00 | 51.75 S, 57.933 W | Not applicable |
| 540996 | Sea surface elevation -unspecified | 1992-01-05 22:22:30 | 60.7 S, 45.6 W | Not applicable |
| 530210 | Offshore sea floor pressure series | 1992-01-08 00:07:30 | 60.0517 S, 47.1667 W | Not applicable |
| 530154 | Offshore sea floor pressure series | 1992-01-12 11:07:30 | 53.5233 S, 57.0317 W | Not applicable |
| 527552 | Sea surface elevation -unspecified | 1992-02-14 17:00:00 | 54.9333 S, 67.6167 W | Not applicable |
| 541489 | Sea surface elevation -unspecified | 1992-10-28 15:03:43 | 51.6833 S, 57.8167 W | Not applicable |
| 541477 | Sea surface elevation -unspecified | 1992-10-31 19:00:00 | 51.6833 S, 57.8167 W | Not applicable |
| 530375 | Offshore sea floor pressure series | 1992-11-13 06:07:30 | 60.8498 S, 54.7147 W | Not applicable |
| 530302 | Offshore sea floor pressure series | 1992-11-13 14:00:00 | 59.7282 S, 55.4917 W | Not applicable |
| 530326 | Offshore sea floor pressure series | 1992-11-15 03:07:30 | 54.9423 S, 58.3932 W | Not applicable |
| 541637 | Sea surface elevation -unspecified | 1992-11-19 09:00:22 | 67.571 S, 68.129 W | Not applicable |
| 541011 | Sea surface elevation -unspecified | 1992-11-23 01:00:00 | 60.7 S, 45.6 W | Not applicable |
| 527564 | Sea surface elevation -unspecified | 1993-01-01 00:00:00 | 54.9333 S, 67.6167 W | Not applicable |
| 541404 | Sea surface elevation -unspecified | 1993-11-19 02:37:30 | 51.6833 S, 57.8167 W | Not applicable |
| 1009537 | CTD or STD cast | 1993-11-21 15:42:00 | 54.65383 S, 58.561 W | RRS James Clark Ross JR19931120 (JR00a) |
| 1009549 | CTD or STD cast | 1993-11-21 18:09:00 | 54.92167 S, 58.359 W | RRS James Clark Ross JR19931120 (JR00a) |
| 1009550 | CTD or STD cast | 1993-11-21 19:50:00 | 54.94333 S, 58.386 W | RRS James Clark Ross JR19931120 (JR00a) |
| 1009562 | CTD or STD cast | 1993-11-21 22:32:00 | 54.9625 S, 58.3645 W | RRS James Clark Ross JR19931120 (JR00a) |
| 1009574 | CTD or STD cast | 1993-11-22 01:21:00 | 55.07067 S, 58.28967 W | RRS James Clark Ross JR19931120 (JR00a) |
| 530338 | Offshore sea floor pressure series | 1993-11-22 01:52:30 | 54.943 S, 58.3918 W | Not applicable |
| 1009586 | CTD or STD cast | 1993-11-22 04:34:00 | 55.122 S, 58.25717 W | RRS James Clark Ross JR19931120 (JR00a) |
| 1009598 | CTD or STD cast | 1993-11-22 07:34:00 | 55.171 S, 58.236 W | RRS James Clark Ross JR19931120 (JR00a) |
| 1009605 | CTD or STD cast | 1993-11-22 10:35:00 | 55.21583 S, 58.224 W | RRS James Clark Ross JR19931120 (JR00a) |
| 1009617 | CTD or STD cast | 1993-11-22 16:15:00 | 55.52083 S, 58.00717 W | RRS James Clark Ross JR19931120 (JR00a) |
| 1009629 | CTD or STD cast | 1993-11-23 00:39:00 | 55.8195 S, 57.8655 W | RRS James Clark Ross JR19931120 (JR00a) |
| 1009630 | CTD or STD cast | 1993-11-23 06:27:00 | 56.12733 S, 57.67117 W | RRS James Clark Ross JR19931120 (JR00a) |
| 1009642 | CTD or STD cast | 1993-11-23 11:39:00 | 56.46167 S, 57.51417 W | RRS James Clark Ross JR19931120 (JR00a) |
| 1009654 | CTD or STD cast | 1993-11-23 16:38:00 | 56.78483 S, 57.30817 W | RRS James Clark Ross JR19931120 (JR00a) |
| 1009666 | CTD or STD cast | 1993-11-23 20:59:00 | 57.09183 S, 57.12083 W | RRS James Clark Ross JR19931120 (JR00a) |
| 1009678 | CTD or STD cast | 1993-11-24 02:13:00 | 57.43217 S, 56.927 W | RRS James Clark Ross JR19931120 (JR00a) |
| 1009691 | CTD or STD cast | 1993-11-24 06:55:00 | 57.73617 S, 56.69317 W | RRS James Clark Ross JR19931120 (JR00a) |
| 1009709 | CTD or STD cast | 1993-11-24 11:11:00 | 58.05717 S, 56.55033 W | RRS James Clark Ross JR19931120 (JR00a) |
| 1009710 | CTD or STD cast | 1993-11-24 17:05:00 | 58.36483 S, 56.3545 W | RRS James Clark Ross JR19931120 (JR00a) |
| 1009722 | CTD or STD cast | 1993-11-24 20:54:00 | 58.6885 S, 56.15933 W | RRS James Clark Ross JR19931120 (JR00a) |
| 1009734 | CTD or STD cast | 1993-11-25 01:57:00 | 58.9985 S, 55.95933 W | RRS James Clark Ross JR19931120 (JR00a) |
| 1009746 | CTD or STD cast | 1993-11-25 06:49:00 | 59.31567 S, 55.70933 W | RRS James Clark Ross JR19931120 (JR00a) |
| 1009758 | CTD or STD cast | 1993-11-25 11:46:00 | 59.6455 S, 55.51133 W | RRS James Clark Ross JR19931120 (JR00a) |
| 1009771 | CTD or STD cast | 1993-11-25 21:21:00 | 60.00433 S, 55.3195 W | RRS James Clark Ross JR19931120 (JR00a) |
| 1009783 | CTD or STD cast | 1993-11-26 02:07:00 | 60.34017 S, 55.07783 W | RRS James Clark Ross JR19931120 (JR00a) |
| 1009795 | CTD or STD cast | 1993-11-26 06:30:00 | 60.67417 S, 54.80983 W | RRS James Clark Ross JR19931120 (JR00a) |
| 1009802 | CTD or STD cast | 1993-11-26 11:17:00 | 60.79983 S, 54.71733 W | RRS James Clark Ross JR19931120 (JR00a) |
| 1009814 | CTD or STD cast | 1993-11-26 13:54:00 | 60.83433 S, 54.72233 W | RRS James Clark Ross JR19931120 (JR00a) |
| 1009826 | CTD or STD cast | 1993-11-26 16:10:00 | 60.85067 S, 54.71217 W | RRS James Clark Ross JR19931120 (JR00a) |
| 1009513 | CTD or STD cast | 1993-11-26 18:07:00 | 60.98117 S, 54.6155 W | RRS James Clark Ross JR19931120 (JR00a) |
| 1009525 | CTD or STD cast | 1993-11-26 19:45:00 | 61.05167 S, 54.60083 W | RRS James Clark Ross JR19931120 (JR00a) |
| 530387 | Offshore sea floor pressure series | 1993-11-27 02:52:30 | 60.8497 S, 54.714 W | Not applicable |
| 541649 | Sea surface elevation -unspecified | 1993-12-08 01:52:30 | 67.571 S, 68.129 W | Not applicable |
| 527576 | Sea surface elevation -unspecified | 1994-01-01 00:00:00 | 54.9333 S, 67.6167 W | Not applicable |
| 541416 | Sea surface elevation -unspecified | 1994-03-11 15:07:26 | 51.6833 S, 57.8167 W | Not applicable |
| 541023 | Sea surface elevation -unspecified | 1994-03-14 01:30:00 | 60.7 S, 45.6 W | Not applicable |
| 541428 | Sea surface elevation -unspecified | 1994-11-10 02:22:30 | 51.6833 S, 57.8167 W | Not applicable |
| 530086 | Offshore sea floor pressure series | 1994-11-16 09:37:33 | 54.9442 S, 58.3852 W | Not applicable |
| 530074 | Offshore sea floor pressure series | 1994-11-19 00:51:57 | 58.3627 S, 56.3547 W | Not applicable |
| 530105 | Offshore sea floor pressure series | 1994-11-21 11:52:30 | 60.8502 S, 54.7168 W | Not applicable |
| 527588 | Sea surface elevation -unspecified | 1995-01-01 19:00:00 | 54.9333 S, 67.6167 W | Not applicable |
| 541650 | Sea surface elevation -unspecified | 1995-01-04 13:52:30 | 67.571 S, 68.129 W | Not applicable |
| 541035 | Sea surface elevation -unspecified | 1995-01-11 18:15:00 | 60.7 S, 45.6 W | Not applicable |
| 541441 | Sea surface elevation -unspecified | 1995-11-23 17:52:30 | 51.6833 S, 57.8167 W | Not applicable |
| 530098 | Offshore sea floor pressure series | 1995-11-26 05:52:30 | 56.8358 S, 57.5015 W | Not applicable |
| 541047 | Sea surface elevation -unspecified | 1996-01-01 00:00:00 | 60.7 S, 45.6 W | Not applicable |
| 541385 | Sea surface elevation -unspecified | 1996-01-01 00:00:00 | 65.25 S, 64.267 W | Not applicable |
| 541662 | Sea surface elevation -unspecified | 1996-01-01 00:07:30 | 67.571 S, 68.129 W | Not applicable |
| 529153 | Sea surface elevation -unspecified | 1996-01-01 01:00:00 | 54.805 S, 68.295 W | Not applicable |
| 582907 | Sea surface elevation -unspecified | 1996-01-17 17:00:00 | 63.395 S, 56.995 W | Not applicable |
| 527607 | Sea surface elevation -unspecified | 1996-04-01 13:00:00 | 54.9333 S, 67.6167 W | Not applicable |
| 581652 | Offshore sea floor pressure series | 1996-11-20 19:07:30 | 60.8493 S, 54.7227 W | Not applicable |
| 541674 | Sea surface elevation -unspecified | 1996-11-27 20:37:30 | 67.571 S, 68.129 W | Not applicable |
| 581640 | Offshore sea floor pressure series | 1996-12-04 00:07:30 | 54.944 S, 58.3837 W | Not applicable |
| 541453 | Sea surface elevation -unspecified | 1996-12-05 13:52:30 | 51.6833 S, 57.8167 W | Not applicable |
| 527619 | Sea surface elevation -unspecified | 1997-01-01 00:00:00 | 54.9333 S, 67.6167 W | Not applicable |
| 582919 | Sea surface elevation -unspecified | 1997-01-01 00:00:00 | 63.395 S, 56.995 W | Not applicable |
| 581584 | Sea surface elevation -unspecified | 1997-01-01 00:07:30 | 60.7 S, 45.6 W | Not applicable |
| 529165 | Sea surface elevation -unspecified | 1997-02-27 03:00:00 | 54.805 S, 68.295 W | Not applicable |
| 541686 | Sea surface elevation -unspecified | 1997-12-23 19:37:30 | 67.571 S, 68.129 W | Not applicable |
| 541281 | Sea surface elevation -unspecified | 1997-12-28 17:37:30 | 65.25 S, 64.267 W | Not applicable |
| 593026 | Offshore sea floor pressure series | 1997-12-30 18:52:34 | 60.8518 S, 54.7237 W | Not applicable |
| 527620 | Sea surface elevation -unspecified | 1998-01-01 00:00:00 | 54.9333 S, 67.6167 W | Not applicable |
| 529177 | Sea surface elevation -unspecified | 1998-01-01 00:00:00 | 54.805 S, 68.295 W | Not applicable |
| 582920 | Sea surface elevation -unspecified | 1998-01-01 00:00:00 | 63.395 S, 56.995 W | Not applicable |
| 757691 | CTD or STD cast | 1998-01-02 17:34:00 | 67.5733 S, 68.225 W | Unknown self-propelled small boat RATS/CTD43 |
| 592975 | Offshore sea floor pressure series | 1998-01-03 17:07:30 | 58.3678 S, 56.3578 W | Not applicable |
| 541465 | Sea surface elevation -unspecified | 1998-01-09 22:52:30 | 51.6833 S, 57.8167 W | Not applicable |
| 757709 | CTD or STD cast | 1998-01-14 16:44:00 | 67.5733 S, 68.225 W | Unknown self-propelled small boat RATS/CTD49 |
| 757710 | CTD or STD cast | 1998-01-20 15:48:00 | 67.5733 S, 68.225 W | Unknown self-propelled small boat RATS/CTD51 |
| 757722 | CTD or STD cast | 1998-01-26 15:55:00 | 67.5733 S, 68.225 W | Unknown self-propelled small boat RATS/CTD53 |
| 757734 | CTD or STD cast | 1998-02-04 15:13:00 | 67.5733 S, 68.225 W | Unknown self-propelled small boat RATS/CTD55 |
| 757746 | CTD or STD cast | 1998-02-09 15:48:00 | 67.5733 S, 68.225 W | Unknown self-propelled small boat RATS/CTD58 |
| 757758 | CTD or STD cast | 1998-02-17 13:18:00 | 67.5733 S, 68.225 W | Unknown self-propelled small boat RATS/CTD60 |
| 757771 | CTD or STD cast | 1998-02-23 12:53:00 | 67.5733 S, 68.225 W | Unknown self-propelled small boat RATS/CTD62 |
| 757783 | CTD or STD cast | 1998-02-28 13:48:00 | 67.5733 S, 68.225 W | Unknown self-propelled small boat RATS/CTD64 |
| 757795 | CTD or STD cast | 1998-03-06 17:32:00 | 67.5733 S, 68.225 W | Unknown self-propelled small boat RATS/CTD66 |
| 757802 | CTD or STD cast | 1998-03-15 14:49:00 | 67.5733 S, 68.225 W | Unknown self-propelled small boat RATS/CTD68 |
| 757814 | CTD or STD cast | 1998-03-23 16:12:00 | 67.5733 S, 68.225 W | Unknown self-propelled small boat RATS/CTD70 |
| 757826 | CTD or STD cast | 1998-03-29 15:57:00 | 67.5733 S, 68.225 W | Unknown self-propelled small boat RATS/CTD72 |
| 757838 | CTD or STD cast | 1998-04-04 15:40:00 | 67.5733 S, 68.225 W | Unknown self-propelled small boat RATS/CTD74 |
| 757851 | CTD or STD cast | 1998-04-08 15:57:00 | 67.5733 S, 68.225 W | Unknown self-propelled small boat RATS/CTD77 |
| 757863 | CTD or STD cast | 1998-04-24 14:11:00 | 67.5733 S, 68.225 W | Unknown self-propelled small boat RATS/CTD80 |
| 757875 | CTD or STD cast | 1998-05-01 13:43:00 | 67.5733 S, 68.225 W | Unknown self-propelled small boat RATS/CTD82 |
| 757887 | CTD or STD cast | 1998-05-10 15:14:00 | 67.5733 S, 68.225 W | Unknown self-propelled small boat RATS/CTD84 |
| 757899 | CTD or STD cast | 1998-05-12 15:59:00 | 67.5733 S, 68.225 W | Unknown self-propelled small boat RATS/CTD87 |
| 757906 | CTD or STD cast | 1998-05-21 13:51:00 | 67.5733 S, 68.225 W | Unknown self-propelled small boat RATS/CTD89 |
| 757918 | CTD or STD cast | 1998-05-27 14:07:00 | 67.5733 S, 68.225 W | Unknown self-propelled small boat RATS/CTD91 |
| 757931 | CTD or STD cast | 1998-06-20 17:40:00 | 67.5733 S, 68.225 W | Unknown self-propelled small boat RATS/CTD93 |
| 757943 | CTD or STD cast | 1998-06-27 16:12:00 | 67.5733 S, 68.225 W | Unknown self-propelled small boat RATS/CTD96 |
| 757955 | CTD or STD cast | 1998-07-04 15:39:00 | 67.5733 S, 68.225 W | Unknown self-propelled small boat RATS/CTD98 |
| 757967 | CTD or STD cast | 1998-07-11 18:23:00 | 67.5733 S, 68.225 W | Unknown self-propelled small boat RATS/CTD100 |
| 757979 | CTD or STD cast | 1998-07-17 15:42:00 | 67.5733 S, 68.225 W | Unknown self-propelled small boat RATS/CTD103 |
| 757980 | CTD or STD cast | 1998-08-03 16:12:00 | 67.5733 S, 68.225 W | Unknown self-propelled small boat RATS/CTD106 |
| 757992 | CTD or STD cast | 1998-08-11 17:26:00 | 67.5733 S, 68.225 W | Unknown self-propelled small boat RATS/CTD108 |
| 758006 | CTD or STD cast | 1998-08-31 18:51:00 | 67.5733 S, 68.225 W | Unknown self-propelled small boat RATS/CTD111 |
| 758018 | CTD or STD cast | 1998-09-05 12:00:00 | 67.5733 S, 68.225 W | Unknown self-propelled small boat RATS/CTD113 |
| 758031 | CTD or STD cast | 1998-09-25 12:00:00 | 67.5733 S, 68.225 W | Unknown self-propelled small boat RATS/CTD115 |
| 758043 | CTD or STD cast | 1998-10-09 12:20:00 | 67.5733 S, 68.225 W | Unknown self-propelled small boat RATS/CTD120 |
| 758055 | CTD or STD cast | 1998-10-15 15:49:00 | 67.5733 S, 68.225 W | Unknown self-propelled small boat RATS/CTD122 |
| 758067 | CTD or STD cast | 1998-10-19 12:13:00 | 67.5733 S, 68.225 W | Unknown self-propelled small boat RATS/CTD124 |
| 758079 | CTD or STD cast | 1998-10-27 12:50:00 | 67.5733 S, 68.225 W | Unknown self-propelled small boat RATS/CTD126 |
| 758080 | CTD or STD cast | 1998-11-05 12:00:00 | 67.5733 S, 68.225 W | Unknown self-propelled small boat RATS/CTD129 |
| 758092 | CTD or STD cast | 1998-11-11 12:00:00 | 67.5733 S, 68.225 W | Unknown self-propelled small boat RATS/CTD131 |
| 758111 | CTD or STD cast | 1998-11-18 12:00:00 | 67.5733 S, 68.225 W | Unknown self-propelled small boat RATS/CTD133 |
| 581603 | Sea surface elevation -unspecified | 1998-11-20 18:07:30 | 51.6833 S, 57.8167 W | Not applicable |
| 592987 | Offshore sea floor pressure series | 1998-11-24 12:37:30 | 58.3708 S, 56.3533 W | Not applicable |
| 758123 | CTD or STD cast | 1998-11-25 12:00:00 | 67.5733 S, 68.225 W | Unknown self-propelled small boat RATS/CTD136 |
| 758135 | CTD or STD cast | 1998-12-02 12:26:00 | 67.5733 S, 68.225 W | Unknown self-propelled small boat RATS/CTD138 |
| 541698 | Sea surface elevation -unspecified | 1998-12-05 01:37:30 | 67.571 S, 68.129 W | Not applicable |
| 758147 | CTD or STD cast | 1998-12-05 14:30:00 | 67.5733 S, 68.225 W | Unknown self-propelled small boat RATS/CTD140 |
| 593038 | Offshore sea floor pressure series | 1998-12-12 01:22:30 | 60.8505 S, 54.7133 W | Not applicable |
| 593002 | Offshore sea floor pressure series | 1998-12-13 09:52:30 | 54.9427 S, 58.3568 W | Not applicable |
| 758159 | CTD or STD cast | 1998-12-14 11:42:00 | 67.5733 S, 68.225 W | Unknown self-propelled small boat RATS/CTD142 |
| 758160 | CTD or STD cast | 1998-12-21 12:05:00 | 67.5733 S, 68.225 W | Unknown self-propelled small boat RATS/CTD145 |
| 758172 | CTD or STD cast | 1998-12-30 15:24:00 | 67.5733 S, 68.225 W | Unknown self-propelled small boat RATS/CTD147 |
| 541397 | Sea surface elevation -unspecified | 1999-01-01 00:00:00 | 65.25 S, 64.267 W | Not applicable |
| 758184 | CTD or STD cast | 1999-01-04 17:33:00 | 67.5733 S, 68.225 W | Unknown self-propelled small boat RATS/CTD150 |
| 758196 | CTD or STD cast | 1999-01-06 12:23:00 | 67.5733 S, 68.225 W | Unknown self-propelled small boat RATS/CTD151 |
| 758203 | CTD or STD cast | 1999-01-10 13:01:00 | 67.5733 S, 68.225 W | Unknown self-propelled small boat RATS/CTD153 |
| 758215 | CTD or STD cast | 1999-01-12 12:36:00 | 67.5733 S, 68.225 W | Unknown self-propelled small boat RATS/CTD154 |
| 758227 | CTD or STD cast | 1999-01-16 15:10:00 | 67.5733 S, 68.225 W | Unknown self-propelled small boat RATS/CTD156 |
| 758239 | CTD or STD cast | 1999-01-19 14:38:00 | 67.5733 S, 68.225 W | Unknown self-propelled small boat RATS/CTD157 |
| 758240 | CTD or STD cast | 1999-01-22 11:31:00 | 67.5733 S, 68.225 W | Unknown self-propelled small boat RATS/CTD160 |
| 758252 | CTD or STD cast | 1999-01-27 18:03:00 | 67.5733 S, 68.225 W | Unknown self-propelled small boat RATS/CTD163 |
| 758264 | CTD or STD cast | 1999-02-03 20:11:00 | 67.5733 S, 68.225 W | Unknown self-propelled small boat RATS/CTD164 |
| 758276 | CTD or STD cast | 1999-02-05 14:02:00 | 67.5733 S, 68.225 W | Unknown self-propelled small boat RATS/CTD166 |
| 758288 | CTD or STD cast | 1999-02-10 12:40:00 | 67.5733 S, 68.225 W | Unknown self-propelled small boat RATS/CTD167 |
| 758307 | CTD or STD cast | 1999-02-12 14:00:00 | 67.5733 S, 68.225 W | Unknown self-propelled small boat RATS/CTD169 |
| 758319 | CTD or STD cast | 1999-02-17 17:18:00 | 67.5733 S, 68.225 W | Unknown self-propelled small boat RATS/CTD170 |
| 758320 | CTD or STD cast | 1999-02-25 12:29:00 | 67.5733 S, 68.225 W | Unknown self-propelled small boat RATS/CTD173 |
| 758332 | CTD or STD cast | 1999-03-05 14:50:00 | 67.5733 S, 68.225 W | Unknown self-propelled small boat RATS/CTD175 |
| 758344 | CTD or STD cast | 1999-03-21 19:06:00 | 67.5733 S, 68.225 W | Unknown self-propelled small boat RATS/CTD177 |
| 758356 | CTD or STD cast | 1999-03-30 12:44:00 | 67.5733 S, 68.225 W | Unknown self-propelled small boat RATS/CTD180 |
| 758368 | CTD or STD cast | 1999-04-07 12:31:00 | 67.5733 S, 68.225 W | Unknown self-propelled small boat RATS/CTD182 |
| 758381 | CTD or STD cast | 1999-04-14 17:55:00 | 67.5733 S, 68.225 W | Unknown self-propelled small boat RATS/CTD184 |
| 758393 | CTD or STD cast | 1999-04-22 11:49:00 | 67.5733 S, 68.225 W | Unknown self-propelled small boat RATS/CTD186 |
| 758400 | CTD or STD cast | 1999-04-28 12:29:00 | 67.5733 S, 68.225 W | Unknown self-propelled small boat RATS/CTD189 |
| 758412 | CTD or STD cast | 1999-05-05 11:54:00 | 67.5733 S, 68.225 W | Unknown self-propelled small boat RATS/CTD191 |
| 758424 | CTD or STD cast | 1999-05-11 16:49:00 | 67.5733 S, 68.225 W | Unknown self-propelled small boat RATS/CTD193 |
| 758436 | CTD or STD cast | 1999-05-31 15:14:00 | 67.5733 S, 68.225 W | Unknown self-propelled small boat RATS/CTD195 |
| 758448 | CTD or STD cast | 1999-07-01 15:46:00 | 67.5733 S, 68.225 W | Unknown self-propelled small boat RATS/CTD198 |
| 758461 | CTD or STD cast | 1999-08-18 15:50:00 | 67.5733 S, 68.225 W | Unknown self-propelled small boat RATS/CTD200 |
| 758473 | CTD or STD cast | 1999-09-11 13:32:00 | 67.5733 S, 68.225 W | Unknown self-propelled small boat RATS/CTD202 |
| 758485 | CTD or STD cast | 1999-10-08 14:12:00 | 67.5733 S, 68.225 W | Unknown self-propelled small boat RATS/CTD204 |
| 758497 | CTD or STD cast | 1999-11-01 15:00:00 | 67.5733 S, 68.225 W | Unknown self-propelled small boat RATS/CTD206 |
| 758504 | CTD or STD cast | 1999-11-10 16:28:00 | 67.5733 S, 68.225 W | Unknown self-propelled small boat RATS/CTD208 |
| 592999 | Offshore sea floor pressure series | 1999-11-12 14:52:30 | 58.3702 S, 56.3525 W | Not applicable |
| 758516 | CTD or STD cast | 1999-11-15 14:33:00 | 67.5733 S, 68.225 W | Unknown self-propelled small boat RATS/CTD210 |
| 581596 | Sea surface elevation -unspecified | 1999-11-19 12:07:30 | 60.7 S, 45.6 W | Not applicable |
| 593051 | Offshore sea floor pressure series | 1999-12-06 08:52:33 | 60.8502 S, 54.7142 W | Not applicable |
| 758528 | CTD or STD cast | 1999-12-08 16:56:00 | 67.5733 S, 68.225 W | Unknown self-propelled small boat RATS/CTD214 |
| 758541 | CTD or STD cast | 1999-12-15 12:40:00 | 67.5733 S, 68.225 W | Unknown self-propelled small boat RATS/CTD217 |
| 758553 | CTD or STD cast | 1999-12-22 11:36:00 | 67.5733 S, 68.225 W | Unknown self-propelled small boat RATS/CTD219 |
| 593014 | Offshore sea floor pressure series | 1999-12-28 05:52:37 | 54.9427 S, 58.3583 W | Not applicable |
| 758565 | CTD or STD cast | 1999-12-30 11:58:00 | 67.5733 S, 68.225 W | Unknown self-propelled small boat RATS/CTD221 |
| 758577 | CTD or STD cast | 2000-01-05 12:21:00 | 67.5733 S, 68.225 W | Unknown self-propelled small boat RATS/CTD223 |
| 758589 | CTD or STD cast | 2000-01-12 12:13:00 | 67.5733 S, 68.225 W | Unknown self-propelled small boat RATS/CTD225 |
| 758590 | CTD or STD cast | 2000-01-19 13:27:00 | 67.5733 S, 68.225 W | Unknown self-propelled small boat RATS/CTD227 |
| 758608 | CTD or STD cast | 2000-01-26 14:35:00 | 67.5733 S, 68.225 W | Unknown self-propelled small boat RATS/CTD230 |
| 758621 | CTD or STD cast | 2000-02-01 15:43:00 | 67.5733 S, 68.225 W | Unknown self-propelled small boat RATS/CTD232 |
| 758633 | CTD or STD cast | 2000-02-09 12:31:00 | 67.5733 S, 68.225 W | Unknown self-propelled small boat RATS/CTD234 |
| 743818 | CTD or STD cast | 2000-02-12 17:27:27 | 61.05083 S, 54.55167 W | RRS James Clark Ross JR20000113 (JR47) |
| 743831 | CTD or STD cast | 2000-02-12 18:49:19 | 60.90417 S, 54.65517 W | RRS James Clark Ross JR20000113 (JR47) |
| 743843 | CTD or STD cast | 2000-02-12 20:03:35 | 60.85183 S, 54.69517 W | RRS James Clark Ross JR20000113 (JR47) |
| 743855 | CTD or STD cast | 2000-02-12 21:35:19 | 60.8165 S, 54.71 W | RRS James Clark Ross JR20000113 (JR47) |
| 743867 | CTD or STD cast | 2000-02-12 23:45:20 | 60.76583 S, 54.7435 W | RRS James Clark Ross JR20000113 (JR47) |
| 743879 | CTD or STD cast | 2000-02-13 04:06:33 | 60.44283 S, 54.96117 W | RRS James Clark Ross JR20000113 (JR47) |
| 743880 | CTD or STD cast | 2000-02-13 08:28:44 | 60.12833 S, 55.1845 W | RRS James Clark Ross JR20000113 (JR47) |
| 743892 | CTD or STD cast | 2000-02-13 12:35:40 | 59.8095 S, 55.387 W | RRS James Clark Ross JR20000113 (JR47) |
| 743911 | CTD or STD cast | 2000-02-13 16:47:40 | 59.49433 S, 55.59467 W | RRS James Clark Ross JR20000113 (JR47) |
| 743923 | CTD or STD cast | 2000-02-13 21:18:12 | 59.178 S, 55.79983 W | RRS James Clark Ross JR20000113 (JR47) |
| 743935 | CTD or STD cast | 2000-02-14 02:01:50 | 58.862 S, 56.006 W | RRS James Clark Ross JR20000113 (JR47) |
| 743947 | CTD or STD cast | 2000-02-14 06:55:40 | 58.544 S, 56.20983 W | RRS James Clark Ross JR20000113 (JR47) |
| 743959 | CTD or STD cast | 2000-02-14 11:40:19 | 58.23 S, 56.40833 W | RRS James Clark Ross JR20000113 (JR47) |
| 743960 | CTD or STD cast | 2000-02-14 16:18:25 | 57.913 S, 56.6105 W | RRS James Clark Ross JR20000113 (JR47) |
| 743972 | CTD or STD cast | 2000-02-14 22:18:39 | 57.5945 S, 56.80583 W | RRS James Clark Ross JR20000113 (JR47) |
| 743984 | CTD or STD cast | 2000-02-15 02:44:06 | 57.28033 S, 57.0 W | RRS James Clark Ross JR20000113 (JR47) |
| 743996 | CTD or STD cast | 2000-02-15 07:54:04 | 56.9635 S, 57.1955 W | RRS James Clark Ross JR20000113 (JR47) |
| 744011 | CTD or STD cast | 2000-02-15 12:05:51 | 56.6475 S, 57.387 W | RRS James Clark Ross JR20000113 (JR47) |
| 744023 | CTD or STD cast | 2000-02-15 17:05:19 | 56.32917 S, 57.57883 W | RRS James Clark Ross JR20000113 (JR47) |
| 744035 | CTD or STD cast | 2000-02-15 21:19:18 | 56.01483 S, 57.7675 W | RRS James Clark Ross JR20000113 (JR47) |
| 744047 | CTD or STD cast | 2000-02-16 01:53:46 | 55.69983 S, 57.95467 W | RRS James Clark Ross JR20000113 (JR47) |
| 744059 | CTD or STD cast | 2000-02-16 07:12:24 | 55.381 S, 58.142 W | RRS James Clark Ross JR20000113 (JR47) |
| 744060 | CTD or STD cast | 2000-02-16 11:28:55 | 55.17067 S, 58.26517 W | RRS James Clark Ross JR20000113 (JR47) |
| 744072 | CTD or STD cast | 2000-02-16 14:10:58 | 55.124 S, 58.29383 W | RRS James Clark Ross JR20000113 (JR47) |
| 744084 | CTD or STD cast | 2000-02-16 17:07:01 | 55.06533 S, 58.32717 W | RRS James Clark Ross JR20000113 (JR47) |
| 744096 | CTD or STD cast | 2000-02-16 19:27:38 | 54.96017 S, 58.38967 W | RRS James Clark Ross JR20000113 (JR47) |
| 744103 | CTD or STD cast | 2000-02-16 21:08:35 | 54.94283 S, 58.39683 W | RRS James Clark Ross JR20000113 (JR47) |
| 744115 | CTD or STD cast | 2000-02-16 22:26:14 | 54.927 S, 58.40667 W | RRS James Clark Ross JR20000113 (JR47) |
| 744127 | CTD or STD cast | 2000-02-17 00:38:02 | 54.6555 S, 58.56317 W | RRS James Clark Ross JR20000113 (JR47) |
| 758645 | CTD or STD cast | 2000-02-18 14:53:00 | 67.5733 S, 68.225 W | Unknown self-propelled small boat RATS/CTD237 |
| 758657 | CTD or STD cast | 2000-02-25 13:08:00 | 67.5733 S, 68.225 W | Unknown self-propelled small boat RATS/CTD239 |
| 758669 | CTD or STD cast | 2000-02-29 11:43:00 | 67.5733 S, 68.225 W | Unknown self-propelled small boat RATS/CTD241 |
| 758670 | CTD or STD cast | 2000-03-07 12:25:00 | 67.5733 S, 68.225 W | Unknown self-propelled small boat RATS/CTD243 |
| 758682 | CTD or STD cast | 2000-03-20 13:38:00 | 67.5733 S, 68.225 W | Unknown self-propelled small boat RATS/CTD245 |
| 758694 | CTD or STD cast | 2000-03-28 14:10:00 | 67.5733 S, 68.225 W | Unknown self-propelled small boat RATS/CTD247 |
| 581615 | Sea surface elevation -unspecified | 2000-03-28 14:37:30 | 51.6833 S, 57.8167 W | Not applicable |
| 758701 | CTD or STD cast | 2000-04-05 18:27:00 | 67.5733 S, 68.225 W | Unknown self-propelled small boat RATS/CTD249 |
| 758713 | CTD or STD cast | 2000-04-11 11:51:00 | 67.5733 S, 68.225 W | Unknown self-propelled small boat RATS/CTD251 |
| 758725 | CTD or STD cast | 2000-04-21 16:00:00 | 67.5733 S, 68.225 W | Unknown self-propelled small boat RATS/CTD254 |
| 758737 | CTD or STD cast | 2000-04-25 16:40:00 | 67.5733 S, 68.225 W | Unknown self-propelled small boat RATS/CTD256 |
| 758749 | CTD or STD cast | 2000-05-01 15:44:00 | 67.5733 S, 68.225 W | Unknown self-propelled small boat RATS/CTD258 |
| 758750 | CTD or STD cast | 2000-05-09 13:14:00 | 67.5733 S, 68.225 W | Unknown self-propelled small boat RATS/CTD260 |
| 758762 | CTD or STD cast | 2000-05-22 13:23:00 | 67.5733 S, 68.225 W | Unknown self-propelled small boat RATS/CTD262 |
| 758774 | CTD or STD cast | 2000-05-28 17:12:00 | 67.5733 S, 68.225 W | Unknown self-propelled small boat RATS/CTD265 |
| 758786 | CTD or STD cast | 2000-06-11 14:44:00 | 67.5733 S, 68.225 W | Unknown self-propelled small boat RATS/CTD267 |
| 758798 | CTD or STD cast | 2000-07-18 13:11:00 | 67.5733 S, 68.225 W | Unknown self-propelled small boat RATS/CTD269 |
| 758805 | CTD or STD cast | 2000-07-31 16:48:00 | 67.5733 S, 68.225 W | Unknown self-propelled small boat RATS/CTD271 |
| 593063 | Sea surface elevation -unspecified | 2000-11-18 17:37:30 | 51.6833 S, 57.8167 W | Not applicable |
| 703287 | CTD or STD cast | 2000-11-22 21:51:00 | 55.05867 S, 58.29733 W | RRS James Clark Ross JR20001121 (JR55) |
| 703299 | CTD or STD cast | 2000-11-23 05:29:00 | 54.65433 S, 58.55933 W | RRS James Clark Ross JR20001121 (JR55) |
| 703306 | CTD or STD cast | 2000-11-23 08:06:00 | 54.92233 S, 58.36167 W | RRS James Clark Ross JR20001121 (JR55) |
| 703318 | CTD or STD cast | 2000-11-23 09:22:00 | 54.94367 S, 58.38767 W | RRS James Clark Ross JR20001121 (JR55) |
| 703331 | CTD or STD cast | 2000-11-23 11:12:00 | 54.96083 S, 58.36817 W | RRS James Clark Ross JR20001121 (JR55) |
| 703343 | CTD or STD cast | 2000-11-23 14:07:00 | 55.06967 S, 58.28983 W | RRS James Clark Ross JR20001121 (JR55) |
| 703355 | CTD or STD cast | 2000-11-23 16:46:00 | 55.12117 S, 58.25783 W | RRS James Clark Ross JR20001121 (JR55) |
| 703367 | CTD or STD cast | 2000-11-23 19:40:00 | 55.17 S, 58.23383 W | RRS James Clark Ross JR20001121 (JR55) |
| 703379 | CTD or STD cast | 2000-11-23 22:45:00 | 55.21433 S, 58.2285 W | RRS James Clark Ross JR20001121 (JR55) |
| 703380 | CTD or STD cast | 2000-11-24 03:57:00 | 55.52367 S, 57.9875 W | RRS James Clark Ross JR20001121 (JR55) |
| 703392 | CTD or STD cast | 2000-11-24 09:34:00 | 55.821 S, 57.8675 W | RRS James Clark Ross JR20001121 (JR55) |
| 703411 | CTD or STD cast | 2000-11-24 14:34:00 | 56.129 S, 57.67467 W | RRS James Clark Ross JR20001121 (JR55) |
| 703423 | CTD or STD cast | 2000-11-24 19:32:00 | 56.462 S, 57.51483 W | RRS James Clark Ross JR20001121 (JR55) |
| 703435 | CTD or STD cast | 2000-11-24 23:58:00 | 56.78483 S, 57.3085 W | RRS James Clark Ross JR20001121 (JR55) |
| 703447 | CTD or STD cast | 2000-11-25 04:02:00 | 57.091 S, 57.122 W | RRS James Clark Ross JR20001121 (JR55) |
| 703459 | CTD or STD cast | 2000-11-25 08:57:00 | 57.43017 S, 56.92883 W | RRS James Clark Ross JR20001121 (JR55) |
| 703460 | CTD or STD cast | 2000-11-25 15:04:00 | 57.73433 S, 56.676 W | RRS James Clark Ross JR20001121 (JR55) |
| 703472 | CTD or STD cast | 2000-11-25 19:26:00 | 58.04967 S, 56.53917 W | RRS James Clark Ross JR20001121 (JR55) |
| 703484 | CTD or STD cast | 2000-11-26 02:46:00 | 58.36733 S, 56.35183 W | RRS James Clark Ross JR20001121 (JR55) |
| 703496 | CTD or STD cast | 2000-11-26 12:49:00 | 58.6885 S, 56.15533 W | RRS James Clark Ross JR20001121 (JR55) |
| 703503 | CTD or STD cast | 2000-11-26 17:31:00 | 58.9975 S, 55.96267 W | RRS James Clark Ross JR20001121 (JR55) |
| 703515 | CTD or STD cast | 2000-11-26 22:22:00 | 59.3175 S, 55.71133 W | RRS James Clark Ross JR20001121 (JR55) |
| 703527 | CTD or STD cast | 2000-11-27 02:00:00 | 59.6505 S, 55.51917 W | RRS James Clark Ross JR20001121 (JR55) |
| 703539 | CTD or STD cast | 2000-11-27 06:56:00 | 60.0045 S, 55.3185 W | RRS James Clark Ross JR20001121 (JR55) |
| 703540 | CTD or STD cast | 2000-11-27 11:25:00 | 60.3375 S, 55.07733 W | RRS James Clark Ross JR20001121 (JR55) |
| 703552 | CTD or STD cast | 2000-11-27 18:49:00 | 60.675 S, 54.81183 W | RRS James Clark Ross JR20001121 (JR55) |
| 703564 | CTD or STD cast | 2000-11-27 22:03:00 | 60.79967 S, 54.7195 W | RRS James Clark Ross JR20001121 (JR55) |
| 703576 | CTD or STD cast | 2000-11-28 00:41:00 | 60.8335 S, 54.72283 W | RRS James Clark Ross JR20001121 (JR55) |
| 703588 | CTD or STD cast | 2000-11-28 02:34:00 | 60.84983 S, 54.71167 W | RRS James Clark Ross JR20001121 (JR55) |
| 703607 | CTD or STD cast | 2000-11-28 04:42:00 | 60.9815 S, 54.62017 W | RRS James Clark Ross JR20001121 (JR55) |
| 703619 | CTD or STD cast | 2000-11-28 06:16:00 | 61.052 S, 54.60283 W | RRS James Clark Ross JR20001121 (JR55) |
| 703620 | CTD or STD cast | 2000-12-02 16:18:00 | 67.57733 S, 68.1305 W | RRS James Clark Ross JR20001121 (JR55) |
| 758817 | CTD or STD cast | 2000-12-06 15:54:00 | 67.5733 S, 68.225 W | Unknown self-propelled small boat RATS/CTD273 |
| 758829 | CTD or STD cast | 2000-12-12 12:33:00 | 67.5733 S, 68.225 W | Unknown self-propelled small boat RATS/CTD275 |
| 758830 | CTD or STD cast | 2000-12-20 18:39:00 | 67.5733 S, 68.225 W | Unknown self-propelled small boat RATS/CTD277 |
| 758842 | CTD or STD cast | 2001-01-02 17:03:00 | 67.5733 S, 68.225 W | Unknown self-propelled small boat RATS/CTD281 |
| 758854 | CTD or STD cast | 2001-01-08 17:26:00 | 67.5733 S, 68.225 W | Unknown self-propelled small boat RATS/CTD283 |
| 758866 | CTD or STD cast | 2001-01-10 17:12:00 | 67.5733 S, 68.225 W | Unknown self-propelled small boat RATS/CTD285 |
| 758878 | CTD or STD cast | 2001-01-17 11:56:00 | 67.5733 S, 68.225 W | Unknown self-propelled small boat RATS/CTD287 |
| 758891 | CTD or STD cast | 2001-01-25 12:09:00 | 67.5733 S, 68.225 W | Unknown self-propelled small boat RATS/CTD289 |
| 758909 | CTD or STD cast | 2001-02-01 17:13:00 | 67.5733 S, 68.225 W | Unknown self-propelled small boat RATS/CTD291 |
| 758910 | CTD or STD cast | 2001-02-07 18:40:00 | 67.5733 S, 68.225 W | Unknown self-propelled small boat RATS/CTD293 |
| 758922 | CTD or STD cast | 2001-02-14 12:34:00 | 67.5733 S, 68.225 W | Unknown self-propelled small boat RATS/CTD295 |
| 758934 | CTD or STD cast | 2001-02-21 11:57:00 | 67.5733 S, 68.225 W | Unknown self-propelled small boat RATS/CTD297 |
| 758946 | CTD or STD cast | 2001-03-06 13:32:00 | 67.5733 S, 68.225 W | Unknown self-propelled small boat RATS/CTD301 |
| 758958 | CTD or STD cast | 2001-03-19 11:11:00 | 67.5733 S, 68.225 W | Unknown self-propelled small boat RATS/CTD305 |
| 758971 | CTD or STD cast | 2001-03-29 12:42:00 | 67.5733 S, 68.225 W | Unknown self-propelled small boat RATS/CTD307 |
| 758983 | CTD or STD cast | 2001-04-05 13:25:00 | 67.5733 S, 68.225 W | Unknown self-propelled small boat RATS/CTD309 |
| 758995 | CTD or STD cast | 2001-04-12 13:23:00 | 67.5733 S, 68.225 W | Unknown self-propelled small boat RATS/CTD311 |
| 759009 | CTD or STD cast | 2001-04-17 05:36:00 | 67.5733 S, 68.225 W | Unknown self-propelled small boat RATS/CTD313 |
| 759010 | CTD or STD cast | 2001-04-28 13:45:00 | 67.5733 S, 68.225 W | Unknown self-propelled small boat RATS/CTD315 |
| 759022 | CTD or STD cast | 2001-05-04 18:30:00 | 67.5733 S, 68.225 W | Unknown self-propelled small boat RATS/CTD317 |
| 759034 | CTD or STD cast | 2001-05-10 13:27:00 | 67.5733 S, 68.225 W | Unknown self-propelled small boat RATS/CTD319 |
| 759046 | CTD or STD cast | 2001-05-17 13:28:00 | 67.5733 S, 68.225 W | Unknown self-propelled small boat RATS/CTD321 |
| 759058 | CTD or STD cast | 2001-05-24 13:02:00 | 67.5733 S, 68.225 W | Unknown self-propelled small boat RATS/CTD323 |
| 759071 | CTD or STD cast | 2001-06-04 17:45:00 | 67.5733 S, 68.225 W | Unknown self-propelled small boat RATS/CTD325 |
| 759083 | CTD or STD cast | 2001-06-15 15:09:00 | 67.5733 S, 68.225 W | Unknown self-propelled small boat RATS/CTD327 |
| 759095 | CTD or STD cast | 2001-06-25 16:02:00 | 67.5733 S, 68.225 W | Unknown self-propelled small boat RATS/CTD329 |
| 759102 | CTD or STD cast | 2001-06-30 14:43:00 | 67.5733 S, 68.225 W | Unknown self-propelled small boat RATS/CTD331 |
| 759114 | CTD or STD cast | 2001-08-01 13:50:00 | 67.5733 S, 68.225 W | Unknown self-propelled small boat RATS/CTD335 |
| 759126 | CTD or STD cast | 2001-08-06 17:48:00 | 67.5733 S, 68.225 W | Unknown self-propelled small boat RATS/CTD337 |
| 759138 | CTD or STD cast | 2001-12-05 19:52:00 | 67.5733 S, 68.225 W | Unknown self-propelled small boat RATS/CTD341 |
| 759151 | CTD or STD cast | 2001-12-17 13:26:00 | 67.5733 S, 68.225 W | Unknown self-propelled small boat RATS/CTD343 |
| 759163 | CTD or STD cast | 2001-12-21 13:20:00 | 67.5733 S, 68.225 W | Unknown self-propelled small boat RATS/CTD345 |
| 759175 | CTD or STD cast | 2001-12-28 19:22:00 | 67.5733 S, 68.225 W | Unknown self-propelled small boat RATS/CTD347 |
| 759187 | CTD or STD cast | 2002-01-04 16:38:00 | 67.5733 S, 68.225 W | Unknown self-propelled small boat RATS/CTD351 |
| 759199 | CTD or STD cast | 2002-01-08 11:39:00 | 67.5733 S, 68.225 W | Unknown self-propelled small boat RATS/CTD353 |
| 759206 | CTD or STD cast | 2002-01-12 11:17:00 | 67.5733 S, 68.225 W | Unknown self-propelled small boat RATS/CTD355 |
| 759218 | CTD or STD cast | 2002-01-17 11:34:00 | 67.5733 S, 68.225 W | Unknown self-propelled small boat RATS/CTD357 |
| 759231 | CTD or STD cast | 2002-01-22 11:19:00 | 67.5733 S, 68.225 W | Unknown self-propelled small boat RATS/CTD361 |
| 759243 | CTD or STD cast | 2002-01-23 17:23:00 | 67.5733 S, 68.225 W | Unknown self-propelled small boat RATS/CTD363 |
| 759255 | CTD or STD cast | 2002-01-28 15:29:00 | 67.5733 S, 68.225 W | Unknown self-propelled small boat RATS/CTD365 |
| 759267 | CTD or STD cast | 2002-02-18 12:33:00 | 67.5733 S, 68.225 W | Unknown self-propelled small boat RATS/CTD373 |
| 759279 | CTD or STD cast | 2002-02-26 11:41:00 | 67.5733 S, 68.225 W | Unknown self-propelled small boat RATS/CTD375 |
| 759280 | CTD or STD cast | 2002-03-04 11:41:00 | 67.5733 S, 68.225 W | Unknown self-propelled small boat RATS/CTD377 |
| 759292 | CTD or STD cast | 2002-03-09 11:39:00 | 67.5733 S, 68.225 W | Unknown self-propelled small boat RATS/CTD379 |
| 759311 | CTD or STD cast | 2002-03-15 11:38:00 | 67.5733 S, 68.225 W | Unknown self-propelled small boat RATS/CTD381 |
| 759323 | CTD or STD cast | 2002-03-23 11:51:00 | 67.5733 S, 68.225 W | Unknown self-propelled small boat RATS/CTD383 |
| 759335 | CTD or STD cast | 2002-03-28 11:43:00 | 67.5733 S, 68.225 W | Unknown self-propelled small boat RATS/CTD385 |
| 759347 | CTD or STD cast | 2002-04-10 10:58:00 | 67.5733 S, 68.225 W | Unknown self-propelled small boat RATS/CTD387 |
| 759359 | CTD or STD cast | 2002-04-17 13:28:00 | 67.5733 S, 68.225 W | Unknown self-propelled small boat RATS/CTD389 |
| 759360 | CTD or STD cast | 2002-05-30 12:01:00 | 67.5733 S, 68.225 W | Unknown self-propelled small boat RATS/CTD395 |
| 759372 | CTD or STD cast | 2002-06-06 12:12:00 | 67.5851 S, 68.1648 W | Unknown self-propelled small boat RATS/CTD397 |
| 759384 | CTD or STD cast | 2002-06-12 12:16:00 | 67.5851 S, 68.1648 W | Unknown self-propelled small boat RATS/CTD399 |
| 759396 | CTD or STD cast | 2002-06-19 16:42:00 | 67.5851 S, 68.1648 W | Unknown self-propelled small boat RATS/CTD401 |
| 759403 | CTD or STD cast | 2002-06-26 12:34:00 | 67.5733 S, 68.225 W | Unknown self-propelled small boat RATS/CTD403 |
| 759415 | CTD or STD cast | 2002-07-04 13:25:00 | 67.5851 S, 68.1648 W | Unknown self-propelled small boat RATS/CTD405 |
| 759427 | CTD or STD cast | 2002-07-11 13:53:00 | 67.5851 S, 68.1648 W | Unknown self-propelled small boat RATS/CTD407 |
| 759439 | CTD or STD cast | 2002-07-18 13:32:00 | 67.5851 S, 68.1648 W | Unknown self-propelled small boat RATS/CTD409 |
| 759440 | CTD or STD cast | 2002-07-25 12:09:00 | 67.5851 S, 68.1648 W | Unknown self-propelled small boat RATS/CTD411 |
| 759452 | CTD or STD cast | 2002-08-06 16:10:00 | 67.5733 S, 68.225 W | Unknown self-propelled small boat RATS/CTD415 |
| 759464 | CTD or STD cast | 2002-08-11 12:49:00 | 67.5851 S, 68.1648 W | Unknown self-propelled small boat RATS/CTD417 |
| 759476 | CTD or STD cast | 2002-08-15 15:20:00 | 67.5851 S, 68.1648 W | Unknown self-propelled small boat RATS/CTD419 |
| 759488 | CTD or STD cast | 2002-08-28 14:40:00 | 67.5851 S, 68.1648 W | Unknown self-propelled small boat RATS/CTD423 |
| 759507 | CTD or STD cast | 2002-09-04 12:08:00 | 67.5851 S, 68.1648 W | Unknown self-propelled small boat RATS/CTD425 |
| 759519 | CTD or STD cast | 2002-09-16 14:14:00 | 67.5851 S, 68.1648 W | Unknown self-propelled small boat RATS/CTD427 |
| 759520 | CTD or STD cast | 2002-09-20 13:37:00 | 67.5851 S, 68.1648 W | Unknown self-propelled small boat RATS/CTD429 |
| 759532 | CTD or STD cast | 2002-09-26 11:58:00 | 67.5851 S, 68.1648 W | Unknown self-propelled small boat RATS/CTD431 |
| 759544 | CTD or STD cast | 2002-10-03 17:07:00 | 67.5851 S, 68.1648 W | Unknown self-propelled small boat RATS/CTD433 |
| 759556 | CTD or STD cast | 2002-10-17 12:03:00 | 67.5851 S, 68.1648 W | Unknown self-propelled small boat RATS/CTD437 |
| 759568 | CTD or STD cast | 2002-10-21 12:41:00 | 67.5851 S, 68.1648 W | Unknown self-propelled small boat RATS/CTD439 |
| 759581 | CTD or STD cast | 2002-10-30 13:44:00 | 67.5851 S, 68.1648 W | Unknown self-propelled small boat RATS/CTD443 |
| 759593 | CTD or STD cast | 2002-11-05 15:29:00 | 67.5851 S, 68.1648 W | Unknown self-propelled small boat RATS/CTD445 |
| 759600 | CTD or STD cast | 2002-12-17 12:05:00 | 67.5683 S, 68.1187 W | Unknown self-propelled small boat RATS/CTD461 |
| 759612 | CTD or STD cast | 2002-12-20 11:54:00 | 67.5683 S, 68.1187 W | Unknown self-propelled small boat RATS/CTD463 |
| 734342 | CTD or STD cast | 2002-12-21 13:15:00 | 62.7805 S, 67.04667 W | RRS James Clark Ross JR20021224 (JR81) |
| 734354 | CTD or STD cast | 2002-12-22 20:12:00 | 67.58217 S, 68.13517 W | RRS James Clark Ross JR20021224 (JR81) |
| 734366 | CTD or STD cast | 2002-12-27 11:36:00 | 61.05 S, 54.5875 W | RRS James Clark Ross JR20021224 (JR81) |
| 734378 | CTD or STD cast | 2002-12-27 13:04:00 | 60.981 S, 54.63017 W | RRS James Clark Ross JR20021224 (JR81) |
| 734391 | CTD or STD cast | 2002-12-27 14:49:00 | 60.85033 S, 54.711 W | RRS James Clark Ross JR20021224 (JR81) |
| 759624 | CTD or STD cast | 2002-12-27 15:58:00 | 67.5851 S, 68.1648 W | Unknown self-propelled small boat RATS/CTD465 |
| 734409 | CTD or STD cast | 2002-12-27 16:53:00 | 60.833 S, 54.7215 W | RRS James Clark Ross JR20021224 (JR81) |
| 734410 | CTD or STD cast | 2002-12-27 18:58:00 | 60.79933 S, 54.7425 W | RRS James Clark Ross JR20021224 (JR81) |
| 734422 | CTD or STD cast | 2002-12-27 22:04:00 | 60.66667 S, 54.82367 W | RRS James Clark Ross JR20021224 (JR81) |
| 734434 | CTD or STD cast | 2002-12-28 02:23:00 | 60.334 S, 55.0315 W | RRS James Clark Ross JR20021224 (JR81) |
| 734446 | CTD or STD cast | 2002-12-28 07:00:00 | 59.99983 S, 55.23783 W | RRS James Clark Ross JR20021224 (JR81) |
| 734458 | CTD or STD cast | 2002-12-28 12:27:00 | 59.66633 S, 55.4455 W | RRS James Clark Ross JR20021224 (JR81) |
| 734471 | CTD or STD cast | 2002-12-28 17:13:00 | 59.33333 S, 55.65083 W | RRS James Clark Ross JR20021224 (JR81) |
| 734483 | CTD or STD cast | 2002-12-28 22:12:00 | 59.00067 S, 55.8605 W | RRS James Clark Ross JR20021224 (JR81) |
| 734495 | CTD or STD cast | 2002-12-29 02:35:00 | 58.68217 S, 56.05467 W | RRS James Clark Ross JR20021224 (JR81) |
| 734502 | CTD or STD cast | 2002-12-29 07:02:00 | 58.36683 S, 56.24983 W | RRS James Clark Ross JR20021224 (JR81) |
| 734514 | CTD or STD cast | 2002-12-29 17:11:00 | 58.0495 S, 56.44683 W | RRS James Clark Ross JR20021224 (JR81) |
| 734526 | CTD or STD cast | 2002-12-29 21:54:00 | 57.73133 S, 56.643 W | RRS James Clark Ross JR20021224 (JR81) |
| 734538 | CTD or STD cast | 2002-12-30 02:12:00 | 57.41667 S, 56.83833 W | RRS James Clark Ross JR20021224 (JR81) |
| 734551 | CTD or STD cast | 2002-12-30 07:12:00 | 57.0995 S, 57.02933 W | RRS James Clark Ross JR20021224 (JR81) |
| 734563 | CTD or STD cast | 2002-12-30 12:20:00 | 56.78567 S, 57.22667 W | RRS James Clark Ross JR20021224 (JR81) |
| 734575 | CTD or STD cast | 2002-12-30 16:43:00 | 56.4665 S, 57.428 W | RRS James Clark Ross JR20021224 (JR81) |
| 734587 | CTD or STD cast | 2002-12-30 21:49:00 | 56.15033 S, 57.62417 W | RRS James Clark Ross JR20021224 (JR81) |
| 734599 | CTD or STD cast | 2002-12-31 02:06:00 | 55.834 S, 57.8195 W | RRS James Clark Ross JR20021224 (JR81) |
| 734606 | CTD or STD cast | 2002-12-31 07:50:00 | 55.5165 S, 58.01633 W | RRS James Clark Ross JR20021224 (JR81) |
| 734618 | CTD or STD cast | 2002-12-31 12:41:00 | 55.21433 S, 58.20383 W | RRS James Clark Ross JR20021224 (JR81) |
| 734631 | CTD or STD cast | 2002-12-31 20:52:00 | 55.171 S, 58.23133 W | RRS James Clark Ross JR20021224 (JR81) |
| 734643 | CTD or STD cast | 2003-01-01 00:09:00 | 55.12117 S, 58.26183 W | RRS James Clark Ross JR20021224 (JR81) |
| 734655 | CTD or STD cast | 2003-01-01 02:28:00 | 55.06967 S, 58.29383 W | RRS James Clark Ross JR20021224 (JR81) |
| 734667 | CTD or STD cast | 2003-01-01 04:59:00 | 54.96267 S, 58.36217 W | RRS James Clark Ross JR20021224 (JR81) |
| 734679 | CTD or STD cast | 2003-01-01 06:46:00 | 54.944 S, 58.372 W | RRS James Clark Ross JR20021224 (JR81) |
| 734680 | CTD or STD cast | 2003-01-01 08:27:00 | 54.92233 S, 58.38433 W | RRS James Clark Ross JR20021224 (JR81) |
| 734692 | CTD or STD cast | 2003-01-01 12:26:00 | 54.6665 S, 58.54367 W | RRS James Clark Ross JR20021224 (JR81) |
| 759636 | CTD or STD cast | 2003-01-02 13:09:00 | 67.5851 S, 68.1648 W | Unknown self-propelled small boat RATS/CTD467 |
| 759661 | CTD or STD cast | 2003-01-06 15:29:00 | 67.5851 S, 68.1648 W | Unknown self-propelled small boat RATS/CTD469 |
| 759673 | CTD or STD cast | 2003-01-10 12:18:00 | 67.5851 S, 68.1648 W | Unknown self-propelled small boat RATS/CTD471 |
| 759685 | CTD or STD cast | 2003-01-15 13:27:00 | 67.5851 S, 68.1648 W | Unknown self-propelled small boat RATS/CTD473 |
| 759697 | CTD or STD cast | 2003-01-20 12:43:00 | 67.5733 S, 68.225 W | Unknown self-propelled small boat RATS/CTD475 |
| 759704 | CTD or STD cast | 2003-01-28 12:39:00 | 67.5733 S, 68.225 W | Unknown self-propelled small boat RATS/CTD477 |
| 759716 | CTD or STD cast | 2003-01-31 12:32:00 | 67.5851 S, 68.1648 W | Unknown self-propelled small boat RATS/CTD479 |
| 759728 | CTD or STD cast | 2003-02-05 13:08:00 | 67.5733 S, 68.225 W | Unknown self-propelled small boat RATS/CTD481 |
| 759741 | CTD or STD cast | 2003-02-10 14:07:00 | 67.5851 S, 68.1648 W | Unknown self-propelled small boat RATS/CTD483 |
| 759753 | CTD or STD cast | 2003-02-21 13:28:00 | 67.5733 S, 68.225 W | Unknown self-propelled small boat RATS/CTD485 |
| 759765 | CTD or STD cast | 2003-02-24 13:38:00 | 67.5733 S, 68.225 W | Unknown self-propelled small boat RATS/CTD487 |
| 759777 | CTD or STD cast | 2003-03-03 17:52:00 | 67.5733 S, 68.225 W | Unknown self-propelled small boat RATS/CTD489 |
| 759789 | CTD or STD cast | 2003-03-05 12:50:00 | 67.5733 S, 68.225 W | Unknown self-propelled small boat RATS/CTD491 |
| 759790 | CTD or STD cast | 2003-03-09 12:55:00 | 67.5733 S, 68.225 W | Unknown self-propelled small boat RATS/CTD493 |
| 759808 | CTD or STD cast | 2003-03-14 13:44:00 | 67.5733 S, 68.225 W | Unknown self-propelled small boat RATS/CTD495 |
| 759821 | CTD or STD cast | 2003-03-25 17:40:00 | 67.5733 S, 68.225 W | Unknown self-propelled small boat RATS/CTD497 |
| 759833 | CTD or STD cast | 2003-04-01 17:43:00 | 67.5733 S, 68.225 W | Unknown self-propelled small boat RATS/CTD499 |
| 759845 | CTD or STD cast | 2003-04-07 16:11:00 | 67.5733 S, 68.225 W | Unknown self-propelled small boat RATS/CTD501 |
| 759857 | CTD or STD cast | 2003-04-11 14:18:00 | 67.5733 S, 68.225 W | Unknown self-propelled small boat RATS/CTD503 |
| 759869 | CTD or STD cast | 2003-04-18 13:55:00 | 67.5733 S, 68.225 W | Unknown self-propelled small boat RATS/CTD505 |
| 759870 | CTD or STD cast | 2003-05-02 14:11:00 | 67.5733 S, 68.225 W | Unknown self-propelled small boat RATS/CTD507 |
| 759882 | CTD or STD cast | 2003-05-07 17:33:00 | 67.5733 S, 68.225 W | Unknown self-propelled small boat RATS/CTD509 |
| 759894 | CTD or STD cast | 2003-05-20 14:33:00 | 67.5851 S, 68.1648 W | Unknown self-propelled small boat RATS/CTD511 |
| 759901 | CTD or STD cast | 2003-05-28 14:39:00 | 67.5851 S, 68.1648 W | Unknown self-propelled small boat RATS/CTD513 |
| 759913 | CTD or STD cast | 2003-06-05 14:58:00 | 67.5683 S, 68.1187 W | Unknown self-propelled small boat RATS/CTD515 |
| 759925 | CTD or STD cast | 2003-07-08 16:42:00 | 67.5683 S, 68.1187 W | Unknown self-propelled small boat RATS/CTD517 |
| 759937 | CTD or STD cast | 2003-07-20 18:01:00 | 67.5733 S, 68.225 W | Unknown self-propelled small boat RATS/CTD519 |
| 759949 | CTD or STD cast | 2003-07-24 14:42:00 | 67.5733 S, 68.225 W | Unknown self-propelled small boat RATS/CTD521 |
| 759950 | CTD or STD cast | 2003-08-06 15:03:00 | 67.5733 S, 68.225 W | Unknown self-propelled small boat RATS/CTD523 |
| 759962 | CTD or STD cast | 2003-08-12 15:47:00 | 67.5733 S, 68.225 W | Unknown self-propelled small boat RATS/CTD525 |
| 759974 | CTD or STD cast | 2003-08-19 14:39:00 | 67.5733 S, 68.225 W | Unknown self-propelled small boat RATS/CTD527 |
| 759986 | CTD or STD cast | 2003-09-01 14:07:00 | 67.5733 S, 68.225 W | Unknown self-propelled small boat RATS/CTD529 |
| 759998 | CTD or STD cast | 2003-09-29 14:17:00 | 67.5733 S, 68.225 W | Unknown self-propelled small boat RATS/CTD531 |
| 760011 | CTD or STD cast | 2003-10-13 19:02:00 | 67.5733 S, 68.225 W | Unknown self-propelled small boat RATS/CTD534 |
| 760023 | CTD or STD cast | 2003-10-20 14:42:00 | 67.5733 S, 68.225 W | Unknown self-propelled small boat RATS/CTD536 |
| 760035 | CTD or STD cast | 2003-10-27 17:45:00 | 67.5733 S, 68.225 W | Unknown self-propelled small boat RATS/CTD538 |
| 760047 | CTD or STD cast | 2003-11-04 13:46:00 | 67.5733 S, 68.225 W | Unknown self-propelled small boat RATS/CTD540 |
| 760059 | CTD or STD cast | 2003-11-10 13:19:00 | 67.5733 S, 68.225 W | Unknown self-propelled small boat RATS/CTD542 |
| 760060 | CTD or STD cast | 2003-11-17 18:00:00 | 67.5733 S, 68.225 W | Unknown self-propelled small boat RATS/CTD545 |
| 760072 | CTD or STD cast | 2003-11-21 12:47:00 | 67.5733 S, 68.225 W | Unknown self-propelled small boat RATS/CTD547 |
| 760084 | CTD or STD cast | 2003-11-28 12:44:00 | 67.5733 S, 68.225 W | Unknown self-propelled small boat RATS/CTD549 |
| 760096 | CTD or STD cast | 2003-12-04 14:43:00 | 67.5733 S, 68.225 W | Unknown self-propelled small boat RATS/CTD551 |
| 739788 | CTD or STD cast | 2003-12-11 15:58:00 | 60.92867 S, 55.17467 W | RRS James Clark Ross JR20031211 (JR94) |
| 739807 | CTD or STD cast | 2003-12-11 17:16:00 | 60.8825 S, 54.93617 W | RRS James Clark Ross JR20031211 (JR94) |
| 739819 | CTD or STD cast | 2003-12-11 18:49:00 | 60.85017 S, 54.70783 W | RRS James Clark Ross JR20031211 (JR94) |
| 739820 | CTD or STD cast | 2003-12-11 20:19:00 | 60.83317 S, 54.711 W | RRS James Clark Ross JR20031211 (JR94) |
| 739832 | CTD or STD cast | 2003-12-11 22:21:00 | 60.80283 S, 54.74483 W | RRS James Clark Ross JR20031211 (JR94) |
| 739844 | CTD or STD cast | 2003-12-12 01:14:00 | 60.66267 S, 54.812 W | RRS James Clark Ross JR20031211 (JR94) |
| 739856 | CTD or STD cast | 2003-12-12 05:03:00 | 60.33383 S, 55.03567 W | RRS James Clark Ross JR20031211 (JR94) |
| 739868 | CTD or STD cast | 2003-12-12 09:16:00 | 59.99767 S, 55.24467 W | RRS James Clark Ross JR20031211 (JR94) |
| 739881 | CTD or STD cast | 2003-12-12 13:25:00 | 59.65833 S, 55.42817 W | RRS James Clark Ross JR20031211 (JR94) |
| 760103 | CTD or STD cast | 2003-12-12 14:07:00 | 67.5733 S, 68.225 W | Unknown self-propelled small boat RATS/CTD553 |
| 739893 | CTD or STD cast | 2003-12-12 17:38:00 | 59.3335 S, 55.64967 W | RRS James Clark Ross JR20031211 (JR94) |
| 739900 | CTD or STD cast | 2003-12-12 22:02:00 | 59.001 S, 55.85533 W | RRS James Clark Ross JR20031211 (JR94) |
| 739912 | CTD or STD cast | 2003-12-13 02:14:00 | 58.68483 S, 56.05867 W | RRS James Clark Ross JR20031211 (JR94) |
| 739924 | CTD or STD cast | 2003-12-13 06:16:00 | 58.368 S, 56.26167 W | RRS James Clark Ross JR20031211 (JR94) |
| 739936 | CTD or STD cast | 2003-12-13 10:23:00 | 58.04417 S, 56.43383 W | RRS James Clark Ross JR20031211 (JR94) |
| 739948 | CTD or STD cast | 2003-12-13 14:48:00 | 57.7345 S, 56.6265 W | RRS James Clark Ross JR20031211 (JR94) |
| 739961 | CTD or STD cast | 2003-12-13 19:05:00 | 57.42283 S, 56.80983 W | RRS James Clark Ross JR20031211 (JR94) |
| 739973 | CTD or STD cast | 2003-12-13 23:32:00 | 57.10117 S, 57.0365 W | RRS James Clark Ross JR20031211 (JR94) |
| 739985 | CTD or STD cast | 2003-12-14 04:04:00 | 56.785 S, 57.23233 W | RRS James Clark Ross JR20031211 (JR94) |
| 739997 | CTD or STD cast | 2003-12-14 07:55:00 | 56.46617 S, 57.42117 W | RRS James Clark Ross JR20031211 (JR94) |
| 740009 | CTD or STD cast | 2003-12-14 12:24:00 | 56.14167 S, 57.6115 W | RRS James Clark Ross JR20031211 (JR94) |
| 740010 | CTD or STD cast | 2003-12-14 16:21:00 | 55.83317 S, 57.82083 W | RRS James Clark Ross JR20031211 (JR94) |
| 740022 | CTD or STD cast | 2003-12-14 21:17:00 | 55.51517 S, 58.01483 W | RRS James Clark Ross JR20031211 (JR94) |
| 740034 | CTD or STD cast | 2003-12-15 01:41:00 | 55.2055 S, 58.20233 W | RRS James Clark Ross JR20031211 (JR94) |
| 740046 | CTD or STD cast | 2003-12-15 04:33:00 | 55.17033 S, 58.22517 W | RRS James Clark Ross JR20031211 (JR94) |
| 740058 | CTD or STD cast | 2003-12-15 06:56:00 | 55.12233 S, 58.26233 W | RRS James Clark Ross JR20031211 (JR94) |
| 740071 | CTD or STD cast | 2003-12-15 09:19:00 | 55.06967 S, 58.29367 W | RRS James Clark Ross JR20031211 (JR94) |
| 740083 | CTD or STD cast | 2003-12-15 11:36:00 | 54.96083 S, 58.36117 W | RRS James Clark Ross JR20031211 (JR94) |
| 740095 | CTD or STD cast | 2003-12-15 13:20:00 | 54.94367 S, 58.37183 W | RRS James Clark Ross JR20031211 (JR94) |
| 740102 | CTD or STD cast | 2003-12-15 14:49:00 | 54.92233 S, 58.38483 W | RRS James Clark Ross JR20031211 (JR94) |
| 740114 | CTD or STD cast | 2003-12-15 16:55:00 | 54.66567 S, 58.54467 W | RRS James Clark Ross JR20031211 (JR94) |
| 760115 | CTD or STD cast | 2003-12-17 13:11:00 | 67.5733 S, 68.225 W | Unknown self-propelled small boat RATS/CTD555 |
| 760127 | CTD or STD cast | 2003-12-22 13:32:00 | 67.5733 S, 68.225 W | Unknown self-propelled small boat RATS/CTD557 |
| 760139 | CTD or STD cast | 2003-12-29 12:37:00 | 67.5733 S, 68.225 W | Unknown self-propelled small boat RATS/CTD559 |
| 760140 | CTD or STD cast | 2004-01-07 13:15:00 | 67.5733 S, 68.225 W | Unknown self-propelled small boat RATS/CTD561 |
| 760152 | CTD or STD cast | 2004-01-12 14:44:00 | 67.5733 S, 68.225 W | Unknown self-propelled small boat RATS/CTD563 |
| 760164 | CTD or STD cast | 2004-01-17 13:59:00 | 67.5733 S, 68.225 W | Unknown self-propelled small boat RATS/CTD565 |
| 760176 | CTD or STD cast | 2004-01-21 12:30:00 | 67.5733 S, 68.225 W | Unknown self-propelled small boat RATS/CTD567 |
| 760188 | CTD or STD cast | 2004-01-24 16:48:00 | 67.5733 S, 68.225 W | Unknown self-propelled small boat RATS/CTD569 |
| 760207 | CTD or STD cast | 2004-01-28 13:23:00 | 67.5733 S, 68.225 W | Unknown self-propelled small boat RATS/CTD571 |
| 760219 | CTD or STD cast | 2004-02-03 17:28:00 | 67.5733 S, 68.225 W | Unknown self-propelled small boat RATS/CTD573 |
| 760220 | CTD or STD cast | 2004-02-09 12:48:00 | 67.5733 S, 68.225 W | Unknown self-propelled small boat RATS/CTD575 |
| 760232 | CTD or STD cast | 2004-02-13 14:30:00 | 67.5733 S, 68.225 W | Unknown self-propelled small boat RATS/CTD577 |
| 760244 | CTD or STD cast | 2004-02-18 18:43:00 | 67.5733 S, 68.225 W | Unknown self-propelled small boat RATS/CTD579 |
| 760256 | CTD or STD cast | 2004-02-23 12:49:00 | 67.5733 S, 68.225 W | Unknown self-propelled small boat RATS/CTD581 |
| 760268 | CTD or STD cast | 2004-02-28 12:48:00 | 67.5733 S, 68.225 W | Unknown self-propelled small boat RATS/CTD583 |
| 760281 | CTD or STD cast | 2004-03-04 13:16:00 | 67.5733 S, 68.225 W | Unknown self-propelled small boat RATS/CTD585 |
| 760293 | CTD or STD cast | 2004-03-15 16:37:00 | 67.5733 S, 68.225 W | Unknown self-propelled small boat RATS/CTD587 |
| 760300 | CTD or STD cast | 2004-03-26 14:05:00 | 67.5733 S, 68.225 W | Unknown self-propelled small boat RATS/CTD589 |
| 760312 | CTD or STD cast | 2004-04-08 13:26:00 | 67.5733 S, 68.225 W | Unknown self-propelled small boat RATS/CTD591 |
| 760324 | CTD or STD cast | 2004-04-15 14:00:00 | 67.5733 S, 68.225 W | Unknown self-propelled small boat RATS/CTD593 |
| 760336 | CTD or STD cast | 2004-04-22 13:16:00 | 67.5733 S, 68.225 W | Unknown self-propelled small boat RATS/CTD595 |
| 760348 | CTD or STD cast | 2004-04-28 15:24:00 | 67.5733 S, 68.225 W | Unknown self-propelled small boat RATS/CTD597 |
| 760361 | CTD or STD cast | 2004-05-11 18:29:00 | 67.5851 S, 68.1648 W | Unknown self-propelled small boat RATS/CTD599 |
| 760373 | CTD or STD cast | 2004-05-26 14:17:00 | 67.5733 S, 68.225 W | Unknown self-propelled small boat RATS/CTD601 |
| 760385 | CTD or STD cast | 2004-06-03 15:06:00 | 67.5733 S, 68.225 W | Unknown self-propelled small boat RATS/CTD603 |
| 760397 | CTD or STD cast | 2004-06-08 15:28:00 | 67.5733 S, 68.225 W | Unknown self-propelled small boat RATS/CTD605 |
| 760404 | CTD or STD cast | 2004-06-16 15:32:00 | 67.5683 S, 68.1187 W | Unknown self-propelled small boat RATS/CTD607 |
| 760416 | CTD or STD cast | 2004-07-06 14:51:00 | 67.5683 S, 68.1187 W | Unknown self-propelled small boat RATS/CTD609 |
| 760428 | CTD or STD cast | 2004-07-14 14:32:00 | 67.5683 S, 68.1187 W | Unknown self-propelled small boat RATS/CTD611 |
| 760441 | CTD or STD cast | 2004-08-24 17:37:00 | 67.5683 S, 68.1187 W | Unknown self-propelled small boat RATS/CTD613 |
| 760453 | CTD or STD cast | 2004-09-09 18:27:00 | 67.5683 S, 68.1187 W | Unknown self-propelled small boat RATS/CTD615 |
| 760465 | CTD or STD cast | 2004-09-27 13:35:00 | 67.5683 S, 68.1187 W | Unknown self-propelled small boat RATS/CTD617 |
| 760477 | CTD or STD cast | 2004-10-08 14:52:00 | 67.5683 S, 68.1187 W | Unknown self-propelled small boat RATS/CTD619 |
| 760489 | CTD or STD cast | 2004-10-20 17:05:00 | 67.5683 S, 68.1187 W | Unknown self-propelled small boat RATS/CTD621 |
| 760490 | CTD or STD cast | 2004-11-04 18:48:00 | 67.5683 S, 68.1187 W | Unknown self-propelled small boat RATS/CTD623 |
| 760508 | CTD or STD cast | 2004-11-10 14:30:00 | 67.5733 S, 68.225 W | Unknown self-propelled small boat RATS/CTD625 |
| 760521 | CTD or STD cast | 2004-11-24 13:14:00 | 67.5733 S, 68.225 W | Unknown self-propelled small boat RATS/CTD627 |
| 760533 | CTD or STD cast | 2004-12-01 15:33:00 | 67.5733 S, 68.225 W | Unknown self-propelled small boat RATS/CTD629 |
| 739174 | CTD or STD cast | 2004-12-02 23:21:00 | 53.341 S, 58.14417 W | RRS James Clark Ross JR20041201 (JR111, JR115) |
| 739186 | CTD or STD cast | 2004-12-03 07:37:00 | 54.6655 S, 58.541 W | RRS James Clark Ross JR20041201 (JR111, JR115) |
| 739198 | CTD or STD cast | 2004-12-03 09:53:00 | 54.92367 S, 58.38283 W | RRS James Clark Ross JR20041201 (JR111, JR115) |
| 739205 | CTD or STD cast | 2004-12-03 10:55:00 | 54.94483 S, 58.36867 W | RRS James Clark Ross JR20041201 (JR111, JR115) |
| 739217 | CTD or STD cast | 2004-12-03 15:50:00 | 54.96017 S, 58.36233 W | RRS James Clark Ross JR20041201 (JR111, JR115) |
| 739229 | CTD or STD cast | 2004-12-03 18:42:00 | 55.06967 S, 58.29367 W | RRS James Clark Ross JR20041201 (JR111, JR115) |
| 739230 | CTD or STD cast | 2004-12-03 23:10:00 | 55.121 S, 58.26183 W | RRS James Clark Ross JR20041201 (JR111, JR115) |
| 739242 | CTD or STD cast | 2004-12-04 01:54:00 | 55.171 S, 58.23167 W | RRS James Clark Ross JR20041201 (JR111, JR115) |
| 739254 | CTD or STD cast | 2004-12-04 04:31:00 | 55.2155 S, 58.20383 W | RRS James Clark Ross JR20041201 (JR111, JR115) |
| 739266 | CTD or STD cast | 2004-12-04 08:47:00 | 55.5165 S, 58.01583 W | RRS James Clark Ross JR20041201 (JR111, JR115) |
| 739278 | CTD or STD cast | 2004-12-04 13:22:00 | 55.83167 S, 57.81433 W | RRS James Clark Ross JR20041201 (JR111, JR115) |
| 739291 | CTD or STD cast | 2004-12-04 18:23:00 | 56.1485 S, 57.62433 W | RRS James Clark Ross JR20041201 (JR111, JR115) |
| 739309 | CTD or STD cast | 2004-12-04 22:39:00 | 56.4675 S, 57.42817 W | RRS James Clark Ross JR20041201 (JR111, JR115) |
| 739310 | CTD or STD cast | 2004-12-05 03:24:00 | 56.78383 S, 57.22917 W | RRS James Clark Ross JR20041201 (JR111, JR115) |
| 739322 | CTD or STD cast | 2004-12-05 07:32:00 | 57.09517 S, 57.03117 W | RRS James Clark Ross JR20041201 (JR111, JR115) |
| 739334 | CTD or STD cast | 2004-12-05 12:19:00 | 57.41483 S, 56.83833 W | RRS James Clark Ross JR20041201 (JR111, JR115) |
| 760545 | CTD or STD cast | 2004-12-05 13:45:00 | 67.5733 S, 68.225 W | Unknown self-propelled small boat RATS/CTD631 |
| 739346 | CTD or STD cast | 2004-12-05 17:53:00 | 57.73317 S, 56.64417 W | RRS James Clark Ross JR20041201 (JR111, JR115) |
| 739358 | CTD or STD cast | 2004-12-05 22:03:00 | 58.05117 S, 56.44633 W | RRS James Clark Ross JR20041201 (JR111, JR115) |
| 739371 | CTD or STD cast | 2004-12-06 04:12:00 | 58.36683 S, 56.25383 W | RRS James Clark Ross JR20041201 (JR111, JR115) |
| 739383 | CTD or STD cast | 2004-12-06 08:24:00 | 58.68367 S, 56.054 W | RRS James Clark Ross JR20041201 (JR111, JR115) |
| 739395 | CTD or STD cast | 2004-12-06 12:28:00 | 59.00167 S, 55.85783 W | RRS James Clark Ross JR20041201 (JR111, JR115) |
| 739402 | CTD or STD cast | 2004-12-06 17:58:00 | 59.33333 S, 55.65117 W | RRS James Clark Ross JR20041201 (JR111, JR115) |
| 739414 | CTD or STD cast | 2004-12-06 22:25:00 | 59.66717 S, 55.44533 W | RRS James Clark Ross JR20041201 (JR111, JR115) |
| 739426 | CTD or STD cast | 2004-12-07 02:56:00 | 60.00117 S, 55.23383 W | RRS James Clark Ross JR20041201 (JR111, JR115) |
| 739438 | CTD or STD cast | 2004-12-07 07:13:00 | 60.33333 S, 55.02917 W | RRS James Clark Ross JR20041201 (JR111, JR115) |
| 739451 | CTD or STD cast | 2004-12-07 11:38:00 | 60.66583 S, 54.821 W | RRS James Clark Ross JR20041201 (JR111, JR115) |
| 739463 | CTD or STD cast | 2004-12-07 17:55:00 | 60.79933 S, 54.74117 W | RRS James Clark Ross JR20041201 (JR111, JR115) |
| 739475 | CTD or STD cast | 2004-12-07 20:26:00 | 60.83317 S, 54.7215 W | RRS James Clark Ross JR20041201 (JR111, JR115) |
| 739487 | CTD or STD cast | 2004-12-07 22:09:00 | 60.84983 S, 54.7105 W | RRS James Clark Ross JR20041201 (JR111, JR115) |
| 739499 | CTD or STD cast | 2004-12-08 00:07:00 | 60.981 S, 54.63 W | RRS James Clark Ross JR20041201 (JR111, JR115) |
| 739506 | CTD or STD cast | 2004-12-08 01:29:00 | 61.05 S, 54.58667 W | RRS James Clark Ross JR20041201 (JR111, JR115) |
| 760557 | CTD or STD cast | 2004-12-10 12:54:00 | 67.5733 S, 68.225 W | Unknown self-propelled small boat RATS/CTD633 |
| 739518 | CTD or STD cast | 2004-12-13 16:36:00 | 68.02867 S, 70.4355 W | RRS James Clark Ross JR20041201 (JR111, JR115) |
| 760569 | CTD or STD cast | 2004-12-15 12:33:00 | 67.5733 S, 68.225 W | Unknown self-propelled small boat RATS/CTD635 |
| 739531 | CTD or STD cast | 2004-12-18 11:46:00 | 54.94333 S, 58.37267 W | RRS James Clark Ross JR20041201 (JR111, JR115) |
| 739543 | CTD or STD cast | 2004-12-18 14:01:00 | 54.92283 S, 58.38417 W | RRS James Clark Ross JR20041201 (JR111, JR115) |
| 739555 | CTD or STD cast | 2004-12-18 16:08:00 | 54.66683 S, 58.5425 W | RRS James Clark Ross JR20041201 (JR111, JR115) |
| 760570 | CTD or STD cast | 2004-12-20 12:48:00 | 67.5733 S, 68.225 W | Unknown self-propelled small boat RATS/CTD637 |
| 760582 | CTD or STD cast | 2004-12-22 12:47:00 | 67.5733 S, 68.225 W | Unknown self-propelled small boat RATS/CTD639 |
| 760594 | CTD or STD cast | 2004-12-28 12:50:00 | 67.5733 S, 68.225 W | Unknown self-propelled small boat RATS/CTD654 |
| 760601 | CTD or STD cast | 2005-01-07 14:39:00 | 67.5733 S, 68.225 W | Unknown self-propelled small boat RATS/CTD669 |
| 760613 | CTD or STD cast | 2005-01-10 17:39:00 | 67.5733 S, 68.225 W | Unknown self-propelled small boat RATS/CTD678 |
| 760625 | CTD or STD cast | 2005-01-13 12:29:00 | 67.5733 S, 68.225 W | Unknown self-propelled small boat RATS/CTD687 |
| 760637 | CTD or STD cast | 2005-01-17 12:51:00 | 67.5733 S, 68.225 W | Unknown self-propelled small boat RATS/CTD695 |
| 760649 | CTD or STD cast | 2005-01-19 13:38:00 | 67.5733 S, 68.225 W | Unknown self-propelled small boat RATS/CTD705 |
| 787023 | Hydrography time series at depth | 2005-01-24 19:00:02 | 67.9231 S, 68.40255 W | RRS James Clark Ross JR20050124 (JR112, JR113) |
| 787035 | Hydrography time series at depth | 2005-01-24 19:00:02 | 67.9231 S, 68.40255 W | RRS James Clark Ross JR20050124 (JR112, JR113) |
| 787047 | Hydrography time series at depth | 2005-01-24 19:00:02 | 67.9231 S, 68.40255 W | RRS James Clark Ross JR20050124 (JR112, JR113) |
| 775950 | Hydrography time series at depth | 2005-01-25 15:00:00 | 67.56706 S, 68.23371 W | RRS James Clark Ross JR20050124 (JR112, JR113) |
| 760650 | CTD or STD cast | 2005-01-28 12:57:00 | 67.5733 S, 68.225 W | Unknown self-propelled small boat RATS/CTD722 |
| 760662 | CTD or STD cast | 2005-02-01 13:13:00 | 67.5733 S, 68.225 W | Unknown self-propelled small boat RATS/CTD724 |
| 760674 | CTD or STD cast | 2005-02-12 12:46:00 | 67.5733 S, 68.225 W | Unknown self-propelled small boat RATS/CTD727 |
| 760686 | CTD or STD cast | 2005-02-18 13:12:00 | 67.5733 S, 68.225 W | Unknown self-propelled small boat RATS/CTD729 |
| 760698 | CTD or STD cast | 2005-02-21 13:08:00 | 67.5733 S, 68.225 W | Unknown self-propelled small boat RATS/CTD731 |
| 760705 | CTD or STD cast | 2005-02-26 12:46:00 | 67.5733 S, 68.225 W | Unknown self-propelled small boat RATS/CTD733 |
| 760717 | CTD or STD cast | 2005-02-28 14:33:00 | 67.5733 S, 68.225 W | Unknown self-propelled small boat RATS/CTD735 |
| 760729 | CTD or STD cast | 2005-03-04 12:54:00 | 67.5733 S, 68.225 W | Unknown self-propelled small boat RATS/CTD737 |
| 760730 | CTD or STD cast | 2005-03-08 12:29:00 | 67.5733 S, 68.225 W | Unknown self-propelled small boat RATS/CTD739 |
| 760742 | CTD or STD cast | 2005-03-14 12:48:00 | 67.5733 S, 68.225 W | Unknown self-propelled small boat RATS/CTD741 |
| 760754 | CTD or STD cast | 2005-03-31 16:33:00 | 67.5733 S, 68.225 W | Unknown self-propelled small boat RATS/CTD743 |
| 760766 | CTD or STD cast | 2005-04-15 13:17:00 | 67.5733 S, 68.225 W | Unknown self-propelled small boat RATS/CTD745 |
| 760778 | CTD or STD cast | 2005-04-19 15:55:00 | 67.5733 S, 68.225 W | Unknown self-propelled small boat RATS/CTD747 |
| 760791 | CTD or STD cast | 2005-04-25 15:58:00 | 67.5793 S, 68.1935 W | Unknown self-propelled small boat RATS/CTD749 |
| 760809 | CTD or STD cast | 2005-04-29 15:30:00 | 67.5745 S, 68.18 W | Unknown self-propelled small boat RATS/CTD751 |
| 760810 | CTD or STD cast | 2005-05-17 18:04:00 | 67.5667 S, 68.4 W | Unknown self-propelled small boat RATS/CTD753 |
| 760822 | CTD or STD cast | 2005-06-01 16:23:00 | 67.5851 S, 68.1648 W | Unknown self-propelled small boat RATS/CTD755 |
| 760834 | CTD or STD cast | 2005-06-28 15:56:00 | 67.5851 S, 68.1648 W | Unknown self-propelled small boat RATS/CTD757 |
| 760846 | CTD or STD cast | 2005-07-16 16:55:00 | 67.5851 S, 68.1648 W | Unknown self-propelled small boat RATS/CTD759 |
| 760858 | CTD or STD cast | 2005-07-25 16:27:00 | 67.5851 S, 68.1648 W | Unknown self-propelled small boat RATS/CTD761 |
| 760871 | CTD or STD cast | 2005-08-05 15:25:00 | 67.5733 S, 68.225 W | Unknown self-propelled small boat RATS/CTD763 |
| 760883 | CTD or STD cast | 2005-08-18 18:03:00 | 67.5733 S, 68.225 W | Unknown self-propelled small boat RATS/CTD765 |
| 760895 | CTD or STD cast | 2005-09-17 16:02:00 | 67.5733 S, 68.225 W | Unknown self-propelled small boat RATS/CTD767 |
| 760914 | CTD or STD cast | 2005-09-29 14:44:00 | 67.5733 S, 68.225 W | Unknown self-propelled small boat RATS/CTD771 |
| 760926 | CTD or STD cast | 2005-10-13 14:45:00 | 67.5733 S, 68.225 W | Unknown self-propelled small boat RATS/CTD773 |
| 760938 | CTD or STD cast | 2005-11-01 18:44:00 | 67.5667 S, 68.4 W | Unknown self-propelled small boat RATS/CTD775 |
| 760951 | CTD or STD cast | 2005-12-28 13:38:00 | 67.5851 S, 68.1648 W | Unknown self-propelled small boat RATS/CTD777 |
| 760963 | CTD or STD cast | 2006-01-04 13:39:00 | 67.5851 S, 68.1648 W | Unknown self-propelled small boat RATS/CTD779 |
| 760975 | CTD or STD cast | 2006-01-06 12:46:00 | 67.5851 S, 68.1648 W | Unknown self-propelled small boat RATS/CTD781 |
| 760987 | CTD or STD cast | 2006-01-10 12:33:00 | 67.5851 S, 68.1648 W | Unknown self-propelled small boat RATS/CTD783 |
| 760999 | CTD or STD cast | 2006-01-13 12:53:00 | 67.5851 S, 68.1648 W | Unknown self-propelled small boat RATS/CTD785 |
| 761002 | CTD or STD cast | 2006-01-19 13:08:00 | 67.5733 S, 68.225 W | Unknown self-propelled small boat RATS/CTD787 |
| 761014 | CTD or STD cast | 2006-01-24 12:51:00 | 67.5733 S, 68.225 W | Unknown self-propelled small boat RATS/CTD789 |
| 761026 | CTD or STD cast | 2006-01-28 19:10:00 | 67.5851 S, 68.1648 W | Unknown self-propelled small boat RATS/CTD795 |
| 761038 | CTD or STD cast | 2006-01-30 12:54:00 | 67.5733 S, 68.225 W | Unknown self-propelled small boat RATS/CTD797 |
| 761051 | CTD or STD cast | 2006-02-02 12:45:00 | 67.5733 S, 68.225 W | Unknown self-propelled small boat RATS/CTD799 |
| 761063 | CTD or STD cast | 2006-02-11 14:53:00 | 67.5851 S, 68.1648 W | Unknown self-propelled small boat RATS/CTD801 |
| 761075 | CTD or STD cast | 2006-02-13 12:51:00 | 67.5733 S, 68.225 W | Unknown self-propelled small boat RATS/CTD803 |
| 761087 | CTD or STD cast | 2006-02-17 13:02:00 | 67.5733 S, 68.225 W | Unknown self-propelled small boat RATS/CTD805 |
| 775962 | Hydrography time series at depth | 2006-02-17 13:59:57 | 67.56623 S, 68.23437 W | RRS James Clark Ross JR20060216 (JR136, JR137) |
| 761099 | CTD or STD cast | 2006-02-20 13:40:00 | 67.5851 S, 68.1648 W | Unknown self-propelled small boat RATS/CTD807 |
| 761106 | CTD or STD cast | 2006-02-23 12:46:00 | 67.5733 S, 68.225 W | Unknown self-propelled small boat RATS/CTD809 |
| 761118 | CTD or STD cast | 2006-02-27 12:32:00 | 67.5733 S, 68.225 W | Unknown self-propelled small boat RATS/CTD811 |
| 761131 | CTD or STD cast | 2006-03-04 12:51:00 | 67.5733 S, 68.225 W | Unknown self-propelled small boat RATS/CTD813 |
| 761143 | CTD or STD cast | 2006-03-10 14:22:00 | 67.5733 S, 68.225 W | Unknown self-propelled small boat RATS/CTD817 |
| 761155 | CTD or STD cast | 2006-03-13 13:19:00 | 67.5851 S, 68.1648 W | Unknown self-propelled small boat RATS/CTD819 |
| 761167 | CTD or STD cast | 2006-03-23 13:22:00 | 67.5733 S, 68.225 W | Unknown self-propelled small boat RATS/CTD821 |
| 761179 | CTD or STD cast | 2006-03-29 12:49:00 | 67.5733 S, 68.225 W | Unknown self-propelled small boat RATS/CTD823 |
| 761180 | CTD or STD cast | 2006-04-06 13:43:00 | 67.5733 S, 68.225 W | Unknown self-propelled small boat RATS/CTD825 |
| 761192 | CTD or STD cast | 2006-04-10 13:46:00 | 67.5733 S, 68.225 W | Unknown self-propelled small boat RATS/CTD827 |
| 761211 | CTD or STD cast | 2006-04-20 14:32:00 | 67.5733 S, 68.225 W | Unknown self-propelled small boat RATS/CTD829 |
| 761223 | CTD or STD cast | 2006-05-04 14:34:00 | 67.5733 S, 68.225 W | Unknown self-propelled small boat RATS/CTD831 |
| 761235 | CTD or STD cast | 2006-05-25 14:47:00 | 67.5733 S, 68.225 W | Unknown self-propelled small boat RATS/CTD833 |
| 761247 | CTD or STD cast | 2006-07-31 17:02:00 | 67.5729 S, 68.1368 W | Unknown self-propelled small boat RATS/CTD837 |
| 761259 | CTD or STD cast | 2006-08-14 17:43:00 | 67.5851 S, 68.1648 W | Unknown self-propelled small boat RATS/CTD839 |
| 761260 | CTD or STD cast | 2006-08-22 14:23:00 | 67.5733 S, 68.225 W | Unknown self-propelled small boat RATS/CTD841 |
| 761272 | CTD or STD cast | 2006-08-31 13:57:00 | 67.5733 S, 68.225 W | Unknown self-propelled small boat RATS/CTD843 |
| 761284 | CTD or STD cast | 2006-09-18 14:59:00 | 67.5733 S, 68.225 W | Unknown self-propelled small boat RATS/CTD845 |
| 761296 | CTD or STD cast | 2006-09-27 13:44:00 | 67.5733 S, 68.225 W | Unknown self-propelled small boat RATS/CTD847 |
| 761303 | CTD or STD cast | 2006-10-09 14:24:00 | 67.5733 S, 68.225 W | Unknown self-propelled small boat RATS/CTD849 |
| 761315 | CTD or STD cast | 2006-11-10 14:20:00 | 67.5729 S, 68.1368 W | Unknown self-propelled small boat RATS/CTD851 |
| 761327 | CTD or STD cast | 2006-11-15 12:45:00 | 67.5729 S, 68.1368 W | Unknown self-propelled small boat RATS/CTD853 |
| 761339 | CTD or STD cast | 2006-12-09 13:09:00 | 67.5851 S, 68.1648 W | Unknown self-propelled small boat RATS/CTD855 |
| 761340 | CTD or STD cast | 2006-12-12 13:13:00 | 67.5851 S, 68.1648 W | Unknown self-propelled small boat RATS/CTD857 |
| 775974 | Hydrography time series at depth | 2006-12-17 19:00:02 | 67.5668 S, 68.2334 W | RRS James Clark Ross JR20061206 (JR155, JR163, JR164) |
| 761352 | CTD or STD cast | 2006-12-22 18:05:00 | 67.5851 S, 68.1648 W | Unknown self-propelled small boat RATS/CTD859 |
| 761364 | CTD or STD cast | 2006-12-29 12:39:00 | 67.5733 S, 68.225 W | Unknown self-propelled small boat RATS/CTD861 |
| 761376 | CTD or STD cast | 2007-01-04 12:45:00 | 67.5733 S, 68.225 W | Unknown self-propelled small boat RATS/CTD863 |
| 761388 | CTD or STD cast | 2007-01-08 12:48:00 | 67.5733 S, 68.225 W | Unknown self-propelled small boat RATS/CTD865 |
| 761407 | CTD or STD cast | 2007-01-11 12:49:00 | 67.5733 S, 68.225 W | Unknown self-propelled small boat RATS/CTD867 |
| 761419 | CTD or STD cast | 2007-01-18 13:19:00 | 67.5733 S, 68.225 W | Unknown self-propelled small boat RATS/CTD869 |
| 761420 | CTD or STD cast | 2007-01-22 13:10:00 | 67.5733 S, 68.225 W | Unknown self-propelled small boat RATS/CTD871 |
| 761432 | CTD or STD cast | 2007-01-25 12:55:00 | 67.5733 S, 68.225 W | Unknown self-propelled small boat RATS/CTD873 |
| 761548 | CTD or STD cast | 2007-01-28 00:00:00 | 67.5733 S, 68.225 W | Unknown self-propelled small boat RATS/CTD897 |
| 761444 | CTD or STD cast | 2007-01-31 13:02:00 | 67.5733 S, 68.225 W | Unknown self-propelled small boat RATS/CTD879 |
| 761456 | CTD or STD cast | 2007-02-08 13:11:00 | 67.5733 S, 68.225 W | Unknown self-propelled small boat RATS/CTD881 |
| 761468 | CTD or STD cast | 2007-02-14 13:22:00 | 67.5851 S, 68.1648 W | Unknown self-propelled small boat RATS/CTD883 |
| 761481 | CTD or STD cast | 2007-02-19 13:08:00 | 67.5733 S, 68.225 W | Unknown self-propelled small boat RATS/CTD885 |
| 761493 | CTD or STD cast | 2007-02-27 13:21:00 | 67.5851 S, 68.1648 W | Unknown self-propelled small boat RATS/CTD887 |
| 761500 | CTD or STD cast | 2007-03-09 13:00:00 | 67.5851 S, 68.1648 W | Unknown self-propelled small boat RATS/CTD889 |
| 761512 | CTD or STD cast | 2007-03-13 17:29:00 | 67.5851 S, 68.1648 W | Unknown self-propelled small boat RATS/CTD891 |
| 761524 | CTD or STD cast | 2007-03-20 12:45:00 | 67.5733 S, 68.225 W | Unknown self-propelled small boat RATS/CTD893 |
| 761536 | CTD or STD cast | 2007-03-31 18:02:00 | 67.5733 S, 68.225 W | Unknown self-propelled small boat RATS/CTD895 |
| 761561 | CTD or STD cast | 2007-04-28 17:49:00 | 67.5733 S, 68.225 W | Unknown self-propelled small boat RATS/CTD899 |
| 761573 | CTD or STD cast | 2007-05-10 16:05:00 | 67.5851 S, 68.1648 W | Unknown self-propelled small boat RATS/CTD901 |
| 761585 | CTD or STD cast | 2007-05-14 16:51:00 | 67.5733 S, 68.225 W | Unknown self-propelled small boat RATS/CTD903 |
| 761597 | CTD or STD cast | 2007-05-21 17:46:00 | 67.5733 S, 68.225 W | Unknown self-propelled small boat RATS/CTD905 |
| 761604 | CTD or STD cast | 2007-06-05 14:48:00 | 67.5733 S, 68.225 W | Unknown self-propelled small boat RATS/CTD907 |
| 761616 | CTD or STD cast | 2007-06-14 15:39:00 | 67.5733 S, 68.225 W | Unknown self-propelled small boat RATS/CTD909 |
| 761628 | CTD or STD cast | 2007-07-31 14:48:00 | 67.5774 S, 68.1676 W | Unknown self-propelled small boat RATS/CTD913 |
| 761641 | CTD or STD cast | 2007-08-09 13:40:00 | 67.5733 S, 68.225 W | Unknown self-propelled small boat RATS/CTD915 |
| 761653 | CTD or STD cast | 2007-08-23 15:37:00 | 67.5733 S, 68.225 W | Unknown self-propelled small boat RATS/CTD917 |
| 761665 | CTD or STD cast | 2007-09-21 15:28:00 | 67.5733 S, 68.225 W | Unknown self-propelled small boat RATS/CTD919 |
| 761677 | CTD or STD cast | 2007-10-04 18:29:00 | 67.5733 S, 68.225 W | Unknown self-propelled small boat RATS/CTD921 |
| 761689 | CTD or STD cast | 2007-10-11 19:21:00 | 67.5733 S, 68.225 W | Unknown self-propelled small boat RATS/CTD923 |
| 761690 | CTD or STD cast | 2007-10-27 14:01:00 | 67.5851 S, 68.1648 W | Unknown self-propelled small boat RATS/CTD925 |
| 761708 | CTD or STD cast | 2007-11-06 18:18:00 | 67.5851 S, 68.1648 W | Unknown self-propelled small boat RATS/CTD927 |
| 761721 | CTD or STD cast | 2007-11-10 14:44:00 | 67.5851 S, 68.1648 W | Unknown self-propelled small boat RATS/CTD929 |
| 761733 | CTD or STD cast | 2007-11-19 14:17:00 | 67.5851 S, 68.1648 W | Unknown self-propelled small boat RATS/CTD931 |
| 945182 | CTD or STD cast | 2007-11-29 21:02:03 | 51.8102 S, 57.6939 W | RRS James Clark Ross JR20071129 (JR171, JR193, JR196 Leg1, JR212) |
| 945194 | CTD or STD cast | 2007-11-30 06:07:59 | 53.5066 S, 58.1833 W | RRS James Clark Ross JR20071129 (JR171, JR193, JR196 Leg1, JR212) |
| 945201 | CTD or STD cast | 2007-11-30 14:07:10 | 54.6666 S, 58.5435 W | RRS James Clark Ross JR20071129 (JR171, JR193, JR196 Leg1, JR212) |
| 945213 | CTD or STD cast | 2007-11-30 16:35:01 | 54.9223 S, 58.3851 W | RRS James Clark Ross JR20071129 (JR171, JR193, JR196 Leg1, JR212) |
| 945225 | CTD or STD cast | 2007-11-30 17:49:13 | 54.9436 S, 58.3718 W | RRS James Clark Ross JR20071129 (JR171, JR193, JR196 Leg1, JR212) |
| 945237 | CTD or STD cast | 2007-11-30 20:36:35 | 54.9611 S, 58.3612 W | RRS James Clark Ross JR20071129 (JR171, JR193, JR196 Leg1, JR212) |
| 945249 | CTD or STD cast | 2007-11-30 22:49:50 | 55.0701 S, 58.2939 W | RRS James Clark Ross JR20071129 (JR171, JR193, JR196 Leg1, JR212) |
| 945250 | CTD or STD cast | 2007-12-01 01:46:35 | 55.1211 S, 58.2617 W | RRS James Clark Ross JR20071129 (JR171, JR193, JR196 Leg1, JR212) |
| 945262 | CTD or STD cast | 2007-12-01 04:27:22 | 55.1708 S, 58.231 W | RRS James Clark Ross JR20071129 (JR171, JR193, JR196 Leg1, JR212) |
| 945274 | CTD or STD cast | 2007-12-01 07:12:07 | 55.2142 S, 58.204 W | RRS James Clark Ross JR20071129 (JR171, JR193, JR196 Leg1, JR212) |
| 945286 | CTD or STD cast | 2007-12-01 11:48:18 | 55.5168 S, 58.0144 W | RRS James Clark Ross JR20071129 (JR171, JR193, JR196 Leg1, JR212) |
| 945298 | CTD or STD cast | 2007-12-01 16:42:34 | 55.8379 S, 57.8026 W | RRS James Clark Ross JR20071129 (JR171, JR193, JR196 Leg1, JR212) |
| 945305 | CTD or STD cast | 2007-12-01 21:39:16 | 56.1501 S, 57.6228 W | RRS James Clark Ross JR20071129 (JR171, JR193, JR196 Leg1, JR212) |
| 945317 | CTD or STD cast | 2007-12-02 02:05:23 | 56.4666 S, 57.4277 W | RRS James Clark Ross JR20071129 (JR171, JR193, JR196 Leg1, JR212) |
| 945329 | CTD or STD cast | 2007-12-02 06:52:40 | 56.7888 S, 57.222 W | RRS James Clark Ross JR20071129 (JR171, JR193, JR196 Leg1, JR212) |
| 945330 | CTD or STD cast | 2007-12-02 11:09:24 | 57.1039 S, 57.0272 W | RRS James Clark Ross JR20071129 (JR171, JR193, JR196 Leg1, JR212) |
| 945342 | CTD or STD cast | 2007-12-02 15:50:16 | 57.4268 S, 56.8275 W | RRS James Clark Ross JR20071129 (JR171, JR193, JR196 Leg1, JR212) |
| 945354 | CTD or STD cast | 2007-12-02 20:24:17 | 57.7328 S, 56.6409 W | RRS James Clark Ross JR20071129 (JR171, JR193, JR196 Leg1, JR212) |
| 945366 | CTD or STD cast | 2007-12-03 01:06:11 | 58.0486 S, 56.4529 W | RRS James Clark Ross JR20071129 (JR171, JR193, JR196 Leg1, JR212) |
| 945378 | CTD or STD cast | 2007-12-03 06:12:00 | 58.3594 S, 56.2416 W | RRS James Clark Ross JR20071129 (JR171, JR193, JR196 Leg1, JR212) |
| 945391 | CTD or STD cast | 2007-12-03 11:02:18 | 58.6832 S, 56.054 W | RRS James Clark Ross JR20071129 (JR171, JR193, JR196 Leg1, JR212) |
| 945409 | CTD or STD cast | 2007-12-03 15:26:10 | 59.0 S, 55.8577 W | RRS James Clark Ross JR20071129 (JR171, JR193, JR196 Leg1, JR212) |
| 945410 | CTD or STD cast | 2007-12-03 20:00:16 | 59.3335 S, 55.6497 W | RRS James Clark Ross JR20071129 (JR171, JR193, JR196 Leg1, JR212) |
| 945422 | CTD or STD cast | 2007-12-04 00:22:05 | 59.6666 S, 55.4444 W | RRS James Clark Ross JR20071129 (JR171, JR193, JR196 Leg1, JR212) |
| 945434 | CTD or STD cast | 2007-12-04 05:07:55 | 59.9947 S, 55.2392 W | RRS James Clark Ross JR20071129 (JR171, JR193, JR196 Leg1, JR212) |
| 945446 | CTD or STD cast | 2007-12-04 09:50:13 | 60.3248 S, 55.0148 W | RRS James Clark Ross JR20071129 (JR171, JR193, JR196 Leg1, JR212) |
| 761745 | CTD or STD cast | 2007-12-04 13:33:00 | 67.5851 S, 68.1648 W | Unknown self-propelled small boat RATS/CTD933 |
| 945458 | CTD or STD cast | 2007-12-04 14:21:38 | 60.6667 S, 54.8253 W | RRS James Clark Ross JR20071129 (JR171, JR193, JR196 Leg1, JR212) |
| 945471 | CTD or STD cast | 2007-12-04 17:22:05 | 60.7995 S, 54.7427 W | RRS James Clark Ross JR20071129 (JR171, JR193, JR196 Leg1, JR212) |
| 945483 | CTD or STD cast | 2007-12-04 19:31:22 | 60.8329 S, 54.721 W | RRS James Clark Ross JR20071129 (JR171, JR193, JR196 Leg1, JR212) |
| 945495 | CTD or STD cast | 2007-12-04 21:10:23 | 60.8501 S, 54.7109 W | RRS James Clark Ross JR20071129 (JR171, JR193, JR196 Leg1, JR212) |
| 945502 | CTD or STD cast | 2007-12-04 23:29:40 | 60.9812 S, 54.631 W | RRS James Clark Ross JR20071129 (JR171, JR193, JR196 Leg1, JR212) |
| 945514 | CTD or STD cast | 2007-12-05 00:42:26 | 61.05 S, 54.5876 W | RRS James Clark Ross JR20071129 (JR171, JR193, JR196 Leg1, JR212) |
| 761757 | CTD or STD cast | 2007-12-07 13:46:00 | 67.5733 S, 68.225 W | Unknown self-propelled small boat RATS/CTD935 |
| 761769 | CTD or STD cast | 2007-12-12 18:08:00 | 67.5851 S, 68.1648 W | Unknown self-propelled small boat RATS/CTD937 |
| 761770 | CTD or STD cast | 2007-12-17 13:23:00 | 67.5733 S, 68.225 W | Unknown self-propelled small boat RATS/CTD939 |
| 761782 | CTD or STD cast | 2007-12-22 14:17:00 | 67.5733 S, 68.225 W | Unknown self-propelled small boat RATS/CTD941 |
| 761794 | CTD or STD cast | 2007-12-27 13:05:00 | 67.5733 S, 68.225 W | Unknown self-propelled small boat RATS/CTD943 |
| 761801 | CTD or STD cast | 2008-01-02 13:08:00 | 67.5733 S, 68.225 W | Unknown self-propelled small boat RATS/CTD945 |
| 761813 | CTD or STD cast | 2008-01-08 13:08:00 | 67.5733 S, 68.225 W | Unknown self-propelled small boat RATS/CTD947 |
| 761825 | CTD or STD cast | 2008-01-11 13:11:00 | 67.5733 S, 68.225 W | Unknown self-propelled small boat RATS/CTD949 |
| 761837 | CTD or STD cast | 2008-01-16 13:40:00 | 67.5733 S, 68.225 W | Unknown self-propelled small boat RATS/CTD951 |
| 761849 | CTD or STD cast | 2008-01-22 13:11:00 | 67.5733 S, 68.225 W | Unknown self-propelled small boat RATS/CTD953 |
| 761850 | CTD or STD cast | 2008-01-30 13:17:00 | 67.5733 S, 68.225 W | Unknown self-propelled small boat RATS/CTD955 |
| 761862 | CTD or STD cast | 2008-02-04 14:32:00 | 67.5851 S, 68.1648 W | Unknown self-propelled small boat RATS/CTD957 |
| 761874 | CTD or STD cast | 2008-02-12 14:11:00 | 67.5733 S, 68.225 W | Unknown self-propelled small boat RATS/CTD959 |
| 761886 | CTD or STD cast | 2008-02-18 13:02:00 | 67.5851 S, 68.1648 W | Unknown self-propelled small boat RATS/CTD961 |
| 761898 | CTD or STD cast | 2008-02-21 13:21:00 | 67.5733 S, 68.225 W | Unknown self-propelled small boat RATS/CTD963 |
| 761905 | CTD or STD cast | 2008-02-26 13:22:00 | 67.5733 S, 68.225 W | Unknown self-propelled small boat RATS/CTD965 |
| 761917 | CTD or STD cast | 2008-03-03 13:02:00 | 67.5733 S, 68.225 W | Unknown self-propelled small boat RATS/CTD967 |
| 761929 | CTD or STD cast | 2008-03-07 14:48:00 | 67.5733 S, 68.225 W | Unknown self-propelled small boat RATS/CTD969 |
| 761930 | CTD or STD cast | 2008-03-14 18:03:00 | 67.5851 S, 68.1648 W | Unknown self-propelled small boat RATS/CTD971 |
| 761942 | CTD or STD cast | 2008-03-19 13:06:00 | 67.5733 S, 68.225 W | Unknown self-propelled small boat RATS/CTD973 |
| 761954 | CTD or STD cast | 2008-03-26 13:30:00 | 67.5733 S, 68.225 W | Unknown self-propelled small boat RATS/CTD975 |
| 761966 | CTD or STD cast | 2008-04-02 13:14:00 | 67.5733 S, 68.225 W | Unknown self-propelled small boat RATS/CTD977 |
| 761978 | CTD or STD cast | 2008-04-15 18:07:00 | 67.5733 S, 68.225 W | Unknown self-propelled small boat RATS/CTD979 |
| 761991 | CTD or STD cast | 2008-04-21 14:27:00 | 67.5733 S, 68.225 W | Unknown self-propelled small boat RATS/CTD981 |
| 762005 | CTD or STD cast | 2008-05-14 15:10:00 | 67.5733 S, 68.225 W | Unknown self-propelled small boat RATS/CTD983 |
| 762017 | CTD or STD cast | 2008-06-03 17:40:00 | 67.5733 S, 68.225 W | Unknown self-propelled small boat RATS/CTD985 |
| 762029 | CTD or STD cast | 2008-06-09 15:36:00 | 67.5733 S, 68.225 W | Unknown self-propelled small boat RATS/CTD987 |
| 762030 | CTD or STD cast | 2008-06-30 16:46:00 | 67.5733 S, 68.225 W | Unknown self-propelled small boat RATS/CTD989 |
| 762042 | CTD or STD cast | 2008-07-11 16:05:00 | 67.5733 S, 68.225 W | Unknown self-propelled small boat RATS/CTD991 |
| 912096 | Currents -subsurface Eulerian | 2009-02-06 01:09:00 | 56.33 S, 67.99 W | RRS James Cook JC031 |
| 912987 | Currents -subsurface Eulerian | 2009-02-06 01:09:00 | 56.33 S, 67.99 W | RRS James Cook JC031 |
| 935789 | CTD or STD cast | 2009-02-06 01:09:15 | 56.33 S, 67.99 W | RRS James Cook JC031 |
| 935790 | CTD or STD cast | 2009-02-06 05:20:10 | 56.7999 S, 68.19 W | RRS James Cook JC031 |
| 912103 | Currents -subsurface Eulerian | 2009-02-06 05:21:00 | 56.8 S, 68.19 W | RRS James Cook JC031 |
| 912999 | Currents -subsurface Eulerian | 2009-02-06 05:21:00 | 56.8 S, 68.19 W | RRS James Cook JC031 |
| 935808 | CTD or STD cast | 2009-02-06 07:16:45 | 56.8501 S, 68.21 W | RRS James Cook JC031 |
| 912115 | Currents -subsurface Eulerian | 2009-02-06 07:18:00 | 56.85 S, 68.21 W | RRS James Cook JC031 |
| 913002 | Currents -subsurface Eulerian | 2009-02-06 07:18:00 | 56.85 S, 68.21 W | RRS James Cook JC031 |
| 935821 | CTD or STD cast | 2009-02-06 09:39:35 | 56.88 S, 68.23 W | RRS James Cook JC031 |
| 912127 | Currents -subsurface Eulerian | 2009-02-06 09:41:00 | 56.88 S, 68.23 W | RRS James Cook JC031 |
| 913014 | Currents -subsurface Eulerian | 2009-02-06 09:41:00 | 56.88 S, 68.23 W | RRS James Cook JC031 |
| 912139 | Currents -subsurface Eulerian | 2009-02-06 12:59:00 | 56.89 S, 68.24 W | RRS James Cook JC031 |
| 913026 | Currents -subsurface Eulerian | 2009-02-06 12:59:00 | 56.89 S, 68.24 W | RRS James Cook JC031 |
| 935833 | CTD or STD cast | 2009-02-06 13:00:08 | 56.89 S, 68.2401 W | RRS James Cook JC031 |
| 912140 | Currents -subsurface Eulerian | 2009-02-06 23:38:00 | 56.91167 S, 68.24183 W | RRS James Cook JC031 |
| 913038 | Currents -subsurface Eulerian | 2009-02-06 23:38:00 | 56.91167 S, 68.24183 W | RRS James Cook JC031 |
| 935845 | CTD or STD cast | 2009-02-06 23:38:23 | 56.9117 S, 68.2419 W | RRS James Cook JC031 |
| 935857 | CTD or STD cast | 2009-02-07 04:44:26 | 56.92 S, 68.2399 W | RRS James Cook JC031 |
| 912152 | Currents -subsurface Eulerian | 2009-02-07 04:45:00 | 56.92 S, 68.24 W | RRS James Cook JC031 |
| 913051 | Currents -subsurface Eulerian | 2009-02-07 04:45:00 | 56.92 S, 68.24 W | RRS James Cook JC031 |
| 912164 | Currents -subsurface Eulerian | 2009-02-07 09:11:00 | 56.98 S, 68.25 W | RRS James Cook JC031 |
| 913063 | Currents -subsurface Eulerian | 2009-02-07 09:11:00 | 56.98 S, 68.25 W | RRS James Cook JC031 |
| 935869 | CTD or STD cast | 2009-02-07 09:11:33 | 56.98 S, 68.2499 W | RRS James Cook JC031 |
| 912176 | Currents -subsurface Eulerian | 2009-02-07 14:17:00 | 57.13 S, 68.25 W | RRS James Cook JC031 |
| 913075 | Currents -subsurface Eulerian | 2009-02-07 14:17:00 | 57.13 S, 68.25 W | RRS James Cook JC031 |
| 935870 | CTD or STD cast | 2009-02-07 14:18:03 | 57.1301 S, 68.2501 W | RRS James Cook JC031 |
| 912188 | Currents -subsurface Eulerian | 2009-02-07 19:57:00 | 57.33067 S, 68.23667 W | RRS James Cook JC031 |
| 913087 | Currents -subsurface Eulerian | 2009-02-07 19:57:00 | 57.33067 S, 68.23667 W | RRS James Cook JC031 |
| 935882 | CTD or STD cast | 2009-02-07 19:58:12 | 57.3307 S, 68.237 W | RRS James Cook JC031 |
| 935894 | CTD or STD cast | 2009-02-08 01:44:00 | 57.58 S, 68.25 W | RRS James Cook JC031 |
| 935901 | CTD or STD cast | 2009-02-09 02:20:30 | 57.8305 S, 68.2388 W | RRS James Cook JC031 |
| 912207 | Currents -subsurface Eulerian | 2009-02-09 09:14:00 | 57.83233 S, 68.23217 W | RRS James Cook JC031 |
| 913099 | Currents -subsurface Eulerian | 2009-02-09 09:14:00 | 57.83233 S, 68.23217 W | RRS James Cook JC031 |
| 935913 | CTD or STD cast | 2009-02-09 09:14:07 | 57.8323 S, 68.2322 W | RRS James Cook JC031 |
| 935925 | CTD or STD cast | 2009-02-09 17:37:11 | 58.0924 S, 68.2187 W | RRS James Cook JC031 |
| 912219 | Currents -subsurface Eulerian | 2009-02-09 17:40:00 | 58.0925 S, 68.21867 W | RRS James Cook JC031 |
| 913106 | Currents -subsurface Eulerian | 2009-02-09 17:40:00 | 58.0925 S, 68.21867 W | RRS James Cook JC031 |
| 912220 | Currents -subsurface Eulerian | 2009-02-10 00:23:00 | 58.33867 S, 68.21483 W | RRS James Cook JC031 |
| 913118 | Currents -subsurface Eulerian | 2009-02-10 00:23:00 | 58.33867 S, 68.21483 W | RRS James Cook JC031 |
| 935937 | CTD or STD cast | 2009-02-10 00:24:51 | 58.3387 S, 68.2149 W | RRS James Cook JC031 |
| 935949 | CTD or STD cast | 2009-02-10 20:05:28 | 58.58 S, 68.2507 W | RRS James Cook JC031 |
| 912232 | Currents -subsurface Eulerian | 2009-02-10 20:07:00 | 58.58 S, 68.25083 W | RRS James Cook JC031 |
| 913131 | Currents -subsurface Eulerian | 2009-02-10 20:07:00 | 58.58 S, 68.25083 W | RRS James Cook JC031 |
| 912244 | Currents -subsurface Eulerian | 2009-02-11 03:12:00 | 58.84133 S, 68.2625 W | RRS James Cook JC031 |
| 913143 | Currents -subsurface Eulerian | 2009-02-11 03:12:00 | 58.84133 S, 68.2625 W | RRS James Cook JC031 |
| 935950 | CTD or STD cast | 2009-02-11 03:12:26 | 58.8413 S, 68.2625 W | RRS James Cook JC031 |
| 912256 | Currents -subsurface Eulerian | 2009-02-11 09:24:00 | 59.09083 S, 68.24533 W | RRS James Cook JC031 |
| 913155 | Currents -subsurface Eulerian | 2009-02-11 09:24:00 | 59.09083 S, 68.24533 W | RRS James Cook JC031 |
| 935962 | CTD or STD cast | 2009-02-11 09:24:41 | 59.0908 S, 68.2453 W | RRS James Cook JC031 |
| 912268 | Currents -subsurface Eulerian | 2009-02-11 15:47:00 | 59.3305 S, 68.24917 W | RRS James Cook JC031 |
| 913167 | Currents -subsurface Eulerian | 2009-02-11 15:47:00 | 59.3305 S, 68.24917 W | RRS James Cook JC031 |
| 935974 | CTD or STD cast | 2009-02-11 15:47:28 | 59.3306 S, 68.2492 W | RRS James Cook JC031 |
| 935986 | CTD or STD cast | 2009-02-11 21:48:08 | 59.5898 S, 68.2374 W | RRS James Cook JC031 |
| 912281 | Currents -subsurface Eulerian | 2009-02-11 21:49:00 | 59.58983 S, 68.2375 W | RRS James Cook JC031 |
| 913179 | Currents -subsurface Eulerian | 2009-02-11 21:49:00 | 59.58983 S, 68.2375 W | RRS James Cook JC031 |
| 912293 | Currents -subsurface Eulerian | 2009-02-12 03:25:00 | 59.81983 S, 68.23967 W | RRS James Cook JC031 |
| 913180 | Currents -subsurface Eulerian | 2009-02-12 03:25:00 | 59.81983 S, 68.23967 W | RRS James Cook JC031 |
| 935998 | CTD or STD cast | 2009-02-12 03:25:29 | 59.8198 S, 68.2397 W | RRS James Cook JC031 |
| 912300 | Currents -subsurface Eulerian | 2009-02-12 08:35:00 | 60.07033 S, 68.18933 W | RRS James Cook JC031 |
| 913192 | Currents -subsurface Eulerian | 2009-02-12 08:35:00 | 60.07033 S, 68.18933 W | RRS James Cook JC031 |
| 936001 | CTD or STD cast | 2009-02-12 08:35:36 | 60.0704 S, 68.1894 W | RRS James Cook JC031 |
| 912312 | Currents -subsurface Eulerian | 2009-02-12 13:47:00 | 60.32 S, 68.12 W | RRS James Cook JC031 |
| 913211 | Currents -subsurface Eulerian | 2009-02-12 13:47:00 | 60.32 S, 68.12 W | RRS James Cook JC031 |
| 936013 | CTD or STD cast | 2009-02-12 13:47:51 | 60.32 S, 68.1199 W | RRS James Cook JC031 |
| 912324 | Currents -subsurface Eulerian | 2009-02-12 19:34:00 | 60.58 S, 68.06017 W | RRS James Cook JC031 |
| 913223 | Currents -subsurface Eulerian | 2009-02-12 19:34:00 | 60.58 S, 68.06017 W | RRS James Cook JC031 |
| 936025 | CTD or STD cast | 2009-02-12 19:34:08 | 60.5801 S, 68.0601 W | RRS James Cook JC031 |
| 912336 | Currents -subsurface Eulerian | 2009-02-13 01:25:00 | 60.82883 S, 67.99017 W | RRS James Cook JC031 |
| 913235 | Currents -subsurface Eulerian | 2009-02-13 01:25:00 | 60.82883 S, 67.99017 W | RRS James Cook JC031 |
| 936037 | CTD or STD cast | 2009-02-13 01:25:54 | 60.8289 S, 67.9902 W | RRS James Cook JC031 |
| 936049 | CTD or STD cast | 2009-02-13 07:05:44 | 61.0197 S, 67.6648 W | RRS James Cook JC031 |
| 912348 | Currents -subsurface Eulerian | 2009-02-13 07:06:00 | 61.01967 S, 67.66483 W | RRS James Cook JC031 |
| 913247 | Currents -subsurface Eulerian | 2009-02-13 07:06:00 | 61.01967 S, 67.66483 W | RRS James Cook JC031 |
| 912361 | Currents -subsurface Eulerian | 2009-02-13 13:28:00 | 61.20983 S, 67.30717 W | RRS James Cook JC031 |
| 913259 | Currents -subsurface Eulerian | 2009-02-13 13:28:00 | 61.20983 S, 67.30717 W | RRS James Cook JC031 |
| 936050 | CTD or STD cast | 2009-02-13 13:28:24 | 61.2098 S, 67.3072 W | RRS James Cook JC031 |
| 912373 | Currents -subsurface Eulerian | 2009-02-13 19:59:00 | 61.40967 S, 66.99483 W | RRS James Cook JC031 |
| 913260 | Currents -subsurface Eulerian | 2009-02-13 19:59:00 | 61.40967 S, 66.99483 W | RRS James Cook JC031 |
| 936062 | CTD or STD cast | 2009-02-13 19:59:24 | 61.4096 S, 66.9949 W | RRS James Cook JC031 |
| 912385 | Currents -subsurface Eulerian | 2009-02-14 02:02:00 | 61.6 S, 66.66983 W | RRS James Cook JC031 |
| 913272 | Currents -subsurface Eulerian | 2009-02-14 02:02:00 | 61.6 S, 66.66983 W | RRS James Cook JC031 |
| 936074 | CTD or STD cast | 2009-02-14 02:03:27 | 61.6 S, 66.6698 W | RRS James Cook JC031 |
| 912397 | Currents -subsurface Eulerian | 2009-02-14 07:32:00 | 61.8 S, 66.32017 W | RRS James Cook JC031 |
| 913284 | Currents -subsurface Eulerian | 2009-02-14 07:32:00 | 61.8 S, 66.32017 W | RRS James Cook JC031 |
| 936086 | CTD or STD cast | 2009-02-14 07:32:36 | 61.8 S, 66.3202 W | RRS James Cook JC031 |
| 912404 | Currents -subsurface Eulerian | 2009-02-14 13:07:00 | 62.0 S, 65.95017 W | RRS James Cook JC031 |
| 913296 | Currents -subsurface Eulerian | 2009-02-14 13:07:00 | 62.0 S, 65.95017 W | RRS James Cook JC031 |
| 936098 | CTD or STD cast | 2009-02-14 13:07:44 | 62.0 S, 65.9502 W | RRS James Cook JC031 |
| 912416 | Currents -subsurface Eulerian | 2009-02-14 18:40:00 | 62.14 S, 65.58 W | RRS James Cook JC031 |
| 913303 | Currents -subsurface Eulerian | 2009-02-14 18:40:00 | 62.14 S, 65.58 W | RRS James Cook JC031 |
| 936105 | CTD or STD cast | 2009-02-14 18:40:19 | 62.1401 S, 65.58 W | RRS James Cook JC031 |
| 936117 | CTD or STD cast | 2009-02-15 00:08:47 | 62.2722 S, 65.192 W | RRS James Cook JC031 |
| 912428 | Currents -subsurface Eulerian | 2009-02-15 00:09:00 | 62.27217 S, 65.192 W | RRS James Cook JC031 |
| 913315 | Currents -subsurface Eulerian | 2009-02-15 00:09:00 | 62.27217 S, 65.192 W | RRS James Cook JC031 |
| 912441 | Currents -subsurface Eulerian | 2009-02-15 17:10:00 | 62.27992 S, 65.21018 W | RRS James Cook JC031 |
| 913327 | Currents -subsurface Eulerian | 2009-02-15 17:10:00 | 62.27992 S, 65.21018 W | RRS James Cook JC031 |
| 936129 | CTD or STD cast | 2009-02-15 17:11:27 | 62.2799 S, 65.2102 W | RRS James Cook JC031 |
| 912453 | Currents -subsurface Eulerian | 2009-02-16 02:44:00 | 62.28 S, 65.21 W | RRS James Cook JC031 |
| 913339 | Currents -subsurface Eulerian | 2009-02-16 02:44:00 | 62.28 S, 65.21 W | RRS James Cook JC031 |
| 936130 | CTD or STD cast | 2009-02-16 02:45:10 | 62.2799 S, 65.2101 W | RRS James Cook JC031 |
| 912465 | Currents -subsurface Eulerian | 2009-02-16 08:00:00 | 62.38883 S, 64.82283 W | RRS James Cook JC031 |
| 913340 | Currents -subsurface Eulerian | 2009-02-16 08:00:00 | 62.38883 S, 64.82283 W | RRS James Cook JC031 |
| 936142 | CTD or STD cast | 2009-02-16 08:00:04 | 62.3888 S, 64.8228 W | RRS James Cook JC031 |
| 912477 | Currents -subsurface Eulerian | 2009-02-16 12:58:00 | 62.5 S, 64.46 W | RRS James Cook JC031 |
| 913352 | Currents -subsurface Eulerian | 2009-02-16 12:58:00 | 62.5 S, 64.46 W | RRS James Cook JC031 |
| 936154 | CTD or STD cast | 2009-02-16 12:58:50 | 62.5 S, 64.46 W | RRS James Cook JC031 |
| 912489 | Currents -subsurface Eulerian | 2009-02-16 18:27:00 | 62.60833 S, 64.07983 W | RRS James Cook JC031 |
| 913364 | Currents -subsurface Eulerian | 2009-02-16 18:27:00 | 62.60833 S, 64.07983 W | RRS James Cook JC031 |
| 936166 | CTD or STD cast | 2009-02-16 18:27:19 | 62.6098 S, 64.0798 W | RRS James Cook JC031 |
| 912490 | Currents -subsurface Eulerian | 2009-02-16 23:04:00 | 62.69 S, 63.9 W | RRS James Cook JC031 |
| 913376 | Currents -subsurface Eulerian | 2009-02-16 23:04:00 | 62.69 S, 63.9 W | RRS James Cook JC031 |
| 936178 | CTD or STD cast | 2009-02-16 23:04:37 | 62.69 S, 63.9 W | RRS James Cook JC031 |
| 936191 | CTD or STD cast | 2009-02-17 04:19:57 | 62.7801 S, 63.7 W | RRS James Cook JC031 |
| 912508 | Currents -subsurface Eulerian | 2009-02-17 04:20:00 | 62.78017 S, 63.7 W | RRS James Cook JC031 |
| 913388 | Currents -subsurface Eulerian | 2009-02-17 04:20:00 | 62.78017 S, 63.7 W | RRS James Cook JC031 |
| 912521 | Currents -subsurface Eulerian | 2009-02-17 20:11:00 | 62.81 S, 63.62 W | RRS James Cook JC031 |
| 913407 | Currents -subsurface Eulerian | 2009-02-17 20:11:00 | 62.81 S, 63.62 W | RRS James Cook JC031 |
| 936209 | CTD or STD cast | 2009-02-17 20:11:06 | 62.81 S, 63.62 W | RRS James Cook JC031 |
| 912533 | Currents -subsurface Eulerian | 2009-02-18 00:10:00 | 62.86 S, 63.52017 W | RRS James Cook JC031 |
| 913419 | Currents -subsurface Eulerian | 2009-02-18 00:10:00 | 62.86 S, 63.52017 W | RRS James Cook JC031 |
| 936210 | CTD or STD cast | 2009-02-18 00:10:40 | 62.86 S, 63.5202 W | RRS James Cook JC031 |
| 912545 | Currents -subsurface Eulerian | 2009-02-18 03:10:00 | 62.94 S, 63.45017 W | RRS James Cook JC031 |
| 913420 | Currents -subsurface Eulerian | 2009-02-18 03:10:00 | 62.94 S, 63.45017 W | RRS James Cook JC031 |
| 936222 | CTD or STD cast | 2009-02-18 03:11:18 | 62.9401 S, 63.4501 W | RRS James Cook JC031 |
| 912557 | Currents -subsurface Eulerian | 2009-02-18 05:30:00 | 62.98 S, 63.39017 W | RRS James Cook JC031 |
| 913432 | Currents -subsurface Eulerian | 2009-02-18 05:30:00 | 62.98 S, 63.39017 W | RRS James Cook JC031 |
| 936234 | CTD or STD cast | 2009-02-18 05:30:25 | 62.98 S, 63.3901 W | RRS James Cook JC031 |
| 912569 | Currents -subsurface Eulerian | 2009-02-18 08:04:00 | 63.15 S, 63.20017 W | RRS James Cook JC031 |
| 913444 | Currents -subsurface Eulerian | 2009-02-18 08:04:00 | 63.15 S, 63.20017 W | RRS James Cook JC031 |
| 936246 | CTD or STD cast | 2009-02-18 08:05:06 | 63.15 S, 63.2001 W | RRS James Cook JC031 |
| 912570 | Currents -subsurface Eulerian | 2009-02-18 11:29:00 | 63.48 S, 63.17 W | RRS James Cook JC031 |
| 913456 | Currents -subsurface Eulerian | 2009-02-18 11:29:00 | 63.48 S, 63.17 W | RRS James Cook JC031 |
| 936258 | CTD or STD cast | 2009-02-18 11:29:50 | 63.48 S, 63.1699 W | RRS James Cook JC031 |
| 912582 | Currents -subsurface Eulerian | 2009-02-18 15:04:00 | 63.81017 S, 63.12 W | RRS James Cook JC031 |
| 913468 | Currents -subsurface Eulerian | 2009-02-18 15:04:00 | 63.81017 S, 63.12 W | RRS James Cook JC031 |
| 936271 | CTD or STD cast | 2009-02-18 15:04:37 | 63.8101 S, 63.12 W | RRS James Cook JC031 |
| 912594 | Currents -subsurface Eulerian | 2009-02-18 18:38:00 | 64.14 S, 63.08 W | RRS James Cook JC031 |
| 913481 | Currents -subsurface Eulerian | 2009-02-18 18:38:00 | 64.14 S, 63.08 W | RRS James Cook JC031 |
| 936283 | CTD or STD cast | 2009-02-18 18:38:55 | 64.14 S, 63.0799 W | RRS James Cook JC031 |
| 936295 | CTD or STD cast | 2009-02-20 02:07:12 | 61.0489 S, 54.5888 W | RRS James Cook JC031 |
| 912601 | Currents -subsurface Eulerian | 2009-02-20 03:52:00 | 60.98083 S, 54.63183 W | RRS James Cook JC031 |
| 913493 | Currents -subsurface Eulerian | 2009-02-20 03:52:00 | 60.98083 S, 54.63183 W | RRS James Cook JC031 |
| 936302 | CTD or STD cast | 2009-02-20 03:53:15 | 60.9808 S, 54.6318 W | RRS James Cook JC031 |
| 912613 | Currents -subsurface Eulerian | 2009-02-20 06:13:00 | 60.85017 S, 54.71117 W | RRS James Cook JC031 |
| 913500 | Currents -subsurface Eulerian | 2009-02-20 06:13:00 | 60.85017 S, 54.71117 W | RRS James Cook JC031 |
| 936314 | CTD or STD cast | 2009-02-20 06:13:17 | 60.8502 S, 54.7112 W | RRS James Cook JC031 |
| 912625 | Currents -subsurface Eulerian | 2009-02-20 08:25:00 | 60.83317 S, 54.719 W | RRS James Cook JC031 |
| 913512 | Currents -subsurface Eulerian | 2009-02-20 08:25:00 | 60.83317 S, 54.719 W | RRS James Cook JC031 |
| 936326 | CTD or STD cast | 2009-02-20 08:25:16 | 60.8332 S, 54.7191 W | RRS James Cook JC031 |
| 912637 | Currents -subsurface Eulerian | 2009-02-20 10:55:00 | 60.7995 S, 54.73517 W | RRS James Cook JC031 |
| 913524 | Currents -subsurface Eulerian | 2009-02-20 10:55:00 | 60.7995 S, 54.73517 W | RRS James Cook JC031 |
| 936338 | CTD or STD cast | 2009-02-20 10:55:21 | 60.7995 S, 54.7351 W | RRS James Cook JC031 |
| 912649 | Currents -subsurface Eulerian | 2009-02-20 14:55:00 | 60.67 S, 54.8085 W | RRS James Cook JC031 |
| 913536 | Currents -subsurface Eulerian | 2009-02-20 14:55:00 | 60.67 S, 54.8085 W | RRS James Cook JC031 |
| 936351 | CTD or STD cast | 2009-02-20 14:55:54 | 60.67 S, 54.8085 W | RRS James Cook JC031 |
| 912650 | Currents -subsurface Eulerian | 2009-02-20 20:36:00 | 60.33333 S, 55.03133 W | RRS James Cook JC031 |
| 913548 | Currents -subsurface Eulerian | 2009-02-20 20:36:00 | 60.33333 S, 55.03133 W | RRS James Cook JC031 |
| 936363 | CTD or STD cast | 2009-02-20 20:36:51 | 60.3334 S, 55.0313 W | RRS James Cook JC031 |
| 912662 | Currents -subsurface Eulerian | 2009-02-21 02:26:00 | 60.0 S, 55.23833 W | RRS James Cook JC031 |
| 913561 | Currents -subsurface Eulerian | 2009-02-21 02:26:00 | 60.0 S, 55.23833 W | RRS James Cook JC031 |
| 936375 | CTD or STD cast | 2009-02-21 02:26:18 | 60.0001 S, 55.2383 W | RRS James Cook JC031 |
| 912674 | Currents -subsurface Eulerian | 2009-02-21 08:07:00 | 59.67117 S, 55.45167 W | RRS James Cook JC031 |
| 913573 | Currents -subsurface Eulerian | 2009-02-21 08:07:00 | 59.67117 S, 55.45167 W | RRS James Cook JC031 |
| 936387 | CTD or STD cast | 2009-02-21 08:07:56 | 59.6712 S, 55.4516 W | RRS James Cook JC031 |
| 912686 | Currents -subsurface Eulerian | 2009-02-21 13:49:00 | 59.34067 S, 55.64733 W | RRS James Cook JC031 |
| 913585 | Currents -subsurface Eulerian | 2009-02-21 13:49:00 | 59.34067 S, 55.64733 W | RRS James Cook JC031 |
| 936399 | CTD or STD cast | 2009-02-21 13:50:10 | 59.3406 S, 55.6473 W | RRS James Cook JC031 |
| 912698 | Currents -subsurface Eulerian | 2009-02-21 20:14:00 | 59.02583 S, 55.86383 W | RRS James Cook JC031 |
| 913597 | Currents -subsurface Eulerian | 2009-02-21 20:14:00 | 59.02583 S, 55.86383 W | RRS James Cook JC031 |
| 936406 | CTD or STD cast | 2009-02-21 20:16:14 | 59.0259 S, 55.8639 W | RRS James Cook JC031 |
| 912705 | Currents -subsurface Eulerian | 2009-02-22 02:49:00 | 58.69133 S, 56.05633 W | RRS James Cook JC031 |
| 913604 | Currents -subsurface Eulerian | 2009-02-22 02:49:00 | 58.69133 S, 56.05633 W | RRS James Cook JC031 |
| 936418 | CTD or STD cast | 2009-02-22 02:50:01 | 58.6913 S, 56.0563 W | RRS James Cook JC031 |
| 912717 | Currents -subsurface Eulerian | 2009-02-22 09:05:00 | 58.379 S, 56.21083 W | RRS James Cook JC031 |
| 913616 | Currents -subsurface Eulerian | 2009-02-22 09:05:00 | 58.379 S, 56.21083 W | RRS James Cook JC031 |
| 936431 | CTD or STD cast | 2009-02-22 09:05:03 | 58.379 S, 56.2108 W | RRS James Cook JC031 |
| 912729 | Currents -subsurface Eulerian | 2009-02-22 15:42:00 | 58.05 S, 56.43067 W | RRS James Cook JC031 |
| 913628 | Currents -subsurface Eulerian | 2009-02-22 15:42:00 | 58.05 S, 56.43067 W | RRS James Cook JC031 |
| 936443 | CTD or STD cast | 2009-02-22 15:43:24 | 58.0499 S, 56.4307 W | RRS James Cook JC031 |
| 912730 | Currents -subsurface Eulerian | 2009-02-22 21:50:00 | 57.73367 S, 56.6475 W | RRS James Cook JC031 |
| 913641 | Currents -subsurface Eulerian | 2009-02-22 21:50:00 | 57.73367 S, 56.6475 W | RRS James Cook JC031 |
| 936455 | CTD or STD cast | 2009-02-22 21:51:20 | 57.7337 S, 56.6475 W | RRS James Cook JC031 |
| 912742 | Currents -subsurface Eulerian | 2009-02-23 03:35:00 | 57.41033 S, 56.88233 W | RRS James Cook JC031 |
| 913653 | Currents -subsurface Eulerian | 2009-02-23 03:35:00 | 57.41033 S, 56.88233 W | RRS James Cook JC031 |
| 936467 | CTD or STD cast | 2009-02-23 03:36:12 | 57.4103 S, 56.8824 W | RRS James Cook JC031 |
| 912754 | Currents -subsurface Eulerian | 2009-02-23 09:26:00 | 57.10017 S, 57.0355 W | RRS James Cook JC031 |
| 913665 | Currents -subsurface Eulerian | 2009-02-23 09:26:00 | 57.10017 S, 57.0355 W | RRS James Cook JC031 |
| 936479 | CTD or STD cast | 2009-02-23 09:26:40 | 57.1002 S, 57.0354 W | RRS James Cook JC031 |
| 912766 | Currents -subsurface Eulerian | 2009-02-23 16:12:00 | 56.76567 S, 57.16167 W | RRS James Cook JC031 |
| 913677 | Currents -subsurface Eulerian | 2009-02-23 16:12:00 | 56.76567 S, 57.16167 W | RRS James Cook JC031 |
| 936480 | CTD or STD cast | 2009-02-23 16:15:16 | 56.7657 S, 57.1617 W | RRS James Cook JC031 |
| 936492 | CTD or STD cast | 2009-02-23 22:36:02 | 56.4686 S, 57.4246 W | RRS James Cook JC031 |
| 912778 | Currents -subsurface Eulerian | 2009-02-23 22:37:00 | 56.46867 S, 57.42467 W | RRS James Cook JC031 |
| 913689 | Currents -subsurface Eulerian | 2009-02-23 22:37:00 | 56.46867 S, 57.42467 W | RRS James Cook JC031 |
| 912791 | Currents -subsurface Eulerian | 2009-02-24 05:20:00 | 56.1525 S, 57.599 W | RRS James Cook JC031 |
| 913690 | Currents -subsurface Eulerian | 2009-02-24 05:20:00 | 56.1525 S, 57.599 W | RRS James Cook JC031 |
| 936511 | CTD or STD cast | 2009-02-24 05:20:20 | 56.1524 S, 57.599 W | RRS James Cook JC031 |
| 912809 | Currents -subsurface Eulerian | 2009-02-24 11:34:00 | 55.83433 S, 57.80683 W | RRS James Cook JC031 |
| 913708 | Currents -subsurface Eulerian | 2009-02-24 11:34:00 | 55.83433 S, 57.80683 W | RRS James Cook JC031 |
| 936523 | CTD or STD cast | 2009-02-24 11:35:24 | 55.8343 S, 57.8068 W | RRS James Cook JC031 |
| 912810 | Currents -subsurface Eulerian | 2009-02-24 19:27:00 | 55.51683 S, 57.96617 W | RRS James Cook JC031 |
| 913721 | Currents -subsurface Eulerian | 2009-02-24 19:27:00 | 55.51683 S, 57.96617 W | RRS James Cook JC031 |
| 936535 | CTD or STD cast | 2009-02-24 19:27:39 | 55.5168 S, 57.9662 W | RRS James Cook JC031 |
| 912822 | Currents -subsurface Eulerian | 2009-02-25 01:45:00 | 55.21433 S, 58.00017 W | RRS James Cook JC031 |
| 913733 | Currents -subsurface Eulerian | 2009-02-25 01:45:00 | 55.21433 S, 58.00017 W | RRS James Cook JC031 |
| 936547 | CTD or STD cast | 2009-02-25 01:45:07 | 55.2143 S, 58.0002 W | RRS James Cook JC031 |
| 912834 | Currents -subsurface Eulerian | 2009-02-25 06:27:00 | 55.16933 S, 57.9945 W | RRS James Cook JC031 |
| 913745 | Currents -subsurface Eulerian | 2009-02-25 06:27:00 | 55.16933 S, 57.9945 W | RRS James Cook JC031 |
| 936559 | CTD or STD cast | 2009-02-25 06:28:15 | 55.1693 S, 57.9945 W | RRS James Cook JC031 |
| 912846 | Currents -subsurface Eulerian | 2009-02-25 10:40:00 | 55.121 S, 57.999 W | RRS James Cook JC031 |
| 913757 | Currents -subsurface Eulerian | 2009-02-25 10:40:00 | 55.121 S, 57.999 W | RRS James Cook JC031 |
| 936560 | CTD or STD cast | 2009-02-25 10:40:53 | 55.121 S, 57.9991 W | RRS James Cook JC031 |
| 912858 | Currents -subsurface Eulerian | 2009-02-25 14:40:00 | 55.07 S, 58.00133 W | RRS James Cook JC031 |
| 913769 | Currents -subsurface Eulerian | 2009-02-25 14:40:00 | 55.07 S, 58.00133 W | RRS James Cook JC031 |
| 936572 | CTD or STD cast | 2009-02-25 14:40:31 | 55.0699 S, 58.0013 W | RRS James Cook JC031 |
| 912871 | Currents -subsurface Eulerian | 2009-02-25 18:57:00 | 55.0065 S, 57.9955 W | RRS James Cook JC031 |
| 913770 | Currents -subsurface Eulerian | 2009-02-25 18:57:00 | 55.0065 S, 57.9955 W | RRS James Cook JC031 |
| 936584 | CTD or STD cast | 2009-02-25 18:57:26 | 55.0064 S, 57.9956 W | RRS James Cook JC031 |
| 912883 | Currents -subsurface Eulerian | 2009-02-25 21:46:00 | 54.97667 S, 57.99867 W | RRS James Cook JC031 |
| 913782 | Currents -subsurface Eulerian | 2009-02-25 21:46:00 | 54.97667 S, 57.99867 W | RRS James Cook JC031 |
| 936596 | CTD or STD cast | 2009-02-25 21:46:43 | 54.9778 S, 57.9987 W | RRS James Cook JC031 |
| 912895 | Currents -subsurface Eulerian | 2009-02-26 00:08:00 | 54.92233 S, 58.0 W | RRS James Cook JC031 |
| 913794 | Currents -subsurface Eulerian | 2009-02-26 00:08:00 | 54.92233 S, 58.0 W | RRS James Cook JC031 |
| 936603 | CTD or STD cast | 2009-02-26 00:08:53 | 54.9224 S, 58.0 W | RRS James Cook JC031 |
| 912902 | Currents -subsurface Eulerian | 2009-02-26 03:42:00 | 54.66667 S, 58.0 W | RRS James Cook JC031 |
| 913801 | Currents -subsurface Eulerian | 2009-02-26 03:42:00 | 54.66667 S, 58.0 W | RRS James Cook JC031 |
| 936615 | CTD or STD cast | 2009-02-26 03:43:32 | 54.6667 S, 57.9999 W | RRS James Cook JC031 |
| 912914 | Currents -subsurface Eulerian | 2009-02-26 09:11:00 | 53.9815 S, 58.0 W | RRS James Cook JC031 |
| 913813 | Currents -subsurface Eulerian | 2009-02-26 09:11:00 | 53.9815 S, 58.0 W | RRS James Cook JC031 |
| 936627 | CTD or STD cast | 2009-02-26 09:11:21 | 53.9815 S, 58.0001 W | RRS James Cook JC031 |
| 912926 | Currents -subsurface Eulerian | 2009-02-26 11:50:00 | 53.75267 S, 58.00017 W | RRS James Cook JC031 |
| 913825 | Currents -subsurface Eulerian | 2009-02-26 11:50:00 | 53.75267 S, 58.00017 W | RRS James Cook JC031 |
| 936639 | CTD or STD cast | 2009-02-26 11:51:44 | 53.7526 S, 58.0001 W | RRS James Cook JC031 |
| 912938 | Currents -subsurface Eulerian | 2009-02-26 15:12:00 | 53.52 S, 58.00017 W | RRS James Cook JC031 |
| 913837 | Currents -subsurface Eulerian | 2009-02-26 15:12:00 | 53.52 S, 58.00017 W | RRS James Cook JC031 |
| 936640 | CTD or STD cast | 2009-02-26 15:13:01 | 53.52 S, 58.0001 W | RRS James Cook JC031 |
| 912951 | Currents -subsurface Eulerian | 2009-02-26 20:50:00 | 53.13317 S, 57.99633 W | RRS James Cook JC031 |
| 913849 | Currents -subsurface Eulerian | 2009-02-26 20:50:00 | 53.13317 S, 57.99633 W | RRS James Cook JC031 |
| 936652 | CTD or STD cast | 2009-02-26 20:51:11 | 53.1332 S, 57.9963 W | RRS James Cook JC031 |
| 912963 | Currents -subsurface Eulerian | 2009-02-26 23:57:00 | 52.929 S, 58.0 W | RRS James Cook JC031 |
| 913850 | Currents -subsurface Eulerian | 2009-02-26 23:57:00 | 52.929 S, 58.0 W | RRS James Cook JC031 |
| 936664 | CTD or STD cast | 2009-02-26 23:57:09 | 52.929 S, 58.0001 W | RRS James Cook JC031 |
| 1016189 | CTD or STD cast | 1994-11-15 09:00:00 | 53.56983 S, 59.0985 W | RRS James Clark Ross JR19941113 (JR0B) |
| 1016190 | CTD or STD cast | 1994-11-16 03:20:00 | 54.956 S, 58.35917 W | RRS James Clark Ross JR19941113 (JR0B) |
| 1016208 | CTD or STD cast | 1994-11-16 11:31:00 | 55.06917 S, 58.2875 W | RRS James Clark Ross JR19941113 (JR0B) |
| 1016221 | CTD or STD cast | 1994-11-16 14:01:00 | 55.1215 S, 58.25683 W | RRS James Clark Ross JR19941113 (JR0B) |
| 1016233 | CTD or STD cast | 1994-11-16 16:45:00 | 55.17167 S, 58.247 W | RRS James Clark Ross JR19941113 (JR0B) |
| 1016245 | CTD or STD cast | 1994-11-16 19:45:00 | 55.21367 S, 58.22583 W | RRS James Clark Ross JR19941113 (JR0B) |
| 1016257 | CTD or STD cast | 1994-11-17 00:39:00 | 55.52067 S, 58.00517 W | RRS James Clark Ross JR19941113 (JR0B) |
| 1016269 | CTD or STD cast | 1994-11-17 06:17:00 | 55.8185 S, 57.871 W | RRS James Clark Ross JR19941113 (JR0B) |
| 1016270 | CTD or STD cast | 1994-11-17 11:32:00 | 56.12867 S, 57.671 W | RRS James Clark Ross JR19941113 (JR0B) |
| 1016282 | CTD or STD cast | 1994-11-17 16:44:00 | 56.4555 S, 57.4925 W | RRS James Clark Ross JR19941113 (JR0B) |
| 1016294 | CTD or STD cast | 1994-11-17 21:48:00 | 56.78567 S, 57.3045 W | RRS James Clark Ross JR19941113 (JR0B) |
| 1016301 | CTD or STD cast | 1994-11-18 03:03:00 | 57.093 S, 57.12017 W | RRS James Clark Ross JR19941113 (JR0B) |
| 1016313 | CTD or STD cast | 1994-11-18 08:43:00 | 57.42883 S, 56.92767 W | RRS James Clark Ross JR19941113 (JR0B) |
| 1016325 | CTD or STD cast | 1994-11-18 13:47:00 | 57.735 S, 56.70183 W | RRS James Clark Ross JR19941113 (JR0B) |
| 1016337 | CTD or STD cast | 1994-11-18 18:43:00 | 58.057 S, 56.54917 W | RRS James Clark Ross JR19941113 (JR0B) |
| 1016349 | CTD or STD cast | 1994-11-19 00:20:00 | 58.36133 S, 56.34767 W | RRS James Clark Ross JR19941113 (JR0B) |
| 1016350 | CTD or STD cast | 1994-11-19 06:14:00 | 58.69367 S, 56.15883 W | RRS James Clark Ross JR19941113 (JR0B) |
| 1016362 | CTD or STD cast | 1994-11-19 11:22:00 | 58.996 S, 55.96467 W | RRS James Clark Ross JR19941113 (JR0B) |
| 1016374 | CTD or STD cast | 1994-11-19 22:27:00 | 59.5965 S, 55.86583 W | RRS James Clark Ross JR19941113 (JR0B) |
| 1016386 | CTD or STD cast | 1994-11-20 03:32:00 | 59.31133 S, 55.70067 W | RRS James Clark Ross JR19941113 (JR0B) |
| 1016398 | CTD or STD cast | 1994-11-20 08:34:00 | 59.64683 S, 55.516 W | RRS James Clark Ross JR19941113 (JR0B) |
| 1016405 | CTD or STD cast | 1994-11-20 13:45:00 | 60.00483 S, 55.32767 W | RRS James Clark Ross JR19941113 (JR0B) |
| 1016417 | CTD or STD cast | 1994-11-20 18:38:00 | 60.336 S, 55.08 W | RRS James Clark Ross JR19941113 (JR0B) |
| 1016429 | CTD or STD cast | 1994-11-21 03:42:00 | 60.681 S, 54.812 W | RRS James Clark Ross JR19941113 (JR0B) |
| 1016430 | CTD or STD cast | 1994-11-21 07:05:00 | 60.80083 S, 54.71867 W | RRS James Clark Ross JR19941113 (JR0B) |
| 1016442 | CTD or STD cast | 1994-11-21 12:20:00 | 60.83 S, 54.71733 W | RRS James Clark Ross JR19941113 (JR0B) |
| 1016454 | CTD or STD cast | 1994-11-21 14:44:00 | 60.852 S, 54.712 W | RRS James Clark Ross JR19941113 (JR0B) |
| 1016466 | CTD or STD cast | 1994-11-21 16:41:00 | 60.982 S, 54.62233 W | RRS James Clark Ross JR19941113 (JR0B) |
| 1016491 | CTD or STD cast | 1996-11-15 10:42:00 | 54.791 S, 58.45183 W | RRS James Clark Ross JR19961128 (JR16) |
| 1016509 | CTD or STD cast | 1996-11-15 12:56:00 | 54.93083 S, 58.35317 W | RRS James Clark Ross JR19961128 (JR16) |
| 1016510 | CTD or STD cast | 1996-11-15 14:44:00 | 54.96567 S, 58.3475 W | RRS James Clark Ross JR19961128 (JR16) |
| 1016522 | CTD or STD cast | 1996-11-15 17:20:00 | 55.06783 S, 58.27133 W | RRS James Clark Ross JR19961128 (JR16) |
| 1016534 | CTD or STD cast | 1996-11-15 22:13:00 | 55.11333 S, 58.221 W | RRS James Clark Ross JR19961128 (JR16) |
| 1016546 | CTD or STD cast | 1996-11-16 04:49:00 | 55.17083 S, 58.2185 W | RRS James Clark Ross JR19961128 (JR16) |
| 1016558 | CTD or STD cast | 1996-11-16 07:57:00 | 55.2105 S, 58.21 W | RRS James Clark Ross JR19961128 (JR16) |
| 1016571 | CTD or STD cast | 1996-11-16 12:46:00 | 55.52183 S, 58.03383 W | RRS James Clark Ross JR19961128 (JR16) |
| 1016583 | CTD or STD cast | 1996-11-16 17:30:00 | 55.81917 S, 57.87517 W | RRS James Clark Ross JR19961128 (JR16) |
| 1016595 | CTD or STD cast | 1996-11-16 22:40:00 | 56.11617 S, 57.64933 W | RRS James Clark Ross JR19961128 (JR16) |
| 1016602 | CTD or STD cast | 1996-11-17 04:16:00 | 56.4655 S, 57.52417 W | RRS James Clark Ross JR19961128 (JR16) |
| 1016614 | CTD or STD cast | 1996-11-17 08:49:00 | 56.7915 S, 57.3015 W | RRS James Clark Ross JR19961128 (JR16) |
| 1016626 | CTD or STD cast | 1996-11-17 15:12:00 | 57.09017 S, 57.124 W | RRS James Clark Ross JR19961128 (JR16) |
| 1016638 | CTD or STD cast | 1996-11-17 20:00:00 | 57.43817 S, 56.91883 W | RRS James Clark Ross JR19961128 (JR16) |
| 1016651 | CTD or STD cast | 1996-11-18 02:38:00 | 57.72317 S, 56.66183 W | RRS James Clark Ross JR19961128 (JR16) |
| 1016663 | CTD or STD cast | 1996-11-18 07:24:00 | 58.058 S, 56.52433 W | RRS James Clark Ross JR19961128 (JR16) |
| 1016675 | CTD or STD cast | 1996-11-18 14:48:00 | 58.373 S, 56.35517 W | RRS James Clark Ross JR19961128 (JR16) |
| 1016687 | CTD or STD cast | 1996-11-18 23:05:00 | 58.69233 S, 56.15433 W | RRS James Clark Ross JR19961128 (JR16) |
| 1016699 | CTD or STD cast | 1996-11-19 04:05:00 | 59.00217 S, 55.98517 W | RRS James Clark Ross JR19961128 (JR16) |
| 1016706 | CTD or STD cast | 1996-11-19 08:44:00 | 59.314 S, 55.69017 W | RRS James Clark Ross JR19961128 (JR16) |
| 1016718 | CTD or STD cast | 1996-11-19 13:26:00 | 59.64883 S, 55.51867 W | RRS James Clark Ross JR19961128 (JR16) |
| 1016731 | CTD or STD cast | 1996-11-19 21:44:00 | 60.01067 S, 55.324 W | RRS James Clark Ross JR19961128 (JR16) |
| 1016743 | CTD or STD cast | 1996-11-20 02:38:00 | 60.34117 S, 55.06567 W | RRS James Clark Ross JR19961128 (JR16) |
| 1016755 | CTD or STD cast | 1996-11-20 07:35:00 | 60.6735 S, 54.79767 W | RRS James Clark Ross JR19961128 (JR16) |
| 1016767 | CTD or STD cast | 1996-11-20 13:27:00 | 60.802 S, 54.712 W | RRS James Clark Ross JR19961128 (JR16) |
| 1016779 | CTD or STD cast | 1996-11-20 15:53:00 | 60.83567 S, 54.72467 W | RRS James Clark Ross JR19961128 (JR16) |
| 1016780 | CTD or STD cast | 1996-11-20 19:16:00 | 60.8515 S, 54.72 W | RRS James Clark Ross JR19961128 (JR16) |
| 1016792 | CTD or STD cast | 1996-11-20 21:13:00 | 60.984 S, 54.62367 W | RRS James Clark Ross JR19961128 (JR16) |
| 1016478 | CTD or STD cast | 1996-11-20 22:31:00 | 61.03517 S, 54.61617 W | RRS James Clark Ross JR19961128 (JR16) |
| 1022030 | Currents -subsurface Eulerian | 2009-02-06 01:02:20 | 64.14044 S, 68.66633 W | RRS James Cook JC031 |
| 1022017 | Currents -subsurface Eulerian | 2009-02-06 01:03:12 | 64.14045 S, 68.66691 W | RRS James Cook JC031 |
| 1875752 | Water sample data | 2009-02-06 01:24:00 | 56.33 S, 67.99004 W | RRS James Cook JC031 |
| 1875764 | Water sample data | 2009-02-06 05:43:00 | 56.79993 S, 68.18997 W | RRS James Cook JC031 |
| 1875776 | Water sample data | 2009-02-06 07:43:00 | 56.85004 S, 68.21002 W | RRS James Cook JC031 |
| 1875788 | Water sample data | 2009-02-06 10:34:00 | 56.87999 S, 68.23 W | RRS James Cook JC031 |
| 1875807 | Water sample data | 2009-02-06 14:14:00 | 56.89002 S, 68.24007 W | RRS James Cook JC031 |
| 1875819 | Water sample data | 2009-02-07 01:01:00 | 56.91145 S, 68.2416 W | RRS James Cook JC031 |
| 1875820 | Water sample data | 2009-02-07 06:10:00 | 56.92001 S, 68.23995 W | RRS James Cook JC031 |
| 1875832 | Water sample data | 2009-02-07 10:51:00 | 56.98001 S, 68.24995 W | RRS James Cook JC031 |
| 1875844 | Water sample data | 2009-02-07 16:17:00 | 57.13004 S, 68.25 W | RRS James Cook JC031 |
| 1875856 | Water sample data | 2009-02-07 21:53:00 | 57.33084 S, 68.23566 W | RRS James Cook JC031 |
| 1875868 | Water sample data | 2009-02-09 11:43:00 | 57.83393 S, 68.22308 W | RRS James Cook JC031 |
| 1875881 | Water sample data | 2009-02-09 19:42:00 | 58.09357 S, 68.21223 W | RRS James Cook JC031 |
| 1875893 | Water sample data | 2009-02-10 02:24:00 | 58.34045 S, 68.20933 W | RRS James Cook JC031 |
| 1875900 | Water sample data | 2009-02-10 22:23:00 | 58.5803 S, 68.24759 W | RRS James Cook JC031 |
| 1875912 | Water sample data | 2009-02-11 04:57:00 | 58.84148 S, 68.26053 W | RRS James Cook JC031 |
| 1875924 | Water sample data | 2009-02-11 11:21:00 | 59.09099 S, 68.24358 W | RRS James Cook JC031 |
| 1875936 | Water sample data | 2009-02-11 17:41:00 | 59.33073 S, 68.24914 W | RRS James Cook JC031 |
| 1875948 | Water sample data | 2009-02-11 23:35:00 | 59.59001 S, 68.23507 W | RRS James Cook JC031 |
| 1875961 | Water sample data | 2009-02-12 04:58:00 | 59.81996 S, 68.23994 W | RRS James Cook JC031 |
| 1875973 | Water sample data | 2009-02-12 10:09:00 | 60.07066 S, 68.19079 W | RRS James Cook JC031 |
| 1875985 | Water sample data | 2009-02-12 15:36:00 | 60.32007 S, 68.12007 W | RRS James Cook JC031 |
| 1875997 | Water sample data | 2009-02-12 21:24:00 | 60.58 S, 68.05999 W | RRS James Cook JC031 |
| 1876000 | Water sample data | 2009-02-13 03:04:00 | 60.82853 S, 67.98751 W | RRS James Cook JC031 |
| 1876012 | Water sample data | 2009-02-13 08:48:00 | 61.01972 S, 67.66612 W | RRS James Cook JC031 |
| 1876024 | Water sample data | 2009-02-13 15:18:00 | 61.20979 S, 67.3064 W | RRS James Cook JC031 |
| 1876036 | Water sample data | 2009-02-13 21:52:00 | 61.4095 S, 66.99104 W | RRS James Cook JC031 |
| 1876048 | Water sample data | 2009-02-14 03:43:00 | 61.6 S, 66.66992 W | RRS James Cook JC031 |
| 1876061 | Water sample data | 2009-02-14 09:07:00 | 61.79998 S, 66.3201 W | RRS James Cook JC031 |
| 1876073 | Water sample data | 2009-02-14 14:48:00 | 62.00001 S, 65.9501 W | RRS James Cook JC031 |
| 1876085 | Water sample data | 2009-02-14 20:23:00 | 62.14004 S, 65.5801 W | RRS James Cook JC031 |
| 1876097 | Water sample data | 2009-02-16 04:30:00 | 62.27995 S, 65.21007 W | RRS James Cook JC031 |
| 1876104 | Water sample data | 2009-02-16 09:38:00 | 62.38834 S, 64.8206 W | RRS James Cook JC031 |
| 1876116 | Water sample data | 2009-02-16 14:48:00 | 62.49998 S, 64.46004 W | RRS James Cook JC031 |
| 1876128 | Water sample data | 2009-02-16 20:07:00 | 62.60993 S, 64.07925 W | RRS James Cook JC031 |
| 1876141 | Water sample data | 2009-02-17 00:58:00 | 62.68996 S, 63.90005 W | RRS James Cook JC031 |
| 1876153 | Water sample data | 2009-02-17 05:53:00 | 62.78009 S, 63.69994 W | RRS James Cook JC031 |
| 1876165 | Water sample data | 2009-02-17 21:45:00 | 62.81003 S, 63.62011 W | RRS James Cook JC031 |
| 1876177 | Water sample data | 2009-02-18 01:08:00 | 62.86004 S, 63.52015 W | RRS James Cook JC031 |
| 1876189 | Water sample data | 2009-02-18 03:53:00 | 62.94002 S, 63.45004 W | RRS James Cook JC031 |
| 1876190 | Water sample data | 2009-02-18 05:58:00 | 62.98003 S, 63.39009 W | RRS James Cook JC031 |
| 1876208 | Water sample data | 2009-02-18 08:29:00 | 63.15001 S, 63.20014 W | RRS James Cook JC031 |
| 1876221 | Water sample data | 2009-02-18 12:03:00 | 63.48 S, 63.16999 W | RRS James Cook JC031 |
| 1876233 | Water sample data | 2009-02-18 15:34:00 | 63.81005 S, 63.11999 W | RRS James Cook JC031 |
| 1876245 | Water sample data | 2009-02-18 19:10:00 | 64.13998 S, 63.07984 W | RRS James Cook JC031 |
| 1022029 | Currents -subsurface Eulerian | 2009-02-20 02:05:27 | 61.04913 S, 58.00895 W | RRS James Cook JC031 |
| 1022042 | Currents -subsurface Eulerian | 2009-02-20 02:05:45 | 61.04911 S, 58.00899 W | RRS James Cook JC031 |
| 1876257 | Water sample data | 2009-02-20 02:30:00 | 61.04897 S, 54.58949 W | RRS James Cook JC031 |
| 1876269 | Water sample data | 2009-02-20 04:20:00 | 60.98094 S, 54.63362 W | RRS James Cook JC031 |
| 1876270 | Water sample data | 2009-02-20 06:50:00 | 60.85032 S, 54.71105 W | RRS James Cook JC031 |
| 1876282 | Water sample data | 2009-02-20 09:17:00 | 60.83326 S, 54.71739 W | RRS James Cook JC031 |
| 1876294 | Water sample data | 2009-02-20 12:17:00 | 60.79955 S, 54.73327 W | RRS James Cook JC031 |
| 1876301 | Water sample data | 2009-02-20 16:28:00 | 60.67063 S, 54.80517 W | RRS James Cook JC031 |
| 1876313 | Water sample data | 2009-02-20 22:08:00 | 60.33336 S, 55.03125 W | RRS James Cook JC031 |
| 1876325 | Water sample data | 2009-02-21 03:55:00 | 60.00004 S, 55.23828 W | RRS James Cook JC031 |
| 1876337 | Water sample data | 2009-02-21 09:38:00 | 59.67276 S, 55.45441 W | RRS James Cook JC031 |
| 1876349 | Water sample data | 2009-02-21 15:33:00 | 59.34355 S, 55.64591 W | RRS James Cook JC031 |
| 1876350 | Water sample data | 2009-02-21 21:55:00 | 59.0308 S, 55.86987 W | RRS James Cook JC031 |
| 1876362 | Water sample data | 2009-02-22 04:26:00 | 58.69429 S, 56.05488 W | RRS James Cook JC031 |
| 1876374 | Water sample data | 2009-02-22 10:44:00 | 58.38258 S, 56.20262 W | RRS James Cook JC031 |
| 1876386 | Water sample data | 2009-02-22 17:27:00 | 58.04992 S, 56.42557 W | RRS James Cook JC031 |
| 1876398 | Water sample data | 2009-02-22 23:22:00 | 57.73407 S, 56.65081 W | RRS James Cook JC031 |
| 1876405 | Water sample data | 2009-02-23 05:13:00 | 57.4099 S, 56.8845 W | RRS James Cook JC031 |
| 1876417 | Water sample data | 2009-02-23 11:22:00 | 57.10021 S, 57.03554 W | RRS James Cook JC031 |
| 1876429 | Water sample data | 2009-02-23 17:47:00 | 56.76421 S, 57.15268 W | RRS James Cook JC031 |
| 1876430 | Water sample data | 2009-02-24 00:30:00 | 56.46853 S, 57.42461 W | RRS James Cook JC031 |
| 1876442 | Water sample data | 2009-02-24 06:57:00 | 56.15231 S, 57.59449 W | RRS James Cook JC031 |
| 1876454 | Water sample data | 2009-02-24 13:59:00 | 55.83432 S, 57.80746 W | RRS James Cook JC031 |
| 1876466 | Water sample data | 2009-02-24 21:20:00 | 55.51676 S, 57.96266 W | RRS James Cook JC031 |
| 1876478 | Water sample data | 2009-02-25 03:23:00 | 55.21432 S, 58.00008 W | RRS James Cook JC031 |
| 1876491 | Water sample data | 2009-02-25 07:58:00 | 55.16892 S, 57.9928 W | RRS James Cook JC031 |
| 1876509 | Water sample data | 2009-02-25 12:08:00 | 55.12118 S, 57.99909 W | RRS James Cook JC031 |
| 1876510 | Water sample data | 2009-02-25 16:05:00 | 55.06984 S, 58.00129 W | RRS James Cook JC031 |
| 1876522 | Water sample data | 2009-02-25 19:52:00 | 55.00637 S, 57.99559 W | RRS James Cook JC031 |
| 1876534 | Water sample data | 2009-02-25 22:32:00 | 54.97775 S, 57.99872 W | RRS James Cook JC031 |
| 1876546 | Water sample data | 2009-02-26 00:47:00 | 54.92238 S, 58.00009 W | RRS James Cook JC031 |
| 1876558 | Water sample data | 2009-02-26 03:57:00 | 54.66668 S, 58.0 W | RRS James Cook JC031 |
| 1876571 | Water sample data | 2009-02-26 09:36:00 | 53.98154 S, 58.00008 W | RRS James Cook JC031 |
| 1876583 | Water sample data | 2009-02-26 12:30:00 | 53.75257 S, 58.00012 W | RRS James Cook JC031 |
| 1876595 | Water sample data | 2009-02-26 16:32:00 | 53.52 S, 58.00002 W | RRS James Cook JC031 |
| 1876602 | Water sample data | 2009-02-26 21:32:00 | 53.13259 S, 57.99517 W | RRS James Cook JC031 |
| 1876614 | Water sample data | 2009-02-27 00:21:00 | 52.929 S, 58.00003 W | RRS James Cook JC031 |
| 1052418 | CTD or STD cast | 2009-11-18 13:53:01 | 52.2471 S, 57.8194 W | RRS James Clark Ross JR20091118 (JR195, JR198) |
| 1052431 | CTD or STD cast | 2009-11-18 21:26:05 | 53.5071 S, 58.1814 W | RRS James Clark Ross JR20091118 (JR195, JR198) |
| 1052074 | CTD or STD cast | 2009-11-19 05:23:37 | 54.6666 S, 58.5445 W | RRS James Clark Ross JR20091118 (JR195, JR198) |
| 1052086 | CTD or STD cast | 2009-11-19 07:47:54 | 54.9233 S, 58.3824 W | RRS James Clark Ross JR20091118 (JR195, JR198) |
| 1052098 | CTD or STD cast | 2009-11-19 09:05:11 | 54.9447 S, 58.3718 W | RRS James Clark Ross JR20091118 (JR195, JR198) |
| 1052105 | CTD or STD cast | 2009-11-19 10:35:37 | 54.9617 S, 58.3603 W | RRS James Clark Ross JR20091118 (JR195, JR198) |
| 1052117 | CTD or STD cast | 2009-11-19 16:41:19 | 55.0727 S, 58.2765 W | RRS James Clark Ross JR20091118 (JR195, JR198) |
| 1052129 | CTD or STD cast | 2009-11-19 18:52:01 | 55.1257 S, 58.2421 W | RRS James Clark Ross JR20091118 (JR195, JR198) |
| 1052130 | CTD or STD cast | 2009-11-19 21:45:41 | 55.179 S, 58.197 W | RRS James Clark Ross JR20091118 (JR195, JR198) |
| 1052142 | CTD or STD cast | 2009-11-21 02:20:26 | 55.3681 S, 58.0991 W | RRS James Clark Ross JR20091118 (JR195, JR198) |
| 1052154 | CTD or STD cast | 2009-11-21 08:19:27 | 55.8335 S, 57.8207 W | RRS James Clark Ross JR20091118 (JR195, JR198) |
| 1052166 | CTD or STD cast | 2009-11-21 13:49:34 | 56.1501 S, 57.6244 W | RRS James Clark Ross JR20091118 (JR195, JR198) |
| 1052178 | CTD or STD cast | 2009-11-21 18:08:50 | 56.4666 S, 57.428 W | RRS James Clark Ross JR20091118 (JR195, JR198) |
| 1052191 | CTD or STD cast | 2009-11-21 22:42:36 | 56.783 S, 57.2332 W | RRS James Clark Ross JR20091118 (JR195, JR198) |
| 1052209 | CTD or STD cast | 2009-11-22 03:20:35 | 57.1001 S, 57.0336 W | RRS James Clark Ross JR20091118 (JR195, JR198) |
| 1052210 | CTD or STD cast | 2009-11-22 08:11:44 | 57.4161 S, 56.8329 W | RRS James Clark Ross JR20091118 (JR195, JR198) |
| 1052222 | CTD or STD cast | 2009-11-22 12:42:21 | 57.7314 S, 56.6371 W | RRS James Clark Ross JR20091118 (JR195, JR198) |
| 1052234 | CTD or STD cast | 2009-11-22 16:20:41 | 57.8959 S, 56.5448 W | RRS James Clark Ross JR20091118 (JR195, JR198) |
| 1052246 | CTD or STD cast | 2009-11-23 00:06:50 | 58.3666 S, 56.2502 W | RRS James Clark Ross JR20091118 (JR195, JR198) |
| 1052258 | CTD or STD cast | 2009-11-23 04:53:35 | 58.6833 S, 56.0538 W | RRS James Clark Ross JR20091118 (JR195, JR198) |
| 1052271 | CTD or STD cast | 2009-11-23 09:30:28 | 58.9995 S, 55.8565 W | RRS James Clark Ross JR20091118 (JR195, JR198) |
| 1052283 | CTD or STD cast | 2009-11-23 14:09:32 | 59.3328 S, 55.6503 W | RRS James Clark Ross JR20091118 (JR195, JR198) |
| 1052295 | CTD or STD cast | 2009-11-23 18:44:25 | 59.6666 S, 55.4444 W | RRS James Clark Ross JR20091118 (JR195, JR198) |
| 1052302 | CTD or STD cast | 2009-11-23 23:18:34 | 59.9997 S, 55.238 W | RRS James Clark Ross JR20091118 (JR195, JR198) |
| 1052314 | CTD or STD cast | 2009-11-24 04:02:51 | 60.3333 S, 55.0312 W | RRS James Clark Ross JR20091118 (JR195, JR198) |
| 1052326 | CTD or STD cast | 2009-11-24 08:22:40 | 60.6659 S, 54.8247 W | RRS James Clark Ross JR20091118 (JR195, JR198) |
| 1052338 | CTD or STD cast | 2009-11-24 18:55:36 | 60.7998 S, 54.7422 W | RRS James Clark Ross JR20091118 (JR195, JR198) |
| 1052351 | CTD or STD cast | 2009-11-24 22:30:16 | 60.8332 S, 54.7195 W | RRS James Clark Ross JR20091118 (JR195, JR198) |
| 1052363 | CTD or STD cast | 2009-11-25 01:17:37 | 60.8502 S, 54.7109 W | RRS James Clark Ross JR20091118 (JR195, JR198) |
| 1052375 | CTD or STD cast | 2009-11-25 04:32:14 | 60.9776 S, 54.6337 W | RRS James Clark Ross JR20091118 (JR195, JR198) |
| 1052387 | CTD or STD cast | 2009-11-25 06:37:41 | 61.051 S, 54.5912 W | RRS James Clark Ross JR20091118 (JR195, JR198) |
| 1052399 | CTD or STD cast | 2009-11-26 00:01:48 | 60.83474 S, 54.60645 W | RRS James Clark Ross JR20091118 (JR195, JR198) |
| 1052406 | CTD or STD cast | 2009-11-26 01:09:51 | 60.83937 S, 54.60006 W | RRS James Clark Ross JR20091118 (JR195, JR198) |
| 1721095 | Currents -subsurface Eulerian | 2009-12-09 12:29:57 | 55.963 S, 57.74433 W | RRS James Cook JC041 (UKD-1) |
| 1721102 | Currents -subsurface Eulerian | 2009-12-09 12:29:57 | 55.963 S, 57.74433 W | RRS James Cook JC041 (UKD-1) |
| 1721114 | Currents -subsurface Eulerian | 2009-12-09 12:29:57 | 55.963 S, 57.74433 W | RRS James Cook JC041 (UKD-1) |
| 1721083 | Currents -subsurface Eulerian | 2009-12-09 12:30:00 | 55.963 S, 57.74433 W | RRS James Cook JC041 (UKD-1) |
| 1720701 | Hydrography time series at depth | 2009-12-09 12:30:01 | 55.963 S, 57.74433 W | RRS James Cook JC041 (UKD-1) |
| 1720713 | Hydrography time series at depth | 2009-12-09 12:30:01 | 55.963 S, 57.74433 W | RRS James Cook JC041 (UKD-1) |
| 1720725 | Hydrography time series at depth | 2009-12-09 12:30:01 | 55.963 S, 57.74433 W | RRS James Cook JC041 (UKD-1) |
| 1720737 | Hydrography time series at depth | 2009-12-09 12:30:01 | 55.963 S, 57.74433 W | RRS James Cook JC041 (UKD-1) |
| 1720694 | Hydrography time series at depth | 2009-12-09 12:40:00 | 55.963 S, 57.74433 W | RRS James Cook JC041 (UKD-1) |
| 1721175 | Currents -subsurface Eulerian | 2009-12-09 16:15:01 | 56.05717 S, 57.74233 W | RRS James Cook JC041 (UKD-1) |
| 1721187 | Currents -subsurface Eulerian | 2009-12-09 16:15:01 | 56.05717 S, 57.74233 W | RRS James Cook JC041 (UKD-1) |
| 1721199 | Currents -subsurface Eulerian | 2009-12-09 16:15:01 | 56.05717 S, 57.74233 W | RRS James Cook JC041 (UKD-1) |
| 1721206 | Currents -subsurface Eulerian | 2009-12-09 16:15:01 | 56.05717 S, 57.74233 W | RRS James Cook JC041 (UKD-1) |
| 1720805 | Hydrography time series at depth | 2009-12-09 16:15:01 | 56.05717 S, 57.74233 W | RRS James Cook JC041 (UKD-1) |
| 1720817 | Hydrography time series at depth | 2009-12-09 16:15:01 | 56.05717 S, 57.74233 W | RRS James Cook JC041 (UKD-1) |
| 1720829 | Hydrography time series at depth | 2009-12-09 16:15:01 | 56.05717 S, 57.74233 W | RRS James Cook JC041 (UKD-1) |
| 1720830 | Hydrography time series at depth | 2009-12-09 16:15:01 | 56.05717 S, 57.74233 W | RRS James Cook JC041 (UKD-1) |
| 1720798 | Hydrography time series at depth | 2009-12-09 16:20:02 | 56.05717 S, 57.74233 W | RRS James Cook JC041 (UKD-1) |
| 1720786 | Hydrography time series at depth | 2009-12-10 13:50:00 | 55.964 S, 57.91467 W | RRS James Cook JC041 (UKD-1) |
| 1721126 | Currents -subsurface Eulerian | 2009-12-10 13:59:57 | 55.964 S, 57.91467 W | RRS James Cook JC041 (UKD-1) |
| 1721138 | Currents -subsurface Eulerian | 2009-12-10 13:59:57 | 55.964 S, 57.91467 W | RRS James Cook JC041 (UKD-1) |
| 1721151 | Currents -subsurface Eulerian | 2009-12-10 13:59:57 | 55.964 S, 57.91467 W | RRS James Cook JC041 (UKD-1) |
| 1721163 | Currents -subsurface Eulerian | 2009-12-10 13:59:57 | 55.964 S, 57.91467 W | RRS James Cook JC041 (UKD-1) |
| 1720922 | Currents -subsurface Eulerian | 2009-12-10 14:00:00 | 55.964 S, 57.91467 W | RRS James Cook JC041 (UKD-1) |
| 1720749 | Hydrography time series at depth | 2009-12-10 14:00:01 | 55.964 S, 57.91467 W | RRS James Cook JC041 (UKD-1) |
| 1720750 | Hydrography time series at depth | 2009-12-10 14:00:01 | 55.964 S, 57.91467 W | RRS James Cook JC041 (UKD-1) |
| 1720762 | Hydrography time series at depth | 2009-12-10 14:00:01 | 55.964 S, 57.91467 W | RRS James Cook JC041 (UKD-1) |
| 1720774 | Hydrography time series at depth | 2009-12-10 14:00:01 | 55.964 S, 57.91467 W | RRS James Cook JC041 (UKD-1) |
| 1720946 | Currents -subsurface Eulerian | 2009-12-10 18:30:00 | 56.01183 S, 57.82767 W | RRS James Cook JC041 (UKD-1) |
| 1720958 | Currents -subsurface Eulerian | 2009-12-10 18:30:00 | 56.01183 S, 57.82767 W | RRS James Cook JC041 (UKD-1) |
| 1720971 | Currents -subsurface Eulerian | 2009-12-10 18:30:00 | 56.01183 S, 57.82767 W | RRS James Cook JC041 (UKD-1) |
| 1720983 | Currents -subsurface Eulerian | 2009-12-10 18:30:00 | 56.01183 S, 57.82767 W | RRS James Cook JC041 (UKD-1) |
| 1720995 | Currents -subsurface Eulerian | 2009-12-10 18:30:00 | 56.01183 S, 57.82767 W | RRS James Cook JC041 (UKD-1) |
| 1721009 | Currents -subsurface Eulerian | 2009-12-10 18:30:00 | 56.01183 S, 57.82767 W | RRS James Cook JC041 (UKD-1) |
| 1721010 | Currents -subsurface Eulerian | 2009-12-10 18:30:00 | 56.01183 S, 57.82767 W | RRS James Cook JC041 (UKD-1) |
| 1721022 | Currents -subsurface Eulerian | 2009-12-10 18:30:00 | 56.01183 S, 57.82767 W | RRS James Cook JC041 (UKD-1) |
| 1721034 | Currents -subsurface Eulerian | 2009-12-10 18:30:00 | 56.01183 S, 57.82767 W | RRS James Cook JC041 (UKD-1) |
| 1721046 | Currents -subsurface Eulerian | 2009-12-10 18:30:00 | 56.01183 S, 57.82767 W | RRS James Cook JC041 (UKD-1) |
| 1721058 | Currents -subsurface Eulerian | 2009-12-10 18:30:00 | 56.01183 S, 57.82767 W | RRS James Cook JC041 (UKD-1) |
| 1721071 | Currents -subsurface Eulerian | 2009-12-10 18:30:00 | 56.01183 S, 57.82767 W | RRS James Cook JC041 (UKD-1) |
| 1720541 | Hydrography time series at depth | 2009-12-10 18:30:01 | 56.01183 S, 57.82767 W | RRS James Cook JC041 (UKD-1) |
| 1720553 | Hydrography time series at depth | 2009-12-10 18:30:01 | 56.01183 S, 57.82767 W | RRS James Cook JC041 (UKD-1) |
| 1720565 | Hydrography time series at depth | 2009-12-10 18:30:01 | 56.01183 S, 57.82767 W | RRS James Cook JC041 (UKD-1) |
| 1720577 | Hydrography time series at depth | 2009-12-10 18:30:01 | 56.01183 S, 57.82767 W | RRS James Cook JC041 (UKD-1) |
| 1720589 | Hydrography time series at depth | 2009-12-10 18:30:01 | 56.01183 S, 57.82767 W | RRS James Cook JC041 (UKD-1) |
| 1720590 | Hydrography time series at depth | 2009-12-10 18:30:01 | 56.01183 S, 57.82767 W | RRS James Cook JC041 (UKD-1) |
| 1720608 | Hydrography time series at depth | 2009-12-10 18:30:01 | 56.01183 S, 57.82767 W | RRS James Cook JC041 (UKD-1) |
| 1720621 | Hydrography time series at depth | 2009-12-10 18:30:01 | 56.01183 S, 57.82767 W | RRS James Cook JC041 (UKD-1) |
| 1720633 | Hydrography time series at depth | 2009-12-10 18:30:01 | 56.01183 S, 57.82767 W | RRS James Cook JC041 (UKD-1) |
| 1720645 | Hydrography time series at depth | 2009-12-10 18:30:01 | 56.01183 S, 57.82767 W | RRS James Cook JC041 (UKD-1) |
| 1720657 | Hydrography time series at depth | 2009-12-10 18:30:01 | 56.01183 S, 57.82767 W | RRS James Cook JC041 (UKD-1) |
| 1720669 | Hydrography time series at depth | 2009-12-10 18:30:01 | 56.01183 S, 57.82767 W | RRS James Cook JC041 (UKD-1) |
| 1720934 | Currents -subsurface Eulerian | 2009-12-11 15:00:00 | 56.06067 S, 57.90867 W | RRS James Cook JC041 (UKD-1) |
| 1721218 | Currents -subsurface Eulerian | 2009-12-11 15:00:00 | 56.06067 S, 57.90867 W | RRS James Cook JC041 (UKD-1) |
| 1721231 | Currents -subsurface Eulerian | 2009-12-11 15:00:00 | 56.06067 S, 57.90867 W | RRS James Cook JC041 (UKD-1) |
| 1721243 | Currents -subsurface Eulerian | 2009-12-11 15:00:00 | 56.06067 S, 57.90867 W | RRS James Cook JC041 (UKD-1) |
| 1721255 | Currents -subsurface Eulerian | 2009-12-11 15:00:00 | 56.06067 S, 57.90867 W | RRS James Cook JC041 (UKD-1) |
| 1720842 | Hydrography time series at depth | 2009-12-11 15:00:00 | 56.06067 S, 57.90867 W | RRS James Cook JC041 (UKD-1) |
| 1720854 | Hydrography time series at depth | 2009-12-11 15:00:00 | 56.06067 S, 57.90867 W | RRS James Cook JC041 (UKD-1) |
| 1720866 | Hydrography time series at depth | 2009-12-11 15:00:00 | 56.06067 S, 57.90867 W | RRS James Cook JC041 (UKD-1) |
| 1720878 | Hydrography time series at depth | 2009-12-11 15:00:00 | 56.06067 S, 57.90867 W | RRS James Cook JC041 (UKD-1) |
| 1720891 | Hydrography time series at depth | 2009-12-11 15:00:00 | 56.06067 S, 57.90867 W | RRS James Cook JC041 (UKD-1) |
| 1720682 | Hydrography time series at depth | 2009-12-11 19:20:00 | 56.023 S, 57.7835 W | RRS James Cook JC041 (UKD-1) |
| 1720909 | Currents -subsurface Eulerian | 2009-12-11 19:40:00 | 56.023 S, 57.7835 W | RRS James Cook JC041 (UKD-1) |
| 1720910 | Currents -subsurface Eulerian | 2009-12-11 19:40:00 | 56.023 S, 57.7835 W | RRS James Cook JC041 (UKD-1) |
| 1720670 | Hydrography time series at depth | 2009-12-31 23:00:00 | 56.023 S, 57.7835 W | RRS James Cook JC041 (UKD-1) |
| 1650129 | Currents -subsurface Eulerian | 2010-12-07 03:51:45 | 55.95714 S, 57.92298 W | RRS James Cook JC054 (UKD-2) |
| 1133839 | CTD or STD cast | 2010-12-07 22:08:52 | 61.0465 S, 54.5841 W | RRS James Clark Ross JR20101205 (JR242) |
| 1133840 | CTD or STD cast | 2010-12-07 23:17:26 | 60.981 S, 54.6298 W | RRS James Clark Ross JR20101205 (JR242) |
| 1133852 | CTD or STD cast | 2010-12-08 00:52:27 | 60.8504 S, 54.711 W | RRS James Clark Ross JR20101205 (JR242) |
| 1133864 | CTD or STD cast | 2010-12-08 02:02:39 | 60.8333 S, 54.7211 W | RRS James Clark Ross JR20101205 (JR242) |
| 1650130 | Currents -subsurface Eulerian | 2010-12-08 02:30:49 | 55.96438 S, 57.91398 W | RRS James Cook JC054 (UKD-2) |
| 1133876 | CTD or STD cast | 2010-12-08 03:51:34 | 60.7984 S, 54.7393 W | RRS James Clark Ross JR20101205 (JR242) |
| 1133888 | CTD or STD cast | 2010-12-08 06:39:57 | 60.6668 S, 54.8173 W | RRS James Clark Ross JR20101205 (JR242) |
| 1650074 | CTD or STD cast | 2010-12-08 08:58:00 | 55.9966 S, 57.9126 W | RRS James Cook JC054 (UKD-2) |
| 1650142 | Currents -subsurface Eulerian | 2010-12-08 09:19:05 | 55.99842 S, 57.91277 W | RRS James Cook JC054 (UKD-2) |
| 1133907 | CTD or STD cast | 2010-12-08 10:52:41 | 60.3344 S, 55.0364 W | RRS James Clark Ross JR20101205 (JR242) |
| 1133919 | CTD or STD cast | 2010-12-08 15:13:48 | 60.0022 S, 55.2417 W | RRS James Clark Ross JR20101205 (JR242) |
| 1650086 | CTD or STD cast | 2010-12-08 17:32:00 | 56.0284 S, 57.9107 W | RRS James Cook JC054 (UKD-2) |
| 1650154 | Currents -subsurface Eulerian | 2010-12-08 18:05:44 | 56.03272 S, 57.91042 W | RRS James Cook JC054 (UKD-2) |
| 1650166 | Currents -subsurface Eulerian | 2010-12-09 01:55:31 | 56.06286 S, 57.90834 W | RRS James Cook JC054 (UKD-2) |
| 1650098 | CTD or STD cast | 2010-12-09 08:07:00 | 56.0603 S, 57.867 W | RRS James Cook JC054 (UKD-2) |
| 1650178 | Currents -subsurface Eulerian | 2010-12-09 08:25:46 | 56.05974 S, 57.8671 W | RRS James Cook JC054 (UKD-2) |
| 1650105 | CTD or STD cast | 2010-12-09 14:17:00 | 56.0277 S, 57.8687 W | RRS James Cook JC054 (UKD-2) |
| 1650191 | Currents -subsurface Eulerian | 2010-12-09 14:41:01 | 56.03048 S, 57.86742 W | RRS James Cook JC054 (UKD-2) |
| 1650209 | Currents -subsurface Eulerian | 2010-12-09 17:31:26 | 56.03788 S, 57.86478 W | RRS James Cook JC054 (UKD-2) |
| 1133920 | CTD or STD cast | 2010-12-09 20:52:15 | 55.1715 S, 58.2312 W | RRS James Clark Ross JR20101205 (JR242) |
| 1650210 | Currents -subsurface Eulerian | 2010-12-09 23:29:06 | 55.99542 S, 57.87158 W | RRS James Cook JC054 (UKD-2) |
| 1650117 | CTD or STD cast | 2010-12-10 06:24:00 | 55.9637 S, 57.872 W | RRS James Cook JC054 (UKD-2) |
| 1719828 | Currents -subsurface Eulerian | 2010-12-18 22:00:00 | 56.01142 S, 57.82862 W | RRS James Cook JC054 (UKD-2) |
| 1719841 | Currents -subsurface Eulerian | 2010-12-18 22:00:00 | 56.01142 S, 57.82862 W | RRS James Cook JC054 (UKD-2) |
| 1719853 | Currents -subsurface Eulerian | 2010-12-18 22:00:00 | 56.01142 S, 57.82862 W | RRS James Cook JC054 (UKD-2) |
| 1719865 | Currents -subsurface Eulerian | 2010-12-18 22:00:00 | 56.01142 S, 57.82862 W | RRS James Cook JC054 (UKD-2) |
| 1719877 | Currents -subsurface Eulerian | 2010-12-18 22:00:00 | 56.01142 S, 57.82862 W | RRS James Cook JC054 (UKD-2) |
| 1719889 | Currents -subsurface Eulerian | 2010-12-18 22:00:00 | 56.01142 S, 57.82862 W | RRS James Cook JC054 (UKD-2) |
| 1719890 | Currents -subsurface Eulerian | 2010-12-18 22:00:00 | 56.01142 S, 57.82862 W | RRS James Cook JC054 (UKD-2) |
| 1719908 | Currents -subsurface Eulerian | 2010-12-18 22:00:00 | 56.01142 S, 57.82862 W | RRS James Cook JC054 (UKD-2) |
| 1719921 | Currents -subsurface Eulerian | 2010-12-18 22:00:00 | 56.01142 S, 57.82862 W | RRS James Cook JC054 (UKD-2) |
| 1719933 | Currents -subsurface Eulerian | 2010-12-18 22:00:00 | 56.01142 S, 57.82862 W | RRS James Cook JC054 (UKD-2) |
| 1719945 | Currents -subsurface Eulerian | 2010-12-18 22:00:00 | 56.01142 S, 57.82862 W | RRS James Cook JC054 (UKD-2) |
| 1719957 | Currents -subsurface Eulerian | 2010-12-18 22:00:00 | 56.01142 S, 57.82862 W | RRS James Cook JC054 (UKD-2) |
| 1719459 | Hydrography time series at depth | 2010-12-18 22:00:00 | 56.01142 S, 57.82862 W | RRS James Cook JC054 (UKD-2) |
| 1719460 | Hydrography time series at depth | 2010-12-18 22:00:00 | 56.01142 S, 57.82862 W | RRS James Cook JC054 (UKD-2) |
| 1719472 | Hydrography time series at depth | 2010-12-18 22:00:00 | 56.01142 S, 57.82862 W | RRS James Cook JC054 (UKD-2) |
| 1719484 | Hydrography time series at depth | 2010-12-18 22:00:00 | 56.01142 S, 57.82862 W | RRS James Cook JC054 (UKD-2) |
| 1719496 | Hydrography time series at depth | 2010-12-18 22:00:00 | 56.01142 S, 57.82862 W | RRS James Cook JC054 (UKD-2) |
| 1719503 | Hydrography time series at depth | 2010-12-18 22:00:00 | 56.01142 S, 57.82862 W | RRS James Cook JC054 (UKD-2) |
| 1719515 | Hydrography time series at depth | 2010-12-18 22:00:00 | 56.01142 S, 57.82862 W | RRS James Cook JC054 (UKD-2) |
| 1719527 | Hydrography time series at depth | 2010-12-18 22:00:00 | 56.01142 S, 57.82862 W | RRS James Cook JC054 (UKD-2) |
| 1719539 | Hydrography time series at depth | 2010-12-18 22:00:00 | 56.01142 S, 57.82862 W | RRS James Cook JC054 (UKD-2) |
| 1719540 | Hydrography time series at depth | 2010-12-18 22:00:00 | 56.01142 S, 57.82862 W | RRS James Cook JC054 (UKD-2) |
| 1719552 | Hydrography time series at depth | 2010-12-18 22:00:00 | 56.01142 S, 57.82862 W | RRS James Cook JC054 (UKD-2) |
| 1719564 | Hydrography time series at depth | 2010-12-18 22:00:00 | 56.01142 S, 57.82862 W | RRS James Cook JC054 (UKD-2) |
| 1650234 | Currents -subsurface Eulerian | 2010-12-18 23:39:54 | 56.05854 S, 57.74436 W | RRS James Cook JC054 (UKD-2) |
| 1650246 | Currents -subsurface Eulerian | 2010-12-19 06:09:42 | 56.02622 S, 57.74117 W | RRS James Cook JC054 (UKD-2) |
| 1719969 | Currents -subsurface Eulerian | 2010-12-19 18:30:00 | 56.02202 S, 57.78337 W | RRS James Cook JC054 (UKD-2) |
| 1719970 | Currents -subsurface Eulerian | 2010-12-19 18:30:00 | 56.02202 S, 57.78337 W | RRS James Cook JC054 (UKD-2) |
| 1719576 | Hydrography time series at depth | 2010-12-19 18:30:01 | 56.02202 S, 57.78337 W | RRS James Cook JC054 (UKD-2) |
| 1719588 | Hydrography time series at depth | 2010-12-19 18:30:01 | 56.02202 S, 57.78337 W | RRS James Cook JC054 (UKD-2) |
| 1720006 | Currents -subsurface Eulerian | 2010-12-19 23:30:00 | 55.96343 S, 57.91327 W | RRS James Cook JC054 (UKD-2) |
| 1720031 | Currents -subsurface Eulerian | 2010-12-19 23:30:00 | 56.06137 S, 57.91275 W | RRS James Cook JC054 (UKD-2) |
| 1719656 | Hydrography time series at depth | 2010-12-19 23:30:00 | 55.96343 S, 57.91327 W | RRS James Cook JC054 (UKD-2) |
| 1719668 | Hydrography time series at depth | 2010-12-19 23:30:00 | 55.96343 S, 57.91327 W | RRS James Cook JC054 (UKD-2) |
| 1719681 | Hydrography time series at depth | 2010-12-19 23:30:00 | 55.96343 S, 57.91327 W | RRS James Cook JC054 (UKD-2) |
| 1719693 | Hydrography time series at depth | 2010-12-19 23:30:00 | 55.96343 S, 57.91327 W | RRS James Cook JC054 (UKD-2) |
| 1719700 | Hydrography time series at depth | 2010-12-19 23:30:00 | 55.96343 S, 57.91327 W | RRS James Cook JC054 (UKD-2) |
| 1719773 | Hydrography time series at depth | 2010-12-19 23:30:00 | 56.06137 S, 57.91275 W | RRS James Cook JC054 (UKD-2) |
| 1719785 | Hydrography time series at depth | 2010-12-19 23:30:00 | 56.06137 S, 57.91275 W | RRS James Cook JC054 (UKD-2) |
| 1719797 | Hydrography time series at depth | 2010-12-19 23:30:00 | 56.06137 S, 57.91275 W | RRS James Cook JC054 (UKD-2) |
| 1719804 | Hydrography time series at depth | 2010-12-19 23:30:00 | 56.06137 S, 57.91275 W | RRS James Cook JC054 (UKD-2) |
| 1719816 | Hydrography time series at depth | 2010-12-19 23:30:00 | 56.06137 S, 57.91275 W | RRS James Cook JC054 (UKD-2) |
| 1720079 | Currents -subsurface Eulerian | 2010-12-19 23:30:03 | 55.96343 S, 57.91327 W | RRS James Cook JC054 (UKD-2) |
| 1720080 | Currents -subsurface Eulerian | 2010-12-19 23:30:03 | 55.96343 S, 57.91327 W | RRS James Cook JC054 (UKD-2) |
| 1720092 | Currents -subsurface Eulerian | 2010-12-19 23:30:03 | 55.96343 S, 57.91327 W | RRS James Cook JC054 (UKD-2) |
| 1720111 | Currents -subsurface Eulerian | 2010-12-19 23:30:03 | 55.96343 S, 57.91327 W | RRS James Cook JC054 (UKD-2) |
| 1720160 | Currents -subsurface Eulerian | 2010-12-19 23:30:03 | 56.06137 S, 57.91275 W | RRS James Cook JC054 (UKD-2) |
| 1720172 | Currents -subsurface Eulerian | 2010-12-19 23:30:03 | 56.06137 S, 57.91275 W | RRS James Cook JC054 (UKD-2) |
| 1720184 | Currents -subsurface Eulerian | 2010-12-19 23:30:03 | 56.06137 S, 57.91275 W | RRS James Cook JC054 (UKD-2) |
| 1720196 | Currents -subsurface Eulerian | 2010-12-19 23:30:03 | 56.06137 S, 57.91275 W | RRS James Cook JC054 (UKD-2) |
| 1650258 | Currents -subsurface Eulerian | 2010-12-20 01:21:50 | 55.99622 S, 57.7443 W | RRS James Cook JC054 (UKD-2) |
| 1649884 | CTD or STD cast | 2010-12-20 06:23:00 | 55.9629 S, 57.7442 W | RRS James Cook JC054 (UKD-2) |
| 1650271 | Currents -subsurface Eulerian | 2010-12-20 06:42:52 | 55.96482 S, 57.74419 W | RRS James Cook JC054 (UKD-2) |
| 1719712 | Hydrography time series at depth | 2010-12-20 16:45:00 | 56.05567 S, 57.75047 W | RRS James Cook JC054 (UKD-2) |
| 1719724 | Hydrography time series at depth | 2010-12-20 16:45:00 | 56.05567 S, 57.75047 W | RRS James Cook JC054 (UKD-2) |
| 1719736 | Hydrography time series at depth | 2010-12-20 16:45:00 | 56.05567 S, 57.75047 W | RRS James Cook JC054 (UKD-2) |
| 1719748 | Hydrography time series at depth | 2010-12-20 16:45:00 | 56.05567 S, 57.75047 W | RRS James Cook JC054 (UKD-2) |
| 1719761 | Hydrography time series at depth | 2010-12-20 16:45:00 | 56.05567 S, 57.75047 W | RRS James Cook JC054 (UKD-2) |
| 1720123 | Currents -subsurface Eulerian | 2010-12-20 16:59:57 | 56.05567 S, 57.75047 W | RRS James Cook JC054 (UKD-2) |
| 1720135 | Currents -subsurface Eulerian | 2010-12-20 16:59:57 | 56.05567 S, 57.75047 W | RRS James Cook JC054 (UKD-2) |
| 1720147 | Currents -subsurface Eulerian | 2010-12-20 16:59:57 | 56.05567 S, 57.75047 W | RRS James Cook JC054 (UKD-2) |
| 1720159 | Currents -subsurface Eulerian | 2010-12-20 16:59:57 | 56.05567 S, 57.75047 W | RRS James Cook JC054 (UKD-2) |
| 1720018 | Currents -subsurface Eulerian | 2010-12-20 17:00:00 | 56.05567 S, 57.75047 W | RRS James Cook JC054 (UKD-2) |
| 1719982 | Currents -subsurface Eulerian | 2010-12-20 20:45:00 | 55.96197 S, 57.74628 W | RRS James Cook JC054 (UKD-2) |
| 1719994 | Currents -subsurface Eulerian | 2010-12-20 20:45:00 | 55.96197 S, 57.74628 W | RRS James Cook JC054 (UKD-2) |
| 1720043 | Currents -subsurface Eulerian | 2010-12-20 20:45:01 | 55.96197 S, 57.74628 W | RRS James Cook JC054 (UKD-2) |
| 1720055 | Currents -subsurface Eulerian | 2010-12-20 20:45:01 | 55.96197 S, 57.74628 W | RRS James Cook JC054 (UKD-2) |
| 1720067 | Currents -subsurface Eulerian | 2010-12-20 20:45:01 | 55.96197 S, 57.74628 W | RRS James Cook JC054 (UKD-2) |
| 1719607 | Hydrography time series at depth | 2010-12-20 20:45:01 | 55.96197 S, 57.74628 W | RRS James Cook JC054 (UKD-2) |
| 1719619 | Hydrography time series at depth | 2010-12-20 20:45:01 | 55.96197 S, 57.74628 W | RRS James Cook JC054 (UKD-2) |
| 1719620 | Hydrography time series at depth | 2010-12-20 20:45:01 | 55.96197 S, 57.74628 W | RRS James Cook JC054 (UKD-2) |
| 1719632 | Hydrography time series at depth | 2010-12-20 20:45:01 | 55.96197 S, 57.74628 W | RRS James Cook JC054 (UKD-2) |
| 1719644 | Hydrography time series at depth | 2010-12-20 20:45:01 | 55.96197 S, 57.74628 W | RRS James Cook JC054 (UKD-2) |
| 1650283 | Currents -subsurface Eulerian | 2010-12-20 21:48:18 | 55.96386 S, 57.78812 W | RRS James Cook JC054 (UKD-2) |
| 1649896 | CTD or STD cast | 2010-12-21 02:45:00 | 55.9949 S, 57.7856 W | RRS James Cook JC054 (UKD-2) |
| 1650295 | Currents -subsurface Eulerian | 2010-12-21 03:06:30 | 55.99572 S, 57.78734 W | RRS James Cook JC054 (UKD-2) |
| 1650302 | Currents -subsurface Eulerian | 2010-12-21 08:24:43 | 56.05888 S, 57.78186 W | RRS James Cook JC054 (UKD-2) |
| 1649903 | CTD or STD cast | 2010-12-21 13:25:00 | 56.0588 S, 57.8255 W | RRS James Cook JC054 (UKD-2) |
| 1650314 | Currents -subsurface Eulerian | 2010-12-21 13:53:20 | 56.06011 S, 57.8242 W | RRS James Cook JC054 (UKD-2) |
| 1650326 | Currents -subsurface Eulerian | 2010-12-21 19:04:03 | 56.02812 S, 57.82492 W | RRS James Cook JC054 (UKD-2) |
| 1649915 | CTD or STD cast | 2010-12-22 00:43:00 | 55.9953 S, 57.8281 W | RRS James Cook JC054 (UKD-2) |
| 1650338 | Currents -subsurface Eulerian | 2010-12-22 01:13:01 | 55.99638 S, 57.82744 W | RRS James Cook JC054 (UKD-2) |
| 1650351 | Currents -subsurface Eulerian | 2010-12-22 07:38:04 | 55.96341 S, 57.82944 W | RRS James Cook JC054 (UKD-2) |
| 1650363 | Currents -subsurface Eulerian | 2010-12-23 02:02:17 | 56.65494 S, 58.0505 W | RRS James Cook JC054 (UKD-2) |
| 1650375 | Currents -subsurface Eulerian | 2010-12-23 09:18:11 | 57.25352 S, 58.37102 W | RRS James Cook JC054 (UKD-2) |
| 1650387 | Currents -subsurface Eulerian | 2010-12-23 15:50:31 | 57.8517 S, 58.6854 W | RRS James Cook JC054 (UKD-2) |
| 1650399 | Currents -subsurface Eulerian | 2010-12-23 22:58:21 | 58.4491 S, 58.99243 W | RRS James Cook JC054 (UKD-2) |
| 1650406 | Currents -subsurface Eulerian | 2010-12-24 05:30:41 | 59.20352 S, 59.35604 W | RRS James Cook JC054 (UKD-2) |
| 1088422 | CTD or STD cast | 2010-12-25 06:57:00 | 62.8567 S, 63.52256 W | RRS James Cook JC054 (UKD-2) |
| 1649927 | CTD or STD cast | 2010-12-25 11:48:00 | 62.6035 S, 64.0843 W | RRS James Cook JC054 (UKD-2) |
| 1088434 | CTD or STD cast | 2010-12-25 12:04:00 | 62.60287 S, 64.08545 W | RRS James Cook JC054 (UKD-2) |
| 1088446 | CTD or STD cast | 2010-12-25 19:38:00 | 62.35086 S, 64.648 W | RRS James Cook JC054 (UKD-2) |
| 1649939 | CTD or STD cast | 2010-12-26 02:23:00 | 62.0974 S, 65.2032 W | RRS James Cook JC054 (UKD-2) |
| 1088471 | CTD or STD cast | 2010-12-26 02:42:00 | 62.09567 S, 65.20982 W | RRS James Cook JC054 (UKD-2) |
| 1088483 | CTD or STD cast | 2010-12-26 08:58:00 | 61.84499 S, 65.76395 W | RRS James Cook JC054 (UKD-2) |
| 1649940 | CTD or STD cast | 2010-12-26 16:48:00 | 61.4648 S, 66.6016 W | RRS James Cook JC054 (UKD-2) |
| 1088495 | CTD or STD cast | 2010-12-26 17:01:00 | 61.46475 S, 66.59983 W | RRS James Cook JC054 (UKD-2) |
| 1088502 | CTD or STD cast | 2010-12-27 01:49:00 | 61.08263 S, 67.43747 W | RRS James Cook JC054 (UKD-2) |
| 1088514 | CTD or STD cast | 2010-12-27 09:23:00 | 60.65479 S, 68.00557 W | RRS James Cook JC054 (UKD-2) |
| 1649952 | CTD or STD cast | 2010-12-27 19:48:00 | 60.1099 S, 68.04 W | RRS James Cook JC054 (UKD-2) |
| 1088526 | CTD or STD cast | 2010-12-27 21:51:00 | 60.11191 S, 68.05752 W | RRS James Cook JC054 (UKD-2) |
| 1088538 | CTD or STD cast | 2010-12-28 03:37:00 | 59.74116 S, 68.06239 W | RRS James Cook JC054 (UKD-2) |
| 1649964 | CTD or STD cast | 2010-12-28 10:00:00 | 59.3882 S, 68.0799 W | RRS James Cook JC054 (UKD-2) |
| 1088551 | CTD or STD cast | 2010-12-28 10:19:00 | 59.38238 S, 68.07612 W | RRS James Cook JC054 (UKD-2) |
| 1088563 | CTD or STD cast | 2010-12-28 17:21:00 | 59.01535 S, 68.0658 W | RRS James Cook JC054 (UKD-2) |
| 1649976 | CTD or STD cast | 2010-12-29 02:50:00 | 58.6655 S, 68.1195 W | RRS James Cook JC054 (UKD-2) |
| 1088575 | CTD or STD cast | 2010-12-29 03:20:00 | 58.65477 S, 68.10781 W | RRS James Cook JC054 (UKD-2) |
| 1088599 | CTD or STD cast | 2010-12-29 11:08:00 | 58.29855 S, 68.13619 W | RRS James Cook JC054 (UKD-2) |
| 1649988 | CTD or STD cast | 2010-12-29 21:46:00 | 57.9441 S, 68.1593 W | RRS James Cook JC054 (UKD-2) |
| 1088606 | CTD or STD cast | 2010-12-29 21:53:00 | 57.93721 S, 68.16622 W | RRS James Cook JC054 (UKD-2) |
| 1088618 | CTD or STD cast | 2010-12-30 07:20:00 | 57.58198 S, 68.18309 W | RRS James Cook JC054 (UKD-2) |
| 1650001 | CTD or STD cast | 2010-12-30 15:51:00 | 57.2215 S, 68.2 W | RRS James Cook JC054 (UKD-2) |
| 1088631 | CTD or STD cast | 2010-12-30 16:07:00 | 57.22496 S, 68.17921 W | RRS James Cook JC054 (UKD-2) |
| 1650013 | CTD or STD cast | 2010-12-30 23:43:00 | 56.8761 S, 68.2183 W | RRS James Cook JC054 (UKD-2) |
| 1088643 | CTD or STD cast | 2010-12-30 23:58:00 | 56.87767 S, 68.21201 W | RRS James Cook JC054 (UKD-2) |
| 1650025 | CTD or STD cast | 2011-01-02 03:45:00 | 64.3432 S, 78.9998 W | RRS James Cook JC054 (UKD-2) |
| 1650615 | Currents -subsurface Eulerian | 2011-01-02 04:01:10 | 64.34368 S, 78.9984 W | RRS James Cook JC054 (UKD-2) |
| 1650627 | Currents -subsurface Eulerian | 2011-01-02 13:44:42 | 63.6782 S, 78.99973 W | RRS James Cook JC054 (UKD-2) |
| 1650639 | Currents -subsurface Eulerian | 2011-01-02 22:11:01 | 63.01068 S, 78.99994 W | RRS James Cook JC054 (UKD-2) |
| 1650037 | CTD or STD cast | 2011-01-03 04:48:00 | 62.3388 S, 79.0 W | RRS James Cook JC054 (UKD-2) |
| 1650640 | Currents -subsurface Eulerian | 2011-01-03 05:03:34 | 62.3394 S, 78.99866 W | RRS James Cook JC054 (UKD-2) |
| 1650652 | Currents -subsurface Eulerian | 2011-01-03 13:55:00 | 61.6562 S, 79.00004 W | RRS James Cook JC054 (UKD-2) |
| 1650664 | Currents -subsurface Eulerian | 2011-01-03 20:14:21 | 60.99878 S, 79.0017 W | RRS James Cook JC054 (UKD-2) |
| 1650049 | CTD or STD cast | 2011-01-04 02:02:00 | 60.5175 S, 78.9994 W | RRS James Cook JC054 (UKD-2) |
| 1650676 | Currents -subsurface Eulerian | 2011-01-04 02:18:04 | 60.51788 S, 78.99952 W | RRS James Cook JC054 (UKD-2) |
| 1650688 | Currents -subsurface Eulerian | 2011-01-04 11:59:28 | 59.79994 S, 79.0 W | RRS James Cook JC054 (UKD-2) |
| 1650707 | Currents -subsurface Eulerian | 2011-01-04 18:50:33 | 59.07172 S, 79.00026 W | RRS James Cook JC054 (UKD-2) |
| 1650050 | CTD or STD cast | 2011-01-05 01:36:00 | 58.4289 S, 79.0008 W | RRS James Cook JC054 (UKD-2) |
| 1650719 | Currents -subsurface Eulerian | 2011-01-05 01:54:00 | 58.4293 S, 79.00102 W | RRS James Cook JC054 (UKD-2) |
| 1650720 | Currents -subsurface Eulerian | 2011-01-05 13:06:36 | 57.7861 S, 79.00003 W | RRS James Cook JC054 (UKD-2) |
| 1650062 | CTD or STD cast | 2011-01-06 16:46:00 | 55.1744 S, 77.5343 W | RRS James Cook JC054 (UKD-2) |
| 1813521 | Currents -subsurface Eulerian | 2011-04-11 15:44:18 | 56.49991 S, 77.99994 W | RRS James Clark Ross JR20110409 (JR276, UKD-2.5) |
| 1717662 | Currents -subsurface Eulerian | 2011-04-11 15:49:19 | 56.49995 S, 77.99996 W | RRS James Clark Ross JR20110409 (JR276, UKD-2.5) |
| 1717674 | Currents -subsurface Eulerian | 2011-04-12 02:13:27 | 56.91664 S, 77.99983 W | RRS James Clark Ross JR20110409 (JR276, UKD-2.5) |
| 1717686 | Currents -subsurface Eulerian | 2011-04-12 07:37:22 | 57.33327 S, 77.99987 W | RRS James Clark Ross JR20110409 (JR276, UKD-2.5) |
| 1717698 | Currents -subsurface Eulerian | 2011-04-12 12:32:18 | 57.74993 S, 77.9997 W | RRS James Clark Ross JR20110409 (JR276, UKD-2.5) |
| 1717705 | Currents -subsurface Eulerian | 2011-04-12 19:23:23 | 58.16665 S, 77.99997 W | RRS James Clark Ross JR20110409 (JR276, UKD-2.5) |
| 1717717 | Currents -subsurface Eulerian | 2011-04-13 00:30:04 | 58.58329 S, 77.99974 W | RRS James Clark Ross JR20110409 (JR276, UKD-2.5) |
| 1716450 | CTD or STD cast | 2011-04-13 06:09:00 | 59.0 S, 78.0 W | RRS James Clark Ross JR20110409 (JR276, UKD-2.5) |
| 1717729 | Currents -subsurface Eulerian | 2011-04-13 06:30:53 | 58.99995 S, 77.99942 W | RRS James Clark Ross JR20110409 (JR276, UKD-2.5) |
| 1717730 | Currents -subsurface Eulerian | 2011-04-13 13:47:10 | 59.20002 S, 77.99995 W | RRS James Clark Ross JR20110409 (JR276, UKD-2.5) |
| 1717742 | Currents -subsurface Eulerian | 2011-04-13 21:13:00 | 59.60005 S, 77.99962 W | RRS James Clark Ross JR20110409 (JR276, UKD-2.5) |
| 1717754 | Currents -subsurface Eulerian | 2011-04-14 04:31:38 | 59.79997 S, 77.99995 W | RRS James Clark Ross JR20110409 (JR276, UKD-2.5) |
| 1717766 | Currents -subsurface Eulerian | 2011-04-14 08:26:34 | 59.99978 S, 78.00023 W | RRS James Clark Ross JR20110409 (JR276, UKD-2.5) |
| 1717778 | Currents -subsurface Eulerian | 2011-04-14 11:37:27 | 60.11755 S, 77.99997 W | RRS James Clark Ross JR20110409 (JR276, UKD-2.5) |
| 1716462 | CTD or STD cast | 2011-04-14 15:01:00 | 60.235 S, 77.9997 W | RRS James Clark Ross JR20110409 (JR276, UKD-2.5) |
| 1717791 | Currents -subsurface Eulerian | 2011-04-14 15:21:14 | 60.23518 S, 78.00006 W | RRS James Clark Ross JR20110409 (JR276, UKD-2.5) |
| 1717809 | Currents -subsurface Eulerian | 2011-04-15 01:48:30 | 60.35304 S, 77.99974 W | RRS James Clark Ross JR20110409 (JR276, UKD-2.5) |
| 1717810 | Currents -subsurface Eulerian | 2011-04-15 04:48:25 | 60.47126 S, 77.99902 W | RRS James Clark Ross JR20110409 (JR276, UKD-2.5) |
| 1717822 | Currents -subsurface Eulerian | 2011-04-15 07:39:02 | 60.58818 S, 77.99923 W | RRS James Clark Ross JR20110409 (JR276, UKD-2.5) |
| 1717834 | Currents -subsurface Eulerian | 2011-04-15 10:35:04 | 60.70603 S, 78.00132 W | RRS James Clark Ross JR20110409 (JR276, UKD-2.5) |
| 1717846 | Currents -subsurface Eulerian | 2011-04-15 13:20:31 | 60.82376 S, 78.0022 W | RRS James Clark Ross JR20110409 (JR276, UKD-2.5) |
| 1717858 | Currents -subsurface Eulerian | 2011-04-15 16:08:13 | 60.9411 S, 77.99954 W | RRS James Clark Ross JR20110409 (JR276, UKD-2.5) |
| 1717871 | Currents -subsurface Eulerian | 2011-04-15 18:54:10 | 61.05856 S, 77.99926 W | RRS James Clark Ross JR20110409 (JR276, UKD-2.5) |
| 1717883 | Currents -subsurface Eulerian | 2011-04-15 21:41:05 | 61.17634 S, 78.00009 W | RRS James Clark Ross JR20110409 (JR276, UKD-2.5) |
| 1717895 | Currents -subsurface Eulerian | 2011-04-16 00:27:51 | 61.29395 S, 77.99997 W | RRS James Clark Ross JR20110409 (JR276, UKD-2.5) |
| 1716474 | CTD or STD cast | 2011-04-16 03:37:00 | 61.4118 S, 77.9995 W | RRS James Clark Ross JR20110409 (JR276, UKD-2.5) |
| 1717902 | Currents -subsurface Eulerian | 2011-04-16 03:52:01 | 61.41184 S, 77.99995 W | RRS James Clark Ross JR20110409 (JR276, UKD-2.5) |
| 1717914 | Currents -subsurface Eulerian | 2011-04-16 10:37:46 | 61.52975 S, 78.00004 W | RRS James Clark Ross JR20110409 (JR276, UKD-2.5) |
| 1717926 | Currents -subsurface Eulerian | 2011-04-16 13:26:25 | 61.64708 S, 78.00038 W | RRS James Clark Ross JR20110409 (JR276, UKD-2.5) |
| 1717938 | Currents -subsurface Eulerian | 2011-04-16 16:16:38 | 61.76471 S, 77.99952 W | RRS James Clark Ross JR20110409 (JR276, UKD-2.5) |
| 1717951 | Currents -subsurface Eulerian | 2011-04-16 19:02:58 | 61.88232 S, 77.99978 W | RRS James Clark Ross JR20110409 (JR276, UKD-2.5) |
| 1717963 | Currents -subsurface Eulerian | 2011-04-16 21:34:31 | 62.00021 S, 78.00052 W | RRS James Clark Ross JR20110409 (JR276, UKD-2.5) |
| 1716486 | CTD or STD cast | 2011-04-17 01:07:00 | 62.2222 S, 78.0 W | RRS James Clark Ross JR20110409 (JR276, UKD-2.5) |
| 1717975 | Currents -subsurface Eulerian | 2011-04-17 01:31:48 | 62.22217 S, 77.99999 W | RRS James Clark Ross JR20110409 (JR276, UKD-2.5) |
| 1717987 | Currents -subsurface Eulerian | 2011-04-17 08:12:02 | 62.44429 S, 77.99986 W | RRS James Clark Ross JR20110409 (JR276, UKD-2.5) |
| 1717999 | Currents -subsurface Eulerian | 2011-04-17 11:27:45 | 62.66658 S, 78.0001 W | RRS James Clark Ross JR20110409 (JR276, UKD-2.5) |
| 1718002 | Currents -subsurface Eulerian | 2011-04-17 14:50:20 | 62.88876 S, 77.9998 W | RRS James Clark Ross JR20110409 (JR276, UKD-2.5) |
| 1716498 | CTD or STD cast | 2011-04-17 18:19:00 | 63.11033 S, 77.99883 W | RRS James Clark Ross JR20110409 (JR276, UKD-2.5) |
| 1718014 | Currents -subsurface Eulerian | 2011-04-17 18:37:19 | 63.11133 S, 77.99894 W | RRS James Clark Ross JR20110409 (JR276, UKD-2.5) |
| 1718026 | Currents -subsurface Eulerian | 2011-04-18 01:09:33 | 63.33327 S, 78.00008 W | RRS James Clark Ross JR20110409 (JR276, UKD-2.5) |
| 1718038 | Currents -subsurface Eulerian | 2011-04-18 04:22:01 | 63.5554 S, 78.0005 W | RRS James Clark Ross JR20110409 (JR276, UKD-2.5) |
| 1718051 | Currents -subsurface Eulerian | 2011-04-18 07:28:15 | 63.77755 S, 77.99994 W | RRS James Clark Ross JR20110409 (JR276, UKD-2.5) |
| 1716505 | CTD or STD cast | 2011-04-18 11:15:00 | 63.99833 S, 77.9995 W | RRS James Clark Ross JR20110409 (JR276, UKD-2.5) |
| 1718063 | Currents -subsurface Eulerian | 2011-04-18 11:27:39 | 63.99908 S, 77.99967 W | RRS James Clark Ross JR20110409 (JR276, UKD-2.5) |
| 1716517 | CTD or STD cast | 2011-04-21 09:47:00 | 58.9994 S, 55.8543 W | RRS James Clark Ross JR20110409 (JR276, UKD-2.5) |
| 1089197 | CTD or STD cast | 2011-04-21 09:53:08 | 59.00032 S, 55.85588 W | RRS James Clark Ross JR20110409 (JR276, UKD-2.5) |
| 1089204 | CTD or STD cast | 2011-04-21 16:07:59 | 58.68449 S, 56.05512 W | RRS James Clark Ross JR20110409 (JR276, UKD-2.5) |
| 1716529 | CTD or STD cast | 2011-04-21 21:59:00 | 58.366 S, 56.2488 W | RRS James Clark Ross JR20110409 (JR276, UKD-2.5) |
| 1089216 | CTD or STD cast | 2011-04-21 22:14:12 | 58.36028 S, 56.22944 W | RRS James Clark Ross JR20110409 (JR276, UKD-2.5) |
| 1089228 | CTD or STD cast | 2011-04-22 05:34:10 | 58.05047 S, 56.44598 W | RRS James Clark Ross JR20110409 (JR276, UKD-2.5) |
| 1089241 | CTD or STD cast | 2011-04-22 11:31:28 | 57.73355 S, 56.64028 W | RRS James Clark Ross JR20110409 (JR276, UKD-2.5) |
| 1716401 | CTD or STD cast | 2011-04-22 17:26:00 | 57.4158 S, 56.8407 W | RRS James Clark Ross JR20110409 (JR276, UKD-2.5) |
| 1089253 | CTD or STD cast | 2011-04-22 17:31:50 | 57.41569 S, 56.83976 W | RRS James Clark Ross JR20110409 (JR276, UKD-2.5) |
| 1089265 | CTD or STD cast | 2011-04-23 12:24:27 | 57.09461 S, 57.03438 W | RRS James Clark Ross JR20110409 (JR276, UKD-2.5) |
| 1716413 | CTD or STD cast | 2011-04-23 19:06:00 | 56.7833 S, 57.2295 W | RRS James Clark Ross JR20110409 (JR276, UKD-2.5) |
| 1089277 | CTD or STD cast | 2011-04-23 19:18:51 | 56.78234 S, 57.22889 W | RRS James Clark Ross JR20110409 (JR276, UKD-2.5) |
| 1716425 | CTD or STD cast | 2011-04-24 03:06:00 | 56.468 S, 57.42483 W | RRS James Clark Ross JR20110409 (JR276, UKD-2.5) |
| 1089289 | CTD or STD cast | 2011-04-24 03:12:07 | 56.46789 S, 57.42486 W | RRS James Clark Ross JR20110409 (JR276, UKD-2.5) |
| 1089308 | CTD or STD cast | 2011-04-24 07:00:17 | 56.46723 S, 57.42493 W | RRS James Clark Ross JR20110409 (JR276, UKD-2.5) |
| 1089321 | CTD or STD cast | 2011-04-24 11:29:24 | 56.15437 S, 57.60453 W | RRS James Clark Ross JR20110409 (JR276, UKD-2.5) |
| 1716437 | CTD or STD cast | 2011-04-24 16:52:00 | 55.834 S, 57.737 W | RRS James Clark Ross JR20110409 (JR276, UKD-2.5) |
| 1089333 | CTD or STD cast | 2011-04-24 17:00:06 | 55.84134 S, 57.8088 W | RRS James Clark Ross JR20110409 (JR276, UKD-2.5) |
| 1089345 | CTD or STD cast | 2011-04-25 00:43:19 | 55.51916 S, 58.01485 W | RRS James Clark Ross JR20110409 (JR276, UKD-2.5) |
| 1716449 | CTD or STD cast | 2011-04-25 06:02:00 | 55.141 S, 57.999 W | RRS James Clark Ross JR20110409 (JR276, UKD-2.5) |
| 1089357 | CTD or STD cast | 2011-04-25 06:09:18 | 55.14169 S, 57.99991 W | RRS James Clark Ross JR20110409 (JR276, UKD-2.5) |
| 1089369 | CTD or STD cast | 2011-04-25 14:29:46 | 55.06718 S, 57.97362 W | RRS James Clark Ross JR20110409 (JR276, UKD-2.5) |
| 1812197 | Currents -subsurface Eulerian | 2012-01-31 17:31:20 | 35.04032 S, 55.95255 W | RRS James Cook JC069 (UKD-3) |
| 1812204 | Currents -subsurface Eulerian | 2012-01-31 17:31:36 | 35.04054 S, 55.95143 W | RRS James Cook JC069 (UKD-3) |
| 1838317 | CTD or STD cast | 2012-02-03 14:42:00 | 45.5833 S, 53.6 W | RRS James Cook JC069 (UKD-3) |
| 1838329 | CTD or STD cast | 2012-02-08 04:07:00 | 53.9677 S, 53.5128 W | RRS James Cook JC069 (UKD-3) |
| 1838330 | CTD or STD cast | 2012-02-09 02:24:00 | 53.3833 S, 50.0833 W | RRS James Cook JC069 (UKD-3) |
| 1838342 | CTD or STD cast | 2012-02-10 15:30:00 | 53.341 S, 49.071 W | RRS James Cook JC069 (UKD-3) |
| 1838354 | CTD or STD cast | 2012-02-11 02:44:00 | 53.3595 S, 49.2553 W | RRS James Cook JC069 (UKD-3) |
| 1838366 | CTD or STD cast | 2012-02-11 09:30:00 | 53.3003 S, 48.929 W | RRS James Cook JC069 (UKD-3) |
| 1838378 | CTD or STD cast | 2012-02-14 09:18:00 | 53.131 S, 48.4836 W | RRS James Cook JC069 (UKD-3) |
| 1838391 | CTD or STD cast | 2012-02-14 15:37:00 | 53.2167 S, 48.7843 W | RRS James Cook JC069 (UKD-3) |
| 1838409 | CTD or STD cast | 2012-02-15 08:00:00 | 52.9282 S, 47.7494 W | RRS James Cook JC069 (UKD-3) |
| 1838410 | CTD or STD cast | 2012-02-15 13:00:00 | 53.0409 S, 48.041 W | RRS James Cook JC069 (UKD-3) |
| 1838422 | CTD or STD cast | 2012-02-15 18:51:00 | 53.0007 S, 47.4368 W | RRS James Cook JC069 (UKD-3) |
| 1838434 | CTD or STD cast | 2012-02-16 05:15:00 | 53.0938 S, 47.0809 W | RRS James Cook JC069 (UKD-3) |
| 1838446 | CTD or STD cast | 2012-02-16 22:50:00 | 54.0 S, 49.1287 W | RRS James Cook JC069 (UKD-3) |
| 1838458 | CTD or STD cast | 2012-02-19 21:05:00 | 53.9968 S, 50.347 W | RRS James Cook JC069 (UKD-3) |
| 1838471 | CTD or STD cast | 2012-02-20 12:33:00 | 54.0022 S, 49.7392 W | RRS James Cook JC069 (UKD-3) |
| 1838483 | CTD or STD cast | 2012-02-26 12:51:00 | 53.4406 S, 49.0944 W | RRS James Cook JC069 (UKD-3) |
| 1838495 | CTD or STD cast | 2012-02-26 23:33:00 | 53.305 S, 48.9777 W | RRS James Cook JC069 (UKD-3) |
| 1838502 | CTD or STD cast | 2012-02-28 11:18:00 | 52.7588 S, 48.824 W | RRS James Cook JC069 (UKD-3) |
| 1838514 | CTD or STD cast | 2012-02-28 21:28:00 | 52.7877 S, 49.607 W | RRS James Cook JC069 (UKD-3) |
| 1838526 | CTD or STD cast | 2012-02-29 04:12:00 | 53.0834 S, 49.7987 W | RRS James Cook JC069 (UKD-3) |
| 1838538 | CTD or STD cast | 2012-03-01 03:44:00 | 53.1989 S, 45.5906 W | RRS James Cook JC069 (UKD-3) |
| 1838551 | CTD or STD cast | 2012-03-01 09:09:00 | 53.2574 S, 44.9927 W | RRS James Cook JC069 (UKD-3) |
| 1838563 | CTD or STD cast | 2012-03-01 13:16:00 | 53.2923 S, 44.7142 W | RRS James Cook JC069 (UKD-3) |
| 1726327 | Currents -subsurface Eulerian | 2012-03-06 02:33:25 | 56.04016 S, 57.91585 W | RRS James Cook JC069 (UKD-3) |
| 1726339 | Currents -subsurface Eulerian | 2012-03-06 04:30:06 | 56.05021 S, 57.85278 W | RRS James Cook JC069 (UKD-3) |
| 1726340 | Currents -subsurface Eulerian | 2012-03-06 05:35:42 | 56.05582 S, 57.81813 W | RRS James Cook JC069 (UKD-3) |
| 1726352 | Currents -subsurface Eulerian | 2012-03-06 17:13:08 | 56.07344 S, 57.74362 W | RRS James Cook JC069 (UKD-3) |
| 1726364 | Currents -subsurface Eulerian | 2012-03-07 06:12:59 | 55.08061 S, 57.94772 W | RRS James Cook JC069 (UKD-3) |
| 1838575 | CTD or STD cast | 2012-03-07 06:52:00 | 55.08073 S, 57.94753 W | RRS James Cook JC069 (UKD-3) |
| 1726376 | Currents -subsurface Eulerian | 2012-03-07 09:56:55 | 55.13982 S, 57.94794 W | RRS James Cook JC069 (UKD-3) |
| 1838587 | CTD or STD cast | 2012-03-07 10:21:00 | 55.14012 S, 57.9482 W | RRS James Cook JC069 (UKD-3) |
| 1726388 | Currents -subsurface Eulerian | 2012-03-07 14:20:42 | 55.21012 S, 57.94958 W | RRS James Cook JC069 (UKD-3) |
| 1838599 | CTD or STD cast | 2012-03-07 15:11:00 | 55.20922 S, 57.95327 W | RRS James Cook JC069 (UKD-3) |
| 1726407 | Currents -subsurface Eulerian | 2012-03-07 21:22:27 | 55.51954 S, 57.94687 W | RRS James Cook JC069 (UKD-3) |
| 1726419 | Currents -subsurface Eulerian | 2012-03-08 04:52:19 | 55.83835 S, 57.803 W | RRS James Cook JC069 (UKD-3) |
| 1838606 | CTD or STD cast | 2012-03-08 05:20:00 | 55.83883 S, 57.95023 W | RRS James Cook JC069 (UKD-3) |
| 1726420 | Currents -subsurface Eulerian | 2012-03-08 16:02:47 | 56.15342 S, 57.6014 W | RRS James Cook JC069 (UKD-3) |
| 1838618 | CTD or STD cast | 2012-03-08 17:10:00 | 56.15445 S, 57.5992 W | RRS James Cook JC069 (UKD-3) |
| 1726432 | Currents -subsurface Eulerian | 2012-03-08 22:57:28 | 56.46668 S, 57.42511 W | RRS James Cook JC069 (UKD-3) |
| 1726444 | Currents -subsurface Eulerian | 2012-03-09 06:25:07 | 56.78344 S, 57.21806 W | RRS James Cook JC069 (UKD-3) |
| 1838631 | CTD or STD cast | 2012-03-09 08:01:00 | 56.786 S, 57.198 W | RRS James Cook JC069 (UKD-3) |
| 1726456 | Currents -subsurface Eulerian | 2012-03-09 15:34:24 | 57.09463 S, 57.03066 W | RRS James Cook JC069 (UKD-3) |
| 1838643 | CTD or STD cast | 2012-03-09 17:23:00 | 57.0957 S, 57.01067 W | RRS James Cook JC069 (UKD-3) |
| 1726468 | Currents -subsurface Eulerian | 2012-03-10 00:05:19 | 57.41428 S, 56.83746 W | RRS James Cook JC069 (UKD-3) |
| 1726481 | Currents -subsurface Eulerian | 2012-03-10 22:53:09 | 57.73307 S, 56.63572 W | RRS James Cook JC069 (UKD-3) |
| 1838655 | CTD or STD cast | 2012-03-11 00:57:00 | 57.74217 S, 56.65117 W | RRS James Cook JC069 (UKD-3) |
| 1726493 | Currents -subsurface Eulerian | 2012-03-11 07:24:08 | 58.04922 S, 56.44143 W | RRS James Cook JC069 (UKD-3) |
| 1838667 | CTD or STD cast | 2012-03-11 08:27:00 | 58.04988 S, 56.43812 W | RRS James Cook JC069 (UKD-3) |
| 1726500 | Currents -subsurface Eulerian | 2012-03-11 15:10:46 | 58.36018 S, 56.22922 W | RRS James Cook JC069 (UKD-3) |
| 1726512 | Currents -subsurface Eulerian | 2012-03-11 21:03:37 | 58.52292 S, 56.14068 W | RRS James Cook JC069 (UKD-3) |
| 1726524 | Currents -subsurface Eulerian | 2012-03-14 03:20:37 | 61.84448 S, 65.76288 W | RRS James Cook JC069 (UKD-3) |
| 1726536 | Currents -subsurface Eulerian | 2012-03-14 11:56:39 | 61.17012 S, 67.25708 W | RRS James Cook JC069 (UKD-3) |
| 1726548 | Currents -subsurface Eulerian | 2012-03-14 20:23:30 | 60.33326 S, 67.99958 W | RRS James Cook JC069 (UKD-3) |
| 1726561 | Currents -subsurface Eulerian | 2012-03-15 06:19:10 | 59.33408 S, 67.99925 W | RRS James Cook JC069 (UKD-3) |
| 1726573 | Currents -subsurface Eulerian | 2012-03-15 18:27:08 | 58.329 S, 67.99166 W | RRS James Cook JC069 (UKD-3) |
| 1726585 | Currents -subsurface Eulerian | 2012-03-17 00:29:32 | 58.32466 S, 67.99128 W | RRS James Cook JC069 (UKD-3) |
| 1744070 | CTD or STD cast | 2013-03-18 23:16:43 | 53.2048 S, 57.3853 W | RRS James Clark Ross JR20130317 (JR252B, JR272B, JR273A, JR281, UKD-4) |
| 1736395 | Currents -subsurface Eulerian | 2013-03-18 23:17:02 | 53.20482 S, 57.38526 W | RRS James Clark Ross JR20130317 (JR252B, JR272B, JR273A, JR281, UKD-4) |
| 1744082 | CTD or STD cast | 2013-03-19 10:23:13 | 54.6668 S, 58.0 W | RRS James Clark Ross JR20130317 (JR252B, JR272B, JR273A, JR281, UKD-4) |
| 1736402 | Currents -subsurface Eulerian | 2013-03-19 10:23:35 | 54.66679 S, 58.00001 W | RRS James Clark Ross JR20130317 (JR252B, JR272B, JR273A, JR281, UKD-4) |
| 1744094 | CTD or STD cast | 2013-03-19 13:53:10 | 54.9223 S, 58.0001 W | RRS James Clark Ross JR20130317 (JR252B, JR272B, JR273A, JR281, UKD-4) |
| 1736414 | Currents -subsurface Eulerian | 2013-03-19 13:53:35 | 54.92226 S, 58.00012 W | RRS James Clark Ross JR20130317 (JR252B, JR272B, JR273A, JR281, UKD-4) |
| 1744101 | CTD or STD cast | 2013-03-19 16:12:21 | 54.9782 S, 57.9982 W | RRS James Clark Ross JR20130317 (JR252B, JR272B, JR273A, JR281, UKD-4) |
| 1736426 | Currents -subsurface Eulerian | 2013-03-19 16:12:39 | 54.97812 S, 57.99822 W | RRS James Clark Ross JR20130317 (JR252B, JR272B, JR273A, JR281, UKD-4) |
| 1744113 | CTD or STD cast | 2013-03-19 17:57:32 | 55.0065 S, 57.9954 W | RRS James Clark Ross JR20130317 (JR252B, JR272B, JR273A, JR281, UKD-4) |
| 1736438 | Currents -subsurface Eulerian | 2013-03-19 17:57:45 | 55.00644 S, 57.99545 W | RRS James Clark Ross JR20130317 (JR252B, JR272B, JR273A, JR281, UKD-4) |
| 1744125 | CTD or STD cast | 2013-03-19 21:00:27 | 55.07 S, 58.0012 W | RRS James Clark Ross JR20130317 (JR252B, JR272B, JR273A, JR281, UKD-4) |
| 1736451 | Currents -subsurface Eulerian | 2013-03-19 21:00:36 | 55.06988 S, 58.00128 W | RRS James Clark Ross JR20130317 (JR252B, JR272B, JR273A, JR281, UKD-4) |
| 1716818 | CTD or STD cast | 2013-03-19 23:50:00 | 55.1248 S, 57.9938 W | RRS James Clark Ross JR20130317 (JR252B, JR272B, JR273A, JR281, UKD-4) |
| 1744137 | CTD or STD cast | 2013-03-20 00:08:36 | 55.1212 S, 57.9985 W | RRS James Clark Ross JR20130317 (JR252B, JR272B, JR273A, JR281, UKD-4) |
| 1736463 | Currents -subsurface Eulerian | 2013-03-20 00:08:48 | 55.12108 S, 57.99846 W | RRS James Clark Ross JR20130317 (JR252B, JR272B, JR273A, JR281, UKD-4) |
| 1716831 | CTD or STD cast | 2013-03-20 04:35:00 | 55.1705 S, 57.9932 W | RRS James Clark Ross JR20130317 (JR252B, JR272B, JR273A, JR281, UKD-4) |
| 1736475 | Currents -subsurface Eulerian | 2013-03-20 04:58:48 | 55.17012 S, 57.99336 W | RRS James Clark Ross JR20130317 (JR252B, JR272B, JR273A, JR281, UKD-4) |
| 1744149 | CTD or STD cast | 2013-03-20 04:59:02 | 55.1702 S, 57.9934 W | RRS James Clark Ross JR20130317 (JR252B, JR272B, JR273A, JR281, UKD-4) |
| 1736487 | Currents -subsurface Eulerian | 2013-03-20 09:35:18 | 55.21438 S, 57.99992 W | RRS James Clark Ross JR20130317 (JR252B, JR272B, JR273A, JR281, UKD-4) |
| 1744150 | CTD or STD cast | 2013-03-20 09:35:30 | 55.2145 S, 57.9999 W | RRS James Clark Ross JR20130317 (JR252B, JR272B, JR273A, JR281, UKD-4) |
| 1736499 | Currents -subsurface Eulerian | 2013-03-20 15:35:30 | 55.51687 S, 57.96088 W | RRS James Clark Ross JR20130317 (JR252B, JR272B, JR273A, JR281, UKD-4) |
| 1744162 | CTD or STD cast | 2013-03-20 15:35:32 | 55.5149 S, 57.9467 W | RRS James Clark Ross JR20130317 (JR252B, JR272B, JR273A, JR281, UKD-4) |
| 1736506 | Currents -subsurface Eulerian | 2013-03-20 20:47:06 | 55.8328 S, 57.82052 W | RRS James Clark Ross JR20130317 (JR252B, JR272B, JR273A, JR281, UKD-4) |
| 1744174 | CTD or STD cast | 2013-03-20 20:47:22 | 55.833 S, 57.8204 W | RRS James Clark Ross JR20130317 (JR252B, JR272B, JR273A, JR281, UKD-4) |
| 1716622 | CTD or STD cast | 2013-03-20 23:02:00 | 55.8328 S, 57.8205 W | RRS James Clark Ross JR20130317 (JR252B, JR272B, JR273A, JR281, UKD-4) |
| 1716695 | CTD or STD cast | 2013-03-21 07:40:00 | 56.1496 S, 57.623 W | RRS James Clark Ross JR20130317 (JR252B, JR272B, JR273A, JR281, UKD-4) |
| 1736518 | Currents -subsurface Eulerian | 2013-03-21 07:57:30 | 56.15044 S, 57.62384 W | RRS James Clark Ross JR20130317 (JR252B, JR272B, JR273A, JR281, UKD-4) |
| 1744186 | CTD or STD cast | 2013-03-21 07:57:40 | 56.1504 S, 57.6237 W | RRS James Clark Ross JR20130317 (JR252B, JR272B, JR273A, JR281, UKD-4) |
| 1744198 | CTD or STD cast | 2013-03-21 14:25:36 | 56.4675 S, 57.4244 W | RRS James Clark Ross JR20130317 (JR252B, JR272B, JR273A, JR281, UKD-4) |
| 1736531 | Currents -subsurface Eulerian | 2013-03-21 14:25:36 | 56.46756 S, 57.42416 W | RRS James Clark Ross JR20130317 (JR252B, JR272B, JR273A, JR281, UKD-4) |
| 1716763 | CTD or STD cast | 2013-03-21 21:10:00 | 56.7848 S, 57.2282 W | RRS James Clark Ross JR20130317 (JR252B, JR272B, JR273A, JR281, UKD-4) |
| 1744205 | CTD or STD cast | 2013-03-21 21:22:59 | 56.7827 S, 57.2204 W | RRS James Clark Ross JR20130317 (JR252B, JR272B, JR273A, JR281, UKD-4) |
| 1736543 | Currents -subsurface Eulerian | 2013-03-21 21:23:10 | 56.78337 S, 57.2297 W | RRS James Clark Ross JR20130317 (JR252B, JR272B, JR273A, JR281, UKD-4) |
| 1736555 | Currents -subsurface Eulerian | 2013-03-22 03:54:23 | 57.09924 S, 57.038 W | RRS James Clark Ross JR20130317 (JR252B, JR272B, JR273A, JR281, UKD-4) |
| 1744217 | CTD or STD cast | 2013-03-22 03:58:00 | 57.0994 S, 57.038 W | RRS James Clark Ross JR20130317 (JR252B, JR272B, JR273A, JR281, UKD-4) |
| 1736567 | Currents -subsurface Eulerian | 2013-03-22 09:25:10 | 57.41514 S, 56.84034 W | RRS James Clark Ross JR20130317 (JR252B, JR272B, JR273A, JR281, UKD-4) |
| 1744229 | CTD or STD cast | 2013-03-22 09:25:39 | 57.4109 S, 56.8458 W | RRS James Clark Ross JR20130317 (JR252B, JR272B, JR273A, JR281, UKD-4) |
| 1736579 | Currents -subsurface Eulerian | 2013-03-22 14:50:32 | 57.73278 S, 56.64072 W | RRS James Clark Ross JR20130317 (JR252B, JR272B, JR273A, JR281, UKD-4) |
| 1744230 | CTD or STD cast | 2013-03-22 14:51:46 | 57.7283 S, 56.6482 W | RRS James Clark Ross JR20130317 (JR252B, JR272B, JR273A, JR281, UKD-4) |
| 1736580 | Currents -subsurface Eulerian | 2013-03-23 17:48:17 | 58.04976 S, 56.44508 W | RRS James Clark Ross JR20130317 (JR252B, JR272B, JR273A, JR281, UKD-4) |
| 1744242 | CTD or STD cast | 2013-03-23 17:49:39 | 58.0499 S, 56.4447 W | RRS James Clark Ross JR20130317 (JR252B, JR272B, JR273A, JR281, UKD-4) |
| 1736592 | Currents -subsurface Eulerian | 2013-03-23 23:31:14 | 58.36578 S, 56.24829 W | RRS James Clark Ross JR20130317 (JR252B, JR272B, JR273A, JR281, UKD-4) |
| 1744254 | CTD or STD cast | 2013-03-23 23:31:38 | 58.3666 S, 56.2501 W | RRS James Clark Ross JR20130317 (JR252B, JR272B, JR273A, JR281, UKD-4) |
| 1716775 | CTD or STD cast | 2013-03-25 00:12:00 | 58.6845 S, 56.054 W | RRS James Clark Ross JR20130317 (JR252B, JR272B, JR273A, JR281, UKD-4) |
| 1736611 | Currents -subsurface Eulerian | 2013-03-25 00:24:26 | 58.68382 S, 56.05246 W | RRS James Clark Ross JR20130317 (JR252B, JR272B, JR273A, JR281, UKD-4) |
| 1744266 | CTD or STD cast | 2013-03-25 00:24:38 | 58.6838 S, 56.0526 W | RRS James Clark Ross JR20130317 (JR252B, JR272B, JR273A, JR281, UKD-4) |
| 1736623 | Currents -subsurface Eulerian | 2013-03-25 07:07:02 | 59.00098 S, 55.85354 W | RRS James Clark Ross JR20130317 (JR252B, JR272B, JR273A, JR281, UKD-4) |
| 1744278 | CTD or STD cast | 2013-03-25 07:07:26 | 59.001 S, 55.8538 W | RRS James Clark Ross JR20130317 (JR252B, JR272B, JR273A, JR281, UKD-4) |
| 1736635 | Currents -subsurface Eulerian | 2013-03-25 12:41:12 | 59.33364 S, 55.6515 W | RRS James Clark Ross JR20130317 (JR252B, JR272B, JR273A, JR281, UKD-4) |
| 1744291 | CTD or STD cast | 2013-03-25 12:42:31 | 59.3335 S, 55.6508 W | RRS James Clark Ross JR20130317 (JR252B, JR272B, JR273A, JR281, UKD-4) |
| 1716787 | CTD or STD cast | 2013-03-25 18:28:00 | 59.6712 S, 55.4641 W | RRS James Clark Ross JR20130317 (JR252B, JR272B, JR273A, JR281, UKD-4) |
| 1736647 | Currents -subsurface Eulerian | 2013-03-25 18:39:15 | 59.66704 S, 55.44396 W | RRS James Clark Ross JR20130317 (JR252B, JR272B, JR273A, JR281, UKD-4) |
| 1744309 | CTD or STD cast | 2013-03-25 18:40:51 | 59.6671 S, 55.4441 W | RRS James Clark Ross JR20130317 (JR252B, JR272B, JR273A, JR281, UKD-4) |
| 1716799 | CTD or STD cast | 2013-03-26 01:47:00 | 59.9997 S, 55.2382 W | RRS James Clark Ross JR20130317 (JR252B, JR272B, JR273A, JR281, UKD-4) |
| 1744310 | CTD or STD cast | 2013-03-26 02:03:49 | 59.9997 S, 55.2381 W | RRS James Clark Ross JR20130317 (JR252B, JR272B, JR273A, JR281, UKD-4) |
| 1736659 | Currents -subsurface Eulerian | 2013-03-26 02:03:56 | 59.99968 S, 55.23808 W | RRS James Clark Ross JR20130317 (JR252B, JR272B, JR273A, JR281, UKD-4) |
| 1736660 | Currents -subsurface Eulerian | 2013-03-26 08:27:13 | 60.33338 S, 55.03 W | RRS James Clark Ross JR20130317 (JR252B, JR272B, JR273A, JR281, UKD-4) |
| 1744322 | CTD or STD cast | 2013-03-26 08:29:42 | 60.3328 S, 55.032 W | RRS James Clark Ross JR20130317 (JR252B, JR272B, JR273A, JR281, UKD-4) |
| 1716806 | CTD or STD cast | 2013-03-26 16:48:00 | 60.6668 S, 54.8248 W | RRS James Clark Ross JR20130317 (JR252B, JR272B, JR273A, JR281, UKD-4) |
| 1736672 | Currents -subsurface Eulerian | 2013-03-26 16:55:19 | 60.6657 S, 54.8261 W | RRS James Clark Ross JR20130317 (JR252B, JR272B, JR273A, JR281, UKD-4) |
| 1744334 | CTD or STD cast | 2013-03-26 16:56:27 | 60.6657 S, 54.8262 W | RRS James Clark Ross JR20130317 (JR252B, JR272B, JR273A, JR281, UKD-4) |
| 1744346 | CTD or STD cast | 2013-03-26 22:44:19 | 60.8003 S, 54.7417 W | RRS James Clark Ross JR20130317 (JR252B, JR272B, JR273A, JR281, UKD-4) |
| 1736684 | Currents -subsurface Eulerian | 2013-03-26 22:44:30 | 60.80018 S, 54.74157 W | RRS James Clark Ross JR20130317 (JR252B, JR272B, JR273A, JR281, UKD-4) |
| 1736696 | Currents -subsurface Eulerian | 2013-03-27 02:19:45 | 60.8335 S, 54.72256 W | RRS James Clark Ross JR20130317 (JR252B, JR272B, JR273A, JR281, UKD-4) |
| 1744358 | CTD or STD cast | 2013-03-27 02:19:51 | 60.8336 S, 54.7228 W | RRS James Clark Ross JR20130317 (JR252B, JR272B, JR273A, JR281, UKD-4) |
| 1736703 | Currents -subsurface Eulerian | 2013-03-27 04:36:45 | 60.84994 S, 54.71386 W | RRS James Clark Ross JR20130317 (JR252B, JR272B, JR273A, JR281, UKD-4) |
| 1744371 | CTD or STD cast | 2013-03-27 04:39:31 | 60.8504 S, 54.7137 W | RRS James Clark Ross JR20130317 (JR252B, JR272B, JR273A, JR281, UKD-4) |
| 1736715 | Currents -subsurface Eulerian | 2013-03-27 07:04:51 | 60.98078 S, 54.62958 W | RRS James Clark Ross JR20130317 (JR252B, JR272B, JR273A, JR281, UKD-4) |
| 1744383 | CTD or STD cast | 2013-03-27 07:07:34 | 60.9808 S, 54.6294 W | RRS James Clark Ross JR20130317 (JR252B, JR272B, JR273A, JR281, UKD-4) |
| 1736727 | Currents -subsurface Eulerian | 2013-03-27 08:44:03 | 61.04722 S, 54.59194 W | RRS James Clark Ross JR20130317 (JR252B, JR272B, JR273A, JR281, UKD-4) |
| 1744395 | CTD or STD cast | 2013-03-27 08:44:16 | 61.0466 S, 54.5913 W | RRS James Clark Ross JR20130317 (JR252B, JR272B, JR273A, JR281, UKD-4) |
| 1744402 | CTD or STD cast | 2013-03-29 14:57:53 | 60.6155 S, 41.9562 W | RRS James Clark Ross JR20130317 (JR252B, JR272B, JR273A, JR281, UKD-4) |
| 1744414 | CTD or STD cast | 2013-03-29 15:49:35 | 60.616 S, 41.9715 W | RRS James Clark Ross JR20130317 (JR252B, JR272B, JR273A, JR281, UKD-4) |
| 1744426 | CTD or STD cast | 2013-03-30 01:37:41 | 60.5974 S, 41.8768 W | RRS James Clark Ross JR20130317 (JR252B, JR272B, JR273A, JR281, UKD-4) |
| 1744438 | CTD or STD cast | 2013-03-30 05:01:52 | 60.5805 S, 41.7637 W | RRS James Clark Ross JR20130317 (JR252B, JR272B, JR273A, JR281, UKD-4) |
| 1744451 | CTD or STD cast | 2013-03-30 08:06:59 | 60.5713 S, 41.698 W | RRS James Clark Ross JR20130317 (JR252B, JR272B, JR273A, JR281, UKD-4) |
| 1744463 | CTD or STD cast | 2013-03-30 14:43:36 | 60.5486 S, 41.6276 W | RRS James Clark Ross JR20130317 (JR252B, JR272B, JR273A, JR281, UKD-4) |
| 1744475 | CTD or STD cast | 2013-03-30 22:42:25 | 60.6181 S, 42.0098 W | RRS James Clark Ross JR20130317 (JR252B, JR272B, JR273A, JR281, UKD-4) |
| 1744487 | CTD or STD cast | 2013-03-31 02:08:06 | 60.6232 S, 42.0487 W | RRS James Clark Ross JR20130317 (JR252B, JR272B, JR273A, JR281, UKD-4) |
| 1744499 | CTD or STD cast | 2013-03-31 05:35:25 | 60.6321 S, 42.1148 W | RRS James Clark Ross JR20130317 (JR252B, JR272B, JR273A, JR281, UKD-4) |
| 1744506 | CTD or STD cast | 2013-03-31 17:30:52 | 60.6438 S, 42.1717 W | RRS James Clark Ross JR20130317 (JR252B, JR272B, JR273A, JR281, UKD-4) |
| 1744518 | CTD or STD cast | 2013-03-31 20:52:37 | 60.6656 S, 42.2559 W | RRS James Clark Ross JR20130317 (JR252B, JR272B, JR273A, JR281, UKD-4) |
| 1744531 | CTD or STD cast | 2013-03-31 23:38:51 | 60.6495 S, 42.2097 W | RRS James Clark Ross JR20130317 (JR252B, JR272B, JR273A, JR281, UKD-4) |
| 1744543 | CTD or STD cast | 2013-04-01 01:56:00 | 60.6439 S, 42.1911 W | RRS James Clark Ross JR20130317 (JR252B, JR272B, JR273A, JR281, UKD-4) |
| 1744555 | CTD or STD cast | 2013-04-01 05:00:14 | 60.6359 S, 42.1442 W | RRS James Clark Ross JR20130317 (JR252B, JR272B, JR273A, JR281, UKD-4) |
| 1744567 | CTD or STD cast | 2013-04-02 02:16:11 | 60.6677 S, 42.3092 W | RRS James Clark Ross JR20130317 (JR252B, JR272B, JR273A, JR281, UKD-4) |
| 1744579 | CTD or STD cast | 2013-04-02 05:15:28 | 60.6286 S, 42.0876 W | RRS James Clark Ross JR20130317 (JR252B, JR272B, JR273A, JR281, UKD-4) |
| 1744580 | CTD or STD cast | 2013-04-03 15:33:25 | 60.5902 S, 41.8344 W | RRS James Clark Ross JR20130317 (JR252B, JR272B, JR273A, JR281, UKD-4) |
| 1744592 | CTD or STD cast | 2013-04-03 22:23:17 | 60.5958 S, 41.8929 W | RRS James Clark Ross JR20130317 (JR252B, JR272B, JR273A, JR281, UKD-4) |
| 1744611 | CTD or STD cast | 2013-04-06 03:37:46 | 63.9655 S, 28.8768 W | RRS James Clark Ross JR20130317 (JR252B, JR272B, JR273A, JR281, UKD-4) |
| 1744623 | CTD or STD cast | 2013-04-06 11:14:58 | 63.3468 S, 29.5688 W | RRS James Clark Ross JR20130317 (JR252B, JR272B, JR273A, JR281, UKD-4) |
| 1744635 | CTD or STD cast | 2013-04-06 16:55:44 | 63.0729 S, 30.1153 W | RRS James Clark Ross JR20130317 (JR252B, JR272B, JR273A, JR281, UKD-4) |
| 1744647 | CTD or STD cast | 2013-04-06 22:53:29 | 62.7828 S, 30.6936 W | RRS James Clark Ross JR20130317 (JR252B, JR272B, JR273A, JR281, UKD-4) |
| 1744659 | CTD or STD cast | 2013-04-07 05:03:45 | 62.4912 S, 31.2615 W | RRS James Clark Ross JR20130317 (JR252B, JR272B, JR273A, JR281, UKD-4) |
| 1744660 | CTD or STD cast | 2013-04-07 11:40:34 | 62.0755 S, 31.1831 W | RRS James Clark Ross JR20130317 (JR252B, JR272B, JR273A, JR281, UKD-4) |
| 1744672 | CTD or STD cast | 2013-04-07 17:21:34 | 61.6613 S, 31.111 W | RRS James Clark Ross JR20130317 (JR252B, JR272B, JR273A, JR281, UKD-4) |
| 1744684 | CTD or STD cast | 2013-04-07 23:01:08 | 61.171 S, 31.0462 W | RRS James Clark Ross JR20130317 (JR252B, JR272B, JR273A, JR281, UKD-4) |
| 1744696 | CTD or STD cast | 2013-04-08 04:52:08 | 60.6995 S, 31.0098 W | RRS James Clark Ross JR20130317 (JR252B, JR272B, JR273A, JR281, UKD-4) |
| 1744703 | CTD or STD cast | 2013-04-08 08:53:45 | 60.3152 S, 30.9584 W | RRS James Clark Ross JR20130317 (JR252B, JR272B, JR273A, JR281, UKD-4) |
| 1744715 | CTD or STD cast | 2013-04-08 13:10:11 | 59.9948 S, 30.9296 W | RRS James Clark Ross JR20130317 (JR252B, JR272B, JR273A, JR281, UKD-4) |
| 1744727 | CTD or STD cast | 2013-04-08 16:53:26 | 59.7663 S, 30.9054 W | RRS James Clark Ross JR20130317 (JR252B, JR272B, JR273A, JR281, UKD-4) |
| 1744739 | CTD or STD cast | 2013-04-08 21:42:38 | 59.4357 S, 30.8602 W | RRS James Clark Ross JR20130317 (JR252B, JR272B, JR273A, JR281, UKD-4) |
| 1744740 | CTD or STD cast | 2013-04-09 02:53:18 | 59.0508 S, 30.8298 W | RRS James Clark Ross JR20130317 (JR252B, JR272B, JR273A, JR281, UKD-4) |
| 1744752 | CTD or STD cast | 2013-04-09 08:07:52 | 58.6352 S, 30.8243 W | RRS James Clark Ross JR20130317 (JR252B, JR272B, JR273A, JR281, UKD-4) |
| 1744764 | CTD or STD cast | 2013-04-09 13:35:48 | 58.213 S, 30.8217 W | RRS James Clark Ross JR20130317 (JR252B, JR272B, JR273A, JR281, UKD-4) |
| 1744776 | CTD or STD cast | 2013-04-09 19:26:21 | 57.801 S, 30.8328 W | RRS James Clark Ross JR20130317 (JR252B, JR272B, JR273A, JR281, UKD-4) |
| 1716843 | CTD or STD cast | 2013-04-10 03:02:00 | 57.4582 S, 31.3278 W | RRS James Clark Ross JR20130317 (JR252B, JR272B, JR273A, JR281, UKD-4) |
| 1744788 | CTD or STD cast | 2013-04-10 03:19:11 | 57.4582 S, 31.3278 W | RRS James Clark Ross JR20130317 (JR252B, JR272B, JR273A, JR281, UKD-4) |
| 1716855 | CTD or STD cast | 2013-04-10 10:23:00 | 57.1065 S, 31.83 W | RRS James Clark Ross JR20130317 (JR252B, JR272B, JR273A, JR281, UKD-4) |
| 1744807 | CTD or STD cast | 2013-04-10 10:37:03 | 57.1065 S, 31.8311 W | RRS James Clark Ross JR20130317 (JR252B, JR272B, JR273A, JR281, UKD-4) |
| 1744819 | CTD or STD cast | 2013-04-10 17:03:29 | 56.7756 S, 32.3041 W | RRS James Clark Ross JR20130317 (JR252B, JR272B, JR273A, JR281, UKD-4) |
| 1744820 | CTD or STD cast | 2013-04-10 22:37:44 | 56.3808 S, 32.8738 W | RRS James Clark Ross JR20130317 (JR252B, JR272B, JR273A, JR281, UKD-4) |
| 1716867 | CTD or STD cast | 2013-04-11 05:36:00 | 55.9913 S, 33.4172 W | RRS James Clark Ross JR20130317 (JR252B, JR272B, JR273A, JR281, UKD-4) |
| 1744832 | CTD or STD cast | 2013-04-11 05:58:53 | 55.9904 S, 33.4195 W | RRS James Clark Ross JR20130317 (JR252B, JR272B, JR273A, JR281, UKD-4) |
| 1716879 | CTD or STD cast | 2013-04-11 10:54:00 | 55.7255 S, 33.7837 W | RRS James Clark Ross JR20130317 (JR252B, JR272B, JR273A, JR281, UKD-4) |
| 1744844 | CTD or STD cast | 2013-04-11 11:08:37 | 55.7241 S, 33.7843 W | RRS James Clark Ross JR20130317 (JR252B, JR272B, JR273A, JR281, UKD-4) |
| 1744856 | CTD or STD cast | 2013-04-11 16:31:11 | 55.4848 S, 34.1332 W | RRS James Clark Ross JR20130317 (JR252B, JR272B, JR273A, JR281, UKD-4) |
| 1744868 | CTD or STD cast | 2013-04-11 21:26:50 | 55.2596 S, 34.4438 W | RRS James Clark Ross JR20130317 (JR252B, JR272B, JR273A, JR281, UKD-4) |
| 1744881 | CTD or STD cast | 2013-04-11 23:35:01 | 55.2153 S, 34.508 W | RRS James Clark Ross JR20130317 (JR252B, JR272B, JR273A, JR281, UKD-4) |
| 1744893 | CTD or STD cast | 2013-04-14 12:29:07 | 53.313 S, 43.2594 W | RRS James Clark Ross JR20130317 (JR252B, JR272B, JR273A, JR281, UKD-4) |
| 1744900 | CTD or STD cast | 2013-04-14 15:31:37 | 53.2715 S, 43.7506 W | RRS James Clark Ross JR20130317 (JR252B, JR272B, JR273A, JR281, UKD-4) |
| 1744912 | CTD or STD cast | 2013-04-14 19:29:33 | 53.2665 S, 44.4455 W | RRS James Clark Ross JR20130317 (JR252B, JR272B, JR273A, JR281, UKD-4) |
| 1744924 | CTD or STD cast | 2013-04-14 21:50:41 | 53.2885 S, 44.7103 W | RRS James Clark Ross JR20130317 (JR252B, JR272B, JR273A, JR281, UKD-4) |
| 1744936 | CTD or STD cast | 2013-04-15 03:33:20 | 53.2585 S, 44.9916 W | RRS James Clark Ross JR20130317 (JR252B, JR272B, JR273A, JR281, UKD-4) |
| 1716880 | CTD or STD cast | 2013-04-15 09:30:00 | 53.2586 S, 44.9914 W | RRS James Clark Ross JR20130317 (JR252B, JR272B, JR273A, JR281, UKD-4) |
| 1716892 | CTD or STD cast | 2013-04-15 14:14:00 | 53.2012 S, 45.5875 W | RRS James Clark Ross JR20130317 (JR252B, JR272B, JR273A, JR281, UKD-4) |
| 1744948 | CTD or STD cast | 2013-04-15 14:36:12 | 53.2001 S, 45.585 W | RRS James Clark Ross JR20130317 (JR252B, JR272B, JR273A, JR281, UKD-4) |
| 1744961 | CTD or STD cast | 2013-04-15 17:53:41 | 53.175 S, 45.9144 W | RRS James Clark Ross JR20130317 (JR252B, JR272B, JR273A, JR281, UKD-4) |
| 1744973 | CTD or STD cast | 2013-04-15 22:00:28 | 53.125 S, 46.5254 W | RRS James Clark Ross JR20130317 (JR252B, JR272B, JR273A, JR281, UKD-4) |
| 1716530 | CTD or STD cast | 2013-04-15 22:21:00 | 53.1253 S, 46.5255 W | RRS James Clark Ross JR20130317 (JR252B, JR272B, JR273A, JR281, UKD-4) |
| 1744985 | CTD or STD cast | 2013-04-16 03:41:33 | 53.023 S, 47.3775 W | RRS James Clark Ross JR20130317 (JR252B, JR272B, JR273A, JR281, UKD-4) |
| 1716542 | CTD or STD cast | 2013-04-16 07:34:00 | 52.9388 S, 47.7389 W | RRS James Clark Ross JR20130317 (JR252B, JR272B, JR273A, JR281, UKD-4) |
| 1744997 | CTD or STD cast | 2013-04-16 07:55:25 | 52.9288 S, 47.748 W | RRS James Clark Ross JR20130317 (JR252B, JR272B, JR273A, JR281, UKD-4) |
| 1716554 | CTD or STD cast | 2013-04-16 13:33:00 | 53.1227 S, 48.1902 W | RRS James Clark Ross JR20130317 (JR252B, JR272B, JR273A, JR281, UKD-4) |
| 1745000 | CTD or STD cast | 2013-04-16 13:47:41 | 53.1222 S, 48.1903 W | RRS James Clark Ross JR20130317 (JR252B, JR272B, JR273A, JR281, UKD-4) |
| 1716566 | CTD or STD cast | 2013-04-16 20:18:00 | 53.1493 S, 48.5027 W | RRS James Clark Ross JR20130317 (JR252B, JR272B, JR273A, JR281, UKD-4) |
| 1745012 | CTD or STD cast | 2013-04-16 20:32:05 | 53.1486 S, 48.5024 W | RRS James Clark Ross JR20130317 (JR252B, JR272B, JR273A, JR281, UKD-4) |
| 1745024 | CTD or STD cast | 2013-04-17 00:47:00 | 53.2165 S, 48.7846 W | RRS James Clark Ross JR20130317 (JR252B, JR272B, JR273A, JR281, UKD-4) |
| 1716578 | CTD or STD cast | 2013-04-17 05:44:00 | 53.3481 S, 48.1011 W | RRS James Clark Ross JR20130317 (JR252B, JR272B, JR273A, JR281, UKD-4) |
| 1745036 | CTD or STD cast | 2013-04-17 05:58:38 | 53.3467 S, 49.0936 W | RRS James Clark Ross JR20130317 (JR252B, JR272B, JR273A, JR281, UKD-4) |
| 1716591 | CTD or STD cast | 2013-04-17 11:03:00 | 53.3806 S, 49.456 W | RRS James Clark Ross JR20130317 (JR252B, JR272B, JR273A, JR281, UKD-4) |
| 1745048 | CTD or STD cast | 2013-04-17 11:17:26 | 53.38 S, 49.4505 W | RRS James Clark Ross JR20130317 (JR252B, JR272B, JR273A, JR281, UKD-4) |
| 1716609 | CTD or STD cast | 2013-04-17 19:42:00 | 52.9278 S, 47.7485 W | RRS James Clark Ross JR20130317 (JR252B, JR272B, JR273A, JR281, UKD-4) |
| 1745061 | CTD or STD cast | 2013-04-17 19:54:10 | 52.9224 S, 47.7485 W | RRS James Clark Ross JR20130317 (JR252B, JR272B, JR273A, JR281, UKD-4) |
| 1716610 | CTD or STD cast | 2013-04-18 00:00:00 | 52.8304 S, 47.8253 W | RRS James Clark Ross JR20130317 (JR252B, JR272B, JR273A, JR281, UKD-4) |
| 1745073 | CTD or STD cast | 2013-04-18 00:12:46 | 52.8251 S, 47.8235 W | RRS James Clark Ross JR20130317 (JR252B, JR272B, JR273A, JR281, UKD-4) |
| 1745085 | CTD or STD cast | 2013-04-18 03:57:24 | 52.7362 S, 47.9055 W | RRS James Clark Ross JR20130317 (JR252B, JR272B, JR273A, JR281, UKD-4) |
| 1716634 | CTD or STD cast | 2013-04-18 08:20:00 | 52.6499 S, 47.9827 W | RRS James Clark Ross JR20130317 (JR252B, JR272B, JR273A, JR281, UKD-4) |
| 1745097 | CTD or STD cast | 2013-04-18 08:34:30 | 52.6452 S, 47.9859 W | RRS James Clark Ross JR20130317 (JR252B, JR272B, JR273A, JR281, UKD-4) |
| 1716646 | CTD or STD cast | 2013-04-18 13:33:00 | 52.5584 S, 48.0629 W | RRS James Clark Ross JR20130317 (JR252B, JR272B, JR273A, JR281, UKD-4) |
| 1745104 | CTD or STD cast | 2013-04-18 13:51:34 | 52.547 S, 48.0619 W | RRS James Clark Ross JR20130317 (JR252B, JR272B, JR273A, JR281, UKD-4) |
| 1716658 | CTD or STD cast | 2013-04-19 22:38:00 | 51.3095 S, 39.846 W | RRS James Clark Ross JR20130317 (JR252B, JR272B, JR273A, JR281, UKD-4) |
| 1745116 | CTD or STD cast | 2013-04-19 22:51:07 | 51.31 S, 39.8498 W | RRS James Clark Ross JR20130317 (JR252B, JR272B, JR273A, JR281, UKD-4) |
| 1716671 | CTD or STD cast | 2013-04-20 05:55:00 | 51.0588 S, 40.3854 W | RRS James Clark Ross JR20130317 (JR252B, JR272B, JR273A, JR281, UKD-4) |
| 1745128 | CTD or STD cast | 2013-04-20 06:13:10 | 51.06 S, 40.3875 W | RRS James Clark Ross JR20130317 (JR252B, JR272B, JR273A, JR281, UKD-4) |
| 1745141 | CTD or STD cast | 2013-04-20 13:01:23 | 50.81 S, 40.925 W | RRS James Clark Ross JR20130317 (JR252B, JR272B, JR273A, JR281, UKD-4) |
| 1745153 | CTD or STD cast | 2013-04-20 17:52:33 | 50.5598 S, 41.4623 W | RRS James Clark Ross JR20130317 (JR252B, JR272B, JR273A, JR281, UKD-4) |
| 1745165 | CTD or STD cast | 2013-04-20 21:15:02 | 50.3734 S, 41.657 W | RRS James Clark Ross JR20130317 (JR252B, JR272B, JR273A, JR281, UKD-4) |
| 1745177 | CTD or STD cast | 2013-04-21 03:09:51 | 49.8514 S, 42.0 W | RRS James Clark Ross JR20130317 (JR252B, JR272B, JR273A, JR281, UKD-4) |
| 1716683 | CTD or STD cast | 2013-04-21 08:42:00 | 49.3933 S, 41.9978 W | RRS James Clark Ross JR20130317 (JR252B, JR272B, JR273A, JR281, UKD-4) |
| 1745189 | CTD or STD cast | 2013-04-21 08:57:45 | 49.3939 S, 41.9805 W | RRS James Clark Ross JR20130317 (JR252B, JR272B, JR273A, JR281, UKD-4) |
| 1745190 | CTD or STD cast | 2013-04-21 16:33:31 | 48.9372 S, 41.9775 W | RRS James Clark Ross JR20130317 (JR252B, JR272B, JR273A, JR281, UKD-4) |
| 1716702 | CTD or STD cast | 2013-04-21 23:40:00 | 48.4775 S, 42.0 W | RRS James Clark Ross JR20130317 (JR252B, JR272B, JR273A, JR281, UKD-4) |
| 1745208 | CTD or STD cast | 2013-04-21 23:54:39 | 48.4767 S, 42.0001 W | RRS James Clark Ross JR20130317 (JR252B, JR272B, JR273A, JR281, UKD-4) |
| 1745221 | CTD or STD cast | 2013-04-22 10:05:23 | 47.9423 S, 41.9969 W | RRS James Clark Ross JR20130317 (JR252B, JR272B, JR273A, JR281, UKD-4) |
| 1716714 | CTD or STD cast | 2013-04-25 14:21:00 | 53.1487 S, 54.6468 W | RRS James Clark Ross JR20130317 (JR252B, JR272B, JR273A, JR281, UKD-4) |
| 1745233 | CTD or STD cast | 2013-04-25 14:33:37 | 53.15 S, 54.6499 W | RRS James Clark Ross JR20130317 (JR252B, JR272B, JR273A, JR281, UKD-4) |
| 1716726 | CTD or STD cast | 2013-04-25 19:46:00 | 53.1622 S, 55.1265 W | RRS James Clark Ross JR20130317 (JR252B, JR272B, JR273A, JR281, UKD-4) |
| 1745245 | CTD or STD cast | 2013-04-25 19:56:28 | 53.1621 S, 55.1278 W | RRS James Clark Ross JR20130317 (JR252B, JR272B, JR273A, JR281, UKD-4) |
| 1745257 | CTD or STD cast | 2013-04-26 00:33:39 | 53.1739 S, 55.6053 W | RRS James Clark Ross JR20130317 (JR252B, JR272B, JR273A, JR281, UKD-4) |
| 1716738 | CTD or STD cast | 2013-04-26 05:12:00 | 53.2872 S, 56.0438 W | RRS James Clark Ross JR20130317 (JR252B, JR272B, JR273A, JR281, UKD-4) |
| 1745269 | CTD or STD cast | 2013-04-26 05:27:26 | 53.2869 S, 56.048 W | RRS James Clark Ross JR20130317 (JR252B, JR272B, JR273A, JR281, UKD-4) |
| 1716751 | CTD or STD cast | 2013-04-26 09:45:00 | 53.3475 S, 56.5484 W | RRS James Clark Ross JR20130317 (JR252B, JR272B, JR273A, JR281, UKD-4) |
| 1745270 | CTD or STD cast | 2013-04-26 10:05:03 | 53.348 S, 56.5499 W | RRS James Clark Ross JR20130317 (JR252B, JR272B, JR273A, JR281, UKD-4) |
| 1745282 | CTD or STD cast | 2013-04-26 14:19:14 | 53.406 S, 57.05 W | RRS James Clark Ross JR20130317 (JR252B, JR272B, JR273A, JR281, UKD-4) |
| 1734211 | CTD or STD cast | 2014-03-12 18:51:00 | 62.76533 S, 59.10957 W | RRS James Clark Ross JR20140308 (JR293 Leg1, JR299 Leg1, UKD-5) |
| 1734284 | CTD or STD cast | 2014-03-12 20:45:00 | 62.76519 S, 59.10958 W | RRS James Clark Ross JR20140308 (JR293 Leg1, JR299 Leg1, UKD-5) |
| 1734376 | CTD or STD cast | 2014-03-13 17:10:00 | 60.98235 S, 54.62895 W | RRS James Clark Ross JR20140308 (JR293 Leg1, JR299 Leg1, UKD-5) |
| 1734388 | CTD or STD cast | 2014-03-13 19:50:00 | 60.84978 S, 54.71302 W | RRS James Clark Ross JR20140308 (JR293 Leg1, JR299 Leg1, UKD-5) |
| 1734407 | CTD or STD cast | 2014-03-13 23:23:00 | 60.83317 S, 54.72175 W | RRS James Clark Ross JR20140308 (JR293 Leg1, JR299 Leg1, UKD-5) |
| 1734419 | CTD or STD cast | 2014-03-14 04:37:00 | 60.66713 S, 54.8245 W | RRS James Clark Ross JR20140308 (JR293 Leg1, JR299 Leg1, UKD-5) |
| 1734420 | CTD or STD cast | 2014-03-14 10:23:00 | 60.33259 S, 55.03171 W | RRS James Clark Ross JR20140308 (JR293 Leg1, JR299 Leg1, UKD-5) |
| 1734223 | CTD or STD cast | 2014-03-14 21:29:00 | 59.66714 S, 55.44537 W | RRS James Clark Ross JR20140308 (JR293 Leg1, JR299 Leg1, UKD-5) |
| 1734235 | CTD or STD cast | 2014-03-15 04:04:00 | 59.33315 S, 55.6478 W | RRS James Clark Ross JR20140308 (JR293 Leg1, JR299 Leg1, UKD-5) |
| 1734247 | CTD or STD cast | 2014-03-15 15:31:00 | 58.68313 S, 56.05579 W | RRS James Clark Ross JR20140308 (JR293 Leg1, JR299 Leg1, UKD-5) |
| 1734259 | CTD or STD cast | 2014-03-15 21:53:00 | 58.3667 S, 56.25015 W | RRS James Clark Ross JR20140308 (JR293 Leg1, JR299 Leg1, UKD-5) |
| 1734260 | CTD or STD cast | 2014-03-16 10:28:00 | 57.73371 S, 56.64063 W | RRS James Clark Ross JR20140308 (JR293 Leg1, JR299 Leg1, UKD-5) |
| 1734272 | CTD or STD cast | 2014-03-16 16:28:00 | 57.4143 S, 56.84012 W | RRS James Clark Ross JR20140308 (JR293 Leg1, JR299 Leg1, UKD-5) |
| 1734296 | CTD or STD cast | 2014-03-17 03:17:00 | 56.78394 S, 57.22993 W | RRS James Clark Ross JR20140308 (JR293 Leg1, JR299 Leg1, UKD-5) |
| 1734303 | CTD or STD cast | 2014-03-17 07:36:00 | 56.70419 S, 57.2789 W | RRS James Clark Ross JR20140308 (JR293 Leg1, JR299 Leg1, UKD-5) |
| 1734315 | CTD or STD cast | 2014-03-17 09:58:00 | 56.625 S, 57.3276 W | RRS James Clark Ross JR20140308 (JR293 Leg1, JR299 Leg1, UKD-5) |
| 1734327 | CTD or STD cast | 2014-03-18 18:21:00 | 55.66613 S, 57.85477 W | RRS James Clark Ross JR20140308 (JR293 Leg1, JR299 Leg1, UKD-5) |
| 1734339 | CTD or STD cast | 2014-03-18 23:27:00 | 55.51905 S, 57.99993 W | RRS James Clark Ross JR20140308 (JR293 Leg1, JR299 Leg1, UKD-5) |
| 1734340 | CTD or STD cast | 2014-03-19 05:03:00 | 55.36824 S, 57.99933 W | RRS James Clark Ross JR20140308 (JR293 Leg1, JR299 Leg1, UKD-5) |
| 1734352 | CTD or STD cast | 2014-03-19 10:36:00 | 55.21425 S, 57.99954 W | RRS James Clark Ross JR20140308 (JR293 Leg1, JR299 Leg1, UKD-5) |
| 1734364 | CTD or STD cast | 2014-03-19 14:43:00 | 55.17311 S, 57.99473 W | RRS James Clark Ross JR20140308 (JR293 Leg1, JR299 Leg1, UKD-5) |
| 1619028 | Currents -subsurface Eulerian | 2015-01-10 12:30:14 | 67.6378 S, 68.054 W | RRS James Clark Ross JR20150110 (JR305, JR306) |
| 1810848 | CTD or STD cast | 2016-01-06 09:11:35 | 61.05 S, 54.5878 W | RRS James Clark Ross JR15003 |
| 1810861 | CTD or STD cast | 2016-01-06 11:11:24 | 60.9811 S, 54.6299 W | RRS James Clark Ross JR15003 |
| 1810873 | CTD or STD cast | 2016-01-06 12:58:27 | 60.8502 S, 54.7102 W | RRS James Clark Ross JR15003 |
| 1810885 | CTD or STD cast | 2016-01-06 18:06:50 | 60.8332 S, 54.7217 W | RRS James Clark Ross JR15003 |
| 1810897 | CTD or STD cast | 2016-01-06 20:11:01 | 60.7995 S, 54.7424 W | RRS James Clark Ross JR15003 |
| 1810904 | CTD or STD cast | 2016-01-07 01:04:18 | 60.6666 S, 54.8248 W | RRS James Clark Ross JR15003 |
| 1810916 | CTD or STD cast | 2016-01-07 05:51:11 | 60.3333 S, 55.0313 W | RRS James Clark Ross JR15003 |
| 1810928 | CTD or STD cast | 2016-01-07 10:18:42 | 60.0112 S, 55.23 W | RRS James Clark Ross JR15003 |
| 1810941 | CTD or STD cast | 2016-01-07 14:56:05 | 59.6667 S, 55.4444 W | RRS James Clark Ross JR15003 |
| 1810953 | CTD or STD cast | 2016-01-07 19:43:50 | 59.3332 S, 55.6512 W | RRS James Clark Ross JR15003 |
| 1810965 | CTD or STD cast | 2016-01-08 00:24:50 | 58.9998 S, 55.8581 W | RRS James Clark Ross JR15003 |
| 1810977 | CTD or STD cast | 2016-01-08 09:32:21 | 58.5246 S, 56.1543 W | RRS James Clark Ross JR15003 |
| 1810989 | CTD or STD cast | 2016-01-08 14:56:06 | 58.05 S, 56.4466 W | RRS James Clark Ross JR15003 |
| 1810990 | CTD or STD cast | 2016-01-08 20:25:44 | 57.6537 S, 56.6892 W | RRS James Clark Ross JR15003 |
| 1811004 | CTD or STD cast | 2016-01-09 01:35:51 | 57.2588 S, 56.9334 W | RRS James Clark Ross JR15003 |
| 1811016 | CTD or STD cast | 2016-01-09 07:17:37 | 56.8639 S, 57.1778 W | RRS James Clark Ross JR15003 |
| 1811028 | CTD or STD cast | 2016-01-09 12:23:30 | 56.4685 S, 57.4128 W | RRS James Clark Ross JR15003 |
| 1811041 | CTD or STD cast | 2016-01-09 17:42:06 | 56.0756 S, 57.6656 W | RRS James Clark Ross JR15003 |
| 1811053 | CTD or STD cast | 2016-01-09 22:43:50 | 55.6817 S, 57.9093 W | RRS James Clark Ross JR15003 |
| 1811065 | CTD or STD cast | 2016-01-10 03:01:57 | 55.5167 S, 57.9829 W | RRS James Clark Ross JR15003 |
| 1811077 | CTD or STD cast | 2016-01-10 08:11:57 | 55.2154 S, 57.9622 W | RRS James Clark Ross JR15003 |
| 1811089 | CTD or STD cast | 2016-01-10 11:29:21 | 55.1686 S, 57.968 W | RRS James Clark Ross JR15003 |
| 1811090 | CTD or STD cast | 2016-01-10 14:25:46 | 55.1171 S, 57.9682 W | RRS James Clark Ross JR15003 |
| 1811108 | CTD or STD cast | 2016-01-11 09:25:27 | 55.0685 S, 57.975 W | RRS James Clark Ross JR15003 |
| 1811121 | CTD or STD cast | 2016-01-11 12:24:06 | 55.0067 S, 57.9782 W | RRS James Clark Ross JR15003 |
| 1811133 | CTD or STD cast | 2016-01-11 16:50:07 | 54.9779 S, 57.9827 W | RRS James Clark Ross JR15003 |
| 1811145 | CTD or STD cast | 2016-01-11 18:21:01 | 54.9224 S, 57.9825 W | RRS James Clark Ross JR15003 |
| 1811157 | CTD or STD cast | 2016-01-11 20:40:47 | 54.6668 S, 57.983 W | RRS James Clark Ross JR15003 |
| 1795008 | Currents -subsurface Eulerian | 2016-11-12 13:53:33 | 58.506 S, 49.4872 W | RRS James Clark Ross JR16002 |
| 1793850 | CTD or STD cast | 2016-11-18 22:56:01 | 54.667 S, 57.9825 W | RRS James Clark Ross JR16002 |
| 1794668 | Currents -subsurface Eulerian | 2016-11-18 22:56:28 | 54.66704 S, 57.9825 W | RRS James Clark Ross JR16002 |
| 1793862 | CTD or STD cast | 2016-11-19 01:08:45 | 54.9219 S, 57.9836 W | RRS James Clark Ross JR16002 |
| 1794681 | Currents -subsurface Eulerian | 2016-11-19 01:09:01 | 54.92192 S, 57.98357 W | RRS James Clark Ross JR16002 |
| 1793874 | CTD or STD cast | 2016-11-19 02:34:59 | 54.9763 S, 57.9826 W | RRS James Clark Ross JR16002 |
| 1794693 | Currents -subsurface Eulerian | 2016-11-19 02:35:16 | 54.97632 S, 57.98256 W | RRS James Clark Ross JR16002 |
| 1794700 | Currents -subsurface Eulerian | 2016-11-19 04:05:51 | 55.00674 S, 57.98324 W | RRS James Clark Ross JR16002 |
| 1793886 | CTD or STD cast | 2016-11-19 04:06:18 | 55.0067 S, 57.9833 W | RRS James Clark Ross JR16002 |
| 1793898 | CTD or STD cast | 2016-11-19 06:08:27 | 55.0698 S, 57.9829 W | RRS James Clark Ross JR16002 |
| 1794712 | Currents -subsurface Eulerian | 2016-11-19 06:08:44 | 55.06984 S, 57.98286 W | RRS James Clark Ross JR16002 |
| 1793905 | CTD or STD cast | 2016-11-19 08:22:03 | 55.1214 S, 57.9831 W | RRS James Clark Ross JR16002 |
| 1794724 | Currents -subsurface Eulerian | 2016-11-19 08:22:19 | 55.1214 S, 57.98313 W | RRS James Clark Ross JR16002 |
| 1793917 | CTD or STD cast | 2016-11-19 10:53:45 | 55.1702 S, 57.9835 W | RRS James Clark Ross JR16002 |
| 1794736 | Currents -subsurface Eulerian | 2016-11-19 10:53:53 | 55.17014 S, 57.9835 W | RRS James Clark Ross JR16002 |
| 1794748 | Currents -subsurface Eulerian | 2016-11-19 13:34:25 | 55.2143 S, 57.98246 W | RRS James Clark Ross JR16002 |
| 1793929 | CTD or STD cast | 2016-11-19 13:34:27 | 55.2143 S, 57.9833 W | RRS James Clark Ross JR16002 |
| 1794761 | Currents -subsurface Eulerian | 2016-11-19 18:24:09 | 55.5169 S, 57.98431 W | RRS James Clark Ross JR16002 |
| 1793930 | CTD or STD cast | 2016-11-19 18:24:15 | 55.5168 S, 57.9843 W | RRS James Clark Ross JR16002 |
| 1794773 | Currents -subsurface Eulerian | 2016-11-19 23:23:45 | 55.83404 S, 57.82002 W | RRS James Clark Ross JR16002 |
| 1793942 | CTD or STD cast | 2016-11-19 23:23:46 | 55.834 S, 57.82 W | RRS James Clark Ross JR16002 |
| 1793954 | CTD or STD cast | 2016-11-20 04:56:14 | 56.1504 S, 57.6217 W | RRS James Clark Ross JR16002 |
| 1794785 | Currents -subsurface Eulerian | 2016-11-20 04:56:24 | 56.15012 S, 57.62302 W | RRS James Clark Ross JR16002 |
| 1794797 | Currents -subsurface Eulerian | 2016-11-20 09:31:10 | 56.46878 S, 57.42392 W | RRS James Clark Ross JR16002 |
| 1793966 | CTD or STD cast | 2016-11-20 09:31:13 | 56.4688 S, 57.3911 W | RRS James Clark Ross JR16002 |
| 1793978 | CTD or STD cast | 2016-11-20 14:08:15 | 56.7833 S, 57.2309 W | RRS James Clark Ross JR16002 |
| 1794804 | Currents -subsurface Eulerian | 2016-11-20 14:08:19 | 56.78326 S, 57.2316 W | RRS James Clark Ross JR16002 |
| 1793991 | CTD or STD cast | 2016-11-20 18:21:09 | 57.1136 S, 57.0108 W | RRS James Clark Ross JR16002 |
| 1794816 | Currents -subsurface Eulerian | 2016-11-20 18:21:35 | 57.10065 S, 57.03524 W | RRS James Clark Ross JR16002 |
| 1794828 | Currents -subsurface Eulerian | 2016-11-20 22:42:36 | 57.41648 S, 56.83932 W | RRS James Clark Ross JR16002 |
| 1794005 | CTD or STD cast | 2016-11-20 22:42:38 | 57.4214 S, 56.8302 W | RRS James Clark Ross JR16002 |
| 1794017 | CTD or STD cast | 2016-11-21 03:37:43 | 57.7365 S, 56.645 W | RRS James Clark Ross JR16002 |
| 1794841 | Currents -subsurface Eulerian | 2016-11-21 03:37:58 | 57.73396 S, 56.64164 W | RRS James Clark Ross JR16002 |
| 1794029 | CTD or STD cast | 2016-11-21 08:48:12 | 58.0506 S, 56.4475 W | RRS James Clark Ross JR16002 |
| 1794853 | Currents -subsurface Eulerian | 2016-11-21 08:48:26 | 58.05036 S, 56.44656 W | RRS James Clark Ross JR16002 |
| 1794030 | CTD or STD cast | 2016-11-21 14:26:12 | 58.3706 S, 56.2479 W | RRS James Clark Ross JR16002 |
| 1794865 | Currents -subsurface Eulerian | 2016-11-21 14:26:13 | 58.3706 S, 56.24784 W | RRS James Clark Ross JR16002 |
| 1794042 | CTD or STD cast | 2016-11-21 19:24:30 | 58.6831 S, 56.0543 W | RRS James Clark Ross JR16002 |
| 1794877 | Currents -subsurface Eulerian | 2016-11-21 19:24:34 | 58.68302 S, 56.05432 W | RRS James Clark Ross JR16002 |
| 1794889 | Currents -subsurface Eulerian | 2016-11-22 01:15:17 | 59.00372 S, 55.85786 W | RRS James Clark Ross JR16002 |
| 1794054 | CTD or STD cast | 2016-11-22 03:58:51 | 59.0034 S, 55.8584 W | RRS James Clark Ross JR16002 |
| 1794890 | Currents -subsurface Eulerian | 2016-11-22 07:19:47 | 59.3341 S, 55.65168 W | RRS James Clark Ross JR16002 |
| 1794066 | CTD or STD cast | 2016-11-22 07:19:57 | 59.3339 S, 55.6511 W | RRS James Clark Ross JR16002 |
| 1794908 | Currents -subsurface Eulerian | 2016-11-22 13:07:51 | 59.66322 S, 55.44582 W | RRS James Clark Ross JR16002 |
| 1794078 | CTD or STD cast | 2016-11-22 13:07:57 | 59.6632 S, 55.4459 W | RRS James Clark Ross JR16002 |
| 1794091 | CTD or STD cast | 2016-11-22 20:34:28 | 59.9904 S, 55.2342 W | RRS James Clark Ross JR16002 |
| 1794921 | Currents -subsurface Eulerian | 2016-11-22 20:34:33 | 59.99986 S, 55.2381 W | RRS James Clark Ross JR16002 |
| 1794109 | CTD or STD cast | 2016-11-23 02:08:20 | 60.3321 S, 55.0343 W | RRS James Clark Ross JR16002 |
| 1794933 | Currents -subsurface Eulerian | 2016-11-23 02:08:25 | 60.3321 S, 55.03438 W | RRS James Clark Ross JR16002 |
| 1794110 | CTD or STD cast | 2016-11-23 06:57:16 | 60.6675 S, 54.8253 W | RRS James Clark Ross JR16002 |
| 1794945 | Currents -subsurface Eulerian | 2016-11-23 06:57:22 | 60.66744 S, 54.8253 W | RRS James Clark Ross JR16002 |
| 1794957 | Currents -subsurface Eulerian | 2016-11-23 10:08:46 | 60.7996 S, 54.74197 W | RRS James Clark Ross JR16002 |
| 1794122 | CTD or STD cast | 2016-11-23 19:27:27 | 60.7996 S, 54.742 W | RRS James Clark Ross JR16002 |
| 1794134 | CTD or STD cast | 2016-11-23 22:22:15 | 60.8334 S, 54.721 W | RRS James Clark Ross JR16002 |
| 1794969 | Currents -subsurface Eulerian | 2016-11-23 22:22:23 | 60.8334 S, 54.72106 W | RRS James Clark Ross JR16002 |
| 1794146 | CTD or STD cast | 2016-11-24 00:26:15 | 60.8507 S, 54.7091 W | RRS James Clark Ross JR16002 |
| 1794970 | Currents -subsurface Eulerian | 2016-11-24 00:26:24 | 60.85067 S, 54.70916 W | RRS James Clark Ross JR16002 |
| 1794158 | CTD or STD cast | 2016-11-24 02:31:01 | 60.9827 S, 54.6275 W | RRS James Clark Ross JR16002 |
| 1794982 | Currents -subsurface Eulerian | 2016-11-24 02:31:16 | 60.98274 S, 54.62752 W | RRS James Clark Ross JR16002 |
| 1794171 | CTD or STD cast | 2016-11-24 04:08:00 | 61.0491 S, 54.5828 W | RRS James Clark Ross JR16002 |
| 1794994 | Currents -subsurface Eulerian | 2016-11-24 04:08:15 | 61.04912 S, 54.5828 W | RRS James Clark Ross JR16002 |