Metadata Report for BODC Series Reference Number 1649903
---
Data Description
Data Category
CTD or STD cast
Instrument Type

| Name | Categories |
| --- | --- |
| Sea-Bird SBE 4C conductivity sensor | salinity sensor |
| Rockland Scientific Vertical Microstructure Profiler (VMP) 5500 | microstructure sensors; ADVs and turbulence probes |
| Sea-Bird SBE 3F temperature sensor | water temperature sensor |
| Rockland Scientific FP07-38 microstructure thermistor | water temperature sensor; microstructure sensors |
| Rockland Scientific SPM-38 velocity shear probe | ADVs and turbulence probes |
| Rockland Scientific Geo-electro magnetic current meter (GEMCM) | ADVs and turbulence probes |
| Sea-Bird SBE 7 microstructure conductivity sensor | microstructure sensors; salinity sensor |

Instrument Mounting
drifting subsurface profiling float
Originating Country
United Kingdom
Originator
Dr Alex Forryan
Originating Organization
National Oceanography Centre, Southampton
Processing Status
banked
Online delivery of data
Download available - Ocean Data View (ODV) format
Project(s)
DIMES

Data Identifiers
| | |
| --- | --- |
| Originator's Identifier | JC054VMP_PROC13 |
| BODC Series Reference | 1649903 |
Time Co-ordinates(UT)
| | |
| --- | --- |
| Start Time (yyyy-mm-dd hh:mm) | 2010-12-21 13:25 |
| End Time (yyyy-mm-dd hh:mm) | 2010-12-21 17:44 |
| Nominal Cycle Interval | 1.0 decibars |
Spatial Co-ordinates
| | |
| --- | --- |
| Latitude | 56.05880 S ( 56° 3.5' S ) |
| Longitude | 57.82550 W ( 57° 49.5' W ) |
| Positional Uncertainty | 0.0 to 0.01 n.miles |
| Minimum Sensor or Sampling Depth | 0.99 m |
| Maximum Sensor or Sampling Depth | 3588.78 m |
| Minimum Sensor or Sampling Height | 35.1 m |
| Maximum Sensor or Sampling Height | 3622.9 m |
| Sea Floor Depth | 3623.89 m |
| Sea Floor Depth Source | BUDS |
| Sensor or Sampling Distribution | Variable common depth - All sensors are grouped effectively at the same depth, but this depth varies significantly during the series |
| Sensor or Sampling Depth Datum | Instantaneous - Depth measured below water line or instantaneous water body surface |
| Sea Floor Depth Datum | Instantaneous - Depth measured below water line or instantaneous water body surface |
Parameters
| BODC CODE | Rank | Units | Title |
| --- | --- | --- | --- |
| ACYCAA01 | 1 | Dimensionless | Sequence number |
| EPSIPM01 | 1 | Watts per kilogram | Log10 turbulent kinetic energy dissipation {epsilon} per unit mass of the water body by turbulence profiler shear sensor |
| PRESPR01 | 1 | Decibars | Pressure (spatial coordinate) exerted by the water body by profiling pressure sensor and correction to read zero at sea level |
| PSALPR01 | 1 | Dimensionless | Practical salinity of the water body by conductivity cell and computation using UNESCO 1983 algorithm |
| TDSSFT01 | 1 | Degrees Celsius squared per second | Log10 temperature dissipation rate in the water body by turbulence profiler fast temperature sensor |
| TEMPPR01 | 1 | Degrees Celsius | Temperature of the water body |
Definition of Rank
Rank 1 is a one-dimensional parameter
Rank 2 is a two-dimensional parameter
Rank 0 is a one-dimensional parameter describing the second dimension of a two-dimensional parameter (e.g. bin depths for moored ADCP data)
---
No Problem Report Found in the Database
---
Open Data supplied by Natural Environment Research Council (NERC)
You must always use the following attribution statement to acknowledge the source of the information: "Contains data supplied by Natural Environment Research Council."
---
Agilent 6890 networked gas chromatograph
A networked gas chromatograph that separates and analyses gas mixtures in water or air. The instrument includes a dual channel design supporting two inlets and two detectors. An automatic liquid sampling system is fully integrated into the mainframe control and atmospheric pressure and temperature compensation is standard. The instrument also supports 6 column oven ramps with 7 plateaus.
The 6890N is completely customisable depending on the application, with choices of inlets, columns, detectors and sampling systems. Available detectors include; flame ionization, thermal conductivity, micro-electron capture, nitrogen-phosphorus, single- or dual-wavelength flame photometric. Specialised detectors include: atomic emission, Helium ionization, sulphur chemiluminescence and pulsed discharge ionization. All detectors include electronic pneumatics control and electronic on/off for all detector gases. Carrier and makeup gas settings are selectable for He, H2, N2, and argon/methane. There is a choice of inlets including; packed purged injection port, split/splitless capillary inlet, temperature-programmable cool on-column, programmable temperature vaporizer and volatiles inlet. A full array of gas sampling and column switching valves are also available. The instrument has a 7683 ALS interface and incorporates local area network technology as standard.
The Agilent 6890N uses many of the same components as the Agilent 6850N GC producing virtually identical results, but the Agilent 6850N is only half as wide. The Agilent 6890N replaces the HP Agilent 5890 and is no longer in production.
Please see the Agilent 6890N brochure and data sheet for further details.
Rockland Scientific geo-electro magnetic current meter (GEMCM)
A geo-electro magnetic current meter based upon Stanford et al. (1978). The instrument measures the variations of horizontal velocity between the sea surface and bottom, based on the measurement of electric currents generated by the motion of the seawater through the Earth's magnetic field. The GEMCM supports a completely isolated measurement of the battery voltage in an instrument system, and 2-component signals from a geo-electro magnetic current meter. The instrument carries a 3-axis magnetometer that can be used as a compass. All outputs are digital and connect to the serial instrument bus.
References cited
Sanford, T.B., Drever, R.G. and Dunlap, J.H., 1978. A velocity profiler based on the principles of geomagnetic induction. Deep-Sea Research, 25, 183-210.
Rockland Scientific FP07-38 microstructure thermistor
A fast-response temperature sensor measuring microstructure temperature fluctuations for oceanographic applications. The sensing tip is a microbead thermistor (manufactured by GE Thermometics), mounted on a 9.525 mm diameter stainless steel sting which can be attached to ocean microstructure instruments. The instrument consists of small diameter glass-coated thermistor bead, thermetically sealed onto the tip of a shock-resistant glass rod.
Specifications
| | |
| --- | --- |
| Range | -2 to 32 °C |
| Resolution | 0.0001 °C |
| Response | 0.007 s (nominal) |
| Nominal resistance | 2 kOhm (at 25 °C) |
| Glass bead maximum | 2.2 mm |
| Thermistor tip | Approximately 0.2 mm |
| Length (overall) | 127 mm |
| Weight (in air) | Approximately 100 g |
| Diameter at base | 9.53 mm |
| Housing | SS316 stainless steel |
| Connector | Brass |
| Bead | Glass |
Rockland Scientific SPM-38 velocity shear probe
A velocity shear probe measuring microstructure velocity fluctuations in oceans and lakes. The instrument measures a single spatial component of turbulent velocity fluctuations, in a direction perpendicular to the probes main axis. The sensing head is based upon the design by Osborn (1974) and the sensing element consists of a parabolic, flexible rubber tip. The oncoming flow produces a hydrodynamic lift force proportional to the fluctuating cross-stream velocity component u. A piezo-ceramic beam embedded in the rubber tip translates the lift force into an electric signal that is proportional to u. The length of the sensing tip (10 mm) determines the maximum wavenumber resolution of the sensor which is approximately 48 cycles per meter. The measurements can be corrected to include wavenumbers up to 150 cpm.
Specifications
| | |
| --- | --- |
| Range | 0 to 10 s-1 |
| Resolution | Approximately 10 to 4 s-1 |
| Response | 0.007 s (nominal) |
| Sensitivity | 0.04 to 0.09 V m s -2 |
| Pressure Rating | 1000 dbar (6000 dbar optional) |
| Temperature range | -2 to 35 °C |
| Length | 127 mm |
| Diameter (maximum) | 9.5 mm |
| Materials | Stainless/Teflon/Silicone |
References cited
Osborn, T.R., 1974. Vertical profiling of velocity microstructure. Journal of Physical Oceanography, 4, 109-115.
Sea-Bird Electronics SBE 911 and SBE 917 series CTD profilers
The SBE 911 and SBE 917 series of conductivity-temperature-depth (CTD) units are used to collect hydrographic profiles, including temperature, conductivity and pressure as standard. Each profiler consists of an underwater unit and deck unit or SEARAM. Auxiliary sensors, such as fluorometers, dissolved oxygen sensors and transmissometers, and carousel water samplers are commonly added to the underwater unit.
Underwater unit
The CTD underwater unit (SBE 9 or SBE 9 plus) comprises a protective cage (usually with a carousel water sampler), including a main pressure housing containing power supplies, acquisition electronics, telemetry circuitry, and a suite of modular sensors. The original SBE 9 incorporated Sea-Bird's standard modular SBE 3 temperature sensor and SBE 4 conductivity sensor, and a Paroscientific Digiquartz pressure sensor. The conductivity cell was connected to a pump-fed plastic tubing circuit that could include auxiliary sensors. Each SBE 9 unit was custom built to individual specification. The SBE 9 was replaced in 1997 by an off-the-shelf version, termed the SBE 9 plus, that incorporated the SBE 3 plus (or SBE 3P) temperature sensor, SBE 4C conductivity sensor and a Paroscientific Digiquartz pressure sensor. Sensors could be connected to a pump-fed plastic tubing circuit or stand-alone.
Temperature, conductivity and pressure sensors
The conductivity, temperature, and pressure sensors supplied with Sea-Bird CTD systems have outputs in the form of variable frequencies, which are measured using high-speed parallel counters. The resulting count totals are converted to numeric representations of the original frequencies, which bear a direct relationship to temperature, conductivity or pressure. Sampling frequencies for these sensors are typically set at 24 Hz.
The temperature sensing element is a glass-coated thermistor bead, pressure-protected inside a stainless steel tube, while the conductivity sensing element is a cylindrical, flow-through, borosilicate glass cell with three internal platinum electrodes. Thermistor resistance or conductivity cell resistance, respectively, is the controlling element in an optimized Wien Bridge oscillator circuit, which produces a frequency output that can be converted to a temperature or conductivity reading. These sensors are available with depth ratings of 6800 m (aluminium housing) or 10500 m (titanium housing). The Paroscientific Digiquartz pressure sensor comprises a quartz crystal resonator that responds to pressure-induced stress, and temperature is measured for thermal compensation of the calculated pressure.
Additional sensors
Optional sensors for dissolved oxygen, pH, light transmission, fluorescence and others do not require the very high levels of resolution needed in the primary CTD channels, nor do these sensors generally offer variable frequency outputs. Accordingly, signals from the auxiliary sensors are acquired using a conventional voltage-input multiplexed A/D converter (optional). Some Sea-Bird CTDs use a strain gauge pressure sensor (Senso-Metrics) in which case their pressure output data is in the same form as that from the auxiliary sensors as described above.
Deck unit or SEARAM
Each underwater unit is connected to a power supply and data logging system: the SBE 11 (or SBE 11 plus) deck unit allows real-time interfacing between the deck and the underwater unit via a conductive wire, while the submersible SBE 17 (or SBE 17 plus) SEARAM plugs directly into the underwater unit and data are downloaded on recovery of the CTD. The combination of SBE 9 and SBE 17 or SBE 11 are termed SBE 917 or SBE 911, respectively, while the combinations of SBE 9 plus and SBE 17 plus or SBE 11 plus are termed SBE 917 plus or SBE 911 plus.
Specifications
Specifications for the SBE 9 plus underwater unit are listed below:
| Parameter | Range | Initial accuracy | Resolution at 24 Hz | Response time |
| --- | --- | --- | --- | --- |
| Temperature | -5 to 35°C | 0.001°C | 0.0002°C | 0.065 sec |
| Conductivity | 0 to 7 S m-1 | 0.0003 S m-1 | 0.00004 S m-1 | 0.065 sec (pumped) |
| Pressure | 0 to full scale (1400, 2000, 4200, 6800 or 10500 m) | 0.015% of full scale | 0.001% of full scale | 0.015 sec |
Further details can be found in the manufacturer's specification sheet.
Sea-Bird SBE 3F temperature sensor
Water temperature sensor primarily designed for use on the SBE 25 and 25plus Sealogger CTD systems but can be used as a component in custom oceanographic profiling systems or high-accuracy temperature-monitoring applications. The sensor operates over the range -5 to +35 °C and has an initial accuracy of +/-0.001°C. The sensor has a depth rating of 6800 m (aluminum housing) or 10500 m (titanium housing). The SBE 3F is an enhanced version of the SBE 3 temperature sensor.
Please see the SBE 3F specification sheet for further details.
Sea-Bird SBE 7 microstructure conductivity sensor
Microstructure conductivity sensor designed for use on marine profiling applications to characterise small scale ocean conductivity features. The sensor is primarily used for the determination of conductivity gradients but it is configured to respond to absolute conductivity as well. The SBE 7 has an accuracy typically within 0.005 S m-1 over periods of several hours and has a high speed micro-scale resolution of 3 dbar at 100 cycles m -1 (-3 dbar at 1000 Hz). The sensor has aluminium housing and a depth rating of 6800 m.
Please see the SBE 7 specification sheet for further details.
Instrument Description
Vertical Microstructure Profiler and support sensors
Two VMPs were used during the cruise a WHOI VMP and a NOCS VMP. We have only been provided with NOCS VMP data.
| Instrument | Serial Number | Calibration date | Comments |
| --- | --- | --- | --- |
| Rockland Scientific International Vertical Microstructure Profiler 5500 | 016 | - | NOCS owned VMP |
| Sea-bird 3F fast temperature sensor | 4634 | - | Standard with the VMP 5500 |
| Sea-bird 4C conductivity sensor | 3240 | - | Standard with the VMP 5500 |
| Sea-bird SPM-38-5 velocity shear probe (x2) | - | - | Standard with the VMP 5500 |
| Sea-bird FP07-38-5 fast thermistor (x2) | - | - | Standard with the VMP 5500 |
| Sea-bird microstructure conductivity probe (SBE7) | - | - | Optional with the VMP 5500 |
| Rockland geo-electromagnetic current meter (GEMCM) | - | - | Fitted for this instrument |
Please see the cruise report for further details of the instrumentation performance and recommendations.
BODC Processing
A total of 23 VMP profiles were provided by the originator all from the NOCS VMP. The WHOI VMP data have not been provided. VMP profiles provided by the originator in a structured Matlab format were converted into BODC internal format using standard BODC processing procedures. The following table shows how the variables within the Matlab file were mapped to appropriate BODC parameter codes:
| Originator's Parameter Name | Units | Description | BODC Parameter Code | Units | Comments |
| --- | --- | --- | --- | --- | --- |
| jc054vmp.press | dbar | Pressure | PRESPR01 | dbar | - |
| jc054vmp.temp | °C | Temperature from CTD sensor | TEMPPR01 | °C | - |
| jc054vmp.salin | Dimensionless | Salinity from CTD sensors | PSALPR01 | Dimensionless | - |
| jc054vmp.chi | °C2 s -1 | Temperature dissipation | TDSSFT01 | °C2 s -1 | - |
| jc054vmp.eps | W kg-1 | Turbulent kinetic energy dissipation | EPSIPM01 | W kg-1 | - |
The reformatted data were visualised using the in-house EDSERPLO software. The data were screened and quality control flags were applied to data as necessary.
Originator's Data Processing
Sampling Strategy
Thirty six Vertical Microstructure Profiler (VMP) deployments were carried out successfully as part of a total of 43 planned from 55 CTD stations. All the stations missed by the VMP were due to weather, and none due to technical problems with the instruments. Two VMPs owned by WHOI and NOCS were used during the cruise. The NOCS VMP was used for 23 profiles and the WHOI VMP for 13. We have only been provided with NOCS VMP data.
The general mode of microstructure operations consisted of the alternate use of the two instruments, to prevent excessive battery discharge. Toward the end of the cruise, it was decided that the NOCS VMP would be used preferentially as it was easier to find upon completion of the cast.
The gross buoyancy of both instruments was checked while the ship was anchored at a bunker terminal near Punta Arenas (both instruments floated without weights). A second untethered test cast with each instrument to assess the performance of the weight release mechanism and the various sensors on the instruments.
Data processing
Instrument calibrations for the VMP were applied and corrections for the fact the unit was not pumped, but no external calibration either to the ship CTD or water samples were made. The NOCS and WHOI data were processed with their own set of processing routines.
NOCS processing
A matlab routine (finestructure_processing_routine.m) was used to process the seabird finestructure. The temperature and salinity data from the CTD sensors were processed as follows:
Near-surface data below 10 dbar were removed to eliminate the noisy data at the near surface from influencing further processing.
Conductivity, temperature and pressure data were then adjusted to account for the spatial displacement between the pressure sensor (at the VMP nose) and the CTD sensors (on the VMP body).
The temperature, conductivity and pressure were despiked.
The short-term mismatch between temperature and conductivity signals due to dissimilar sensor responses and the long-time mismatch between temperature and conductivity signals due to the thermal inertia of the conductivity cell were corrected.
The effects of conductivity cell thermal expansion and pressure contraction were corrected.
Low pass filters then corrected pressure, temperature, conductivity and salinity profiles to eliminate high frequency noise.
Temperature, conductivity and salinity profiles were averaged in pressure bins of 0.5 dbar.
Another matlab routine (process_micro_jc054.m) was then used to convert the data to real units and to calibrate the seabird data. The epsilon and chi values are estimated by integrating the power spectra of the shear and the microtemperature gradient, respectively. The data were averaged into regular 0.5 dbar bins. The pressure value used to start the extracted downcast was 5.25 dbar.
Lastly the data were averaged into 1 dbar bins and saved as a matlab structure file using a Matlab program (make_cruise_data_set.m). The average results from the two shear or microtemperature probes were used, unless a probe was noisy, in which case the noisy probe data was discarded.
Rockland Scientific Vertical Microstructure Profiler VMP 5500
A full ocean-depth untethered vertical microstructure turbulence profiler for the measurement of dissipation-scale turbulence along with temperature and conductivity for up to 5500 m depth. The instrument is fitted with pressure, temperature (SBE-3F) and conductivity (SBE-4C) sensors, three acceleration sensors, a PC104 computer data acquisition and communication system, anti-aliasing filters and a standard suite of microstructure sensors which includes two SPM-38-5 velocity shear probes, two FP07-38-5 fast thermistors and an optional microstructure conductivity probe (SBE7).
All microstructure sensors are held in the nose cone and can be exchanged or replaced in the field, without the need of disassemble the main pressure case of the VMP which can hold up to 6 microstructure probes in any combination. The main pressure case contains the pressure transducer as well as the accelerometers, electronics for signal conditioning A/D conversion and data logging, and is separated from the nose cone by a 38 mm thick bulkhead which prevents water penetration into the main pressure case.
The instrument has an aluminium frame with syntactic foam attached for floatation. Data are collected on the downcast and after reaching a pre-defined depth the profiler releases ballast weights so that the instrument becomes positively buoyant. The instrument rises to the surface with a nominal speed of 1.0 ms-1. As a backup, there is a triple-redundancy emergency ballast release consisting of a corrosion trigger, time-out trigger and pressure rate-of-change trigger. The VMP 5500 has a strobe light and a radio beacon and can also be fitted with an Argos transmitter for locating the instrument after it has returned to the surface. The VMP 5500 was replaced by the VMP 6000 in 2010.
Please see the VMP 5500 specification sheet for further details.
---
Diapycnal and Isopycnal Mixing Experiment in the Southern Ocean (DIMES) project document
DIMES is a US/UK field program aimed at measuring diapycnal and isopycnal mixing in the Southern Ocean, along the tilting isopycnals of the Antarctic Circumpolar Current.
The Meridional Overturning Circulation (MOC) of the ocean is a critical regulator of the Earth's climate processes. Climate models are highly sensitive to the representation of mixing processes in the southern limb of the MOC, within the Southern Ocean, although the lack of extensive in situ observations of Southern Ocean mixing processes has made evaluation of mixing somewhat difficult. Theories and models of the Southern Ocean circulation have been built on the premise of adiabatic flow in the ocean interior, with diabatic processes confined to the upper-ocean mixed layer. Interior diapycnal mixing has often been assumed to be small, but a few recent studies have suggested that diapycnal mixing might be large in some locations, particularly over rough bathymetry. Depending on its extent, this interior diapycnal mixing could significantly affect the overall energetics and property balances for the Southern Ocean and in turn for the global ocean. The goals of DIMES are to obtain measurements that will help us quantify both along-isopycnal eddy-driven mixing and cross-isopycnal interior mixing.
DIMES includes tracer release, isopycnal following RAFOS floats, microstructure measurements, shearmeter floats, EM-APEX floats, a mooring array in Drake Passage, hydrographic observations, inverse modeling, and analysis of altimetry and numerical model output.
DIMES is sponsored by the National Science Foundation (U.S.), Natural Environment Research Council (U.K) and British Antarctic Survey (U.K.)
For more information please see the official project website at DIMES
---
Cruise
| | |
| --- | --- |
| Cruise Name | JC054 (UKD-2) |
| Departure Date | 2010-12-04 |
| Arrival Date | 2011-01-08 |
| Principal Scientist(s) | Michael P Meredith (British Antarctic Survey) |
| Ship | RRS James Cook |
Complete Cruise Metadata Report is available here
---
Fixed Station Information
| | |
| --- | --- |
| Station Name | Drake Passage |
| Category | Offshore area |
| Latitude | 59° 0.00' S |
| Longitude | 62° 0.00' W |
| Water depth below MSL | |
Drake Passage
The World Ocean Circulation Experiment (WOCE, 1990-1998) was a major international experiment which made measurements and undertook modelling studies of the deep oceans in order to provide a much improved understanding of the role of ocean circulation in changing and ameliorating the Earth's climate.
The Drake Passage is the narrowest constriction of the Antarctic Circumpolar Current (ACC) - the largest current in the world and connects all three major oceanic basins both horizontally and vertically, thus being a key control in the global overturning circulation.Within the Drake Passage, two repeat hydrographic sections (SR1 and SR1b) were established by WOCE. These were designed to extend measurements collected earlier by the International Southern Ocean Studies (ISOS) programme and have continued beyond the WOCE time-frame.
The original section was SR1 (which also covers part of the A21 one time survey track). Subsequently, the section was shifted to the east (and designated SR1b) in order for it to lie on a satellite ground track as illustrated in the image below.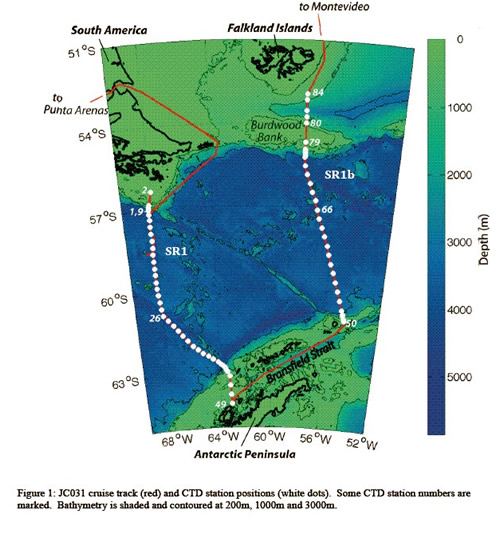 In addition to the hydrographic measurements, UK research in Drake Passage also includes a network of coastal and deep tide gauges, analysis of satellite altimeter data, and state-of-the-art global numerical modeling.
Related Fixed Station activities are detailed in Appendix 1
---
The following single character qualifying flags may be associated with one or more individual parameters with a data cycle:
| Flag | Description |
| --- | --- |
| Blank | Unqualified |
| < | Below detection limit |
| > | In excess of quoted value |
| A | Taxonomic flag for affinis (aff.) |
| B | Beginning of CTD Down/Up Cast |
| C | Taxonomic flag for confer (cf.) |
| D | Thermometric depth |
| E | End of CTD Down/Up Cast |
| G | Non-taxonomic biological characteristic uncertainty |
| H | Extrapolated value |
| I | Taxonomic flag for single species (sp.) |
| K | Improbable value - unknown quality control source |
| L | Improbable value - originator's quality control |
| M | Improbable value - BODC quality control |
| N | Null value |
| O | Improbable value - user quality control |
| P | Trace/calm |
| Q | Indeterminate |
| R | Replacement value |
| S | Estimated value |
| T | Interpolated value |
| U | Uncalibrated |
| W | Control value |
| X | Excessive difference |
---
The following single character qualifying flags may be associated with one or more individual parameters with a data cycle:
| Flag | Description |
| --- | --- |
| 0 | no quality control |
| 1 | good value |
| 2 | probably good value |
| 3 | probably bad value |
| 4 | bad value |
| 5 | changed value |
| 6 | value below detection |
| 7 | value in excess |
| 8 | interpolated value |
| 9 | missing value |
| A | value phenomenon uncertain |
| B | nominal value |
| Q | value below limit of quantification |
---
Related series for this Fixed Station are presented in the table below. Further information can be found by following the appropriate links.
If you are interested in these series, please be aware we offer a multiple file download service. Should your credentials be insufficient for automatic download, the service also offers a referral to our Enquiries Officer who may be able to negotiate access.
| Series Identifier | Data Category | Start date/time | Start position | Cruise |
| --- | --- | --- | --- | --- |
| 35337 | Sea surface elevation -unspecified | 1959-10-15 00:00:00 | 65.25 S, 64.2667 W | Not applicable |
| 35349 | Sea surface elevation -unspecified | 1960-01-01 00:00:00 | 65.25 S, 64.2667 W | Not applicable |
| 35350 | Sea surface elevation -unspecified | 1961-01-01 00:00:00 | 65.25 S, 64.2667 W | Not applicable |
| 35362 | Sea surface elevation -unspecified | 1962-01-01 00:00:00 | 65.25 S, 64.2667 W | Not applicable |
| 35374 | Sea surface elevation -unspecified | 1963-01-01 00:00:00 | 65.25 S, 64.2667 W | Not applicable |
| 35386 | Sea surface elevation -unspecified | 1964-01-01 00:00:00 | 65.25 S, 64.2667 W | Not applicable |
| 541490 | Sea surface elevation -unspecified | 1964-11-01 03:00:00 | 51.7 S, 57.867 W | Not applicable |
| 392985 | Sea surface elevation -unspecified | 1964-11-02 20:00:00 | 51.7 S, 57.8667 W | Not applicable |
| 249488 | Sea surface elevation -unspecified | 1964-11-04 04:00:00 | 54.9333 S, 67.6167 W | Not applicable |
| 35398 | Sea surface elevation -unspecified | 1965-01-01 00:00:00 | 65.25 S, 64.2667 W | Not applicable |
| 392924 | Sea surface elevation -unspecified | 1965-01-01 00:00:00 | 51.7 S, 57.8667 W | Not applicable |
| 541508 | Sea surface elevation -unspecified | 1965-01-01 03:00:00 | 51.7 S, 57.867 W | Not applicable |
| 249507 | Sea surface elevation -unspecified | 1965-01-18 04:00:00 | 54.9333 S, 67.6167 W | Not applicable |
| 35405 | Sea surface elevation -unspecified | 1966-01-01 00:00:00 | 65.25 S, 64.2667 W | Not applicable |
| 392936 | Sea surface elevation -unspecified | 1966-01-01 00:00:00 | 51.7 S, 57.8667 W | Not applicable |
| 249519 | Sea surface elevation -unspecified | 1966-01-01 04:00:00 | 54.9333 S, 67.6167 W | Not applicable |
| 541521 | Sea surface elevation -unspecified | 1966-01-01 04:00:00 | 51.7 S, 57.867 W | Not applicable |
| 35417 | Sea surface elevation -unspecified | 1967-01-01 00:00:00 | 65.25 S, 64.2667 W | Not applicable |
| 392973 | Sea surface elevation -unspecified | 1967-01-01 00:00:00 | 51.7 S, 57.8667 W | Not applicable |
| 249520 | Sea surface elevation -unspecified | 1967-01-01 04:00:00 | 54.9333 S, 67.6167 W | Not applicable |
| 541533 | Sea surface elevation -unspecified | 1967-01-01 04:00:00 | 51.7 S, 57.867 W | Not applicable |
| 35429 | Sea surface elevation -unspecified | 1968-01-01 00:00:00 | 65.25 S, 64.2667 W | Not applicable |
| 249532 | Sea surface elevation -unspecified | 1968-01-01 04:00:00 | 54.9333 S, 67.6167 W | Not applicable |
| 541545 | Sea surface elevation -unspecified | 1968-01-01 04:00:00 | 51.7 S, 57.867 W | Not applicable |
| 392948 | Sea surface elevation -unspecified | 1968-01-01 13:00:00 | 51.7 S, 57.8667 W | Not applicable |
| 35430 | Sea surface elevation -unspecified | 1969-01-01 00:00:00 | 65.25 S, 64.2667 W | Not applicable |
| 249544 | Sea surface elevation -unspecified | 1969-01-01 04:00:00 | 54.9333 S, 67.6167 W | Not applicable |
| 392961 | Sea surface elevation -unspecified | 1969-01-01 04:00:00 | 51.7 S, 57.8667 W | Not applicable |
| 541557 | Sea surface elevation -unspecified | 1969-01-01 04:00:00 | 51.7 S, 57.867 W | Not applicable |
| 35442 | Sea surface elevation -unspecified | 1970-01-01 00:00:00 | 65.25 S, 64.2667 W | Not applicable |
| 249556 | Sea surface elevation -unspecified | 1970-01-01 04:00:00 | 54.9333 S, 67.6167 W | Not applicable |
| 35454 | Sea surface elevation -unspecified | 1971-01-01 00:00:00 | 65.25 S, 64.2667 W | Not applicable |
| 249568 | Sea surface elevation -unspecified | 1971-01-01 04:00:00 | 54.9333 S, 67.6167 W | Not applicable |
| 249581 | Sea surface elevation -unspecified | 1972-01-01 04:00:00 | 54.9333 S, 67.6167 W | Not applicable |
| 249593 | Sea surface elevation -unspecified | 1973-01-01 04:00:00 | 54.9333 S, 67.6167 W | Not applicable |
| 249600 | Sea surface elevation -unspecified | 1974-01-01 04:00:00 | 54.9333 S, 67.6167 W | Not applicable |
| 392997 | Sea surface elevation -unspecified | 1974-10-01 03:00:00 | 51.7 S, 57.8667 W | Not applicable |
| 541569 | Sea surface elevation -unspecified | 1974-10-01 03:00:00 | 51.7 S, 57.867 W | Not applicable |
| 249612 | Sea surface elevation -unspecified | 1975-01-01 04:00:00 | 54.9333 S, 67.6167 W | Not applicable |
| 249624 | Sea surface elevation -unspecified | 1976-01-01 04:00:00 | 54.9333 S, 67.6167 W | Not applicable |
| 249636 | Sea surface elevation -unspecified | 1977-01-01 04:00:00 | 54.9333 S, 67.6167 W | Not applicable |
| 249648 | Sea surface elevation -unspecified | 1978-01-01 04:00:00 | 54.9333 S, 67.6167 W | Not applicable |
| 249661 | Sea surface elevation -unspecified | 1979-01-01 04:00:00 | 54.9333 S, 67.6167 W | Not applicable |
| 249673 | Sea surface elevation -unspecified | 1980-02-01 04:00:00 | 54.9333 S, 67.6167 W | Not applicable |
| 249685 | Sea surface elevation -unspecified | 1981-01-01 04:00:00 | 54.9333 S, 67.6167 W | Not applicable |
| 249697 | Sea surface elevation -unspecified | 1982-01-01 04:00:00 | 54.9333 S, 67.6167 W | Not applicable |
| 249704 | Sea surface elevation -unspecified | 1983-01-01 04:00:00 | 54.9333 S, 67.6167 W | Not applicable |
| 249716 | Sea surface elevation -unspecified | 1984-01-01 04:00:00 | 54.9333 S, 67.6167 W | Not applicable |
| 541373 | Sea surface elevation -unspecified | 1984-03-01 00:00:00 | 65.25 S, 64.267 W | Not applicable |
| 249728 | Sea surface elevation -unspecified | 1985-01-01 04:00:00 | 54.9333 S, 67.6167 W | Not applicable |
| 249741 | Sea surface elevation -unspecified | 1986-01-01 04:00:00 | 54.9333 S, 67.6167 W | Not applicable |
| 249753 | Sea surface elevation -unspecified | 1987-01-01 12:00:00 | 54.9333 S, 67.6167 W | Not applicable |
| 249765 | Sea surface elevation -unspecified | 1988-01-01 04:00:00 | 54.9333 S, 67.6167 W | Not applicable |
| 540923 | Sea surface elevation -unspecified | 1988-11-24 01:00:00 | 51.75 S, 57.933 W | Not applicable |
| 530129 | Offshore sea floor pressure series | 1988-11-27 06:52:30 | 53.5398 S, 57.015 W | Not applicable |
| 530166 | Offshore sea floor pressure series | 1988-11-28 12:52:30 | 56.6995 S, 52.5377 W | Not applicable |
| 540959 | Sea surface elevation -unspecified | 1988-12-19 20:00:00 | 60.7 S, 45.6 W | Not applicable |
| 249777 | Sea surface elevation -unspecified | 1989-01-01 04:00:00 | 54.9333 S, 67.6167 W | Not applicable |
| 530130 | Offshore sea floor pressure series | 1989-11-11 14:07:30 | 53.5398 S, 57.0315 W | Not applicable |
| 530178 | Offshore sea floor pressure series | 1989-11-12 23:37:30 | 56.6655 S, 52.4758 W | Not applicable |
| 530191 | Offshore sea floor pressure series | 1989-11-14 07:52:30 | 60.0372 S, 47.0998 W | Not applicable |
| 540960 | Sea surface elevation -unspecified | 1989-11-17 13:22:30 | 60.7 S, 45.6 W | Not applicable |
| 249789 | Sea surface elevation -unspecified | 1990-01-01 04:00:00 | 54.9333 S, 67.6167 W | Not applicable |
| 530142 | Offshore sea floor pressure series | 1990-11-23 02:07:30 | 53.5117 S, 56.98 W | Not applicable |
| 530209 | Offshore sea floor pressure series | 1990-11-25 02:22:30 | 60.0517 S, 47.085 W | Not applicable |
| 540972 | Sea surface elevation -unspecified | 1990-11-26 21:07:30 | 60.7 S, 45.6 W | Not applicable |
| 273624 | Sea surface elevation -unspecified | 1991-01-01 15:00:00 | 54.9333 S, 67.6167 W | Not applicable |
| 540935 | Sea surface elevation -unspecified | 1991-01-06 13:00:00 | 51.75 S, 57.933 W | Not applicable |
| 540984 | Sea surface elevation -unspecified | 1991-02-01 01:00:00 | 60.7 S, 45.6 W | Not applicable |
| 273593 | Sea surface elevation -unspecified | 1991-02-25 16:00:00 | 56.5583 S, 68.6667 W | Not applicable |
| 530314 | Offshore sea floor pressure series | 1991-12-22 16:07:30 | 56.4908 S, 62.9855 W | Not applicable |
| 530363 | Offshore sea floor pressure series | 1991-12-23 21:07:30 | 61.4738 S, 61.2905 W | Not applicable |
| 540947 | Sea surface elevation -unspecified | 1991-12-27 01:00:00 | 51.75 S, 57.933 W | Not applicable |
| 540996 | Sea surface elevation -unspecified | 1992-01-05 22:22:30 | 60.7 S, 45.6 W | Not applicable |
| 530210 | Offshore sea floor pressure series | 1992-01-08 00:07:30 | 60.0517 S, 47.1667 W | Not applicable |
| 530154 | Offshore sea floor pressure series | 1992-01-12 11:07:30 | 53.5233 S, 57.0317 W | Not applicable |
| 527552 | Sea surface elevation -unspecified | 1992-02-14 17:00:00 | 54.9333 S, 67.6167 W | Not applicable |
| 541489 | Sea surface elevation -unspecified | 1992-10-28 15:03:43 | 51.6833 S, 57.8167 W | Not applicable |
| 541477 | Sea surface elevation -unspecified | 1992-10-31 19:00:00 | 51.6833 S, 57.8167 W | Not applicable |
| 530375 | Offshore sea floor pressure series | 1992-11-13 06:07:30 | 60.8498 S, 54.7147 W | Not applicable |
| 530302 | Offshore sea floor pressure series | 1992-11-13 14:00:00 | 59.7282 S, 55.4917 W | Not applicable |
| 530326 | Offshore sea floor pressure series | 1992-11-15 03:07:30 | 54.9423 S, 58.3932 W | Not applicable |
| 541637 | Sea surface elevation -unspecified | 1992-11-19 09:00:22 | 67.571 S, 68.129 W | Not applicable |
| 541011 | Sea surface elevation -unspecified | 1992-11-23 01:00:00 | 60.7 S, 45.6 W | Not applicable |
| 527564 | Sea surface elevation -unspecified | 1993-01-01 00:00:00 | 54.9333 S, 67.6167 W | Not applicable |
| 541404 | Sea surface elevation -unspecified | 1993-11-19 02:37:30 | 51.6833 S, 57.8167 W | Not applicable |
| 1009537 | CTD or STD cast | 1993-11-21 15:42:00 | 54.65383 S, 58.561 W | RRS James Clark Ross JR19931120 (JR00a) |
| 1009549 | CTD or STD cast | 1993-11-21 18:09:00 | 54.92167 S, 58.359 W | RRS James Clark Ross JR19931120 (JR00a) |
| 1009550 | CTD or STD cast | 1993-11-21 19:50:00 | 54.94333 S, 58.386 W | RRS James Clark Ross JR19931120 (JR00a) |
| 1009562 | CTD or STD cast | 1993-11-21 22:32:00 | 54.9625 S, 58.3645 W | RRS James Clark Ross JR19931120 (JR00a) |
| 1009574 | CTD or STD cast | 1993-11-22 01:21:00 | 55.07067 S, 58.28967 W | RRS James Clark Ross JR19931120 (JR00a) |
| 530338 | Offshore sea floor pressure series | 1993-11-22 01:52:30 | 54.943 S, 58.3918 W | Not applicable |
| 1009586 | CTD or STD cast | 1993-11-22 04:34:00 | 55.122 S, 58.25717 W | RRS James Clark Ross JR19931120 (JR00a) |
| 1009598 | CTD or STD cast | 1993-11-22 07:34:00 | 55.171 S, 58.236 W | RRS James Clark Ross JR19931120 (JR00a) |
| 1009605 | CTD or STD cast | 1993-11-22 10:35:00 | 55.21583 S, 58.224 W | RRS James Clark Ross JR19931120 (JR00a) |
| 1009617 | CTD or STD cast | 1993-11-22 16:15:00 | 55.52083 S, 58.00717 W | RRS James Clark Ross JR19931120 (JR00a) |
| 1009629 | CTD or STD cast | 1993-11-23 00:39:00 | 55.8195 S, 57.8655 W | RRS James Clark Ross JR19931120 (JR00a) |
| 1009630 | CTD or STD cast | 1993-11-23 06:27:00 | 56.12733 S, 57.67117 W | RRS James Clark Ross JR19931120 (JR00a) |
| 1009642 | CTD or STD cast | 1993-11-23 11:39:00 | 56.46167 S, 57.51417 W | RRS James Clark Ross JR19931120 (JR00a) |
| 1009654 | CTD or STD cast | 1993-11-23 16:38:00 | 56.78483 S, 57.30817 W | RRS James Clark Ross JR19931120 (JR00a) |
| 1009666 | CTD or STD cast | 1993-11-23 20:59:00 | 57.09183 S, 57.12083 W | RRS James Clark Ross JR19931120 (JR00a) |
| 1009678 | CTD or STD cast | 1993-11-24 02:13:00 | 57.43217 S, 56.927 W | RRS James Clark Ross JR19931120 (JR00a) |
| 1009691 | CTD or STD cast | 1993-11-24 06:55:00 | 57.73617 S, 56.69317 W | RRS James Clark Ross JR19931120 (JR00a) |
| 1009709 | CTD or STD cast | 1993-11-24 11:11:00 | 58.05717 S, 56.55033 W | RRS James Clark Ross JR19931120 (JR00a) |
| 1009710 | CTD or STD cast | 1993-11-24 17:05:00 | 58.36483 S, 56.3545 W | RRS James Clark Ross JR19931120 (JR00a) |
| 1009722 | CTD or STD cast | 1993-11-24 20:54:00 | 58.6885 S, 56.15933 W | RRS James Clark Ross JR19931120 (JR00a) |
| 1009734 | CTD or STD cast | 1993-11-25 01:57:00 | 58.9985 S, 55.95933 W | RRS James Clark Ross JR19931120 (JR00a) |
| 1009746 | CTD or STD cast | 1993-11-25 06:49:00 | 59.31567 S, 55.70933 W | RRS James Clark Ross JR19931120 (JR00a) |
| 1009758 | CTD or STD cast | 1993-11-25 11:46:00 | 59.6455 S, 55.51133 W | RRS James Clark Ross JR19931120 (JR00a) |
| 1009771 | CTD or STD cast | 1993-11-25 21:21:00 | 60.00433 S, 55.3195 W | RRS James Clark Ross JR19931120 (JR00a) |
| 1009783 | CTD or STD cast | 1993-11-26 02:07:00 | 60.34017 S, 55.07783 W | RRS James Clark Ross JR19931120 (JR00a) |
| 1009795 | CTD or STD cast | 1993-11-26 06:30:00 | 60.67417 S, 54.80983 W | RRS James Clark Ross JR19931120 (JR00a) |
| 1009802 | CTD or STD cast | 1993-11-26 11:17:00 | 60.79983 S, 54.71733 W | RRS James Clark Ross JR19931120 (JR00a) |
| 1009814 | CTD or STD cast | 1993-11-26 13:54:00 | 60.83433 S, 54.72233 W | RRS James Clark Ross JR19931120 (JR00a) |
| 1009826 | CTD or STD cast | 1993-11-26 16:10:00 | 60.85067 S, 54.71217 W | RRS James Clark Ross JR19931120 (JR00a) |
| 1009513 | CTD or STD cast | 1993-11-26 18:07:00 | 60.98117 S, 54.6155 W | RRS James Clark Ross JR19931120 (JR00a) |
| 1009525 | CTD or STD cast | 1993-11-26 19:45:00 | 61.05167 S, 54.60083 W | RRS James Clark Ross JR19931120 (JR00a) |
| 530387 | Offshore sea floor pressure series | 1993-11-27 02:52:30 | 60.8497 S, 54.714 W | Not applicable |
| 541649 | Sea surface elevation -unspecified | 1993-12-08 01:52:30 | 67.571 S, 68.129 W | Not applicable |
| 527576 | Sea surface elevation -unspecified | 1994-01-01 00:00:00 | 54.9333 S, 67.6167 W | Not applicable |
| 541416 | Sea surface elevation -unspecified | 1994-03-11 15:07:26 | 51.6833 S, 57.8167 W | Not applicable |
| 541023 | Sea surface elevation -unspecified | 1994-03-14 01:30:00 | 60.7 S, 45.6 W | Not applicable |
| 541428 | Sea surface elevation -unspecified | 1994-11-10 02:22:30 | 51.6833 S, 57.8167 W | Not applicable |
| 530086 | Offshore sea floor pressure series | 1994-11-16 09:37:33 | 54.9442 S, 58.3852 W | Not applicable |
| 530074 | Offshore sea floor pressure series | 1994-11-19 00:51:57 | 58.3627 S, 56.3547 W | Not applicable |
| 530105 | Offshore sea floor pressure series | 1994-11-21 11:52:30 | 60.8502 S, 54.7168 W | Not applicable |
| 527588 | Sea surface elevation -unspecified | 1995-01-01 19:00:00 | 54.9333 S, 67.6167 W | Not applicable |
| 541650 | Sea surface elevation -unspecified | 1995-01-04 13:52:30 | 67.571 S, 68.129 W | Not applicable |
| 541035 | Sea surface elevation -unspecified | 1995-01-11 18:15:00 | 60.7 S, 45.6 W | Not applicable |
| 541441 | Sea surface elevation -unspecified | 1995-11-23 17:52:30 | 51.6833 S, 57.8167 W | Not applicable |
| 530098 | Offshore sea floor pressure series | 1995-11-26 05:52:30 | 56.8358 S, 57.5015 W | Not applicable |
| 541047 | Sea surface elevation -unspecified | 1996-01-01 00:00:00 | 60.7 S, 45.6 W | Not applicable |
| 541385 | Sea surface elevation -unspecified | 1996-01-01 00:00:00 | 65.25 S, 64.267 W | Not applicable |
| 541662 | Sea surface elevation -unspecified | 1996-01-01 00:07:30 | 67.571 S, 68.129 W | Not applicable |
| 529153 | Sea surface elevation -unspecified | 1996-01-01 01:00:00 | 54.805 S, 68.295 W | Not applicable |
| 582907 | Sea surface elevation -unspecified | 1996-01-17 17:00:00 | 63.395 S, 56.995 W | Not applicable |
| 527607 | Sea surface elevation -unspecified | 1996-04-01 13:00:00 | 54.9333 S, 67.6167 W | Not applicable |
| 581652 | Offshore sea floor pressure series | 1996-11-20 19:07:30 | 60.8493 S, 54.7227 W | Not applicable |
| 541674 | Sea surface elevation -unspecified | 1996-11-27 20:37:30 | 67.571 S, 68.129 W | Not applicable |
| 581640 | Offshore sea floor pressure series | 1996-12-04 00:07:30 | 54.944 S, 58.3837 W | Not applicable |
| 541453 | Sea surface elevation -unspecified | 1996-12-05 13:52:30 | 51.6833 S, 57.8167 W | Not applicable |
| 527619 | Sea surface elevation -unspecified | 1997-01-01 00:00:00 | 54.9333 S, 67.6167 W | Not applicable |
| 582919 | Sea surface elevation -unspecified | 1997-01-01 00:00:00 | 63.395 S, 56.995 W | Not applicable |
| 581584 | Sea surface elevation -unspecified | 1997-01-01 00:07:30 | 60.7 S, 45.6 W | Not applicable |
| 529165 | Sea surface elevation -unspecified | 1997-02-27 03:00:00 | 54.805 S, 68.295 W | Not applicable |
| 541686 | Sea surface elevation -unspecified | 1997-12-23 19:37:30 | 67.571 S, 68.129 W | Not applicable |
| 541281 | Sea surface elevation -unspecified | 1997-12-28 17:37:30 | 65.25 S, 64.267 W | Not applicable |
| 593026 | Offshore sea floor pressure series | 1997-12-30 18:52:34 | 60.8518 S, 54.7237 W | Not applicable |
| 527620 | Sea surface elevation -unspecified | 1998-01-01 00:00:00 | 54.9333 S, 67.6167 W | Not applicable |
| 529177 | Sea surface elevation -unspecified | 1998-01-01 00:00:00 | 54.805 S, 68.295 W | Not applicable |
| 582920 | Sea surface elevation -unspecified | 1998-01-01 00:00:00 | 63.395 S, 56.995 W | Not applicable |
| 757691 | CTD or STD cast | 1998-01-02 17:34:00 | 67.5733 S, 68.225 W | Unknown self-propelled small boat RATS/CTD43 |
| 592975 | Offshore sea floor pressure series | 1998-01-03 17:07:30 | 58.3678 S, 56.3578 W | Not applicable |
| 541465 | Sea surface elevation -unspecified | 1998-01-09 22:52:30 | 51.6833 S, 57.8167 W | Not applicable |
| 757709 | CTD or STD cast | 1998-01-14 16:44:00 | 67.5733 S, 68.225 W | Unknown self-propelled small boat RATS/CTD49 |
| 757710 | CTD or STD cast | 1998-01-20 15:48:00 | 67.5733 S, 68.225 W | Unknown self-propelled small boat RATS/CTD51 |
| 757722 | CTD or STD cast | 1998-01-26 15:55:00 | 67.5733 S, 68.225 W | Unknown self-propelled small boat RATS/CTD53 |
| 757734 | CTD or STD cast | 1998-02-04 15:13:00 | 67.5733 S, 68.225 W | Unknown self-propelled small boat RATS/CTD55 |
| 757746 | CTD or STD cast | 1998-02-09 15:48:00 | 67.5733 S, 68.225 W | Unknown self-propelled small boat RATS/CTD58 |
| 757758 | CTD or STD cast | 1998-02-17 13:18:00 | 67.5733 S, 68.225 W | Unknown self-propelled small boat RATS/CTD60 |
| 757771 | CTD or STD cast | 1998-02-23 12:53:00 | 67.5733 S, 68.225 W | Unknown self-propelled small boat RATS/CTD62 |
| 757783 | CTD or STD cast | 1998-02-28 13:48:00 | 67.5733 S, 68.225 W | Unknown self-propelled small boat RATS/CTD64 |
| 757795 | CTD or STD cast | 1998-03-06 17:32:00 | 67.5733 S, 68.225 W | Unknown self-propelled small boat RATS/CTD66 |
| 757802 | CTD or STD cast | 1998-03-15 14:49:00 | 67.5733 S, 68.225 W | Unknown self-propelled small boat RATS/CTD68 |
| 757814 | CTD or STD cast | 1998-03-23 16:12:00 | 67.5733 S, 68.225 W | Unknown self-propelled small boat RATS/CTD70 |
| 757826 | CTD or STD cast | 1998-03-29 15:57:00 | 67.5733 S, 68.225 W | Unknown self-propelled small boat RATS/CTD72 |
| 757838 | CTD or STD cast | 1998-04-04 15:40:00 | 67.5733 S, 68.225 W | Unknown self-propelled small boat RATS/CTD74 |
| 757851 | CTD or STD cast | 1998-04-08 15:57:00 | 67.5733 S, 68.225 W | Unknown self-propelled small boat RATS/CTD77 |
| 757863 | CTD or STD cast | 1998-04-24 14:11:00 | 67.5733 S, 68.225 W | Unknown self-propelled small boat RATS/CTD80 |
| 757875 | CTD or STD cast | 1998-05-01 13:43:00 | 67.5733 S, 68.225 W | Unknown self-propelled small boat RATS/CTD82 |
| 757887 | CTD or STD cast | 1998-05-10 15:14:00 | 67.5733 S, 68.225 W | Unknown self-propelled small boat RATS/CTD84 |
| 757899 | CTD or STD cast | 1998-05-12 15:59:00 | 67.5733 S, 68.225 W | Unknown self-propelled small boat RATS/CTD87 |
| 757906 | CTD or STD cast | 1998-05-21 13:51:00 | 67.5733 S, 68.225 W | Unknown self-propelled small boat RATS/CTD89 |
| 757918 | CTD or STD cast | 1998-05-27 14:07:00 | 67.5733 S, 68.225 W | Unknown self-propelled small boat RATS/CTD91 |
| 757931 | CTD or STD cast | 1998-06-20 17:40:00 | 67.5733 S, 68.225 W | Unknown self-propelled small boat RATS/CTD93 |
| 757943 | CTD or STD cast | 1998-06-27 16:12:00 | 67.5733 S, 68.225 W | Unknown self-propelled small boat RATS/CTD96 |
| 757955 | CTD or STD cast | 1998-07-04 15:39:00 | 67.5733 S, 68.225 W | Unknown self-propelled small boat RATS/CTD98 |
| 757967 | CTD or STD cast | 1998-07-11 18:23:00 | 67.5733 S, 68.225 W | Unknown self-propelled small boat RATS/CTD100 |
| 757979 | CTD or STD cast | 1998-07-17 15:42:00 | 67.5733 S, 68.225 W | Unknown self-propelled small boat RATS/CTD103 |
| 757980 | CTD or STD cast | 1998-08-03 16:12:00 | 67.5733 S, 68.225 W | Unknown self-propelled small boat RATS/CTD106 |
| 757992 | CTD or STD cast | 1998-08-11 17:26:00 | 67.5733 S, 68.225 W | Unknown self-propelled small boat RATS/CTD108 |
| 758006 | CTD or STD cast | 1998-08-31 18:51:00 | 67.5733 S, 68.225 W | Unknown self-propelled small boat RATS/CTD111 |
| 758018 | CTD or STD cast | 1998-09-05 12:00:00 | 67.5733 S, 68.225 W | Unknown self-propelled small boat RATS/CTD113 |
| 758031 | CTD or STD cast | 1998-09-25 12:00:00 | 67.5733 S, 68.225 W | Unknown self-propelled small boat RATS/CTD115 |
| 758043 | CTD or STD cast | 1998-10-09 12:20:00 | 67.5733 S, 68.225 W | Unknown self-propelled small boat RATS/CTD120 |
| 758055 | CTD or STD cast | 1998-10-15 15:49:00 | 67.5733 S, 68.225 W | Unknown self-propelled small boat RATS/CTD122 |
| 758067 | CTD or STD cast | 1998-10-19 12:13:00 | 67.5733 S, 68.225 W | Unknown self-propelled small boat RATS/CTD124 |
| 758079 | CTD or STD cast | 1998-10-27 12:50:00 | 67.5733 S, 68.225 W | Unknown self-propelled small boat RATS/CTD126 |
| 758080 | CTD or STD cast | 1998-11-05 12:00:00 | 67.5733 S, 68.225 W | Unknown self-propelled small boat RATS/CTD129 |
| 758092 | CTD or STD cast | 1998-11-11 12:00:00 | 67.5733 S, 68.225 W | Unknown self-propelled small boat RATS/CTD131 |
| 758111 | CTD or STD cast | 1998-11-18 12:00:00 | 67.5733 S, 68.225 W | Unknown self-propelled small boat RATS/CTD133 |
| 581603 | Sea surface elevation -unspecified | 1998-11-20 18:07:30 | 51.6833 S, 57.8167 W | Not applicable |
| 592987 | Offshore sea floor pressure series | 1998-11-24 12:37:30 | 58.3708 S, 56.3533 W | Not applicable |
| 758123 | CTD or STD cast | 1998-11-25 12:00:00 | 67.5733 S, 68.225 W | Unknown self-propelled small boat RATS/CTD136 |
| 758135 | CTD or STD cast | 1998-12-02 12:26:00 | 67.5733 S, 68.225 W | Unknown self-propelled small boat RATS/CTD138 |
| 541698 | Sea surface elevation -unspecified | 1998-12-05 01:37:30 | 67.571 S, 68.129 W | Not applicable |
| 758147 | CTD or STD cast | 1998-12-05 14:30:00 | 67.5733 S, 68.225 W | Unknown self-propelled small boat RATS/CTD140 |
| 593038 | Offshore sea floor pressure series | 1998-12-12 01:22:30 | 60.8505 S, 54.7133 W | Not applicable |
| 593002 | Offshore sea floor pressure series | 1998-12-13 09:52:30 | 54.9427 S, 58.3568 W | Not applicable |
| 758159 | CTD or STD cast | 1998-12-14 11:42:00 | 67.5733 S, 68.225 W | Unknown self-propelled small boat RATS/CTD142 |
| 758160 | CTD or STD cast | 1998-12-21 12:05:00 | 67.5733 S, 68.225 W | Unknown self-propelled small boat RATS/CTD145 |
| 758172 | CTD or STD cast | 1998-12-30 15:24:00 | 67.5733 S, 68.225 W | Unknown self-propelled small boat RATS/CTD147 |
| 541397 | Sea surface elevation -unspecified | 1999-01-01 00:00:00 | 65.25 S, 64.267 W | Not applicable |
| 758184 | CTD or STD cast | 1999-01-04 17:33:00 | 67.5733 S, 68.225 W | Unknown self-propelled small boat RATS/CTD150 |
| 758196 | CTD or STD cast | 1999-01-06 12:23:00 | 67.5733 S, 68.225 W | Unknown self-propelled small boat RATS/CTD151 |
| 758203 | CTD or STD cast | 1999-01-10 13:01:00 | 67.5733 S, 68.225 W | Unknown self-propelled small boat RATS/CTD153 |
| 758215 | CTD or STD cast | 1999-01-12 12:36:00 | 67.5733 S, 68.225 W | Unknown self-propelled small boat RATS/CTD154 |
| 758227 | CTD or STD cast | 1999-01-16 15:10:00 | 67.5733 S, 68.225 W | Unknown self-propelled small boat RATS/CTD156 |
| 758239 | CTD or STD cast | 1999-01-19 14:38:00 | 67.5733 S, 68.225 W | Unknown self-propelled small boat RATS/CTD157 |
| 758240 | CTD or STD cast | 1999-01-22 11:31:00 | 67.5733 S, 68.225 W | Unknown self-propelled small boat RATS/CTD160 |
| 758252 | CTD or STD cast | 1999-01-27 18:03:00 | 67.5733 S, 68.225 W | Unknown self-propelled small boat RATS/CTD163 |
| 758264 | CTD or STD cast | 1999-02-03 20:11:00 | 67.5733 S, 68.225 W | Unknown self-propelled small boat RATS/CTD164 |
| 758276 | CTD or STD cast | 1999-02-05 14:02:00 | 67.5733 S, 68.225 W | Unknown self-propelled small boat RATS/CTD166 |
| 758288 | CTD or STD cast | 1999-02-10 12:40:00 | 67.5733 S, 68.225 W | Unknown self-propelled small boat RATS/CTD167 |
| 758307 | CTD or STD cast | 1999-02-12 14:00:00 | 67.5733 S, 68.225 W | Unknown self-propelled small boat RATS/CTD169 |
| 758319 | CTD or STD cast | 1999-02-17 17:18:00 | 67.5733 S, 68.225 W | Unknown self-propelled small boat RATS/CTD170 |
| 758320 | CTD or STD cast | 1999-02-25 12:29:00 | 67.5733 S, 68.225 W | Unknown self-propelled small boat RATS/CTD173 |
| 758332 | CTD or STD cast | 1999-03-05 14:50:00 | 67.5733 S, 68.225 W | Unknown self-propelled small boat RATS/CTD175 |
| 758344 | CTD or STD cast | 1999-03-21 19:06:00 | 67.5733 S, 68.225 W | Unknown self-propelled small boat RATS/CTD177 |
| 758356 | CTD or STD cast | 1999-03-30 12:44:00 | 67.5733 S, 68.225 W | Unknown self-propelled small boat RATS/CTD180 |
| 758368 | CTD or STD cast | 1999-04-07 12:31:00 | 67.5733 S, 68.225 W | Unknown self-propelled small boat RATS/CTD182 |
| 758381 | CTD or STD cast | 1999-04-14 17:55:00 | 67.5733 S, 68.225 W | Unknown self-propelled small boat RATS/CTD184 |
| 758393 | CTD or STD cast | 1999-04-22 11:49:00 | 67.5733 S, 68.225 W | Unknown self-propelled small boat RATS/CTD186 |
| 758400 | CTD or STD cast | 1999-04-28 12:29:00 | 67.5733 S, 68.225 W | Unknown self-propelled small boat RATS/CTD189 |
| 758412 | CTD or STD cast | 1999-05-05 11:54:00 | 67.5733 S, 68.225 W | Unknown self-propelled small boat RATS/CTD191 |
| 758424 | CTD or STD cast | 1999-05-11 16:49:00 | 67.5733 S, 68.225 W | Unknown self-propelled small boat RATS/CTD193 |
| 758436 | CTD or STD cast | 1999-05-31 15:14:00 | 67.5733 S, 68.225 W | Unknown self-propelled small boat RATS/CTD195 |
| 758448 | CTD or STD cast | 1999-07-01 15:46:00 | 67.5733 S, 68.225 W | Unknown self-propelled small boat RATS/CTD198 |
| 758461 | CTD or STD cast | 1999-08-18 15:50:00 | 67.5733 S, 68.225 W | Unknown self-propelled small boat RATS/CTD200 |
| 758473 | CTD or STD cast | 1999-09-11 13:32:00 | 67.5733 S, 68.225 W | Unknown self-propelled small boat RATS/CTD202 |
| 758485 | CTD or STD cast | 1999-10-08 14:12:00 | 67.5733 S, 68.225 W | Unknown self-propelled small boat RATS/CTD204 |
| 758497 | CTD or STD cast | 1999-11-01 15:00:00 | 67.5733 S, 68.225 W | Unknown self-propelled small boat RATS/CTD206 |
| 758504 | CTD or STD cast | 1999-11-10 16:28:00 | 67.5733 S, 68.225 W | Unknown self-propelled small boat RATS/CTD208 |
| 592999 | Offshore sea floor pressure series | 1999-11-12 14:52:30 | 58.3702 S, 56.3525 W | Not applicable |
| 758516 | CTD or STD cast | 1999-11-15 14:33:00 | 67.5733 S, 68.225 W | Unknown self-propelled small boat RATS/CTD210 |
| 581596 | Sea surface elevation -unspecified | 1999-11-19 12:07:30 | 60.7 S, 45.6 W | Not applicable |
| 593051 | Offshore sea floor pressure series | 1999-12-06 08:52:33 | 60.8502 S, 54.7142 W | Not applicable |
| 758528 | CTD or STD cast | 1999-12-08 16:56:00 | 67.5733 S, 68.225 W | Unknown self-propelled small boat RATS/CTD214 |
| 758541 | CTD or STD cast | 1999-12-15 12:40:00 | 67.5733 S, 68.225 W | Unknown self-propelled small boat RATS/CTD217 |
| 758553 | CTD or STD cast | 1999-12-22 11:36:00 | 67.5733 S, 68.225 W | Unknown self-propelled small boat RATS/CTD219 |
| 593014 | Offshore sea floor pressure series | 1999-12-28 05:52:37 | 54.9427 S, 58.3583 W | Not applicable |
| 758565 | CTD or STD cast | 1999-12-30 11:58:00 | 67.5733 S, 68.225 W | Unknown self-propelled small boat RATS/CTD221 |
| 758577 | CTD or STD cast | 2000-01-05 12:21:00 | 67.5733 S, 68.225 W | Unknown self-propelled small boat RATS/CTD223 |
| 758589 | CTD or STD cast | 2000-01-12 12:13:00 | 67.5733 S, 68.225 W | Unknown self-propelled small boat RATS/CTD225 |
| 758590 | CTD or STD cast | 2000-01-19 13:27:00 | 67.5733 S, 68.225 W | Unknown self-propelled small boat RATS/CTD227 |
| 758608 | CTD or STD cast | 2000-01-26 14:35:00 | 67.5733 S, 68.225 W | Unknown self-propelled small boat RATS/CTD230 |
| 758621 | CTD or STD cast | 2000-02-01 15:43:00 | 67.5733 S, 68.225 W | Unknown self-propelled small boat RATS/CTD232 |
| 758633 | CTD or STD cast | 2000-02-09 12:31:00 | 67.5733 S, 68.225 W | Unknown self-propelled small boat RATS/CTD234 |
| 743818 | CTD or STD cast | 2000-02-12 17:27:27 | 61.05083 S, 54.55167 W | RRS James Clark Ross JR20000113 (JR47) |
| 743831 | CTD or STD cast | 2000-02-12 18:49:19 | 60.90417 S, 54.65517 W | RRS James Clark Ross JR20000113 (JR47) |
| 743843 | CTD or STD cast | 2000-02-12 20:03:35 | 60.85183 S, 54.69517 W | RRS James Clark Ross JR20000113 (JR47) |
| 743855 | CTD or STD cast | 2000-02-12 21:35:19 | 60.8165 S, 54.71 W | RRS James Clark Ross JR20000113 (JR47) |
| 743867 | CTD or STD cast | 2000-02-12 23:45:20 | 60.76583 S, 54.7435 W | RRS James Clark Ross JR20000113 (JR47) |
| 743879 | CTD or STD cast | 2000-02-13 04:06:33 | 60.44283 S, 54.96117 W | RRS James Clark Ross JR20000113 (JR47) |
| 743880 | CTD or STD cast | 2000-02-13 08:28:44 | 60.12833 S, 55.1845 W | RRS James Clark Ross JR20000113 (JR47) |
| 743892 | CTD or STD cast | 2000-02-13 12:35:40 | 59.8095 S, 55.387 W | RRS James Clark Ross JR20000113 (JR47) |
| 743911 | CTD or STD cast | 2000-02-13 16:47:40 | 59.49433 S, 55.59467 W | RRS James Clark Ross JR20000113 (JR47) |
| 743923 | CTD or STD cast | 2000-02-13 21:18:12 | 59.178 S, 55.79983 W | RRS James Clark Ross JR20000113 (JR47) |
| 743935 | CTD or STD cast | 2000-02-14 02:01:50 | 58.862 S, 56.006 W | RRS James Clark Ross JR20000113 (JR47) |
| 743947 | CTD or STD cast | 2000-02-14 06:55:40 | 58.544 S, 56.20983 W | RRS James Clark Ross JR20000113 (JR47) |
| 743959 | CTD or STD cast | 2000-02-14 11:40:19 | 58.23 S, 56.40833 W | RRS James Clark Ross JR20000113 (JR47) |
| 743960 | CTD or STD cast | 2000-02-14 16:18:25 | 57.913 S, 56.6105 W | RRS James Clark Ross JR20000113 (JR47) |
| 743972 | CTD or STD cast | 2000-02-14 22:18:39 | 57.5945 S, 56.80583 W | RRS James Clark Ross JR20000113 (JR47) |
| 743984 | CTD or STD cast | 2000-02-15 02:44:06 | 57.28033 S, 57.0 W | RRS James Clark Ross JR20000113 (JR47) |
| 743996 | CTD or STD cast | 2000-02-15 07:54:04 | 56.9635 S, 57.1955 W | RRS James Clark Ross JR20000113 (JR47) |
| 744011 | CTD or STD cast | 2000-02-15 12:05:51 | 56.6475 S, 57.387 W | RRS James Clark Ross JR20000113 (JR47) |
| 744023 | CTD or STD cast | 2000-02-15 17:05:19 | 56.32917 S, 57.57883 W | RRS James Clark Ross JR20000113 (JR47) |
| 744035 | CTD or STD cast | 2000-02-15 21:19:18 | 56.01483 S, 57.7675 W | RRS James Clark Ross JR20000113 (JR47) |
| 744047 | CTD or STD cast | 2000-02-16 01:53:46 | 55.69983 S, 57.95467 W | RRS James Clark Ross JR20000113 (JR47) |
| 744059 | CTD or STD cast | 2000-02-16 07:12:24 | 55.381 S, 58.142 W | RRS James Clark Ross JR20000113 (JR47) |
| 744060 | CTD or STD cast | 2000-02-16 11:28:55 | 55.17067 S, 58.26517 W | RRS James Clark Ross JR20000113 (JR47) |
| 744072 | CTD or STD cast | 2000-02-16 14:10:58 | 55.124 S, 58.29383 W | RRS James Clark Ross JR20000113 (JR47) |
| 744084 | CTD or STD cast | 2000-02-16 17:07:01 | 55.06533 S, 58.32717 W | RRS James Clark Ross JR20000113 (JR47) |
| 744096 | CTD or STD cast | 2000-02-16 19:27:38 | 54.96017 S, 58.38967 W | RRS James Clark Ross JR20000113 (JR47) |
| 744103 | CTD or STD cast | 2000-02-16 21:08:35 | 54.94283 S, 58.39683 W | RRS James Clark Ross JR20000113 (JR47) |
| 744115 | CTD or STD cast | 2000-02-16 22:26:14 | 54.927 S, 58.40667 W | RRS James Clark Ross JR20000113 (JR47) |
| 744127 | CTD or STD cast | 2000-02-17 00:38:02 | 54.6555 S, 58.56317 W | RRS James Clark Ross JR20000113 (JR47) |
| 758645 | CTD or STD cast | 2000-02-18 14:53:00 | 67.5733 S, 68.225 W | Unknown self-propelled small boat RATS/CTD237 |
| 758657 | CTD or STD cast | 2000-02-25 13:08:00 | 67.5733 S, 68.225 W | Unknown self-propelled small boat RATS/CTD239 |
| 758669 | CTD or STD cast | 2000-02-29 11:43:00 | 67.5733 S, 68.225 W | Unknown self-propelled small boat RATS/CTD241 |
| 758670 | CTD or STD cast | 2000-03-07 12:25:00 | 67.5733 S, 68.225 W | Unknown self-propelled small boat RATS/CTD243 |
| 758682 | CTD or STD cast | 2000-03-20 13:38:00 | 67.5733 S, 68.225 W | Unknown self-propelled small boat RATS/CTD245 |
| 758694 | CTD or STD cast | 2000-03-28 14:10:00 | 67.5733 S, 68.225 W | Unknown self-propelled small boat RATS/CTD247 |
| 581615 | Sea surface elevation -unspecified | 2000-03-28 14:37:30 | 51.6833 S, 57.8167 W | Not applicable |
| 758701 | CTD or STD cast | 2000-04-05 18:27:00 | 67.5733 S, 68.225 W | Unknown self-propelled small boat RATS/CTD249 |
| 758713 | CTD or STD cast | 2000-04-11 11:51:00 | 67.5733 S, 68.225 W | Unknown self-propelled small boat RATS/CTD251 |
| 758725 | CTD or STD cast | 2000-04-21 16:00:00 | 67.5733 S, 68.225 W | Unknown self-propelled small boat RATS/CTD254 |
| 758737 | CTD or STD cast | 2000-04-25 16:40:00 | 67.5733 S, 68.225 W | Unknown self-propelled small boat RATS/CTD256 |
| 758749 | CTD or STD cast | 2000-05-01 15:44:00 | 67.5733 S, 68.225 W | Unknown self-propelled small boat RATS/CTD258 |
| 758750 | CTD or STD cast | 2000-05-09 13:14:00 | 67.5733 S, 68.225 W | Unknown self-propelled small boat RATS/CTD260 |
| 758762 | CTD or STD cast | 2000-05-22 13:23:00 | 67.5733 S, 68.225 W | Unknown self-propelled small boat RATS/CTD262 |
| 758774 | CTD or STD cast | 2000-05-28 17:12:00 | 67.5733 S, 68.225 W | Unknown self-propelled small boat RATS/CTD265 |
| 758786 | CTD or STD cast | 2000-06-11 14:44:00 | 67.5733 S, 68.225 W | Unknown self-propelled small boat RATS/CTD267 |
| 758798 | CTD or STD cast | 2000-07-18 13:11:00 | 67.5733 S, 68.225 W | Unknown self-propelled small boat RATS/CTD269 |
| 758805 | CTD or STD cast | 2000-07-31 16:48:00 | 67.5733 S, 68.225 W | Unknown self-propelled small boat RATS/CTD271 |
| 593063 | Sea surface elevation -unspecified | 2000-11-18 17:37:30 | 51.6833 S, 57.8167 W | Not applicable |
| 703287 | CTD or STD cast | 2000-11-22 21:51:00 | 55.05867 S, 58.29733 W | RRS James Clark Ross JR20001121 (JR55) |
| 703299 | CTD or STD cast | 2000-11-23 05:29:00 | 54.65433 S, 58.55933 W | RRS James Clark Ross JR20001121 (JR55) |
| 703306 | CTD or STD cast | 2000-11-23 08:06:00 | 54.92233 S, 58.36167 W | RRS James Clark Ross JR20001121 (JR55) |
| 703318 | CTD or STD cast | 2000-11-23 09:22:00 | 54.94367 S, 58.38767 W | RRS James Clark Ross JR20001121 (JR55) |
| 703331 | CTD or STD cast | 2000-11-23 11:12:00 | 54.96083 S, 58.36817 W | RRS James Clark Ross JR20001121 (JR55) |
| 703343 | CTD or STD cast | 2000-11-23 14:07:00 | 55.06967 S, 58.28983 W | RRS James Clark Ross JR20001121 (JR55) |
| 703355 | CTD or STD cast | 2000-11-23 16:46:00 | 55.12117 S, 58.25783 W | RRS James Clark Ross JR20001121 (JR55) |
| 703367 | CTD or STD cast | 2000-11-23 19:40:00 | 55.17 S, 58.23383 W | RRS James Clark Ross JR20001121 (JR55) |
| 703379 | CTD or STD cast | 2000-11-23 22:45:00 | 55.21433 S, 58.2285 W | RRS James Clark Ross JR20001121 (JR55) |
| 703380 | CTD or STD cast | 2000-11-24 03:57:00 | 55.52367 S, 57.9875 W | RRS James Clark Ross JR20001121 (JR55) |
| 703392 | CTD or STD cast | 2000-11-24 09:34:00 | 55.821 S, 57.8675 W | RRS James Clark Ross JR20001121 (JR55) |
| 703411 | CTD or STD cast | 2000-11-24 14:34:00 | 56.129 S, 57.67467 W | RRS James Clark Ross JR20001121 (JR55) |
| 703423 | CTD or STD cast | 2000-11-24 19:32:00 | 56.462 S, 57.51483 W | RRS James Clark Ross JR20001121 (JR55) |
| 703435 | CTD or STD cast | 2000-11-24 23:58:00 | 56.78483 S, 57.3085 W | RRS James Clark Ross JR20001121 (JR55) |
| 703447 | CTD or STD cast | 2000-11-25 04:02:00 | 57.091 S, 57.122 W | RRS James Clark Ross JR20001121 (JR55) |
| 703459 | CTD or STD cast | 2000-11-25 08:57:00 | 57.43017 S, 56.92883 W | RRS James Clark Ross JR20001121 (JR55) |
| 703460 | CTD or STD cast | 2000-11-25 15:04:00 | 57.73433 S, 56.676 W | RRS James Clark Ross JR20001121 (JR55) |
| 703472 | CTD or STD cast | 2000-11-25 19:26:00 | 58.04967 S, 56.53917 W | RRS James Clark Ross JR20001121 (JR55) |
| 703484 | CTD or STD cast | 2000-11-26 02:46:00 | 58.36733 S, 56.35183 W | RRS James Clark Ross JR20001121 (JR55) |
| 703496 | CTD or STD cast | 2000-11-26 12:49:00 | 58.6885 S, 56.15533 W | RRS James Clark Ross JR20001121 (JR55) |
| 703503 | CTD or STD cast | 2000-11-26 17:31:00 | 58.9975 S, 55.96267 W | RRS James Clark Ross JR20001121 (JR55) |
| 703515 | CTD or STD cast | 2000-11-26 22:22:00 | 59.3175 S, 55.71133 W | RRS James Clark Ross JR20001121 (JR55) |
| 703527 | CTD or STD cast | 2000-11-27 02:00:00 | 59.6505 S, 55.51917 W | RRS James Clark Ross JR20001121 (JR55) |
| 703539 | CTD or STD cast | 2000-11-27 06:56:00 | 60.0045 S, 55.3185 W | RRS James Clark Ross JR20001121 (JR55) |
| 703540 | CTD or STD cast | 2000-11-27 11:25:00 | 60.3375 S, 55.07733 W | RRS James Clark Ross JR20001121 (JR55) |
| 703552 | CTD or STD cast | 2000-11-27 18:49:00 | 60.675 S, 54.81183 W | RRS James Clark Ross JR20001121 (JR55) |
| 703564 | CTD or STD cast | 2000-11-27 22:03:00 | 60.79967 S, 54.7195 W | RRS James Clark Ross JR20001121 (JR55) |
| 703576 | CTD or STD cast | 2000-11-28 00:41:00 | 60.8335 S, 54.72283 W | RRS James Clark Ross JR20001121 (JR55) |
| 703588 | CTD or STD cast | 2000-11-28 02:34:00 | 60.84983 S, 54.71167 W | RRS James Clark Ross JR20001121 (JR55) |
| 703607 | CTD or STD cast | 2000-11-28 04:42:00 | 60.9815 S, 54.62017 W | RRS James Clark Ross JR20001121 (JR55) |
| 703619 | CTD or STD cast | 2000-11-28 06:16:00 | 61.052 S, 54.60283 W | RRS James Clark Ross JR20001121 (JR55) |
| 703620 | CTD or STD cast | 2000-12-02 16:18:00 | 67.57733 S, 68.1305 W | RRS James Clark Ross JR20001121 (JR55) |
| 758817 | CTD or STD cast | 2000-12-06 15:54:00 | 67.5733 S, 68.225 W | Unknown self-propelled small boat RATS/CTD273 |
| 758829 | CTD or STD cast | 2000-12-12 12:33:00 | 67.5733 S, 68.225 W | Unknown self-propelled small boat RATS/CTD275 |
| 758830 | CTD or STD cast | 2000-12-20 18:39:00 | 67.5733 S, 68.225 W | Unknown self-propelled small boat RATS/CTD277 |
| 758842 | CTD or STD cast | 2001-01-02 17:03:00 | 67.5733 S, 68.225 W | Unknown self-propelled small boat RATS/CTD281 |
| 758854 | CTD or STD cast | 2001-01-08 17:26:00 | 67.5733 S, 68.225 W | Unknown self-propelled small boat RATS/CTD283 |
| 758866 | CTD or STD cast | 2001-01-10 17:12:00 | 67.5733 S, 68.225 W | Unknown self-propelled small boat RATS/CTD285 |
| 758878 | CTD or STD cast | 2001-01-17 11:56:00 | 67.5733 S, 68.225 W | Unknown self-propelled small boat RATS/CTD287 |
| 758891 | CTD or STD cast | 2001-01-25 12:09:00 | 67.5733 S, 68.225 W | Unknown self-propelled small boat RATS/CTD289 |
| 758909 | CTD or STD cast | 2001-02-01 17:13:00 | 67.5733 S, 68.225 W | Unknown self-propelled small boat RATS/CTD291 |
| 758910 | CTD or STD cast | 2001-02-07 18:40:00 | 67.5733 S, 68.225 W | Unknown self-propelled small boat RATS/CTD293 |
| 758922 | CTD or STD cast | 2001-02-14 12:34:00 | 67.5733 S, 68.225 W | Unknown self-propelled small boat RATS/CTD295 |
| 758934 | CTD or STD cast | 2001-02-21 11:57:00 | 67.5733 S, 68.225 W | Unknown self-propelled small boat RATS/CTD297 |
| 758946 | CTD or STD cast | 2001-03-06 13:32:00 | 67.5733 S, 68.225 W | Unknown self-propelled small boat RATS/CTD301 |
| 758958 | CTD or STD cast | 2001-03-19 11:11:00 | 67.5733 S, 68.225 W | Unknown self-propelled small boat RATS/CTD305 |
| 758971 | CTD or STD cast | 2001-03-29 12:42:00 | 67.5733 S, 68.225 W | Unknown self-propelled small boat RATS/CTD307 |
| 758983 | CTD or STD cast | 2001-04-05 13:25:00 | 67.5733 S, 68.225 W | Unknown self-propelled small boat RATS/CTD309 |
| 758995 | CTD or STD cast | 2001-04-12 13:23:00 | 67.5733 S, 68.225 W | Unknown self-propelled small boat RATS/CTD311 |
| 759009 | CTD or STD cast | 2001-04-17 05:36:00 | 67.5733 S, 68.225 W | Unknown self-propelled small boat RATS/CTD313 |
| 759010 | CTD or STD cast | 2001-04-28 13:45:00 | 67.5733 S, 68.225 W | Unknown self-propelled small boat RATS/CTD315 |
| 759022 | CTD or STD cast | 2001-05-04 18:30:00 | 67.5733 S, 68.225 W | Unknown self-propelled small boat RATS/CTD317 |
| 759034 | CTD or STD cast | 2001-05-10 13:27:00 | 67.5733 S, 68.225 W | Unknown self-propelled small boat RATS/CTD319 |
| 759046 | CTD or STD cast | 2001-05-17 13:28:00 | 67.5733 S, 68.225 W | Unknown self-propelled small boat RATS/CTD321 |
| 759058 | CTD or STD cast | 2001-05-24 13:02:00 | 67.5733 S, 68.225 W | Unknown self-propelled small boat RATS/CTD323 |
| 759071 | CTD or STD cast | 2001-06-04 17:45:00 | 67.5733 S, 68.225 W | Unknown self-propelled small boat RATS/CTD325 |
| 759083 | CTD or STD cast | 2001-06-15 15:09:00 | 67.5733 S, 68.225 W | Unknown self-propelled small boat RATS/CTD327 |
| 759095 | CTD or STD cast | 2001-06-25 16:02:00 | 67.5733 S, 68.225 W | Unknown self-propelled small boat RATS/CTD329 |
| 759102 | CTD or STD cast | 2001-06-30 14:43:00 | 67.5733 S, 68.225 W | Unknown self-propelled small boat RATS/CTD331 |
| 759114 | CTD or STD cast | 2001-08-01 13:50:00 | 67.5733 S, 68.225 W | Unknown self-propelled small boat RATS/CTD335 |
| 759126 | CTD or STD cast | 2001-08-06 17:48:00 | 67.5733 S, 68.225 W | Unknown self-propelled small boat RATS/CTD337 |
| 759138 | CTD or STD cast | 2001-12-05 19:52:00 | 67.5733 S, 68.225 W | Unknown self-propelled small boat RATS/CTD341 |
| 759151 | CTD or STD cast | 2001-12-17 13:26:00 | 67.5733 S, 68.225 W | Unknown self-propelled small boat RATS/CTD343 |
| 759163 | CTD or STD cast | 2001-12-21 13:20:00 | 67.5733 S, 68.225 W | Unknown self-propelled small boat RATS/CTD345 |
| 759175 | CTD or STD cast | 2001-12-28 19:22:00 | 67.5733 S, 68.225 W | Unknown self-propelled small boat RATS/CTD347 |
| 759187 | CTD or STD cast | 2002-01-04 16:38:00 | 67.5733 S, 68.225 W | Unknown self-propelled small boat RATS/CTD351 |
| 759199 | CTD or STD cast | 2002-01-08 11:39:00 | 67.5733 S, 68.225 W | Unknown self-propelled small boat RATS/CTD353 |
| 759206 | CTD or STD cast | 2002-01-12 11:17:00 | 67.5733 S, 68.225 W | Unknown self-propelled small boat RATS/CTD355 |
| 759218 | CTD or STD cast | 2002-01-17 11:34:00 | 67.5733 S, 68.225 W | Unknown self-propelled small boat RATS/CTD357 |
| 759231 | CTD or STD cast | 2002-01-22 11:19:00 | 67.5733 S, 68.225 W | Unknown self-propelled small boat RATS/CTD361 |
| 759243 | CTD or STD cast | 2002-01-23 17:23:00 | 67.5733 S, 68.225 W | Unknown self-propelled small boat RATS/CTD363 |
| 759255 | CTD or STD cast | 2002-01-28 15:29:00 | 67.5733 S, 68.225 W | Unknown self-propelled small boat RATS/CTD365 |
| 759267 | CTD or STD cast | 2002-02-18 12:33:00 | 67.5733 S, 68.225 W | Unknown self-propelled small boat RATS/CTD373 |
| 759279 | CTD or STD cast | 2002-02-26 11:41:00 | 67.5733 S, 68.225 W | Unknown self-propelled small boat RATS/CTD375 |
| 759280 | CTD or STD cast | 2002-03-04 11:41:00 | 67.5733 S, 68.225 W | Unknown self-propelled small boat RATS/CTD377 |
| 759292 | CTD or STD cast | 2002-03-09 11:39:00 | 67.5733 S, 68.225 W | Unknown self-propelled small boat RATS/CTD379 |
| 759311 | CTD or STD cast | 2002-03-15 11:38:00 | 67.5733 S, 68.225 W | Unknown self-propelled small boat RATS/CTD381 |
| 759323 | CTD or STD cast | 2002-03-23 11:51:00 | 67.5733 S, 68.225 W | Unknown self-propelled small boat RATS/CTD383 |
| 759335 | CTD or STD cast | 2002-03-28 11:43:00 | 67.5733 S, 68.225 W | Unknown self-propelled small boat RATS/CTD385 |
| 759347 | CTD or STD cast | 2002-04-10 10:58:00 | 67.5733 S, 68.225 W | Unknown self-propelled small boat RATS/CTD387 |
| 759359 | CTD or STD cast | 2002-04-17 13:28:00 | 67.5733 S, 68.225 W | Unknown self-propelled small boat RATS/CTD389 |
| 759360 | CTD or STD cast | 2002-05-30 12:01:00 | 67.5733 S, 68.225 W | Unknown self-propelled small boat RATS/CTD395 |
| 759372 | CTD or STD cast | 2002-06-06 12:12:00 | 67.5851 S, 68.1648 W | Unknown self-propelled small boat RATS/CTD397 |
| 759384 | CTD or STD cast | 2002-06-12 12:16:00 | 67.5851 S, 68.1648 W | Unknown self-propelled small boat RATS/CTD399 |
| 759396 | CTD or STD cast | 2002-06-19 16:42:00 | 67.5851 S, 68.1648 W | Unknown self-propelled small boat RATS/CTD401 |
| 759403 | CTD or STD cast | 2002-06-26 12:34:00 | 67.5733 S, 68.225 W | Unknown self-propelled small boat RATS/CTD403 |
| 759415 | CTD or STD cast | 2002-07-04 13:25:00 | 67.5851 S, 68.1648 W | Unknown self-propelled small boat RATS/CTD405 |
| 759427 | CTD or STD cast | 2002-07-11 13:53:00 | 67.5851 S, 68.1648 W | Unknown self-propelled small boat RATS/CTD407 |
| 759439 | CTD or STD cast | 2002-07-18 13:32:00 | 67.5851 S, 68.1648 W | Unknown self-propelled small boat RATS/CTD409 |
| 759440 | CTD or STD cast | 2002-07-25 12:09:00 | 67.5851 S, 68.1648 W | Unknown self-propelled small boat RATS/CTD411 |
| 759452 | CTD or STD cast | 2002-08-06 16:10:00 | 67.5733 S, 68.225 W | Unknown self-propelled small boat RATS/CTD415 |
| 759464 | CTD or STD cast | 2002-08-11 12:49:00 | 67.5851 S, 68.1648 W | Unknown self-propelled small boat RATS/CTD417 |
| 759476 | CTD or STD cast | 2002-08-15 15:20:00 | 67.5851 S, 68.1648 W | Unknown self-propelled small boat RATS/CTD419 |
| 759488 | CTD or STD cast | 2002-08-28 14:40:00 | 67.5851 S, 68.1648 W | Unknown self-propelled small boat RATS/CTD423 |
| 759507 | CTD or STD cast | 2002-09-04 12:08:00 | 67.5851 S, 68.1648 W | Unknown self-propelled small boat RATS/CTD425 |
| 759519 | CTD or STD cast | 2002-09-16 14:14:00 | 67.5851 S, 68.1648 W | Unknown self-propelled small boat RATS/CTD427 |
| 759520 | CTD or STD cast | 2002-09-20 13:37:00 | 67.5851 S, 68.1648 W | Unknown self-propelled small boat RATS/CTD429 |
| 759532 | CTD or STD cast | 2002-09-26 11:58:00 | 67.5851 S, 68.1648 W | Unknown self-propelled small boat RATS/CTD431 |
| 759544 | CTD or STD cast | 2002-10-03 17:07:00 | 67.5851 S, 68.1648 W | Unknown self-propelled small boat RATS/CTD433 |
| 759556 | CTD or STD cast | 2002-10-17 12:03:00 | 67.5851 S, 68.1648 W | Unknown self-propelled small boat RATS/CTD437 |
| 759568 | CTD or STD cast | 2002-10-21 12:41:00 | 67.5851 S, 68.1648 W | Unknown self-propelled small boat RATS/CTD439 |
| 759581 | CTD or STD cast | 2002-10-30 13:44:00 | 67.5851 S, 68.1648 W | Unknown self-propelled small boat RATS/CTD443 |
| 759593 | CTD or STD cast | 2002-11-05 15:29:00 | 67.5851 S, 68.1648 W | Unknown self-propelled small boat RATS/CTD445 |
| 759600 | CTD or STD cast | 2002-12-17 12:05:00 | 67.5683 S, 68.1187 W | Unknown self-propelled small boat RATS/CTD461 |
| 759612 | CTD or STD cast | 2002-12-20 11:54:00 | 67.5683 S, 68.1187 W | Unknown self-propelled small boat RATS/CTD463 |
| 734342 | CTD or STD cast | 2002-12-21 13:15:00 | 62.7805 S, 67.04667 W | RRS James Clark Ross JR20021224 (JR81) |
| 734354 | CTD or STD cast | 2002-12-22 20:12:00 | 67.58217 S, 68.13517 W | RRS James Clark Ross JR20021224 (JR81) |
| 734366 | CTD or STD cast | 2002-12-27 11:36:00 | 61.05 S, 54.5875 W | RRS James Clark Ross JR20021224 (JR81) |
| 734378 | CTD or STD cast | 2002-12-27 13:04:00 | 60.981 S, 54.63017 W | RRS James Clark Ross JR20021224 (JR81) |
| 734391 | CTD or STD cast | 2002-12-27 14:49:00 | 60.85033 S, 54.711 W | RRS James Clark Ross JR20021224 (JR81) |
| 759624 | CTD or STD cast | 2002-12-27 15:58:00 | 67.5851 S, 68.1648 W | Unknown self-propelled small boat RATS/CTD465 |
| 734409 | CTD or STD cast | 2002-12-27 16:53:00 | 60.833 S, 54.7215 W | RRS James Clark Ross JR20021224 (JR81) |
| 734410 | CTD or STD cast | 2002-12-27 18:58:00 | 60.79933 S, 54.7425 W | RRS James Clark Ross JR20021224 (JR81) |
| 734422 | CTD or STD cast | 2002-12-27 22:04:00 | 60.66667 S, 54.82367 W | RRS James Clark Ross JR20021224 (JR81) |
| 734434 | CTD or STD cast | 2002-12-28 02:23:00 | 60.334 S, 55.0315 W | RRS James Clark Ross JR20021224 (JR81) |
| 734446 | CTD or STD cast | 2002-12-28 07:00:00 | 59.99983 S, 55.23783 W | RRS James Clark Ross JR20021224 (JR81) |
| 734458 | CTD or STD cast | 2002-12-28 12:27:00 | 59.66633 S, 55.4455 W | RRS James Clark Ross JR20021224 (JR81) |
| 734471 | CTD or STD cast | 2002-12-28 17:13:00 | 59.33333 S, 55.65083 W | RRS James Clark Ross JR20021224 (JR81) |
| 734483 | CTD or STD cast | 2002-12-28 22:12:00 | 59.00067 S, 55.8605 W | RRS James Clark Ross JR20021224 (JR81) |
| 734495 | CTD or STD cast | 2002-12-29 02:35:00 | 58.68217 S, 56.05467 W | RRS James Clark Ross JR20021224 (JR81) |
| 734502 | CTD or STD cast | 2002-12-29 07:02:00 | 58.36683 S, 56.24983 W | RRS James Clark Ross JR20021224 (JR81) |
| 734514 | CTD or STD cast | 2002-12-29 17:11:00 | 58.0495 S, 56.44683 W | RRS James Clark Ross JR20021224 (JR81) |
| 734526 | CTD or STD cast | 2002-12-29 21:54:00 | 57.73133 S, 56.643 W | RRS James Clark Ross JR20021224 (JR81) |
| 734538 | CTD or STD cast | 2002-12-30 02:12:00 | 57.41667 S, 56.83833 W | RRS James Clark Ross JR20021224 (JR81) |
| 734551 | CTD or STD cast | 2002-12-30 07:12:00 | 57.0995 S, 57.02933 W | RRS James Clark Ross JR20021224 (JR81) |
| 734563 | CTD or STD cast | 2002-12-30 12:20:00 | 56.78567 S, 57.22667 W | RRS James Clark Ross JR20021224 (JR81) |
| 734575 | CTD or STD cast | 2002-12-30 16:43:00 | 56.4665 S, 57.428 W | RRS James Clark Ross JR20021224 (JR81) |
| 734587 | CTD or STD cast | 2002-12-30 21:49:00 | 56.15033 S, 57.62417 W | RRS James Clark Ross JR20021224 (JR81) |
| 734599 | CTD or STD cast | 2002-12-31 02:06:00 | 55.834 S, 57.8195 W | RRS James Clark Ross JR20021224 (JR81) |
| 734606 | CTD or STD cast | 2002-12-31 07:50:00 | 55.5165 S, 58.01633 W | RRS James Clark Ross JR20021224 (JR81) |
| 734618 | CTD or STD cast | 2002-12-31 12:41:00 | 55.21433 S, 58.20383 W | RRS James Clark Ross JR20021224 (JR81) |
| 734631 | CTD or STD cast | 2002-12-31 20:52:00 | 55.171 S, 58.23133 W | RRS James Clark Ross JR20021224 (JR81) |
| 734643 | CTD or STD cast | 2003-01-01 00:09:00 | 55.12117 S, 58.26183 W | RRS James Clark Ross JR20021224 (JR81) |
| 734655 | CTD or STD cast | 2003-01-01 02:28:00 | 55.06967 S, 58.29383 W | RRS James Clark Ross JR20021224 (JR81) |
| 734667 | CTD or STD cast | 2003-01-01 04:59:00 | 54.96267 S, 58.36217 W | RRS James Clark Ross JR20021224 (JR81) |
| 734679 | CTD or STD cast | 2003-01-01 06:46:00 | 54.944 S, 58.372 W | RRS James Clark Ross JR20021224 (JR81) |
| 734680 | CTD or STD cast | 2003-01-01 08:27:00 | 54.92233 S, 58.38433 W | RRS James Clark Ross JR20021224 (JR81) |
| 734692 | CTD or STD cast | 2003-01-01 12:26:00 | 54.6665 S, 58.54367 W | RRS James Clark Ross JR20021224 (JR81) |
| 759636 | CTD or STD cast | 2003-01-02 13:09:00 | 67.5851 S, 68.1648 W | Unknown self-propelled small boat RATS/CTD467 |
| 759661 | CTD or STD cast | 2003-01-06 15:29:00 | 67.5851 S, 68.1648 W | Unknown self-propelled small boat RATS/CTD469 |
| 759673 | CTD or STD cast | 2003-01-10 12:18:00 | 67.5851 S, 68.1648 W | Unknown self-propelled small boat RATS/CTD471 |
| 759685 | CTD or STD cast | 2003-01-15 13:27:00 | 67.5851 S, 68.1648 W | Unknown self-propelled small boat RATS/CTD473 |
| 759697 | CTD or STD cast | 2003-01-20 12:43:00 | 67.5733 S, 68.225 W | Unknown self-propelled small boat RATS/CTD475 |
| 759704 | CTD or STD cast | 2003-01-28 12:39:00 | 67.5733 S, 68.225 W | Unknown self-propelled small boat RATS/CTD477 |
| 759716 | CTD or STD cast | 2003-01-31 12:32:00 | 67.5851 S, 68.1648 W | Unknown self-propelled small boat RATS/CTD479 |
| 759728 | CTD or STD cast | 2003-02-05 13:08:00 | 67.5733 S, 68.225 W | Unknown self-propelled small boat RATS/CTD481 |
| 759741 | CTD or STD cast | 2003-02-10 14:07:00 | 67.5851 S, 68.1648 W | Unknown self-propelled small boat RATS/CTD483 |
| 759753 | CTD or STD cast | 2003-02-21 13:28:00 | 67.5733 S, 68.225 W | Unknown self-propelled small boat RATS/CTD485 |
| 759765 | CTD or STD cast | 2003-02-24 13:38:00 | 67.5733 S, 68.225 W | Unknown self-propelled small boat RATS/CTD487 |
| 759777 | CTD or STD cast | 2003-03-03 17:52:00 | 67.5733 S, 68.225 W | Unknown self-propelled small boat RATS/CTD489 |
| 759789 | CTD or STD cast | 2003-03-05 12:50:00 | 67.5733 S, 68.225 W | Unknown self-propelled small boat RATS/CTD491 |
| 759790 | CTD or STD cast | 2003-03-09 12:55:00 | 67.5733 S, 68.225 W | Unknown self-propelled small boat RATS/CTD493 |
| 759808 | CTD or STD cast | 2003-03-14 13:44:00 | 67.5733 S, 68.225 W | Unknown self-propelled small boat RATS/CTD495 |
| 759821 | CTD or STD cast | 2003-03-25 17:40:00 | 67.5733 S, 68.225 W | Unknown self-propelled small boat RATS/CTD497 |
| 759833 | CTD or STD cast | 2003-04-01 17:43:00 | 67.5733 S, 68.225 W | Unknown self-propelled small boat RATS/CTD499 |
| 759845 | CTD or STD cast | 2003-04-07 16:11:00 | 67.5733 S, 68.225 W | Unknown self-propelled small boat RATS/CTD501 |
| 759857 | CTD or STD cast | 2003-04-11 14:18:00 | 67.5733 S, 68.225 W | Unknown self-propelled small boat RATS/CTD503 |
| 759869 | CTD or STD cast | 2003-04-18 13:55:00 | 67.5733 S, 68.225 W | Unknown self-propelled small boat RATS/CTD505 |
| 759870 | CTD or STD cast | 2003-05-02 14:11:00 | 67.5733 S, 68.225 W | Unknown self-propelled small boat RATS/CTD507 |
| 759882 | CTD or STD cast | 2003-05-07 17:33:00 | 67.5733 S, 68.225 W | Unknown self-propelled small boat RATS/CTD509 |
| 759894 | CTD or STD cast | 2003-05-20 14:33:00 | 67.5851 S, 68.1648 W | Unknown self-propelled small boat RATS/CTD511 |
| 759901 | CTD or STD cast | 2003-05-28 14:39:00 | 67.5851 S, 68.1648 W | Unknown self-propelled small boat RATS/CTD513 |
| 759913 | CTD or STD cast | 2003-06-05 14:58:00 | 67.5683 S, 68.1187 W | Unknown self-propelled small boat RATS/CTD515 |
| 759925 | CTD or STD cast | 2003-07-08 16:42:00 | 67.5683 S, 68.1187 W | Unknown self-propelled small boat RATS/CTD517 |
| 759937 | CTD or STD cast | 2003-07-20 18:01:00 | 67.5733 S, 68.225 W | Unknown self-propelled small boat RATS/CTD519 |
| 759949 | CTD or STD cast | 2003-07-24 14:42:00 | 67.5733 S, 68.225 W | Unknown self-propelled small boat RATS/CTD521 |
| 759950 | CTD or STD cast | 2003-08-06 15:03:00 | 67.5733 S, 68.225 W | Unknown self-propelled small boat RATS/CTD523 |
| 759962 | CTD or STD cast | 2003-08-12 15:47:00 | 67.5733 S, 68.225 W | Unknown self-propelled small boat RATS/CTD525 |
| 759974 | CTD or STD cast | 2003-08-19 14:39:00 | 67.5733 S, 68.225 W | Unknown self-propelled small boat RATS/CTD527 |
| 759986 | CTD or STD cast | 2003-09-01 14:07:00 | 67.5733 S, 68.225 W | Unknown self-propelled small boat RATS/CTD529 |
| 759998 | CTD or STD cast | 2003-09-29 14:17:00 | 67.5733 S, 68.225 W | Unknown self-propelled small boat RATS/CTD531 |
| 760011 | CTD or STD cast | 2003-10-13 19:02:00 | 67.5733 S, 68.225 W | Unknown self-propelled small boat RATS/CTD534 |
| 760023 | CTD or STD cast | 2003-10-20 14:42:00 | 67.5733 S, 68.225 W | Unknown self-propelled small boat RATS/CTD536 |
| 760035 | CTD or STD cast | 2003-10-27 17:45:00 | 67.5733 S, 68.225 W | Unknown self-propelled small boat RATS/CTD538 |
| 760047 | CTD or STD cast | 2003-11-04 13:46:00 | 67.5733 S, 68.225 W | Unknown self-propelled small boat RATS/CTD540 |
| 760059 | CTD or STD cast | 2003-11-10 13:19:00 | 67.5733 S, 68.225 W | Unknown self-propelled small boat RATS/CTD542 |
| 760060 | CTD or STD cast | 2003-11-17 18:00:00 | 67.5733 S, 68.225 W | Unknown self-propelled small boat RATS/CTD545 |
| 760072 | CTD or STD cast | 2003-11-21 12:47:00 | 67.5733 S, 68.225 W | Unknown self-propelled small boat RATS/CTD547 |
| 760084 | CTD or STD cast | 2003-11-28 12:44:00 | 67.5733 S, 68.225 W | Unknown self-propelled small boat RATS/CTD549 |
| 760096 | CTD or STD cast | 2003-12-04 14:43:00 | 67.5733 S, 68.225 W | Unknown self-propelled small boat RATS/CTD551 |
| 739788 | CTD or STD cast | 2003-12-11 15:58:00 | 60.92867 S, 55.17467 W | RRS James Clark Ross JR20031211 (JR94) |
| 739807 | CTD or STD cast | 2003-12-11 17:16:00 | 60.8825 S, 54.93617 W | RRS James Clark Ross JR20031211 (JR94) |
| 739819 | CTD or STD cast | 2003-12-11 18:49:00 | 60.85017 S, 54.70783 W | RRS James Clark Ross JR20031211 (JR94) |
| 739820 | CTD or STD cast | 2003-12-11 20:19:00 | 60.83317 S, 54.711 W | RRS James Clark Ross JR20031211 (JR94) |
| 739832 | CTD or STD cast | 2003-12-11 22:21:00 | 60.80283 S, 54.74483 W | RRS James Clark Ross JR20031211 (JR94) |
| 739844 | CTD or STD cast | 2003-12-12 01:14:00 | 60.66267 S, 54.812 W | RRS James Clark Ross JR20031211 (JR94) |
| 739856 | CTD or STD cast | 2003-12-12 05:03:00 | 60.33383 S, 55.03567 W | RRS James Clark Ross JR20031211 (JR94) |
| 739868 | CTD or STD cast | 2003-12-12 09:16:00 | 59.99767 S, 55.24467 W | RRS James Clark Ross JR20031211 (JR94) |
| 739881 | CTD or STD cast | 2003-12-12 13:25:00 | 59.65833 S, 55.42817 W | RRS James Clark Ross JR20031211 (JR94) |
| 760103 | CTD or STD cast | 2003-12-12 14:07:00 | 67.5733 S, 68.225 W | Unknown self-propelled small boat RATS/CTD553 |
| 739893 | CTD or STD cast | 2003-12-12 17:38:00 | 59.3335 S, 55.64967 W | RRS James Clark Ross JR20031211 (JR94) |
| 739900 | CTD or STD cast | 2003-12-12 22:02:00 | 59.001 S, 55.85533 W | RRS James Clark Ross JR20031211 (JR94) |
| 739912 | CTD or STD cast | 2003-12-13 02:14:00 | 58.68483 S, 56.05867 W | RRS James Clark Ross JR20031211 (JR94) |
| 739924 | CTD or STD cast | 2003-12-13 06:16:00 | 58.368 S, 56.26167 W | RRS James Clark Ross JR20031211 (JR94) |
| 739936 | CTD or STD cast | 2003-12-13 10:23:00 | 58.04417 S, 56.43383 W | RRS James Clark Ross JR20031211 (JR94) |
| 739948 | CTD or STD cast | 2003-12-13 14:48:00 | 57.7345 S, 56.6265 W | RRS James Clark Ross JR20031211 (JR94) |
| 739961 | CTD or STD cast | 2003-12-13 19:05:00 | 57.42283 S, 56.80983 W | RRS James Clark Ross JR20031211 (JR94) |
| 739973 | CTD or STD cast | 2003-12-13 23:32:00 | 57.10117 S, 57.0365 W | RRS James Clark Ross JR20031211 (JR94) |
| 739985 | CTD or STD cast | 2003-12-14 04:04:00 | 56.785 S, 57.23233 W | RRS James Clark Ross JR20031211 (JR94) |
| 739997 | CTD or STD cast | 2003-12-14 07:55:00 | 56.46617 S, 57.42117 W | RRS James Clark Ross JR20031211 (JR94) |
| 740009 | CTD or STD cast | 2003-12-14 12:24:00 | 56.14167 S, 57.6115 W | RRS James Clark Ross JR20031211 (JR94) |
| 740010 | CTD or STD cast | 2003-12-14 16:21:00 | 55.83317 S, 57.82083 W | RRS James Clark Ross JR20031211 (JR94) |
| 740022 | CTD or STD cast | 2003-12-14 21:17:00 | 55.51517 S, 58.01483 W | RRS James Clark Ross JR20031211 (JR94) |
| 740034 | CTD or STD cast | 2003-12-15 01:41:00 | 55.2055 S, 58.20233 W | RRS James Clark Ross JR20031211 (JR94) |
| 740046 | CTD or STD cast | 2003-12-15 04:33:00 | 55.17033 S, 58.22517 W | RRS James Clark Ross JR20031211 (JR94) |
| 740058 | CTD or STD cast | 2003-12-15 06:56:00 | 55.12233 S, 58.26233 W | RRS James Clark Ross JR20031211 (JR94) |
| 740071 | CTD or STD cast | 2003-12-15 09:19:00 | 55.06967 S, 58.29367 W | RRS James Clark Ross JR20031211 (JR94) |
| 740083 | CTD or STD cast | 2003-12-15 11:36:00 | 54.96083 S, 58.36117 W | RRS James Clark Ross JR20031211 (JR94) |
| 740095 | CTD or STD cast | 2003-12-15 13:20:00 | 54.94367 S, 58.37183 W | RRS James Clark Ross JR20031211 (JR94) |
| 740102 | CTD or STD cast | 2003-12-15 14:49:00 | 54.92233 S, 58.38483 W | RRS James Clark Ross JR20031211 (JR94) |
| 740114 | CTD or STD cast | 2003-12-15 16:55:00 | 54.66567 S, 58.54467 W | RRS James Clark Ross JR20031211 (JR94) |
| 760115 | CTD or STD cast | 2003-12-17 13:11:00 | 67.5733 S, 68.225 W | Unknown self-propelled small boat RATS/CTD555 |
| 760127 | CTD or STD cast | 2003-12-22 13:32:00 | 67.5733 S, 68.225 W | Unknown self-propelled small boat RATS/CTD557 |
| 760139 | CTD or STD cast | 2003-12-29 12:37:00 | 67.5733 S, 68.225 W | Unknown self-propelled small boat RATS/CTD559 |
| 760140 | CTD or STD cast | 2004-01-07 13:15:00 | 67.5733 S, 68.225 W | Unknown self-propelled small boat RATS/CTD561 |
| 760152 | CTD or STD cast | 2004-01-12 14:44:00 | 67.5733 S, 68.225 W | Unknown self-propelled small boat RATS/CTD563 |
| 760164 | CTD or STD cast | 2004-01-17 13:59:00 | 67.5733 S, 68.225 W | Unknown self-propelled small boat RATS/CTD565 |
| 760176 | CTD or STD cast | 2004-01-21 12:30:00 | 67.5733 S, 68.225 W | Unknown self-propelled small boat RATS/CTD567 |
| 760188 | CTD or STD cast | 2004-01-24 16:48:00 | 67.5733 S, 68.225 W | Unknown self-propelled small boat RATS/CTD569 |
| 760207 | CTD or STD cast | 2004-01-28 13:23:00 | 67.5733 S, 68.225 W | Unknown self-propelled small boat RATS/CTD571 |
| 760219 | CTD or STD cast | 2004-02-03 17:28:00 | 67.5733 S, 68.225 W | Unknown self-propelled small boat RATS/CTD573 |
| 760220 | CTD or STD cast | 2004-02-09 12:48:00 | 67.5733 S, 68.225 W | Unknown self-propelled small boat RATS/CTD575 |
| 760232 | CTD or STD cast | 2004-02-13 14:30:00 | 67.5733 S, 68.225 W | Unknown self-propelled small boat RATS/CTD577 |
| 760244 | CTD or STD cast | 2004-02-18 18:43:00 | 67.5733 S, 68.225 W | Unknown self-propelled small boat RATS/CTD579 |
| 760256 | CTD or STD cast | 2004-02-23 12:49:00 | 67.5733 S, 68.225 W | Unknown self-propelled small boat RATS/CTD581 |
| 760268 | CTD or STD cast | 2004-02-28 12:48:00 | 67.5733 S, 68.225 W | Unknown self-propelled small boat RATS/CTD583 |
| 760281 | CTD or STD cast | 2004-03-04 13:16:00 | 67.5733 S, 68.225 W | Unknown self-propelled small boat RATS/CTD585 |
| 760293 | CTD or STD cast | 2004-03-15 16:37:00 | 67.5733 S, 68.225 W | Unknown self-propelled small boat RATS/CTD587 |
| 760300 | CTD or STD cast | 2004-03-26 14:05:00 | 67.5733 S, 68.225 W | Unknown self-propelled small boat RATS/CTD589 |
| 760312 | CTD or STD cast | 2004-04-08 13:26:00 | 67.5733 S, 68.225 W | Unknown self-propelled small boat RATS/CTD591 |
| 760324 | CTD or STD cast | 2004-04-15 14:00:00 | 67.5733 S, 68.225 W | Unknown self-propelled small boat RATS/CTD593 |
| 760336 | CTD or STD cast | 2004-04-22 13:16:00 | 67.5733 S, 68.225 W | Unknown self-propelled small boat RATS/CTD595 |
| 760348 | CTD or STD cast | 2004-04-28 15:24:00 | 67.5733 S, 68.225 W | Unknown self-propelled small boat RATS/CTD597 |
| 760361 | CTD or STD cast | 2004-05-11 18:29:00 | 67.5851 S, 68.1648 W | Unknown self-propelled small boat RATS/CTD599 |
| 760373 | CTD or STD cast | 2004-05-26 14:17:00 | 67.5733 S, 68.225 W | Unknown self-propelled small boat RATS/CTD601 |
| 760385 | CTD or STD cast | 2004-06-03 15:06:00 | 67.5733 S, 68.225 W | Unknown self-propelled small boat RATS/CTD603 |
| 760397 | CTD or STD cast | 2004-06-08 15:28:00 | 67.5733 S, 68.225 W | Unknown self-propelled small boat RATS/CTD605 |
| 760404 | CTD or STD cast | 2004-06-16 15:32:00 | 67.5683 S, 68.1187 W | Unknown self-propelled small boat RATS/CTD607 |
| 760416 | CTD or STD cast | 2004-07-06 14:51:00 | 67.5683 S, 68.1187 W | Unknown self-propelled small boat RATS/CTD609 |
| 760428 | CTD or STD cast | 2004-07-14 14:32:00 | 67.5683 S, 68.1187 W | Unknown self-propelled small boat RATS/CTD611 |
| 760441 | CTD or STD cast | 2004-08-24 17:37:00 | 67.5683 S, 68.1187 W | Unknown self-propelled small boat RATS/CTD613 |
| 760453 | CTD or STD cast | 2004-09-09 18:27:00 | 67.5683 S, 68.1187 W | Unknown self-propelled small boat RATS/CTD615 |
| 760465 | CTD or STD cast | 2004-09-27 13:35:00 | 67.5683 S, 68.1187 W | Unknown self-propelled small boat RATS/CTD617 |
| 760477 | CTD or STD cast | 2004-10-08 14:52:00 | 67.5683 S, 68.1187 W | Unknown self-propelled small boat RATS/CTD619 |
| 760489 | CTD or STD cast | 2004-10-20 17:05:00 | 67.5683 S, 68.1187 W | Unknown self-propelled small boat RATS/CTD621 |
| 760490 | CTD or STD cast | 2004-11-04 18:48:00 | 67.5683 S, 68.1187 W | Unknown self-propelled small boat RATS/CTD623 |
| 760508 | CTD or STD cast | 2004-11-10 14:30:00 | 67.5733 S, 68.225 W | Unknown self-propelled small boat RATS/CTD625 |
| 760521 | CTD or STD cast | 2004-11-24 13:14:00 | 67.5733 S, 68.225 W | Unknown self-propelled small boat RATS/CTD627 |
| 760533 | CTD or STD cast | 2004-12-01 15:33:00 | 67.5733 S, 68.225 W | Unknown self-propelled small boat RATS/CTD629 |
| 739174 | CTD or STD cast | 2004-12-02 23:21:00 | 53.341 S, 58.14417 W | RRS James Clark Ross JR20041201 (JR111, JR115) |
| 739186 | CTD or STD cast | 2004-12-03 07:37:00 | 54.6655 S, 58.541 W | RRS James Clark Ross JR20041201 (JR111, JR115) |
| 739198 | CTD or STD cast | 2004-12-03 09:53:00 | 54.92367 S, 58.38283 W | RRS James Clark Ross JR20041201 (JR111, JR115) |
| 739205 | CTD or STD cast | 2004-12-03 10:55:00 | 54.94483 S, 58.36867 W | RRS James Clark Ross JR20041201 (JR111, JR115) |
| 739217 | CTD or STD cast | 2004-12-03 15:50:00 | 54.96017 S, 58.36233 W | RRS James Clark Ross JR20041201 (JR111, JR115) |
| 739229 | CTD or STD cast | 2004-12-03 18:42:00 | 55.06967 S, 58.29367 W | RRS James Clark Ross JR20041201 (JR111, JR115) |
| 739230 | CTD or STD cast | 2004-12-03 23:10:00 | 55.121 S, 58.26183 W | RRS James Clark Ross JR20041201 (JR111, JR115) |
| 739242 | CTD or STD cast | 2004-12-04 01:54:00 | 55.171 S, 58.23167 W | RRS James Clark Ross JR20041201 (JR111, JR115) |
| 739254 | CTD or STD cast | 2004-12-04 04:31:00 | 55.2155 S, 58.20383 W | RRS James Clark Ross JR20041201 (JR111, JR115) |
| 739266 | CTD or STD cast | 2004-12-04 08:47:00 | 55.5165 S, 58.01583 W | RRS James Clark Ross JR20041201 (JR111, JR115) |
| 739278 | CTD or STD cast | 2004-12-04 13:22:00 | 55.83167 S, 57.81433 W | RRS James Clark Ross JR20041201 (JR111, JR115) |
| 739291 | CTD or STD cast | 2004-12-04 18:23:00 | 56.1485 S, 57.62433 W | RRS James Clark Ross JR20041201 (JR111, JR115) |
| 739309 | CTD or STD cast | 2004-12-04 22:39:00 | 56.4675 S, 57.42817 W | RRS James Clark Ross JR20041201 (JR111, JR115) |
| 739310 | CTD or STD cast | 2004-12-05 03:24:00 | 56.78383 S, 57.22917 W | RRS James Clark Ross JR20041201 (JR111, JR115) |
| 739322 | CTD or STD cast | 2004-12-05 07:32:00 | 57.09517 S, 57.03117 W | RRS James Clark Ross JR20041201 (JR111, JR115) |
| 739334 | CTD or STD cast | 2004-12-05 12:19:00 | 57.41483 S, 56.83833 W | RRS James Clark Ross JR20041201 (JR111, JR115) |
| 760545 | CTD or STD cast | 2004-12-05 13:45:00 | 67.5733 S, 68.225 W | Unknown self-propelled small boat RATS/CTD631 |
| 739346 | CTD or STD cast | 2004-12-05 17:53:00 | 57.73317 S, 56.64417 W | RRS James Clark Ross JR20041201 (JR111, JR115) |
| 739358 | CTD or STD cast | 2004-12-05 22:03:00 | 58.05117 S, 56.44633 W | RRS James Clark Ross JR20041201 (JR111, JR115) |
| 739371 | CTD or STD cast | 2004-12-06 04:12:00 | 58.36683 S, 56.25383 W | RRS James Clark Ross JR20041201 (JR111, JR115) |
| 739383 | CTD or STD cast | 2004-12-06 08:24:00 | 58.68367 S, 56.054 W | RRS James Clark Ross JR20041201 (JR111, JR115) |
| 739395 | CTD or STD cast | 2004-12-06 12:28:00 | 59.00167 S, 55.85783 W | RRS James Clark Ross JR20041201 (JR111, JR115) |
| 739402 | CTD or STD cast | 2004-12-06 17:58:00 | 59.33333 S, 55.65117 W | RRS James Clark Ross JR20041201 (JR111, JR115) |
| 739414 | CTD or STD cast | 2004-12-06 22:25:00 | 59.66717 S, 55.44533 W | RRS James Clark Ross JR20041201 (JR111, JR115) |
| 739426 | CTD or STD cast | 2004-12-07 02:56:00 | 60.00117 S, 55.23383 W | RRS James Clark Ross JR20041201 (JR111, JR115) |
| 739438 | CTD or STD cast | 2004-12-07 07:13:00 | 60.33333 S, 55.02917 W | RRS James Clark Ross JR20041201 (JR111, JR115) |
| 739451 | CTD or STD cast | 2004-12-07 11:38:00 | 60.66583 S, 54.821 W | RRS James Clark Ross JR20041201 (JR111, JR115) |
| 739463 | CTD or STD cast | 2004-12-07 17:55:00 | 60.79933 S, 54.74117 W | RRS James Clark Ross JR20041201 (JR111, JR115) |
| 739475 | CTD or STD cast | 2004-12-07 20:26:00 | 60.83317 S, 54.7215 W | RRS James Clark Ross JR20041201 (JR111, JR115) |
| 739487 | CTD or STD cast | 2004-12-07 22:09:00 | 60.84983 S, 54.7105 W | RRS James Clark Ross JR20041201 (JR111, JR115) |
| 739499 | CTD or STD cast | 2004-12-08 00:07:00 | 60.981 S, 54.63 W | RRS James Clark Ross JR20041201 (JR111, JR115) |
| 739506 | CTD or STD cast | 2004-12-08 01:29:00 | 61.05 S, 54.58667 W | RRS James Clark Ross JR20041201 (JR111, JR115) |
| 760557 | CTD or STD cast | 2004-12-10 12:54:00 | 67.5733 S, 68.225 W | Unknown self-propelled small boat RATS/CTD633 |
| 739518 | CTD or STD cast | 2004-12-13 16:36:00 | 68.02867 S, 70.4355 W | RRS James Clark Ross JR20041201 (JR111, JR115) |
| 760569 | CTD or STD cast | 2004-12-15 12:33:00 | 67.5733 S, 68.225 W | Unknown self-propelled small boat RATS/CTD635 |
| 739531 | CTD or STD cast | 2004-12-18 11:46:00 | 54.94333 S, 58.37267 W | RRS James Clark Ross JR20041201 (JR111, JR115) |
| 739543 | CTD or STD cast | 2004-12-18 14:01:00 | 54.92283 S, 58.38417 W | RRS James Clark Ross JR20041201 (JR111, JR115) |
| 739555 | CTD or STD cast | 2004-12-18 16:08:00 | 54.66683 S, 58.5425 W | RRS James Clark Ross JR20041201 (JR111, JR115) |
| 760570 | CTD or STD cast | 2004-12-20 12:48:00 | 67.5733 S, 68.225 W | Unknown self-propelled small boat RATS/CTD637 |
| 760582 | CTD or STD cast | 2004-12-22 12:47:00 | 67.5733 S, 68.225 W | Unknown self-propelled small boat RATS/CTD639 |
| 760594 | CTD or STD cast | 2004-12-28 12:50:00 | 67.5733 S, 68.225 W | Unknown self-propelled small boat RATS/CTD654 |
| 760601 | CTD or STD cast | 2005-01-07 14:39:00 | 67.5733 S, 68.225 W | Unknown self-propelled small boat RATS/CTD669 |
| 760613 | CTD or STD cast | 2005-01-10 17:39:00 | 67.5733 S, 68.225 W | Unknown self-propelled small boat RATS/CTD678 |
| 760625 | CTD or STD cast | 2005-01-13 12:29:00 | 67.5733 S, 68.225 W | Unknown self-propelled small boat RATS/CTD687 |
| 760637 | CTD or STD cast | 2005-01-17 12:51:00 | 67.5733 S, 68.225 W | Unknown self-propelled small boat RATS/CTD695 |
| 760649 | CTD or STD cast | 2005-01-19 13:38:00 | 67.5733 S, 68.225 W | Unknown self-propelled small boat RATS/CTD705 |
| 787023 | Hydrography time series at depth | 2005-01-24 19:00:02 | 67.9231 S, 68.40255 W | RRS James Clark Ross JR20050124 (JR112, JR113) |
| 787035 | Hydrography time series at depth | 2005-01-24 19:00:02 | 67.9231 S, 68.40255 W | RRS James Clark Ross JR20050124 (JR112, JR113) |
| 787047 | Hydrography time series at depth | 2005-01-24 19:00:02 | 67.9231 S, 68.40255 W | RRS James Clark Ross JR20050124 (JR112, JR113) |
| 775950 | Hydrography time series at depth | 2005-01-25 15:00:00 | 67.56706 S, 68.23371 W | RRS James Clark Ross JR20050124 (JR112, JR113) |
| 760650 | CTD or STD cast | 2005-01-28 12:57:00 | 67.5733 S, 68.225 W | Unknown self-propelled small boat RATS/CTD722 |
| 760662 | CTD or STD cast | 2005-02-01 13:13:00 | 67.5733 S, 68.225 W | Unknown self-propelled small boat RATS/CTD724 |
| 760674 | CTD or STD cast | 2005-02-12 12:46:00 | 67.5733 S, 68.225 W | Unknown self-propelled small boat RATS/CTD727 |
| 760686 | CTD or STD cast | 2005-02-18 13:12:00 | 67.5733 S, 68.225 W | Unknown self-propelled small boat RATS/CTD729 |
| 760698 | CTD or STD cast | 2005-02-21 13:08:00 | 67.5733 S, 68.225 W | Unknown self-propelled small boat RATS/CTD731 |
| 760705 | CTD or STD cast | 2005-02-26 12:46:00 | 67.5733 S, 68.225 W | Unknown self-propelled small boat RATS/CTD733 |
| 760717 | CTD or STD cast | 2005-02-28 14:33:00 | 67.5733 S, 68.225 W | Unknown self-propelled small boat RATS/CTD735 |
| 760729 | CTD or STD cast | 2005-03-04 12:54:00 | 67.5733 S, 68.225 W | Unknown self-propelled small boat RATS/CTD737 |
| 760730 | CTD or STD cast | 2005-03-08 12:29:00 | 67.5733 S, 68.225 W | Unknown self-propelled small boat RATS/CTD739 |
| 760742 | CTD or STD cast | 2005-03-14 12:48:00 | 67.5733 S, 68.225 W | Unknown self-propelled small boat RATS/CTD741 |
| 760754 | CTD or STD cast | 2005-03-31 16:33:00 | 67.5733 S, 68.225 W | Unknown self-propelled small boat RATS/CTD743 |
| 760766 | CTD or STD cast | 2005-04-15 13:17:00 | 67.5733 S, 68.225 W | Unknown self-propelled small boat RATS/CTD745 |
| 760778 | CTD or STD cast | 2005-04-19 15:55:00 | 67.5733 S, 68.225 W | Unknown self-propelled small boat RATS/CTD747 |
| 760791 | CTD or STD cast | 2005-04-25 15:58:00 | 67.5793 S, 68.1935 W | Unknown self-propelled small boat RATS/CTD749 |
| 760809 | CTD or STD cast | 2005-04-29 15:30:00 | 67.5745 S, 68.18 W | Unknown self-propelled small boat RATS/CTD751 |
| 760810 | CTD or STD cast | 2005-05-17 18:04:00 | 67.5667 S, 68.4 W | Unknown self-propelled small boat RATS/CTD753 |
| 760822 | CTD or STD cast | 2005-06-01 16:23:00 | 67.5851 S, 68.1648 W | Unknown self-propelled small boat RATS/CTD755 |
| 760834 | CTD or STD cast | 2005-06-28 15:56:00 | 67.5851 S, 68.1648 W | Unknown self-propelled small boat RATS/CTD757 |
| 760846 | CTD or STD cast | 2005-07-16 16:55:00 | 67.5851 S, 68.1648 W | Unknown self-propelled small boat RATS/CTD759 |
| 760858 | CTD or STD cast | 2005-07-25 16:27:00 | 67.5851 S, 68.1648 W | Unknown self-propelled small boat RATS/CTD761 |
| 760871 | CTD or STD cast | 2005-08-05 15:25:00 | 67.5733 S, 68.225 W | Unknown self-propelled small boat RATS/CTD763 |
| 760883 | CTD or STD cast | 2005-08-18 18:03:00 | 67.5733 S, 68.225 W | Unknown self-propelled small boat RATS/CTD765 |
| 760895 | CTD or STD cast | 2005-09-17 16:02:00 | 67.5733 S, 68.225 W | Unknown self-propelled small boat RATS/CTD767 |
| 760914 | CTD or STD cast | 2005-09-29 14:44:00 | 67.5733 S, 68.225 W | Unknown self-propelled small boat RATS/CTD771 |
| 760926 | CTD or STD cast | 2005-10-13 14:45:00 | 67.5733 S, 68.225 W | Unknown self-propelled small boat RATS/CTD773 |
| 760938 | CTD or STD cast | 2005-11-01 18:44:00 | 67.5667 S, 68.4 W | Unknown self-propelled small boat RATS/CTD775 |
| 760951 | CTD or STD cast | 2005-12-28 13:38:00 | 67.5851 S, 68.1648 W | Unknown self-propelled small boat RATS/CTD777 |
| 760963 | CTD or STD cast | 2006-01-04 13:39:00 | 67.5851 S, 68.1648 W | Unknown self-propelled small boat RATS/CTD779 |
| 760975 | CTD or STD cast | 2006-01-06 12:46:00 | 67.5851 S, 68.1648 W | Unknown self-propelled small boat RATS/CTD781 |
| 760987 | CTD or STD cast | 2006-01-10 12:33:00 | 67.5851 S, 68.1648 W | Unknown self-propelled small boat RATS/CTD783 |
| 760999 | CTD or STD cast | 2006-01-13 12:53:00 | 67.5851 S, 68.1648 W | Unknown self-propelled small boat RATS/CTD785 |
| 761002 | CTD or STD cast | 2006-01-19 13:08:00 | 67.5733 S, 68.225 W | Unknown self-propelled small boat RATS/CTD787 |
| 761014 | CTD or STD cast | 2006-01-24 12:51:00 | 67.5733 S, 68.225 W | Unknown self-propelled small boat RATS/CTD789 |
| 761026 | CTD or STD cast | 2006-01-28 19:10:00 | 67.5851 S, 68.1648 W | Unknown self-propelled small boat RATS/CTD795 |
| 761038 | CTD or STD cast | 2006-01-30 12:54:00 | 67.5733 S, 68.225 W | Unknown self-propelled small boat RATS/CTD797 |
| 761051 | CTD or STD cast | 2006-02-02 12:45:00 | 67.5733 S, 68.225 W | Unknown self-propelled small boat RATS/CTD799 |
| 761063 | CTD or STD cast | 2006-02-11 14:53:00 | 67.5851 S, 68.1648 W | Unknown self-propelled small boat RATS/CTD801 |
| 761075 | CTD or STD cast | 2006-02-13 12:51:00 | 67.5733 S, 68.225 W | Unknown self-propelled small boat RATS/CTD803 |
| 761087 | CTD or STD cast | 2006-02-17 13:02:00 | 67.5733 S, 68.225 W | Unknown self-propelled small boat RATS/CTD805 |
| 775962 | Hydrography time series at depth | 2006-02-17 13:59:57 | 67.56623 S, 68.23437 W | RRS James Clark Ross JR20060216 (JR136, JR137) |
| 761099 | CTD or STD cast | 2006-02-20 13:40:00 | 67.5851 S, 68.1648 W | Unknown self-propelled small boat RATS/CTD807 |
| 761106 | CTD or STD cast | 2006-02-23 12:46:00 | 67.5733 S, 68.225 W | Unknown self-propelled small boat RATS/CTD809 |
| 761118 | CTD or STD cast | 2006-02-27 12:32:00 | 67.5733 S, 68.225 W | Unknown self-propelled small boat RATS/CTD811 |
| 761131 | CTD or STD cast | 2006-03-04 12:51:00 | 67.5733 S, 68.225 W | Unknown self-propelled small boat RATS/CTD813 |
| 761143 | CTD or STD cast | 2006-03-10 14:22:00 | 67.5733 S, 68.225 W | Unknown self-propelled small boat RATS/CTD817 |
| 761155 | CTD or STD cast | 2006-03-13 13:19:00 | 67.5851 S, 68.1648 W | Unknown self-propelled small boat RATS/CTD819 |
| 761167 | CTD or STD cast | 2006-03-23 13:22:00 | 67.5733 S, 68.225 W | Unknown self-propelled small boat RATS/CTD821 |
| 761179 | CTD or STD cast | 2006-03-29 12:49:00 | 67.5733 S, 68.225 W | Unknown self-propelled small boat RATS/CTD823 |
| 761180 | CTD or STD cast | 2006-04-06 13:43:00 | 67.5733 S, 68.225 W | Unknown self-propelled small boat RATS/CTD825 |
| 761192 | CTD or STD cast | 2006-04-10 13:46:00 | 67.5733 S, 68.225 W | Unknown self-propelled small boat RATS/CTD827 |
| 761211 | CTD or STD cast | 2006-04-20 14:32:00 | 67.5733 S, 68.225 W | Unknown self-propelled small boat RATS/CTD829 |
| 761223 | CTD or STD cast | 2006-05-04 14:34:00 | 67.5733 S, 68.225 W | Unknown self-propelled small boat RATS/CTD831 |
| 761235 | CTD or STD cast | 2006-05-25 14:47:00 | 67.5733 S, 68.225 W | Unknown self-propelled small boat RATS/CTD833 |
| 761247 | CTD or STD cast | 2006-07-31 17:02:00 | 67.5729 S, 68.1368 W | Unknown self-propelled small boat RATS/CTD837 |
| 761259 | CTD or STD cast | 2006-08-14 17:43:00 | 67.5851 S, 68.1648 W | Unknown self-propelled small boat RATS/CTD839 |
| 761260 | CTD or STD cast | 2006-08-22 14:23:00 | 67.5733 S, 68.225 W | Unknown self-propelled small boat RATS/CTD841 |
| 761272 | CTD or STD cast | 2006-08-31 13:57:00 | 67.5733 S, 68.225 W | Unknown self-propelled small boat RATS/CTD843 |
| 761284 | CTD or STD cast | 2006-09-18 14:59:00 | 67.5733 S, 68.225 W | Unknown self-propelled small boat RATS/CTD845 |
| 761296 | CTD or STD cast | 2006-09-27 13:44:00 | 67.5733 S, 68.225 W | Unknown self-propelled small boat RATS/CTD847 |
| 761303 | CTD or STD cast | 2006-10-09 14:24:00 | 67.5733 S, 68.225 W | Unknown self-propelled small boat RATS/CTD849 |
| 761315 | CTD or STD cast | 2006-11-10 14:20:00 | 67.5729 S, 68.1368 W | Unknown self-propelled small boat RATS/CTD851 |
| 761327 | CTD or STD cast | 2006-11-15 12:45:00 | 67.5729 S, 68.1368 W | Unknown self-propelled small boat RATS/CTD853 |
| 761339 | CTD or STD cast | 2006-12-09 13:09:00 | 67.5851 S, 68.1648 W | Unknown self-propelled small boat RATS/CTD855 |
| 761340 | CTD or STD cast | 2006-12-12 13:13:00 | 67.5851 S, 68.1648 W | Unknown self-propelled small boat RATS/CTD857 |
| 775974 | Hydrography time series at depth | 2006-12-17 19:00:02 | 67.5668 S, 68.2334 W | RRS James Clark Ross JR20061206 (JR155, JR163, JR164) |
| 761352 | CTD or STD cast | 2006-12-22 18:05:00 | 67.5851 S, 68.1648 W | Unknown self-propelled small boat RATS/CTD859 |
| 761364 | CTD or STD cast | 2006-12-29 12:39:00 | 67.5733 S, 68.225 W | Unknown self-propelled small boat RATS/CTD861 |
| 761376 | CTD or STD cast | 2007-01-04 12:45:00 | 67.5733 S, 68.225 W | Unknown self-propelled small boat RATS/CTD863 |
| 761388 | CTD or STD cast | 2007-01-08 12:48:00 | 67.5733 S, 68.225 W | Unknown self-propelled small boat RATS/CTD865 |
| 761407 | CTD or STD cast | 2007-01-11 12:49:00 | 67.5733 S, 68.225 W | Unknown self-propelled small boat RATS/CTD867 |
| 761419 | CTD or STD cast | 2007-01-18 13:19:00 | 67.5733 S, 68.225 W | Unknown self-propelled small boat RATS/CTD869 |
| 761420 | CTD or STD cast | 2007-01-22 13:10:00 | 67.5733 S, 68.225 W | Unknown self-propelled small boat RATS/CTD871 |
| 761432 | CTD or STD cast | 2007-01-25 12:55:00 | 67.5733 S, 68.225 W | Unknown self-propelled small boat RATS/CTD873 |
| 761548 | CTD or STD cast | 2007-01-28 00:00:00 | 67.5733 S, 68.225 W | Unknown self-propelled small boat RATS/CTD897 |
| 761444 | CTD or STD cast | 2007-01-31 13:02:00 | 67.5733 S, 68.225 W | Unknown self-propelled small boat RATS/CTD879 |
| 761456 | CTD or STD cast | 2007-02-08 13:11:00 | 67.5733 S, 68.225 W | Unknown self-propelled small boat RATS/CTD881 |
| 761468 | CTD or STD cast | 2007-02-14 13:22:00 | 67.5851 S, 68.1648 W | Unknown self-propelled small boat RATS/CTD883 |
| 761481 | CTD or STD cast | 2007-02-19 13:08:00 | 67.5733 S, 68.225 W | Unknown self-propelled small boat RATS/CTD885 |
| 761493 | CTD or STD cast | 2007-02-27 13:21:00 | 67.5851 S, 68.1648 W | Unknown self-propelled small boat RATS/CTD887 |
| 761500 | CTD or STD cast | 2007-03-09 13:00:00 | 67.5851 S, 68.1648 W | Unknown self-propelled small boat RATS/CTD889 |
| 761512 | CTD or STD cast | 2007-03-13 17:29:00 | 67.5851 S, 68.1648 W | Unknown self-propelled small boat RATS/CTD891 |
| 761524 | CTD or STD cast | 2007-03-20 12:45:00 | 67.5733 S, 68.225 W | Unknown self-propelled small boat RATS/CTD893 |
| 761536 | CTD or STD cast | 2007-03-31 18:02:00 | 67.5733 S, 68.225 W | Unknown self-propelled small boat RATS/CTD895 |
| 761561 | CTD or STD cast | 2007-04-28 17:49:00 | 67.5733 S, 68.225 W | Unknown self-propelled small boat RATS/CTD899 |
| 761573 | CTD or STD cast | 2007-05-10 16:05:00 | 67.5851 S, 68.1648 W | Unknown self-propelled small boat RATS/CTD901 |
| 761585 | CTD or STD cast | 2007-05-14 16:51:00 | 67.5733 S, 68.225 W | Unknown self-propelled small boat RATS/CTD903 |
| 761597 | CTD or STD cast | 2007-05-21 17:46:00 | 67.5733 S, 68.225 W | Unknown self-propelled small boat RATS/CTD905 |
| 761604 | CTD or STD cast | 2007-06-05 14:48:00 | 67.5733 S, 68.225 W | Unknown self-propelled small boat RATS/CTD907 |
| 761616 | CTD or STD cast | 2007-06-14 15:39:00 | 67.5733 S, 68.225 W | Unknown self-propelled small boat RATS/CTD909 |
| 761628 | CTD or STD cast | 2007-07-31 14:48:00 | 67.5774 S, 68.1676 W | Unknown self-propelled small boat RATS/CTD913 |
| 761641 | CTD or STD cast | 2007-08-09 13:40:00 | 67.5733 S, 68.225 W | Unknown self-propelled small boat RATS/CTD915 |
| 761653 | CTD or STD cast | 2007-08-23 15:37:00 | 67.5733 S, 68.225 W | Unknown self-propelled small boat RATS/CTD917 |
| 761665 | CTD or STD cast | 2007-09-21 15:28:00 | 67.5733 S, 68.225 W | Unknown self-propelled small boat RATS/CTD919 |
| 761677 | CTD or STD cast | 2007-10-04 18:29:00 | 67.5733 S, 68.225 W | Unknown self-propelled small boat RATS/CTD921 |
| 761689 | CTD or STD cast | 2007-10-11 19:21:00 | 67.5733 S, 68.225 W | Unknown self-propelled small boat RATS/CTD923 |
| 761690 | CTD or STD cast | 2007-10-27 14:01:00 | 67.5851 S, 68.1648 W | Unknown self-propelled small boat RATS/CTD925 |
| 761708 | CTD or STD cast | 2007-11-06 18:18:00 | 67.5851 S, 68.1648 W | Unknown self-propelled small boat RATS/CTD927 |
| 761721 | CTD or STD cast | 2007-11-10 14:44:00 | 67.5851 S, 68.1648 W | Unknown self-propelled small boat RATS/CTD929 |
| 761733 | CTD or STD cast | 2007-11-19 14:17:00 | 67.5851 S, 68.1648 W | Unknown self-propelled small boat RATS/CTD931 |
| 945182 | CTD or STD cast | 2007-11-29 21:02:03 | 51.8102 S, 57.6939 W | RRS James Clark Ross JR20071129 (JR171, JR193, JR196 Leg1, JR212) |
| 945194 | CTD or STD cast | 2007-11-30 06:07:59 | 53.5066 S, 58.1833 W | RRS James Clark Ross JR20071129 (JR171, JR193, JR196 Leg1, JR212) |
| 945201 | CTD or STD cast | 2007-11-30 14:07:10 | 54.6666 S, 58.5435 W | RRS James Clark Ross JR20071129 (JR171, JR193, JR196 Leg1, JR212) |
| 945213 | CTD or STD cast | 2007-11-30 16:35:01 | 54.9223 S, 58.3851 W | RRS James Clark Ross JR20071129 (JR171, JR193, JR196 Leg1, JR212) |
| 945225 | CTD or STD cast | 2007-11-30 17:49:13 | 54.9436 S, 58.3718 W | RRS James Clark Ross JR20071129 (JR171, JR193, JR196 Leg1, JR212) |
| 945237 | CTD or STD cast | 2007-11-30 20:36:35 | 54.9611 S, 58.3612 W | RRS James Clark Ross JR20071129 (JR171, JR193, JR196 Leg1, JR212) |
| 945249 | CTD or STD cast | 2007-11-30 22:49:50 | 55.0701 S, 58.2939 W | RRS James Clark Ross JR20071129 (JR171, JR193, JR196 Leg1, JR212) |
| 945250 | CTD or STD cast | 2007-12-01 01:46:35 | 55.1211 S, 58.2617 W | RRS James Clark Ross JR20071129 (JR171, JR193, JR196 Leg1, JR212) |
| 945262 | CTD or STD cast | 2007-12-01 04:27:22 | 55.1708 S, 58.231 W | RRS James Clark Ross JR20071129 (JR171, JR193, JR196 Leg1, JR212) |
| 945274 | CTD or STD cast | 2007-12-01 07:12:07 | 55.2142 S, 58.204 W | RRS James Clark Ross JR20071129 (JR171, JR193, JR196 Leg1, JR212) |
| 945286 | CTD or STD cast | 2007-12-01 11:48:18 | 55.5168 S, 58.0144 W | RRS James Clark Ross JR20071129 (JR171, JR193, JR196 Leg1, JR212) |
| 945298 | CTD or STD cast | 2007-12-01 16:42:34 | 55.8379 S, 57.8026 W | RRS James Clark Ross JR20071129 (JR171, JR193, JR196 Leg1, JR212) |
| 945305 | CTD or STD cast | 2007-12-01 21:39:16 | 56.1501 S, 57.6228 W | RRS James Clark Ross JR20071129 (JR171, JR193, JR196 Leg1, JR212) |
| 945317 | CTD or STD cast | 2007-12-02 02:05:23 | 56.4666 S, 57.4277 W | RRS James Clark Ross JR20071129 (JR171, JR193, JR196 Leg1, JR212) |
| 945329 | CTD or STD cast | 2007-12-02 06:52:40 | 56.7888 S, 57.222 W | RRS James Clark Ross JR20071129 (JR171, JR193, JR196 Leg1, JR212) |
| 945330 | CTD or STD cast | 2007-12-02 11:09:24 | 57.1039 S, 57.0272 W | RRS James Clark Ross JR20071129 (JR171, JR193, JR196 Leg1, JR212) |
| 945342 | CTD or STD cast | 2007-12-02 15:50:16 | 57.4268 S, 56.8275 W | RRS James Clark Ross JR20071129 (JR171, JR193, JR196 Leg1, JR212) |
| 945354 | CTD or STD cast | 2007-12-02 20:24:17 | 57.7328 S, 56.6409 W | RRS James Clark Ross JR20071129 (JR171, JR193, JR196 Leg1, JR212) |
| 945366 | CTD or STD cast | 2007-12-03 01:06:11 | 58.0486 S, 56.4529 W | RRS James Clark Ross JR20071129 (JR171, JR193, JR196 Leg1, JR212) |
| 945378 | CTD or STD cast | 2007-12-03 06:12:00 | 58.3594 S, 56.2416 W | RRS James Clark Ross JR20071129 (JR171, JR193, JR196 Leg1, JR212) |
| 945391 | CTD or STD cast | 2007-12-03 11:02:18 | 58.6832 S, 56.054 W | RRS James Clark Ross JR20071129 (JR171, JR193, JR196 Leg1, JR212) |
| 945409 | CTD or STD cast | 2007-12-03 15:26:10 | 59.0 S, 55.8577 W | RRS James Clark Ross JR20071129 (JR171, JR193, JR196 Leg1, JR212) |
| 945410 | CTD or STD cast | 2007-12-03 20:00:16 | 59.3335 S, 55.6497 W | RRS James Clark Ross JR20071129 (JR171, JR193, JR196 Leg1, JR212) |
| 945422 | CTD or STD cast | 2007-12-04 00:22:05 | 59.6666 S, 55.4444 W | RRS James Clark Ross JR20071129 (JR171, JR193, JR196 Leg1, JR212) |
| 945434 | CTD or STD cast | 2007-12-04 05:07:55 | 59.9947 S, 55.2392 W | RRS James Clark Ross JR20071129 (JR171, JR193, JR196 Leg1, JR212) |
| 945446 | CTD or STD cast | 2007-12-04 09:50:13 | 60.3248 S, 55.0148 W | RRS James Clark Ross JR20071129 (JR171, JR193, JR196 Leg1, JR212) |
| 761745 | CTD or STD cast | 2007-12-04 13:33:00 | 67.5851 S, 68.1648 W | Unknown self-propelled small boat RATS/CTD933 |
| 945458 | CTD or STD cast | 2007-12-04 14:21:38 | 60.6667 S, 54.8253 W | RRS James Clark Ross JR20071129 (JR171, JR193, JR196 Leg1, JR212) |
| 945471 | CTD or STD cast | 2007-12-04 17:22:05 | 60.7995 S, 54.7427 W | RRS James Clark Ross JR20071129 (JR171, JR193, JR196 Leg1, JR212) |
| 945483 | CTD or STD cast | 2007-12-04 19:31:22 | 60.8329 S, 54.721 W | RRS James Clark Ross JR20071129 (JR171, JR193, JR196 Leg1, JR212) |
| 945495 | CTD or STD cast | 2007-12-04 21:10:23 | 60.8501 S, 54.7109 W | RRS James Clark Ross JR20071129 (JR171, JR193, JR196 Leg1, JR212) |
| 945502 | CTD or STD cast | 2007-12-04 23:29:40 | 60.9812 S, 54.631 W | RRS James Clark Ross JR20071129 (JR171, JR193, JR196 Leg1, JR212) |
| 945514 | CTD or STD cast | 2007-12-05 00:42:26 | 61.05 S, 54.5876 W | RRS James Clark Ross JR20071129 (JR171, JR193, JR196 Leg1, JR212) |
| 761757 | CTD or STD cast | 2007-12-07 13:46:00 | 67.5733 S, 68.225 W | Unknown self-propelled small boat RATS/CTD935 |
| 761769 | CTD or STD cast | 2007-12-12 18:08:00 | 67.5851 S, 68.1648 W | Unknown self-propelled small boat RATS/CTD937 |
| 761770 | CTD or STD cast | 2007-12-17 13:23:00 | 67.5733 S, 68.225 W | Unknown self-propelled small boat RATS/CTD939 |
| 761782 | CTD or STD cast | 2007-12-22 14:17:00 | 67.5733 S, 68.225 W | Unknown self-propelled small boat RATS/CTD941 |
| 761794 | CTD or STD cast | 2007-12-27 13:05:00 | 67.5733 S, 68.225 W | Unknown self-propelled small boat RATS/CTD943 |
| 761801 | CTD or STD cast | 2008-01-02 13:08:00 | 67.5733 S, 68.225 W | Unknown self-propelled small boat RATS/CTD945 |
| 761813 | CTD or STD cast | 2008-01-08 13:08:00 | 67.5733 S, 68.225 W | Unknown self-propelled small boat RATS/CTD947 |
| 761825 | CTD or STD cast | 2008-01-11 13:11:00 | 67.5733 S, 68.225 W | Unknown self-propelled small boat RATS/CTD949 |
| 761837 | CTD or STD cast | 2008-01-16 13:40:00 | 67.5733 S, 68.225 W | Unknown self-propelled small boat RATS/CTD951 |
| 761849 | CTD or STD cast | 2008-01-22 13:11:00 | 67.5733 S, 68.225 W | Unknown self-propelled small boat RATS/CTD953 |
| 761850 | CTD or STD cast | 2008-01-30 13:17:00 | 67.5733 S, 68.225 W | Unknown self-propelled small boat RATS/CTD955 |
| 761862 | CTD or STD cast | 2008-02-04 14:32:00 | 67.5851 S, 68.1648 W | Unknown self-propelled small boat RATS/CTD957 |
| 761874 | CTD or STD cast | 2008-02-12 14:11:00 | 67.5733 S, 68.225 W | Unknown self-propelled small boat RATS/CTD959 |
| 761886 | CTD or STD cast | 2008-02-18 13:02:00 | 67.5851 S, 68.1648 W | Unknown self-propelled small boat RATS/CTD961 |
| 761898 | CTD or STD cast | 2008-02-21 13:21:00 | 67.5733 S, 68.225 W | Unknown self-propelled small boat RATS/CTD963 |
| 761905 | CTD or STD cast | 2008-02-26 13:22:00 | 67.5733 S, 68.225 W | Unknown self-propelled small boat RATS/CTD965 |
| 761917 | CTD or STD cast | 2008-03-03 13:02:00 | 67.5733 S, 68.225 W | Unknown self-propelled small boat RATS/CTD967 |
| 761929 | CTD or STD cast | 2008-03-07 14:48:00 | 67.5733 S, 68.225 W | Unknown self-propelled small boat RATS/CTD969 |
| 761930 | CTD or STD cast | 2008-03-14 18:03:00 | 67.5851 S, 68.1648 W | Unknown self-propelled small boat RATS/CTD971 |
| 761942 | CTD or STD cast | 2008-03-19 13:06:00 | 67.5733 S, 68.225 W | Unknown self-propelled small boat RATS/CTD973 |
| 761954 | CTD or STD cast | 2008-03-26 13:30:00 | 67.5733 S, 68.225 W | Unknown self-propelled small boat RATS/CTD975 |
| 761966 | CTD or STD cast | 2008-04-02 13:14:00 | 67.5733 S, 68.225 W | Unknown self-propelled small boat RATS/CTD977 |
| 761978 | CTD or STD cast | 2008-04-15 18:07:00 | 67.5733 S, 68.225 W | Unknown self-propelled small boat RATS/CTD979 |
| 761991 | CTD or STD cast | 2008-04-21 14:27:00 | 67.5733 S, 68.225 W | Unknown self-propelled small boat RATS/CTD981 |
| 762005 | CTD or STD cast | 2008-05-14 15:10:00 | 67.5733 S, 68.225 W | Unknown self-propelled small boat RATS/CTD983 |
| 762017 | CTD or STD cast | 2008-06-03 17:40:00 | 67.5733 S, 68.225 W | Unknown self-propelled small boat RATS/CTD985 |
| 762029 | CTD or STD cast | 2008-06-09 15:36:00 | 67.5733 S, 68.225 W | Unknown self-propelled small boat RATS/CTD987 |
| 762030 | CTD or STD cast | 2008-06-30 16:46:00 | 67.5733 S, 68.225 W | Unknown self-propelled small boat RATS/CTD989 |
| 762042 | CTD or STD cast | 2008-07-11 16:05:00 | 67.5733 S, 68.225 W | Unknown self-propelled small boat RATS/CTD991 |
| 912096 | Currents -subsurface Eulerian | 2009-02-06 01:09:00 | 56.33 S, 67.99 W | RRS James Cook JC031 |
| 912987 | Currents -subsurface Eulerian | 2009-02-06 01:09:00 | 56.33 S, 67.99 W | RRS James Cook JC031 |
| 935789 | CTD or STD cast | 2009-02-06 01:09:15 | 56.33 S, 67.99 W | RRS James Cook JC031 |
| 935790 | CTD or STD cast | 2009-02-06 05:20:10 | 56.7999 S, 68.19 W | RRS James Cook JC031 |
| 912103 | Currents -subsurface Eulerian | 2009-02-06 05:21:00 | 56.8 S, 68.19 W | RRS James Cook JC031 |
| 912999 | Currents -subsurface Eulerian | 2009-02-06 05:21:00 | 56.8 S, 68.19 W | RRS James Cook JC031 |
| 935808 | CTD or STD cast | 2009-02-06 07:16:45 | 56.8501 S, 68.21 W | RRS James Cook JC031 |
| 912115 | Currents -subsurface Eulerian | 2009-02-06 07:18:00 | 56.85 S, 68.21 W | RRS James Cook JC031 |
| 913002 | Currents -subsurface Eulerian | 2009-02-06 07:18:00 | 56.85 S, 68.21 W | RRS James Cook JC031 |
| 935821 | CTD or STD cast | 2009-02-06 09:39:35 | 56.88 S, 68.23 W | RRS James Cook JC031 |
| 912127 | Currents -subsurface Eulerian | 2009-02-06 09:41:00 | 56.88 S, 68.23 W | RRS James Cook JC031 |
| 913014 | Currents -subsurface Eulerian | 2009-02-06 09:41:00 | 56.88 S, 68.23 W | RRS James Cook JC031 |
| 912139 | Currents -subsurface Eulerian | 2009-02-06 12:59:00 | 56.89 S, 68.24 W | RRS James Cook JC031 |
| 913026 | Currents -subsurface Eulerian | 2009-02-06 12:59:00 | 56.89 S, 68.24 W | RRS James Cook JC031 |
| 935833 | CTD or STD cast | 2009-02-06 13:00:08 | 56.89 S, 68.2401 W | RRS James Cook JC031 |
| 912140 | Currents -subsurface Eulerian | 2009-02-06 23:38:00 | 56.91167 S, 68.24183 W | RRS James Cook JC031 |
| 913038 | Currents -subsurface Eulerian | 2009-02-06 23:38:00 | 56.91167 S, 68.24183 W | RRS James Cook JC031 |
| 935845 | CTD or STD cast | 2009-02-06 23:38:23 | 56.9117 S, 68.2419 W | RRS James Cook JC031 |
| 935857 | CTD or STD cast | 2009-02-07 04:44:26 | 56.92 S, 68.2399 W | RRS James Cook JC031 |
| 912152 | Currents -subsurface Eulerian | 2009-02-07 04:45:00 | 56.92 S, 68.24 W | RRS James Cook JC031 |
| 913051 | Currents -subsurface Eulerian | 2009-02-07 04:45:00 | 56.92 S, 68.24 W | RRS James Cook JC031 |
| 912164 | Currents -subsurface Eulerian | 2009-02-07 09:11:00 | 56.98 S, 68.25 W | RRS James Cook JC031 |
| 913063 | Currents -subsurface Eulerian | 2009-02-07 09:11:00 | 56.98 S, 68.25 W | RRS James Cook JC031 |
| 935869 | CTD or STD cast | 2009-02-07 09:11:33 | 56.98 S, 68.2499 W | RRS James Cook JC031 |
| 912176 | Currents -subsurface Eulerian | 2009-02-07 14:17:00 | 57.13 S, 68.25 W | RRS James Cook JC031 |
| 913075 | Currents -subsurface Eulerian | 2009-02-07 14:17:00 | 57.13 S, 68.25 W | RRS James Cook JC031 |
| 935870 | CTD or STD cast | 2009-02-07 14:18:03 | 57.1301 S, 68.2501 W | RRS James Cook JC031 |
| 912188 | Currents -subsurface Eulerian | 2009-02-07 19:57:00 | 57.33067 S, 68.23667 W | RRS James Cook JC031 |
| 913087 | Currents -subsurface Eulerian | 2009-02-07 19:57:00 | 57.33067 S, 68.23667 W | RRS James Cook JC031 |
| 935882 | CTD or STD cast | 2009-02-07 19:58:12 | 57.3307 S, 68.237 W | RRS James Cook JC031 |
| 935894 | CTD or STD cast | 2009-02-08 01:44:00 | 57.58 S, 68.25 W | RRS James Cook JC031 |
| 935901 | CTD or STD cast | 2009-02-09 02:20:30 | 57.8305 S, 68.2388 W | RRS James Cook JC031 |
| 912207 | Currents -subsurface Eulerian | 2009-02-09 09:14:00 | 57.83233 S, 68.23217 W | RRS James Cook JC031 |
| 913099 | Currents -subsurface Eulerian | 2009-02-09 09:14:00 | 57.83233 S, 68.23217 W | RRS James Cook JC031 |
| 935913 | CTD or STD cast | 2009-02-09 09:14:07 | 57.8323 S, 68.2322 W | RRS James Cook JC031 |
| 935925 | CTD or STD cast | 2009-02-09 17:37:11 | 58.0924 S, 68.2187 W | RRS James Cook JC031 |
| 912219 | Currents -subsurface Eulerian | 2009-02-09 17:40:00 | 58.0925 S, 68.21867 W | RRS James Cook JC031 |
| 913106 | Currents -subsurface Eulerian | 2009-02-09 17:40:00 | 58.0925 S, 68.21867 W | RRS James Cook JC031 |
| 912220 | Currents -subsurface Eulerian | 2009-02-10 00:23:00 | 58.33867 S, 68.21483 W | RRS James Cook JC031 |
| 913118 | Currents -subsurface Eulerian | 2009-02-10 00:23:00 | 58.33867 S, 68.21483 W | RRS James Cook JC031 |
| 935937 | CTD or STD cast | 2009-02-10 00:24:51 | 58.3387 S, 68.2149 W | RRS James Cook JC031 |
| 935949 | CTD or STD cast | 2009-02-10 20:05:28 | 58.58 S, 68.2507 W | RRS James Cook JC031 |
| 912232 | Currents -subsurface Eulerian | 2009-02-10 20:07:00 | 58.58 S, 68.25083 W | RRS James Cook JC031 |
| 913131 | Currents -subsurface Eulerian | 2009-02-10 20:07:00 | 58.58 S, 68.25083 W | RRS James Cook JC031 |
| 912244 | Currents -subsurface Eulerian | 2009-02-11 03:12:00 | 58.84133 S, 68.2625 W | RRS James Cook JC031 |
| 913143 | Currents -subsurface Eulerian | 2009-02-11 03:12:00 | 58.84133 S, 68.2625 W | RRS James Cook JC031 |
| 935950 | CTD or STD cast | 2009-02-11 03:12:26 | 58.8413 S, 68.2625 W | RRS James Cook JC031 |
| 912256 | Currents -subsurface Eulerian | 2009-02-11 09:24:00 | 59.09083 S, 68.24533 W | RRS James Cook JC031 |
| 913155 | Currents -subsurface Eulerian | 2009-02-11 09:24:00 | 59.09083 S, 68.24533 W | RRS James Cook JC031 |
| 935962 | CTD or STD cast | 2009-02-11 09:24:41 | 59.0908 S, 68.2453 W | RRS James Cook JC031 |
| 912268 | Currents -subsurface Eulerian | 2009-02-11 15:47:00 | 59.3305 S, 68.24917 W | RRS James Cook JC031 |
| 913167 | Currents -subsurface Eulerian | 2009-02-11 15:47:00 | 59.3305 S, 68.24917 W | RRS James Cook JC031 |
| 935974 | CTD or STD cast | 2009-02-11 15:47:28 | 59.3306 S, 68.2492 W | RRS James Cook JC031 |
| 935986 | CTD or STD cast | 2009-02-11 21:48:08 | 59.5898 S, 68.2374 W | RRS James Cook JC031 |
| 912281 | Currents -subsurface Eulerian | 2009-02-11 21:49:00 | 59.58983 S, 68.2375 W | RRS James Cook JC031 |
| 913179 | Currents -subsurface Eulerian | 2009-02-11 21:49:00 | 59.58983 S, 68.2375 W | RRS James Cook JC031 |
| 912293 | Currents -subsurface Eulerian | 2009-02-12 03:25:00 | 59.81983 S, 68.23967 W | RRS James Cook JC031 |
| 913180 | Currents -subsurface Eulerian | 2009-02-12 03:25:00 | 59.81983 S, 68.23967 W | RRS James Cook JC031 |
| 935998 | CTD or STD cast | 2009-02-12 03:25:29 | 59.8198 S, 68.2397 W | RRS James Cook JC031 |
| 912300 | Currents -subsurface Eulerian | 2009-02-12 08:35:00 | 60.07033 S, 68.18933 W | RRS James Cook JC031 |
| 913192 | Currents -subsurface Eulerian | 2009-02-12 08:35:00 | 60.07033 S, 68.18933 W | RRS James Cook JC031 |
| 936001 | CTD or STD cast | 2009-02-12 08:35:36 | 60.0704 S, 68.1894 W | RRS James Cook JC031 |
| 912312 | Currents -subsurface Eulerian | 2009-02-12 13:47:00 | 60.32 S, 68.12 W | RRS James Cook JC031 |
| 913211 | Currents -subsurface Eulerian | 2009-02-12 13:47:00 | 60.32 S, 68.12 W | RRS James Cook JC031 |
| 936013 | CTD or STD cast | 2009-02-12 13:47:51 | 60.32 S, 68.1199 W | RRS James Cook JC031 |
| 912324 | Currents -subsurface Eulerian | 2009-02-12 19:34:00 | 60.58 S, 68.06017 W | RRS James Cook JC031 |
| 913223 | Currents -subsurface Eulerian | 2009-02-12 19:34:00 | 60.58 S, 68.06017 W | RRS James Cook JC031 |
| 936025 | CTD or STD cast | 2009-02-12 19:34:08 | 60.5801 S, 68.0601 W | RRS James Cook JC031 |
| 912336 | Currents -subsurface Eulerian | 2009-02-13 01:25:00 | 60.82883 S, 67.99017 W | RRS James Cook JC031 |
| 913235 | Currents -subsurface Eulerian | 2009-02-13 01:25:00 | 60.82883 S, 67.99017 W | RRS James Cook JC031 |
| 936037 | CTD or STD cast | 2009-02-13 01:25:54 | 60.8289 S, 67.9902 W | RRS James Cook JC031 |
| 936049 | CTD or STD cast | 2009-02-13 07:05:44 | 61.0197 S, 67.6648 W | RRS James Cook JC031 |
| 912348 | Currents -subsurface Eulerian | 2009-02-13 07:06:00 | 61.01967 S, 67.66483 W | RRS James Cook JC031 |
| 913247 | Currents -subsurface Eulerian | 2009-02-13 07:06:00 | 61.01967 S, 67.66483 W | RRS James Cook JC031 |
| 912361 | Currents -subsurface Eulerian | 2009-02-13 13:28:00 | 61.20983 S, 67.30717 W | RRS James Cook JC031 |
| 913259 | Currents -subsurface Eulerian | 2009-02-13 13:28:00 | 61.20983 S, 67.30717 W | RRS James Cook JC031 |
| 936050 | CTD or STD cast | 2009-02-13 13:28:24 | 61.2098 S, 67.3072 W | RRS James Cook JC031 |
| 912373 | Currents -subsurface Eulerian | 2009-02-13 19:59:00 | 61.40967 S, 66.99483 W | RRS James Cook JC031 |
| 913260 | Currents -subsurface Eulerian | 2009-02-13 19:59:00 | 61.40967 S, 66.99483 W | RRS James Cook JC031 |
| 936062 | CTD or STD cast | 2009-02-13 19:59:24 | 61.4096 S, 66.9949 W | RRS James Cook JC031 |
| 912385 | Currents -subsurface Eulerian | 2009-02-14 02:02:00 | 61.6 S, 66.66983 W | RRS James Cook JC031 |
| 913272 | Currents -subsurface Eulerian | 2009-02-14 02:02:00 | 61.6 S, 66.66983 W | RRS James Cook JC031 |
| 936074 | CTD or STD cast | 2009-02-14 02:03:27 | 61.6 S, 66.6698 W | RRS James Cook JC031 |
| 912397 | Currents -subsurface Eulerian | 2009-02-14 07:32:00 | 61.8 S, 66.32017 W | RRS James Cook JC031 |
| 913284 | Currents -subsurface Eulerian | 2009-02-14 07:32:00 | 61.8 S, 66.32017 W | RRS James Cook JC031 |
| 936086 | CTD or STD cast | 2009-02-14 07:32:36 | 61.8 S, 66.3202 W | RRS James Cook JC031 |
| 912404 | Currents -subsurface Eulerian | 2009-02-14 13:07:00 | 62.0 S, 65.95017 W | RRS James Cook JC031 |
| 913296 | Currents -subsurface Eulerian | 2009-02-14 13:07:00 | 62.0 S, 65.95017 W | RRS James Cook JC031 |
| 936098 | CTD or STD cast | 2009-02-14 13:07:44 | 62.0 S, 65.9502 W | RRS James Cook JC031 |
| 912416 | Currents -subsurface Eulerian | 2009-02-14 18:40:00 | 62.14 S, 65.58 W | RRS James Cook JC031 |
| 913303 | Currents -subsurface Eulerian | 2009-02-14 18:40:00 | 62.14 S, 65.58 W | RRS James Cook JC031 |
| 936105 | CTD or STD cast | 2009-02-14 18:40:19 | 62.1401 S, 65.58 W | RRS James Cook JC031 |
| 936117 | CTD or STD cast | 2009-02-15 00:08:47 | 62.2722 S, 65.192 W | RRS James Cook JC031 |
| 912428 | Currents -subsurface Eulerian | 2009-02-15 00:09:00 | 62.27217 S, 65.192 W | RRS James Cook JC031 |
| 913315 | Currents -subsurface Eulerian | 2009-02-15 00:09:00 | 62.27217 S, 65.192 W | RRS James Cook JC031 |
| 912441 | Currents -subsurface Eulerian | 2009-02-15 17:10:00 | 62.27992 S, 65.21018 W | RRS James Cook JC031 |
| 913327 | Currents -subsurface Eulerian | 2009-02-15 17:10:00 | 62.27992 S, 65.21018 W | RRS James Cook JC031 |
| 936129 | CTD or STD cast | 2009-02-15 17:11:27 | 62.2799 S, 65.2102 W | RRS James Cook JC031 |
| 912453 | Currents -subsurface Eulerian | 2009-02-16 02:44:00 | 62.28 S, 65.21 W | RRS James Cook JC031 |
| 913339 | Currents -subsurface Eulerian | 2009-02-16 02:44:00 | 62.28 S, 65.21 W | RRS James Cook JC031 |
| 936130 | CTD or STD cast | 2009-02-16 02:45:10 | 62.2799 S, 65.2101 W | RRS James Cook JC031 |
| 912465 | Currents -subsurface Eulerian | 2009-02-16 08:00:00 | 62.38883 S, 64.82283 W | RRS James Cook JC031 |
| 913340 | Currents -subsurface Eulerian | 2009-02-16 08:00:00 | 62.38883 S, 64.82283 W | RRS James Cook JC031 |
| 936142 | CTD or STD cast | 2009-02-16 08:00:04 | 62.3888 S, 64.8228 W | RRS James Cook JC031 |
| 912477 | Currents -subsurface Eulerian | 2009-02-16 12:58:00 | 62.5 S, 64.46 W | RRS James Cook JC031 |
| 913352 | Currents -subsurface Eulerian | 2009-02-16 12:58:00 | 62.5 S, 64.46 W | RRS James Cook JC031 |
| 936154 | CTD or STD cast | 2009-02-16 12:58:50 | 62.5 S, 64.46 W | RRS James Cook JC031 |
| 912489 | Currents -subsurface Eulerian | 2009-02-16 18:27:00 | 62.60833 S, 64.07983 W | RRS James Cook JC031 |
| 913364 | Currents -subsurface Eulerian | 2009-02-16 18:27:00 | 62.60833 S, 64.07983 W | RRS James Cook JC031 |
| 936166 | CTD or STD cast | 2009-02-16 18:27:19 | 62.6098 S, 64.0798 W | RRS James Cook JC031 |
| 912490 | Currents -subsurface Eulerian | 2009-02-16 23:04:00 | 62.69 S, 63.9 W | RRS James Cook JC031 |
| 913376 | Currents -subsurface Eulerian | 2009-02-16 23:04:00 | 62.69 S, 63.9 W | RRS James Cook JC031 |
| 936178 | CTD or STD cast | 2009-02-16 23:04:37 | 62.69 S, 63.9 W | RRS James Cook JC031 |
| 936191 | CTD or STD cast | 2009-02-17 04:19:57 | 62.7801 S, 63.7 W | RRS James Cook JC031 |
| 912508 | Currents -subsurface Eulerian | 2009-02-17 04:20:00 | 62.78017 S, 63.7 W | RRS James Cook JC031 |
| 913388 | Currents -subsurface Eulerian | 2009-02-17 04:20:00 | 62.78017 S, 63.7 W | RRS James Cook JC031 |
| 912521 | Currents -subsurface Eulerian | 2009-02-17 20:11:00 | 62.81 S, 63.62 W | RRS James Cook JC031 |
| 913407 | Currents -subsurface Eulerian | 2009-02-17 20:11:00 | 62.81 S, 63.62 W | RRS James Cook JC031 |
| 936209 | CTD or STD cast | 2009-02-17 20:11:06 | 62.81 S, 63.62 W | RRS James Cook JC031 |
| 912533 | Currents -subsurface Eulerian | 2009-02-18 00:10:00 | 62.86 S, 63.52017 W | RRS James Cook JC031 |
| 913419 | Currents -subsurface Eulerian | 2009-02-18 00:10:00 | 62.86 S, 63.52017 W | RRS James Cook JC031 |
| 936210 | CTD or STD cast | 2009-02-18 00:10:40 | 62.86 S, 63.5202 W | RRS James Cook JC031 |
| 912545 | Currents -subsurface Eulerian | 2009-02-18 03:10:00 | 62.94 S, 63.45017 W | RRS James Cook JC031 |
| 913420 | Currents -subsurface Eulerian | 2009-02-18 03:10:00 | 62.94 S, 63.45017 W | RRS James Cook JC031 |
| 936222 | CTD or STD cast | 2009-02-18 03:11:18 | 62.9401 S, 63.4501 W | RRS James Cook JC031 |
| 912557 | Currents -subsurface Eulerian | 2009-02-18 05:30:00 | 62.98 S, 63.39017 W | RRS James Cook JC031 |
| 913432 | Currents -subsurface Eulerian | 2009-02-18 05:30:00 | 62.98 S, 63.39017 W | RRS James Cook JC031 |
| 936234 | CTD or STD cast | 2009-02-18 05:30:25 | 62.98 S, 63.3901 W | RRS James Cook JC031 |
| 912569 | Currents -subsurface Eulerian | 2009-02-18 08:04:00 | 63.15 S, 63.20017 W | RRS James Cook JC031 |
| 913444 | Currents -subsurface Eulerian | 2009-02-18 08:04:00 | 63.15 S, 63.20017 W | RRS James Cook JC031 |
| 936246 | CTD or STD cast | 2009-02-18 08:05:06 | 63.15 S, 63.2001 W | RRS James Cook JC031 |
| 912570 | Currents -subsurface Eulerian | 2009-02-18 11:29:00 | 63.48 S, 63.17 W | RRS James Cook JC031 |
| 913456 | Currents -subsurface Eulerian | 2009-02-18 11:29:00 | 63.48 S, 63.17 W | RRS James Cook JC031 |
| 936258 | CTD or STD cast | 2009-02-18 11:29:50 | 63.48 S, 63.1699 W | RRS James Cook JC031 |
| 912582 | Currents -subsurface Eulerian | 2009-02-18 15:04:00 | 63.81017 S, 63.12 W | RRS James Cook JC031 |
| 913468 | Currents -subsurface Eulerian | 2009-02-18 15:04:00 | 63.81017 S, 63.12 W | RRS James Cook JC031 |
| 936271 | CTD or STD cast | 2009-02-18 15:04:37 | 63.8101 S, 63.12 W | RRS James Cook JC031 |
| 912594 | Currents -subsurface Eulerian | 2009-02-18 18:38:00 | 64.14 S, 63.08 W | RRS James Cook JC031 |
| 913481 | Currents -subsurface Eulerian | 2009-02-18 18:38:00 | 64.14 S, 63.08 W | RRS James Cook JC031 |
| 936283 | CTD or STD cast | 2009-02-18 18:38:55 | 64.14 S, 63.0799 W | RRS James Cook JC031 |
| 936295 | CTD or STD cast | 2009-02-20 02:07:12 | 61.0489 S, 54.5888 W | RRS James Cook JC031 |
| 912601 | Currents -subsurface Eulerian | 2009-02-20 03:52:00 | 60.98083 S, 54.63183 W | RRS James Cook JC031 |
| 913493 | Currents -subsurface Eulerian | 2009-02-20 03:52:00 | 60.98083 S, 54.63183 W | RRS James Cook JC031 |
| 936302 | CTD or STD cast | 2009-02-20 03:53:15 | 60.9808 S, 54.6318 W | RRS James Cook JC031 |
| 912613 | Currents -subsurface Eulerian | 2009-02-20 06:13:00 | 60.85017 S, 54.71117 W | RRS James Cook JC031 |
| 913500 | Currents -subsurface Eulerian | 2009-02-20 06:13:00 | 60.85017 S, 54.71117 W | RRS James Cook JC031 |
| 936314 | CTD or STD cast | 2009-02-20 06:13:17 | 60.8502 S, 54.7112 W | RRS James Cook JC031 |
| 912625 | Currents -subsurface Eulerian | 2009-02-20 08:25:00 | 60.83317 S, 54.719 W | RRS James Cook JC031 |
| 913512 | Currents -subsurface Eulerian | 2009-02-20 08:25:00 | 60.83317 S, 54.719 W | RRS James Cook JC031 |
| 936326 | CTD or STD cast | 2009-02-20 08:25:16 | 60.8332 S, 54.7191 W | RRS James Cook JC031 |
| 912637 | Currents -subsurface Eulerian | 2009-02-20 10:55:00 | 60.7995 S, 54.73517 W | RRS James Cook JC031 |
| 913524 | Currents -subsurface Eulerian | 2009-02-20 10:55:00 | 60.7995 S, 54.73517 W | RRS James Cook JC031 |
| 936338 | CTD or STD cast | 2009-02-20 10:55:21 | 60.7995 S, 54.7351 W | RRS James Cook JC031 |
| 912649 | Currents -subsurface Eulerian | 2009-02-20 14:55:00 | 60.67 S, 54.8085 W | RRS James Cook JC031 |
| 913536 | Currents -subsurface Eulerian | 2009-02-20 14:55:00 | 60.67 S, 54.8085 W | RRS James Cook JC031 |
| 936351 | CTD or STD cast | 2009-02-20 14:55:54 | 60.67 S, 54.8085 W | RRS James Cook JC031 |
| 912650 | Currents -subsurface Eulerian | 2009-02-20 20:36:00 | 60.33333 S, 55.03133 W | RRS James Cook JC031 |
| 913548 | Currents -subsurface Eulerian | 2009-02-20 20:36:00 | 60.33333 S, 55.03133 W | RRS James Cook JC031 |
| 936363 | CTD or STD cast | 2009-02-20 20:36:51 | 60.3334 S, 55.0313 W | RRS James Cook JC031 |
| 912662 | Currents -subsurface Eulerian | 2009-02-21 02:26:00 | 60.0 S, 55.23833 W | RRS James Cook JC031 |
| 913561 | Currents -subsurface Eulerian | 2009-02-21 02:26:00 | 60.0 S, 55.23833 W | RRS James Cook JC031 |
| 936375 | CTD or STD cast | 2009-02-21 02:26:18 | 60.0001 S, 55.2383 W | RRS James Cook JC031 |
| 912674 | Currents -subsurface Eulerian | 2009-02-21 08:07:00 | 59.67117 S, 55.45167 W | RRS James Cook JC031 |
| 913573 | Currents -subsurface Eulerian | 2009-02-21 08:07:00 | 59.67117 S, 55.45167 W | RRS James Cook JC031 |
| 936387 | CTD or STD cast | 2009-02-21 08:07:56 | 59.6712 S, 55.4516 W | RRS James Cook JC031 |
| 912686 | Currents -subsurface Eulerian | 2009-02-21 13:49:00 | 59.34067 S, 55.64733 W | RRS James Cook JC031 |
| 913585 | Currents -subsurface Eulerian | 2009-02-21 13:49:00 | 59.34067 S, 55.64733 W | RRS James Cook JC031 |
| 936399 | CTD or STD cast | 2009-02-21 13:50:10 | 59.3406 S, 55.6473 W | RRS James Cook JC031 |
| 912698 | Currents -subsurface Eulerian | 2009-02-21 20:14:00 | 59.02583 S, 55.86383 W | RRS James Cook JC031 |
| 913597 | Currents -subsurface Eulerian | 2009-02-21 20:14:00 | 59.02583 S, 55.86383 W | RRS James Cook JC031 |
| 936406 | CTD or STD cast | 2009-02-21 20:16:14 | 59.0259 S, 55.8639 W | RRS James Cook JC031 |
| 912705 | Currents -subsurface Eulerian | 2009-02-22 02:49:00 | 58.69133 S, 56.05633 W | RRS James Cook JC031 |
| 913604 | Currents -subsurface Eulerian | 2009-02-22 02:49:00 | 58.69133 S, 56.05633 W | RRS James Cook JC031 |
| 936418 | CTD or STD cast | 2009-02-22 02:50:01 | 58.6913 S, 56.0563 W | RRS James Cook JC031 |
| 912717 | Currents -subsurface Eulerian | 2009-02-22 09:05:00 | 58.379 S, 56.21083 W | RRS James Cook JC031 |
| 913616 | Currents -subsurface Eulerian | 2009-02-22 09:05:00 | 58.379 S, 56.21083 W | RRS James Cook JC031 |
| 936431 | CTD or STD cast | 2009-02-22 09:05:03 | 58.379 S, 56.2108 W | RRS James Cook JC031 |
| 912729 | Currents -subsurface Eulerian | 2009-02-22 15:42:00 | 58.05 S, 56.43067 W | RRS James Cook JC031 |
| 913628 | Currents -subsurface Eulerian | 2009-02-22 15:42:00 | 58.05 S, 56.43067 W | RRS James Cook JC031 |
| 936443 | CTD or STD cast | 2009-02-22 15:43:24 | 58.0499 S, 56.4307 W | RRS James Cook JC031 |
| 912730 | Currents -subsurface Eulerian | 2009-02-22 21:50:00 | 57.73367 S, 56.6475 W | RRS James Cook JC031 |
| 913641 | Currents -subsurface Eulerian | 2009-02-22 21:50:00 | 57.73367 S, 56.6475 W | RRS James Cook JC031 |
| 936455 | CTD or STD cast | 2009-02-22 21:51:20 | 57.7337 S, 56.6475 W | RRS James Cook JC031 |
| 912742 | Currents -subsurface Eulerian | 2009-02-23 03:35:00 | 57.41033 S, 56.88233 W | RRS James Cook JC031 |
| 913653 | Currents -subsurface Eulerian | 2009-02-23 03:35:00 | 57.41033 S, 56.88233 W | RRS James Cook JC031 |
| 936467 | CTD or STD cast | 2009-02-23 03:36:12 | 57.4103 S, 56.8824 W | RRS James Cook JC031 |
| 912754 | Currents -subsurface Eulerian | 2009-02-23 09:26:00 | 57.10017 S, 57.0355 W | RRS James Cook JC031 |
| 913665 | Currents -subsurface Eulerian | 2009-02-23 09:26:00 | 57.10017 S, 57.0355 W | RRS James Cook JC031 |
| 936479 | CTD or STD cast | 2009-02-23 09:26:40 | 57.1002 S, 57.0354 W | RRS James Cook JC031 |
| 912766 | Currents -subsurface Eulerian | 2009-02-23 16:12:00 | 56.76567 S, 57.16167 W | RRS James Cook JC031 |
| 913677 | Currents -subsurface Eulerian | 2009-02-23 16:12:00 | 56.76567 S, 57.16167 W | RRS James Cook JC031 |
| 936480 | CTD or STD cast | 2009-02-23 16:15:16 | 56.7657 S, 57.1617 W | RRS James Cook JC031 |
| 936492 | CTD or STD cast | 2009-02-23 22:36:02 | 56.4686 S, 57.4246 W | RRS James Cook JC031 |
| 912778 | Currents -subsurface Eulerian | 2009-02-23 22:37:00 | 56.46867 S, 57.42467 W | RRS James Cook JC031 |
| 913689 | Currents -subsurface Eulerian | 2009-02-23 22:37:00 | 56.46867 S, 57.42467 W | RRS James Cook JC031 |
| 912791 | Currents -subsurface Eulerian | 2009-02-24 05:20:00 | 56.1525 S, 57.599 W | RRS James Cook JC031 |
| 913690 | Currents -subsurface Eulerian | 2009-02-24 05:20:00 | 56.1525 S, 57.599 W | RRS James Cook JC031 |
| 936511 | CTD or STD cast | 2009-02-24 05:20:20 | 56.1524 S, 57.599 W | RRS James Cook JC031 |
| 912809 | Currents -subsurface Eulerian | 2009-02-24 11:34:00 | 55.83433 S, 57.80683 W | RRS James Cook JC031 |
| 913708 | Currents -subsurface Eulerian | 2009-02-24 11:34:00 | 55.83433 S, 57.80683 W | RRS James Cook JC031 |
| 936523 | CTD or STD cast | 2009-02-24 11:35:24 | 55.8343 S, 57.8068 W | RRS James Cook JC031 |
| 912810 | Currents -subsurface Eulerian | 2009-02-24 19:27:00 | 55.51683 S, 57.96617 W | RRS James Cook JC031 |
| 913721 | Currents -subsurface Eulerian | 2009-02-24 19:27:00 | 55.51683 S, 57.96617 W | RRS James Cook JC031 |
| 936535 | CTD or STD cast | 2009-02-24 19:27:39 | 55.5168 S, 57.9662 W | RRS James Cook JC031 |
| 912822 | Currents -subsurface Eulerian | 2009-02-25 01:45:00 | 55.21433 S, 58.00017 W | RRS James Cook JC031 |
| 913733 | Currents -subsurface Eulerian | 2009-02-25 01:45:00 | 55.21433 S, 58.00017 W | RRS James Cook JC031 |
| 936547 | CTD or STD cast | 2009-02-25 01:45:07 | 55.2143 S, 58.0002 W | RRS James Cook JC031 |
| 912834 | Currents -subsurface Eulerian | 2009-02-25 06:27:00 | 55.16933 S, 57.9945 W | RRS James Cook JC031 |
| 913745 | Currents -subsurface Eulerian | 2009-02-25 06:27:00 | 55.16933 S, 57.9945 W | RRS James Cook JC031 |
| 936559 | CTD or STD cast | 2009-02-25 06:28:15 | 55.1693 S, 57.9945 W | RRS James Cook JC031 |
| 912846 | Currents -subsurface Eulerian | 2009-02-25 10:40:00 | 55.121 S, 57.999 W | RRS James Cook JC031 |
| 913757 | Currents -subsurface Eulerian | 2009-02-25 10:40:00 | 55.121 S, 57.999 W | RRS James Cook JC031 |
| 936560 | CTD or STD cast | 2009-02-25 10:40:53 | 55.121 S, 57.9991 W | RRS James Cook JC031 |
| 912858 | Currents -subsurface Eulerian | 2009-02-25 14:40:00 | 55.07 S, 58.00133 W | RRS James Cook JC031 |
| 913769 | Currents -subsurface Eulerian | 2009-02-25 14:40:00 | 55.07 S, 58.00133 W | RRS James Cook JC031 |
| 936572 | CTD or STD cast | 2009-02-25 14:40:31 | 55.0699 S, 58.0013 W | RRS James Cook JC031 |
| 912871 | Currents -subsurface Eulerian | 2009-02-25 18:57:00 | 55.0065 S, 57.9955 W | RRS James Cook JC031 |
| 913770 | Currents -subsurface Eulerian | 2009-02-25 18:57:00 | 55.0065 S, 57.9955 W | RRS James Cook JC031 |
| 936584 | CTD or STD cast | 2009-02-25 18:57:26 | 55.0064 S, 57.9956 W | RRS James Cook JC031 |
| 912883 | Currents -subsurface Eulerian | 2009-02-25 21:46:00 | 54.97667 S, 57.99867 W | RRS James Cook JC031 |
| 913782 | Currents -subsurface Eulerian | 2009-02-25 21:46:00 | 54.97667 S, 57.99867 W | RRS James Cook JC031 |
| 936596 | CTD or STD cast | 2009-02-25 21:46:43 | 54.9778 S, 57.9987 W | RRS James Cook JC031 |
| 912895 | Currents -subsurface Eulerian | 2009-02-26 00:08:00 | 54.92233 S, 58.0 W | RRS James Cook JC031 |
| 913794 | Currents -subsurface Eulerian | 2009-02-26 00:08:00 | 54.92233 S, 58.0 W | RRS James Cook JC031 |
| 936603 | CTD or STD cast | 2009-02-26 00:08:53 | 54.9224 S, 58.0 W | RRS James Cook JC031 |
| 912902 | Currents -subsurface Eulerian | 2009-02-26 03:42:00 | 54.66667 S, 58.0 W | RRS James Cook JC031 |
| 913801 | Currents -subsurface Eulerian | 2009-02-26 03:42:00 | 54.66667 S, 58.0 W | RRS James Cook JC031 |
| 936615 | CTD or STD cast | 2009-02-26 03:43:32 | 54.6667 S, 57.9999 W | RRS James Cook JC031 |
| 912914 | Currents -subsurface Eulerian | 2009-02-26 09:11:00 | 53.9815 S, 58.0 W | RRS James Cook JC031 |
| 913813 | Currents -subsurface Eulerian | 2009-02-26 09:11:00 | 53.9815 S, 58.0 W | RRS James Cook JC031 |
| 936627 | CTD or STD cast | 2009-02-26 09:11:21 | 53.9815 S, 58.0001 W | RRS James Cook JC031 |
| 912926 | Currents -subsurface Eulerian | 2009-02-26 11:50:00 | 53.75267 S, 58.00017 W | RRS James Cook JC031 |
| 913825 | Currents -subsurface Eulerian | 2009-02-26 11:50:00 | 53.75267 S, 58.00017 W | RRS James Cook JC031 |
| 936639 | CTD or STD cast | 2009-02-26 11:51:44 | 53.7526 S, 58.0001 W | RRS James Cook JC031 |
| 912938 | Currents -subsurface Eulerian | 2009-02-26 15:12:00 | 53.52 S, 58.00017 W | RRS James Cook JC031 |
| 913837 | Currents -subsurface Eulerian | 2009-02-26 15:12:00 | 53.52 S, 58.00017 W | RRS James Cook JC031 |
| 936640 | CTD or STD cast | 2009-02-26 15:13:01 | 53.52 S, 58.0001 W | RRS James Cook JC031 |
| 912951 | Currents -subsurface Eulerian | 2009-02-26 20:50:00 | 53.13317 S, 57.99633 W | RRS James Cook JC031 |
| 913849 | Currents -subsurface Eulerian | 2009-02-26 20:50:00 | 53.13317 S, 57.99633 W | RRS James Cook JC031 |
| 936652 | CTD or STD cast | 2009-02-26 20:51:11 | 53.1332 S, 57.9963 W | RRS James Cook JC031 |
| 912963 | Currents -subsurface Eulerian | 2009-02-26 23:57:00 | 52.929 S, 58.0 W | RRS James Cook JC031 |
| 913850 | Currents -subsurface Eulerian | 2009-02-26 23:57:00 | 52.929 S, 58.0 W | RRS James Cook JC031 |
| 936664 | CTD or STD cast | 2009-02-26 23:57:09 | 52.929 S, 58.0001 W | RRS James Cook JC031 |
| 1016189 | CTD or STD cast | 1994-11-15 09:00:00 | 53.56983 S, 59.0985 W | RRS James Clark Ross JR19941113 (JR0B) |
| 1016190 | CTD or STD cast | 1994-11-16 03:20:00 | 54.956 S, 58.35917 W | RRS James Clark Ross JR19941113 (JR0B) |
| 1016208 | CTD or STD cast | 1994-11-16 11:31:00 | 55.06917 S, 58.2875 W | RRS James Clark Ross JR19941113 (JR0B) |
| 1016221 | CTD or STD cast | 1994-11-16 14:01:00 | 55.1215 S, 58.25683 W | RRS James Clark Ross JR19941113 (JR0B) |
| 1016233 | CTD or STD cast | 1994-11-16 16:45:00 | 55.17167 S, 58.247 W | RRS James Clark Ross JR19941113 (JR0B) |
| 1016245 | CTD or STD cast | 1994-11-16 19:45:00 | 55.21367 S, 58.22583 W | RRS James Clark Ross JR19941113 (JR0B) |
| 1016257 | CTD or STD cast | 1994-11-17 00:39:00 | 55.52067 S, 58.00517 W | RRS James Clark Ross JR19941113 (JR0B) |
| 1016269 | CTD or STD cast | 1994-11-17 06:17:00 | 55.8185 S, 57.871 W | RRS James Clark Ross JR19941113 (JR0B) |
| 1016270 | CTD or STD cast | 1994-11-17 11:32:00 | 56.12867 S, 57.671 W | RRS James Clark Ross JR19941113 (JR0B) |
| 1016282 | CTD or STD cast | 1994-11-17 16:44:00 | 56.4555 S, 57.4925 W | RRS James Clark Ross JR19941113 (JR0B) |
| 1016294 | CTD or STD cast | 1994-11-17 21:48:00 | 56.78567 S, 57.3045 W | RRS James Clark Ross JR19941113 (JR0B) |
| 1016301 | CTD or STD cast | 1994-11-18 03:03:00 | 57.093 S, 57.12017 W | RRS James Clark Ross JR19941113 (JR0B) |
| 1016313 | CTD or STD cast | 1994-11-18 08:43:00 | 57.42883 S, 56.92767 W | RRS James Clark Ross JR19941113 (JR0B) |
| 1016325 | CTD or STD cast | 1994-11-18 13:47:00 | 57.735 S, 56.70183 W | RRS James Clark Ross JR19941113 (JR0B) |
| 1016337 | CTD or STD cast | 1994-11-18 18:43:00 | 58.057 S, 56.54917 W | RRS James Clark Ross JR19941113 (JR0B) |
| 1016349 | CTD or STD cast | 1994-11-19 00:20:00 | 58.36133 S, 56.34767 W | RRS James Clark Ross JR19941113 (JR0B) |
| 1016350 | CTD or STD cast | 1994-11-19 06:14:00 | 58.69367 S, 56.15883 W | RRS James Clark Ross JR19941113 (JR0B) |
| 1016362 | CTD or STD cast | 1994-11-19 11:22:00 | 58.996 S, 55.96467 W | RRS James Clark Ross JR19941113 (JR0B) |
| 1016374 | CTD or STD cast | 1994-11-19 22:27:00 | 59.5965 S, 55.86583 W | RRS James Clark Ross JR19941113 (JR0B) |
| 1016386 | CTD or STD cast | 1994-11-20 03:32:00 | 59.31133 S, 55.70067 W | RRS James Clark Ross JR19941113 (JR0B) |
| 1016398 | CTD or STD cast | 1994-11-20 08:34:00 | 59.64683 S, 55.516 W | RRS James Clark Ross JR19941113 (JR0B) |
| 1016405 | CTD or STD cast | 1994-11-20 13:45:00 | 60.00483 S, 55.32767 W | RRS James Clark Ross JR19941113 (JR0B) |
| 1016417 | CTD or STD cast | 1994-11-20 18:38:00 | 60.336 S, 55.08 W | RRS James Clark Ross JR19941113 (JR0B) |
| 1016429 | CTD or STD cast | 1994-11-21 03:42:00 | 60.681 S, 54.812 W | RRS James Clark Ross JR19941113 (JR0B) |
| 1016430 | CTD or STD cast | 1994-11-21 07:05:00 | 60.80083 S, 54.71867 W | RRS James Clark Ross JR19941113 (JR0B) |
| 1016442 | CTD or STD cast | 1994-11-21 12:20:00 | 60.83 S, 54.71733 W | RRS James Clark Ross JR19941113 (JR0B) |
| 1016454 | CTD or STD cast | 1994-11-21 14:44:00 | 60.852 S, 54.712 W | RRS James Clark Ross JR19941113 (JR0B) |
| 1016466 | CTD or STD cast | 1994-11-21 16:41:00 | 60.982 S, 54.62233 W | RRS James Clark Ross JR19941113 (JR0B) |
| 1016491 | CTD or STD cast | 1996-11-15 10:42:00 | 54.791 S, 58.45183 W | RRS James Clark Ross JR19961128 (JR16) |
| 1016509 | CTD or STD cast | 1996-11-15 12:56:00 | 54.93083 S, 58.35317 W | RRS James Clark Ross JR19961128 (JR16) |
| 1016510 | CTD or STD cast | 1996-11-15 14:44:00 | 54.96567 S, 58.3475 W | RRS James Clark Ross JR19961128 (JR16) |
| 1016522 | CTD or STD cast | 1996-11-15 17:20:00 | 55.06783 S, 58.27133 W | RRS James Clark Ross JR19961128 (JR16) |
| 1016534 | CTD or STD cast | 1996-11-15 22:13:00 | 55.11333 S, 58.221 W | RRS James Clark Ross JR19961128 (JR16) |
| 1016546 | CTD or STD cast | 1996-11-16 04:49:00 | 55.17083 S, 58.2185 W | RRS James Clark Ross JR19961128 (JR16) |
| 1016558 | CTD or STD cast | 1996-11-16 07:57:00 | 55.2105 S, 58.21 W | RRS James Clark Ross JR19961128 (JR16) |
| 1016571 | CTD or STD cast | 1996-11-16 12:46:00 | 55.52183 S, 58.03383 W | RRS James Clark Ross JR19961128 (JR16) |
| 1016583 | CTD or STD cast | 1996-11-16 17:30:00 | 55.81917 S, 57.87517 W | RRS James Clark Ross JR19961128 (JR16) |
| 1016595 | CTD or STD cast | 1996-11-16 22:40:00 | 56.11617 S, 57.64933 W | RRS James Clark Ross JR19961128 (JR16) |
| 1016602 | CTD or STD cast | 1996-11-17 04:16:00 | 56.4655 S, 57.52417 W | RRS James Clark Ross JR19961128 (JR16) |
| 1016614 | CTD or STD cast | 1996-11-17 08:49:00 | 56.7915 S, 57.3015 W | RRS James Clark Ross JR19961128 (JR16) |
| 1016626 | CTD or STD cast | 1996-11-17 15:12:00 | 57.09017 S, 57.124 W | RRS James Clark Ross JR19961128 (JR16) |
| 1016638 | CTD or STD cast | 1996-11-17 20:00:00 | 57.43817 S, 56.91883 W | RRS James Clark Ross JR19961128 (JR16) |
| 1016651 | CTD or STD cast | 1996-11-18 02:38:00 | 57.72317 S, 56.66183 W | RRS James Clark Ross JR19961128 (JR16) |
| 1016663 | CTD or STD cast | 1996-11-18 07:24:00 | 58.058 S, 56.52433 W | RRS James Clark Ross JR19961128 (JR16) |
| 1016675 | CTD or STD cast | 1996-11-18 14:48:00 | 58.373 S, 56.35517 W | RRS James Clark Ross JR19961128 (JR16) |
| 1016687 | CTD or STD cast | 1996-11-18 23:05:00 | 58.69233 S, 56.15433 W | RRS James Clark Ross JR19961128 (JR16) |
| 1016699 | CTD or STD cast | 1996-11-19 04:05:00 | 59.00217 S, 55.98517 W | RRS James Clark Ross JR19961128 (JR16) |
| 1016706 | CTD or STD cast | 1996-11-19 08:44:00 | 59.314 S, 55.69017 W | RRS James Clark Ross JR19961128 (JR16) |
| 1016718 | CTD or STD cast | 1996-11-19 13:26:00 | 59.64883 S, 55.51867 W | RRS James Clark Ross JR19961128 (JR16) |
| 1016731 | CTD or STD cast | 1996-11-19 21:44:00 | 60.01067 S, 55.324 W | RRS James Clark Ross JR19961128 (JR16) |
| 1016743 | CTD or STD cast | 1996-11-20 02:38:00 | 60.34117 S, 55.06567 W | RRS James Clark Ross JR19961128 (JR16) |
| 1016755 | CTD or STD cast | 1996-11-20 07:35:00 | 60.6735 S, 54.79767 W | RRS James Clark Ross JR19961128 (JR16) |
| 1016767 | CTD or STD cast | 1996-11-20 13:27:00 | 60.802 S, 54.712 W | RRS James Clark Ross JR19961128 (JR16) |
| 1016779 | CTD or STD cast | 1996-11-20 15:53:00 | 60.83567 S, 54.72467 W | RRS James Clark Ross JR19961128 (JR16) |
| 1016780 | CTD or STD cast | 1996-11-20 19:16:00 | 60.8515 S, 54.72 W | RRS James Clark Ross JR19961128 (JR16) |
| 1016792 | CTD or STD cast | 1996-11-20 21:13:00 | 60.984 S, 54.62367 W | RRS James Clark Ross JR19961128 (JR16) |
| 1016478 | CTD or STD cast | 1996-11-20 22:31:00 | 61.03517 S, 54.61617 W | RRS James Clark Ross JR19961128 (JR16) |
| 1022030 | Currents -subsurface Eulerian | 2009-02-06 01:02:20 | 64.14044 S, 68.66633 W | RRS James Cook JC031 |
| 1022017 | Currents -subsurface Eulerian | 2009-02-06 01:03:12 | 64.14045 S, 68.66691 W | RRS James Cook JC031 |
| 1875752 | Water sample data | 2009-02-06 01:24:00 | 56.33 S, 67.99004 W | RRS James Cook JC031 |
| 1875764 | Water sample data | 2009-02-06 05:43:00 | 56.79993 S, 68.18997 W | RRS James Cook JC031 |
| 1875776 | Water sample data | 2009-02-06 07:43:00 | 56.85004 S, 68.21002 W | RRS James Cook JC031 |
| 1875788 | Water sample data | 2009-02-06 10:34:00 | 56.87999 S, 68.23 W | RRS James Cook JC031 |
| 1875807 | Water sample data | 2009-02-06 14:14:00 | 56.89002 S, 68.24007 W | RRS James Cook JC031 |
| 1875819 | Water sample data | 2009-02-07 01:01:00 | 56.91145 S, 68.2416 W | RRS James Cook JC031 |
| 1875820 | Water sample data | 2009-02-07 06:10:00 | 56.92001 S, 68.23995 W | RRS James Cook JC031 |
| 1875832 | Water sample data | 2009-02-07 10:51:00 | 56.98001 S, 68.24995 W | RRS James Cook JC031 |
| 1875844 | Water sample data | 2009-02-07 16:17:00 | 57.13004 S, 68.25 W | RRS James Cook JC031 |
| 1875856 | Water sample data | 2009-02-07 21:53:00 | 57.33084 S, 68.23566 W | RRS James Cook JC031 |
| 1875868 | Water sample data | 2009-02-09 11:43:00 | 57.83393 S, 68.22308 W | RRS James Cook JC031 |
| 1875881 | Water sample data | 2009-02-09 19:42:00 | 58.09357 S, 68.21223 W | RRS James Cook JC031 |
| 1875893 | Water sample data | 2009-02-10 02:24:00 | 58.34045 S, 68.20933 W | RRS James Cook JC031 |
| 1875900 | Water sample data | 2009-02-10 22:23:00 | 58.5803 S, 68.24759 W | RRS James Cook JC031 |
| 1875912 | Water sample data | 2009-02-11 04:57:00 | 58.84148 S, 68.26053 W | RRS James Cook JC031 |
| 1875924 | Water sample data | 2009-02-11 11:21:00 | 59.09099 S, 68.24358 W | RRS James Cook JC031 |
| 1875936 | Water sample data | 2009-02-11 17:41:00 | 59.33073 S, 68.24914 W | RRS James Cook JC031 |
| 1875948 | Water sample data | 2009-02-11 23:35:00 | 59.59001 S, 68.23507 W | RRS James Cook JC031 |
| 1875961 | Water sample data | 2009-02-12 04:58:00 | 59.81996 S, 68.23994 W | RRS James Cook JC031 |
| 1875973 | Water sample data | 2009-02-12 10:09:00 | 60.07066 S, 68.19079 W | RRS James Cook JC031 |
| 1875985 | Water sample data | 2009-02-12 15:36:00 | 60.32007 S, 68.12007 W | RRS James Cook JC031 |
| 1875997 | Water sample data | 2009-02-12 21:24:00 | 60.58 S, 68.05999 W | RRS James Cook JC031 |
| 1876000 | Water sample data | 2009-02-13 03:04:00 | 60.82853 S, 67.98751 W | RRS James Cook JC031 |
| 1876012 | Water sample data | 2009-02-13 08:48:00 | 61.01972 S, 67.66612 W | RRS James Cook JC031 |
| 1876024 | Water sample data | 2009-02-13 15:18:00 | 61.20979 S, 67.3064 W | RRS James Cook JC031 |
| 1876036 | Water sample data | 2009-02-13 21:52:00 | 61.4095 S, 66.99104 W | RRS James Cook JC031 |
| 1876048 | Water sample data | 2009-02-14 03:43:00 | 61.6 S, 66.66992 W | RRS James Cook JC031 |
| 1876061 | Water sample data | 2009-02-14 09:07:00 | 61.79998 S, 66.3201 W | RRS James Cook JC031 |
| 1876073 | Water sample data | 2009-02-14 14:48:00 | 62.00001 S, 65.9501 W | RRS James Cook JC031 |
| 1876085 | Water sample data | 2009-02-14 20:23:00 | 62.14004 S, 65.5801 W | RRS James Cook JC031 |
| 1876097 | Water sample data | 2009-02-16 04:30:00 | 62.27995 S, 65.21007 W | RRS James Cook JC031 |
| 1876104 | Water sample data | 2009-02-16 09:38:00 | 62.38834 S, 64.8206 W | RRS James Cook JC031 |
| 1876116 | Water sample data | 2009-02-16 14:48:00 | 62.49998 S, 64.46004 W | RRS James Cook JC031 |
| 1876128 | Water sample data | 2009-02-16 20:07:00 | 62.60993 S, 64.07925 W | RRS James Cook JC031 |
| 1876141 | Water sample data | 2009-02-17 00:58:00 | 62.68996 S, 63.90005 W | RRS James Cook JC031 |
| 1876153 | Water sample data | 2009-02-17 05:53:00 | 62.78009 S, 63.69994 W | RRS James Cook JC031 |
| 1876165 | Water sample data | 2009-02-17 21:45:00 | 62.81003 S, 63.62011 W | RRS James Cook JC031 |
| 1876177 | Water sample data | 2009-02-18 01:08:00 | 62.86004 S, 63.52015 W | RRS James Cook JC031 |
| 1876189 | Water sample data | 2009-02-18 03:53:00 | 62.94002 S, 63.45004 W | RRS James Cook JC031 |
| 1876190 | Water sample data | 2009-02-18 05:58:00 | 62.98003 S, 63.39009 W | RRS James Cook JC031 |
| 1876208 | Water sample data | 2009-02-18 08:29:00 | 63.15001 S, 63.20014 W | RRS James Cook JC031 |
| 1876221 | Water sample data | 2009-02-18 12:03:00 | 63.48 S, 63.16999 W | RRS James Cook JC031 |
| 1876233 | Water sample data | 2009-02-18 15:34:00 | 63.81005 S, 63.11999 W | RRS James Cook JC031 |
| 1876245 | Water sample data | 2009-02-18 19:10:00 | 64.13998 S, 63.07984 W | RRS James Cook JC031 |
| 1022029 | Currents -subsurface Eulerian | 2009-02-20 02:05:27 | 61.04913 S, 58.00895 W | RRS James Cook JC031 |
| 1022042 | Currents -subsurface Eulerian | 2009-02-20 02:05:45 | 61.04911 S, 58.00899 W | RRS James Cook JC031 |
| 1876257 | Water sample data | 2009-02-20 02:30:00 | 61.04897 S, 54.58949 W | RRS James Cook JC031 |
| 1876269 | Water sample data | 2009-02-20 04:20:00 | 60.98094 S, 54.63362 W | RRS James Cook JC031 |
| 1876270 | Water sample data | 2009-02-20 06:50:00 | 60.85032 S, 54.71105 W | RRS James Cook JC031 |
| 1876282 | Water sample data | 2009-02-20 09:17:00 | 60.83326 S, 54.71739 W | RRS James Cook JC031 |
| 1876294 | Water sample data | 2009-02-20 12:17:00 | 60.79955 S, 54.73327 W | RRS James Cook JC031 |
| 1876301 | Water sample data | 2009-02-20 16:28:00 | 60.67063 S, 54.80517 W | RRS James Cook JC031 |
| 1876313 | Water sample data | 2009-02-20 22:08:00 | 60.33336 S, 55.03125 W | RRS James Cook JC031 |
| 1876325 | Water sample data | 2009-02-21 03:55:00 | 60.00004 S, 55.23828 W | RRS James Cook JC031 |
| 1876337 | Water sample data | 2009-02-21 09:38:00 | 59.67276 S, 55.45441 W | RRS James Cook JC031 |
| 1876349 | Water sample data | 2009-02-21 15:33:00 | 59.34355 S, 55.64591 W | RRS James Cook JC031 |
| 1876350 | Water sample data | 2009-02-21 21:55:00 | 59.0308 S, 55.86987 W | RRS James Cook JC031 |
| 1876362 | Water sample data | 2009-02-22 04:26:00 | 58.69429 S, 56.05488 W | RRS James Cook JC031 |
| 1876374 | Water sample data | 2009-02-22 10:44:00 | 58.38258 S, 56.20262 W | RRS James Cook JC031 |
| 1876386 | Water sample data | 2009-02-22 17:27:00 | 58.04992 S, 56.42557 W | RRS James Cook JC031 |
| 1876398 | Water sample data | 2009-02-22 23:22:00 | 57.73407 S, 56.65081 W | RRS James Cook JC031 |
| 1876405 | Water sample data | 2009-02-23 05:13:00 | 57.4099 S, 56.8845 W | RRS James Cook JC031 |
| 1876417 | Water sample data | 2009-02-23 11:22:00 | 57.10021 S, 57.03554 W | RRS James Cook JC031 |
| 1876429 | Water sample data | 2009-02-23 17:47:00 | 56.76421 S, 57.15268 W | RRS James Cook JC031 |
| 1876430 | Water sample data | 2009-02-24 00:30:00 | 56.46853 S, 57.42461 W | RRS James Cook JC031 |
| 1876442 | Water sample data | 2009-02-24 06:57:00 | 56.15231 S, 57.59449 W | RRS James Cook JC031 |
| 1876454 | Water sample data | 2009-02-24 13:59:00 | 55.83432 S, 57.80746 W | RRS James Cook JC031 |
| 1876466 | Water sample data | 2009-02-24 21:20:00 | 55.51676 S, 57.96266 W | RRS James Cook JC031 |
| 1876478 | Water sample data | 2009-02-25 03:23:00 | 55.21432 S, 58.00008 W | RRS James Cook JC031 |
| 1876491 | Water sample data | 2009-02-25 07:58:00 | 55.16892 S, 57.9928 W | RRS James Cook JC031 |
| 1876509 | Water sample data | 2009-02-25 12:08:00 | 55.12118 S, 57.99909 W | RRS James Cook JC031 |
| 1876510 | Water sample data | 2009-02-25 16:05:00 | 55.06984 S, 58.00129 W | RRS James Cook JC031 |
| 1876522 | Water sample data | 2009-02-25 19:52:00 | 55.00637 S, 57.99559 W | RRS James Cook JC031 |
| 1876534 | Water sample data | 2009-02-25 22:32:00 | 54.97775 S, 57.99872 W | RRS James Cook JC031 |
| 1876546 | Water sample data | 2009-02-26 00:47:00 | 54.92238 S, 58.00009 W | RRS James Cook JC031 |
| 1876558 | Water sample data | 2009-02-26 03:57:00 | 54.66668 S, 58.0 W | RRS James Cook JC031 |
| 1876571 | Water sample data | 2009-02-26 09:36:00 | 53.98154 S, 58.00008 W | RRS James Cook JC031 |
| 1876583 | Water sample data | 2009-02-26 12:30:00 | 53.75257 S, 58.00012 W | RRS James Cook JC031 |
| 1876595 | Water sample data | 2009-02-26 16:32:00 | 53.52 S, 58.00002 W | RRS James Cook JC031 |
| 1876602 | Water sample data | 2009-02-26 21:32:00 | 53.13259 S, 57.99517 W | RRS James Cook JC031 |
| 1876614 | Water sample data | 2009-02-27 00:21:00 | 52.929 S, 58.00003 W | RRS James Cook JC031 |
| 1052418 | CTD or STD cast | 2009-11-18 13:53:01 | 52.2471 S, 57.8194 W | RRS James Clark Ross JR20091118 (JR195, JR198) |
| 1052431 | CTD or STD cast | 2009-11-18 21:26:05 | 53.5071 S, 58.1814 W | RRS James Clark Ross JR20091118 (JR195, JR198) |
| 1052074 | CTD or STD cast | 2009-11-19 05:23:37 | 54.6666 S, 58.5445 W | RRS James Clark Ross JR20091118 (JR195, JR198) |
| 1052086 | CTD or STD cast | 2009-11-19 07:47:54 | 54.9233 S, 58.3824 W | RRS James Clark Ross JR20091118 (JR195, JR198) |
| 1052098 | CTD or STD cast | 2009-11-19 09:05:11 | 54.9447 S, 58.3718 W | RRS James Clark Ross JR20091118 (JR195, JR198) |
| 1052105 | CTD or STD cast | 2009-11-19 10:35:37 | 54.9617 S, 58.3603 W | RRS James Clark Ross JR20091118 (JR195, JR198) |
| 1052117 | CTD or STD cast | 2009-11-19 16:41:19 | 55.0727 S, 58.2765 W | RRS James Clark Ross JR20091118 (JR195, JR198) |
| 1052129 | CTD or STD cast | 2009-11-19 18:52:01 | 55.1257 S, 58.2421 W | RRS James Clark Ross JR20091118 (JR195, JR198) |
| 1052130 | CTD or STD cast | 2009-11-19 21:45:41 | 55.179 S, 58.197 W | RRS James Clark Ross JR20091118 (JR195, JR198) |
| 1052142 | CTD or STD cast | 2009-11-21 02:20:26 | 55.3681 S, 58.0991 W | RRS James Clark Ross JR20091118 (JR195, JR198) |
| 1052154 | CTD or STD cast | 2009-11-21 08:19:27 | 55.8335 S, 57.8207 W | RRS James Clark Ross JR20091118 (JR195, JR198) |
| 1052166 | CTD or STD cast | 2009-11-21 13:49:34 | 56.1501 S, 57.6244 W | RRS James Clark Ross JR20091118 (JR195, JR198) |
| 1052178 | CTD or STD cast | 2009-11-21 18:08:50 | 56.4666 S, 57.428 W | RRS James Clark Ross JR20091118 (JR195, JR198) |
| 1052191 | CTD or STD cast | 2009-11-21 22:42:36 | 56.783 S, 57.2332 W | RRS James Clark Ross JR20091118 (JR195, JR198) |
| 1052209 | CTD or STD cast | 2009-11-22 03:20:35 | 57.1001 S, 57.0336 W | RRS James Clark Ross JR20091118 (JR195, JR198) |
| 1052210 | CTD or STD cast | 2009-11-22 08:11:44 | 57.4161 S, 56.8329 W | RRS James Clark Ross JR20091118 (JR195, JR198) |
| 1052222 | CTD or STD cast | 2009-11-22 12:42:21 | 57.7314 S, 56.6371 W | RRS James Clark Ross JR20091118 (JR195, JR198) |
| 1052234 | CTD or STD cast | 2009-11-22 16:20:41 | 57.8959 S, 56.5448 W | RRS James Clark Ross JR20091118 (JR195, JR198) |
| 1052246 | CTD or STD cast | 2009-11-23 00:06:50 | 58.3666 S, 56.2502 W | RRS James Clark Ross JR20091118 (JR195, JR198) |
| 1052258 | CTD or STD cast | 2009-11-23 04:53:35 | 58.6833 S, 56.0538 W | RRS James Clark Ross JR20091118 (JR195, JR198) |
| 1052271 | CTD or STD cast | 2009-11-23 09:30:28 | 58.9995 S, 55.8565 W | RRS James Clark Ross JR20091118 (JR195, JR198) |
| 1052283 | CTD or STD cast | 2009-11-23 14:09:32 | 59.3328 S, 55.6503 W | RRS James Clark Ross JR20091118 (JR195, JR198) |
| 1052295 | CTD or STD cast | 2009-11-23 18:44:25 | 59.6666 S, 55.4444 W | RRS James Clark Ross JR20091118 (JR195, JR198) |
| 1052302 | CTD or STD cast | 2009-11-23 23:18:34 | 59.9997 S, 55.238 W | RRS James Clark Ross JR20091118 (JR195, JR198) |
| 1052314 | CTD or STD cast | 2009-11-24 04:02:51 | 60.3333 S, 55.0312 W | RRS James Clark Ross JR20091118 (JR195, JR198) |
| 1052326 | CTD or STD cast | 2009-11-24 08:22:40 | 60.6659 S, 54.8247 W | RRS James Clark Ross JR20091118 (JR195, JR198) |
| 1052338 | CTD or STD cast | 2009-11-24 18:55:36 | 60.7998 S, 54.7422 W | RRS James Clark Ross JR20091118 (JR195, JR198) |
| 1052351 | CTD or STD cast | 2009-11-24 22:30:16 | 60.8332 S, 54.7195 W | RRS James Clark Ross JR20091118 (JR195, JR198) |
| 1052363 | CTD or STD cast | 2009-11-25 01:17:37 | 60.8502 S, 54.7109 W | RRS James Clark Ross JR20091118 (JR195, JR198) |
| 1052375 | CTD or STD cast | 2009-11-25 04:32:14 | 60.9776 S, 54.6337 W | RRS James Clark Ross JR20091118 (JR195, JR198) |
| 1052387 | CTD or STD cast | 2009-11-25 06:37:41 | 61.051 S, 54.5912 W | RRS James Clark Ross JR20091118 (JR195, JR198) |
| 1052399 | CTD or STD cast | 2009-11-26 00:01:48 | 60.83474 S, 54.60645 W | RRS James Clark Ross JR20091118 (JR195, JR198) |
| 1052406 | CTD or STD cast | 2009-11-26 01:09:51 | 60.83937 S, 54.60006 W | RRS James Clark Ross JR20091118 (JR195, JR198) |
| 1721095 | Currents -subsurface Eulerian | 2009-12-09 12:29:57 | 55.963 S, 57.74433 W | RRS James Cook JC041 (UKD-1) |
| 1721102 | Currents -subsurface Eulerian | 2009-12-09 12:29:57 | 55.963 S, 57.74433 W | RRS James Cook JC041 (UKD-1) |
| 1721114 | Currents -subsurface Eulerian | 2009-12-09 12:29:57 | 55.963 S, 57.74433 W | RRS James Cook JC041 (UKD-1) |
| 1721083 | Currents -subsurface Eulerian | 2009-12-09 12:30:00 | 55.963 S, 57.74433 W | RRS James Cook JC041 (UKD-1) |
| 1720701 | Hydrography time series at depth | 2009-12-09 12:30:01 | 55.963 S, 57.74433 W | RRS James Cook JC041 (UKD-1) |
| 1720713 | Hydrography time series at depth | 2009-12-09 12:30:01 | 55.963 S, 57.74433 W | RRS James Cook JC041 (UKD-1) |
| 1720725 | Hydrography time series at depth | 2009-12-09 12:30:01 | 55.963 S, 57.74433 W | RRS James Cook JC041 (UKD-1) |
| 1720737 | Hydrography time series at depth | 2009-12-09 12:30:01 | 55.963 S, 57.74433 W | RRS James Cook JC041 (UKD-1) |
| 1720694 | Hydrography time series at depth | 2009-12-09 12:40:00 | 55.963 S, 57.74433 W | RRS James Cook JC041 (UKD-1) |
| 1721175 | Currents -subsurface Eulerian | 2009-12-09 16:15:01 | 56.05717 S, 57.74233 W | RRS James Cook JC041 (UKD-1) |
| 1721187 | Currents -subsurface Eulerian | 2009-12-09 16:15:01 | 56.05717 S, 57.74233 W | RRS James Cook JC041 (UKD-1) |
| 1721199 | Currents -subsurface Eulerian | 2009-12-09 16:15:01 | 56.05717 S, 57.74233 W | RRS James Cook JC041 (UKD-1) |
| 1721206 | Currents -subsurface Eulerian | 2009-12-09 16:15:01 | 56.05717 S, 57.74233 W | RRS James Cook JC041 (UKD-1) |
| 1720805 | Hydrography time series at depth | 2009-12-09 16:15:01 | 56.05717 S, 57.74233 W | RRS James Cook JC041 (UKD-1) |
| 1720817 | Hydrography time series at depth | 2009-12-09 16:15:01 | 56.05717 S, 57.74233 W | RRS James Cook JC041 (UKD-1) |
| 1720829 | Hydrography time series at depth | 2009-12-09 16:15:01 | 56.05717 S, 57.74233 W | RRS James Cook JC041 (UKD-1) |
| 1720830 | Hydrography time series at depth | 2009-12-09 16:15:01 | 56.05717 S, 57.74233 W | RRS James Cook JC041 (UKD-1) |
| 1720798 | Hydrography time series at depth | 2009-12-09 16:20:02 | 56.05717 S, 57.74233 W | RRS James Cook JC041 (UKD-1) |
| 1720786 | Hydrography time series at depth | 2009-12-10 13:50:00 | 55.964 S, 57.91467 W | RRS James Cook JC041 (UKD-1) |
| 1721126 | Currents -subsurface Eulerian | 2009-12-10 13:59:57 | 55.964 S, 57.91467 W | RRS James Cook JC041 (UKD-1) |
| 1721138 | Currents -subsurface Eulerian | 2009-12-10 13:59:57 | 55.964 S, 57.91467 W | RRS James Cook JC041 (UKD-1) |
| 1721151 | Currents -subsurface Eulerian | 2009-12-10 13:59:57 | 55.964 S, 57.91467 W | RRS James Cook JC041 (UKD-1) |
| 1721163 | Currents -subsurface Eulerian | 2009-12-10 13:59:57 | 55.964 S, 57.91467 W | RRS James Cook JC041 (UKD-1) |
| 1720922 | Currents -subsurface Eulerian | 2009-12-10 14:00:00 | 55.964 S, 57.91467 W | RRS James Cook JC041 (UKD-1) |
| 1720749 | Hydrography time series at depth | 2009-12-10 14:00:01 | 55.964 S, 57.91467 W | RRS James Cook JC041 (UKD-1) |
| 1720750 | Hydrography time series at depth | 2009-12-10 14:00:01 | 55.964 S, 57.91467 W | RRS James Cook JC041 (UKD-1) |
| 1720762 | Hydrography time series at depth | 2009-12-10 14:00:01 | 55.964 S, 57.91467 W | RRS James Cook JC041 (UKD-1) |
| 1720774 | Hydrography time series at depth | 2009-12-10 14:00:01 | 55.964 S, 57.91467 W | RRS James Cook JC041 (UKD-1) |
| 1720946 | Currents -subsurface Eulerian | 2009-12-10 18:30:00 | 56.01183 S, 57.82767 W | RRS James Cook JC041 (UKD-1) |
| 1720958 | Currents -subsurface Eulerian | 2009-12-10 18:30:00 | 56.01183 S, 57.82767 W | RRS James Cook JC041 (UKD-1) |
| 1720971 | Currents -subsurface Eulerian | 2009-12-10 18:30:00 | 56.01183 S, 57.82767 W | RRS James Cook JC041 (UKD-1) |
| 1720983 | Currents -subsurface Eulerian | 2009-12-10 18:30:00 | 56.01183 S, 57.82767 W | RRS James Cook JC041 (UKD-1) |
| 1720995 | Currents -subsurface Eulerian | 2009-12-10 18:30:00 | 56.01183 S, 57.82767 W | RRS James Cook JC041 (UKD-1) |
| 1721009 | Currents -subsurface Eulerian | 2009-12-10 18:30:00 | 56.01183 S, 57.82767 W | RRS James Cook JC041 (UKD-1) |
| 1721010 | Currents -subsurface Eulerian | 2009-12-10 18:30:00 | 56.01183 S, 57.82767 W | RRS James Cook JC041 (UKD-1) |
| 1721022 | Currents -subsurface Eulerian | 2009-12-10 18:30:00 | 56.01183 S, 57.82767 W | RRS James Cook JC041 (UKD-1) |
| 1721034 | Currents -subsurface Eulerian | 2009-12-10 18:30:00 | 56.01183 S, 57.82767 W | RRS James Cook JC041 (UKD-1) |
| 1721046 | Currents -subsurface Eulerian | 2009-12-10 18:30:00 | 56.01183 S, 57.82767 W | RRS James Cook JC041 (UKD-1) |
| 1721058 | Currents -subsurface Eulerian | 2009-12-10 18:30:00 | 56.01183 S, 57.82767 W | RRS James Cook JC041 (UKD-1) |
| 1721071 | Currents -subsurface Eulerian | 2009-12-10 18:30:00 | 56.01183 S, 57.82767 W | RRS James Cook JC041 (UKD-1) |
| 1720541 | Hydrography time series at depth | 2009-12-10 18:30:01 | 56.01183 S, 57.82767 W | RRS James Cook JC041 (UKD-1) |
| 1720553 | Hydrography time series at depth | 2009-12-10 18:30:01 | 56.01183 S, 57.82767 W | RRS James Cook JC041 (UKD-1) |
| 1720565 | Hydrography time series at depth | 2009-12-10 18:30:01 | 56.01183 S, 57.82767 W | RRS James Cook JC041 (UKD-1) |
| 1720577 | Hydrography time series at depth | 2009-12-10 18:30:01 | 56.01183 S, 57.82767 W | RRS James Cook JC041 (UKD-1) |
| 1720589 | Hydrography time series at depth | 2009-12-10 18:30:01 | 56.01183 S, 57.82767 W | RRS James Cook JC041 (UKD-1) |
| 1720590 | Hydrography time series at depth | 2009-12-10 18:30:01 | 56.01183 S, 57.82767 W | RRS James Cook JC041 (UKD-1) |
| 1720608 | Hydrography time series at depth | 2009-12-10 18:30:01 | 56.01183 S, 57.82767 W | RRS James Cook JC041 (UKD-1) |
| 1720621 | Hydrography time series at depth | 2009-12-10 18:30:01 | 56.01183 S, 57.82767 W | RRS James Cook JC041 (UKD-1) |
| 1720633 | Hydrography time series at depth | 2009-12-10 18:30:01 | 56.01183 S, 57.82767 W | RRS James Cook JC041 (UKD-1) |
| 1720645 | Hydrography time series at depth | 2009-12-10 18:30:01 | 56.01183 S, 57.82767 W | RRS James Cook JC041 (UKD-1) |
| 1720657 | Hydrography time series at depth | 2009-12-10 18:30:01 | 56.01183 S, 57.82767 W | RRS James Cook JC041 (UKD-1) |
| 1720669 | Hydrography time series at depth | 2009-12-10 18:30:01 | 56.01183 S, 57.82767 W | RRS James Cook JC041 (UKD-1) |
| 1720934 | Currents -subsurface Eulerian | 2009-12-11 15:00:00 | 56.06067 S, 57.90867 W | RRS James Cook JC041 (UKD-1) |
| 1721218 | Currents -subsurface Eulerian | 2009-12-11 15:00:00 | 56.06067 S, 57.90867 W | RRS James Cook JC041 (UKD-1) |
| 1721231 | Currents -subsurface Eulerian | 2009-12-11 15:00:00 | 56.06067 S, 57.90867 W | RRS James Cook JC041 (UKD-1) |
| 1721243 | Currents -subsurface Eulerian | 2009-12-11 15:00:00 | 56.06067 S, 57.90867 W | RRS James Cook JC041 (UKD-1) |
| 1721255 | Currents -subsurface Eulerian | 2009-12-11 15:00:00 | 56.06067 S, 57.90867 W | RRS James Cook JC041 (UKD-1) |
| 1720842 | Hydrography time series at depth | 2009-12-11 15:00:00 | 56.06067 S, 57.90867 W | RRS James Cook JC041 (UKD-1) |
| 1720854 | Hydrography time series at depth | 2009-12-11 15:00:00 | 56.06067 S, 57.90867 W | RRS James Cook JC041 (UKD-1) |
| 1720866 | Hydrography time series at depth | 2009-12-11 15:00:00 | 56.06067 S, 57.90867 W | RRS James Cook JC041 (UKD-1) |
| 1720878 | Hydrography time series at depth | 2009-12-11 15:00:00 | 56.06067 S, 57.90867 W | RRS James Cook JC041 (UKD-1) |
| 1720891 | Hydrography time series at depth | 2009-12-11 15:00:00 | 56.06067 S, 57.90867 W | RRS James Cook JC041 (UKD-1) |
| 1720682 | Hydrography time series at depth | 2009-12-11 19:20:00 | 56.023 S, 57.7835 W | RRS James Cook JC041 (UKD-1) |
| 1720909 | Currents -subsurface Eulerian | 2009-12-11 19:40:00 | 56.023 S, 57.7835 W | RRS James Cook JC041 (UKD-1) |
| 1720910 | Currents -subsurface Eulerian | 2009-12-11 19:40:00 | 56.023 S, 57.7835 W | RRS James Cook JC041 (UKD-1) |
| 1720670 | Hydrography time series at depth | 2009-12-31 23:00:00 | 56.023 S, 57.7835 W | RRS James Cook JC041 (UKD-1) |
| 1650129 | Currents -subsurface Eulerian | 2010-12-07 03:51:45 | 55.95714 S, 57.92298 W | RRS James Cook JC054 (UKD-2) |
| 1133839 | CTD or STD cast | 2010-12-07 22:08:52 | 61.0465 S, 54.5841 W | RRS James Clark Ross JR20101205 (JR242) |
| 1133840 | CTD or STD cast | 2010-12-07 23:17:26 | 60.981 S, 54.6298 W | RRS James Clark Ross JR20101205 (JR242) |
| 1133852 | CTD or STD cast | 2010-12-08 00:52:27 | 60.8504 S, 54.711 W | RRS James Clark Ross JR20101205 (JR242) |
| 1133864 | CTD or STD cast | 2010-12-08 02:02:39 | 60.8333 S, 54.7211 W | RRS James Clark Ross JR20101205 (JR242) |
| 1650130 | Currents -subsurface Eulerian | 2010-12-08 02:30:49 | 55.96438 S, 57.91398 W | RRS James Cook JC054 (UKD-2) |
| 1133876 | CTD or STD cast | 2010-12-08 03:51:34 | 60.7984 S, 54.7393 W | RRS James Clark Ross JR20101205 (JR242) |
| 1133888 | CTD or STD cast | 2010-12-08 06:39:57 | 60.6668 S, 54.8173 W | RRS James Clark Ross JR20101205 (JR242) |
| 1650074 | CTD or STD cast | 2010-12-08 08:58:00 | 55.9966 S, 57.9126 W | RRS James Cook JC054 (UKD-2) |
| 1650142 | Currents -subsurface Eulerian | 2010-12-08 09:19:05 | 55.99842 S, 57.91277 W | RRS James Cook JC054 (UKD-2) |
| 1133907 | CTD or STD cast | 2010-12-08 10:52:41 | 60.3344 S, 55.0364 W | RRS James Clark Ross JR20101205 (JR242) |
| 1133919 | CTD or STD cast | 2010-12-08 15:13:48 | 60.0022 S, 55.2417 W | RRS James Clark Ross JR20101205 (JR242) |
| 1650086 | CTD or STD cast | 2010-12-08 17:32:00 | 56.0284 S, 57.9107 W | RRS James Cook JC054 (UKD-2) |
| 1650154 | Currents -subsurface Eulerian | 2010-12-08 18:05:44 | 56.03272 S, 57.91042 W | RRS James Cook JC054 (UKD-2) |
| 1650166 | Currents -subsurface Eulerian | 2010-12-09 01:55:31 | 56.06286 S, 57.90834 W | RRS James Cook JC054 (UKD-2) |
| 1650098 | CTD or STD cast | 2010-12-09 08:07:00 | 56.0603 S, 57.867 W | RRS James Cook JC054 (UKD-2) |
| 1650178 | Currents -subsurface Eulerian | 2010-12-09 08:25:46 | 56.05974 S, 57.8671 W | RRS James Cook JC054 (UKD-2) |
| 1650105 | CTD or STD cast | 2010-12-09 14:17:00 | 56.0277 S, 57.8687 W | RRS James Cook JC054 (UKD-2) |
| 1650191 | Currents -subsurface Eulerian | 2010-12-09 14:41:01 | 56.03048 S, 57.86742 W | RRS James Cook JC054 (UKD-2) |
| 1650209 | Currents -subsurface Eulerian | 2010-12-09 17:31:26 | 56.03788 S, 57.86478 W | RRS James Cook JC054 (UKD-2) |
| 1133920 | CTD or STD cast | 2010-12-09 20:52:15 | 55.1715 S, 58.2312 W | RRS James Clark Ross JR20101205 (JR242) |
| 1650210 | Currents -subsurface Eulerian | 2010-12-09 23:29:06 | 55.99542 S, 57.87158 W | RRS James Cook JC054 (UKD-2) |
| 1650117 | CTD or STD cast | 2010-12-10 06:24:00 | 55.9637 S, 57.872 W | RRS James Cook JC054 (UKD-2) |
| 1650222 | Currents -subsurface Eulerian | 2010-12-10 06:51:25 | 55.9654 S, 57.87192 W | RRS James Cook JC054 (UKD-2) |
| 1719828 | Currents -subsurface Eulerian | 2010-12-18 22:00:00 | 56.01142 S, 57.82862 W | RRS James Cook JC054 (UKD-2) |
| 1719841 | Currents -subsurface Eulerian | 2010-12-18 22:00:00 | 56.01142 S, 57.82862 W | RRS James Cook JC054 (UKD-2) |
| 1719853 | Currents -subsurface Eulerian | 2010-12-18 22:00:00 | 56.01142 S, 57.82862 W | RRS James Cook JC054 (UKD-2) |
| 1719865 | Currents -subsurface Eulerian | 2010-12-18 22:00:00 | 56.01142 S, 57.82862 W | RRS James Cook JC054 (UKD-2) |
| 1719877 | Currents -subsurface Eulerian | 2010-12-18 22:00:00 | 56.01142 S, 57.82862 W | RRS James Cook JC054 (UKD-2) |
| 1719889 | Currents -subsurface Eulerian | 2010-12-18 22:00:00 | 56.01142 S, 57.82862 W | RRS James Cook JC054 (UKD-2) |
| 1719890 | Currents -subsurface Eulerian | 2010-12-18 22:00:00 | 56.01142 S, 57.82862 W | RRS James Cook JC054 (UKD-2) |
| 1719908 | Currents -subsurface Eulerian | 2010-12-18 22:00:00 | 56.01142 S, 57.82862 W | RRS James Cook JC054 (UKD-2) |
| 1719921 | Currents -subsurface Eulerian | 2010-12-18 22:00:00 | 56.01142 S, 57.82862 W | RRS James Cook JC054 (UKD-2) |
| 1719933 | Currents -subsurface Eulerian | 2010-12-18 22:00:00 | 56.01142 S, 57.82862 W | RRS James Cook JC054 (UKD-2) |
| 1719945 | Currents -subsurface Eulerian | 2010-12-18 22:00:00 | 56.01142 S, 57.82862 W | RRS James Cook JC054 (UKD-2) |
| 1719957 | Currents -subsurface Eulerian | 2010-12-18 22:00:00 | 56.01142 S, 57.82862 W | RRS James Cook JC054 (UKD-2) |
| 1719459 | Hydrography time series at depth | 2010-12-18 22:00:00 | 56.01142 S, 57.82862 W | RRS James Cook JC054 (UKD-2) |
| 1719460 | Hydrography time series at depth | 2010-12-18 22:00:00 | 56.01142 S, 57.82862 W | RRS James Cook JC054 (UKD-2) |
| 1719472 | Hydrography time series at depth | 2010-12-18 22:00:00 | 56.01142 S, 57.82862 W | RRS James Cook JC054 (UKD-2) |
| 1719484 | Hydrography time series at depth | 2010-12-18 22:00:00 | 56.01142 S, 57.82862 W | RRS James Cook JC054 (UKD-2) |
| 1719496 | Hydrography time series at depth | 2010-12-18 22:00:00 | 56.01142 S, 57.82862 W | RRS James Cook JC054 (UKD-2) |
| 1719503 | Hydrography time series at depth | 2010-12-18 22:00:00 | 56.01142 S, 57.82862 W | RRS James Cook JC054 (UKD-2) |
| 1719515 | Hydrography time series at depth | 2010-12-18 22:00:00 | 56.01142 S, 57.82862 W | RRS James Cook JC054 (UKD-2) |
| 1719527 | Hydrography time series at depth | 2010-12-18 22:00:00 | 56.01142 S, 57.82862 W | RRS James Cook JC054 (UKD-2) |
| 1719539 | Hydrography time series at depth | 2010-12-18 22:00:00 | 56.01142 S, 57.82862 W | RRS James Cook JC054 (UKD-2) |
| 1719540 | Hydrography time series at depth | 2010-12-18 22:00:00 | 56.01142 S, 57.82862 W | RRS James Cook JC054 (UKD-2) |
| 1719552 | Hydrography time series at depth | 2010-12-18 22:00:00 | 56.01142 S, 57.82862 W | RRS James Cook JC054 (UKD-2) |
| 1719564 | Hydrography time series at depth | 2010-12-18 22:00:00 | 56.01142 S, 57.82862 W | RRS James Cook JC054 (UKD-2) |
| 1650234 | Currents -subsurface Eulerian | 2010-12-18 23:39:54 | 56.05854 S, 57.74436 W | RRS James Cook JC054 (UKD-2) |
| 1650246 | Currents -subsurface Eulerian | 2010-12-19 06:09:42 | 56.02622 S, 57.74117 W | RRS James Cook JC054 (UKD-2) |
| 1719969 | Currents -subsurface Eulerian | 2010-12-19 18:30:00 | 56.02202 S, 57.78337 W | RRS James Cook JC054 (UKD-2) |
| 1719970 | Currents -subsurface Eulerian | 2010-12-19 18:30:00 | 56.02202 S, 57.78337 W | RRS James Cook JC054 (UKD-2) |
| 1719576 | Hydrography time series at depth | 2010-12-19 18:30:01 | 56.02202 S, 57.78337 W | RRS James Cook JC054 (UKD-2) |
| 1719588 | Hydrography time series at depth | 2010-12-19 18:30:01 | 56.02202 S, 57.78337 W | RRS James Cook JC054 (UKD-2) |
| 1720006 | Currents -subsurface Eulerian | 2010-12-19 23:30:00 | 55.96343 S, 57.91327 W | RRS James Cook JC054 (UKD-2) |
| 1720031 | Currents -subsurface Eulerian | 2010-12-19 23:30:00 | 56.06137 S, 57.91275 W | RRS James Cook JC054 (UKD-2) |
| 1719656 | Hydrography time series at depth | 2010-12-19 23:30:00 | 55.96343 S, 57.91327 W | RRS James Cook JC054 (UKD-2) |
| 1719668 | Hydrography time series at depth | 2010-12-19 23:30:00 | 55.96343 S, 57.91327 W | RRS James Cook JC054 (UKD-2) |
| 1719681 | Hydrography time series at depth | 2010-12-19 23:30:00 | 55.96343 S, 57.91327 W | RRS James Cook JC054 (UKD-2) |
| 1719693 | Hydrography time series at depth | 2010-12-19 23:30:00 | 55.96343 S, 57.91327 W | RRS James Cook JC054 (UKD-2) |
| 1719700 | Hydrography time series at depth | 2010-12-19 23:30:00 | 55.96343 S, 57.91327 W | RRS James Cook JC054 (UKD-2) |
| 1719773 | Hydrography time series at depth | 2010-12-19 23:30:00 | 56.06137 S, 57.91275 W | RRS James Cook JC054 (UKD-2) |
| 1719785 | Hydrography time series at depth | 2010-12-19 23:30:00 | 56.06137 S, 57.91275 W | RRS James Cook JC054 (UKD-2) |
| 1719797 | Hydrography time series at depth | 2010-12-19 23:30:00 | 56.06137 S, 57.91275 W | RRS James Cook JC054 (UKD-2) |
| 1719804 | Hydrography time series at depth | 2010-12-19 23:30:00 | 56.06137 S, 57.91275 W | RRS James Cook JC054 (UKD-2) |
| 1719816 | Hydrography time series at depth | 2010-12-19 23:30:00 | 56.06137 S, 57.91275 W | RRS James Cook JC054 (UKD-2) |
| 1720079 | Currents -subsurface Eulerian | 2010-12-19 23:30:03 | 55.96343 S, 57.91327 W | RRS James Cook JC054 (UKD-2) |
| 1720080 | Currents -subsurface Eulerian | 2010-12-19 23:30:03 | 55.96343 S, 57.91327 W | RRS James Cook JC054 (UKD-2) |
| 1720092 | Currents -subsurface Eulerian | 2010-12-19 23:30:03 | 55.96343 S, 57.91327 W | RRS James Cook JC054 (UKD-2) |
| 1720111 | Currents -subsurface Eulerian | 2010-12-19 23:30:03 | 55.96343 S, 57.91327 W | RRS James Cook JC054 (UKD-2) |
| 1720160 | Currents -subsurface Eulerian | 2010-12-19 23:30:03 | 56.06137 S, 57.91275 W | RRS James Cook JC054 (UKD-2) |
| 1720172 | Currents -subsurface Eulerian | 2010-12-19 23:30:03 | 56.06137 S, 57.91275 W | RRS James Cook JC054 (UKD-2) |
| 1720184 | Currents -subsurface Eulerian | 2010-12-19 23:30:03 | 56.06137 S, 57.91275 W | RRS James Cook JC054 (UKD-2) |
| 1720196 | Currents -subsurface Eulerian | 2010-12-19 23:30:03 | 56.06137 S, 57.91275 W | RRS James Cook JC054 (UKD-2) |
| 1650258 | Currents -subsurface Eulerian | 2010-12-20 01:21:50 | 55.99622 S, 57.7443 W | RRS James Cook JC054 (UKD-2) |
| 1649884 | CTD or STD cast | 2010-12-20 06:23:00 | 55.9629 S, 57.7442 W | RRS James Cook JC054 (UKD-2) |
| 1650271 | Currents -subsurface Eulerian | 2010-12-20 06:42:52 | 55.96482 S, 57.74419 W | RRS James Cook JC054 (UKD-2) |
| 1719712 | Hydrography time series at depth | 2010-12-20 16:45:00 | 56.05567 S, 57.75047 W | RRS James Cook JC054 (UKD-2) |
| 1719724 | Hydrography time series at depth | 2010-12-20 16:45:00 | 56.05567 S, 57.75047 W | RRS James Cook JC054 (UKD-2) |
| 1719736 | Hydrography time series at depth | 2010-12-20 16:45:00 | 56.05567 S, 57.75047 W | RRS James Cook JC054 (UKD-2) |
| 1719748 | Hydrography time series at depth | 2010-12-20 16:45:00 | 56.05567 S, 57.75047 W | RRS James Cook JC054 (UKD-2) |
| 1719761 | Hydrography time series at depth | 2010-12-20 16:45:00 | 56.05567 S, 57.75047 W | RRS James Cook JC054 (UKD-2) |
| 1720123 | Currents -subsurface Eulerian | 2010-12-20 16:59:57 | 56.05567 S, 57.75047 W | RRS James Cook JC054 (UKD-2) |
| 1720135 | Currents -subsurface Eulerian | 2010-12-20 16:59:57 | 56.05567 S, 57.75047 W | RRS James Cook JC054 (UKD-2) |
| 1720147 | Currents -subsurface Eulerian | 2010-12-20 16:59:57 | 56.05567 S, 57.75047 W | RRS James Cook JC054 (UKD-2) |
| 1720159 | Currents -subsurface Eulerian | 2010-12-20 16:59:57 | 56.05567 S, 57.75047 W | RRS James Cook JC054 (UKD-2) |
| 1720018 | Currents -subsurface Eulerian | 2010-12-20 17:00:00 | 56.05567 S, 57.75047 W | RRS James Cook JC054 (UKD-2) |
| 1719982 | Currents -subsurface Eulerian | 2010-12-20 20:45:00 | 55.96197 S, 57.74628 W | RRS James Cook JC054 (UKD-2) |
| 1719994 | Currents -subsurface Eulerian | 2010-12-20 20:45:00 | 55.96197 S, 57.74628 W | RRS James Cook JC054 (UKD-2) |
| 1720043 | Currents -subsurface Eulerian | 2010-12-20 20:45:01 | 55.96197 S, 57.74628 W | RRS James Cook JC054 (UKD-2) |
| 1720055 | Currents -subsurface Eulerian | 2010-12-20 20:45:01 | 55.96197 S, 57.74628 W | RRS James Cook JC054 (UKD-2) |
| 1720067 | Currents -subsurface Eulerian | 2010-12-20 20:45:01 | 55.96197 S, 57.74628 W | RRS James Cook JC054 (UKD-2) |
| 1719607 | Hydrography time series at depth | 2010-12-20 20:45:01 | 55.96197 S, 57.74628 W | RRS James Cook JC054 (UKD-2) |
| 1719619 | Hydrography time series at depth | 2010-12-20 20:45:01 | 55.96197 S, 57.74628 W | RRS James Cook JC054 (UKD-2) |
| 1719620 | Hydrography time series at depth | 2010-12-20 20:45:01 | 55.96197 S, 57.74628 W | RRS James Cook JC054 (UKD-2) |
| 1719632 | Hydrography time series at depth | 2010-12-20 20:45:01 | 55.96197 S, 57.74628 W | RRS James Cook JC054 (UKD-2) |
| 1719644 | Hydrography time series at depth | 2010-12-20 20:45:01 | 55.96197 S, 57.74628 W | RRS James Cook JC054 (UKD-2) |
| 1650283 | Currents -subsurface Eulerian | 2010-12-20 21:48:18 | 55.96386 S, 57.78812 W | RRS James Cook JC054 (UKD-2) |
| 1649896 | CTD or STD cast | 2010-12-21 02:45:00 | 55.9949 S, 57.7856 W | RRS James Cook JC054 (UKD-2) |
| 1650295 | Currents -subsurface Eulerian | 2010-12-21 03:06:30 | 55.99572 S, 57.78734 W | RRS James Cook JC054 (UKD-2) |
| 1650302 | Currents -subsurface Eulerian | 2010-12-21 08:24:43 | 56.05888 S, 57.78186 W | RRS James Cook JC054 (UKD-2) |
| 1650314 | Currents -subsurface Eulerian | 2010-12-21 13:53:20 | 56.06011 S, 57.8242 W | RRS James Cook JC054 (UKD-2) |
| 1650326 | Currents -subsurface Eulerian | 2010-12-21 19:04:03 | 56.02812 S, 57.82492 W | RRS James Cook JC054 (UKD-2) |
| 1649915 | CTD or STD cast | 2010-12-22 00:43:00 | 55.9953 S, 57.8281 W | RRS James Cook JC054 (UKD-2) |
| 1650338 | Currents -subsurface Eulerian | 2010-12-22 01:13:01 | 55.99638 S, 57.82744 W | RRS James Cook JC054 (UKD-2) |
| 1650351 | Currents -subsurface Eulerian | 2010-12-22 07:38:04 | 55.96341 S, 57.82944 W | RRS James Cook JC054 (UKD-2) |
| 1650363 | Currents -subsurface Eulerian | 2010-12-23 02:02:17 | 56.65494 S, 58.0505 W | RRS James Cook JC054 (UKD-2) |
| 1650375 | Currents -subsurface Eulerian | 2010-12-23 09:18:11 | 57.25352 S, 58.37102 W | RRS James Cook JC054 (UKD-2) |
| 1650387 | Currents -subsurface Eulerian | 2010-12-23 15:50:31 | 57.8517 S, 58.6854 W | RRS James Cook JC054 (UKD-2) |
| 1650399 | Currents -subsurface Eulerian | 2010-12-23 22:58:21 | 58.4491 S, 58.99243 W | RRS James Cook JC054 (UKD-2) |
| 1650406 | Currents -subsurface Eulerian | 2010-12-24 05:30:41 | 59.20352 S, 59.35604 W | RRS James Cook JC054 (UKD-2) |
| 1088422 | CTD or STD cast | 2010-12-25 06:57:00 | 62.8567 S, 63.52256 W | RRS James Cook JC054 (UKD-2) |
| 1649927 | CTD or STD cast | 2010-12-25 11:48:00 | 62.6035 S, 64.0843 W | RRS James Cook JC054 (UKD-2) |
| 1088434 | CTD or STD cast | 2010-12-25 12:04:00 | 62.60287 S, 64.08545 W | RRS James Cook JC054 (UKD-2) |
| 1088446 | CTD or STD cast | 2010-12-25 19:38:00 | 62.35086 S, 64.648 W | RRS James Cook JC054 (UKD-2) |
| 1649939 | CTD or STD cast | 2010-12-26 02:23:00 | 62.0974 S, 65.2032 W | RRS James Cook JC054 (UKD-2) |
| 1088471 | CTD or STD cast | 2010-12-26 02:42:00 | 62.09567 S, 65.20982 W | RRS James Cook JC054 (UKD-2) |
| 1088483 | CTD or STD cast | 2010-12-26 08:58:00 | 61.84499 S, 65.76395 W | RRS James Cook JC054 (UKD-2) |
| 1649940 | CTD or STD cast | 2010-12-26 16:48:00 | 61.4648 S, 66.6016 W | RRS James Cook JC054 (UKD-2) |
| 1088495 | CTD or STD cast | 2010-12-26 17:01:00 | 61.46475 S, 66.59983 W | RRS James Cook JC054 (UKD-2) |
| 1088502 | CTD or STD cast | 2010-12-27 01:49:00 | 61.08263 S, 67.43747 W | RRS James Cook JC054 (UKD-2) |
| 1088514 | CTD or STD cast | 2010-12-27 09:23:00 | 60.65479 S, 68.00557 W | RRS James Cook JC054 (UKD-2) |
| 1649952 | CTD or STD cast | 2010-12-27 19:48:00 | 60.1099 S, 68.04 W | RRS James Cook JC054 (UKD-2) |
| 1088526 | CTD or STD cast | 2010-12-27 21:51:00 | 60.11191 S, 68.05752 W | RRS James Cook JC054 (UKD-2) |
| 1088538 | CTD or STD cast | 2010-12-28 03:37:00 | 59.74116 S, 68.06239 W | RRS James Cook JC054 (UKD-2) |
| 1649964 | CTD or STD cast | 2010-12-28 10:00:00 | 59.3882 S, 68.0799 W | RRS James Cook JC054 (UKD-2) |
| 1088551 | CTD or STD cast | 2010-12-28 10:19:00 | 59.38238 S, 68.07612 W | RRS James Cook JC054 (UKD-2) |
| 1088563 | CTD or STD cast | 2010-12-28 17:21:00 | 59.01535 S, 68.0658 W | RRS James Cook JC054 (UKD-2) |
| 1649976 | CTD or STD cast | 2010-12-29 02:50:00 | 58.6655 S, 68.1195 W | RRS James Cook JC054 (UKD-2) |
| 1088575 | CTD or STD cast | 2010-12-29 03:20:00 | 58.65477 S, 68.10781 W | RRS James Cook JC054 (UKD-2) |
| 1088599 | CTD or STD cast | 2010-12-29 11:08:00 | 58.29855 S, 68.13619 W | RRS James Cook JC054 (UKD-2) |
| 1649988 | CTD or STD cast | 2010-12-29 21:46:00 | 57.9441 S, 68.1593 W | RRS James Cook JC054 (UKD-2) |
| 1088606 | CTD or STD cast | 2010-12-29 21:53:00 | 57.93721 S, 68.16622 W | RRS James Cook JC054 (UKD-2) |
| 1088618 | CTD or STD cast | 2010-12-30 07:20:00 | 57.58198 S, 68.18309 W | RRS James Cook JC054 (UKD-2) |
| 1650001 | CTD or STD cast | 2010-12-30 15:51:00 | 57.2215 S, 68.2 W | RRS James Cook JC054 (UKD-2) |
| 1088631 | CTD or STD cast | 2010-12-30 16:07:00 | 57.22496 S, 68.17921 W | RRS James Cook JC054 (UKD-2) |
| 1650013 | CTD or STD cast | 2010-12-30 23:43:00 | 56.8761 S, 68.2183 W | RRS James Cook JC054 (UKD-2) |
| 1088643 | CTD or STD cast | 2010-12-30 23:58:00 | 56.87767 S, 68.21201 W | RRS James Cook JC054 (UKD-2) |
| 1650025 | CTD or STD cast | 2011-01-02 03:45:00 | 64.3432 S, 78.9998 W | RRS James Cook JC054 (UKD-2) |
| 1650615 | Currents -subsurface Eulerian | 2011-01-02 04:01:10 | 64.34368 S, 78.9984 W | RRS James Cook JC054 (UKD-2) |
| 1650627 | Currents -subsurface Eulerian | 2011-01-02 13:44:42 | 63.6782 S, 78.99973 W | RRS James Cook JC054 (UKD-2) |
| 1650639 | Currents -subsurface Eulerian | 2011-01-02 22:11:01 | 63.01068 S, 78.99994 W | RRS James Cook JC054 (UKD-2) |
| 1650037 | CTD or STD cast | 2011-01-03 04:48:00 | 62.3388 S, 79.0 W | RRS James Cook JC054 (UKD-2) |
| 1650640 | Currents -subsurface Eulerian | 2011-01-03 05:03:34 | 62.3394 S, 78.99866 W | RRS James Cook JC054 (UKD-2) |
| 1650652 | Currents -subsurface Eulerian | 2011-01-03 13:55:00 | 61.6562 S, 79.00004 W | RRS James Cook JC054 (UKD-2) |
| 1650664 | Currents -subsurface Eulerian | 2011-01-03 20:14:21 | 60.99878 S, 79.0017 W | RRS James Cook JC054 (UKD-2) |
| 1650049 | CTD or STD cast | 2011-01-04 02:02:00 | 60.5175 S, 78.9994 W | RRS James Cook JC054 (UKD-2) |
| 1650676 | Currents -subsurface Eulerian | 2011-01-04 02:18:04 | 60.51788 S, 78.99952 W | RRS James Cook JC054 (UKD-2) |
| 1650688 | Currents -subsurface Eulerian | 2011-01-04 11:59:28 | 59.79994 S, 79.0 W | RRS James Cook JC054 (UKD-2) |
| 1650707 | Currents -subsurface Eulerian | 2011-01-04 18:50:33 | 59.07172 S, 79.00026 W | RRS James Cook JC054 (UKD-2) |
| 1650050 | CTD or STD cast | 2011-01-05 01:36:00 | 58.4289 S, 79.0008 W | RRS James Cook JC054 (UKD-2) |
| 1650719 | Currents -subsurface Eulerian | 2011-01-05 01:54:00 | 58.4293 S, 79.00102 W | RRS James Cook JC054 (UKD-2) |
| 1650720 | Currents -subsurface Eulerian | 2011-01-05 13:06:36 | 57.7861 S, 79.00003 W | RRS James Cook JC054 (UKD-2) |
| 1650062 | CTD or STD cast | 2011-01-06 16:46:00 | 55.1744 S, 77.5343 W | RRS James Cook JC054 (UKD-2) |
| 1813521 | Currents -subsurface Eulerian | 2011-04-11 15:44:18 | 56.49991 S, 77.99994 W | RRS James Clark Ross JR20110409 (JR276, UKD-2.5) |
| 1717662 | Currents -subsurface Eulerian | 2011-04-11 15:49:19 | 56.49995 S, 77.99996 W | RRS James Clark Ross JR20110409 (JR276, UKD-2.5) |
| 1717674 | Currents -subsurface Eulerian | 2011-04-12 02:13:27 | 56.91664 S, 77.99983 W | RRS James Clark Ross JR20110409 (JR276, UKD-2.5) |
| 1717686 | Currents -subsurface Eulerian | 2011-04-12 07:37:22 | 57.33327 S, 77.99987 W | RRS James Clark Ross JR20110409 (JR276, UKD-2.5) |
| 1717698 | Currents -subsurface Eulerian | 2011-04-12 12:32:18 | 57.74993 S, 77.9997 W | RRS James Clark Ross JR20110409 (JR276, UKD-2.5) |
| 1717705 | Currents -subsurface Eulerian | 2011-04-12 19:23:23 | 58.16665 S, 77.99997 W | RRS James Clark Ross JR20110409 (JR276, UKD-2.5) |
| 1717717 | Currents -subsurface Eulerian | 2011-04-13 00:30:04 | 58.58329 S, 77.99974 W | RRS James Clark Ross JR20110409 (JR276, UKD-2.5) |
| 1716450 | CTD or STD cast | 2011-04-13 06:09:00 | 59.0 S, 78.0 W | RRS James Clark Ross JR20110409 (JR276, UKD-2.5) |
| 1717729 | Currents -subsurface Eulerian | 2011-04-13 06:30:53 | 58.99995 S, 77.99942 W | RRS James Clark Ross JR20110409 (JR276, UKD-2.5) |
| 1717730 | Currents -subsurface Eulerian | 2011-04-13 13:47:10 | 59.20002 S, 77.99995 W | RRS James Clark Ross JR20110409 (JR276, UKD-2.5) |
| 1717742 | Currents -subsurface Eulerian | 2011-04-13 21:13:00 | 59.60005 S, 77.99962 W | RRS James Clark Ross JR20110409 (JR276, UKD-2.5) |
| 1717754 | Currents -subsurface Eulerian | 2011-04-14 04:31:38 | 59.79997 S, 77.99995 W | RRS James Clark Ross JR20110409 (JR276, UKD-2.5) |
| 1717766 | Currents -subsurface Eulerian | 2011-04-14 08:26:34 | 59.99978 S, 78.00023 W | RRS James Clark Ross JR20110409 (JR276, UKD-2.5) |
| 1717778 | Currents -subsurface Eulerian | 2011-04-14 11:37:27 | 60.11755 S, 77.99997 W | RRS James Clark Ross JR20110409 (JR276, UKD-2.5) |
| 1716462 | CTD or STD cast | 2011-04-14 15:01:00 | 60.235 S, 77.9997 W | RRS James Clark Ross JR20110409 (JR276, UKD-2.5) |
| 1717791 | Currents -subsurface Eulerian | 2011-04-14 15:21:14 | 60.23518 S, 78.00006 W | RRS James Clark Ross JR20110409 (JR276, UKD-2.5) |
| 1717809 | Currents -subsurface Eulerian | 2011-04-15 01:48:30 | 60.35304 S, 77.99974 W | RRS James Clark Ross JR20110409 (JR276, UKD-2.5) |
| 1717810 | Currents -subsurface Eulerian | 2011-04-15 04:48:25 | 60.47126 S, 77.99902 W | RRS James Clark Ross JR20110409 (JR276, UKD-2.5) |
| 1717822 | Currents -subsurface Eulerian | 2011-04-15 07:39:02 | 60.58818 S, 77.99923 W | RRS James Clark Ross JR20110409 (JR276, UKD-2.5) |
| 1717834 | Currents -subsurface Eulerian | 2011-04-15 10:35:04 | 60.70603 S, 78.00132 W | RRS James Clark Ross JR20110409 (JR276, UKD-2.5) |
| 1717846 | Currents -subsurface Eulerian | 2011-04-15 13:20:31 | 60.82376 S, 78.0022 W | RRS James Clark Ross JR20110409 (JR276, UKD-2.5) |
| 1717858 | Currents -subsurface Eulerian | 2011-04-15 16:08:13 | 60.9411 S, 77.99954 W | RRS James Clark Ross JR20110409 (JR276, UKD-2.5) |
| 1717871 | Currents -subsurface Eulerian | 2011-04-15 18:54:10 | 61.05856 S, 77.99926 W | RRS James Clark Ross JR20110409 (JR276, UKD-2.5) |
| 1717883 | Currents -subsurface Eulerian | 2011-04-15 21:41:05 | 61.17634 S, 78.00009 W | RRS James Clark Ross JR20110409 (JR276, UKD-2.5) |
| 1717895 | Currents -subsurface Eulerian | 2011-04-16 00:27:51 | 61.29395 S, 77.99997 W | RRS James Clark Ross JR20110409 (JR276, UKD-2.5) |
| 1716474 | CTD or STD cast | 2011-04-16 03:37:00 | 61.4118 S, 77.9995 W | RRS James Clark Ross JR20110409 (JR276, UKD-2.5) |
| 1717902 | Currents -subsurface Eulerian | 2011-04-16 03:52:01 | 61.41184 S, 77.99995 W | RRS James Clark Ross JR20110409 (JR276, UKD-2.5) |
| 1717914 | Currents -subsurface Eulerian | 2011-04-16 10:37:46 | 61.52975 S, 78.00004 W | RRS James Clark Ross JR20110409 (JR276, UKD-2.5) |
| 1717926 | Currents -subsurface Eulerian | 2011-04-16 13:26:25 | 61.64708 S, 78.00038 W | RRS James Clark Ross JR20110409 (JR276, UKD-2.5) |
| 1717938 | Currents -subsurface Eulerian | 2011-04-16 16:16:38 | 61.76471 S, 77.99952 W | RRS James Clark Ross JR20110409 (JR276, UKD-2.5) |
| 1717951 | Currents -subsurface Eulerian | 2011-04-16 19:02:58 | 61.88232 S, 77.99978 W | RRS James Clark Ross JR20110409 (JR276, UKD-2.5) |
| 1717963 | Currents -subsurface Eulerian | 2011-04-16 21:34:31 | 62.00021 S, 78.00052 W | RRS James Clark Ross JR20110409 (JR276, UKD-2.5) |
| 1716486 | CTD or STD cast | 2011-04-17 01:07:00 | 62.2222 S, 78.0 W | RRS James Clark Ross JR20110409 (JR276, UKD-2.5) |
| 1717975 | Currents -subsurface Eulerian | 2011-04-17 01:31:48 | 62.22217 S, 77.99999 W | RRS James Clark Ross JR20110409 (JR276, UKD-2.5) |
| 1717987 | Currents -subsurface Eulerian | 2011-04-17 08:12:02 | 62.44429 S, 77.99986 W | RRS James Clark Ross JR20110409 (JR276, UKD-2.5) |
| 1717999 | Currents -subsurface Eulerian | 2011-04-17 11:27:45 | 62.66658 S, 78.0001 W | RRS James Clark Ross JR20110409 (JR276, UKD-2.5) |
| 1718002 | Currents -subsurface Eulerian | 2011-04-17 14:50:20 | 62.88876 S, 77.9998 W | RRS James Clark Ross JR20110409 (JR276, UKD-2.5) |
| 1716498 | CTD or STD cast | 2011-04-17 18:19:00 | 63.11033 S, 77.99883 W | RRS James Clark Ross JR20110409 (JR276, UKD-2.5) |
| 1718014 | Currents -subsurface Eulerian | 2011-04-17 18:37:19 | 63.11133 S, 77.99894 W | RRS James Clark Ross JR20110409 (JR276, UKD-2.5) |
| 1718026 | Currents -subsurface Eulerian | 2011-04-18 01:09:33 | 63.33327 S, 78.00008 W | RRS James Clark Ross JR20110409 (JR276, UKD-2.5) |
| 1718038 | Currents -subsurface Eulerian | 2011-04-18 04:22:01 | 63.5554 S, 78.0005 W | RRS James Clark Ross JR20110409 (JR276, UKD-2.5) |
| 1718051 | Currents -subsurface Eulerian | 2011-04-18 07:28:15 | 63.77755 S, 77.99994 W | RRS James Clark Ross JR20110409 (JR276, UKD-2.5) |
| 1716505 | CTD or STD cast | 2011-04-18 11:15:00 | 63.99833 S, 77.9995 W | RRS James Clark Ross JR20110409 (JR276, UKD-2.5) |
| 1718063 | Currents -subsurface Eulerian | 2011-04-18 11:27:39 | 63.99908 S, 77.99967 W | RRS James Clark Ross JR20110409 (JR276, UKD-2.5) |
| 1716517 | CTD or STD cast | 2011-04-21 09:47:00 | 58.9994 S, 55.8543 W | RRS James Clark Ross JR20110409 (JR276, UKD-2.5) |
| 1089197 | CTD or STD cast | 2011-04-21 09:53:08 | 59.00032 S, 55.85588 W | RRS James Clark Ross JR20110409 (JR276, UKD-2.5) |
| 1089204 | CTD or STD cast | 2011-04-21 16:07:59 | 58.68449 S, 56.05512 W | RRS James Clark Ross JR20110409 (JR276, UKD-2.5) |
| 1716529 | CTD or STD cast | 2011-04-21 21:59:00 | 58.366 S, 56.2488 W | RRS James Clark Ross JR20110409 (JR276, UKD-2.5) |
| 1089216 | CTD or STD cast | 2011-04-21 22:14:12 | 58.36028 S, 56.22944 W | RRS James Clark Ross JR20110409 (JR276, UKD-2.5) |
| 1089228 | CTD or STD cast | 2011-04-22 05:34:10 | 58.05047 S, 56.44598 W | RRS James Clark Ross JR20110409 (JR276, UKD-2.5) |
| 1089241 | CTD or STD cast | 2011-04-22 11:31:28 | 57.73355 S, 56.64028 W | RRS James Clark Ross JR20110409 (JR276, UKD-2.5) |
| 1716401 | CTD or STD cast | 2011-04-22 17:26:00 | 57.4158 S, 56.8407 W | RRS James Clark Ross JR20110409 (JR276, UKD-2.5) |
| 1089253 | CTD or STD cast | 2011-04-22 17:31:50 | 57.41569 S, 56.83976 W | RRS James Clark Ross JR20110409 (JR276, UKD-2.5) |
| 1089265 | CTD or STD cast | 2011-04-23 12:24:27 | 57.09461 S, 57.03438 W | RRS James Clark Ross JR20110409 (JR276, UKD-2.5) |
| 1716413 | CTD or STD cast | 2011-04-23 19:06:00 | 56.7833 S, 57.2295 W | RRS James Clark Ross JR20110409 (JR276, UKD-2.5) |
| 1089277 | CTD or STD cast | 2011-04-23 19:18:51 | 56.78234 S, 57.22889 W | RRS James Clark Ross JR20110409 (JR276, UKD-2.5) |
| 1716425 | CTD or STD cast | 2011-04-24 03:06:00 | 56.468 S, 57.42483 W | RRS James Clark Ross JR20110409 (JR276, UKD-2.5) |
| 1089289 | CTD or STD cast | 2011-04-24 03:12:07 | 56.46789 S, 57.42486 W | RRS James Clark Ross JR20110409 (JR276, UKD-2.5) |
| 1089308 | CTD or STD cast | 2011-04-24 07:00:17 | 56.46723 S, 57.42493 W | RRS James Clark Ross JR20110409 (JR276, UKD-2.5) |
| 1089321 | CTD or STD cast | 2011-04-24 11:29:24 | 56.15437 S, 57.60453 W | RRS James Clark Ross JR20110409 (JR276, UKD-2.5) |
| 1716437 | CTD or STD cast | 2011-04-24 16:52:00 | 55.834 S, 57.737 W | RRS James Clark Ross JR20110409 (JR276, UKD-2.5) |
| 1089333 | CTD or STD cast | 2011-04-24 17:00:06 | 55.84134 S, 57.8088 W | RRS James Clark Ross JR20110409 (JR276, UKD-2.5) |
| 1089345 | CTD or STD cast | 2011-04-25 00:43:19 | 55.51916 S, 58.01485 W | RRS James Clark Ross JR20110409 (JR276, UKD-2.5) |
| 1716449 | CTD or STD cast | 2011-04-25 06:02:00 | 55.141 S, 57.999 W | RRS James Clark Ross JR20110409 (JR276, UKD-2.5) |
| 1089357 | CTD or STD cast | 2011-04-25 06:09:18 | 55.14169 S, 57.99991 W | RRS James Clark Ross JR20110409 (JR276, UKD-2.5) |
| 1089369 | CTD or STD cast | 2011-04-25 14:29:46 | 55.06718 S, 57.97362 W | RRS James Clark Ross JR20110409 (JR276, UKD-2.5) |
| 1812197 | Currents -subsurface Eulerian | 2012-01-31 17:31:20 | 35.04032 S, 55.95255 W | RRS James Cook JC069 (UKD-3) |
| 1812204 | Currents -subsurface Eulerian | 2012-01-31 17:31:36 | 35.04054 S, 55.95143 W | RRS James Cook JC069 (UKD-3) |
| 1838317 | CTD or STD cast | 2012-02-03 14:42:00 | 45.5833 S, 53.6 W | RRS James Cook JC069 (UKD-3) |
| 1838329 | CTD or STD cast | 2012-02-08 04:07:00 | 53.9677 S, 53.5128 W | RRS James Cook JC069 (UKD-3) |
| 1838330 | CTD or STD cast | 2012-02-09 02:24:00 | 53.3833 S, 50.0833 W | RRS James Cook JC069 (UKD-3) |
| 1838342 | CTD or STD cast | 2012-02-10 15:30:00 | 53.341 S, 49.071 W | RRS James Cook JC069 (UKD-3) |
| 1838354 | CTD or STD cast | 2012-02-11 02:44:00 | 53.3595 S, 49.2553 W | RRS James Cook JC069 (UKD-3) |
| 1838366 | CTD or STD cast | 2012-02-11 09:30:00 | 53.3003 S, 48.929 W | RRS James Cook JC069 (UKD-3) |
| 1838378 | CTD or STD cast | 2012-02-14 09:18:00 | 53.131 S, 48.4836 W | RRS James Cook JC069 (UKD-3) |
| 1838391 | CTD or STD cast | 2012-02-14 15:37:00 | 53.2167 S, 48.7843 W | RRS James Cook JC069 (UKD-3) |
| 1838409 | CTD or STD cast | 2012-02-15 08:00:00 | 52.9282 S, 47.7494 W | RRS James Cook JC069 (UKD-3) |
| 1838410 | CTD or STD cast | 2012-02-15 13:00:00 | 53.0409 S, 48.041 W | RRS James Cook JC069 (UKD-3) |
| 1838422 | CTD or STD cast | 2012-02-15 18:51:00 | 53.0007 S, 47.4368 W | RRS James Cook JC069 (UKD-3) |
| 1838434 | CTD or STD cast | 2012-02-16 05:15:00 | 53.0938 S, 47.0809 W | RRS James Cook JC069 (UKD-3) |
| 1838446 | CTD or STD cast | 2012-02-16 22:50:00 | 54.0 S, 49.1287 W | RRS James Cook JC069 (UKD-3) |
| 1838458 | CTD or STD cast | 2012-02-19 21:05:00 | 53.9968 S, 50.347 W | RRS James Cook JC069 (UKD-3) |
| 1838471 | CTD or STD cast | 2012-02-20 12:33:00 | 54.0022 S, 49.7392 W | RRS James Cook JC069 (UKD-3) |
| 1838483 | CTD or STD cast | 2012-02-26 12:51:00 | 53.4406 S, 49.0944 W | RRS James Cook JC069 (UKD-3) |
| 1838495 | CTD or STD cast | 2012-02-26 23:33:00 | 53.305 S, 48.9777 W | RRS James Cook JC069 (UKD-3) |
| 1838502 | CTD or STD cast | 2012-02-28 11:18:00 | 52.7588 S, 48.824 W | RRS James Cook JC069 (UKD-3) |
| 1838514 | CTD or STD cast | 2012-02-28 21:28:00 | 52.7877 S, 49.607 W | RRS James Cook JC069 (UKD-3) |
| 1838526 | CTD or STD cast | 2012-02-29 04:12:00 | 53.0834 S, 49.7987 W | RRS James Cook JC069 (UKD-3) |
| 1838538 | CTD or STD cast | 2012-03-01 03:44:00 | 53.1989 S, 45.5906 W | RRS James Cook JC069 (UKD-3) |
| 1838551 | CTD or STD cast | 2012-03-01 09:09:00 | 53.2574 S, 44.9927 W | RRS James Cook JC069 (UKD-3) |
| 1838563 | CTD or STD cast | 2012-03-01 13:16:00 | 53.2923 S, 44.7142 W | RRS James Cook JC069 (UKD-3) |
| 1726327 | Currents -subsurface Eulerian | 2012-03-06 02:33:25 | 56.04016 S, 57.91585 W | RRS James Cook JC069 (UKD-3) |
| 1726339 | Currents -subsurface Eulerian | 2012-03-06 04:30:06 | 56.05021 S, 57.85278 W | RRS James Cook JC069 (UKD-3) |
| 1726340 | Currents -subsurface Eulerian | 2012-03-06 05:35:42 | 56.05582 S, 57.81813 W | RRS James Cook JC069 (UKD-3) |
| 1726352 | Currents -subsurface Eulerian | 2012-03-06 17:13:08 | 56.07344 S, 57.74362 W | RRS James Cook JC069 (UKD-3) |
| 1726364 | Currents -subsurface Eulerian | 2012-03-07 06:12:59 | 55.08061 S, 57.94772 W | RRS James Cook JC069 (UKD-3) |
| 1838575 | CTD or STD cast | 2012-03-07 06:52:00 | 55.08073 S, 57.94753 W | RRS James Cook JC069 (UKD-3) |
| 1726376 | Currents -subsurface Eulerian | 2012-03-07 09:56:55 | 55.13982 S, 57.94794 W | RRS James Cook JC069 (UKD-3) |
| 1838587 | CTD or STD cast | 2012-03-07 10:21:00 | 55.14012 S, 57.9482 W | RRS James Cook JC069 (UKD-3) |
| 1726388 | Currents -subsurface Eulerian | 2012-03-07 14:20:42 | 55.21012 S, 57.94958 W | RRS James Cook JC069 (UKD-3) |
| 1838599 | CTD or STD cast | 2012-03-07 15:11:00 | 55.20922 S, 57.95327 W | RRS James Cook JC069 (UKD-3) |
| 1726407 | Currents -subsurface Eulerian | 2012-03-07 21:22:27 | 55.51954 S, 57.94687 W | RRS James Cook JC069 (UKD-3) |
| 1726419 | Currents -subsurface Eulerian | 2012-03-08 04:52:19 | 55.83835 S, 57.803 W | RRS James Cook JC069 (UKD-3) |
| 1838606 | CTD or STD cast | 2012-03-08 05:20:00 | 55.83883 S, 57.95023 W | RRS James Cook JC069 (UKD-3) |
| 1726420 | Currents -subsurface Eulerian | 2012-03-08 16:02:47 | 56.15342 S, 57.6014 W | RRS James Cook JC069 (UKD-3) |
| 1838618 | CTD or STD cast | 2012-03-08 17:10:00 | 56.15445 S, 57.5992 W | RRS James Cook JC069 (UKD-3) |
| 1726432 | Currents -subsurface Eulerian | 2012-03-08 22:57:28 | 56.46668 S, 57.42511 W | RRS James Cook JC069 (UKD-3) |
| 1726444 | Currents -subsurface Eulerian | 2012-03-09 06:25:07 | 56.78344 S, 57.21806 W | RRS James Cook JC069 (UKD-3) |
| 1838631 | CTD or STD cast | 2012-03-09 08:01:00 | 56.786 S, 57.198 W | RRS James Cook JC069 (UKD-3) |
| 1726456 | Currents -subsurface Eulerian | 2012-03-09 15:34:24 | 57.09463 S, 57.03066 W | RRS James Cook JC069 (UKD-3) |
| 1838643 | CTD or STD cast | 2012-03-09 17:23:00 | 57.0957 S, 57.01067 W | RRS James Cook JC069 (UKD-3) |
| 1726468 | Currents -subsurface Eulerian | 2012-03-10 00:05:19 | 57.41428 S, 56.83746 W | RRS James Cook JC069 (UKD-3) |
| 1726481 | Currents -subsurface Eulerian | 2012-03-10 22:53:09 | 57.73307 S, 56.63572 W | RRS James Cook JC069 (UKD-3) |
| 1838655 | CTD or STD cast | 2012-03-11 00:57:00 | 57.74217 S, 56.65117 W | RRS James Cook JC069 (UKD-3) |
| 1726493 | Currents -subsurface Eulerian | 2012-03-11 07:24:08 | 58.04922 S, 56.44143 W | RRS James Cook JC069 (UKD-3) |
| 1838667 | CTD or STD cast | 2012-03-11 08:27:00 | 58.04988 S, 56.43812 W | RRS James Cook JC069 (UKD-3) |
| 1726500 | Currents -subsurface Eulerian | 2012-03-11 15:10:46 | 58.36018 S, 56.22922 W | RRS James Cook JC069 (UKD-3) |
| 1726512 | Currents -subsurface Eulerian | 2012-03-11 21:03:37 | 58.52292 S, 56.14068 W | RRS James Cook JC069 (UKD-3) |
| 1726524 | Currents -subsurface Eulerian | 2012-03-14 03:20:37 | 61.84448 S, 65.76288 W | RRS James Cook JC069 (UKD-3) |
| 1726536 | Currents -subsurface Eulerian | 2012-03-14 11:56:39 | 61.17012 S, 67.25708 W | RRS James Cook JC069 (UKD-3) |
| 1726548 | Currents -subsurface Eulerian | 2012-03-14 20:23:30 | 60.33326 S, 67.99958 W | RRS James Cook JC069 (UKD-3) |
| 1726561 | Currents -subsurface Eulerian | 2012-03-15 06:19:10 | 59.33408 S, 67.99925 W | RRS James Cook JC069 (UKD-3) |
| 1726573 | Currents -subsurface Eulerian | 2012-03-15 18:27:08 | 58.329 S, 67.99166 W | RRS James Cook JC069 (UKD-3) |
| 1726585 | Currents -subsurface Eulerian | 2012-03-17 00:29:32 | 58.32466 S, 67.99128 W | RRS James Cook JC069 (UKD-3) |
| 1744070 | CTD or STD cast | 2013-03-18 23:16:43 | 53.2048 S, 57.3853 W | RRS James Clark Ross JR20130317 (JR252B, JR272B, JR273A, JR281, UKD-4) |
| 1736395 | Currents -subsurface Eulerian | 2013-03-18 23:17:02 | 53.20482 S, 57.38526 W | RRS James Clark Ross JR20130317 (JR252B, JR272B, JR273A, JR281, UKD-4) |
| 1744082 | CTD or STD cast | 2013-03-19 10:23:13 | 54.6668 S, 58.0 W | RRS James Clark Ross JR20130317 (JR252B, JR272B, JR273A, JR281, UKD-4) |
| 1736402 | Currents -subsurface Eulerian | 2013-03-19 10:23:35 | 54.66679 S, 58.00001 W | RRS James Clark Ross JR20130317 (JR252B, JR272B, JR273A, JR281, UKD-4) |
| 1744094 | CTD or STD cast | 2013-03-19 13:53:10 | 54.9223 S, 58.0001 W | RRS James Clark Ross JR20130317 (JR252B, JR272B, JR273A, JR281, UKD-4) |
| 1736414 | Currents -subsurface Eulerian | 2013-03-19 13:53:35 | 54.92226 S, 58.00012 W | RRS James Clark Ross JR20130317 (JR252B, JR272B, JR273A, JR281, UKD-4) |
| 1744101 | CTD or STD cast | 2013-03-19 16:12:21 | 54.9782 S, 57.9982 W | RRS James Clark Ross JR20130317 (JR252B, JR272B, JR273A, JR281, UKD-4) |
| 1736426 | Currents -subsurface Eulerian | 2013-03-19 16:12:39 | 54.97812 S, 57.99822 W | RRS James Clark Ross JR20130317 (JR252B, JR272B, JR273A, JR281, UKD-4) |
| 1744113 | CTD or STD cast | 2013-03-19 17:57:32 | 55.0065 S, 57.9954 W | RRS James Clark Ross JR20130317 (JR252B, JR272B, JR273A, JR281, UKD-4) |
| 1736438 | Currents -subsurface Eulerian | 2013-03-19 17:57:45 | 55.00644 S, 57.99545 W | RRS James Clark Ross JR20130317 (JR252B, JR272B, JR273A, JR281, UKD-4) |
| 1744125 | CTD or STD cast | 2013-03-19 21:00:27 | 55.07 S, 58.0012 W | RRS James Clark Ross JR20130317 (JR252B, JR272B, JR273A, JR281, UKD-4) |
| 1736451 | Currents -subsurface Eulerian | 2013-03-19 21:00:36 | 55.06988 S, 58.00128 W | RRS James Clark Ross JR20130317 (JR252B, JR272B, JR273A, JR281, UKD-4) |
| 1716818 | CTD or STD cast | 2013-03-19 23:50:00 | 55.1248 S, 57.9938 W | RRS James Clark Ross JR20130317 (JR252B, JR272B, JR273A, JR281, UKD-4) |
| 1744137 | CTD or STD cast | 2013-03-20 00:08:36 | 55.1212 S, 57.9985 W | RRS James Clark Ross JR20130317 (JR252B, JR272B, JR273A, JR281, UKD-4) |
| 1736463 | Currents -subsurface Eulerian | 2013-03-20 00:08:48 | 55.12108 S, 57.99846 W | RRS James Clark Ross JR20130317 (JR252B, JR272B, JR273A, JR281, UKD-4) |
| 1716831 | CTD or STD cast | 2013-03-20 04:35:00 | 55.1705 S, 57.9932 W | RRS James Clark Ross JR20130317 (JR252B, JR272B, JR273A, JR281, UKD-4) |
| 1736475 | Currents -subsurface Eulerian | 2013-03-20 04:58:48 | 55.17012 S, 57.99336 W | RRS James Clark Ross JR20130317 (JR252B, JR272B, JR273A, JR281, UKD-4) |
| 1744149 | CTD or STD cast | 2013-03-20 04:59:02 | 55.1702 S, 57.9934 W | RRS James Clark Ross JR20130317 (JR252B, JR272B, JR273A, JR281, UKD-4) |
| 1736487 | Currents -subsurface Eulerian | 2013-03-20 09:35:18 | 55.21438 S, 57.99992 W | RRS James Clark Ross JR20130317 (JR252B, JR272B, JR273A, JR281, UKD-4) |
| 1744150 | CTD or STD cast | 2013-03-20 09:35:30 | 55.2145 S, 57.9999 W | RRS James Clark Ross JR20130317 (JR252B, JR272B, JR273A, JR281, UKD-4) |
| 1736499 | Currents -subsurface Eulerian | 2013-03-20 15:35:30 | 55.51687 S, 57.96088 W | RRS James Clark Ross JR20130317 (JR252B, JR272B, JR273A, JR281, UKD-4) |
| 1744162 | CTD or STD cast | 2013-03-20 15:35:32 | 55.5149 S, 57.9467 W | RRS James Clark Ross JR20130317 (JR252B, JR272B, JR273A, JR281, UKD-4) |
| 1736506 | Currents -subsurface Eulerian | 2013-03-20 20:47:06 | 55.8328 S, 57.82052 W | RRS James Clark Ross JR20130317 (JR252B, JR272B, JR273A, JR281, UKD-4) |
| 1744174 | CTD or STD cast | 2013-03-20 20:47:22 | 55.833 S, 57.8204 W | RRS James Clark Ross JR20130317 (JR252B, JR272B, JR273A, JR281, UKD-4) |
| 1716622 | CTD or STD cast | 2013-03-20 23:02:00 | 55.8328 S, 57.8205 W | RRS James Clark Ross JR20130317 (JR252B, JR272B, JR273A, JR281, UKD-4) |
| 1716695 | CTD or STD cast | 2013-03-21 07:40:00 | 56.1496 S, 57.623 W | RRS James Clark Ross JR20130317 (JR252B, JR272B, JR273A, JR281, UKD-4) |
| 1736518 | Currents -subsurface Eulerian | 2013-03-21 07:57:30 | 56.15044 S, 57.62384 W | RRS James Clark Ross JR20130317 (JR252B, JR272B, JR273A, JR281, UKD-4) |
| 1744186 | CTD or STD cast | 2013-03-21 07:57:40 | 56.1504 S, 57.6237 W | RRS James Clark Ross JR20130317 (JR252B, JR272B, JR273A, JR281, UKD-4) |
| 1744198 | CTD or STD cast | 2013-03-21 14:25:36 | 56.4675 S, 57.4244 W | RRS James Clark Ross JR20130317 (JR252B, JR272B, JR273A, JR281, UKD-4) |
| 1736531 | Currents -subsurface Eulerian | 2013-03-21 14:25:36 | 56.46756 S, 57.42416 W | RRS James Clark Ross JR20130317 (JR252B, JR272B, JR273A, JR281, UKD-4) |
| 1716763 | CTD or STD cast | 2013-03-21 21:10:00 | 56.7848 S, 57.2282 W | RRS James Clark Ross JR20130317 (JR252B, JR272B, JR273A, JR281, UKD-4) |
| 1744205 | CTD or STD cast | 2013-03-21 21:22:59 | 56.7827 S, 57.2204 W | RRS James Clark Ross JR20130317 (JR252B, JR272B, JR273A, JR281, UKD-4) |
| 1736543 | Currents -subsurface Eulerian | 2013-03-21 21:23:10 | 56.78337 S, 57.2297 W | RRS James Clark Ross JR20130317 (JR252B, JR272B, JR273A, JR281, UKD-4) |
| 1736555 | Currents -subsurface Eulerian | 2013-03-22 03:54:23 | 57.09924 S, 57.038 W | RRS James Clark Ross JR20130317 (JR252B, JR272B, JR273A, JR281, UKD-4) |
| 1744217 | CTD or STD cast | 2013-03-22 03:58:00 | 57.0994 S, 57.038 W | RRS James Clark Ross JR20130317 (JR252B, JR272B, JR273A, JR281, UKD-4) |
| 1736567 | Currents -subsurface Eulerian | 2013-03-22 09:25:10 | 57.41514 S, 56.84034 W | RRS James Clark Ross JR20130317 (JR252B, JR272B, JR273A, JR281, UKD-4) |
| 1744229 | CTD or STD cast | 2013-03-22 09:25:39 | 57.4109 S, 56.8458 W | RRS James Clark Ross JR20130317 (JR252B, JR272B, JR273A, JR281, UKD-4) |
| 1736579 | Currents -subsurface Eulerian | 2013-03-22 14:50:32 | 57.73278 S, 56.64072 W | RRS James Clark Ross JR20130317 (JR252B, JR272B, JR273A, JR281, UKD-4) |
| 1744230 | CTD or STD cast | 2013-03-22 14:51:46 | 57.7283 S, 56.6482 W | RRS James Clark Ross JR20130317 (JR252B, JR272B, JR273A, JR281, UKD-4) |
| 1736580 | Currents -subsurface Eulerian | 2013-03-23 17:48:17 | 58.04976 S, 56.44508 W | RRS James Clark Ross JR20130317 (JR252B, JR272B, JR273A, JR281, UKD-4) |
| 1744242 | CTD or STD cast | 2013-03-23 17:49:39 | 58.0499 S, 56.4447 W | RRS James Clark Ross JR20130317 (JR252B, JR272B, JR273A, JR281, UKD-4) |
| 1736592 | Currents -subsurface Eulerian | 2013-03-23 23:31:14 | 58.36578 S, 56.24829 W | RRS James Clark Ross JR20130317 (JR252B, JR272B, JR273A, JR281, UKD-4) |
| 1744254 | CTD or STD cast | 2013-03-23 23:31:38 | 58.3666 S, 56.2501 W | RRS James Clark Ross JR20130317 (JR252B, JR272B, JR273A, JR281, UKD-4) |
| 1716775 | CTD or STD cast | 2013-03-25 00:12:00 | 58.6845 S, 56.054 W | RRS James Clark Ross JR20130317 (JR252B, JR272B, JR273A, JR281, UKD-4) |
| 1736611 | Currents -subsurface Eulerian | 2013-03-25 00:24:26 | 58.68382 S, 56.05246 W | RRS James Clark Ross JR20130317 (JR252B, JR272B, JR273A, JR281, UKD-4) |
| 1744266 | CTD or STD cast | 2013-03-25 00:24:38 | 58.6838 S, 56.0526 W | RRS James Clark Ross JR20130317 (JR252B, JR272B, JR273A, JR281, UKD-4) |
| 1736623 | Currents -subsurface Eulerian | 2013-03-25 07:07:02 | 59.00098 S, 55.85354 W | RRS James Clark Ross JR20130317 (JR252B, JR272B, JR273A, JR281, UKD-4) |
| 1744278 | CTD or STD cast | 2013-03-25 07:07:26 | 59.001 S, 55.8538 W | RRS James Clark Ross JR20130317 (JR252B, JR272B, JR273A, JR281, UKD-4) |
| 1736635 | Currents -subsurface Eulerian | 2013-03-25 12:41:12 | 59.33364 S, 55.6515 W | RRS James Clark Ross JR20130317 (JR252B, JR272B, JR273A, JR281, UKD-4) |
| 1744291 | CTD or STD cast | 2013-03-25 12:42:31 | 59.3335 S, 55.6508 W | RRS James Clark Ross JR20130317 (JR252B, JR272B, JR273A, JR281, UKD-4) |
| 1716787 | CTD or STD cast | 2013-03-25 18:28:00 | 59.6712 S, 55.4641 W | RRS James Clark Ross JR20130317 (JR252B, JR272B, JR273A, JR281, UKD-4) |
| 1736647 | Currents -subsurface Eulerian | 2013-03-25 18:39:15 | 59.66704 S, 55.44396 W | RRS James Clark Ross JR20130317 (JR252B, JR272B, JR273A, JR281, UKD-4) |
| 1744309 | CTD or STD cast | 2013-03-25 18:40:51 | 59.6671 S, 55.4441 W | RRS James Clark Ross JR20130317 (JR252B, JR272B, JR273A, JR281, UKD-4) |
| 1716799 | CTD or STD cast | 2013-03-26 01:47:00 | 59.9997 S, 55.2382 W | RRS James Clark Ross JR20130317 (JR252B, JR272B, JR273A, JR281, UKD-4) |
| 1744310 | CTD or STD cast | 2013-03-26 02:03:49 | 59.9997 S, 55.2381 W | RRS James Clark Ross JR20130317 (JR252B, JR272B, JR273A, JR281, UKD-4) |
| 1736659 | Currents -subsurface Eulerian | 2013-03-26 02:03:56 | 59.99968 S, 55.23808 W | RRS James Clark Ross JR20130317 (JR252B, JR272B, JR273A, JR281, UKD-4) |
| 1736660 | Currents -subsurface Eulerian | 2013-03-26 08:27:13 | 60.33338 S, 55.03 W | RRS James Clark Ross JR20130317 (JR252B, JR272B, JR273A, JR281, UKD-4) |
| 1744322 | CTD or STD cast | 2013-03-26 08:29:42 | 60.3328 S, 55.032 W | RRS James Clark Ross JR20130317 (JR252B, JR272B, JR273A, JR281, UKD-4) |
| 1716806 | CTD or STD cast | 2013-03-26 16:48:00 | 60.6668 S, 54.8248 W | RRS James Clark Ross JR20130317 (JR252B, JR272B, JR273A, JR281, UKD-4) |
| 1736672 | Currents -subsurface Eulerian | 2013-03-26 16:55:19 | 60.6657 S, 54.8261 W | RRS James Clark Ross JR20130317 (JR252B, JR272B, JR273A, JR281, UKD-4) |
| 1744334 | CTD or STD cast | 2013-03-26 16:56:27 | 60.6657 S, 54.8262 W | RRS James Clark Ross JR20130317 (JR252B, JR272B, JR273A, JR281, UKD-4) |
| 1744346 | CTD or STD cast | 2013-03-26 22:44:19 | 60.8003 S, 54.7417 W | RRS James Clark Ross JR20130317 (JR252B, JR272B, JR273A, JR281, UKD-4) |
| 1736684 | Currents -subsurface Eulerian | 2013-03-26 22:44:30 | 60.80018 S, 54.74157 W | RRS James Clark Ross JR20130317 (JR252B, JR272B, JR273A, JR281, UKD-4) |
| 1736696 | Currents -subsurface Eulerian | 2013-03-27 02:19:45 | 60.8335 S, 54.72256 W | RRS James Clark Ross JR20130317 (JR252B, JR272B, JR273A, JR281, UKD-4) |
| 1744358 | CTD or STD cast | 2013-03-27 02:19:51 | 60.8336 S, 54.7228 W | RRS James Clark Ross JR20130317 (JR252B, JR272B, JR273A, JR281, UKD-4) |
| 1736703 | Currents -subsurface Eulerian | 2013-03-27 04:36:45 | 60.84994 S, 54.71386 W | RRS James Clark Ross JR20130317 (JR252B, JR272B, JR273A, JR281, UKD-4) |
| 1744371 | CTD or STD cast | 2013-03-27 04:39:31 | 60.8504 S, 54.7137 W | RRS James Clark Ross JR20130317 (JR252B, JR272B, JR273A, JR281, UKD-4) |
| 1736715 | Currents -subsurface Eulerian | 2013-03-27 07:04:51 | 60.98078 S, 54.62958 W | RRS James Clark Ross JR20130317 (JR252B, JR272B, JR273A, JR281, UKD-4) |
| 1744383 | CTD or STD cast | 2013-03-27 07:07:34 | 60.9808 S, 54.6294 W | RRS James Clark Ross JR20130317 (JR252B, JR272B, JR273A, JR281, UKD-4) |
| 1736727 | Currents -subsurface Eulerian | 2013-03-27 08:44:03 | 61.04722 S, 54.59194 W | RRS James Clark Ross JR20130317 (JR252B, JR272B, JR273A, JR281, UKD-4) |
| 1744395 | CTD or STD cast | 2013-03-27 08:44:16 | 61.0466 S, 54.5913 W | RRS James Clark Ross JR20130317 (JR252B, JR272B, JR273A, JR281, UKD-4) |
| 1744402 | CTD or STD cast | 2013-03-29 14:57:53 | 60.6155 S, 41.9562 W | RRS James Clark Ross JR20130317 (JR252B, JR272B, JR273A, JR281, UKD-4) |
| 1744414 | CTD or STD cast | 2013-03-29 15:49:35 | 60.616 S, 41.9715 W | RRS James Clark Ross JR20130317 (JR252B, JR272B, JR273A, JR281, UKD-4) |
| 1744426 | CTD or STD cast | 2013-03-30 01:37:41 | 60.5974 S, 41.8768 W | RRS James Clark Ross JR20130317 (JR252B, JR272B, JR273A, JR281, UKD-4) |
| 1744438 | CTD or STD cast | 2013-03-30 05:01:52 | 60.5805 S, 41.7637 W | RRS James Clark Ross JR20130317 (JR252B, JR272B, JR273A, JR281, UKD-4) |
| 1744451 | CTD or STD cast | 2013-03-30 08:06:59 | 60.5713 S, 41.698 W | RRS James Clark Ross JR20130317 (JR252B, JR272B, JR273A, JR281, UKD-4) |
| 1744463 | CTD or STD cast | 2013-03-30 14:43:36 | 60.5486 S, 41.6276 W | RRS James Clark Ross JR20130317 (JR252B, JR272B, JR273A, JR281, UKD-4) |
| 1744475 | CTD or STD cast | 2013-03-30 22:42:25 | 60.6181 S, 42.0098 W | RRS James Clark Ross JR20130317 (JR252B, JR272B, JR273A, JR281, UKD-4) |
| 1744487 | CTD or STD cast | 2013-03-31 02:08:06 | 60.6232 S, 42.0487 W | RRS James Clark Ross JR20130317 (JR252B, JR272B, JR273A, JR281, UKD-4) |
| 1744499 | CTD or STD cast | 2013-03-31 05:35:25 | 60.6321 S, 42.1148 W | RRS James Clark Ross JR20130317 (JR252B, JR272B, JR273A, JR281, UKD-4) |
| 1744506 | CTD or STD cast | 2013-03-31 17:30:52 | 60.6438 S, 42.1717 W | RRS James Clark Ross JR20130317 (JR252B, JR272B, JR273A, JR281, UKD-4) |
| 1744518 | CTD or STD cast | 2013-03-31 20:52:37 | 60.6656 S, 42.2559 W | RRS James Clark Ross JR20130317 (JR252B, JR272B, JR273A, JR281, UKD-4) |
| 1744531 | CTD or STD cast | 2013-03-31 23:38:51 | 60.6495 S, 42.2097 W | RRS James Clark Ross JR20130317 (JR252B, JR272B, JR273A, JR281, UKD-4) |
| 1744543 | CTD or STD cast | 2013-04-01 01:56:00 | 60.6439 S, 42.1911 W | RRS James Clark Ross JR20130317 (JR252B, JR272B, JR273A, JR281, UKD-4) |
| 1744555 | CTD or STD cast | 2013-04-01 05:00:14 | 60.6359 S, 42.1442 W | RRS James Clark Ross JR20130317 (JR252B, JR272B, JR273A, JR281, UKD-4) |
| 1744567 | CTD or STD cast | 2013-04-02 02:16:11 | 60.6677 S, 42.3092 W | RRS James Clark Ross JR20130317 (JR252B, JR272B, JR273A, JR281, UKD-4) |
| 1744579 | CTD or STD cast | 2013-04-02 05:15:28 | 60.6286 S, 42.0876 W | RRS James Clark Ross JR20130317 (JR252B, JR272B, JR273A, JR281, UKD-4) |
| 1744580 | CTD or STD cast | 2013-04-03 15:33:25 | 60.5902 S, 41.8344 W | RRS James Clark Ross JR20130317 (JR252B, JR272B, JR273A, JR281, UKD-4) |
| 1744592 | CTD or STD cast | 2013-04-03 22:23:17 | 60.5958 S, 41.8929 W | RRS James Clark Ross JR20130317 (JR252B, JR272B, JR273A, JR281, UKD-4) |
| 1744611 | CTD or STD cast | 2013-04-06 03:37:46 | 63.9655 S, 28.8768 W | RRS James Clark Ross JR20130317 (JR252B, JR272B, JR273A, JR281, UKD-4) |
| 1744623 | CTD or STD cast | 2013-04-06 11:14:58 | 63.3468 S, 29.5688 W | RRS James Clark Ross JR20130317 (JR252B, JR272B, JR273A, JR281, UKD-4) |
| 1744635 | CTD or STD cast | 2013-04-06 16:55:44 | 63.0729 S, 30.1153 W | RRS James Clark Ross JR20130317 (JR252B, JR272B, JR273A, JR281, UKD-4) |
| 1744647 | CTD or STD cast | 2013-04-06 22:53:29 | 62.7828 S, 30.6936 W | RRS James Clark Ross JR20130317 (JR252B, JR272B, JR273A, JR281, UKD-4) |
| 1744659 | CTD or STD cast | 2013-04-07 05:03:45 | 62.4912 S, 31.2615 W | RRS James Clark Ross JR20130317 (JR252B, JR272B, JR273A, JR281, UKD-4) |
| 1744660 | CTD or STD cast | 2013-04-07 11:40:34 | 62.0755 S, 31.1831 W | RRS James Clark Ross JR20130317 (JR252B, JR272B, JR273A, JR281, UKD-4) |
| 1744672 | CTD or STD cast | 2013-04-07 17:21:34 | 61.6613 S, 31.111 W | RRS James Clark Ross JR20130317 (JR252B, JR272B, JR273A, JR281, UKD-4) |
| 1744684 | CTD or STD cast | 2013-04-07 23:01:08 | 61.171 S, 31.0462 W | RRS James Clark Ross JR20130317 (JR252B, JR272B, JR273A, JR281, UKD-4) |
| 1744696 | CTD or STD cast | 2013-04-08 04:52:08 | 60.6995 S, 31.0098 W | RRS James Clark Ross JR20130317 (JR252B, JR272B, JR273A, JR281, UKD-4) |
| 1744703 | CTD or STD cast | 2013-04-08 08:53:45 | 60.3152 S, 30.9584 W | RRS James Clark Ross JR20130317 (JR252B, JR272B, JR273A, JR281, UKD-4) |
| 1744715 | CTD or STD cast | 2013-04-08 13:10:11 | 59.9948 S, 30.9296 W | RRS James Clark Ross JR20130317 (JR252B, JR272B, JR273A, JR281, UKD-4) |
| 1744727 | CTD or STD cast | 2013-04-08 16:53:26 | 59.7663 S, 30.9054 W | RRS James Clark Ross JR20130317 (JR252B, JR272B, JR273A, JR281, UKD-4) |
| 1744739 | CTD or STD cast | 2013-04-08 21:42:38 | 59.4357 S, 30.8602 W | RRS James Clark Ross JR20130317 (JR252B, JR272B, JR273A, JR281, UKD-4) |
| 1744740 | CTD or STD cast | 2013-04-09 02:53:18 | 59.0508 S, 30.8298 W | RRS James Clark Ross JR20130317 (JR252B, JR272B, JR273A, JR281, UKD-4) |
| 1744752 | CTD or STD cast | 2013-04-09 08:07:52 | 58.6352 S, 30.8243 W | RRS James Clark Ross JR20130317 (JR252B, JR272B, JR273A, JR281, UKD-4) |
| 1744764 | CTD or STD cast | 2013-04-09 13:35:48 | 58.213 S, 30.8217 W | RRS James Clark Ross JR20130317 (JR252B, JR272B, JR273A, JR281, UKD-4) |
| 1744776 | CTD or STD cast | 2013-04-09 19:26:21 | 57.801 S, 30.8328 W | RRS James Clark Ross JR20130317 (JR252B, JR272B, JR273A, JR281, UKD-4) |
| 1716843 | CTD or STD cast | 2013-04-10 03:02:00 | 57.4582 S, 31.3278 W | RRS James Clark Ross JR20130317 (JR252B, JR272B, JR273A, JR281, UKD-4) |
| 1744788 | CTD or STD cast | 2013-04-10 03:19:11 | 57.4582 S, 31.3278 W | RRS James Clark Ross JR20130317 (JR252B, JR272B, JR273A, JR281, UKD-4) |
| 1716855 | CTD or STD cast | 2013-04-10 10:23:00 | 57.1065 S, 31.83 W | RRS James Clark Ross JR20130317 (JR252B, JR272B, JR273A, JR281, UKD-4) |
| 1744807 | CTD or STD cast | 2013-04-10 10:37:03 | 57.1065 S, 31.8311 W | RRS James Clark Ross JR20130317 (JR252B, JR272B, JR273A, JR281, UKD-4) |
| 1744819 | CTD or STD cast | 2013-04-10 17:03:29 | 56.7756 S, 32.3041 W | RRS James Clark Ross JR20130317 (JR252B, JR272B, JR273A, JR281, UKD-4) |
| 1744820 | CTD or STD cast | 2013-04-10 22:37:44 | 56.3808 S, 32.8738 W | RRS James Clark Ross JR20130317 (JR252B, JR272B, JR273A, JR281, UKD-4) |
| 1716867 | CTD or STD cast | 2013-04-11 05:36:00 | 55.9913 S, 33.4172 W | RRS James Clark Ross JR20130317 (JR252B, JR272B, JR273A, JR281, UKD-4) |
| 1744832 | CTD or STD cast | 2013-04-11 05:58:53 | 55.9904 S, 33.4195 W | RRS James Clark Ross JR20130317 (JR252B, JR272B, JR273A, JR281, UKD-4) |
| 1716879 | CTD or STD cast | 2013-04-11 10:54:00 | 55.7255 S, 33.7837 W | RRS James Clark Ross JR20130317 (JR252B, JR272B, JR273A, JR281, UKD-4) |
| 1744844 | CTD or STD cast | 2013-04-11 11:08:37 | 55.7241 S, 33.7843 W | RRS James Clark Ross JR20130317 (JR252B, JR272B, JR273A, JR281, UKD-4) |
| 1744856 | CTD or STD cast | 2013-04-11 16:31:11 | 55.4848 S, 34.1332 W | RRS James Clark Ross JR20130317 (JR252B, JR272B, JR273A, JR281, UKD-4) |
| 1744868 | CTD or STD cast | 2013-04-11 21:26:50 | 55.2596 S, 34.4438 W | RRS James Clark Ross JR20130317 (JR252B, JR272B, JR273A, JR281, UKD-4) |
| 1744881 | CTD or STD cast | 2013-04-11 23:35:01 | 55.2153 S, 34.508 W | RRS James Clark Ross JR20130317 (JR252B, JR272B, JR273A, JR281, UKD-4) |
| 1744893 | CTD or STD cast | 2013-04-14 12:29:07 | 53.313 S, 43.2594 W | RRS James Clark Ross JR20130317 (JR252B, JR272B, JR273A, JR281, UKD-4) |
| 1744900 | CTD or STD cast | 2013-04-14 15:31:37 | 53.2715 S, 43.7506 W | RRS James Clark Ross JR20130317 (JR252B, JR272B, JR273A, JR281, UKD-4) |
| 1744912 | CTD or STD cast | 2013-04-14 19:29:33 | 53.2665 S, 44.4455 W | RRS James Clark Ross JR20130317 (JR252B, JR272B, JR273A, JR281, UKD-4) |
| 1744924 | CTD or STD cast | 2013-04-14 21:50:41 | 53.2885 S, 44.7103 W | RRS James Clark Ross JR20130317 (JR252B, JR272B, JR273A, JR281, UKD-4) |
| 1744936 | CTD or STD cast | 2013-04-15 03:33:20 | 53.2585 S, 44.9916 W | RRS James Clark Ross JR20130317 (JR252B, JR272B, JR273A, JR281, UKD-4) |
| 1716880 | CTD or STD cast | 2013-04-15 09:30:00 | 53.2586 S, 44.9914 W | RRS James Clark Ross JR20130317 (JR252B, JR272B, JR273A, JR281, UKD-4) |
| 1716892 | CTD or STD cast | 2013-04-15 14:14:00 | 53.2012 S, 45.5875 W | RRS James Clark Ross JR20130317 (JR252B, JR272B, JR273A, JR281, UKD-4) |
| 1744948 | CTD or STD cast | 2013-04-15 14:36:12 | 53.2001 S, 45.585 W | RRS James Clark Ross JR20130317 (JR252B, JR272B, JR273A, JR281, UKD-4) |
| 1744961 | CTD or STD cast | 2013-04-15 17:53:41 | 53.175 S, 45.9144 W | RRS James Clark Ross JR20130317 (JR252B, JR272B, JR273A, JR281, UKD-4) |
| 1744973 | CTD or STD cast | 2013-04-15 22:00:28 | 53.125 S, 46.5254 W | RRS James Clark Ross JR20130317 (JR252B, JR272B, JR273A, JR281, UKD-4) |
| 1716530 | CTD or STD cast | 2013-04-15 22:21:00 | 53.1253 S, 46.5255 W | RRS James Clark Ross JR20130317 (JR252B, JR272B, JR273A, JR281, UKD-4) |
| 1744985 | CTD or STD cast | 2013-04-16 03:41:33 | 53.023 S, 47.3775 W | RRS James Clark Ross JR20130317 (JR252B, JR272B, JR273A, JR281, UKD-4) |
| 1716542 | CTD or STD cast | 2013-04-16 07:34:00 | 52.9388 S, 47.7389 W | RRS James Clark Ross JR20130317 (JR252B, JR272B, JR273A, JR281, UKD-4) |
| 1744997 | CTD or STD cast | 2013-04-16 07:55:25 | 52.9288 S, 47.748 W | RRS James Clark Ross JR20130317 (JR252B, JR272B, JR273A, JR281, UKD-4) |
| 1716554 | CTD or STD cast | 2013-04-16 13:33:00 | 53.1227 S, 48.1902 W | RRS James Clark Ross JR20130317 (JR252B, JR272B, JR273A, JR281, UKD-4) |
| 1745000 | CTD or STD cast | 2013-04-16 13:47:41 | 53.1222 S, 48.1903 W | RRS James Clark Ross JR20130317 (JR252B, JR272B, JR273A, JR281, UKD-4) |
| 1716566 | CTD or STD cast | 2013-04-16 20:18:00 | 53.1493 S, 48.5027 W | RRS James Clark Ross JR20130317 (JR252B, JR272B, JR273A, JR281, UKD-4) |
| 1745012 | CTD or STD cast | 2013-04-16 20:32:05 | 53.1486 S, 48.5024 W | RRS James Clark Ross JR20130317 (JR252B, JR272B, JR273A, JR281, UKD-4) |
| 1745024 | CTD or STD cast | 2013-04-17 00:47:00 | 53.2165 S, 48.7846 W | RRS James Clark Ross JR20130317 (JR252B, JR272B, JR273A, JR281, UKD-4) |
| 1716578 | CTD or STD cast | 2013-04-17 05:44:00 | 53.3481 S, 48.1011 W | RRS James Clark Ross JR20130317 (JR252B, JR272B, JR273A, JR281, UKD-4) |
| 1745036 | CTD or STD cast | 2013-04-17 05:58:38 | 53.3467 S, 49.0936 W | RRS James Clark Ross JR20130317 (JR252B, JR272B, JR273A, JR281, UKD-4) |
| 1716591 | CTD or STD cast | 2013-04-17 11:03:00 | 53.3806 S, 49.456 W | RRS James Clark Ross JR20130317 (JR252B, JR272B, JR273A, JR281, UKD-4) |
| 1745048 | CTD or STD cast | 2013-04-17 11:17:26 | 53.38 S, 49.4505 W | RRS James Clark Ross JR20130317 (JR252B, JR272B, JR273A, JR281, UKD-4) |
| 1716609 | CTD or STD cast | 2013-04-17 19:42:00 | 52.9278 S, 47.7485 W | RRS James Clark Ross JR20130317 (JR252B, JR272B, JR273A, JR281, UKD-4) |
| 1745061 | CTD or STD cast | 2013-04-17 19:54:10 | 52.9224 S, 47.7485 W | RRS James Clark Ross JR20130317 (JR252B, JR272B, JR273A, JR281, UKD-4) |
| 1716610 | CTD or STD cast | 2013-04-18 00:00:00 | 52.8304 S, 47.8253 W | RRS James Clark Ross JR20130317 (JR252B, JR272B, JR273A, JR281, UKD-4) |
| 1745073 | CTD or STD cast | 2013-04-18 00:12:46 | 52.8251 S, 47.8235 W | RRS James Clark Ross JR20130317 (JR252B, JR272B, JR273A, JR281, UKD-4) |
| 1745085 | CTD or STD cast | 2013-04-18 03:57:24 | 52.7362 S, 47.9055 W | RRS James Clark Ross JR20130317 (JR252B, JR272B, JR273A, JR281, UKD-4) |
| 1716634 | CTD or STD cast | 2013-04-18 08:20:00 | 52.6499 S, 47.9827 W | RRS James Clark Ross JR20130317 (JR252B, JR272B, JR273A, JR281, UKD-4) |
| 1745097 | CTD or STD cast | 2013-04-18 08:34:30 | 52.6452 S, 47.9859 W | RRS James Clark Ross JR20130317 (JR252B, JR272B, JR273A, JR281, UKD-4) |
| 1716646 | CTD or STD cast | 2013-04-18 13:33:00 | 52.5584 S, 48.0629 W | RRS James Clark Ross JR20130317 (JR252B, JR272B, JR273A, JR281, UKD-4) |
| 1745104 | CTD or STD cast | 2013-04-18 13:51:34 | 52.547 S, 48.0619 W | RRS James Clark Ross JR20130317 (JR252B, JR272B, JR273A, JR281, UKD-4) |
| 1716658 | CTD or STD cast | 2013-04-19 22:38:00 | 51.3095 S, 39.846 W | RRS James Clark Ross JR20130317 (JR252B, JR272B, JR273A, JR281, UKD-4) |
| 1745116 | CTD or STD cast | 2013-04-19 22:51:07 | 51.31 S, 39.8498 W | RRS James Clark Ross JR20130317 (JR252B, JR272B, JR273A, JR281, UKD-4) |
| 1716671 | CTD or STD cast | 2013-04-20 05:55:00 | 51.0588 S, 40.3854 W | RRS James Clark Ross JR20130317 (JR252B, JR272B, JR273A, JR281, UKD-4) |
| 1745128 | CTD or STD cast | 2013-04-20 06:13:10 | 51.06 S, 40.3875 W | RRS James Clark Ross JR20130317 (JR252B, JR272B, JR273A, JR281, UKD-4) |
| 1745141 | CTD or STD cast | 2013-04-20 13:01:23 | 50.81 S, 40.925 W | RRS James Clark Ross JR20130317 (JR252B, JR272B, JR273A, JR281, UKD-4) |
| 1745153 | CTD or STD cast | 2013-04-20 17:52:33 | 50.5598 S, 41.4623 W | RRS James Clark Ross JR20130317 (JR252B, JR272B, JR273A, JR281, UKD-4) |
| 1745165 | CTD or STD cast | 2013-04-20 21:15:02 | 50.3734 S, 41.657 W | RRS James Clark Ross JR20130317 (JR252B, JR272B, JR273A, JR281, UKD-4) |
| 1745177 | CTD or STD cast | 2013-04-21 03:09:51 | 49.8514 S, 42.0 W | RRS James Clark Ross JR20130317 (JR252B, JR272B, JR273A, JR281, UKD-4) |
| 1716683 | CTD or STD cast | 2013-04-21 08:42:00 | 49.3933 S, 41.9978 W | RRS James Clark Ross JR20130317 (JR252B, JR272B, JR273A, JR281, UKD-4) |
| 1745189 | CTD or STD cast | 2013-04-21 08:57:45 | 49.3939 S, 41.9805 W | RRS James Clark Ross JR20130317 (JR252B, JR272B, JR273A, JR281, UKD-4) |
| 1745190 | CTD or STD cast | 2013-04-21 16:33:31 | 48.9372 S, 41.9775 W | RRS James Clark Ross JR20130317 (JR252B, JR272B, JR273A, JR281, UKD-4) |
| 1716702 | CTD or STD cast | 2013-04-21 23:40:00 | 48.4775 S, 42.0 W | RRS James Clark Ross JR20130317 (JR252B, JR272B, JR273A, JR281, UKD-4) |
| 1745208 | CTD or STD cast | 2013-04-21 23:54:39 | 48.4767 S, 42.0001 W | RRS James Clark Ross JR20130317 (JR252B, JR272B, JR273A, JR281, UKD-4) |
| 1745221 | CTD or STD cast | 2013-04-22 10:05:23 | 47.9423 S, 41.9969 W | RRS James Clark Ross JR20130317 (JR252B, JR272B, JR273A, JR281, UKD-4) |
| 1716714 | CTD or STD cast | 2013-04-25 14:21:00 | 53.1487 S, 54.6468 W | RRS James Clark Ross JR20130317 (JR252B, JR272B, JR273A, JR281, UKD-4) |
| 1745233 | CTD or STD cast | 2013-04-25 14:33:37 | 53.15 S, 54.6499 W | RRS James Clark Ross JR20130317 (JR252B, JR272B, JR273A, JR281, UKD-4) |
| 1716726 | CTD or STD cast | 2013-04-25 19:46:00 | 53.1622 S, 55.1265 W | RRS James Clark Ross JR20130317 (JR252B, JR272B, JR273A, JR281, UKD-4) |
| 1745245 | CTD or STD cast | 2013-04-25 19:56:28 | 53.1621 S, 55.1278 W | RRS James Clark Ross JR20130317 (JR252B, JR272B, JR273A, JR281, UKD-4) |
| 1745257 | CTD or STD cast | 2013-04-26 00:33:39 | 53.1739 S, 55.6053 W | RRS James Clark Ross JR20130317 (JR252B, JR272B, JR273A, JR281, UKD-4) |
| 1716738 | CTD or STD cast | 2013-04-26 05:12:00 | 53.2872 S, 56.0438 W | RRS James Clark Ross JR20130317 (JR252B, JR272B, JR273A, JR281, UKD-4) |
| 1745269 | CTD or STD cast | 2013-04-26 05:27:26 | 53.2869 S, 56.048 W | RRS James Clark Ross JR20130317 (JR252B, JR272B, JR273A, JR281, UKD-4) |
| 1716751 | CTD or STD cast | 2013-04-26 09:45:00 | 53.3475 S, 56.5484 W | RRS James Clark Ross JR20130317 (JR252B, JR272B, JR273A, JR281, UKD-4) |
| 1745270 | CTD or STD cast | 2013-04-26 10:05:03 | 53.348 S, 56.5499 W | RRS James Clark Ross JR20130317 (JR252B, JR272B, JR273A, JR281, UKD-4) |
| 1745282 | CTD or STD cast | 2013-04-26 14:19:14 | 53.406 S, 57.05 W | RRS James Clark Ross JR20130317 (JR252B, JR272B, JR273A, JR281, UKD-4) |
| 1734211 | CTD or STD cast | 2014-03-12 18:51:00 | 62.76533 S, 59.10957 W | RRS James Clark Ross JR20140308 (JR293 Leg1, JR299 Leg1, UKD-5) |
| 1734284 | CTD or STD cast | 2014-03-12 20:45:00 | 62.76519 S, 59.10958 W | RRS James Clark Ross JR20140308 (JR293 Leg1, JR299 Leg1, UKD-5) |
| 1734376 | CTD or STD cast | 2014-03-13 17:10:00 | 60.98235 S, 54.62895 W | RRS James Clark Ross JR20140308 (JR293 Leg1, JR299 Leg1, UKD-5) |
| 1734388 | CTD or STD cast | 2014-03-13 19:50:00 | 60.84978 S, 54.71302 W | RRS James Clark Ross JR20140308 (JR293 Leg1, JR299 Leg1, UKD-5) |
| 1734407 | CTD or STD cast | 2014-03-13 23:23:00 | 60.83317 S, 54.72175 W | RRS James Clark Ross JR20140308 (JR293 Leg1, JR299 Leg1, UKD-5) |
| 1734419 | CTD or STD cast | 2014-03-14 04:37:00 | 60.66713 S, 54.8245 W | RRS James Clark Ross JR20140308 (JR293 Leg1, JR299 Leg1, UKD-5) |
| 1734420 | CTD or STD cast | 2014-03-14 10:23:00 | 60.33259 S, 55.03171 W | RRS James Clark Ross JR20140308 (JR293 Leg1, JR299 Leg1, UKD-5) |
| 1734223 | CTD or STD cast | 2014-03-14 21:29:00 | 59.66714 S, 55.44537 W | RRS James Clark Ross JR20140308 (JR293 Leg1, JR299 Leg1, UKD-5) |
| 1734235 | CTD or STD cast | 2014-03-15 04:04:00 | 59.33315 S, 55.6478 W | RRS James Clark Ross JR20140308 (JR293 Leg1, JR299 Leg1, UKD-5) |
| 1734247 | CTD or STD cast | 2014-03-15 15:31:00 | 58.68313 S, 56.05579 W | RRS James Clark Ross JR20140308 (JR293 Leg1, JR299 Leg1, UKD-5) |
| 1734259 | CTD or STD cast | 2014-03-15 21:53:00 | 58.3667 S, 56.25015 W | RRS James Clark Ross JR20140308 (JR293 Leg1, JR299 Leg1, UKD-5) |
| 1734260 | CTD or STD cast | 2014-03-16 10:28:00 | 57.73371 S, 56.64063 W | RRS James Clark Ross JR20140308 (JR293 Leg1, JR299 Leg1, UKD-5) |
| 1734272 | CTD or STD cast | 2014-03-16 16:28:00 | 57.4143 S, 56.84012 W | RRS James Clark Ross JR20140308 (JR293 Leg1, JR299 Leg1, UKD-5) |
| 1734296 | CTD or STD cast | 2014-03-17 03:17:00 | 56.78394 S, 57.22993 W | RRS James Clark Ross JR20140308 (JR293 Leg1, JR299 Leg1, UKD-5) |
| 1734303 | CTD or STD cast | 2014-03-17 07:36:00 | 56.70419 S, 57.2789 W | RRS James Clark Ross JR20140308 (JR293 Leg1, JR299 Leg1, UKD-5) |
| 1734315 | CTD or STD cast | 2014-03-17 09:58:00 | 56.625 S, 57.3276 W | RRS James Clark Ross JR20140308 (JR293 Leg1, JR299 Leg1, UKD-5) |
| 1734327 | CTD or STD cast | 2014-03-18 18:21:00 | 55.66613 S, 57.85477 W | RRS James Clark Ross JR20140308 (JR293 Leg1, JR299 Leg1, UKD-5) |
| 1734339 | CTD or STD cast | 2014-03-18 23:27:00 | 55.51905 S, 57.99993 W | RRS James Clark Ross JR20140308 (JR293 Leg1, JR299 Leg1, UKD-5) |
| 1734340 | CTD or STD cast | 2014-03-19 05:03:00 | 55.36824 S, 57.99933 W | RRS James Clark Ross JR20140308 (JR293 Leg1, JR299 Leg1, UKD-5) |
| 1734352 | CTD or STD cast | 2014-03-19 10:36:00 | 55.21425 S, 57.99954 W | RRS James Clark Ross JR20140308 (JR293 Leg1, JR299 Leg1, UKD-5) |
| 1734364 | CTD or STD cast | 2014-03-19 14:43:00 | 55.17311 S, 57.99473 W | RRS James Clark Ross JR20140308 (JR293 Leg1, JR299 Leg1, UKD-5) |
| 1619028 | Currents -subsurface Eulerian | 2015-01-10 12:30:14 | 67.6378 S, 68.054 W | RRS James Clark Ross JR20150110 (JR305, JR306) |
| 1810848 | CTD or STD cast | 2016-01-06 09:11:35 | 61.05 S, 54.5878 W | RRS James Clark Ross JR15003 |
| 1810861 | CTD or STD cast | 2016-01-06 11:11:24 | 60.9811 S, 54.6299 W | RRS James Clark Ross JR15003 |
| 1810873 | CTD or STD cast | 2016-01-06 12:58:27 | 60.8502 S, 54.7102 W | RRS James Clark Ross JR15003 |
| 1810885 | CTD or STD cast | 2016-01-06 18:06:50 | 60.8332 S, 54.7217 W | RRS James Clark Ross JR15003 |
| 1810897 | CTD or STD cast | 2016-01-06 20:11:01 | 60.7995 S, 54.7424 W | RRS James Clark Ross JR15003 |
| 1810904 | CTD or STD cast | 2016-01-07 01:04:18 | 60.6666 S, 54.8248 W | RRS James Clark Ross JR15003 |
| 1810916 | CTD or STD cast | 2016-01-07 05:51:11 | 60.3333 S, 55.0313 W | RRS James Clark Ross JR15003 |
| 1810928 | CTD or STD cast | 2016-01-07 10:18:42 | 60.0112 S, 55.23 W | RRS James Clark Ross JR15003 |
| 1810941 | CTD or STD cast | 2016-01-07 14:56:05 | 59.6667 S, 55.4444 W | RRS James Clark Ross JR15003 |
| 1810953 | CTD or STD cast | 2016-01-07 19:43:50 | 59.3332 S, 55.6512 W | RRS James Clark Ross JR15003 |
| 1810965 | CTD or STD cast | 2016-01-08 00:24:50 | 58.9998 S, 55.8581 W | RRS James Clark Ross JR15003 |
| 1810977 | CTD or STD cast | 2016-01-08 09:32:21 | 58.5246 S, 56.1543 W | RRS James Clark Ross JR15003 |
| 1810989 | CTD or STD cast | 2016-01-08 14:56:06 | 58.05 S, 56.4466 W | RRS James Clark Ross JR15003 |
| 1810990 | CTD or STD cast | 2016-01-08 20:25:44 | 57.6537 S, 56.6892 W | RRS James Clark Ross JR15003 |
| 1811004 | CTD or STD cast | 2016-01-09 01:35:51 | 57.2588 S, 56.9334 W | RRS James Clark Ross JR15003 |
| 1811016 | CTD or STD cast | 2016-01-09 07:17:37 | 56.8639 S, 57.1778 W | RRS James Clark Ross JR15003 |
| 1811028 | CTD or STD cast | 2016-01-09 12:23:30 | 56.4685 S, 57.4128 W | RRS James Clark Ross JR15003 |
| 1811041 | CTD or STD cast | 2016-01-09 17:42:06 | 56.0756 S, 57.6656 W | RRS James Clark Ross JR15003 |
| 1811053 | CTD or STD cast | 2016-01-09 22:43:50 | 55.6817 S, 57.9093 W | RRS James Clark Ross JR15003 |
| 1811065 | CTD or STD cast | 2016-01-10 03:01:57 | 55.5167 S, 57.9829 W | RRS James Clark Ross JR15003 |
| 1811077 | CTD or STD cast | 2016-01-10 08:11:57 | 55.2154 S, 57.9622 W | RRS James Clark Ross JR15003 |
| 1811089 | CTD or STD cast | 2016-01-10 11:29:21 | 55.1686 S, 57.968 W | RRS James Clark Ross JR15003 |
| 1811090 | CTD or STD cast | 2016-01-10 14:25:46 | 55.1171 S, 57.9682 W | RRS James Clark Ross JR15003 |
| 1811108 | CTD or STD cast | 2016-01-11 09:25:27 | 55.0685 S, 57.975 W | RRS James Clark Ross JR15003 |
| 1811121 | CTD or STD cast | 2016-01-11 12:24:06 | 55.0067 S, 57.9782 W | RRS James Clark Ross JR15003 |
| 1811133 | CTD or STD cast | 2016-01-11 16:50:07 | 54.9779 S, 57.9827 W | RRS James Clark Ross JR15003 |
| 1811145 | CTD or STD cast | 2016-01-11 18:21:01 | 54.9224 S, 57.9825 W | RRS James Clark Ross JR15003 |
| 1811157 | CTD or STD cast | 2016-01-11 20:40:47 | 54.6668 S, 57.983 W | RRS James Clark Ross JR15003 |
| 1795008 | Currents -subsurface Eulerian | 2016-11-12 13:53:33 | 58.506 S, 49.4872 W | RRS James Clark Ross JR16002 |
| 1793850 | CTD or STD cast | 2016-11-18 22:56:01 | 54.667 S, 57.9825 W | RRS James Clark Ross JR16002 |
| 1794668 | Currents -subsurface Eulerian | 2016-11-18 22:56:28 | 54.66704 S, 57.9825 W | RRS James Clark Ross JR16002 |
| 1793862 | CTD or STD cast | 2016-11-19 01:08:45 | 54.9219 S, 57.9836 W | RRS James Clark Ross JR16002 |
| 1794681 | Currents -subsurface Eulerian | 2016-11-19 01:09:01 | 54.92192 S, 57.98357 W | RRS James Clark Ross JR16002 |
| 1793874 | CTD or STD cast | 2016-11-19 02:34:59 | 54.9763 S, 57.9826 W | RRS James Clark Ross JR16002 |
| 1794693 | Currents -subsurface Eulerian | 2016-11-19 02:35:16 | 54.97632 S, 57.98256 W | RRS James Clark Ross JR16002 |
| 1794700 | Currents -subsurface Eulerian | 2016-11-19 04:05:51 | 55.00674 S, 57.98324 W | RRS James Clark Ross JR16002 |
| 1793886 | CTD or STD cast | 2016-11-19 04:06:18 | 55.0067 S, 57.9833 W | RRS James Clark Ross JR16002 |
| 1793898 | CTD or STD cast | 2016-11-19 06:08:27 | 55.0698 S, 57.9829 W | RRS James Clark Ross JR16002 |
| 1794712 | Currents -subsurface Eulerian | 2016-11-19 06:08:44 | 55.06984 S, 57.98286 W | RRS James Clark Ross JR16002 |
| 1793905 | CTD or STD cast | 2016-11-19 08:22:03 | 55.1214 S, 57.9831 W | RRS James Clark Ross JR16002 |
| 1794724 | Currents -subsurface Eulerian | 2016-11-19 08:22:19 | 55.1214 S, 57.98313 W | RRS James Clark Ross JR16002 |
| 1793917 | CTD or STD cast | 2016-11-19 10:53:45 | 55.1702 S, 57.9835 W | RRS James Clark Ross JR16002 |
| 1794736 | Currents -subsurface Eulerian | 2016-11-19 10:53:53 | 55.17014 S, 57.9835 W | RRS James Clark Ross JR16002 |
| 1794748 | Currents -subsurface Eulerian | 2016-11-19 13:34:25 | 55.2143 S, 57.98246 W | RRS James Clark Ross JR16002 |
| 1793929 | CTD or STD cast | 2016-11-19 13:34:27 | 55.2143 S, 57.9833 W | RRS James Clark Ross JR16002 |
| 1794761 | Currents -subsurface Eulerian | 2016-11-19 18:24:09 | 55.5169 S, 57.98431 W | RRS James Clark Ross JR16002 |
| 1793930 | CTD or STD cast | 2016-11-19 18:24:15 | 55.5168 S, 57.9843 W | RRS James Clark Ross JR16002 |
| 1794773 | Currents -subsurface Eulerian | 2016-11-19 23:23:45 | 55.83404 S, 57.82002 W | RRS James Clark Ross JR16002 |
| 1793942 | CTD or STD cast | 2016-11-19 23:23:46 | 55.834 S, 57.82 W | RRS James Clark Ross JR16002 |
| 1793954 | CTD or STD cast | 2016-11-20 04:56:14 | 56.1504 S, 57.6217 W | RRS James Clark Ross JR16002 |
| 1794785 | Currents -subsurface Eulerian | 2016-11-20 04:56:24 | 56.15012 S, 57.62302 W | RRS James Clark Ross JR16002 |
| 1794797 | Currents -subsurface Eulerian | 2016-11-20 09:31:10 | 56.46878 S, 57.42392 W | RRS James Clark Ross JR16002 |
| 1793966 | CTD or STD cast | 2016-11-20 09:31:13 | 56.4688 S, 57.3911 W | RRS James Clark Ross JR16002 |
| 1793978 | CTD or STD cast | 2016-11-20 14:08:15 | 56.7833 S, 57.2309 W | RRS James Clark Ross JR16002 |
| 1794804 | Currents -subsurface Eulerian | 2016-11-20 14:08:19 | 56.78326 S, 57.2316 W | RRS James Clark Ross JR16002 |
| 1793991 | CTD or STD cast | 2016-11-20 18:21:09 | 57.1136 S, 57.0108 W | RRS James Clark Ross JR16002 |
| 1794816 | Currents -subsurface Eulerian | 2016-11-20 18:21:35 | 57.10065 S, 57.03524 W | RRS James Clark Ross JR16002 |
| 1794828 | Currents -subsurface Eulerian | 2016-11-20 22:42:36 | 57.41648 S, 56.83932 W | RRS James Clark Ross JR16002 |
| 1794005 | CTD or STD cast | 2016-11-20 22:42:38 | 57.4214 S, 56.8302 W | RRS James Clark Ross JR16002 |
| 1794017 | CTD or STD cast | 2016-11-21 03:37:43 | 57.7365 S, 56.645 W | RRS James Clark Ross JR16002 |
| 1794841 | Currents -subsurface Eulerian | 2016-11-21 03:37:58 | 57.73396 S, 56.64164 W | RRS James Clark Ross JR16002 |
| 1794029 | CTD or STD cast | 2016-11-21 08:48:12 | 58.0506 S, 56.4475 W | RRS James Clark Ross JR16002 |
| 1794853 | Currents -subsurface Eulerian | 2016-11-21 08:48:26 | 58.05036 S, 56.44656 W | RRS James Clark Ross JR16002 |
| 1794030 | CTD or STD cast | 2016-11-21 14:26:12 | 58.3706 S, 56.2479 W | RRS James Clark Ross JR16002 |
| 1794865 | Currents -subsurface Eulerian | 2016-11-21 14:26:13 | 58.3706 S, 56.24784 W | RRS James Clark Ross JR16002 |
| 1794042 | CTD or STD cast | 2016-11-21 19:24:30 | 58.6831 S, 56.0543 W | RRS James Clark Ross JR16002 |
| 1794877 | Currents -subsurface Eulerian | 2016-11-21 19:24:34 | 58.68302 S, 56.05432 W | RRS James Clark Ross JR16002 |
| 1794889 | Currents -subsurface Eulerian | 2016-11-22 01:15:17 | 59.00372 S, 55.85786 W | RRS James Clark Ross JR16002 |
| 1794054 | CTD or STD cast | 2016-11-22 03:58:51 | 59.0034 S, 55.8584 W | RRS James Clark Ross JR16002 |
| 1794890 | Currents -subsurface Eulerian | 2016-11-22 07:19:47 | 59.3341 S, 55.65168 W | RRS James Clark Ross JR16002 |
| 1794066 | CTD or STD cast | 2016-11-22 07:19:57 | 59.3339 S, 55.6511 W | RRS James Clark Ross JR16002 |
| 1794908 | Currents -subsurface Eulerian | 2016-11-22 13:07:51 | 59.66322 S, 55.44582 W | RRS James Clark Ross JR16002 |
| 1794078 | CTD or STD cast | 2016-11-22 13:07:57 | 59.6632 S, 55.4459 W | RRS James Clark Ross JR16002 |
| 1794091 | CTD or STD cast | 2016-11-22 20:34:28 | 59.9904 S, 55.2342 W | RRS James Clark Ross JR16002 |
| 1794921 | Currents -subsurface Eulerian | 2016-11-22 20:34:33 | 59.99986 S, 55.2381 W | RRS James Clark Ross JR16002 |
| 1794109 | CTD or STD cast | 2016-11-23 02:08:20 | 60.3321 S, 55.0343 W | RRS James Clark Ross JR16002 |
| 1794933 | Currents -subsurface Eulerian | 2016-11-23 02:08:25 | 60.3321 S, 55.03438 W | RRS James Clark Ross JR16002 |
| 1794110 | CTD or STD cast | 2016-11-23 06:57:16 | 60.6675 S, 54.8253 W | RRS James Clark Ross JR16002 |
| 1794945 | Currents -subsurface Eulerian | 2016-11-23 06:57:22 | 60.66744 S, 54.8253 W | RRS James Clark Ross JR16002 |
| 1794957 | Currents -subsurface Eulerian | 2016-11-23 10:08:46 | 60.7996 S, 54.74197 W | RRS James Clark Ross JR16002 |
| 1794122 | CTD or STD cast | 2016-11-23 19:27:27 | 60.7996 S, 54.742 W | RRS James Clark Ross JR16002 |
| 1794134 | CTD or STD cast | 2016-11-23 22:22:15 | 60.8334 S, 54.721 W | RRS James Clark Ross JR16002 |
| 1794969 | Currents -subsurface Eulerian | 2016-11-23 22:22:23 | 60.8334 S, 54.72106 W | RRS James Clark Ross JR16002 |
| 1794146 | CTD or STD cast | 2016-11-24 00:26:15 | 60.8507 S, 54.7091 W | RRS James Clark Ross JR16002 |
| 1794970 | Currents -subsurface Eulerian | 2016-11-24 00:26:24 | 60.85067 S, 54.70916 W | RRS James Clark Ross JR16002 |
| 1794158 | CTD or STD cast | 2016-11-24 02:31:01 | 60.9827 S, 54.6275 W | RRS James Clark Ross JR16002 |
| 1794982 | Currents -subsurface Eulerian | 2016-11-24 02:31:16 | 60.98274 S, 54.62752 W | RRS James Clark Ross JR16002 |
| 1794171 | CTD or STD cast | 2016-11-24 04:08:00 | 61.0491 S, 54.5828 W | RRS James Clark Ross JR16002 |
| 1794994 | Currents -subsurface Eulerian | 2016-11-24 04:08:15 | 61.04912 S, 54.5828 W | RRS James Clark Ross JR16002 |